Best Easter Side Dishes (and Desserts too)
As an Amazon Associate, I earn from qualifying purchases. Please read my disclosure policy.
Today I'm bringing you more than 60 of our family's Best Easter Side Dishes. These delicious recipes are tried and true and have earned their spot as favorites on our holiday menu.
Easter celebrations are meant to be a time of celebration, not slaving over a hot stove or oven! So I have taken the work out of it for you, providing you with delicious, easy recipes that can accompany your main dish, or you may bring to an Easter potluck.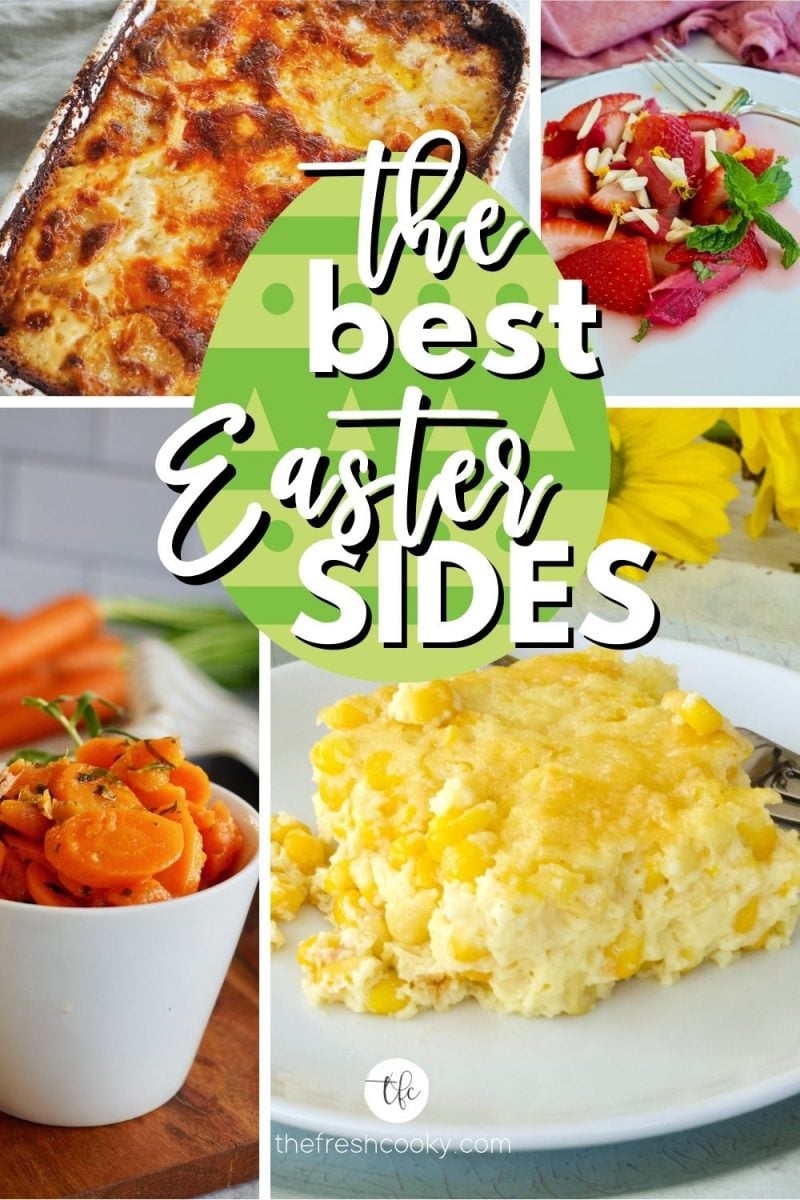 Best

Easy

Easter Side Dishes
So much to love about Easter time — the earth bursting forth with new life, after a dark and cold winter; tulips and daffodils tentatively poking their "heads" above the ground, bright blue-bird skies of spring and the sweet scent of blossoming trees wafting on a gentle breeze.
Easter is the crown jewel of springtime; with family and friends surrounding the table, laden with delicious, fresh seasonal dishes, celebrating this beautiful holiday.
All those things make me a wee bit giddy, however, my most favorite part of Easter is the reason we have an Easter celebration; the sober reminder of the sacrifice Christ made for all mankind! That my friends, is worthy of the grandest celebration, every year!
Our favorite Easter Dishes (Sides, Mains, and More!)
Brunch Main Dish
I love hosting brunch, what's not to love about breakfast foods; sweet and pillowy french toasts or pancakes, rich and creamy egg dishes, hearty quiches and so much more.
Easter Brunch Main Dishes
Easter Vegetables and Potato Dishes
The best part of Easter ham is the side dishes that go along with it, especially the potatoes, mmm good!
Easy Easter Veggie & Potato Dishes
Scrumptious Easter Breakfast Sweets
No Easter brunch celebration is complete without a delectable baked treat, like these Ooey Gooey Cinnamon Rolls or Starbuck's Copycat Coffee Cake. These sides take the cake, so to speak!
Best Easter Brunch Sweets
Fresh Fruit and Salads
And I suppose we need to have something a wee bit healthy on the table too, you'll find though these salads are healthy and SOOOOO delicious, and they add a beautiful pop of spring color to your table, like this always a WINNER sweet maple apple salad.
Blackberry Grilled Chicken Salad with Fried Goat Cheese
Crazy delicious and amazingly easy, this blackberry marinade also doubles as a salad dressing for this springtime sensation!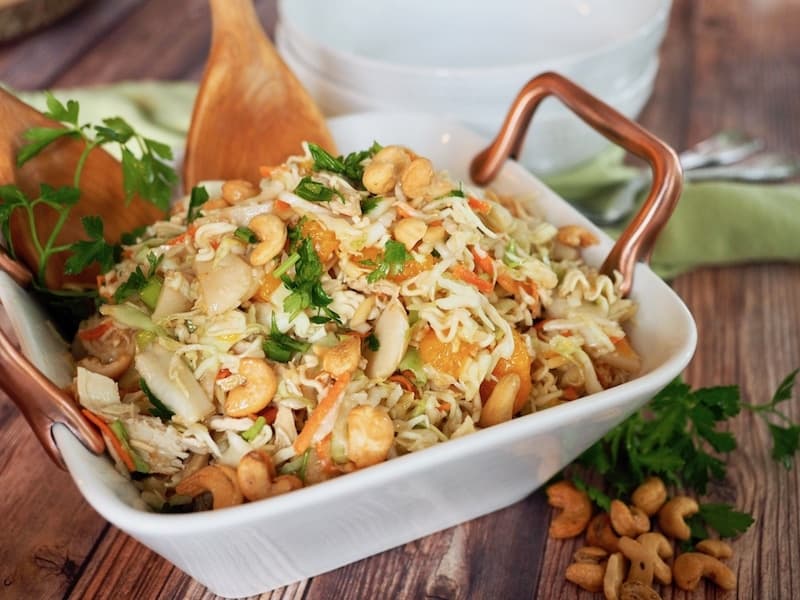 Healthy Crunchy Ramen Noodle Salad
Asian Ramen Noodle Salad is powered with crisp cabbage, organic ramen noodles, mandarin oranges, toasted almonds, sesame seeds, green onions, garnished with chopped fresh cilantro, cashews; dressed in a sweet-sour (reduced sugar) Asian dressing.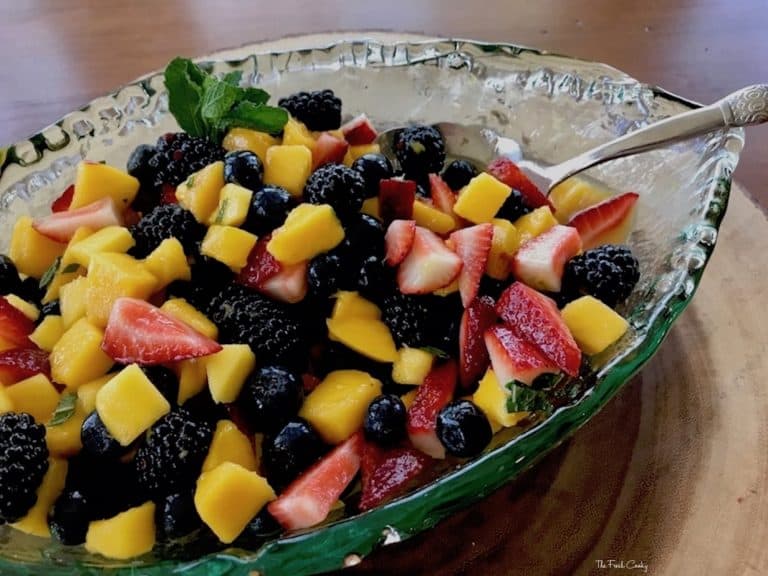 Tropical Mango Fruit Salad
A vibrant ultra fresh tropical fruit salad bursting with ripe mangoes & berries, dressing in an all natural light lime dressing that's sublime!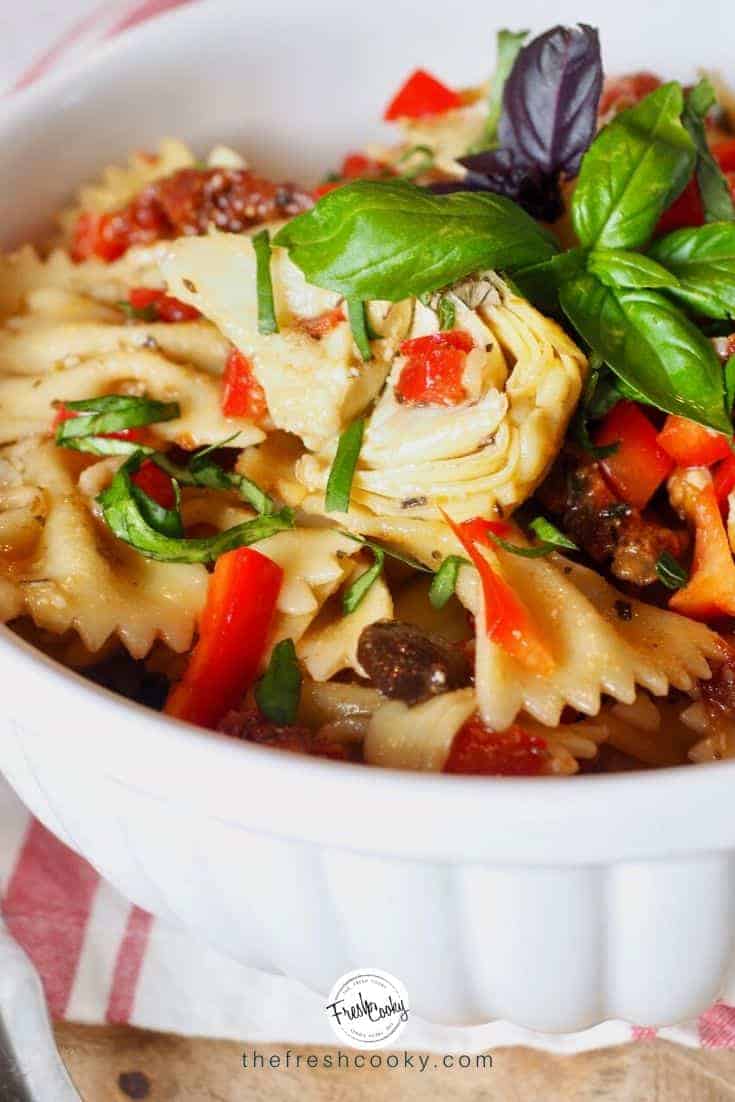 Best Italian Pasta Salad with Sun Dried Tomatoes
All the right flavors, bright and colorful, packed into this beautiful pasta salad. Great for a crowd or your family, the leftovers are even better!
Pomegranate Salad Dressing Recipe
My favorite Pomegranate salad dressing recipe will take your simple salad recipe to the next level with the elevated flavor combination of a vinaigrette made with pomegranate juice, citrus, shallots, and creamy Dijon mustard. Easy, healthy and delicious!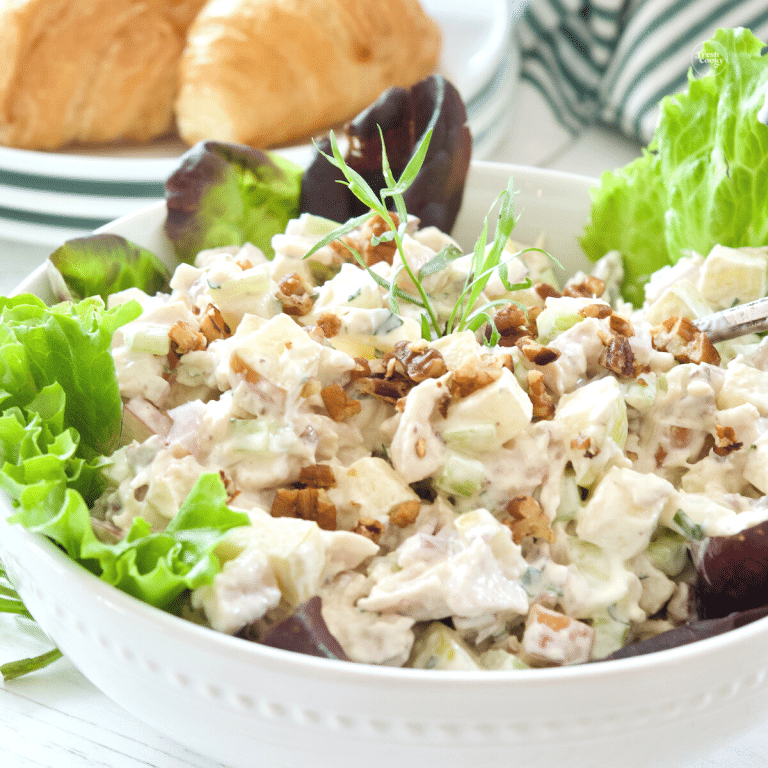 Easy Apple Pecan Chicken Salad with Tarragon
Classic Apple Pecan Chicken salad will become one of your favorite go-to chicken salad recipes. Loaded with must-have crunchies like apples, buttery pecans, shallots, and celery; then lightly dressed in a bright lemon, tarragon mayonnaise dressing.
Easy Strawberry Rhubarb Salad with Rhubarb Dressing
Try our Strawberry Rhubarb Salad with a homemade dressing that perfectly complements the flavors of the fruits. It's a perfect dish for a summer lunch or dinner.
Our Favorite Easter Desserts
Last but most certainly never the least is dessert…pick one, they are all delicious! But probably our family favorite is the ultra chocolatey, Chocolate Chocolate Chip Bundt Cake.
While you are planning your Easter menu or what to bring to a potluck or family celebration, ponder the reasons for this grand holiday and if you ever want to learn more or hear my story, I'd love to chat with you!
Easter Tablescape and Decor
Check out the full post with easy, DIY ideas for your Easter table, and decor, plus how to set up a Mimosa Bar and make mini yogurt parfaits.
And just in case you need a bit of inspiration for main dishes, here are a few!
MAIN DISH RECIPES
Happy Easter friends! I hope this collection of recipes serves to inspire your creativity and make your menu planning a tiny bit easier.
Check out this chart for Common Cooking and Baking Substitutions!! It's a life saver especially for me during holiday cooking and baking!
Don't forget the bread and drinks!
Best Easter Drink Recipes
So many great drinks to choose from, whether you are looking for something with alcohol or non-alcoholic, check out all of my drink recipes!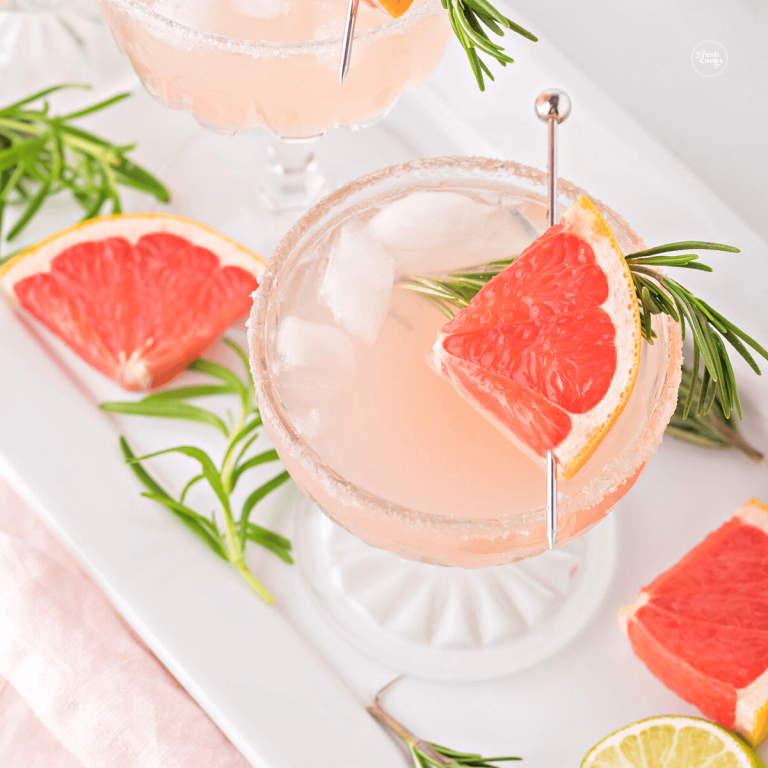 Skinny Grapefruit Paloma Spritzer Mocktail
This skinny non-alcoholic sparkling grapefruit mocktail surprises you with a bright citrus flavor, using fresh grapefruit juice, fresh lime juice, topped with ginger beer. A Paloma mocktail that is bubbly, crisp, and oh-so-refreshing!
Easy Iced Peach Green Tea Lemonade Recipe (Starbucks Copycat)
There is nothing more refreshing on a hot summer day than a tall glass of iced peach green tea lemonade. This copycat Starbucks version is a bit lighter, using all natural flavor, no sugar, fresh peach juice, light lemonade and Jade Citrus Mint Tea, a flavorful green tea.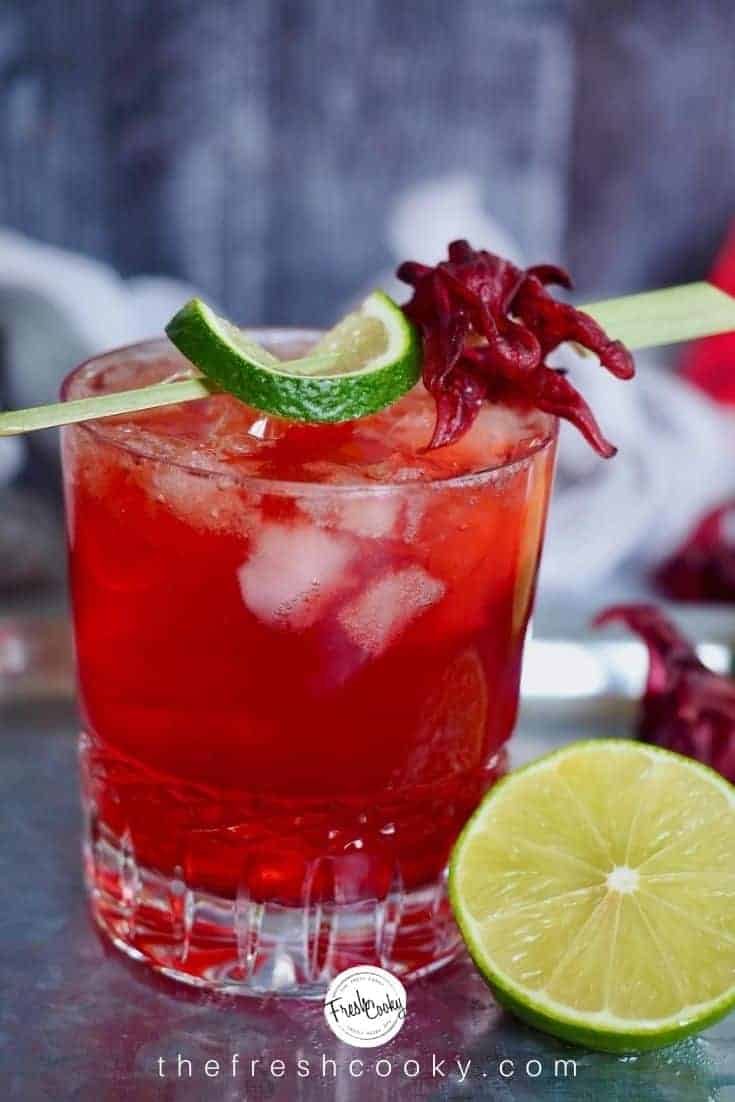 Hibiscus Dark and Stormy Drink Recipe
This Hibiscus Dark and Stormy recipe is just the vibrant burst of tropical sunshine we need! Dark rum, spicy, floral hibiscus ginger beer and fresh lime juice is all it takes!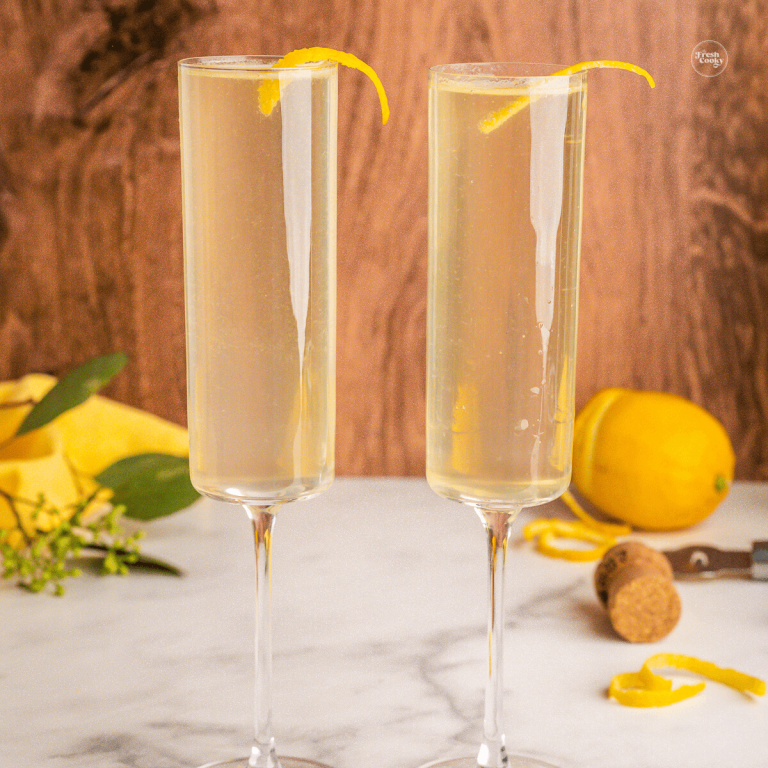 Easy Elderflower French 75 Cocktail with St Germain
If you have never tried a French 75 Cocktail, you are in for a treat! This easy cocktail is a delightfully sparkling floral champagne cocktail with only four ingredients. And St. Germain elderflower liqueur adds sweet flavor and floral notes.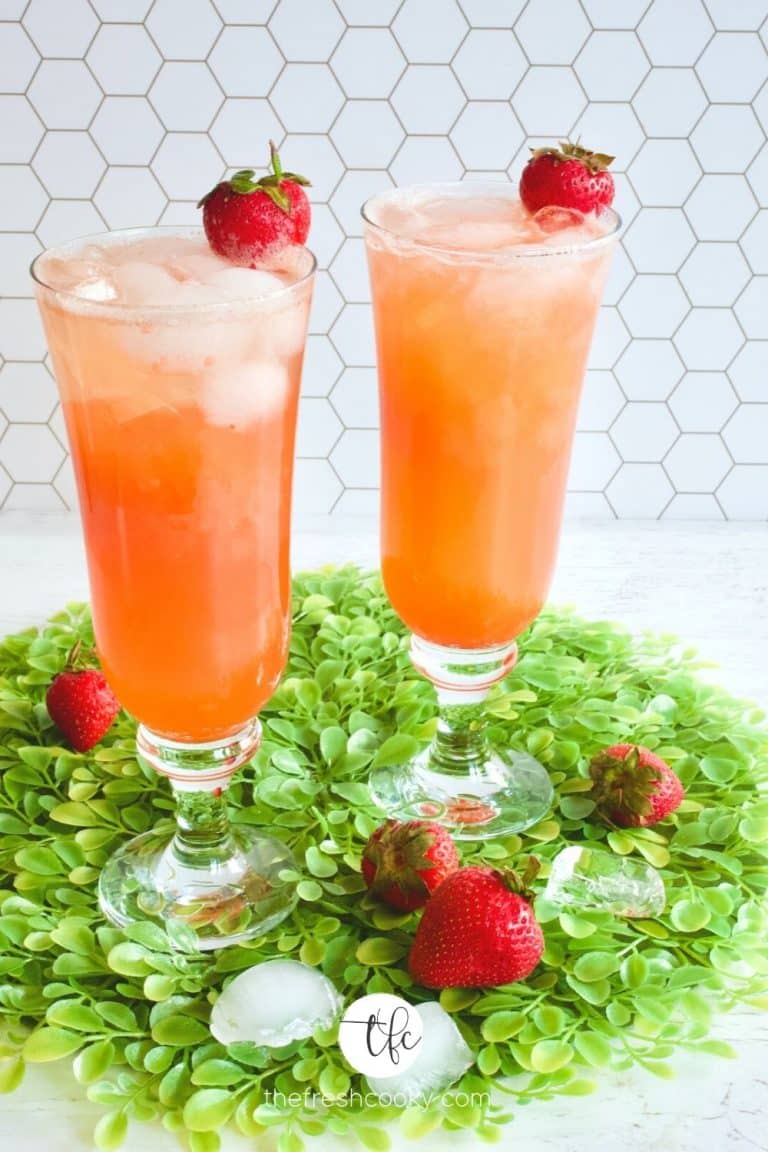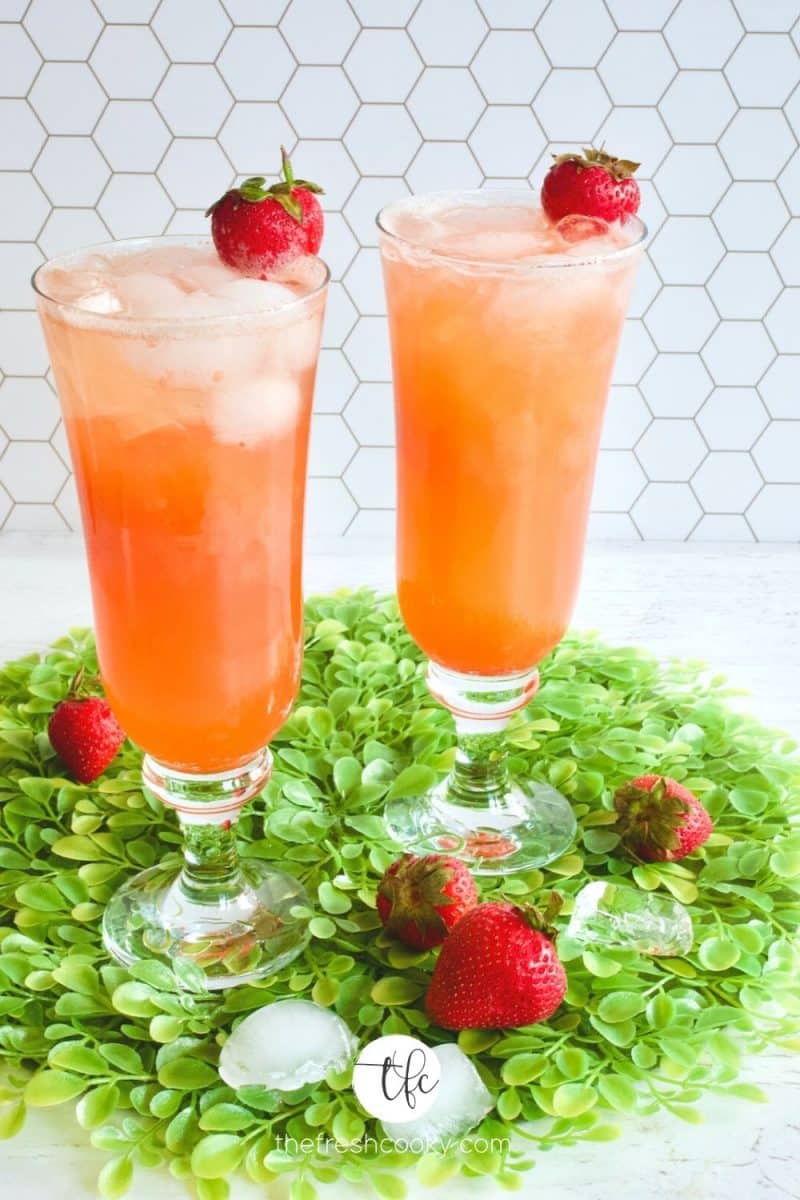 Fresh Strawberry Gin Cocktail
Let's make a beautiful Strawberry Gin Cocktail! This gorgeous pink gin and tonic uses a fresh strawberry syrup blended with your favorite gin and tonic for a fresh, bright, pink signature cocktail for spring and summertime. Great for Mother's Day, Bridal and Baby Showers, Easter or any summer cocktail hour.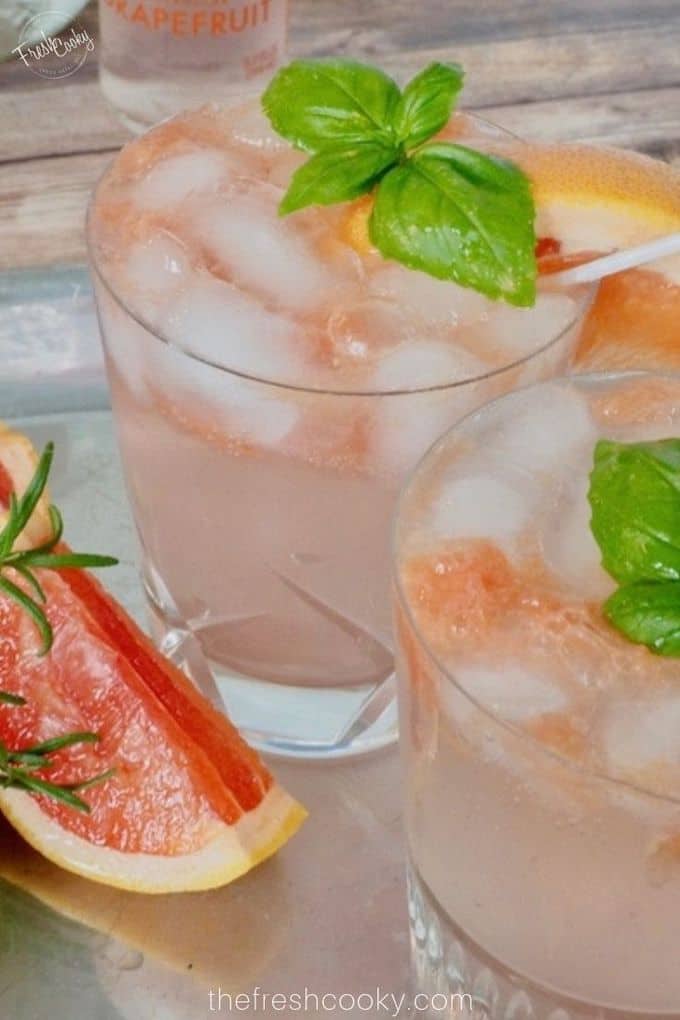 Grapefruit Basil Vodka Smash
Light, vibrant, zesty and it will awaken the senses with the beautiful smell of basil!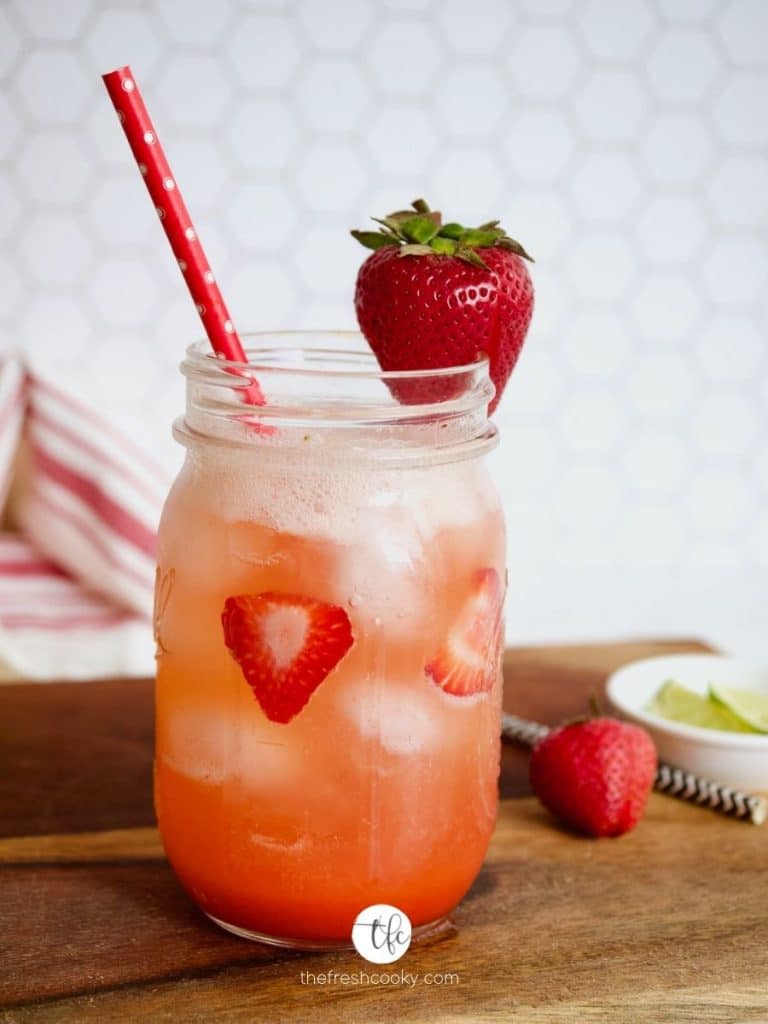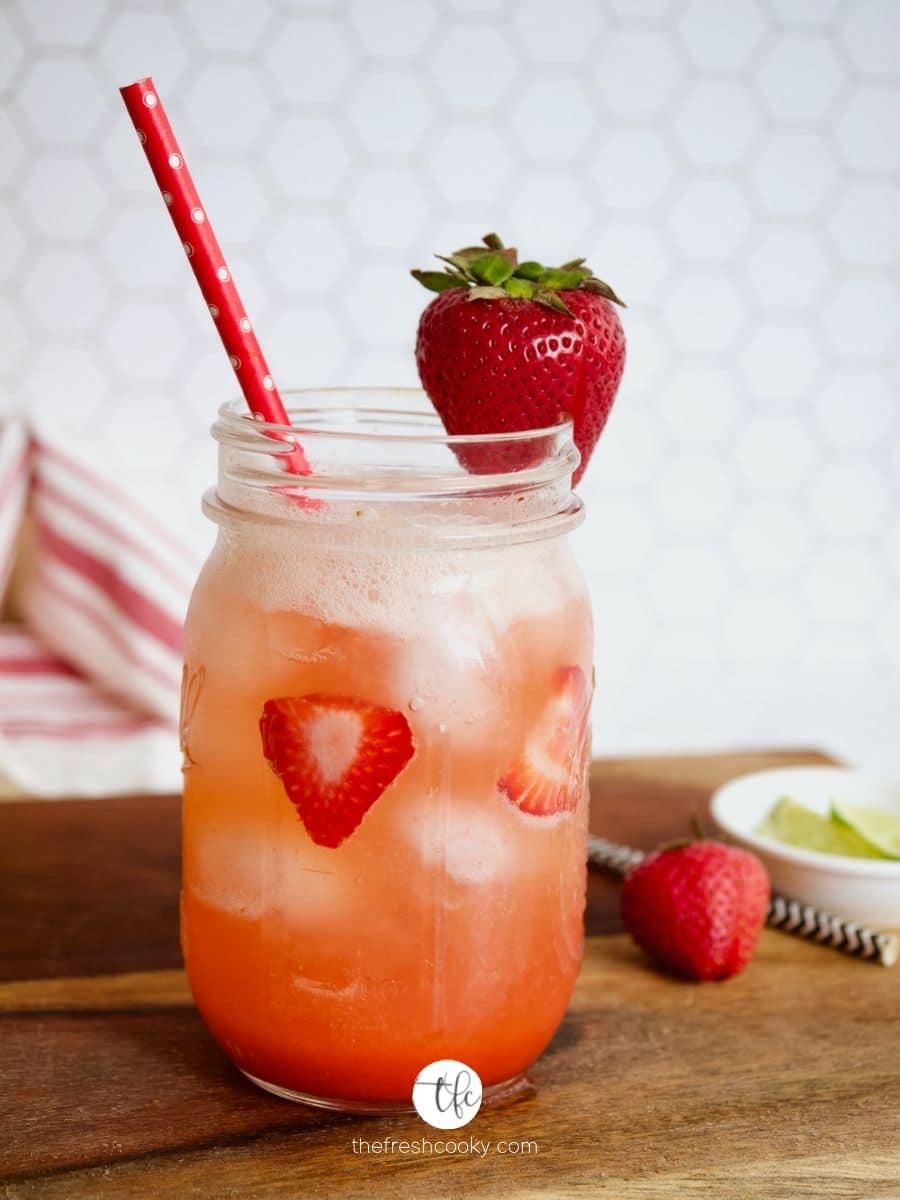 How to Make a Homemade Strawberry Refresher
The Strawberry Refresher is a light non-alcoholic drink made with summer fresh strawberry syrup, lime juice and your favorite mixer. Perfect for a warm spring or summer day, refreshing and delicious.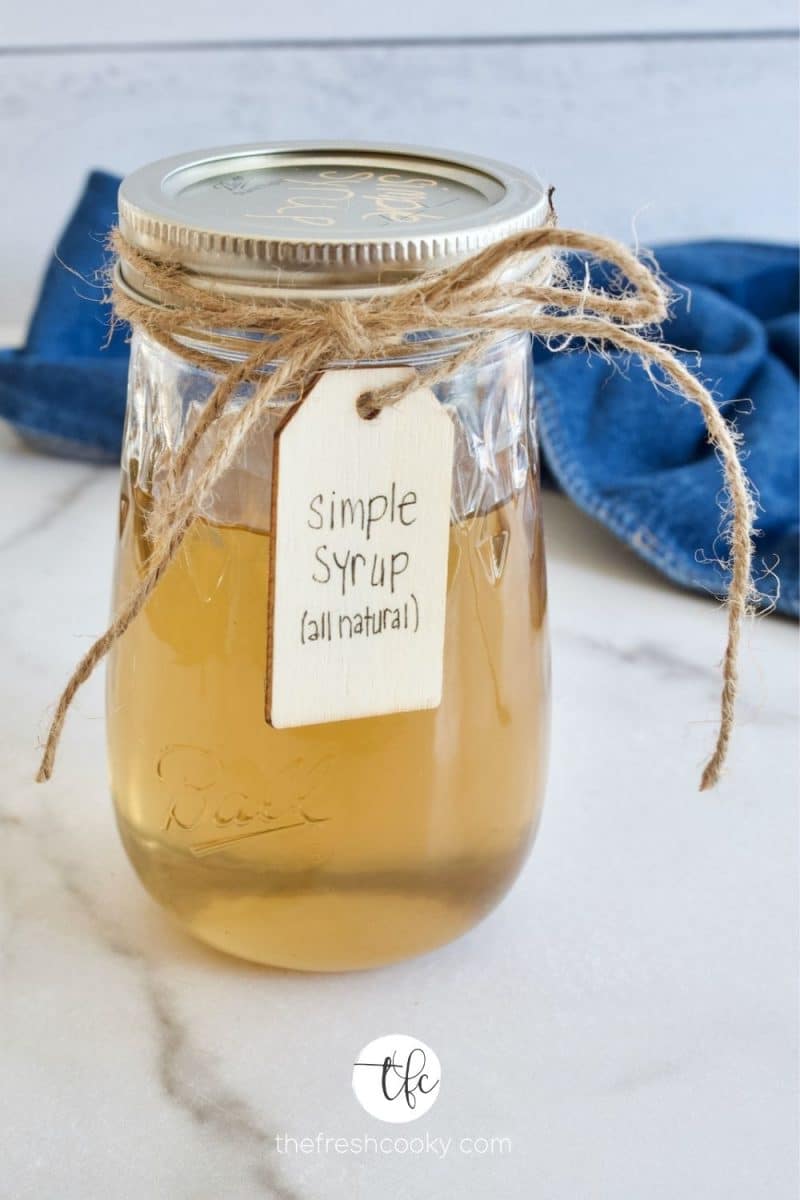 Liquid Cane Sugar | Cane Sugar Syrup
An easy recipe for how to make all-natural cane sugar simple syrup, great to use in drinks, cocktails, on yogurt, ice cream, sorbet and more!
Blueberry Gin Cocktail
Learn how to make this gorgeous, layered Blueberry Gin Cocktail or as I like to call it, Blueberry Gin Gin Fizz. Made with a layer of homemade blueberry syrup on the bottom, spicy ginger beer in the middle and topped with this beautiful gin. Easy steps to create this lovely ombré layered look by a simple "float" process.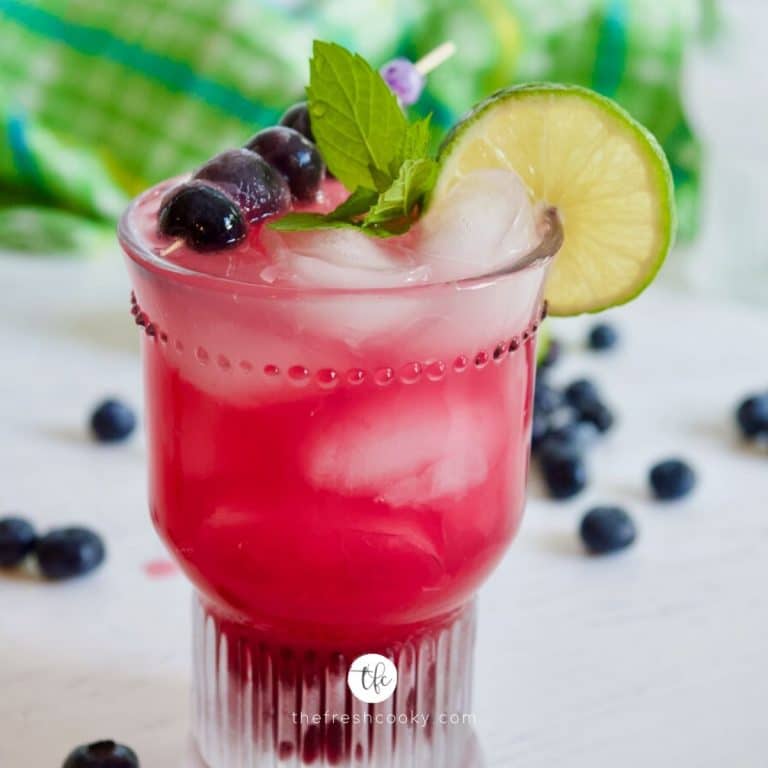 Easy Blueberry Limeade Drink
Using a homemade blueberry syrup, make this easy, refreshing Blueberry Limeade drink, or use lemonade for a blueberry lemonade either way, this is a sweet and easy, non-alcoholic summer drink recipe!
Cherry Bomb Recipe | Cherry Bourbon Smash
Cherry Bomb recipe, a fresh cocktail or mocktail made with fresh (or frozen) cherries muddled with bourbon, vanilla, maple syrup, lemon and club soda.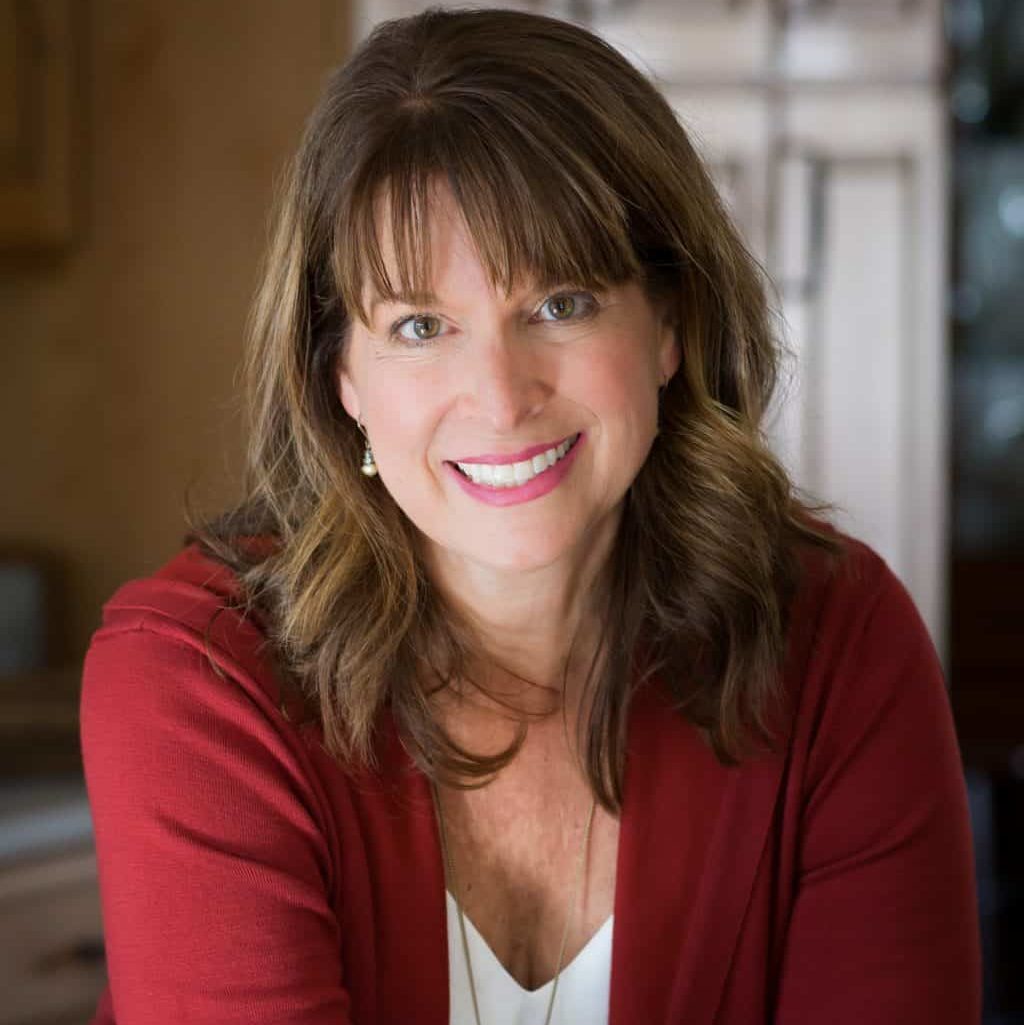 About Kathleen Pope
Recipe Innovator | Food Photographer | Food Writer
Hi, I'm Kathleen Pope. Here at The Fresh Cooky you will find easy, mostly from-scratch, trusted recipes for all occasions. From speedy dinners to tasty desserts, with easy step-by-step instructions. I am here to help teach you how to make mouthwatering recipes without spending hours in the kitchen. Read more about Kathleen here.