Easy Instant Pot Glazed Carrots
As an Amazon Associate, I earn from qualifying purchases. Please read my disclosure policy.
Instant Pot Carrots are a quick and easy side dish, that you will quickly fall in love with! With a simple buttery glaze, this easy recipe with fresh and earthy tarragon is out of this world.
This butter carrot recipe made in the Instant Pot or stove top are a quick, fresh, healthy and easy veggie side dish recipe, a simple side dish for weeknight dinners or fancy entertaining.
Looking for more veggie sides to accompany your main dish? Give these favorites a try: Cheesy Asparagus Bake, Balsamic Honey Glazed Roasted Brussels Sprouts, Instant Pot potatoes or this popular Corn Pudding Casserole.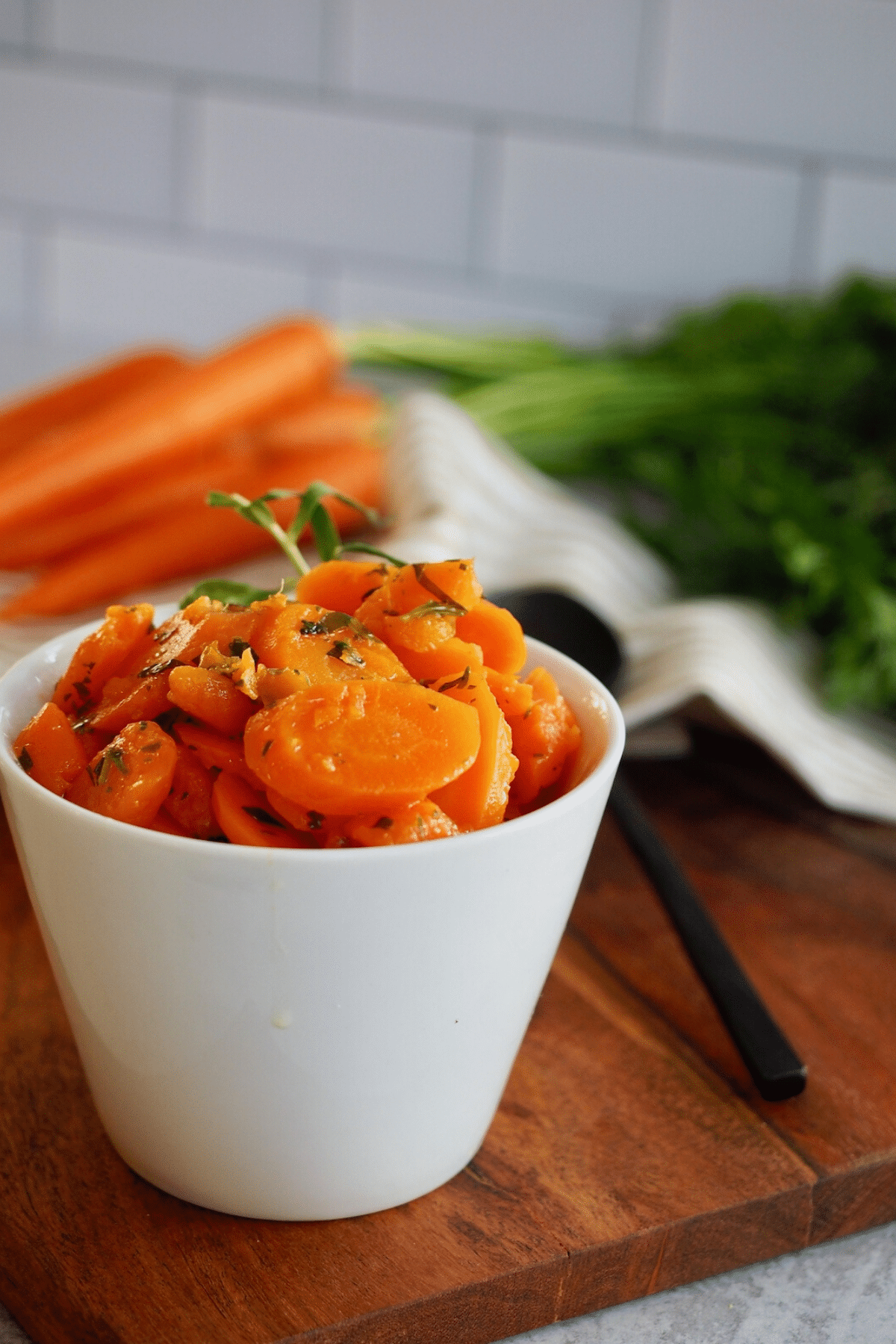 Do you have stories about "why" you love a particular dish? These Glazed Tarragon Carrots have a story! I grew up liking raw regular carrots, but not loving cooked carrots, until…UNTIL I had these carrots while living as an Au Pair in Germany.
My house mom, would slow cook carrots in butter and dried tarragon and tossed with a little sea salt…that's it, but the flavors will knock your socks off!
You'll notice she didn't add water, she typically used up to a stick of butter, ha! No wonder they were so amazing and I gained 20 lbs while I lived there! I have figured out a way to keep the flavor and reduce the butter!
What is Tarragon?
Tarragon is a perennial herb that you may not have heard of or ever cooked with before, touted as a slightly bitter herb with aromas not unlike anise, it imparts delicate flavors to vegetables, fish and chicken dishes and I always add it to my beef bone broth.
Don't like licorice or anise? Do not let that scare you away, I am not a fan of either licorice or anise, but somehow this herb delivers a lot of flavor in a delicate way!
Simple Ingredients for the Perfect Side Dish
The full recipe and measurements are in the printable recipe card at the bottom of this post.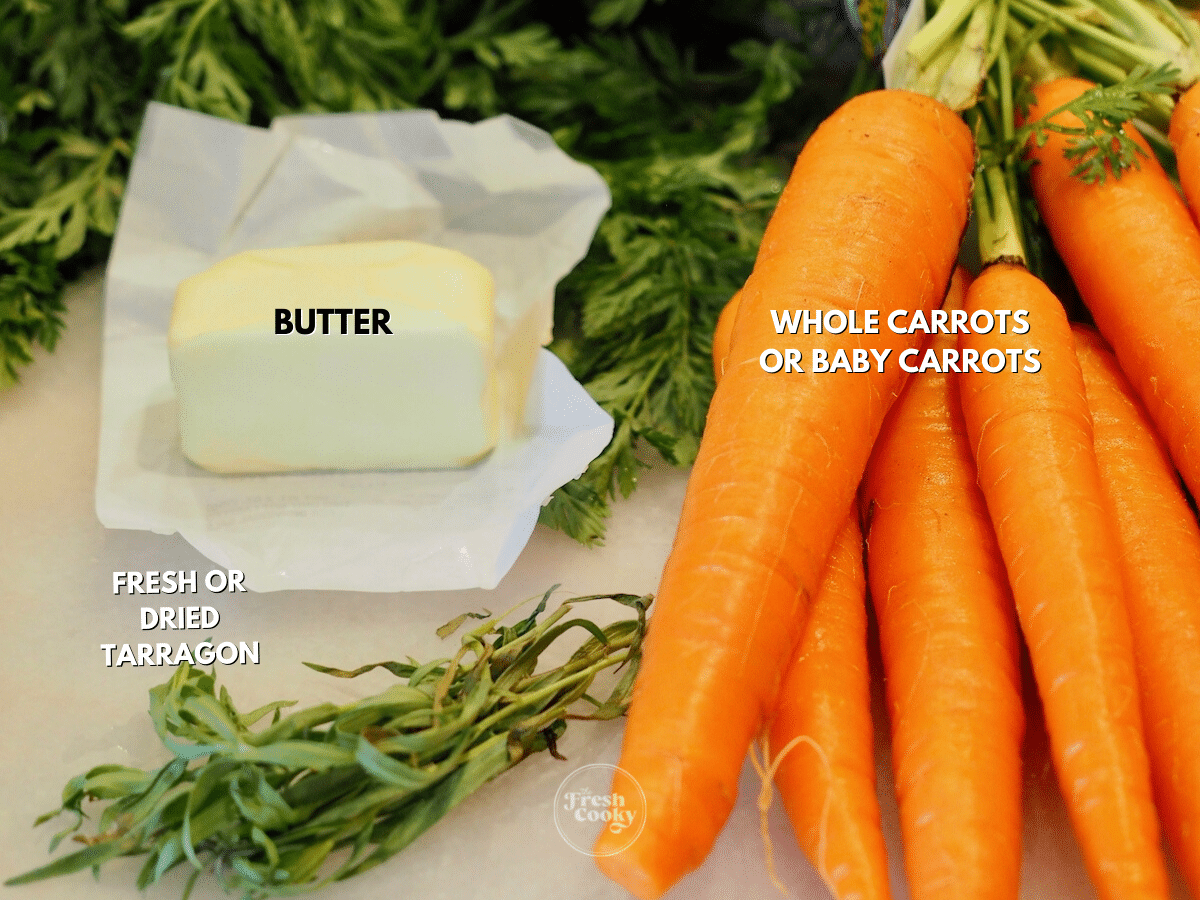 Whole Carrots | Washed, peeled and sliced or chopped carrots will work, you can even use baby carrots
Tarragon | fresh tarragon, stems removed, leaves chopped or 1-2 teaspoons dried tarragon
Butter | don't worry, it's not a whole stick! Just a few tablespoons.
Water | Just a little less than a cup of water
How to make Instant Pot Carrots Recipe
Place carrots, and all other ingredients inside inner pot of the electric pressure cooker, seal lid, place steam valve in locked position.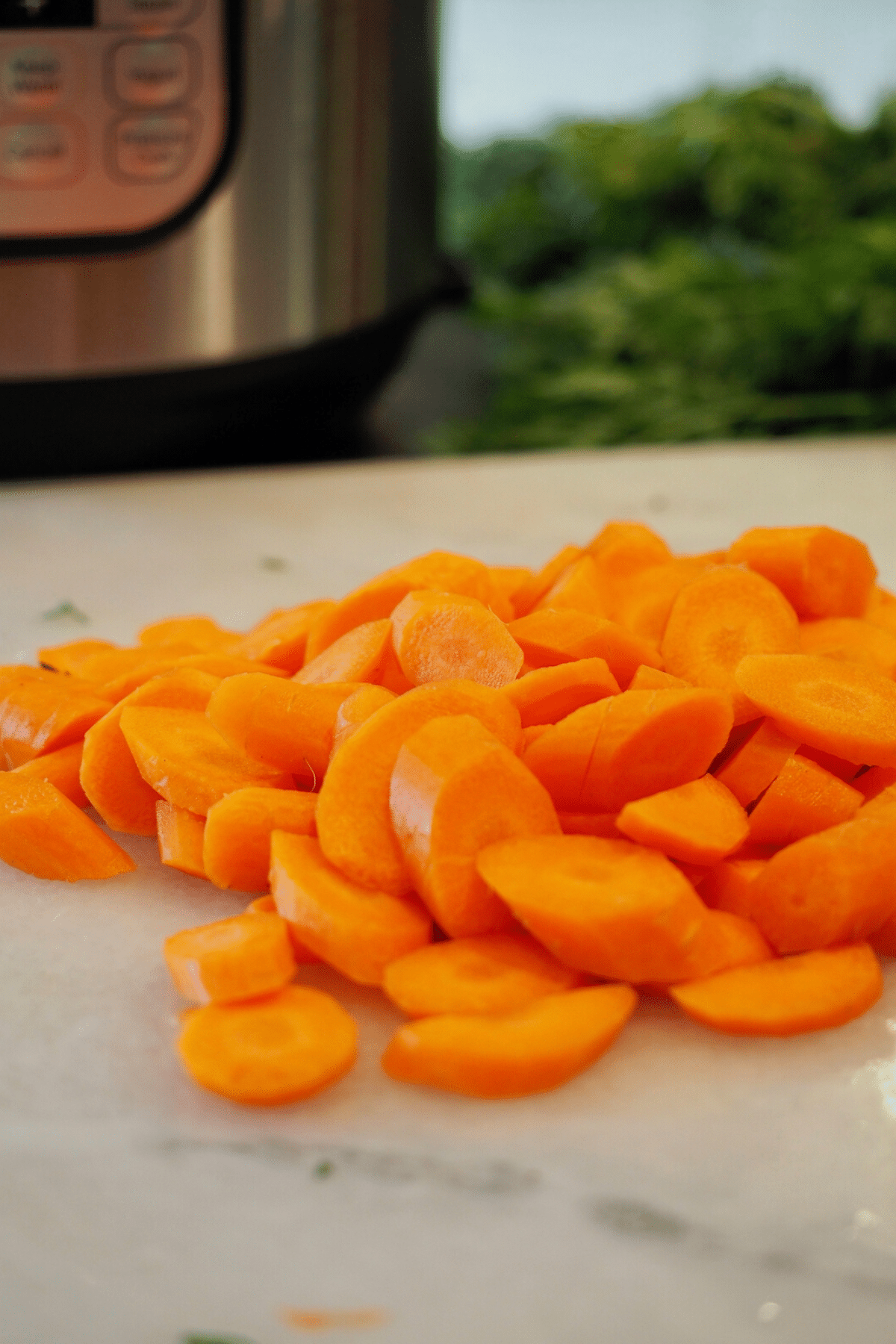 Pressure Cook on high for 2-3 minutes for diced carrots (3 for softer carrots, 2 for slightly firmer, I have done 4 and they pretty much fall apart, still delicious, but three minutes is just about perfect at higher altitude). Will take about 8-10 minutes to come up to full pressure. If using whole baby carrots, increase the time to 4-5 minutes.
Perform the quick release, adjust seasonings if needed, serve immediately. Those colors are not enhanced! That's it, that's all you have to do for this glazed carrot recipe!
How to make Glazed Carrots on the Stovetop or Slow Cooker
This is how I originally learned to make this glazed carrots recipe, the rule of thumb here is, low and slow.
Place all ingredients (with water adjustment) into a small or medium sized saucepan or slow cooker, you want the water/butter mixture to almost cover the carrots.
Cover and bring to low simmer, typically simmering about 30-45 minutes until a fork slides right into them. Adjust seasonings and serve immediately.
Variations & Substitutions
Honey Maple Glazed Carrots | Replace the tarragon and add ½ teaspoon cinnamon and ⅓ cup maple syrup or honey or a combination of the two, if desired add ½ teaspoon cinnamon and a shake of nutmeg, making a delicious honey glaze.
Brown Sugar Carrots | Instead of the tarragon add ⅓ cup of brown sugar to your baby carrots, you may keep them whole or cut them up. If whole, cook under manual high pressure for 4 minutes.
Whole Baby Carrots | If you don't feel like cutting carrots, use up to 2 pounds whole baby carrots, with a pressure cooking time of 4 minutes. Instant pot baby carrots will be tender and delicious!
Swap out the butter with olive oil for a side dish that has better health benefits
Try different Herbs | Use fresh thyme or rosemary
Replace water with a little fresh orange juice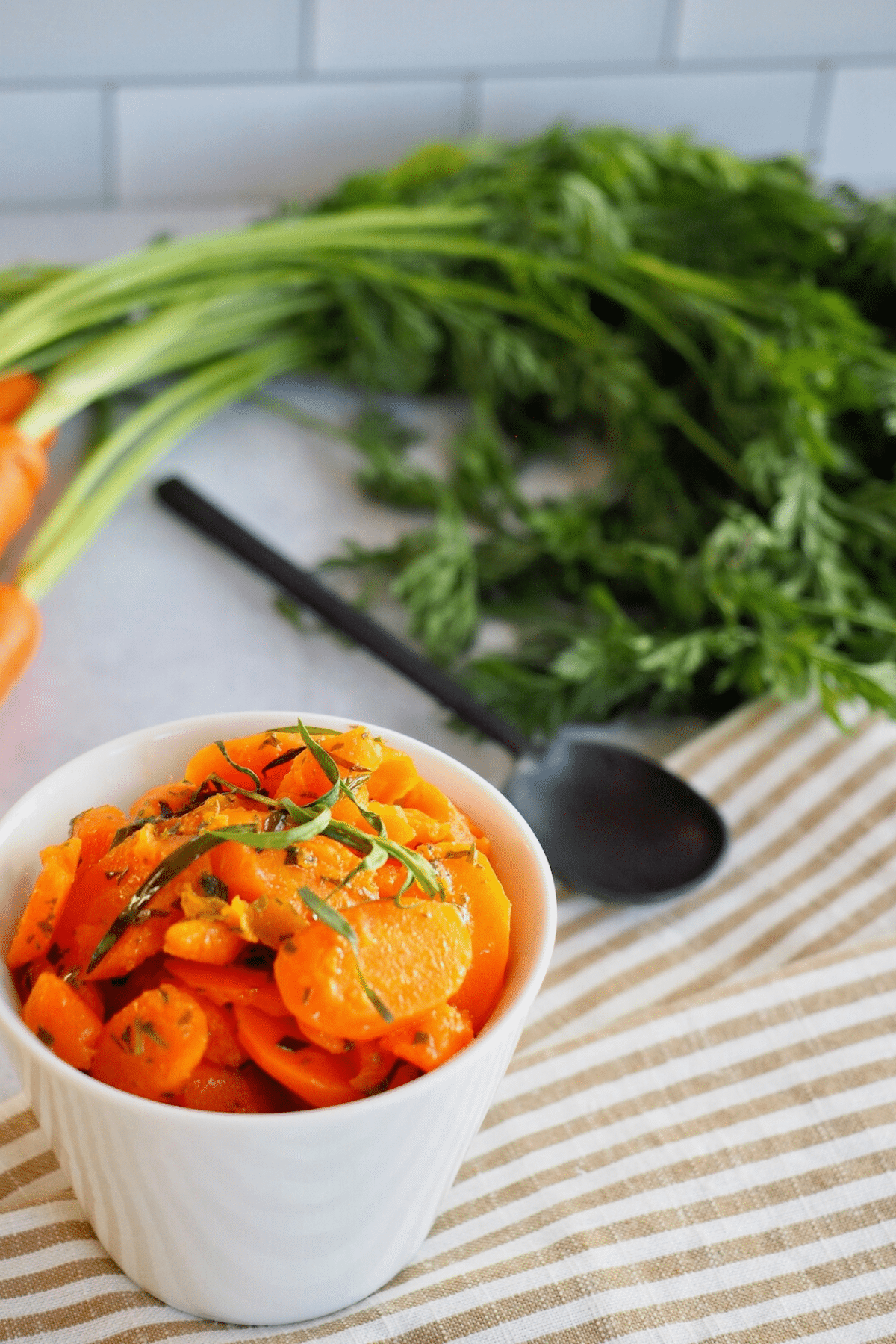 Storage
Store leftover carrots in an airtight container in the fridge up to 5 days. These tender carrots may be frozen, but it will change the texture slightly.
Reheat in the microwave or on the stovetop in a pan with a little additional water and/or butter.
Recommended Equipment
All you need for these tender carrots is an Instant Pot and a good knife!
Frequently Asked Questions
Can you cook carrots with butter and tarragon ahead of time?
Yes, under cook them slightly and rewarm for a few minutes on the stove top before serving.
Does Boiling Make Carrots Soft?
Sure does! If you have never cooked or boiled carrots not only does it make them soft, but it also brings out the sweetness of the carrot.
Can I use dried tarragon in this carrot recipe?
You bet! Depending on how much you like tarragon, start with 1 teaspoon, taste and add up to 2 teaspoons.
Is this Instant Pot Carrot Recipe vegetarian?
Yes it is, or use coconut oil or vegan butter and make it vegan!
These Instant Pot Carrots are such a great side dish, perfect for a busy weeknight or to make holiday meal prep a snap. This simple recipe is a great option when you want a veggie, but don't have a lot of time, but don't want to compromise on flavor!
More great vegetable recipes
What to serve with Instant Pot Carrots
I hope you loved this recipe, if you do, keep small women owned business going, share a comment below and rate the recipe!
LOVE IT? PIN IT!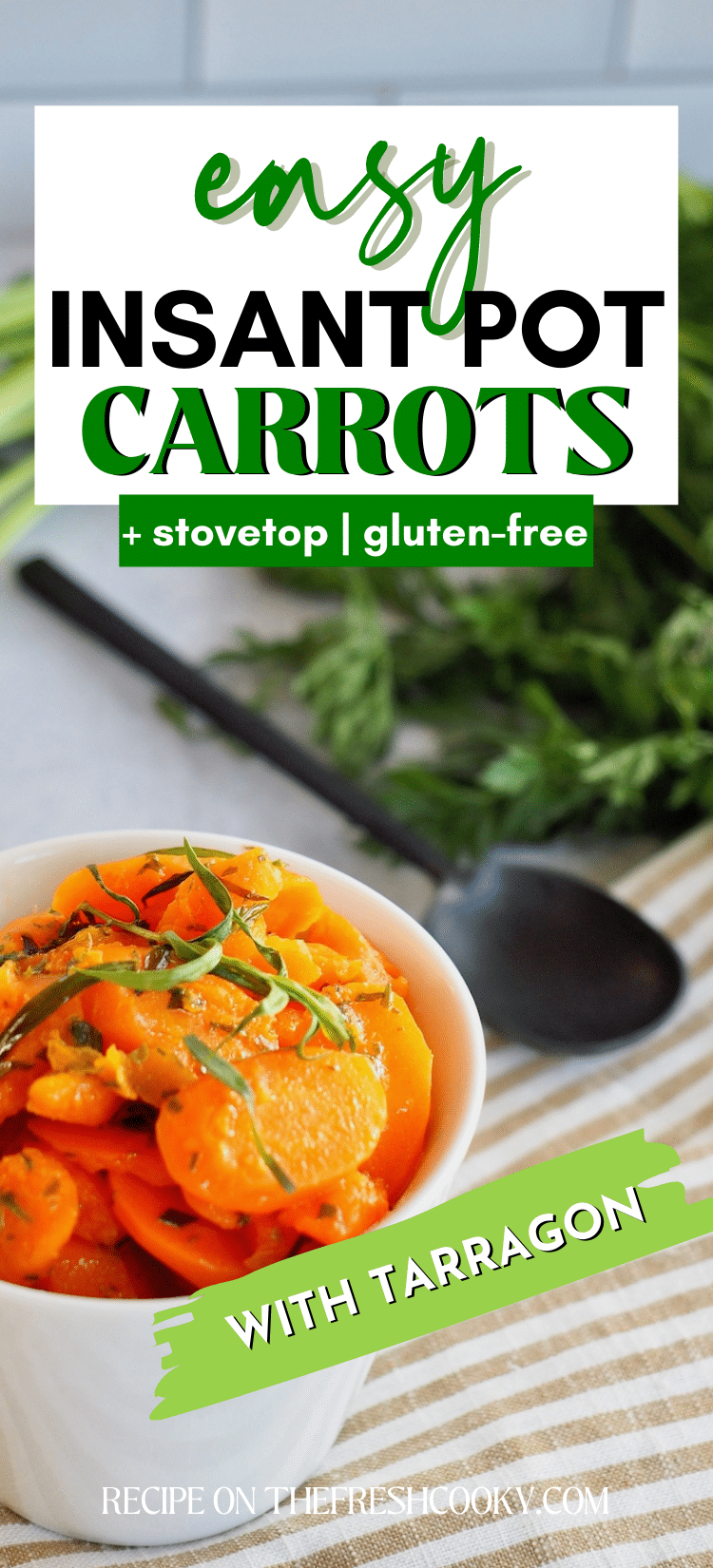 Like this recipe?
Don't forget to give it a ⭐️⭐️⭐️⭐️⭐️ star rating and comment below the recipe!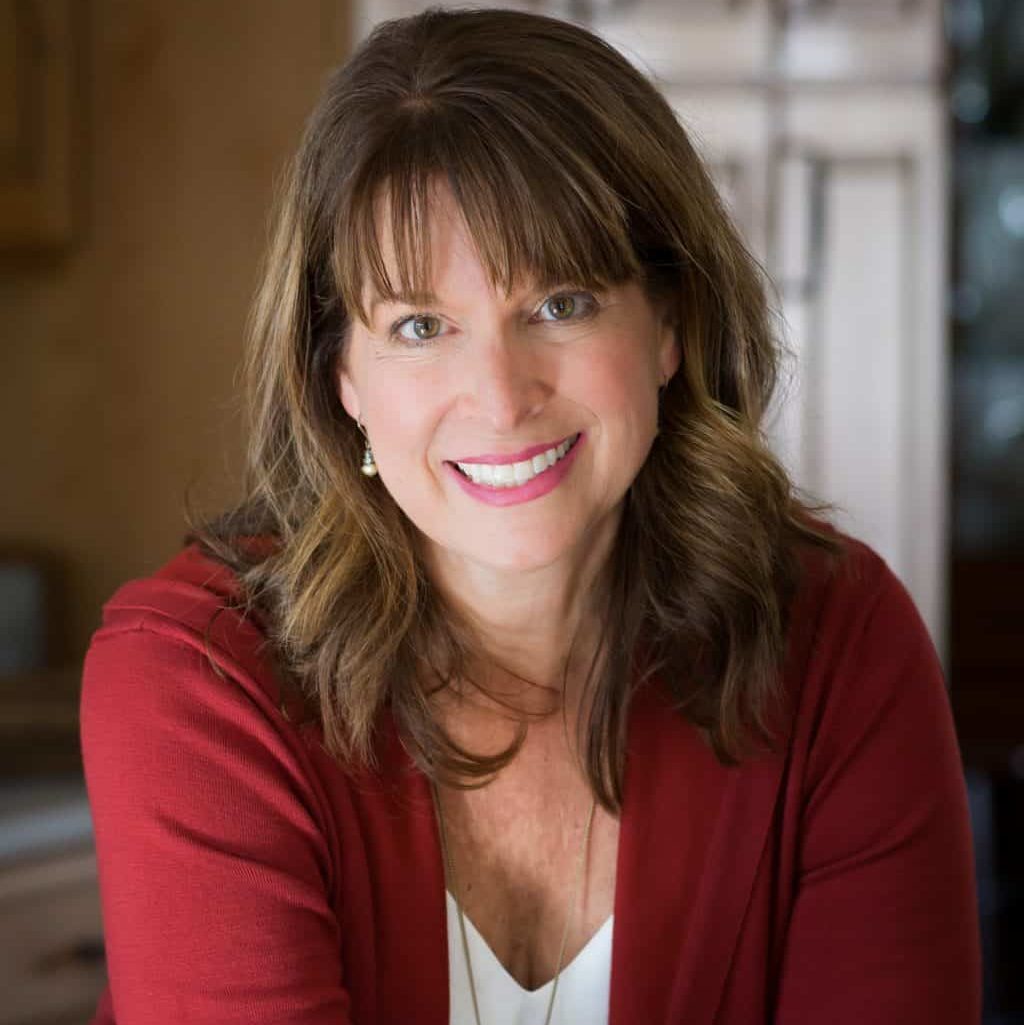 About Kathleen Pope
Recipe Innovator | Food Photographer | Food Writer
Hi, I'm Kathleen Pope. Here at The Fresh Cooky you will find easy, mostly from-scratch, trusted recipes for all occasions. From speedy dinners to tasty desserts, with easy step-by-step instructions. I am here to help teach you how to make mouthwatering recipes without spending hours in the kitchen. Read more about Kathleen here.