Disclosure I am a participant in the Amazon Services LLC Associates Program, an affiliate advertising program designed to provide a means for us to earn fees by linking to Amazon.com and affiliated sites, this post may contain links. At no cost to you!
Gluten Free Coffee Cake is not only easy, but you don't even need to be gluten free to enjoy this amazingly, moist, dense, flavorful coffee cake! And wouldn't it be nice to have a slam dunk gluten free recipe; just in case you need one? And, just in case you are wondering you can substitute all of the flours for regular all-purpose flour.
How do you handle change? Sometimes I handle it really well, like changing my pajamas or coffee (tee-hee), other times, not so much. My emotions have been on a roller coaster the last few weeks from wonderful highs of a great week at VBS to a hi-low with my last day at my job yesterday. I shouldn't even call it a job, it was a privilege to work alongside amazing people, pouring our hearts into kids, revealing truths about Jesus, watching kids and families change for the Kingdom….it was much more than a job!
This recipe and photos were updated 2/26/19
Change is good, it's hard, it's always mixed with joy and sorrow. One of our pastors at church was talking about the odd journey of joy and sorrow just last week, how they seem to live on parallel tracks, traveling together; perhaps we can even experience joy within our sorrow. Perhaps we should embrace it, which I'm trying to do, perhaps it's okay to feel sad and miss what once was…perhaps.
I've been in Kids Ministry for almost 10 years at our church, and while we're not leaving our church, it's tough to say good-bye to the everyday interactions with people who have become family to me. While I want to be intentional and keep up with those relationships, things can't help but change. Oddly I'm at peace with all of this, I know it's the right decision, right now. Joy mixed with sorrows, ebbing and flowing like the tide. Below are two of my co-workers who also decided to "retire" it will be so strange not to see them multiple times weekly. I love these ladies, more than just co-workers, they are dear sisters and friends.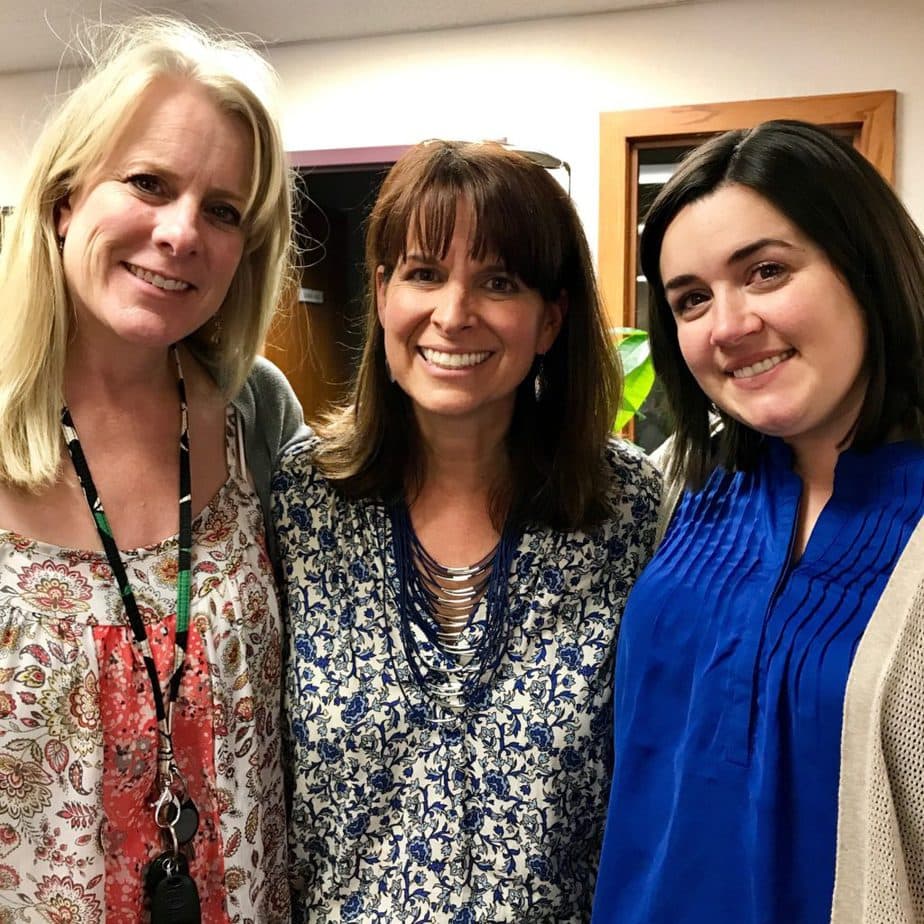 So why did I leave a job I loved? There were several reasons, but the one that gave me the inertia to take that plunge was thinking about some advice I received a very long time ago, when my babies were babies. Our very wise neighbor (her girls babysat for our us) told me,
"While it is important to be home with your babies when they are young, it's just as important, if not more so to be home when your kids are teenagers."
And now that I'm here, I couldn't agree more. They choose the strangest times to open up and I want to be available for them, schlepping them all over we have great conversations–something about that windshield time, or maybe it's that I am privileged to eavesdrop while I'm driving them and their friends to sports practices; you learn a lot by listening. Specifically, I can learn a lot more by listening! After all God gave us all two ears and one mouth so we can listen twice as much as we talk…hmmm, I need to practice that one a lot more.
Back to our regularly scheduled food blog — This Simply Crumbly Coffee Cake has always been my favorite and I still love it, it's super easy to make, but this one; mmm, mm, good. It's nutty, crunchy, chewy, rich and crumbly and oh so moist with a bit of spice and wonderful flavor. And it's gluten free to boot!! Though you can make it with regular flour as well, though I love the earthiness of a variety of gluten free flour.
How to Make a Moist Gluten Free Coffee Cake
My friend Emily, the delightful originator of this recipe, brought this coffee cake to a retreat a few months back, a must have in your repertoire! I used 3 different gluten free flours to add a little bit of depth to the cake, but feel free to change it up to your favorites as well, try different amounts and mixes.
Start by mixing in your flour's, if making Gluten Free try Bob's Red Mill 1 to 1, I'm a big fan of oat flour, it lends wonderful moisture to baked goods. Combine your flours, sugar, nutmeg, cinnamon, salt, mix until combined.
Next add the sugars, mix in.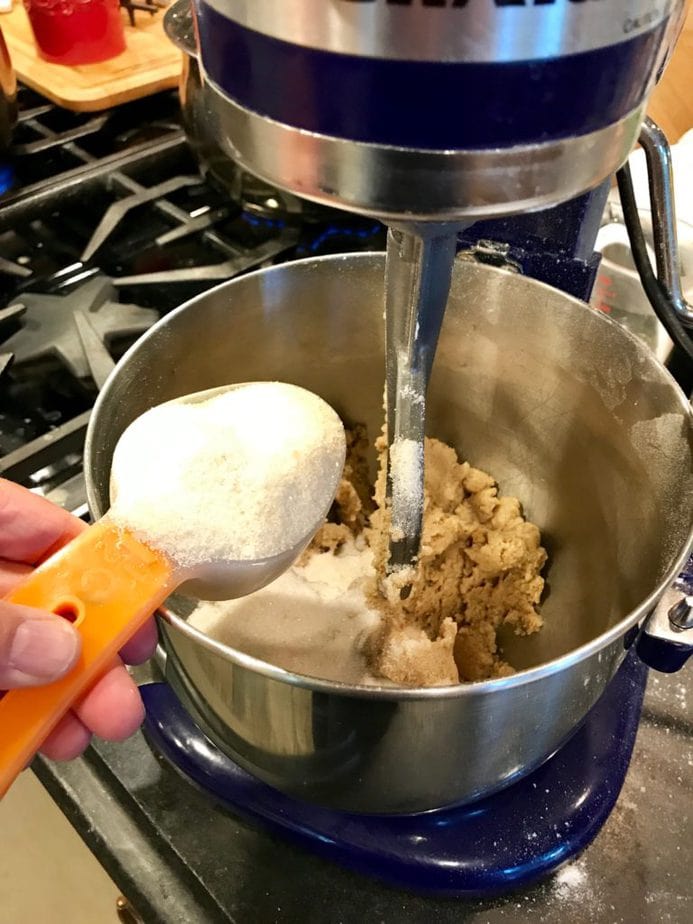 Add the oil and mix well, but don't over mix.
Mix until crumbly and remove ¾ to 1 cup of dough before proceeding. I like more crumbs on top, so I do closer to a cup.
Next add 1 cup buttermilk*, baking soda and egg, mix until combined and smooth.
*NO BUTTERMILK? Simply add 1 tablespoon of regular white vinegar or lemon juice to a cup of milk, stir and allow to sit for 5-7 minutes and voila you'll have buttermilk!
Spread into greased 9 x 13 inch pan.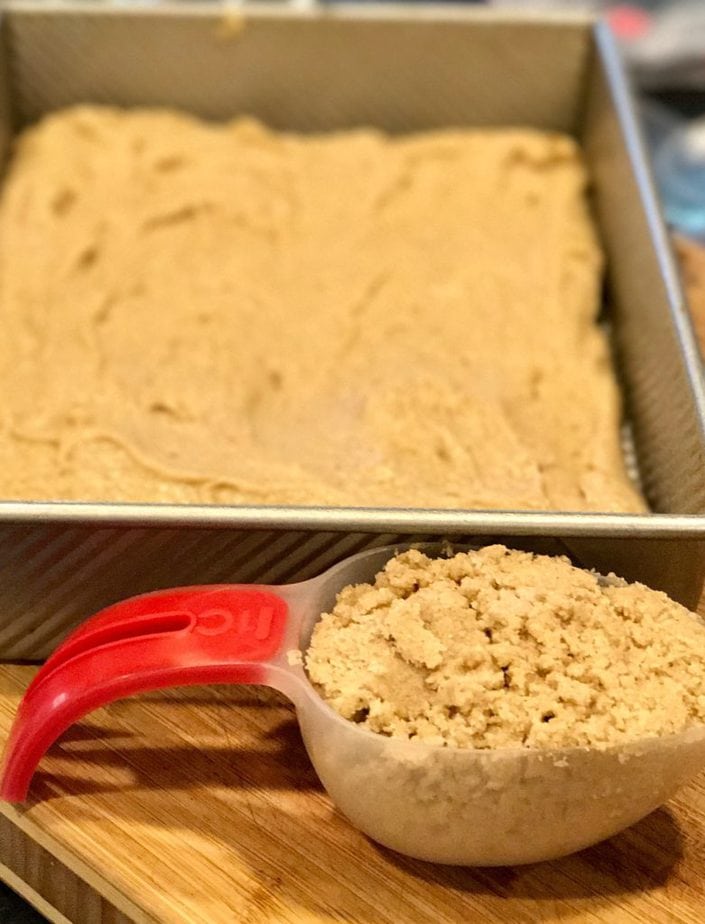 Using the reserved crumbs, mix in 2 teaspoons cinnamon and ½ cup chopped pecans (optional) and mix into crumbled mixture. Unless you are like me and do things too fast without reading well, then you've already crumbled your topping over the top, so then just sprinkle your cinnamon and pecans (optional) over the top. I did half and half as one of my boys has a tree nut allergy.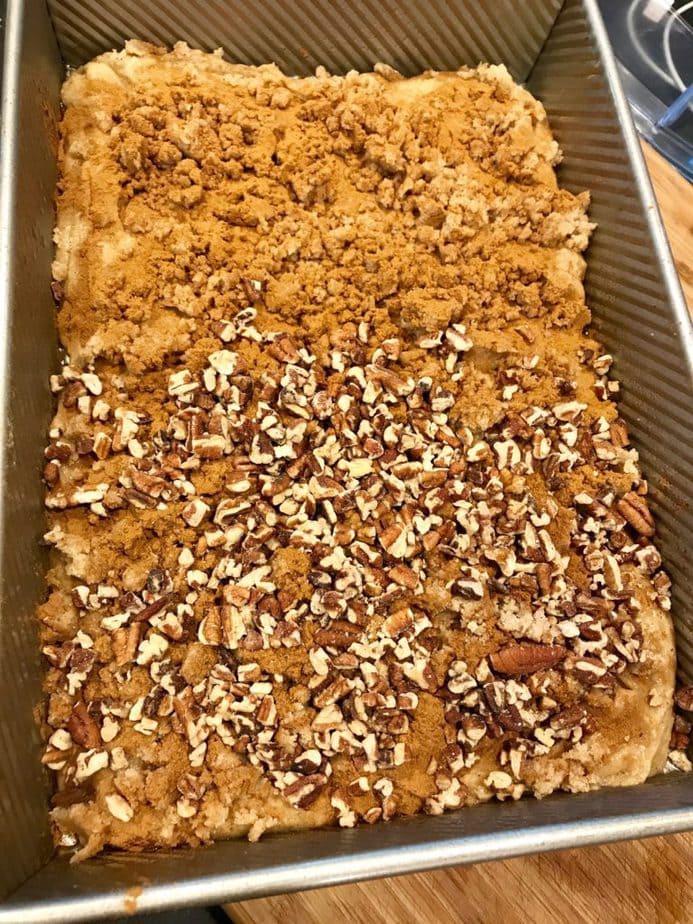 Bake at 350° for 20-30 minutes, until it's no longer jiggly.
Making the Glaze
While baking, mix together glaze ingredients. Use a little more or less water to make smooth and pourable. Whisk well until smooth, set aside until ready to use.
Pull the cake from the oven and immediately drizzle the icing evenly over the top. Let cool slightly before slicing, delicious warm or cold, truly a moist and flavorful cake.
If you like this recipe, check out my Gluten Free (or easily adapted to be Gluten Free) recipe archive.
Emily says, "I've adjusted this recipe every way you can think of and it always turns out great! I've used walnuts, almonds, no nuts, almond extract, gluten free flour, regular flour, regular milk, orange juice, you name it. I dare you to make this cake not delicious." Thanks Emily, we'll be making this often!
Thanks for your patience in this post, I guess for those of us who process internally, writing it out is a cathartic experience.
Print
Every Day Coffee Cake | Regular and Gluten Free Options
Author:

Prep Time:

15 mins

Cook Time:

30 mins

Total Time:

45 mins

Yield:

12

-

16

pieces

1

x
Category:

Breakfast

Method:

Oven

Cuisine:

American/Gluten Free
---
Description
It's nutty, crunchy, crumbly, chewy and oh so moist with a bit of spice and wonderful flavor. And it's gluten free to boot!! You don't need to be gluten free to enjoy this coffee cake!
---
Scale
Ingredients
1 ½ cup

s gluten free All-Purpose Flour (or cup for cup)

½ cup

oat flour

½ cup

almond flour
May replace above flours with regular all purpose flour (2 ½ cups) if desired.

¾ cup

sugar (I like all-natural cane sugar)

1 cup

brown sugar, packed

1 teaspoon

nutmeg

1 teaspoon

cinnamon

1 teaspoon

sea salt

¾ cup

vegetable oil (I like Grapeseed or Avocado oil)
Reserve

1 cup

of batter for crumb topping

1 cup

buttermilk

1 teaspoon

baking soda

1

egg
Crumb Topping
1 cup

reserved batter

2 teaspoon

cinnamon

½ cup

pecans (chopped or whole, optional)
Icing
1 cup

powdered sugar

1 teaspoon

vanilla

1

–

2

Tablespoons water
---
Instructions
Mix flours, sugars, spices and salt, mix until combined.
Add oil and mix until crumbly.
Reserve 1 cup of crumb mixture, set aside.
Add buttermilk, baking soda and egg to remaining dough, mix thoroughly.
Spread (it'll be thick) into greased 9×13 pan.
Take reserved crumb mixture and using a fork, mix in cinnamon and optional nuts, crumble on top of the dough.
Bake at 350 for 20-30 minutes, until center doesn't jiggle.
While baking, prepare icing.
Mix powdered sugar, vanilla and water until smooth and pourable (add more water if needed)
Drizzle over hot cake once finished baking.
Cool a bit serve warm or cooled, delicious either way.
---
---
Notes
*NO BUTTERMILK? Simply add 1 tablespoon of regular white vinegar or lemon juice to a cup of milk, stir and allow to sit for 5-7 minutes and voila you'll have buttermilk!
Emily's notes | Swap out your flours, use regular flour, or different gluten free flours; use milk, buttermilk or even orange juice, it's hard to mess this coffee cake up. Give it a try and let me know what you think!
© 2017 | This recipe for Gluten Free Coffee Cake was featured first on The Fresh Cooky.
Keywords: Coffee Cake, Gluten Free, Nuts, Easy, Make ahead
Recipe Card powered by