This gluten free coffee cake is the easiest coffee cake, ever! The crumb topping is made from the batter, use any combination of flours, replace egg and liquids with your choice, you seriously cannot mess up this cake! Make egg free, dairy free and gluten free.
I love having a versatile, allergy friendly recipe in my hip pocket! And this one does not disappoint, it is really the easiest and tastiest coffee cake for gluten free and gluten eaters alike!
Love coffee cakes, try these reader favorites that are easily adapted to be gluten free, like Apple Double Crumb Cake, Blueberry Crumble Cake, or Strawberry Rhubarb Crumb Bars.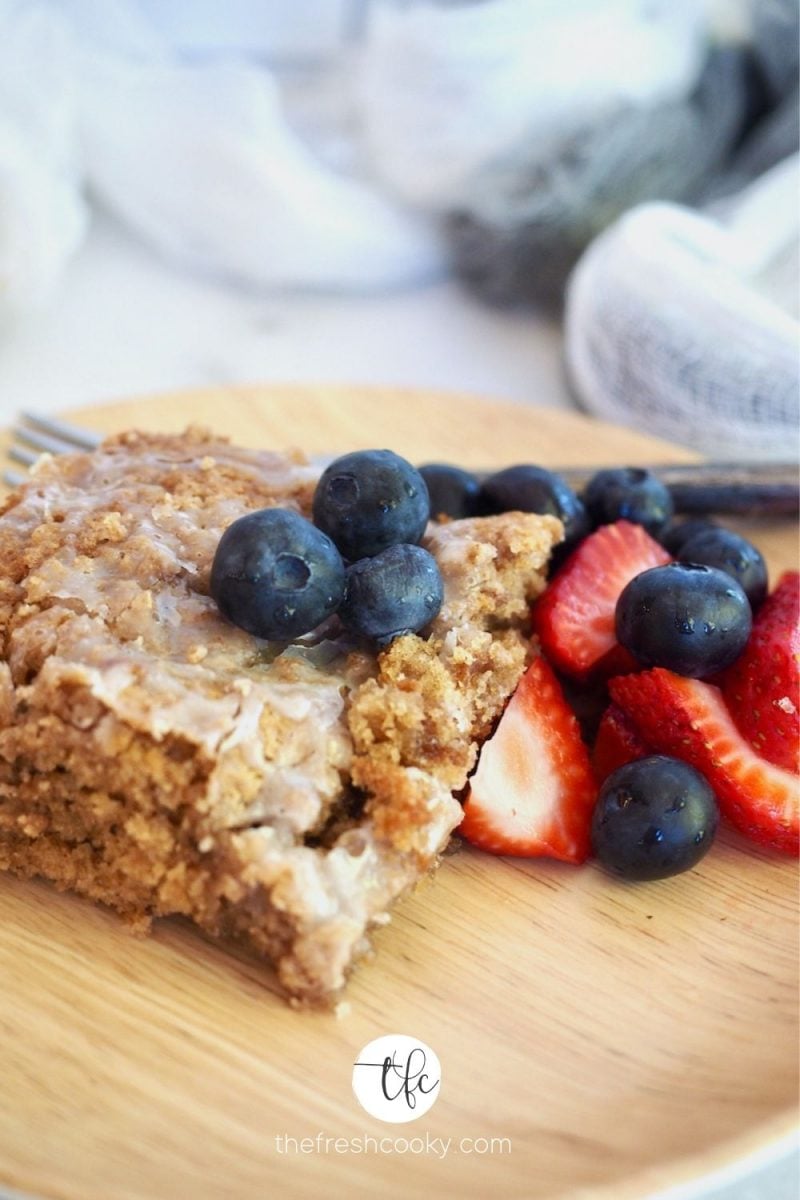 Why Doesn't Coffee Cake Have Coffee In It?
A common misconception is that all coffee cakes have coffee in them. American coffee cakes do not typically have any coffee in them or in the icings.
Instead coffee cake is a generic term for any cake eaten with our coffee.
I understand in Australia and the UK this is not the case, a coffee cake truly does have coffee in the recipe and in the icing!
Can I Add Coffee to Coffee Cake?
Absolutely! This is such a versatile recipe! Here are some ideas:
Stir in 1 teaspoon of coffee or espresso powder to the milk
Exchange some of the liquid (milk, buttermilk, etc) for dark coffee, cooled
Add ½ – 1 teaspoon of espresso powder to the icing
Wouldn't it be nice to have a slam dunk gluten free recipe; just in case you need one? And, just in case you are wondering you can substitute all of the flours for regular all-purpose flour.
This Simply Crumbly Coffee Cake has always been my favorite and I still love it, it's super easy to make, but this one; mmm, mm, good.
I'm not gluten free, but I make this coffee cake regularly and when I bring places people go nuts over it! Being gluten free is a bonus!
How to Make the Moistest Coffee Cake
My friend Emily, the delightful originator of this recipe, brought this coffee cake to a retreat a few months back and it's a WINNER!
I used 3 different gluten free flours to add a little bit of depth to the cake, but feel free to change it up to your favorites as well, try different amounts and mixes.
Recipe Ingredients
*May replace above flours with regular all purpose flour (2 ½ cups) if desired.
Sugar | I use all-natural organic cane sugar in all of my baking
Light Brown Sugar | Lends a lovely caramel like flavor
Nutmeg | Adds a fun twist on the spices
Cinnamon | would not be a spiced coffee cake without cinnamon
Kosher salt | You need salt to bring out all of the flavors!
Vegetable oil | I like Grapeseed or Avocado oil, or use another neutral oil
Buttermilk* | No buttermilk? No problem, simply add 1 tablespoon vinegar or lemon juice to a cup of milk, stir, let sit 5-10 minutes.
Baking Soda | a leavening and rising agent
Egg | I always use large eggs in my baking, you may substitute with one small mashed banana.
Crumb Topping Ingredients
Reserved batter
Cinnamon
Pecans (chopped or whole, optional)
Powdered sugar
Water, Maple syrup or Cream
How to Make Gluten Free Coffee Cake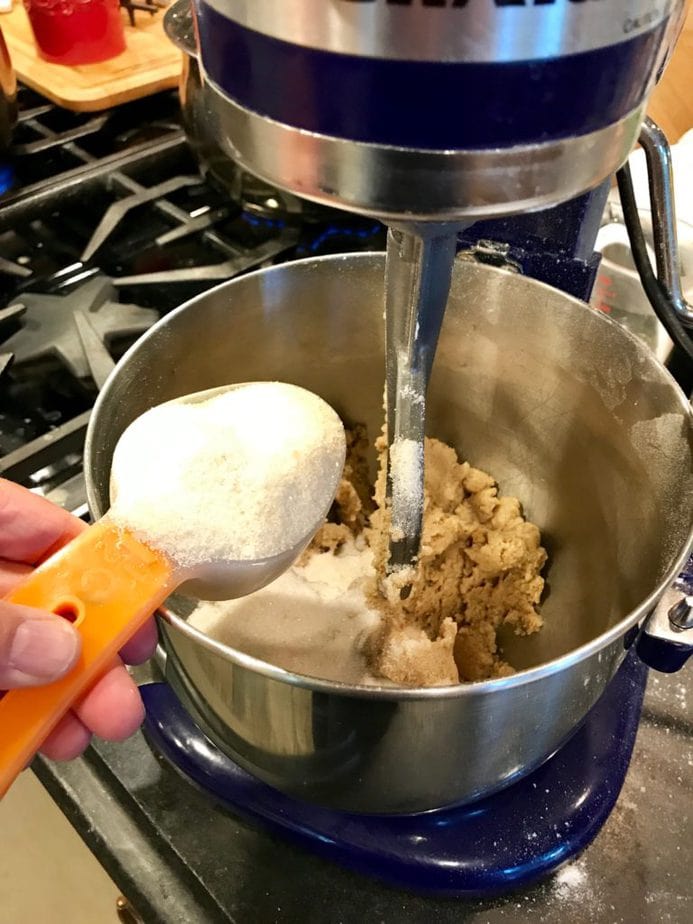 If making Gluten Free try Bob's Red Mill 1 to 1, I'm a big fan of oat flour, it lends wonderful oaty moisture to baked goods. Combine your flours, sugar, nutmeg, cinnamon, salt, mix until combined.
Add the oil and mix well, but don't over mix.
Once mixture resembles crumbs, remove ¾ to 1 cup of mixture and set aside.. I like more crumbs on top, so I do closer to a cup.
Next add 1 cup buttermilk*, baking soda and egg, mix until combined and smooth.
*NO BUTTERMILK? Simply add 1 tablespoon of regular white vinegar or lemon juice to a cup of milk, stir and allow to sit for 5-7 minutes and voila you'll have buttermilk!
Spread into greased 9 x 13 inch pan. Sometimes depending on how much crumb you take it's more liquid than other times, don't worry it all bakes up into the same delicious, moist cake!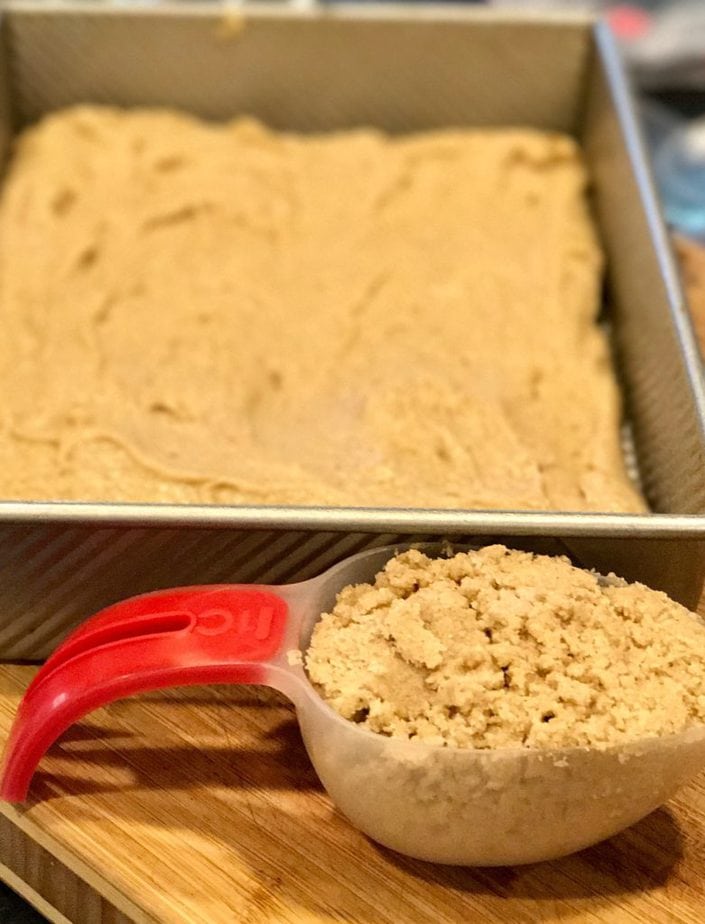 Toss 2 teaspoons cinnamon and ½ cup chopped pecans (optional) and mix in reserved crumb mixture.
Unless you are like me and do things too fast without reading well, then you've already crumbled your topping over the top, so then just sprinkle your cinnamon and pecans (optional) over the top. I did half and half as one of my boys has a tree nut allergy.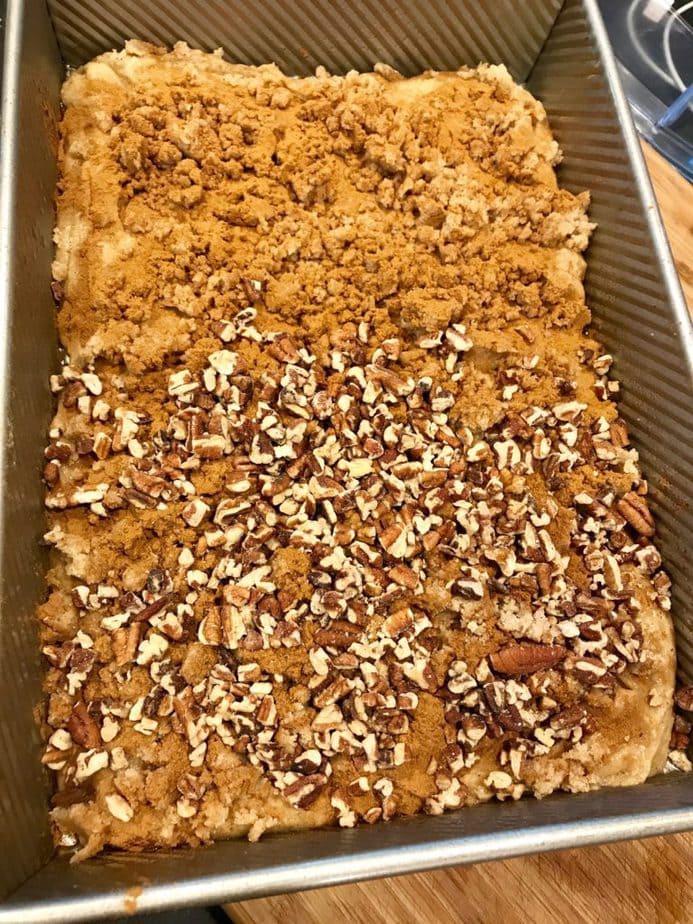 Bake at 350° for 20-30 minutes, until it's no longer jiggly in the middle, you want this baby moist, don't overbake.
Ugly Glaze for the Ugly Cake
While baking, mix together glaze ingredients for the Gluten Free Coffee Cake. Use a little more or less water to make smooth and pourable. Whisk well until smooth, set aside until ready to use.
Pull the cake from the oven and drizzle the icing evenly over the top of the warm cake. Let cool slightly before slicing, delicious warm or cold, truly a moist and flavorful cake.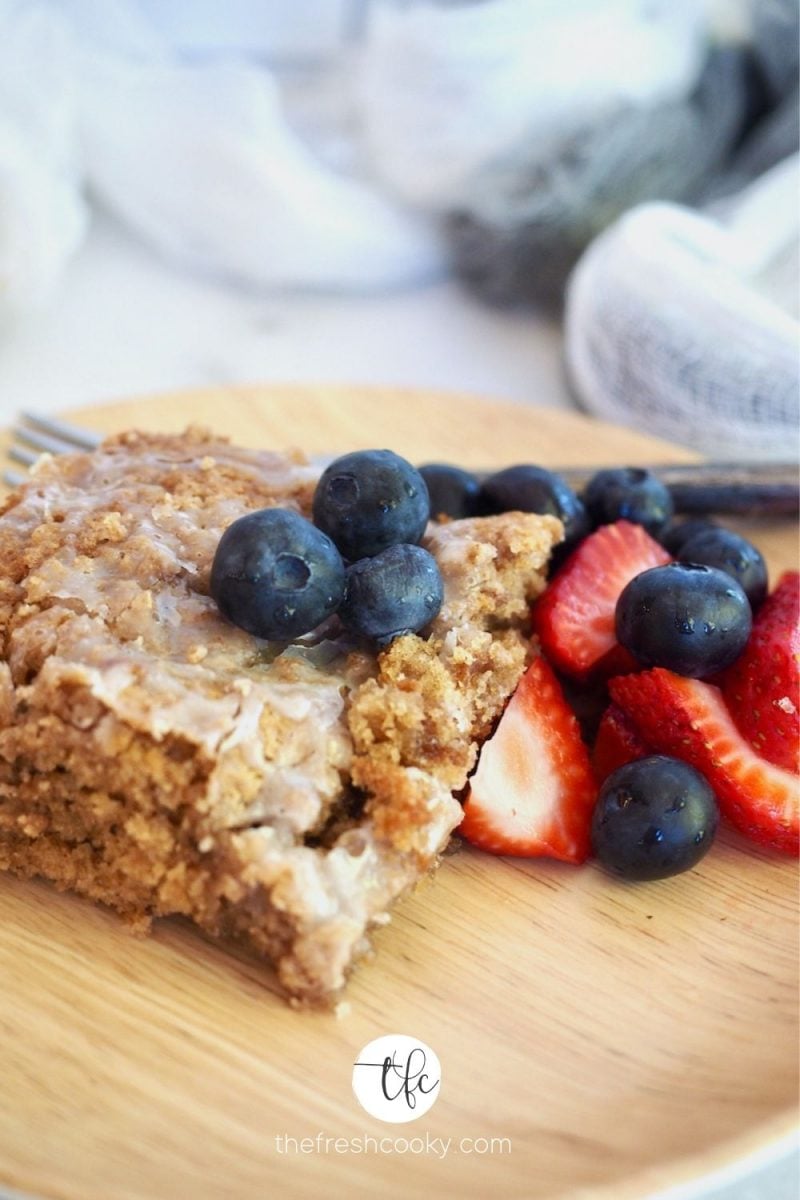 Tips
I have made this cake a hundred times I bet, each time it comes out slightly different, it could be how firmly you pack the cup of dry ingredients used to make the crumb topping or the flour used.
RUNNY BATTER | If your batter is really runny, you can try adding an additional ¼ – ⅓ cup flour (gluten free).
GF FLOURS | all purpose gluten free flours are all slightly different and without the gluten as a binding agent, they can respond differently when adding liquids.
BAKING TIME | Watch and know your oven, does it run cool, then increase the heat by 25 degrees, or reduce by 25 if it runs hot. This cake should not be runny as it comes out of the oven, if needed keep in oven checking every 5 minutes for doneness. Sides should pull away slightly from sides of pan and the center will look soft, but shouldn't be jiggly.
If you like this recipe, check out my Gluten Free (or easily adapted to be Gluten Free) recipe archive.
"I've adjusted this recipe every way you can think of and it always turns out great! I've used walnuts, almonds, no nuts, almond extract, gluten free flour, regular flour, regular milk, orange juice, you name it. I dare you to make this cake not delicious." Thanks Emily, we'll be making this often!

Emily – recipe creator
EGG FREE, DAIRY FREE & GLUTEN FREE COFFEE CAKE
Try different flours — just replace with total flour amount.
Replace the egg with 1 small-medium mashed banana
Replace buttermilk with your favorite plant based milk or even try orange juice!
Sharing on Weekend Potluck this week.
Like this recipe?
Don't forget to give it a ⭐️⭐️⭐️⭐️⭐️star rating in the recipe below!
Yield:

12-16 pieces
Gluten Free Coffee Cake | Ugly Coffee Cake
Crunchy, crumbly, chewy and oh so moist with a bit of spice and wonderful flavor and it's UGLY and gluten free to boot!! You don't need to be gluten free to enjoy this coffee cake!
Ingredients
1 ½ cups gluten free All-Purpose Flour (or cup for cup)
½ cup oat flour
½ cup almond flour
May replace above flours with regular all purpose flour (2 ½ cups) if desired.
¾ cup sugar (I like all-natural cane sugar)
1 cup brown sugar, packed
1 teaspoon nutmeg
1 teaspoon cinnamon
1 teaspoon sea salt
¾ cup vegetable oil (I like Grapeseed or Avocado oil)
Reserve 1 cup of batter for crumb topping
1 cup buttermilk*
1 teaspoon baking soda
1 egg (or substitute with one banana)
Crumb Topping
1 cup reserved batter
2 teaspoon cinnamon
½ cup pecans (chopped or whole, optional)
Icing
1 cup powdered sugar
1 teaspoon vanilla
1-2 Tablespoons water
Instructions
Mix flours, sugars, spices and salt, mix until combined. Add oil and mix until resembles crumbs. Reserve 3/4 - 1 cup of crumb mixture, set aside.
Add buttermilk, baking soda and egg to remaining dough, mix thoroughly. Spread or pour into greased 9x13 pan. Depending on how much crumb topping you take will make the batter thicker or thinner.
Take reserved crumb mixture and using a fork, mix in cinnamon and optional nuts, crumble on top of the dough.
Bake at 350° for 20-30 minutes, until center doesn't jiggle. While baking, prepare icing. Mix powdered sugar, vanilla and water until smooth and pourable (add more water if needed). Drizzle over hot cake once finished baking.
Cool a bit serve warm or cooled, delicious either way.
Notes
*NO BUTTERMILK? Simply add 1 tablespoon of regular white vinegar or lemon juice to a cup of milk, stir and allow to sit for 5-7 minutes and voila you'll have buttermilk!
SUBSTITUTIONS | use regular flour, or different gluten free flours; use milk, your favorite plant based milk, buttermilk or even orange juice, it's hard to mess this coffee cake up. I've also replaced the egg with a mashed banana. Making it egg free, dairy free and gluten free!
Nutrition Information:
Yield:
16
Serving Size:
1 piece
Amount Per Serving:
Calories:

337
Total Fat:

15g
Saturated Fat:

1g
Trans Fat:

0g
Unsaturated Fat:

13g
Cholesterol:

12mg
Sodium:

249mg
Carbohydrates:

47g
Fiber:

2g
Sugar:

28g
Protein:

4g
The nutritional information is estimated and may not be entirely accurate.
ABOUT KATHLEEN
I enjoy sharing easy recipes that are wholesome and delicious. I am fed by my faith, family, friends & food! Welcome to my kitchen! Read more...