Easy Cheesy Broccoli Au Gratin Recipe
As an Amazon Associate, I earn from qualifying purchases. Please read my disclosure policy.
This creamy and cheesy Broccoli Au Gratin Recipe is made with fresh and tender broccoli florets, sharp white cheddar, nutty gruyere cheese, and seasoned with minced garlic and fragrant herbs. The perfect holiday side dish.
While this broccoli gratin is a holiday and potluck staple, it's actually a great recipe for a weeknight meal. Quick, simple, tastes amazing! Kids love it!
If you're a fan of this broccoli au gratin, you should try some more of my easy and delicious recipes, like this Chile Relleno Casserole, Classic Green Bean Casserole (no canned soup), Zucchini Ground Beef Casserole. My Wild Rice Supreme is also worth checking out—it can even be made gluten-free and vegetarian!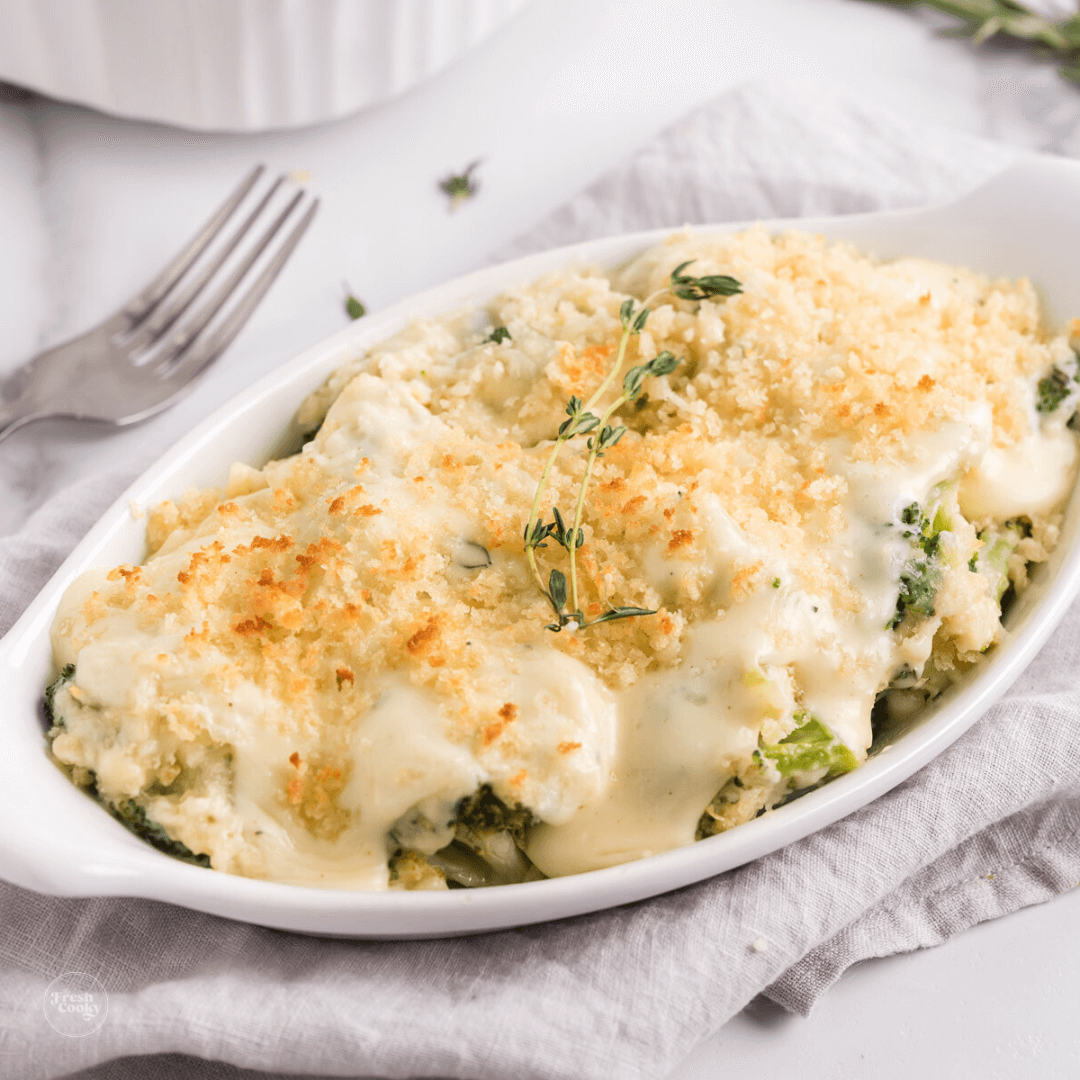 Why You Will Love this Recipe
Comfort Food | With cheesy broccoli topped with crispy and buttery panko breadcrumbs, this recipe might as well be the very definition of comfort food.
Great Family Side Dish | As a side dish, this broccoli gratin recipe easily feeds a large family of six or even more. Pair with grilled pork chops or roasted chicken and you're good to go!
Optional Topping | It's always nice to have options. This broccoli au gratin is just as delicious with or without the optional panko and cheese topping.
Broccoli au gratin is much like the classic potato gratin with a simple béchamel sauce. It's an excellent low carb Thanksgiving side, a healthier Christmas side dish or is a fantastic side for Easter ham dinner, but goes great with turkey too!
"We devoured it. My son ate later and I said, how do you like the broccoli? He said: very, very incredible. 10/10 would recommend." Chellie ~ Reader Review
Low Carb Recipe: Broccoli Au Gratin is an excellent broccoli recipe for low-carb diets or KETO plans.
Broccoli Power: Packed full of antioxidants, vitamins, and minerals, broccoli is one of the superfoods.
Kid Friendly: If you have a picky eater, covering your broccoli in cheese sauce is a great way to get them to try it.
Simple Ingredients
Ingredients, directions and nutritional information in the printable recipe card at the end of the post.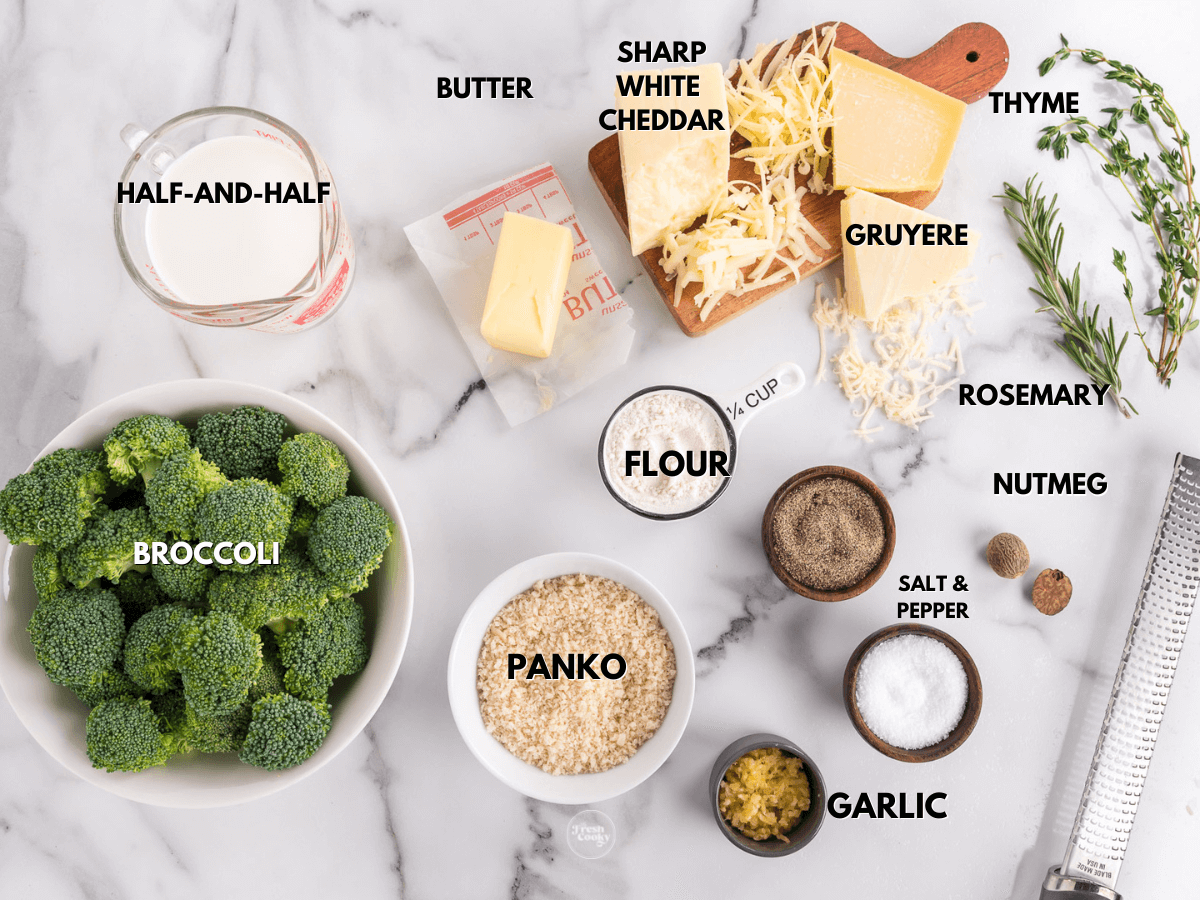 Au Gratin Recipe
Broccoli Florets | I always recommend using organic and fresh broccoli, but if you're in a pinch, you can use frozen broccoli.
Butter | Whether you use salted or unsalted butter is up to your personal preference. You'll use butter to create the irresistible cheese sauce.
Flour | You'll need some all-purpose flour to make a thick and creamy sauce. You may also use a gluten-free product if desired.
Garlic, Thyme & Rosemary | Classic herbs perfectly compliment this creamy au gratin.
Half and Half | For a rich and creamy cheese sauce, use half and half. You may also use whole milk but expect the sauce to be a little less rich.
Kosher salt and pepper | As with many recipes, you'll sprinkle in some salt and pepper to taste. You may use white or black pepper, depending on your preference.
Nutmeg | Warm nutmeg enhances the flavor in the tasty cheeses of this sauce.
White Cheddar Cheese | You'll grate a block of sharp white cheddar cheese to add a bold flavor to the sauce of this casserole.
Gruyere Cheese | Grated gruyere cheese lends a creamier and nuttier taste to balance out the sharp notes of the cheddar.
Optional Panko Topping
Panko Bread crumbs | Panko bread crumbs have a nice and crisp texture, unlike any other bread crumb. However, if you prefer using a more common bread crumb or even crushed Ritz crackers, go for it!
Butter | A little melted butter acts like the glue to hold together the parmesan and panko for a delicious topping.
Parmesan Cheese | Freshly grated parmesan cheese blends beautifully with the panko crumbs and adds some sharp flavor.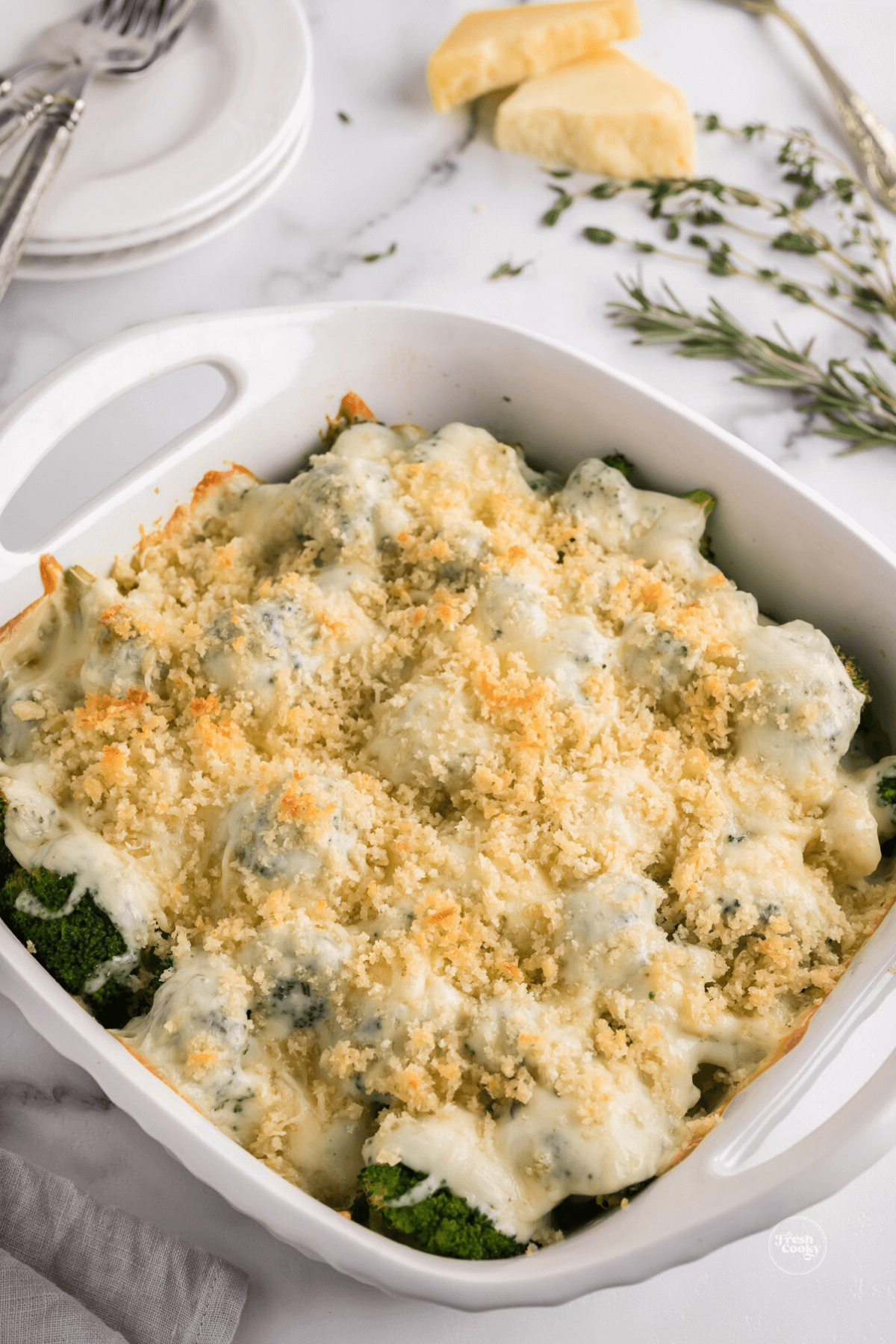 How to Make this Low Carb Broccoli Au Gratin Recipe
Step 1 | Prep and Preheat
Preheat the oven to 375 degrees F and spray an 8×8 baking dish with cooking spray or rub with some olive oil or a little butter (mmm). You may also use a gratin dish or double the recipe and make it in a 9×13 inch dish. The choice is yours!
Or if you prefer it not as cheesy of a dish, double the broccoli, keep the cheesy sauce the same and make in a 9 x 13 inch dish.
Cut up the head of broccoli into bite-sized pieces, but you want them to be a rather large broccoli floret.
Step 2 | Begin the White Sauce
In a medium saucepan over medium heat, melt the butter and stir in the minced garlic. Continue stirring just until the garlic is fragrant, which will take about a minute. Then sprinkle flour and whisk for about 5-6 minutes until thick and golden.
Next, slowly pour in the half and half (or whole milk) while whisking constantly until the mixture is thick and coats the back of a spoon.
Step 3 | Steam the Broccoli
Meanwhile, steam the broccoli by bringing a large pot with about 1-2 inches of water to a simmer and adding a large steamer basket or insert. Toss in the broccoli florets and cover to steam for about 5 minutes.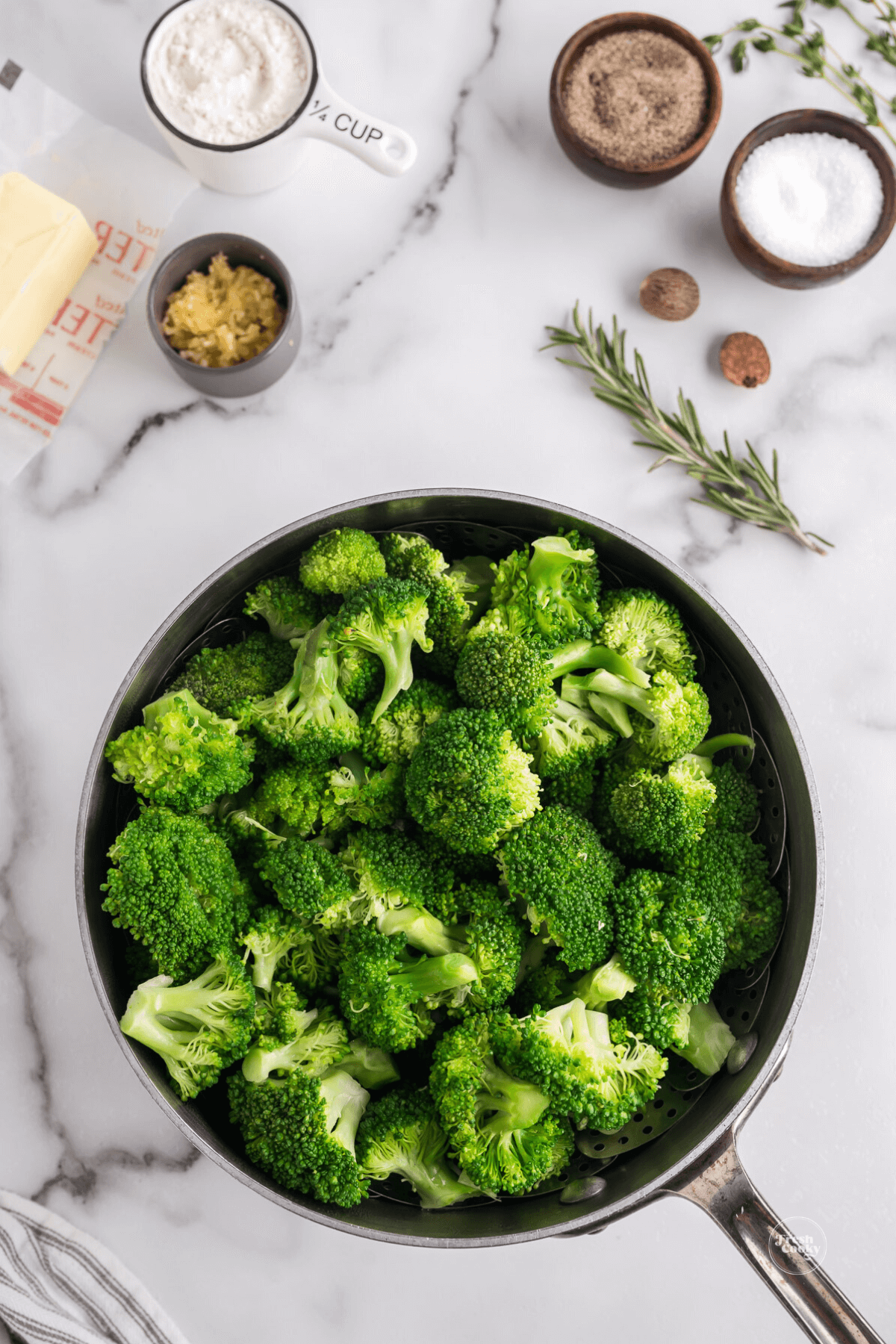 For now, you'll only be partially cooking the broccoli. You'll know it is just right when the florets are bright green with a slight crunch when pierced with a fork. Remove the broccoli from the pot and strain in a colander.
Step 4 | Add the Cheeses and Seasonings
Add nutmeg, salt and pepper to your liking. Next, toss in some chopped rosemary and thyme, if desired. Then, stir or whisk in the shredded cheeses half a cup a time.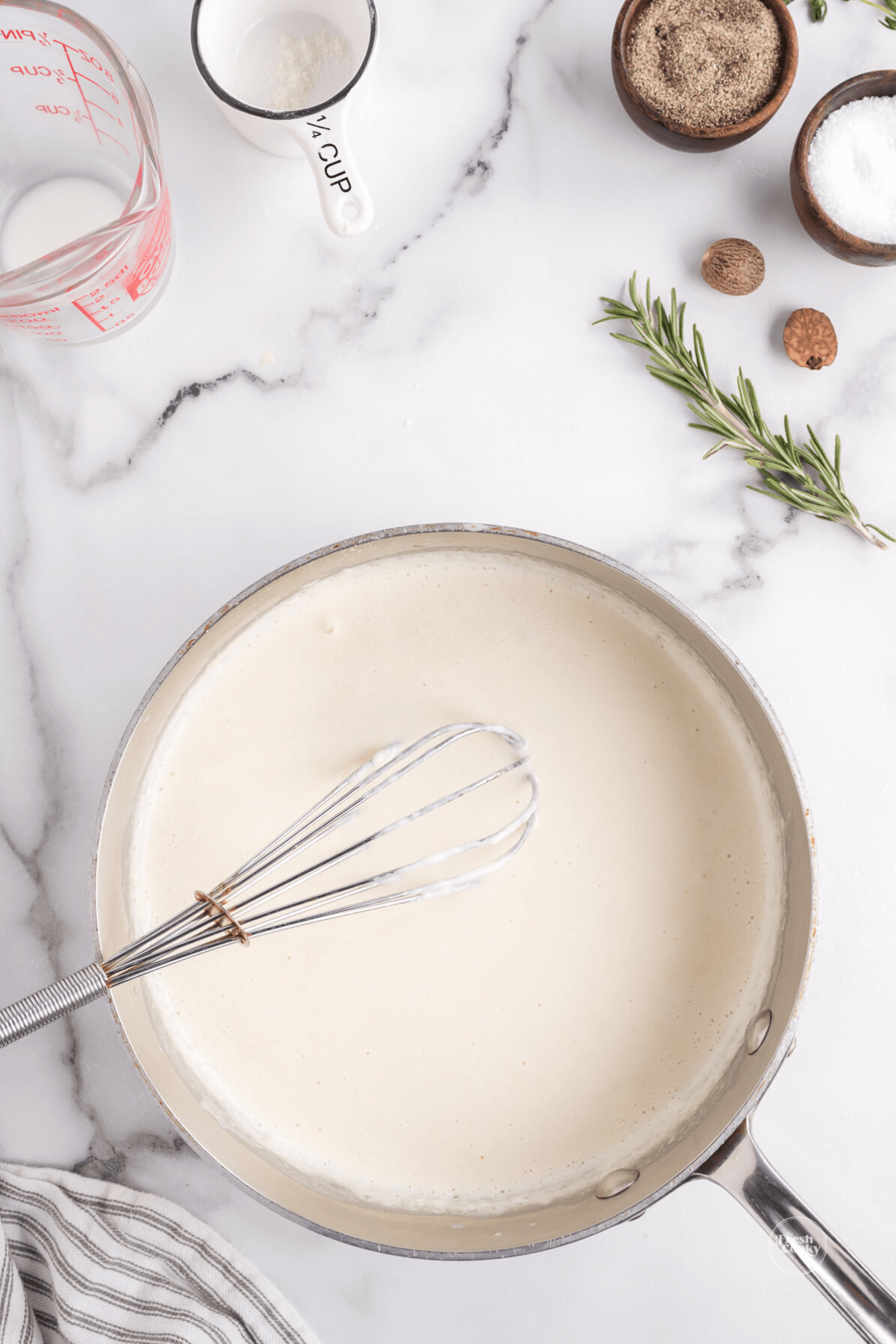 Continue stirring over low heat and adding the cheeses until the sauce is melted and smooth. Set aside ¼ – ½ cup of gruyere to sprinkle on top of the casserole.
Step 5 | Assemble Casserole
Place steamed broccoli in the prepared baking dish, then pour cheese sauce over the top of the broccoli as evenly as possible. Sprinkle with the reserved grated cheese and bake for about 20 to 25 minutes. Then, it's time to serve up this cheesy goodness!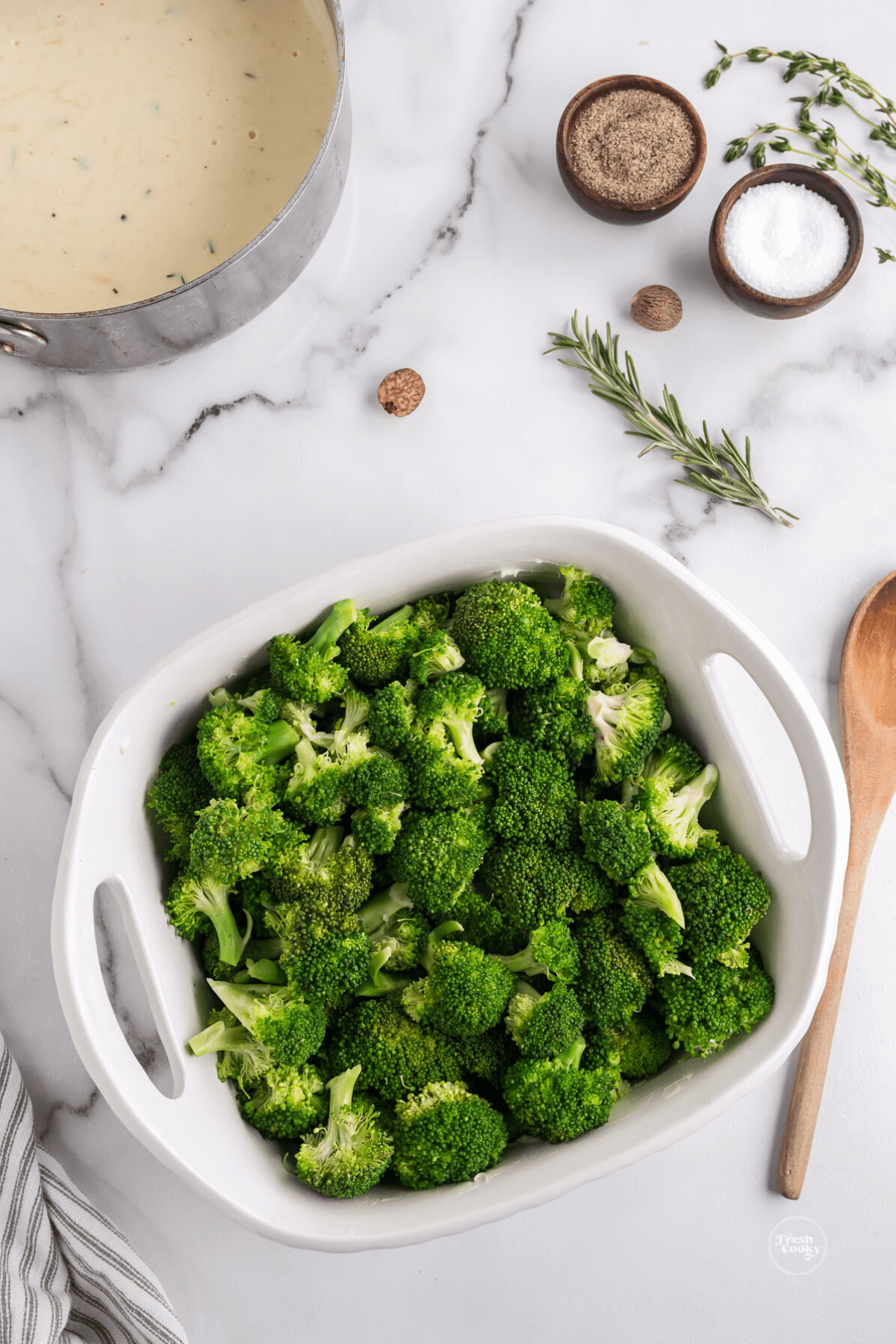 Fresh Tips
Don't forget to strain the broccoli as directed. Skipping this step will likely result in a soggy and mushy broccoli casserole.
Another way to avoid a mushy broccoli au gratin recipe is to ensure you don't overcook the broccoli. You want it to be just tender enough to pierce with a fork.
If you use a bag of pre-shredded cheese, it may not melt as well as if you shred the cheese yourself. I suggest buying blocks of cheese and using a grater to create the shreds. Putting in the extra work always pays off and produces the best flavors.
Optional Panko Topping
If you'd like, add a crisp, buttery topping! In a small bowl, combine the melted butter, breadcrumbs (or crackers), and parmesan cheese or a little more gruyere.
Sprinkle bread crumb topping over the top of the broccoli au gratin. If desired, sprinkle with the last of the remaining cheese.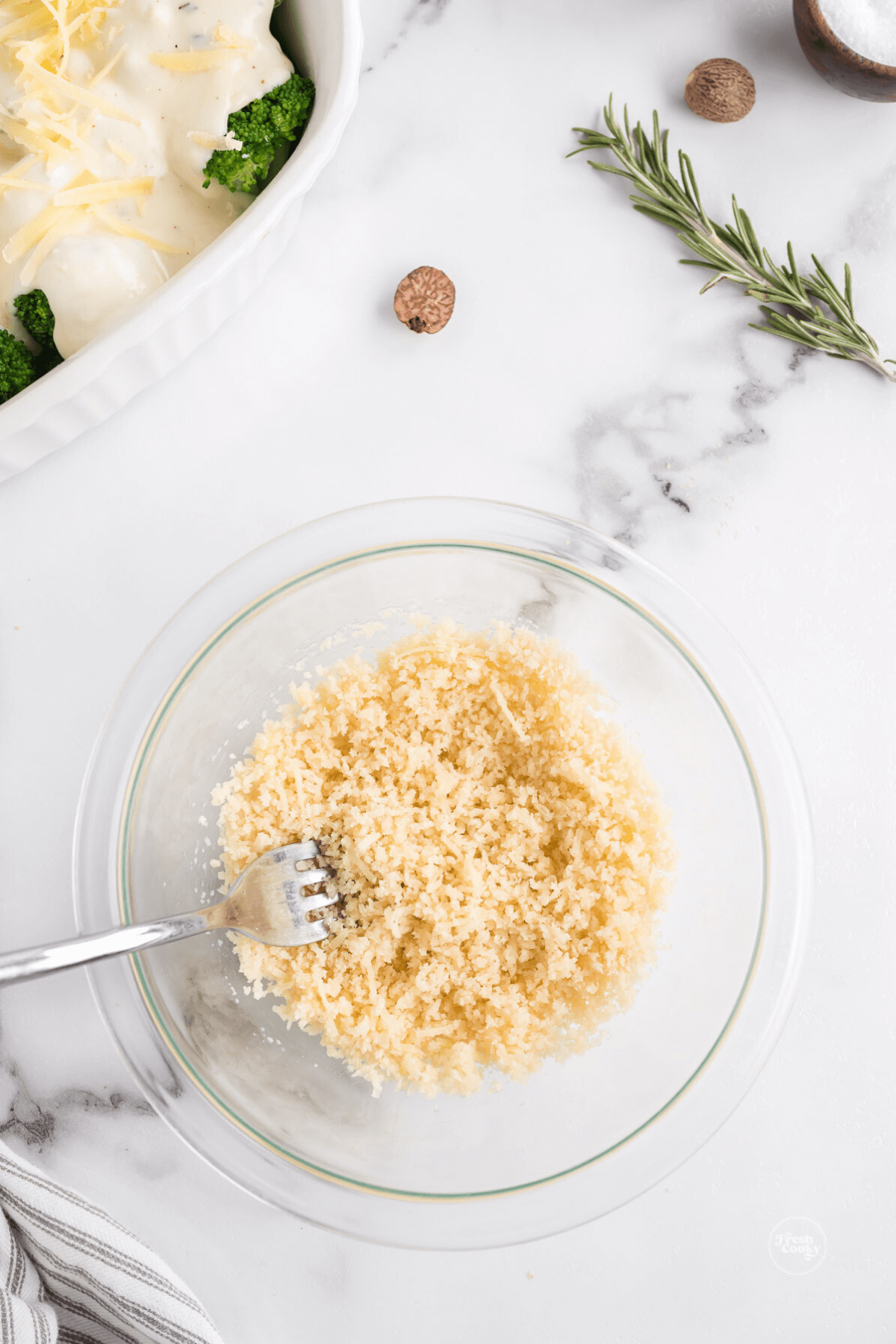 Finally, bake at 375 degrees for 20-25 minutes until the gratin is bubbly and the crunchy breadcrumbs are golden brown. Then, you're ready to serve!
Variations & Substitutions
This versatile recipe is perfect for customization! Here are some creative ideas to get you started:
Use half broccoli and half cauliflower for a little more variety.
Replace the gruyere cheese with your favorite shredded block cheese! Swiss cheese, parmesan cheese, sharp white cheddar would all be delicious.
Crisp up 3-4 thick slices of bacon and toss those with the broccoli before covering with sauce.
Add caramelized onions to the broccoli mixture.
Gluten-Free Broccoli Au Gratin | Just use a gluten-free flour alternative and ensure the dried spices you buy are labeled as gluten-free and if using panko, purchase a gluten-free panko.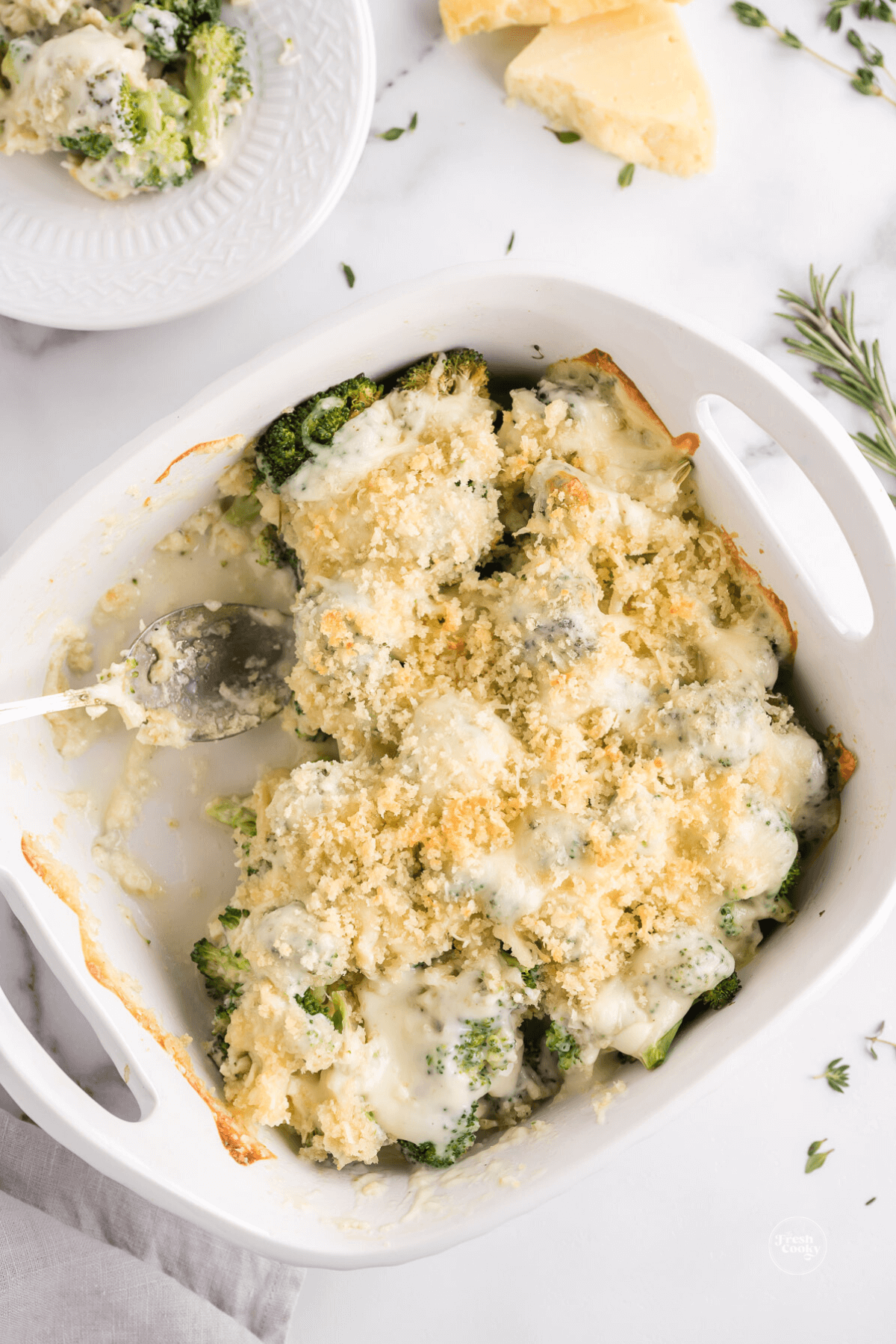 Storage & Travel Tips
Store leftover baked broccoli au gratin in a covered dish in the fridge for 3-5 days.
Freeze | Broccoli au gratin will freeze well, allow to cool completely on the counter before freezing, then cover with plastic wrap and again with foil, freeze up to 3 months.
How to transport Broccoli Au Gratin recipe
When it's hot from the oven, slip the broccoli au gratin into an insulated casserole carrier if possible. Cover tightly with foil and lay a tea towel over the top. This should keep the meal nice and warm for travel.
If your journey to Grandma's house was a little too far, pop it back in the oven at 350 degrees for 10-15 minutes, removing the cover for the last 5 minutes or so.
Frequently Asked Questions
Is this a good recipe to double?
Sure is! This broccoli recipe Serves 6-8 people but easily doubles into a 9×13 for a large crowd.
Can I make broccoli au gratin ahead?
This broccoli and cheese casserole may be assembled by adding the sauce to the broccoli and covering it tightly to be refrigerated overnight up to 2 days. Bring the entire dish to room temperature for at least 30-60 minutes while preheating the oven before baking. Add the bread crumb mixture if you'd like, and it's ready to pop into the oven!
Can I use frozen broccoli in this recipe?
If you're in a pinch, you may use frozen broccoli. Just be sure to skip the steaming step. Instead, thaw the frozen broccoli and drain any excess liquid before transferring it to the gratin dish. Then, proceed with the recipe as directed.
Can you freeze broccoli au gratin?
Yes! Anytime you freeze casseroles with dairy, you run the risk of the ingredients separating. But that being said, broccoli is one of the more freezer friendly veggies. Cool completely, wrap well in foil or plastic wrap and freeze up to 2 months.
Thaw in fridge overnight, then drain any liquid, allow to sit on counter 30-60 minutes before popping in the oven to reheat. Heat at 375 degrees for 20-25 minutes.
Do not freeze with panko topping, instead, make it up and place it in a small container or baggie with your broccoli gratin.
How long will broccoli casserole last in the refrigerator?
Cool the casserole completely, then wrap well with plastic wrap or foil, it will last well in the fridge for 3-5 days. Reheat before enjoying the second time.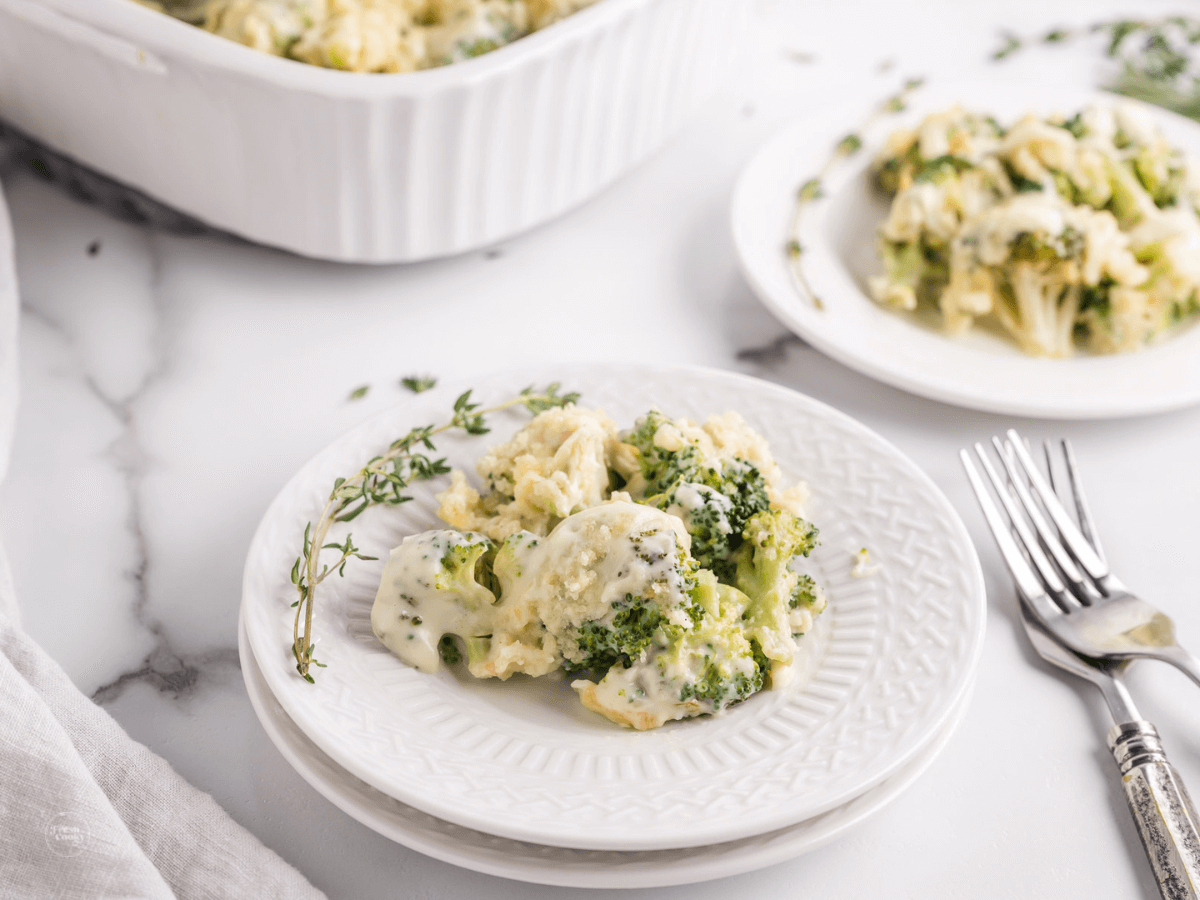 Serving Suggestions for Broccoli Au Gratin
You can serve this versatile recipe as a delicious side dish or as the main entrée. Try this cheesy casserole with these entrees.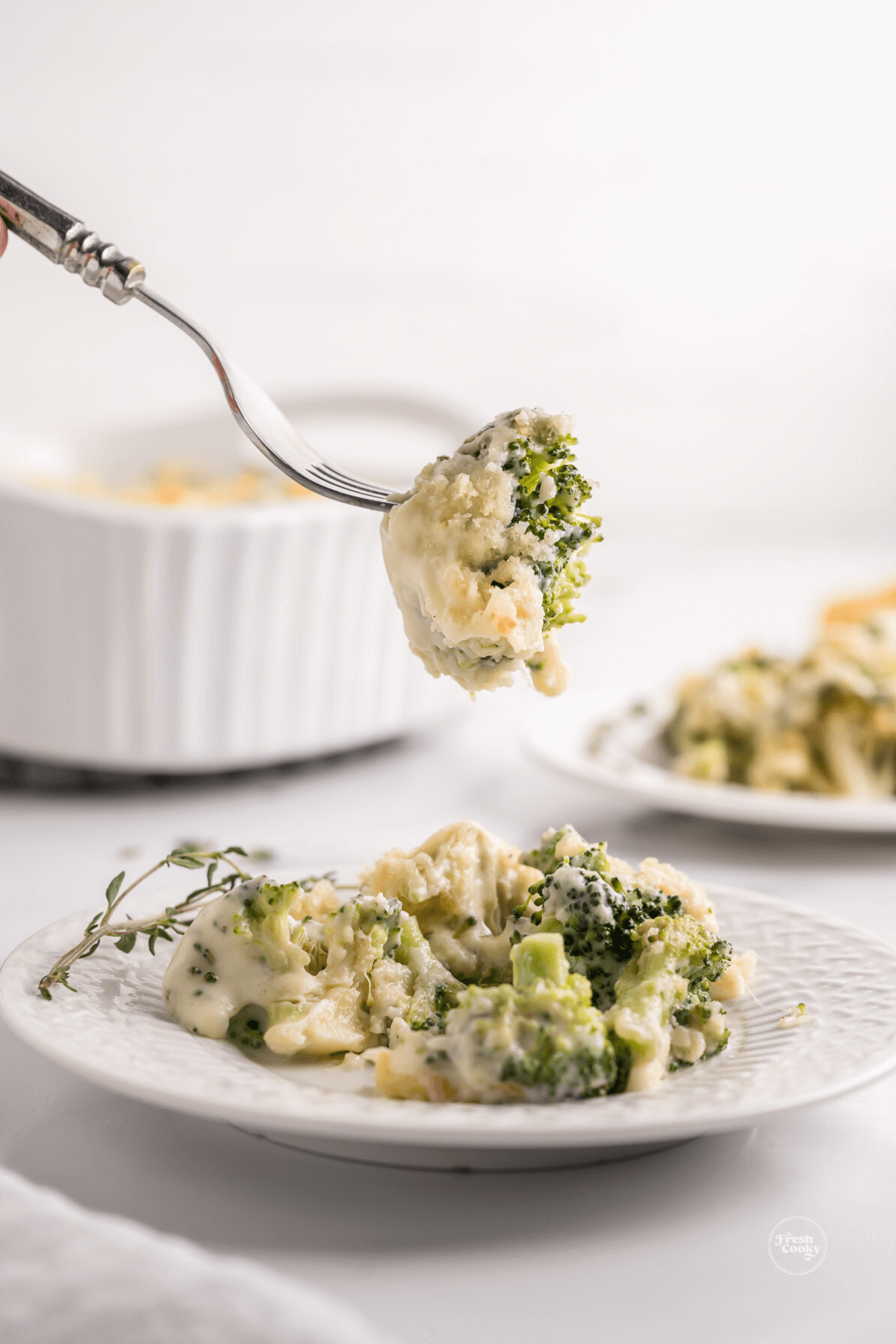 More Holiday Side Dishes
Don't skip the step of steaming the broccoli before adding it to the casserole dish! Otherwise, you will end up with a broccoli au gratin that tastes a little too raw for most people's preference.
You want the broccoli to be tender. So, steaming it first helps to cook it some before slipping the dish into the oven.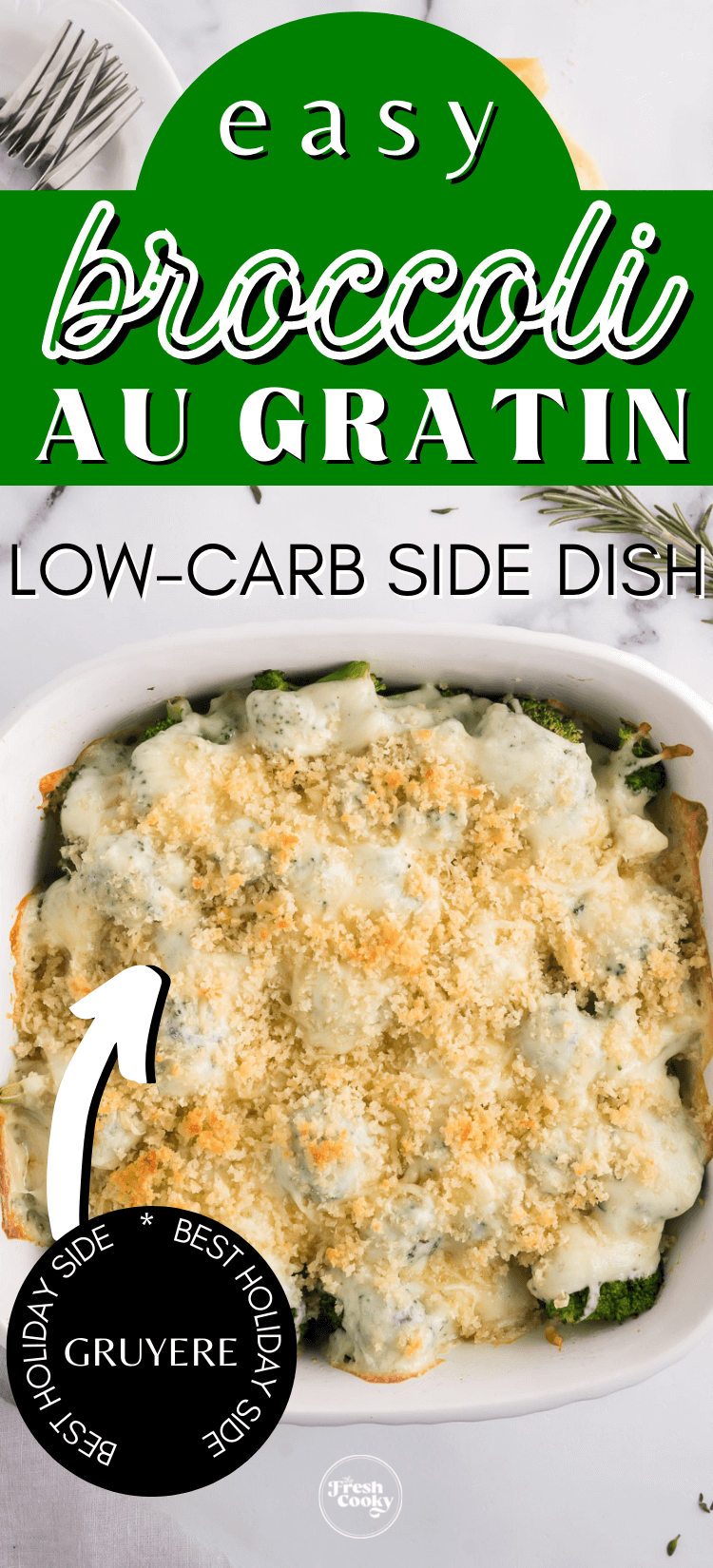 I hope you loved this easy broccoli au gratin recipe — if you did, would you share your creation on Instagram, Facebook and Pinterest? And be sure to comment below!
Like this recipe?
Don't forget to give it a ⭐️⭐️⭐️⭐️⭐️ star rating and comment below the recipe!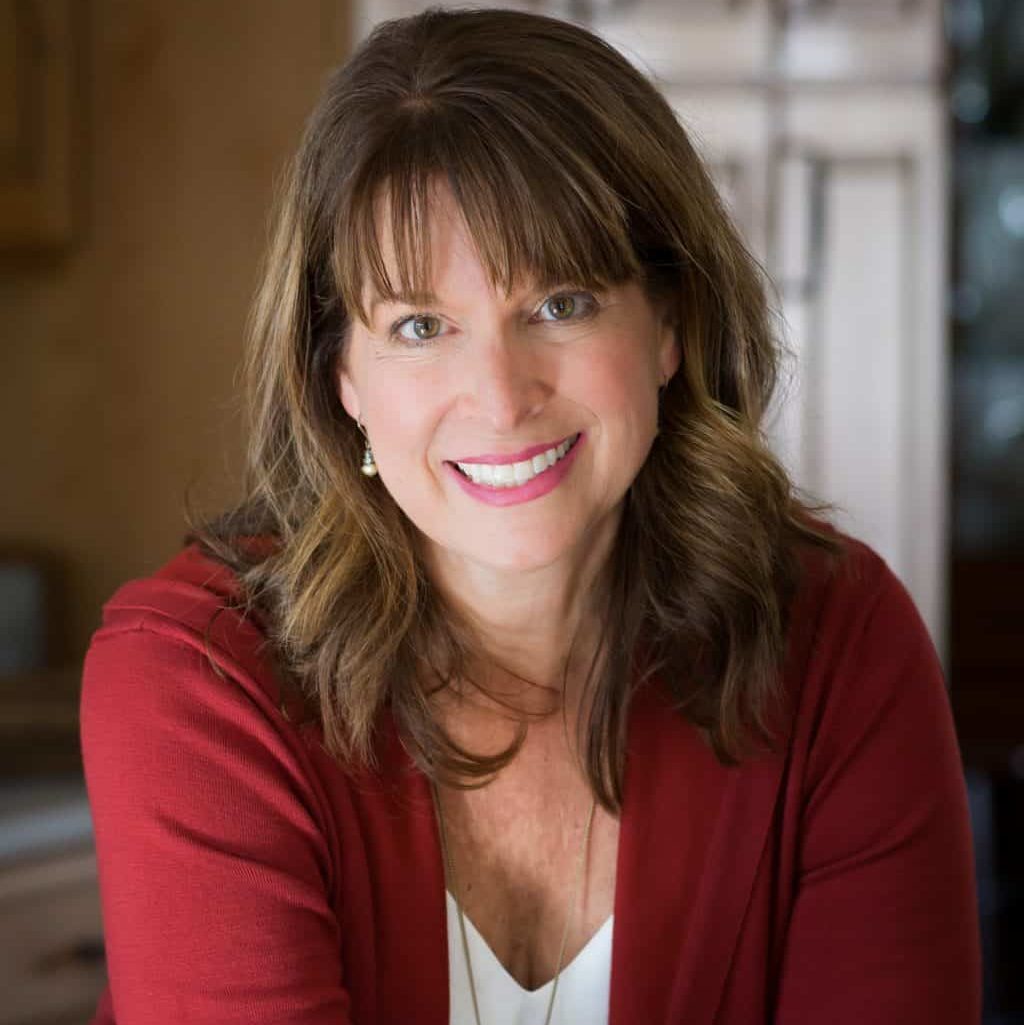 About Kathleen Pope
Recipe Innovator | Food Photographer | Food Writer
Hi, I'm Kathleen Pope. Here at The Fresh Cooky you will find easy, mostly from-scratch, trusted recipes for all occasions. From speedy dinners to tasty desserts, with easy step-by-step instructions. I am here to help teach you how to make mouthwatering recipes without spending hours in the kitchen. Read more about Kathleen here.