Potatoes au Gratin (Potatoes Dauphinoise)
As an Amazon Associate, I earn from qualifying purchases. Please read my disclosure policy.
Potatoes au Gratin are the best!! This classic French potato side dish is also known as potatoes Dauphinoise. Thinly sliced potatoes layered with a creamy herb and garlic infused sauce, studded with rich and nutty Gruyère cheese; baked to golden, creamy, bubbly perfection! Oh and they are naturally gluten-free!
Making a special meal, simply craving creamy cheesy potatoes or looking for the perfect side for your holiday meal, this is a must save recipe! I think I originally got the recipe decades ago from Ina Garten potatoes au gratin, you know these will be delicious!
You might also love our other favorite holiday side dishes like Cheesy Potato Casserole, Best Stuffing Ever, Corn Pudding, Tender Tarragon Carrots or Roasted Balsamic Brussels Sprouts, or if you are in a hurry then you should try my Instant Pot Scalloped Potatoes!
What is a holiday meal without ham and potatoes, check out this post for how to cook spiral ham without drying it out.
Potatoes au Gratin vs Scalloped Potatoes
The primary difference between scalloped potatoes vs au gratin is that scalloped potatoes do not have cheese. Gratin, meaning cheese is a clear distinction in these amazing potatoes. And in this case, it means the King of cheese, gruyere cheese — delicious, nutty, melts beautifully.
Scalloped potatoes typically have flour in them in order to thicken them up, but not these potatoes, the thick cooked cream mixture along with the gruyere cheese does the job! And if you enjoy this recipe, you need to try my broccoli au gratin recipe.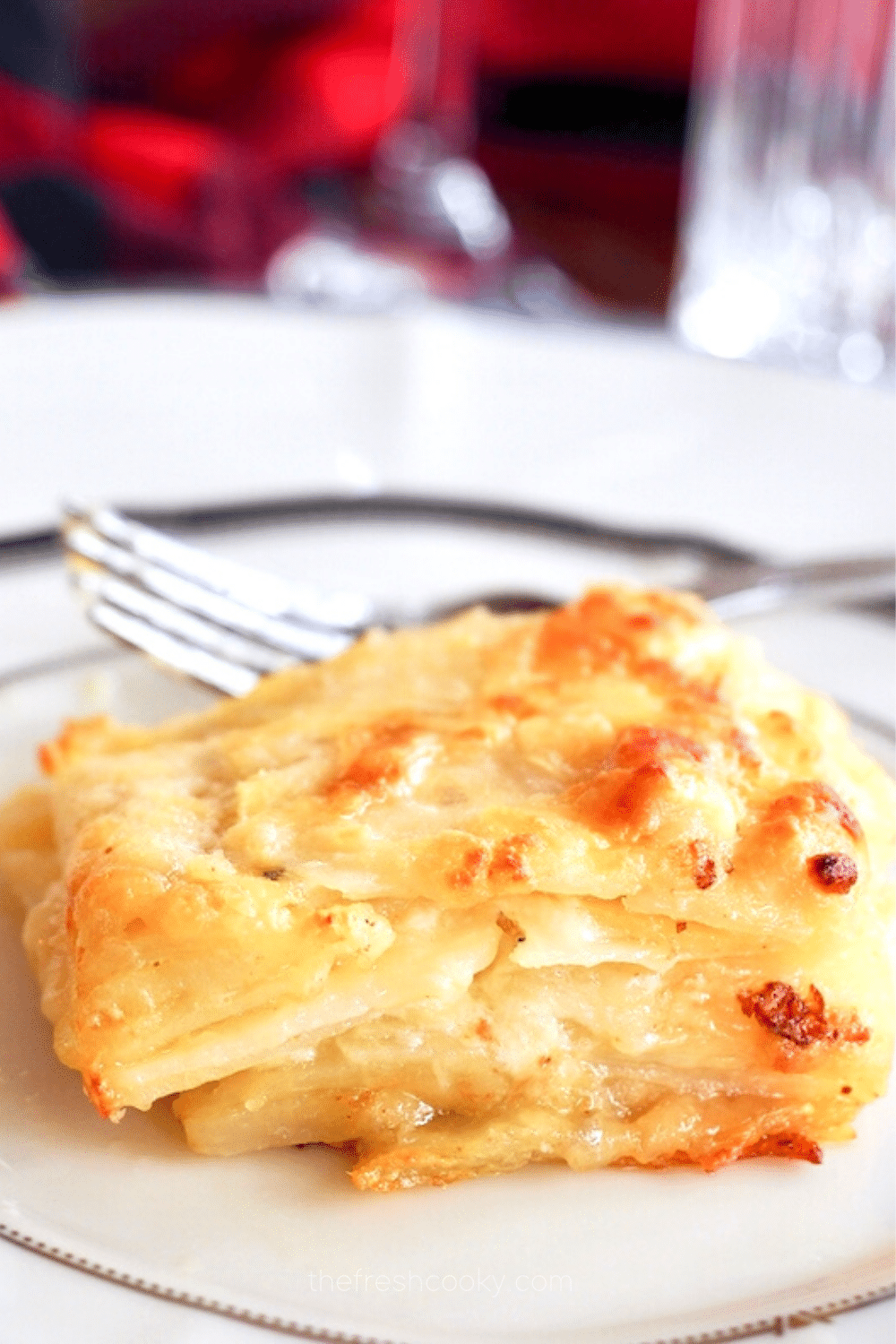 Why you will love Dauphinoise Potatoes
Fresh herbs and garlic gently infused in cream and milk mixture
Earthy and nuttiness of Gruyère cheese, the perfect compliment to the rich ingredients
A traditional and classic French dish that will become your the favorite holiday side dish.
Ingredients for Gluten-Free au Gratin Potatoes
Listed below are the primary ingredients, this is not a fussy dish, quality ingredients are important – the full recipe is at the end of the post.
Heavy Cream | Use the real, good stuff here, it's the holidays and they deserve all the richness heavy cream brings.
Whole Milk | The same goes for the milk, but if all you have is a lower fat percentage, then by all means use it! It just won't be quite as creamy, thick and rich.
Herbs | We will infuse the milk and cream with fresh herbs, garlic cloves, rosemary and thyme are the best. Fresh is best, but I have used 1 teaspoon of each in dried form in a pinch)
Russet Potatoes | I think russets work and hold up the best, but I have also used Yukon gold, peel these potatoes unless you want a really rustic look.
Gruyere Cheese | Use a quality gruyere cheese and grate it yourself, to avoid having the extra caking agents that are often in pre-grated cheeses.
Butter | Just a touch, to finish off the dish.
Frequently Asked Questions
Can I substitute dry herbs for fresh herbs in potatoes daupinoise?
Sometimes we just cannot get our hands on fresh herbs! I have been asked is it okay to substitute dried herbs for fresh herbs and the answer is YES!
HERB SUBSTITUTION RULE | Use ⅓ the amount of fresh in the recipe.
For instance: Instead of a tablespoon (3 teaspoons) of fresh rosemary, you would add 1 teaspoon of dried rosemary & thyme, etc.
What does Dauphinoise mean?
A potato dish cooked in a cream, milk and cheese mixture. Named
Why is it called a "gratin"?
While many people believe that the word gratin means "cheese", the word gratin is actually derived from the French word grater or gratter, meaning "to grate". One would assume that gratin then refers to grated cheese, however often times it also meant breadcrumbs and or cheese that is browned and crisped. (Source)
Print this FREE Ingredient Substitution Chart
Click Download button below.
How to Make Potato au Gratin
Grease a 9x13x2 inch casserole dish (glass or ceramic preferred) with 1 tablespoon butter, set aside. I smoosh the butter in the dish using a paper towel to get it all over.
Bring milk, cream, garlic, rosemary, thyme, sea salt and pepper to a low simmer. Cook on low for 30 minutes.
Strain out herbs and garlic into a bowl, discarding the herbs and garlic. Reserve infused cream mixture.
While cream mixture simmers, peel potatoes (my favorite peeler!) slice the potatoes 1/8 inch thick — if you've never used a mandolin slicer give it a try, your slices will be even and uniform and done lickity-split!
Place sliced potatoes in a bowl of cold water until ready to assemble, then drain and pat dry, if a short period of time you can forgo this step, if longer, they will brown quickly.
Step-by-Step Gluten-Free au Gratin Potatoes
Arrange potatoes in rows, overlapping slightly; seasoning each layer with sea salt and pepper.
Sprinkle a handful of Gruyere cheese over potatoes and pour 1/2 cup cream mixture over the potatoes.
Repeat steps twice, finish by pouring remaining cream mixture over the top.
Dot with 1 tablespoon butter; cover with foil and bake.
Bake in preheated 375°F oven for 45 minutes; then remove foil and continue baking, uncovered for an additional 45 minutes, until golden brown and bubbly and potatoes are fork tender (insert fork into potatoes, they should yield to gentle pressure.)
Recommended Equipment
A few tools I recommend for making these potatoes Dauphinoise even easier!
Pan | You want a 9×13 " pan, I love the Staub casserole as they clean up beautifully!
Mandolin Slicer | These really make it so simple to slice paper thin potato slices, you can with a bigger one or this simple hand held.
Strainer | After you have infuse the cream mixture with herbs and garlic, you'll need to strain it all out.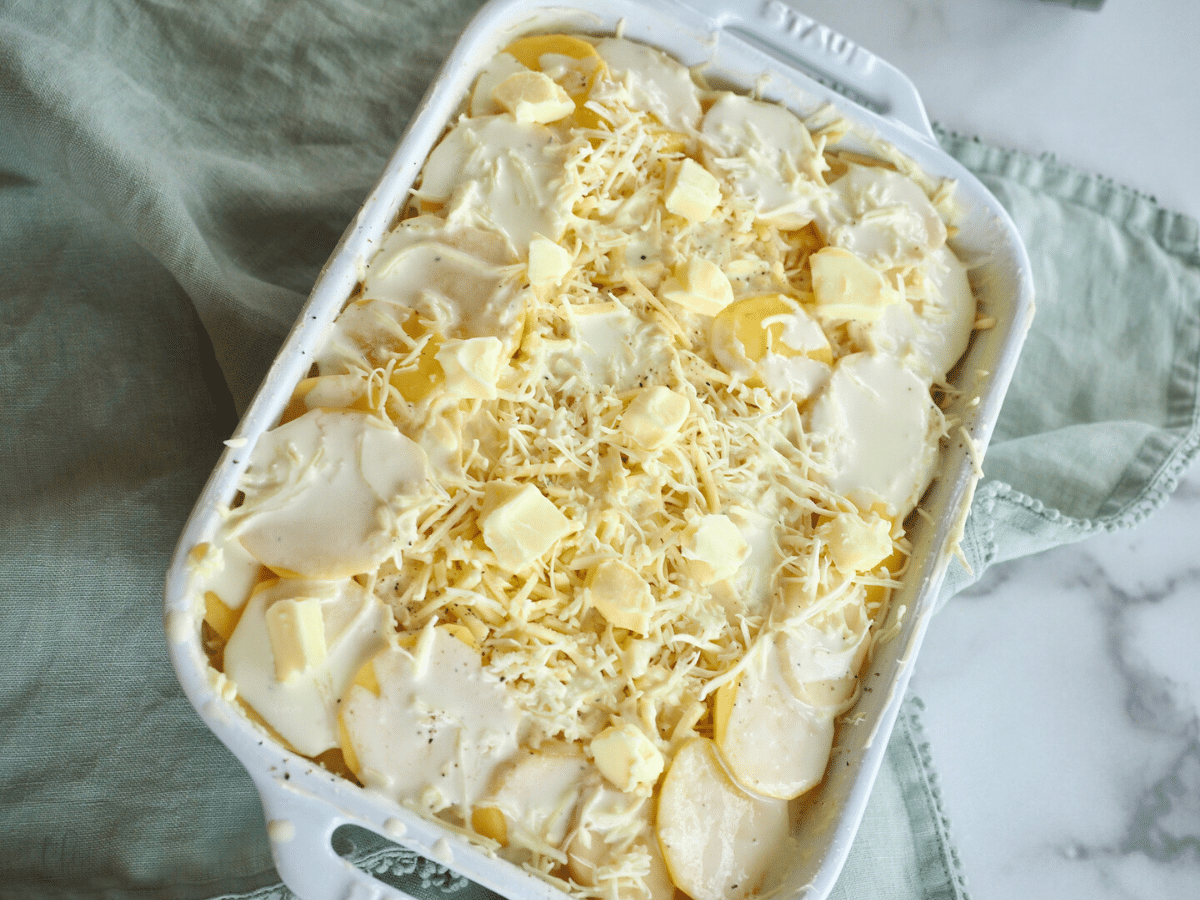 Can I make Potatoes Dauphinoise ahead of time?
Yes, please make these au gratin potatoes ahead and save yourself some precious time on your holiday.
Bake gluten free au gratin potatoes a total of 60 minutes undercooking potatoes slightly, they should be a light brown instead of a deep golden brown.
Once cooled, cover with a sheet of wax paper pressed into the potatoes (protect against freezer burn), then cover with foil, sealing baking dish well.
If serving within 24-48 hours, refrigerate until ready to reheat. Or freeze up to 2 weeks.
For best texture and flavor, thaw in refrigerator overnight or bake from frozen (might require a bit more time).
Reheating
Place potatoes Dauphinoise in preheated 375°F oven (remove wax paper), covered for about 30-40 minutes, removing foil last 10 minutes to brown. Should be bubbly around edges and warmed in center with a deep golden brown hue.
To determine if warmed through, stick butter knife in middle of gratin holding for about 30 seconds. Remove knife, if warm or hot to touch, they are warmed through, if cool to touch, return to oven in 15 minute increments, covering with foil if browning too quickly.
Are Potatoes Dauphinoise Gluten-Free?
Yes, without any changes! Unless you are using pre-shredded cheese (watch those ingredients), this is a completely vegetarian and gluten free holiday side dish.
More Great Holiday Recipes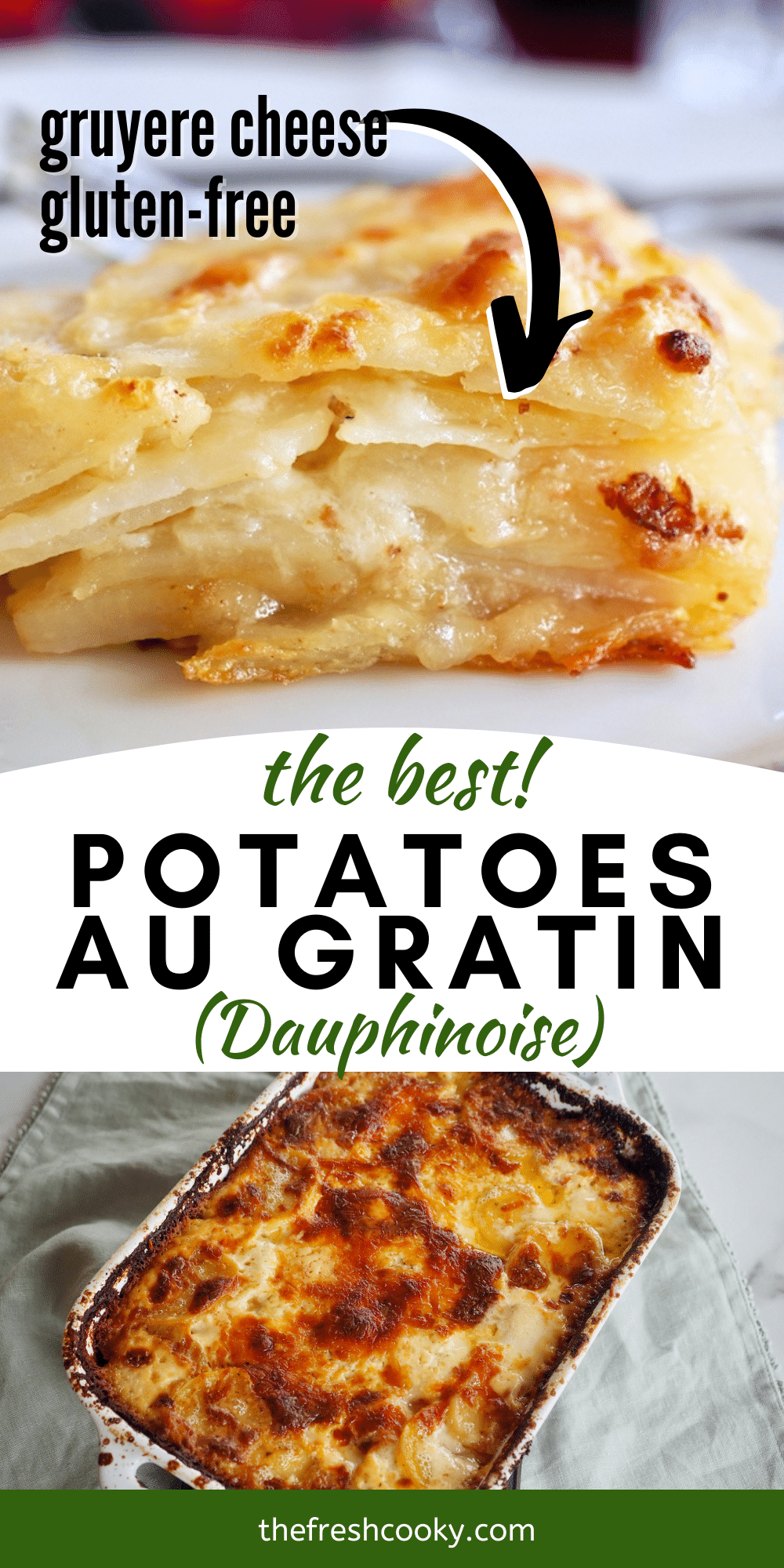 Did you love these potatoes Dauphinoise or potatoes au gratin? Comment below the recipe!
Like this recipe?
Don't forget to give it a ⭐️⭐️⭐️⭐️⭐️ star rating and comment below the recipe!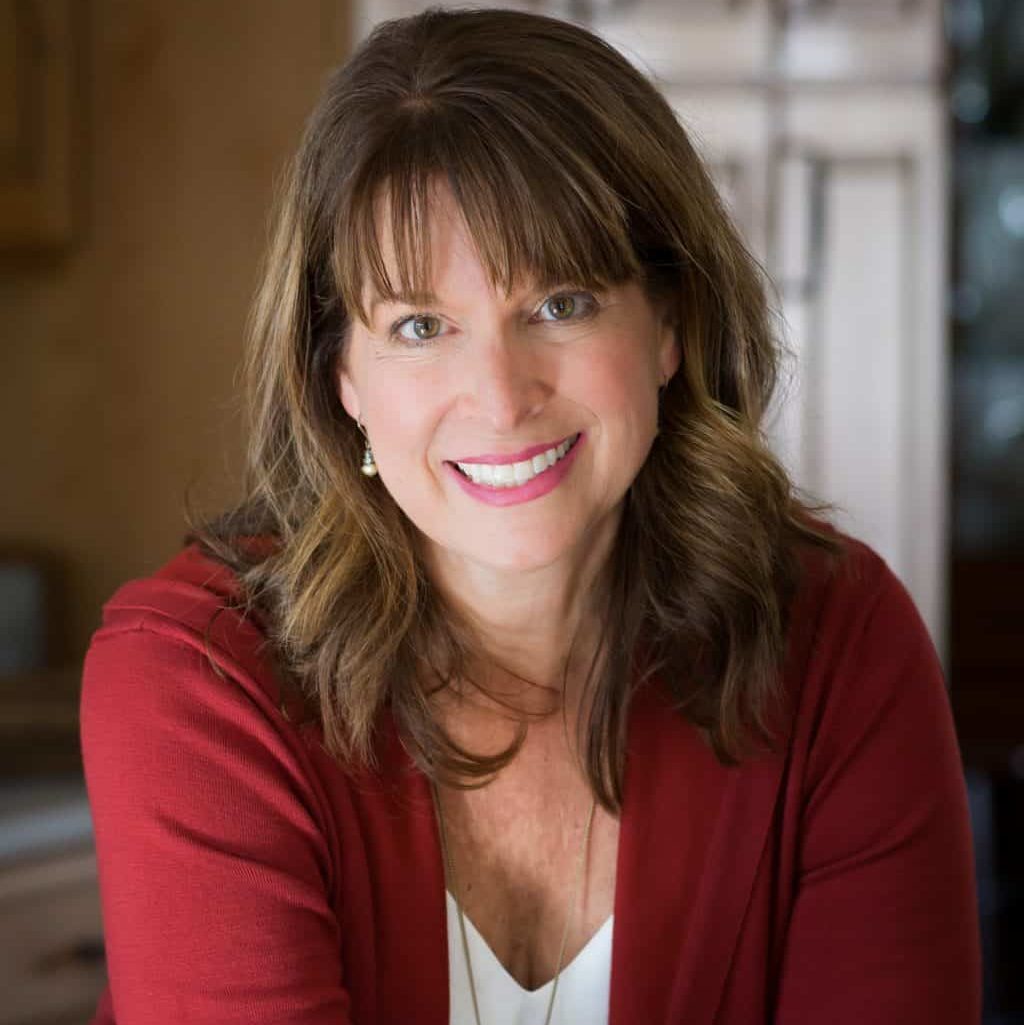 About Kathleen Pope
Recipe Innovator | Food Photographer | Food Writer
Hi, I'm Kathleen Pope. Here at The Fresh Cooky you will find easy, mostly from-scratch, trusted recipes for all occasions. From speedy dinners to tasty desserts, with easy step-by-step instructions. I am here to help teach you how to make mouthwatering recipes without spending hours in the kitchen. Read more about Kathleen here.