As an Amazon Associate, I earn commissions from qualifying purchases (
disclosure policy
).
No matter what you are celebrating… year end studies, Royal Weddings, High Tea, Saturday breakfast, or an afternoon snack…you'll want these Fresh Strawberry Buttermilk Scones on your menu! Fresh, ripe, sweet strawberries, nutty whole wheat flour, tangy sweet buttermilk, rich creamery butter – all baked to perfection then drizzled with a heavenly lemon butter glaze.
FRESH STRAWBERRY BUTTERMILK SCONES
I've never been to the UK (someday, it's on my bucket list!!), so I don't pretend to know what a true, English scone tastes like, however; I've been making and eating scones since I was in my early 20's and these babies are flavorful, moist and delicious, no matter what country they are made and consumed in!
For this recipe, I used my Basic Cream Scone recipe, with a few modifications, such as swapping out buttermilk for cream, using whole wheat flour, adding fresh strawberries and finishing it off with a Lemon Butter Glaze.
How to Make Strawberry Buttermilk Scones
Place all of your dry ingredients in a mixing bowl and mix using a fork or a whisk. Add chopped (or grated) butter and using a pastry cutter or a couple of knives or even your hands, mix until it forms a crumby mixture.
Tips for the best texture and flavor:
Always use butter; real butter and by real butter, I mean the ingredients should read: sweet cream or cream and salt (unsalted is fine too). Nothing that has the word "Light, Low Fat, or Blend" in the title.
Butter (the real stuff) should be really cold chopped into small chunks or grated using a box grater and place it in the freezer until ready to use.
Liquid (cream, buttermilk, milk) should be very cold as well, do not leave it sitting out the counter.
Work quickly.
Refreeze the scones for 20-30 minutes before baking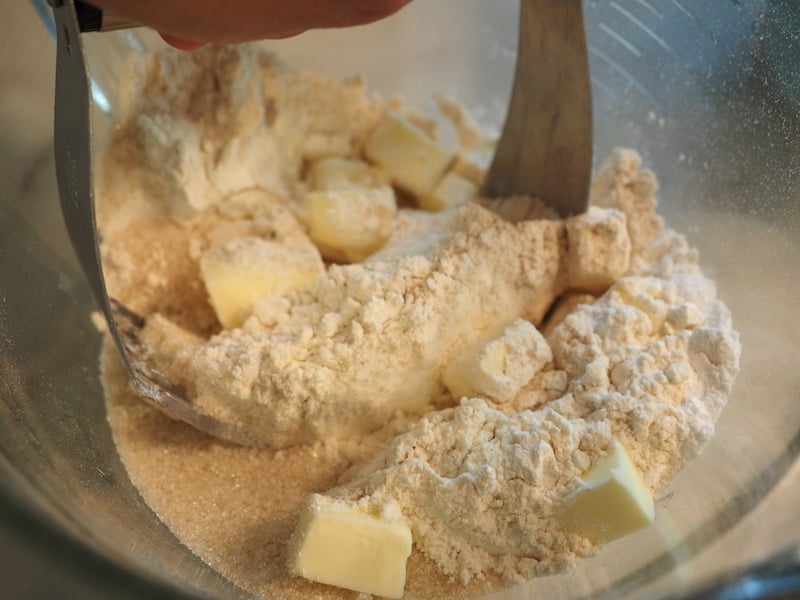 Work the butter into the flour mixture until it resembles small peas, it'll still be really flour-y.
Gently stir in your fresh, chopped strawberries, coating them with the flour mixture. Making a small well in the center of the flour mixture, pour in your cold buttermilk.
Using a fork, stir in the liquids until most of the flour mixture is moist and it starts to clump together, don't over stir, you will form the dough with your hands.
Pour the shaggy dough onto a parchment lined cookie sheet. It will seem like a big pile of crumbs, but have no fear, it will all come together.
Using your hands, pat the crumbs together, molding and shaping it into roughly an 8″ disc, slightly mounded at the top.
Then using a knife, cut the disc in half, then half again, until you have either 4 large or 8 smaller scones. I like to do 8, because then you can eat two, but really you've only eaten one! Are you with me?
WHY FREEZE SCONE DOUGH
To ensure the BEST, flakiest scones, pop that disc of dough back in the freezer for 20-30 minutes.At this point, scones may be frozen for baking at a later time, simply wrap in parchment paper, and place in airtight freezer bag. Bake as directed, adding a couple minutes if needed.
I placed a freeze-dried strawberry slice on top of each scone. Optional of course.
Brush the tops with a little extra buttermilk to add a bit of gloss. If desired top scones with a coarse sugar, I like demerara sugar, adds a lovely bakery crunch to the scones. Bake at 400°F for 13-15 minutes until toothpick inserted comes out clean.
NOTE | If crisper edges are desired, before baking, using a spatula, pull the wedges away from each other and position on the pan. For a softer scone, bake as a whole disc, in the last 5 minutes of baking; recut wedges and using a spatula pull the mostly cooked scones away from each other, return to oven and bake another 5 minutes.
Scones should be raised and be slightly golden.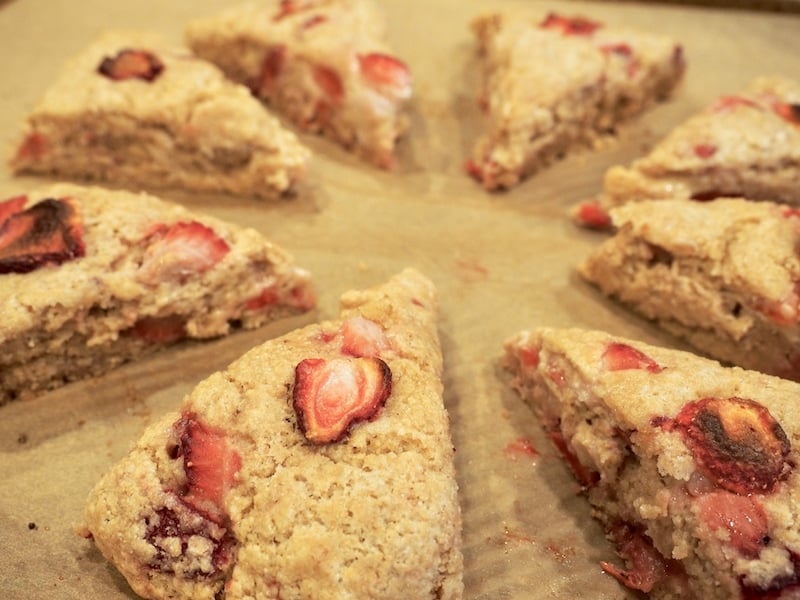 Remove from oven, allow to cool on the pan for 5 minutes, then move to a cooling rack to finish cooling completely.
Lemon Butter Glaze
To make the glaze, melt your butter and allow to cool while you prep the rest of your ingredients.
In a small bowl add your powdered sugar, lemon juice and stir, then add your melted butter. If glaze is too thick add a teaspoon of cream or milk to thin.
BAKERS TIP | I like to keep the scones on the cooling rack and place the parchment paper that I baked them on underneath, making for easy clean-up.
Serve just like they are or my preference with lemon curd, maybe a little clotted cream or crème fraiche, or butter.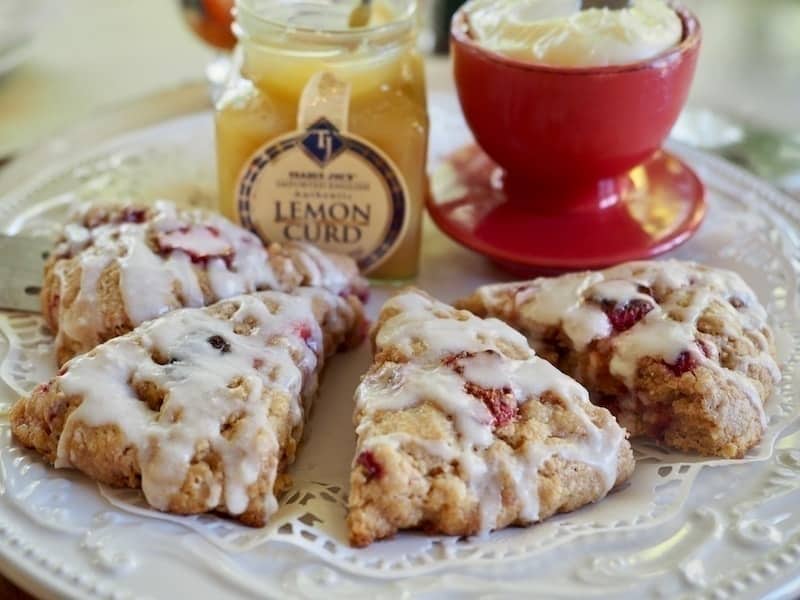 Enjoy with a nice cup of tea or coffee.
If you enjoy these, give these other breakfast treats a try:
Like this recipe?
Don't forget to give it a ⭐️⭐️⭐️⭐️⭐️ star rating and leave a comment below the recipe!
Strawberry Buttermilk Scones
This recipe for Strawberry Buttermilk Scones with whole wheat flour, buttermilk, fresh strawberries is perfect for an afternoon tea party, morning breakfast or any occasion you deem special!
Click stars to rate now!
Print
Pin
Save
Saved!
Rate
Ingredients
STRAWBERRY BUTTERMILK SCONES
1 ¼

cups

whole wheat pastry flour

or all-purpose unbleached flour

¼

cup

sugar

I use all natural cane sugar

¼

teaspoon

salt

¼

teaspoon

baking soda

6

tablespoons

butter

cold, chopped

⅓

cup

buttermilk

+ 3 tablespoons. Plus extra for brushing.

½

cup

fresh strawberries

heaping, chopped
LEMON BUTTER GLAZE
½

cup

powdered sugar

1 ½ – 2

tablespoons

lemon juice

1

tablespoon

melted butter

If needed

use a little cream or milk, a teaspoon at a time, until the right consistency.
Instructions
Preheat oven to 400 degrees.

In a medium bowl, stir together the flour, sugar, salt, and baking soda. Dice the butter into small cubes and add it to the flour mixture. Work the butter into the mixture using a pastry cutter, two knives or even your hands, until it's evenly distributed and slightly smaller than peas. Gently stir in the chopped strawberries to coat with flour.

Make a small well in the center and pour your buttermilk into the center. Mix gently with a fork until a shaggy dough forms. Don't over mix. Pour the dough/crumbs onto a parchment lined cookie sheet and gently mold the dough into a disc, with the center slightly higher than the edges. Press out into approximately 8" in diameter. The warmth of your hands will help shape the dough, holding it together. Doesn't need to be perfect, hence the beauty of scones.

Using a knife, slice the dough into 4 large or 8 smaller scones (like cutting a pie). At this time, scone disc, may be wrapped in plastic wrap or parchment, sealed in an airtight freezer baggie for later baking.

*Note | You may separate the scones on the pan for crisper scone edges, or bake it as a pie/disc, re-cutting and separating the scones once it has baked.

Brush the tops of the scones with a little extra buttermilk for a glaze, if desired. If desired, sprinkle with a little Demerara sugar or coarse sugar.

Bake 13-15 minutes until golden and toothpick inserted comes out clean, don't over bake if you want them moist. If you left the scones in the disc, recut after a few minutes and separate. Using a spatula, remove to a cooling rack to cool completely. While scones bake, whisk together the glaze ingredients, adding a little milk or cream to thin as needed.

For a light all over glaze, pour glaze while scones are still warm from the oven. For a drizzled look, cool the scones completely on a wire rack, then place a sheet of wax or parchment paper underneath rack (for easy clean up) and slowly drizzle glaze over the scones. Serve with Lemon Curd, Butter, Clotted Cream or by themselves.

Store in airtight container overnight, or up to one week in the fridge.
Notes
If baking from frozen, place in preheated oven on parchment lined cookie sheet, bake a few additional minutes until golden.
Recipe heavily adapted from 31 Daily
Nutrition
Serving:
1
serving
|
Calories:
429
kcal
|
Carbohydrates:
57
g
|
Protein:
6
g
|
Fat:
22
g
|
Saturated Fat:
13
g
|
Polyunsaturated Fat:
1
g
|
Monounsaturated Fat:
5
g
|
Trans Fat:
1
g
|
Cholesterol:
55
mg
|
Sodium:
394
mg
|
Potassium:
203
mg
|
Fiber:
4
g
|
Sugar:
29
g
|
Vitamin A:
651
IU
|
Vitamin C:
13
mg
|
Calcium:
45
mg
|
Iron:
1
mg