Cranberry Walnut Bread (No Knead)
As an Amazon Associate, I earn from qualifying purchases. Please read my disclosure policy.
A rustic no knead cranberry nut bread that is so delicious and easy, it will make a bread baker out of anyone! An easy, no starter, yeast bread recipe that requires minutes to mix, requiring very little hands on time. A mouth-watering Dutch Oven bread that you will make again and again.
This no-knead bread recipe has been on repeat in our house, not only does it taste amazing, but it's so simple with just 7 simple almost basic pantry ingredients; like water and salt!
If you are looking for more quick no-knead bread recipes to put on the table, try our favorites: Easy 4 Ingredient Beer Bread, Yeast Rolls started in the bread machine and Cheddar Popover Muffins!
I have made so many of these artisan bread loaves for our family, but also as gifts for neighbors and family. It's an ideal holiday bread recipe!
What Is Artisan Bread?
Artisan conjures up images of professional bakers who are masters of their craft. These craftsmen (and women) shape their breads by hand, using only basic bread ingredients; flour, water, yeast, salt and time!
The term artisan bread can include hearth breads (those baked without pan), and sourdough bread (try my friend Julie's amazing Sourdough.)
Artisan breads are usually baked in hearth-style ovens (with radiant heat as main source of heat transfer), and ovens that are designed to inject/exhaust steam into/from the baking chamber.
This type of bakery products are usually crusty, with a large and open cell structure. They also have a rustic look, ornate scoring and/or flour dusting on top.
How Can I Bake Artisan Bread at Home?
I don't know about you, but I don't have a steam or hearth style oven, so what's a bread baker to do? How do we achieve the same results at home?
A Dutch oven my friends! One large enough to create an oven like atmosphere inside.
What is the best Dutch Oven for bread baking?
The short answer is whatever dutch oven you own! Truly, I really don't want you to go out and buy one for this purpose.
I personally own a Staub, an investment for sure, but I use it for more than bread baking!
Like these drool worthy dinners Red Wine Braised Short Ribs, Beer Beef Stew, and Sunday Pot Roast! I have several Lodge pans as well as have heard friends say they love their Amazon Basics pieces and I have an ancient pot my mom gave me that is chipped and perfect for bread baking.
This STAUB 5.75 QT DUTCH OVEN is my favorite. It's great at high heat and perfect for soups, stews, roasts and bread baking!
Equipment Needed for No-Knead Bread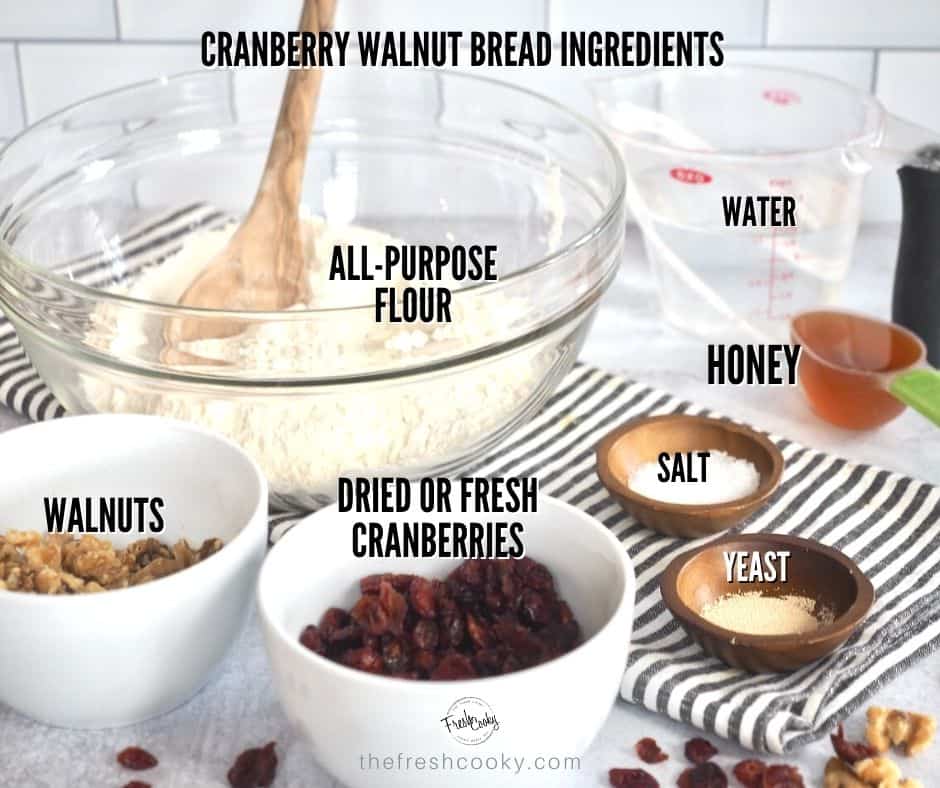 Ingredients
A few simple pantry ingredients is all you need for delicious dutch oven bread!
All-purpose flour | No fussy flour here! I use unbleached and typically organic all-purpose flour.
Instant Yeast | just a smidge, this is my favorite brand of instant yeast! Make sure it's fresh and active!
Kosher Sea Salt | again, use what you have!
Chopped Walnuts | roast them beforehand (and cool them) if you'd like, I just toss mine in, keep reading for substitution ideas!
Dried or Fresh Cranberries | I have used both, I like both; fresh definitely have more of a tart bite to them, but they are delicious.
Water | Use water between 120-130 degrees F when pouring into yeast mixed into dry ingredients.
Honey | I like raw & unfiltered honey; I always encourage people to purchase local honey, it has allergy benefits!
How to test if yeast is still active.
A great way to make sure your yeast is active, is to dissolve ½ teaspoon of sugar (or in this case honey) into ½ cup of warm water (between 110-120 degrees), stir in ½ teaspoon of yeast and allow to sit for 5-10 minutes.
This is called proofing, after 10 minutes, it should be light and bubbly and smelly yeasty.
If doesn't do the above, the yeast is "gassed" and won't do its job.
I store my yeast in the fridge as I use it all the time, it will last even longer if store in the freezer.
For more information read this article from King Arthur Baking outlines how to test yeast, baking powder and baking soda.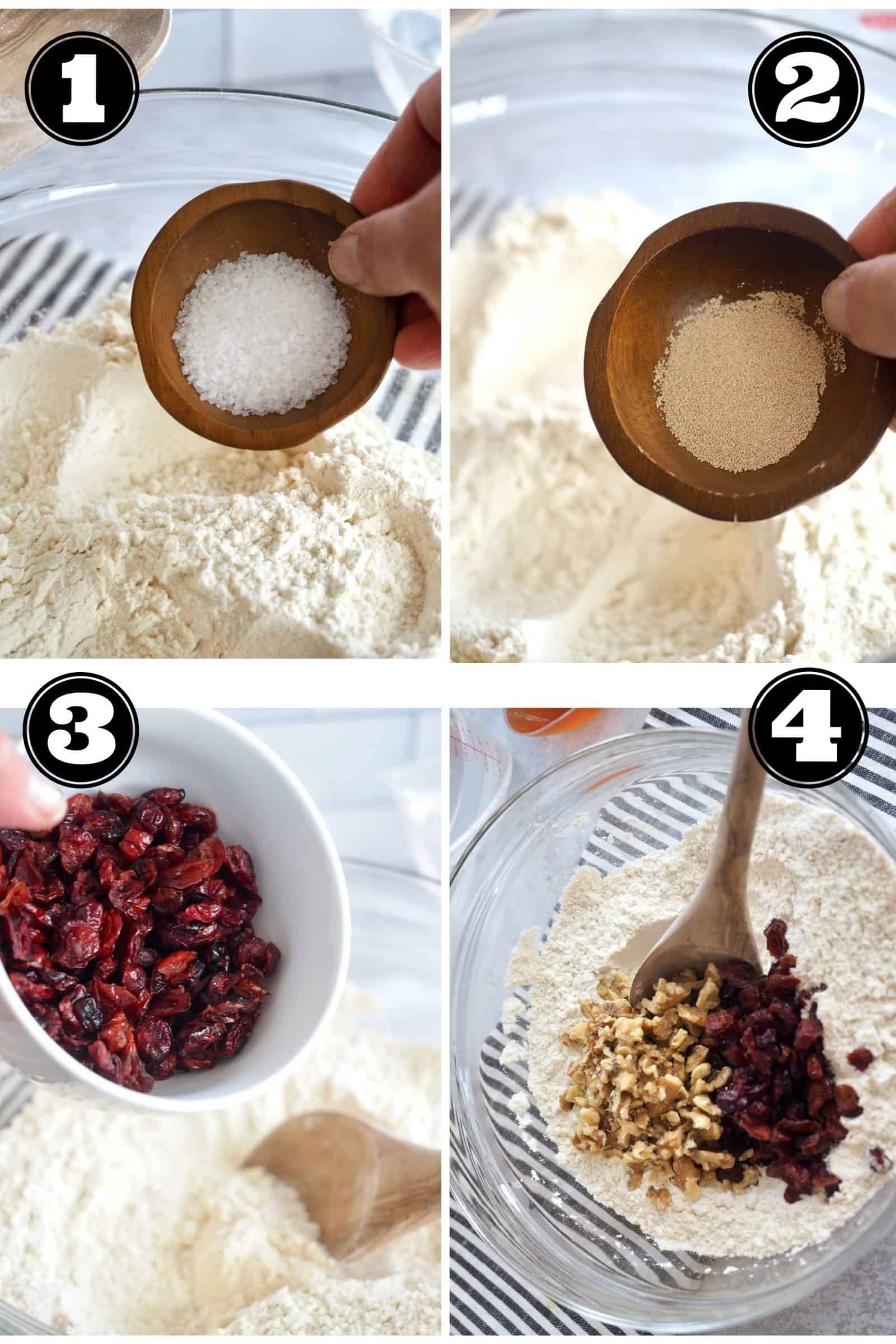 Let's Bake Bread!
Dutch Oven walnut cranberry bread is as easy as one-two-three!
Add flour, yeast and salt to large bowl. Stir together. Toss cranberries and walnuts and stir well to coat in the flour mixture.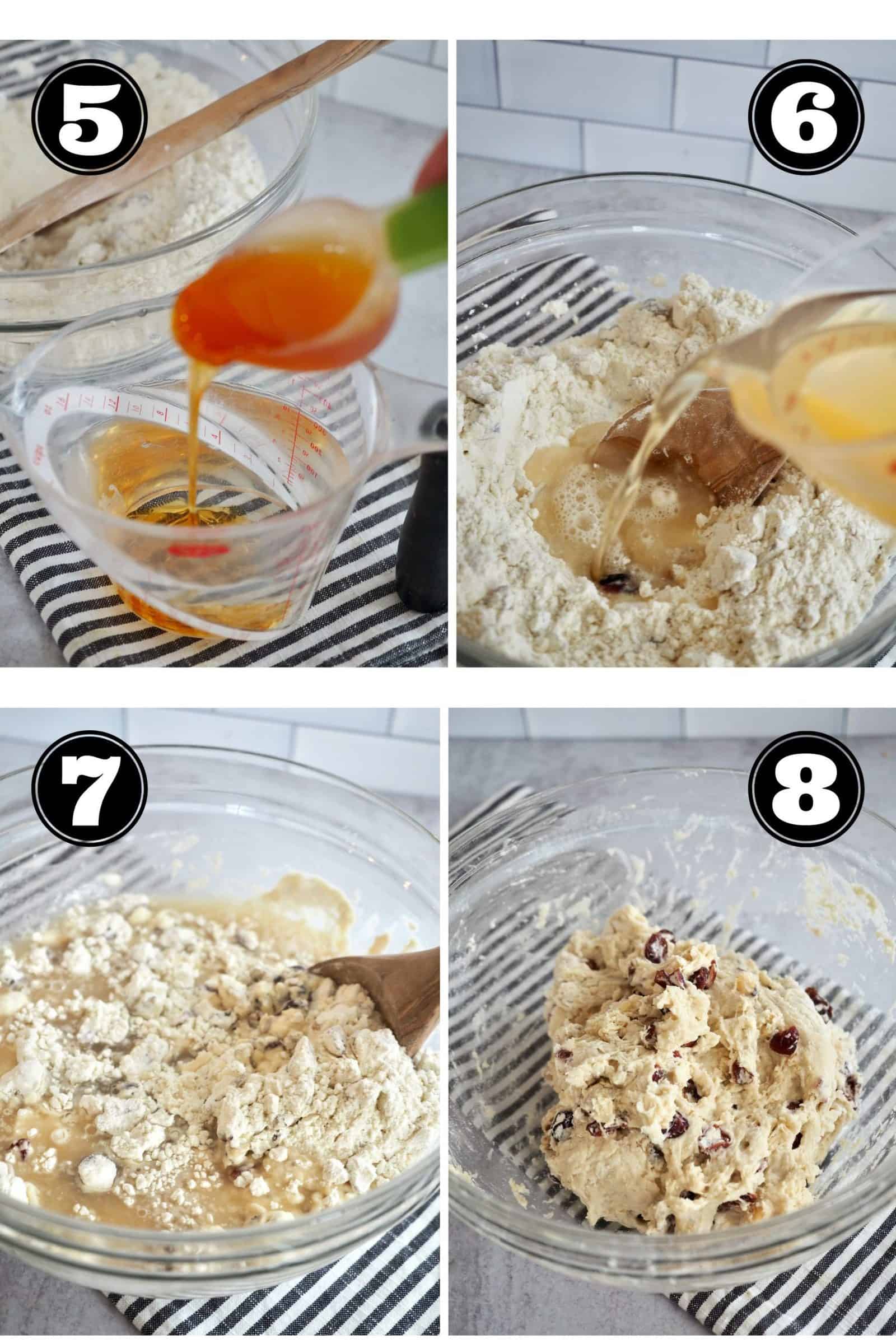 Pour honey into warm water and stir to combine. Pour honey water into flour mixture. Stirring to combine, it will be sticky, that's okay!
Cover the bowl with plastic wrap, this will double in size, placing bowl in warm, draft-free spot for at 12-18 hours (yes, hours!).
I place in my oven, with a tea towel over the top of the plastic wrap. If your oven runs really cold when it's off, then turn the lights on, but watch it, my halogen lights can almost cook something they are so warm! Like this crazy yogurt recipe!
The Next Day
A few more quick steps and you will have warm, crusty, chewy, cranberry walnut bread!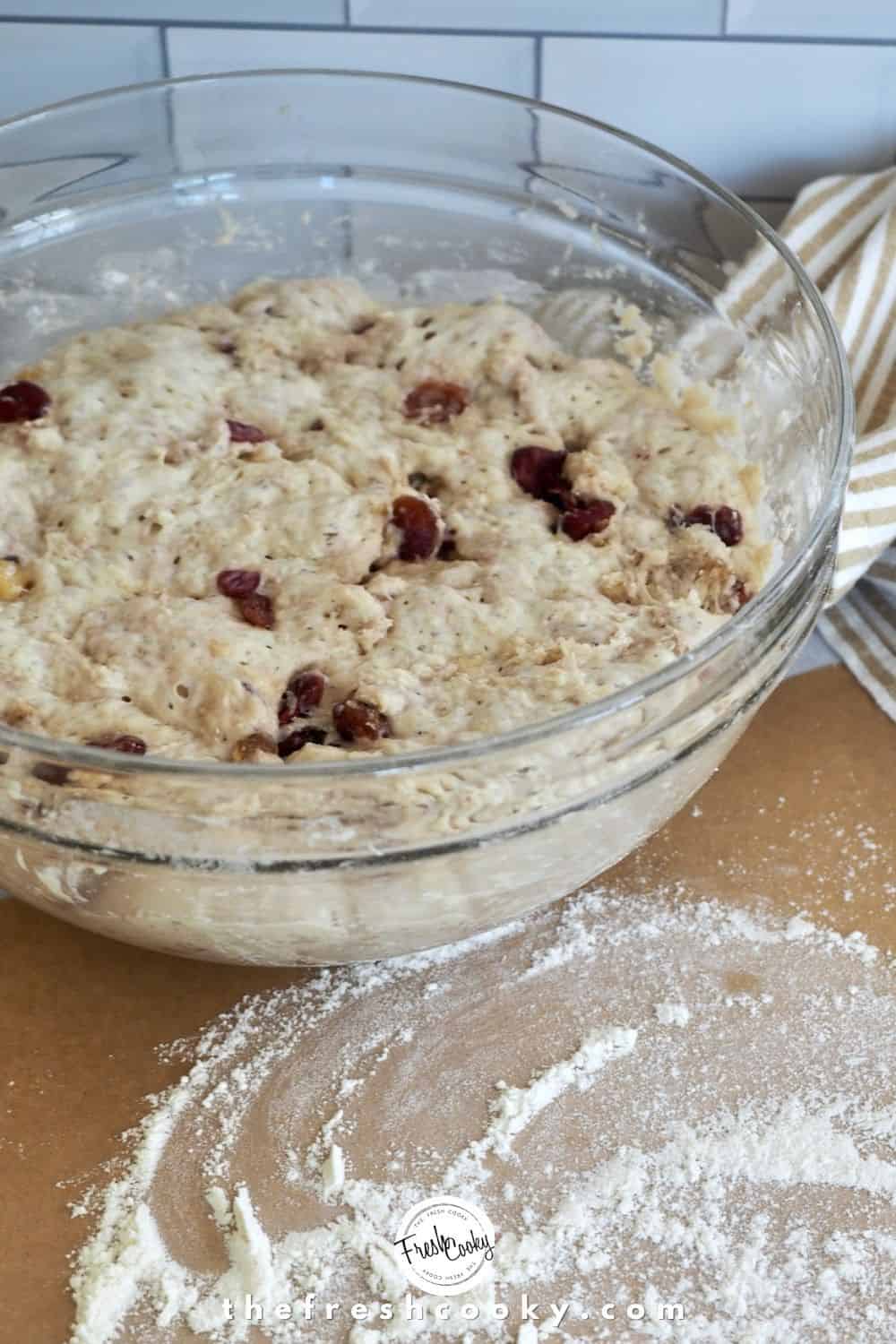 Once the dough has risen, adjust your rack so that the dutch oven sits several inches above the bottom, but still has plenty of clearance on the top. PLACE YOUR DUTCH OVEN with LID INSIDE THE OVEN TO HEAT WITH THE OVEN. Preheat oven to 450 degrees F.
Place a piece of parchment paper on the counter and dust with flour, with floured hands, gently scrape the dough away from the bowl and onto the parchment paper. Gently shape the dough into a round or oval shape. It will feel different than other breads, kind of fluid, that's alright it lends to the rustic look.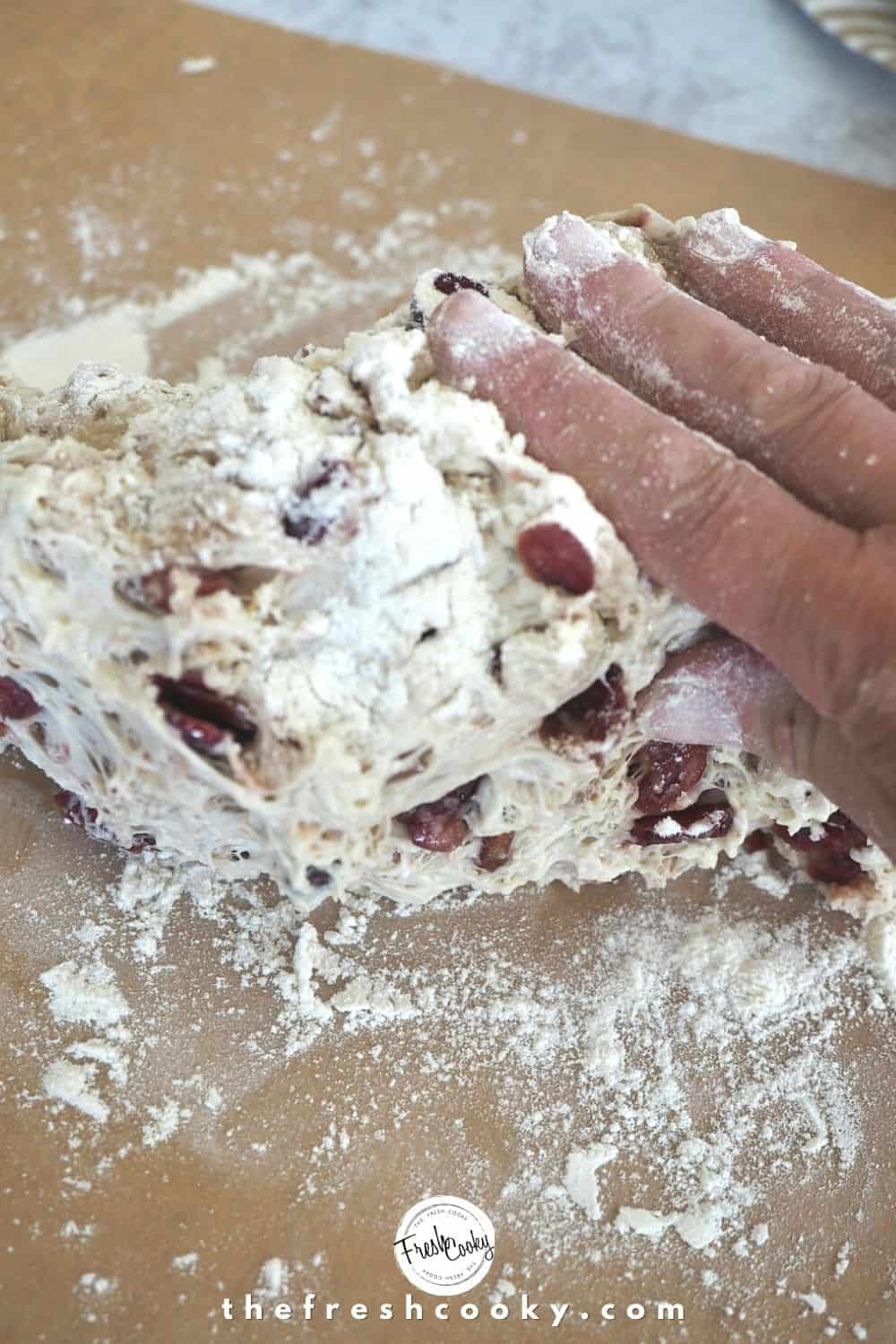 Cover the shaped dough with a piece of plastic wrap (sprinkle a little flour on top of your dough if it's still really sticky) and then with a tea towel. Let rise for another 45 minutes.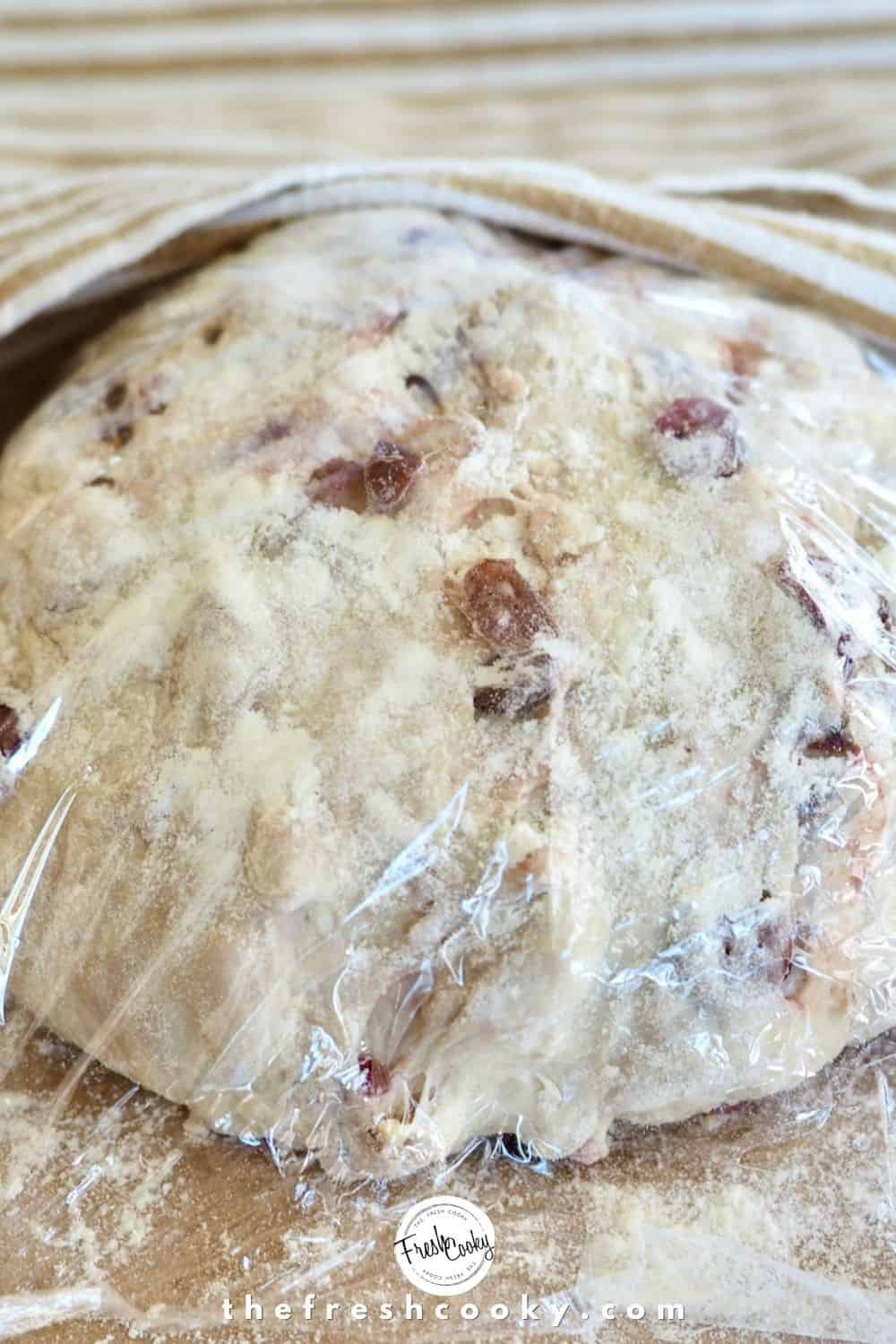 Remove the plastic wrap, don't worry if it doesn't look like the dough has risen too much, it will puff up once it hits the heat of the oven.
CAREFULLY (it's really hot!) remove the pot from the oven, set the lid to the side and using the excess parchment paper as a sling, gently transfer bread dough to the dutch oven, cover with lid (it's hot too!) and place back in hot oven for 30 minutes — no peeking!! This is when the crispness develops.
After 30 minutes, remove the lid (remember it's still hot!), baking for another 15 minutes. Place on wire rack to cool completely. You can leave it in the pot, I prefer to remove it using the parchment and cool on a wire rack. If desired, brush or drizzle with a little extra honey, while warm.
Resist cutting into the bread until it has mostly cooled, breads continue to bake while cooling and if you cut into it too soon it could make it gummy inside.
What do I do if the bottom burns on my dutch oven bread?
I have discovered at times that bread baked in a dutch oven can sometimes burn on the bottom slightly, while not ruining the loaf bread, it does make it harder to slice. My tips that have been successful are below:
Reduce the heat to 425F degrees once you place the bread in the oven. Bake covered for 30-35 minutes.
Remove lid and continue baking for 15 minutes uncovered.
If you have a temperature probe (highly recommend) place in center of bread and bake until temperature reaches between 190-200 degrees, this will ensure the bread is done without over baking it.
Copycat Costco or Whole Foods Cranberry Walnut Bread
Have you ever tried Costco's or Whole Foods Cranberry Walnut bread? They are fabulous, but now you can make your own copycat version for so MUCH CHEAPER and call yourself a bread baker too!
The first time we tried a bread like this was at When Pigs Fly Breads in Freeport, ME while visiting my husbands family, they have several throughout New England. I was hooked and have been experimenting ever since!
Substitutions for Walnut Cranberry Bread
Hopefully you know my style by now! I want to encourage you to Make It Your Way! Don't be intimidated to try something new, something you'd like inside. Here are some suggestions for subbing into your bread.
Swap out dried cranberries with dried raisins, blueberries, cherries, apples, dates probably just about any dried fruit, heck even chocolate chunks! Now we're baking!
Replace with fresh cranberries, it will be more tart, but still so yummy. Do a rough chop of them, ahead of time. I haven't tried with fresh blueberries, but I think it would work too.
My oldest has a tree nut allergy, so when he's home (he's away at college now, sniffle) I make one with nuts and one without. Feel free to omit the nuts all together, you could add additional dried fruit if desired.
Substitute the walnuts with pecans, almonds, hazelnuts, even sunflower seeds or cashews; just make sure to do a rough chop ahead of time! Except with the sunflower seeds cause that would just be weird!
Try toasting the nuts ahead of time, cooling completely for a deeper, roasted flavor.
Toss in orange or lemon zest!
Make it vegan by swapping honey with maple syrup.
A reader uses whole wheat flour with success!
GLUTEN FREE CRANBERRY NUT BREAD?
YES! Here's what I learned as it doesn't behave the same way:
Right off the bat, the texture is very different, it's dryer, soaking up more of the liquid, I mixed in about ⅛-¼ cup additional warm water.
It is a heavier, dense bread in general, but Gluten free is especially dense.
As it sat overnight didn't really change texture and raise like a regular flour would, however; treating it the same it still baked up nicely.
I placed oats on top of the gluten free loaf just to tell the difference between the two, optional.
I would suggest using a good Gluten free All Purpose flour, my favorite is Bob's Red Mill 1-to-1 which is what I used here, maybe even substitute out a small portion of of your GF flour for oat flour, but I haven't tried that.
The texture was a bit gummy, it could have baked longer.
My suggestion would be to heat the oven with the Dutch Oven to 450 degrees, reducing to 400 degrees once you place the dough in the oven.
Bake for 30 minutes covered, uncover and bake an additional 20-25 minutes until the internal temperature reaches 190 degrees when a probe is placed into the center of the loaf. I should have done that, I was in a hurry!
If it does come out gummy, slice and toast until crispy which is my preferred way to eat this bread anyway!
Does Cranberry Nut Bread Need to be Refrigerated?
If eating within 2-3 days, then no, especially during the cooler months. Keep in sealed baggie or linen bread bag After that, since there are no preservatives then yes, you should refrigerate.
You may also freeze cranberry nut bread for up to 4 months, completely cooled, wrapped and sealed in an airtight bag.
Now go and bake this EASY, AMAZING bread my friends, let it cool, bake a few extra loaves and give to friends, makes a wonderful Holiday food gift or hostess gift.
We love it making a leftover turkey sandwich using this bread, even better with a little fresh cranberry relish on it, toasted or grilled, AMAZING!
Our favorite way is to toast up a slice nice and crispy and then slather on grass fed European butter! Grab a napkin, you'll be drooling!
No Knead Cranberry Walnut Bread makes a fabulous food gift! Print one of these fun Christmas Gift Tags linked below.
If you love cranberries, try these other fresh cranberry recipes! Fresh Cranberry Relish, Cranberry Lemon Drop, dazzling sugared cranberries or Refreshing Cranberry Spritzer.
Like this recipe?
Don't forget to give it a ⭐️⭐️⭐️⭐️⭐️ star rating and comment below the recipe!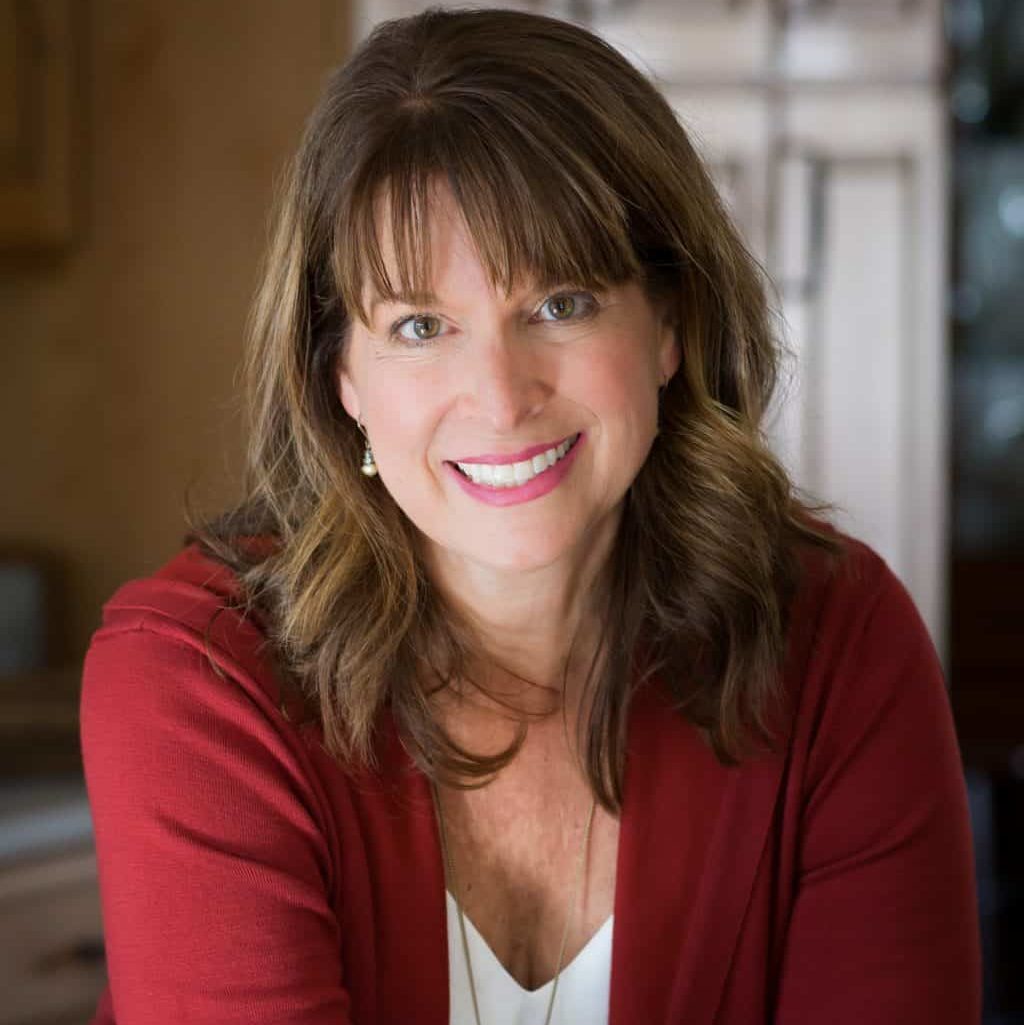 About Kathleen Pope
Recipe Innovator | Food Photographer | Food Writer
Hi, I'm Kathleen Pope. Here at The Fresh Cooky you will find easy, mostly from-scratch, trusted recipes for all occasions. From speedy dinners to tasty desserts, with easy step-by-step instructions. I am here to help teach you how to make mouthwatering recipes without spending hours in the kitchen. Read more about Kathleen here.