Overnight Cinnamon Crunch French Toast
As an Amazon Associate, I earn from qualifying purchases. Please read my disclosure policy.
This scrumptious overnight cinnamon crunch french toast topped with a mouth-watering cinnamon crumb topping is the perfect make ahead breakfast!
Whether for a special occasion, a holiday breakfast, or just a lazy weekend morning, this is a breakfast casserole recipe you need to have in your recipe box.
Love breakfast casseroles? Try this Mock Eggs Benedict, Hash Brown Quiche or even these easy Cheesy Funeral Potatoes.
The best part of this recipe?? You're probably thinking it's the drool-worthy cinnamon crumb crunch topping, but no, the very best part of this recipe is that this is a make-ahead breakfast!
I love making this scrumptious Pioneer Woman French Toast Casserole for Thanksgiving breakfast and Christmas morning!
So whip out your old bread and gather your eggs and milk, because in no time you will have this amazing breakfast casserole in the fridge ready for baking for a delicious, hot, pretend-like-you-got-up-at-the-crack-of-dawn-to-make-it breakfast!
MAKING FRENCH TOAST
Prepare two 9×9 inch pans or one 9×13 inch pan, depending on your need. I like to make two casseroles, so I have one to eat and one to give away or freeze for another day.
TIP | 8×8 is fine too, but you might want to place a sheet pan underneath to catch any potential spillage.
Grease your baking dish(es) with butter, just grab a paper towel and some soft butter and schmear away!
Tear the bread into chunks or if you prefer cut into cubes and distribute evenly into the prepared pan(s).
WHAT BREAD IS BEST FOR OVERNIGHT FRENCH TOAST?
Any leftover (white) bread works well.
The Fresh Cooky favorites are Brioche, Challah (egg bread) and French Bread.
You can also use Sourdough, along with other white breads as well, whole wheat bread would work too!
Bottom line, use the bread you have on hand!
Pour mixture evenly over torn bread into pan(s), cover tightly and store in fridge overnight (or until needed) — you can bake it right away, although it's best if let sit overnight.
How to Make Cinnamon Crunch Crumb Topping
This is THE BEST PART! Well, for me at least…I'm kind of a crumb topping fanatic! Check out that beautiful crumb!
PRO TIP | If you split the casserole into two pans, I suggest at least making 1 1/2 servings of the crumb topping, maybe even double it. Can you really have too much crumb topping? I think not!
In a medium-large mixing bowl add your flour, packed brown sugar, cinnamon, nutmeg and sea salt. Mix together with a fork.
Ever grated your own nutmeg? Oh my, it's so worth it and SO very fresh!
Next, chop the cold butter into small cubes and toss in, I've also used room temp butter and mushed it all together, either way works fine since you store this in the fridge overnight giving the butter a chance to firm back up.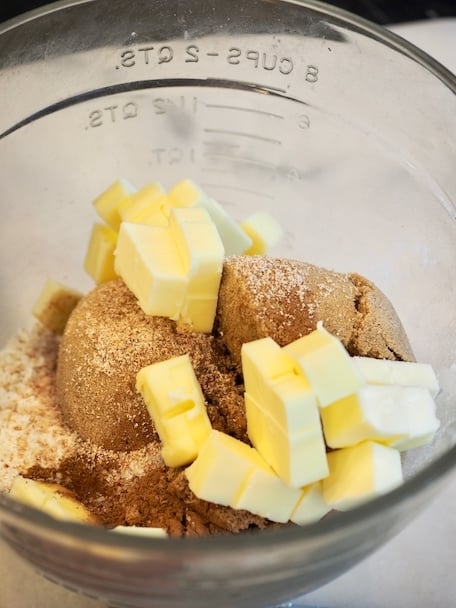 Using a fork, mix the butter and flour/sugar mixture until coated; then get your hands dirty and get in there and mix, smoosh, mix.
You can use a pastry blender, however; for this crumb topping I highly recommend you use either your hands or a mixer and really get in there to mix the butter together. Even soft butter helps tremendously, but make sure you pop it in the fridge or freezer for at least 15 minutes before using.
Ultimately you want to be able to make marble sized crumbs on top of the casserole.
Once it's all combined, toss it in a ziplock baggie and store in the fridge with the french toast mixture and let it chill overnight.
HOW LONG SHOULD I BAKE FRENCH TOAST CASSEROLE?
When you are ready to bake, preheat your oven to 350°, remove your french toast casserole and topping from the fridge. Crumble your crumb crunch topping evenly over the top(s) of the french toast.
Can you Freeze Cinnamon Crunch Casserole?
You may freeze this Cinnamon Crunch casserole before or after baking, making it a HUGE time saving winner in my book! To cook, remove casserole from freezer day before you want to serve.
Allow the casserole and crumb topping to thaw overnight, then bake as directed.
Bake for 45 minutes for a softer, more bread pudding-like texture or 1 hour or more for a firmer, crisper texture. Since I like mine softer and my family likes theirs firmer, I typically split the difference baking for about 50-55 minutes.
If desired, serve with warm maple syrup, a little pat of butter and fresh berries, but it's totally optional, it's delicious all on it's own.
Serve alongside my Mango Berry Salad or Yogurt Parfait for a fresh breakfast or brunch! Perfect for a holiday breakfast, weekend brunch, potluck, team feed, Mother's Day or Easter!
This recipe adapted from the Pioneer Woman, I mean truly, have you ever made anything of hers that you didn't like?
More Breakfast Recipes
Like this recipe?
Don't forget to give it a ⭐️⭐️⭐️⭐️⭐️ star rating and comment below the recipe!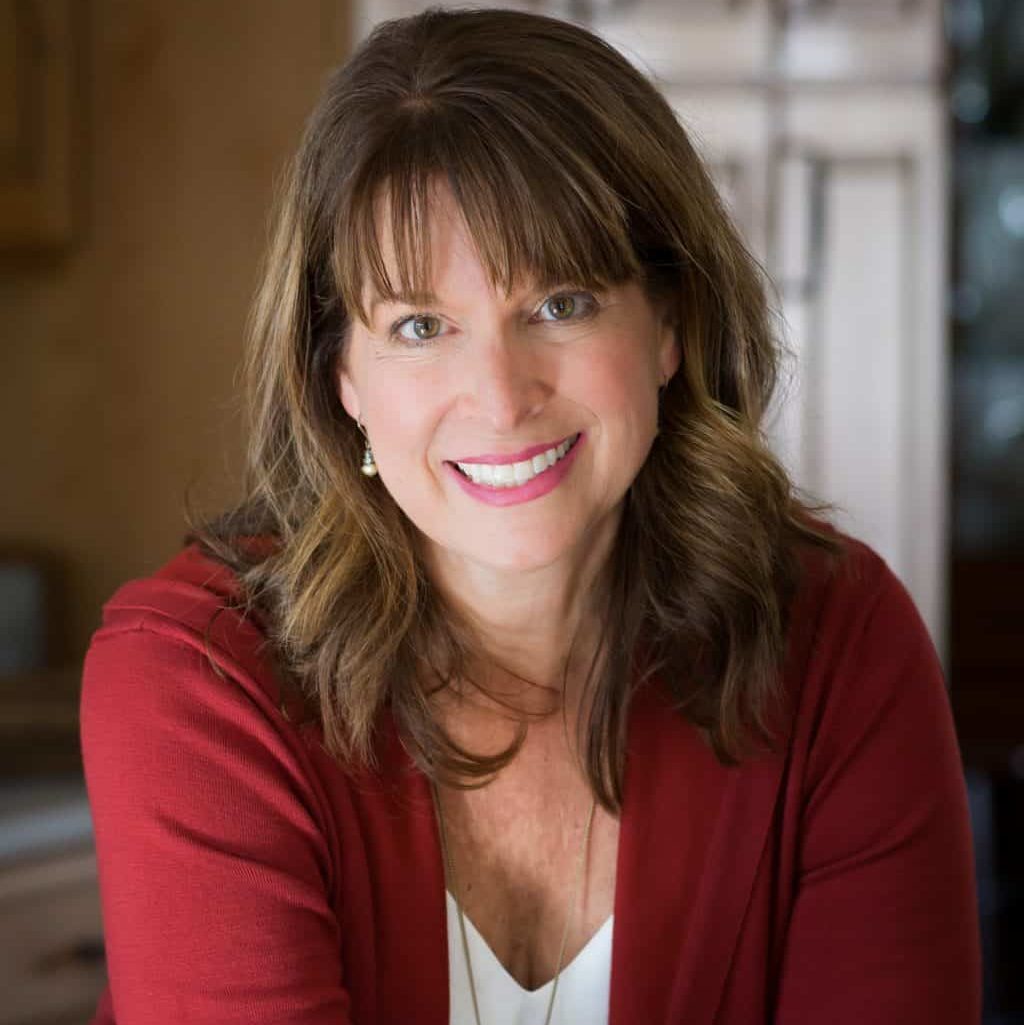 About Kathleen Pope
Recipe Innovator | Food Photographer | Food Writer
Hi, I'm Kathleen Pope. Here at The Fresh Cooky you will find easy, mostly from-scratch, trusted recipes for all occasions. From speedy dinners to tasty desserts, with easy step-by-step instructions. I am here to help teach you how to make mouthwatering recipes without spending hours in the kitchen. Read more about Kathleen here.