Ingredient Substitution Chart
As an Amazon Associate, I earn from qualifying purchases. Please read my disclosure policy.
I hate it when I am in the middle of a recipe and suddenly realize, I am out of an ingredient, argh, now to find a substitution or alternative ingredient. I hope you find this Ingredient Substitution Chart handy. Print out this free printable and put inside a cupboard or pantry for easy referencing.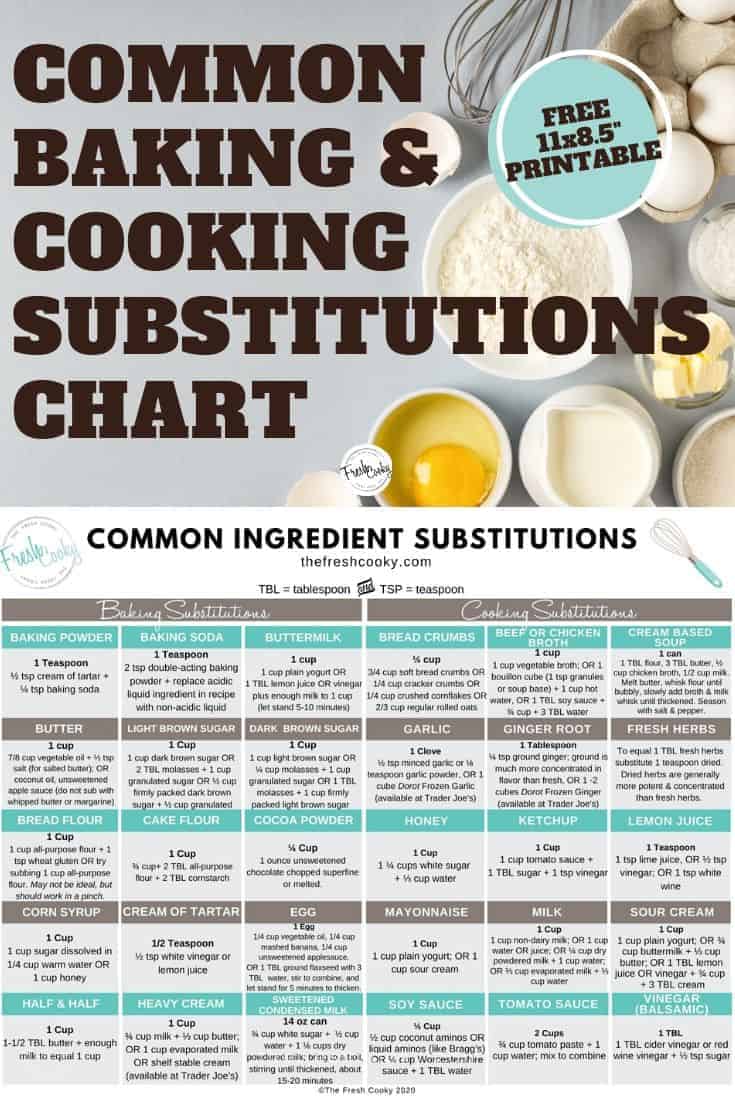 Please keep in mind, that when making substitutions it can change the outcome of the recipe. Some substitutions will not be noticeable; like using cracker crumbs in place of bread crumbs; egg substitutes, you might notice a difference.
Print this FREE Ingredient Substitution Chart
Click Download button below.
COMMON BAKING INGREDIENT SUBSTITUTIONS
BAKING POWDER SUBSTITUTE
For one teaspoon replace with ½ teaspoon cream of tartar plus ¼ teaspoon baking soda.
BAKING SODA SUBSTITUTE
2 teaspoons double-acting baking powder, plus replace acidic liquid ingredient in recipe with non-acidic liquid. Note: this is not ideal! Equivalent to 1 teaspoon.
BUTTERMILK SUBSTITUTE
For 1 cup buttermilk replace with 1 cup plain yogurt, or my favorite; 1 tablespoon lemon juice or vinegar plus enough milk to make 1 cup. Stir and let stand for 5-10 minutes.
BUTTER SUBSTITUTE
Replace with 7/8 cup vegetable oil plus ½ teaspoon salt (omit salt for unsalted butter); or use coconut oil, unsweetened applesauce but do not substitute with whipped butter or margarine. Makes 1 cup.
LIGHT BROWN SUGAR SUBSTITUTE
1 cup dark brown sugar or 2 tablespoons molasses plus 1 cup granulated sugar or ½ cup firmly packed dark brown sugar plus ½ cup granulated white sugar, makes 1 cup.
DARK BROWN SUGAR SUBSTITUTE
1 cup light brown sugar or ¼ cup molasses plus 1 cup granulated sugar or 1 tablespoon molasses plus 1 cup firmly packed brown sugar, makes 1 cup.
BREAD FLOUR SUBSTITUTE
1 cup all-purpose flour plus 1 teaspoon wheat gluten, though my hunch is you also may not have on hand. So in a pinch, I use regular all-purpose flour, cup-for-cup, your end results won't be quite the same, but should get close to desired result. Makes 1 cup.
CAKE FLOUR SUBSTITUTE
¾ cup plus 2 tablespoons all-purpose flour, plus 2 tablespoons cornstarch. Makes 1 cup.
COCOA POWDER SUBSTITUTE
1 ounce unsweetened chocolate, chopped superfine or melted. Makes ¼ cup.

CORN SYRUP SUBSTITUTE
1 cup sugar dissolved in ¼ cup warm water OR 1 cup honey.
CREAM OF TARTAR SUBSTITUTE
½ teaspoon white vinegar or lemon juice = ½ teaspoon cream of tartar.
EGG SUBSTITUTE
¼ cup vegetable oil
¼ cup mashed banana (I have used this in my Gluten Free Coffee Cake to make it gluten and egg free for a friend with allergies, works great!)
¼ cup unsweetened applesauce
1 tablespoon ground flaxseed with 3 tablespoons water, stir to combine, and let stand for 5 minutes to thicken. Note: Depending on what you are putting this in, ground flax can taste a bit fishy, but this small amount should be okay.
HALF AND HALF SUBSTITUTE
1 ½ tablespoons butter plus enough milk to equal one cup. Softened butter or melted and cooled. Equals 1 cup half and half.
HEAVY CREAM SUBSTITUTE
¾ cup milk (higher fat the better) plus ⅓ cup butter, softened. Or 1 cup evaporated milk or shelf stable whipping cream (available at Trader Joe's – this stuff has saved my bacon numerous times. Note: Other than the shelf stable whipping cream, other substitutes will not whip into whipped cream; use milk or evaporated milk only in recipes that incorporate cream into the batter, sauce or mixture.
SWEETENED CONDENSED MILK SUBSTITUTE
¾ cup white sugar plus ½ cup water, plus 1 ⅛ cups dry powdered milk; bring to a boil, stirring until thickened, about 15-20 minutes. Allow to cool; makes equivalent to 1-14 oz can.
Print the Ingredient Substitution Chart Click Download button below.
COMMON COOKING INGREDIENT SUBSTITUTIONS
BREAD CRUMBS SUBSTITUTE
¾ cup soft bread crumbs
¼ cup cracker crumbs
¼ cup crushed cornflakes
⅔ cup regular rolled oats
BEEF OR CHICKEN BROTH SUBSTITUTE
1 cup vegetable broth
1 bouillon cube (or 1 teaspoon granules or soup base), plus 1 cup hot water
1 tablespoon soy sauce, plus ¾ cup plus 3 tablespoons water
CREAM BASED SOUP SUBSTITUTE
1 tablespoon flour, 3 tablespoons butter, ½ cup chicken broth, ½ cup milk. Melt butter, whisk flour until bubbly, slowly add broth and milk whisking until thickened. Season with salt and pepper. Makes 1 can worth.
GARLIC CLOVE SUBSTITUTE
½ teaspoon minced garlic or ⅛ teaspoon garlic powder, or 1 cube Dorot Frozen Garlic. I love this last one, you need this in your freezer, 1 cube equals one clove of garlic. I purchase mine from Trader Joe's. Equals 1 clove.
GINGER ROOT SUBSTITUTE
¼ teaspoon ground ginger, ground ginger is much more concentrated in flavor than fresh. Or sub with 1 cube Dorot Frozen Fresh Ginger (also at Trader Joe's). Equals 1 tablespoon.
FRESH HERBS SUBSTITUTES
If a recipe calls for 1 tablespoon fresh herbs, substitute 1 teaspoon dried of the same herb. Generally speaking you replace fresh with dried in a 3:1 ratio. There are 3 teaspoons in a tablespoon. Dried herbs are more potent and concentrated than fresh herbs, which is why you need less.
HONEY SUBSTITUTE
1 ¼ cups white sugar plus ⅓ cup water, stir to dissolve. Makes 1 cup.
KETCHUP SUBSTITUTE
1 cup tomato sauce plus 1 tablespoon sugar, plus one teaspoon vinegar. Mix together, makes 1 cup.
LEMON JUICE SUBSTITUTES
1 teaspoon lime juice, or ½ teaspoon vinegar; or 1 teaspoon white wine. Equals 1 teaspoon.
MAYONNAISE SUBSTITUTES
1 cup plain yogurt; or 1 cup sour cream.

MILK SUBSTITUTES
1 cup non-dairy milk
1 cup water or juice
¼ cup dry powdered milk, plus 1 cup water
⅔ cup evaporated milk plus ⅓ cup water
SOUR CREAM SUBSTITUTES
1 cup plain yogurt
¾ cup buttermilk, plus ⅓ cup butter
1 tablespoon lemon juice or vinegar, plus ¾ cup and 3 tablespoons cream, mix.
SOY SAUCE SUBSTITUTES
½ cup coconut aminos or liquid aminos (such as Bragg's) or ¼ cup Worcestershire sauce, plus 1 tablespoon water.
TOMATO SAUCE SUBSTITUTE
¾ cup tomato paste, 1 cup water; mix to combine. Makes equivalent of 2 cups of sauce.
VINEGAR (BALSAMIC) SUBSTITUTE
1 tablespoon cider vinegar or red wine vinegar, plus ½ teaspoon sugar. Makes 1 tablespoon.
Print the Ingredient Substitution Chart
Click Download button below.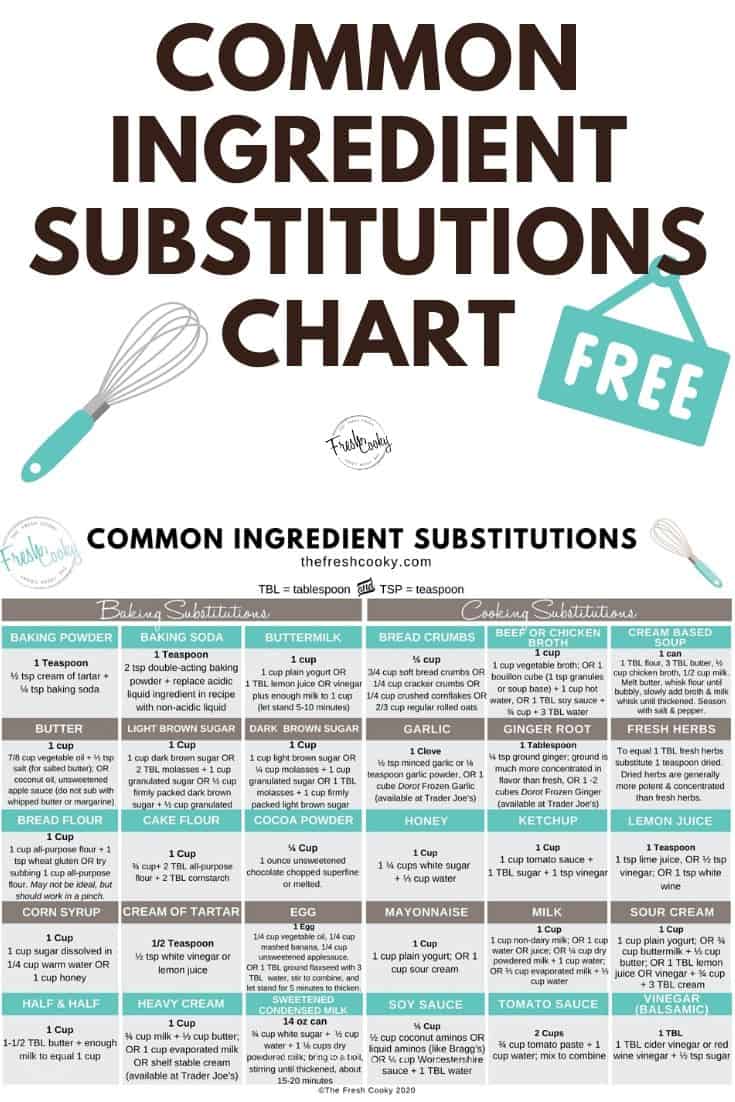 If you are looking for a substitute that is not on this list, email me or add a comment below. I will do my best to get back with a possible solution. Happy cooking and baking!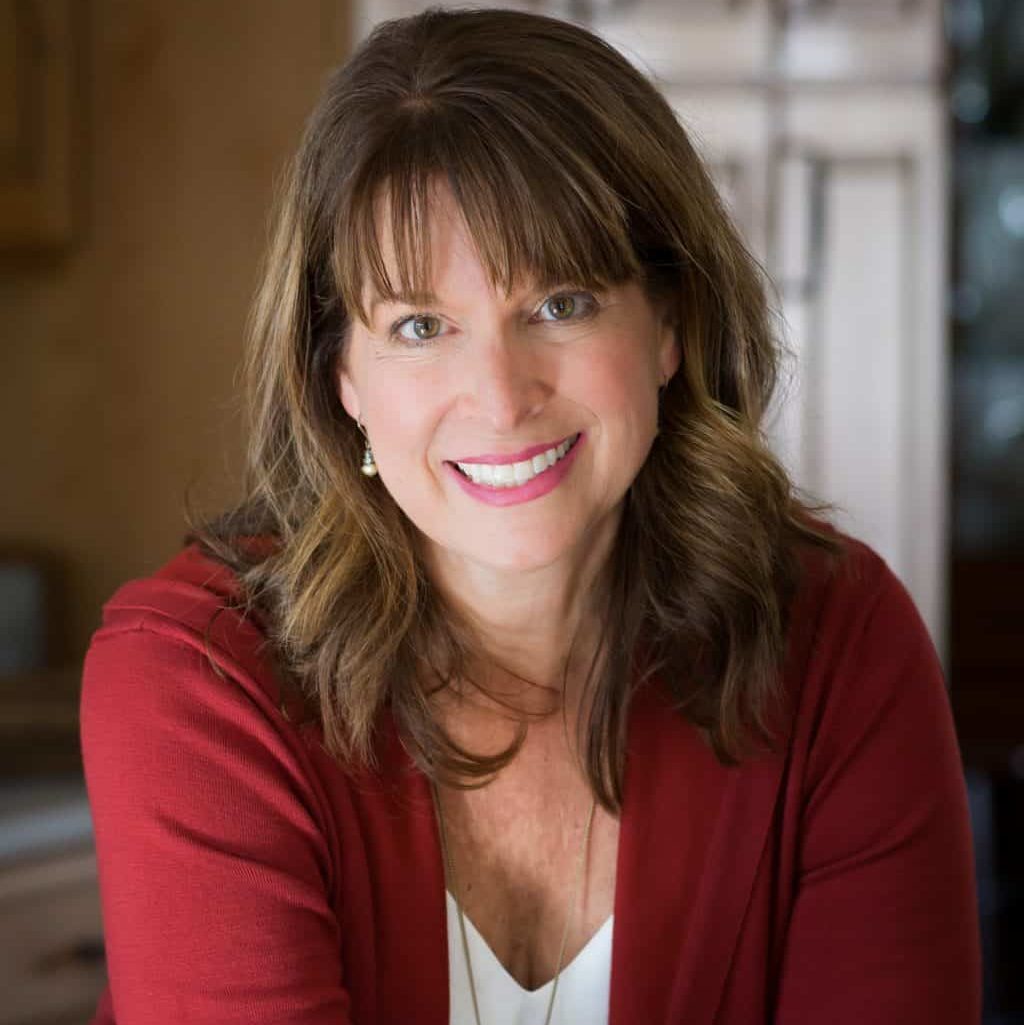 About Kathleen Pope
Recipe Innovator | Food Photographer | Food Writer
Hi, I'm Kathleen Pope. Here at The Fresh Cooky you will find easy, mostly from-scratch, trusted recipes for all occasions. From speedy dinners to tasty desserts, with easy step-by-step instructions. I am here to help teach you how to make mouthwatering recipes without spending hours in the kitchen. Read more about Kathleen here.