Stabilized Whipped Cream (Cool Whip Substitute)
As an Amazon Associate, I earn from qualifying purchases. Please read my disclosure policy.
This stabilized whipped cream recipe is easy, creamy and just 3 ingredients to a healthy cool whip recipe and no gelatin! You can even use stabilized whipped cream frosting for cake decorating! Plus 12 Whipped Cream Variations for fun and fancy whipping cream.
I love taking popular recipes, tweaking and twisting them into a healthier version of the original recipe. This copycat Cool Whip recipe fits the bill.
Speaking of copycat recipes, try my Panera Orange Scones, Copycat Pumpkin Noosa, Mimi's Honey Bran Muffins and this White Chocolate Raspberry Bundt Cake.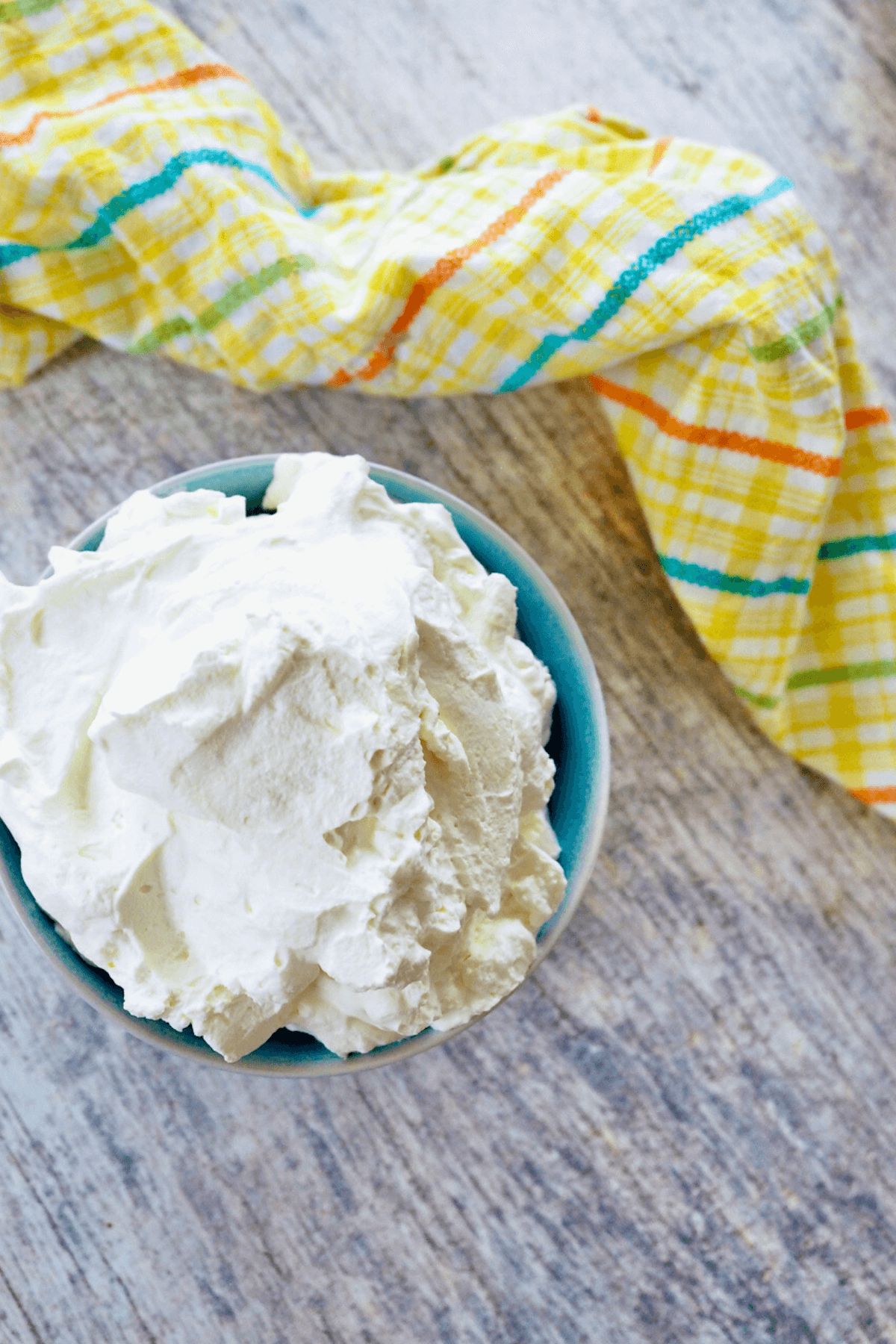 Why You Will Love this Easy Homemade Cool Whip Recipe!
Simple Ingredients
Ingredients are easily found at the local grocery store, with easy instructions in the recipe card below.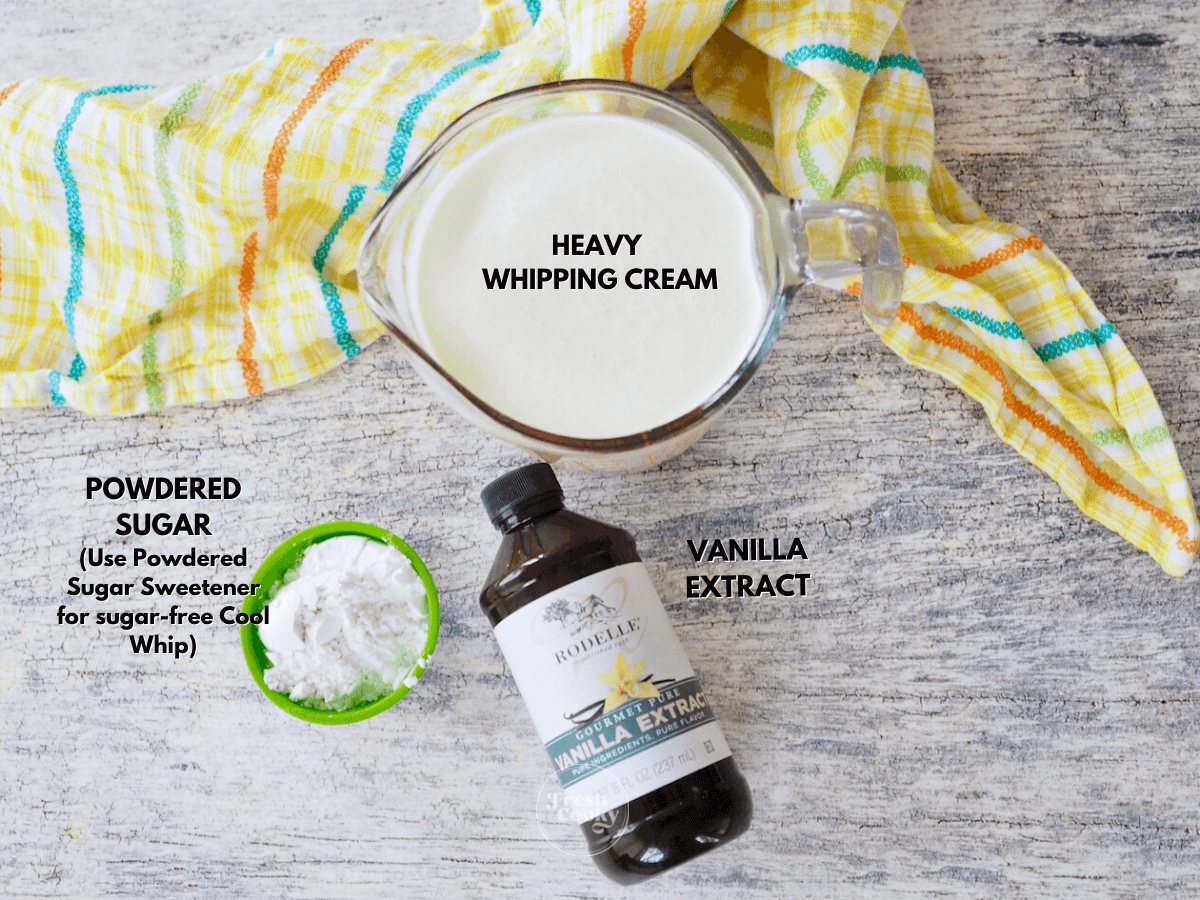 What's the difference between heavy cream and whipping cream
Heavy cream is the richest type of liquid cream with a fat content of at least 36%, while whipping cream contains between 30% and 36% fat. You can however; use them interchangeably in recipes, but for whipping, it's best to use whipping cream.
In general, the more fat in the cream, the more stable it will be for whipping and for sauce making. The final difference is that heavy cream has 5 more calories per tablespoon than whipping cream, and it costs 5 to 10 cents more per pint. (Source)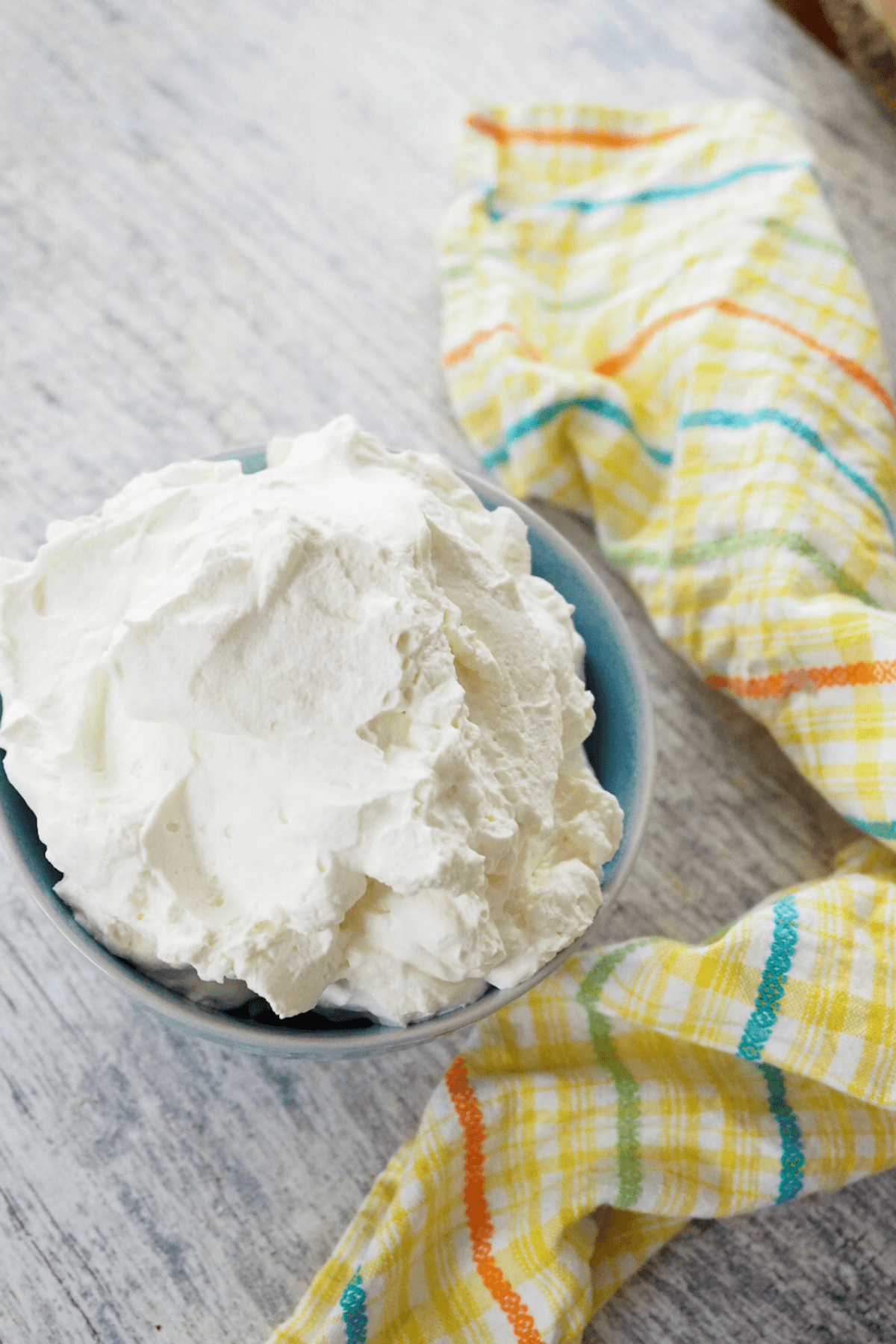 How to Make Stabilize Whipped Cream (How to Make Cool Whip)
Chill mixing bowl in freezer for 15 minutes prior to whipping and make sure your whipping cream is really cold!
Pour heavy whipping cream into a clean and chilled mixing bowl or bowl of stand mixer with a whisk attachment.
Pro Tip
To keep the whip cream from splattering everywhere, place a clean tea towel over the electric mixer or cut a hole in the center of a paper plate and place around the whisk attachment on the electric hand mixer and on top of the large mixing bowl.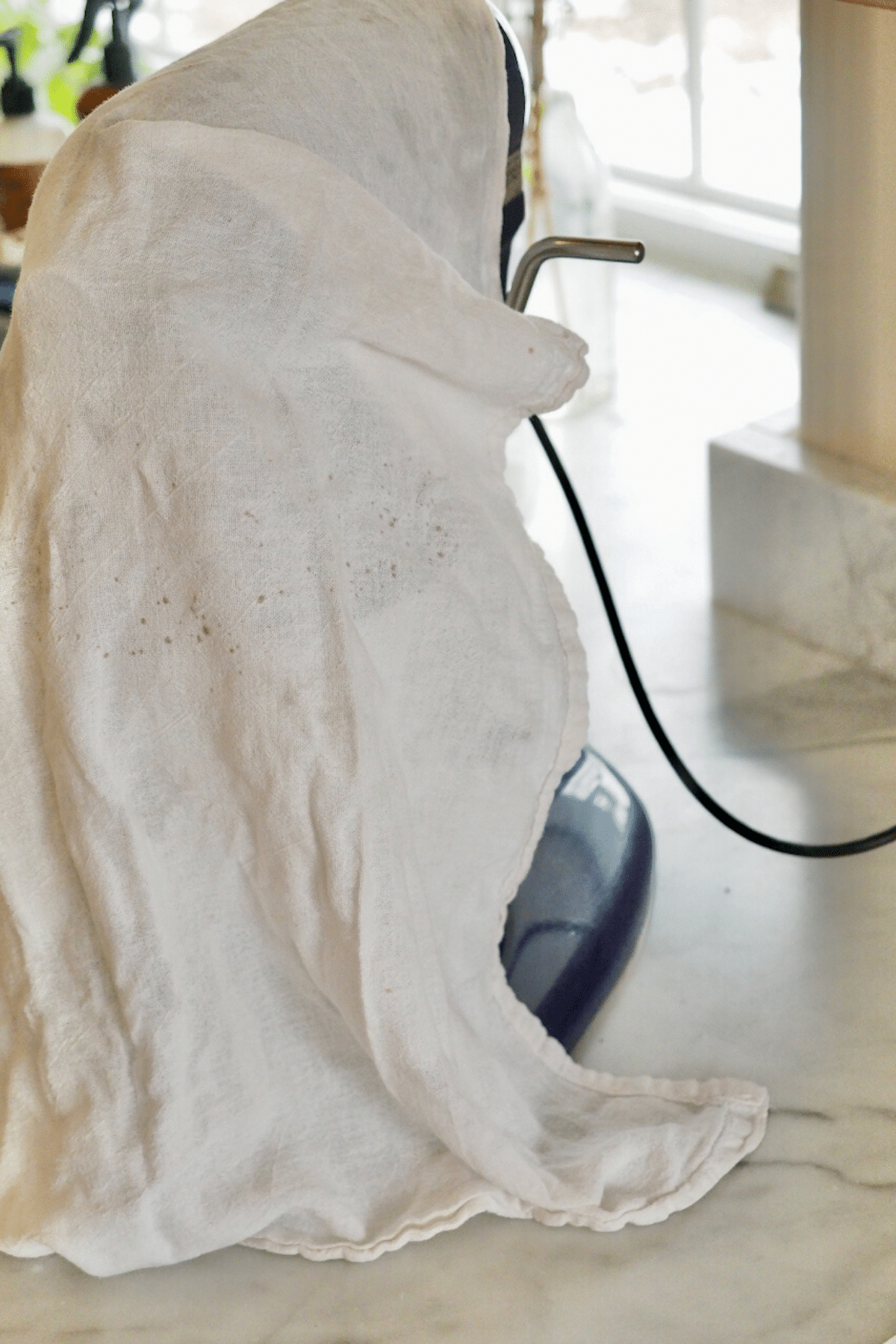 Beat cream on medium-high speed until soft peaks form. Then reduce the speed to low and add the powdered sugar and vanilla extract.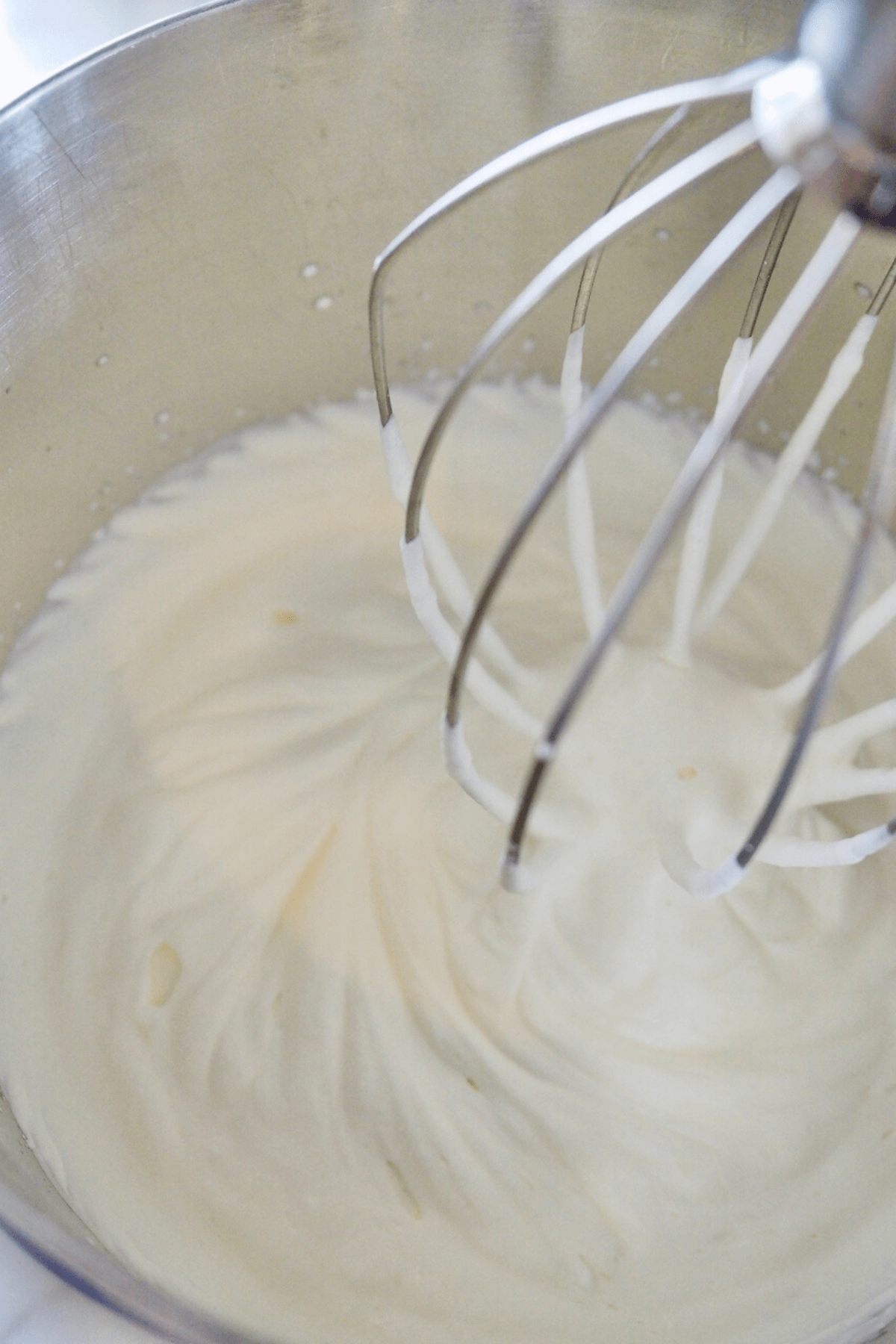 Increase the speed (covering again to prevent splatters) to high and whip until stiff peaks form. You want it really thick, but not so thick that it turns into butter, keep an eye on it at this point.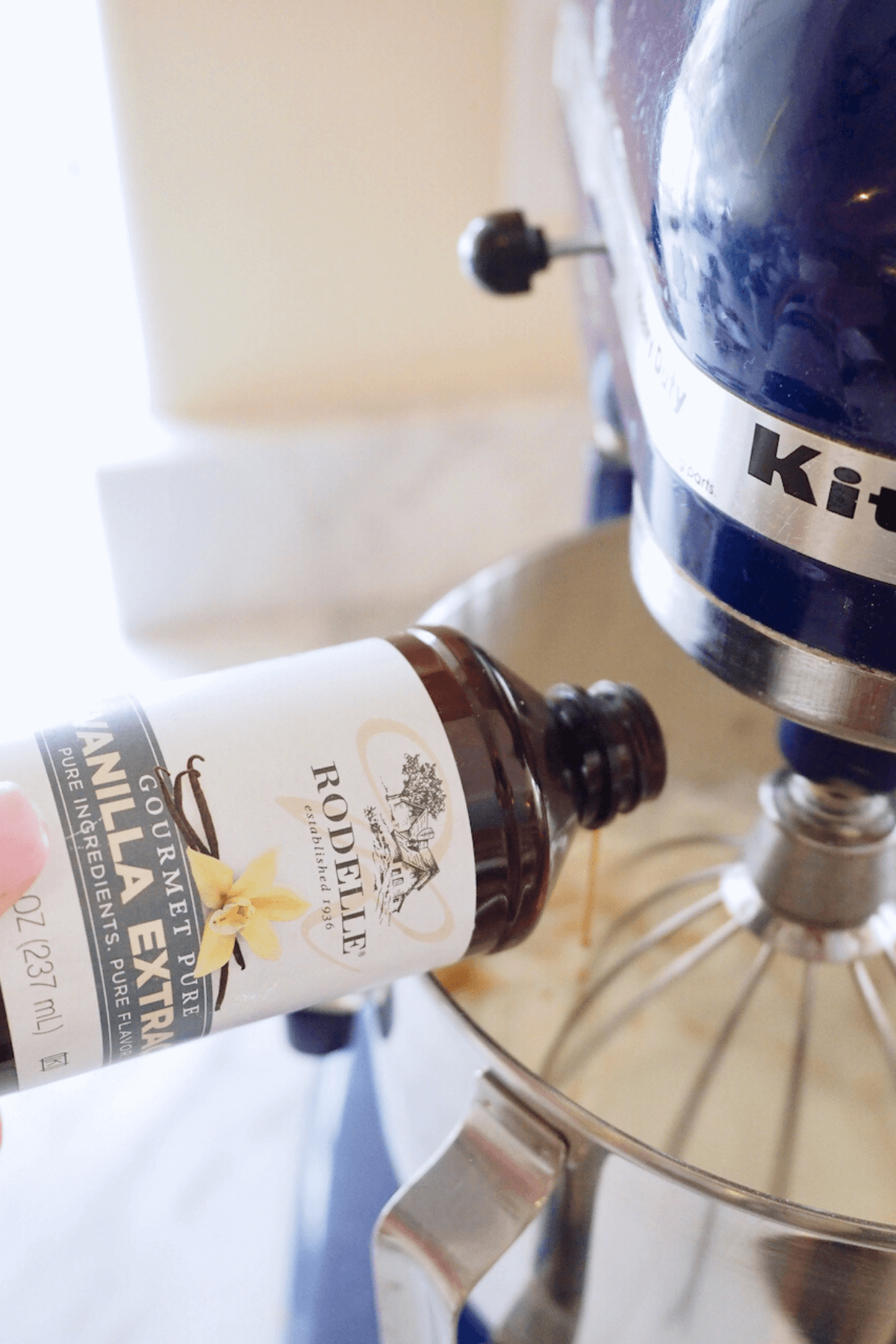 Place in fridge until ready to use, covered if not using within 15 minutes. The whipped cream will pipe and spread a bit better if it rests in the fridge for a few minutes.
Make your own Heavy Whipping Cream
Opened the fridge only to find out your whipping cream is bad? Or you thought you had some and you don't? Try this substitute!
Substitute for 1 cup (237 ml) of heavy cream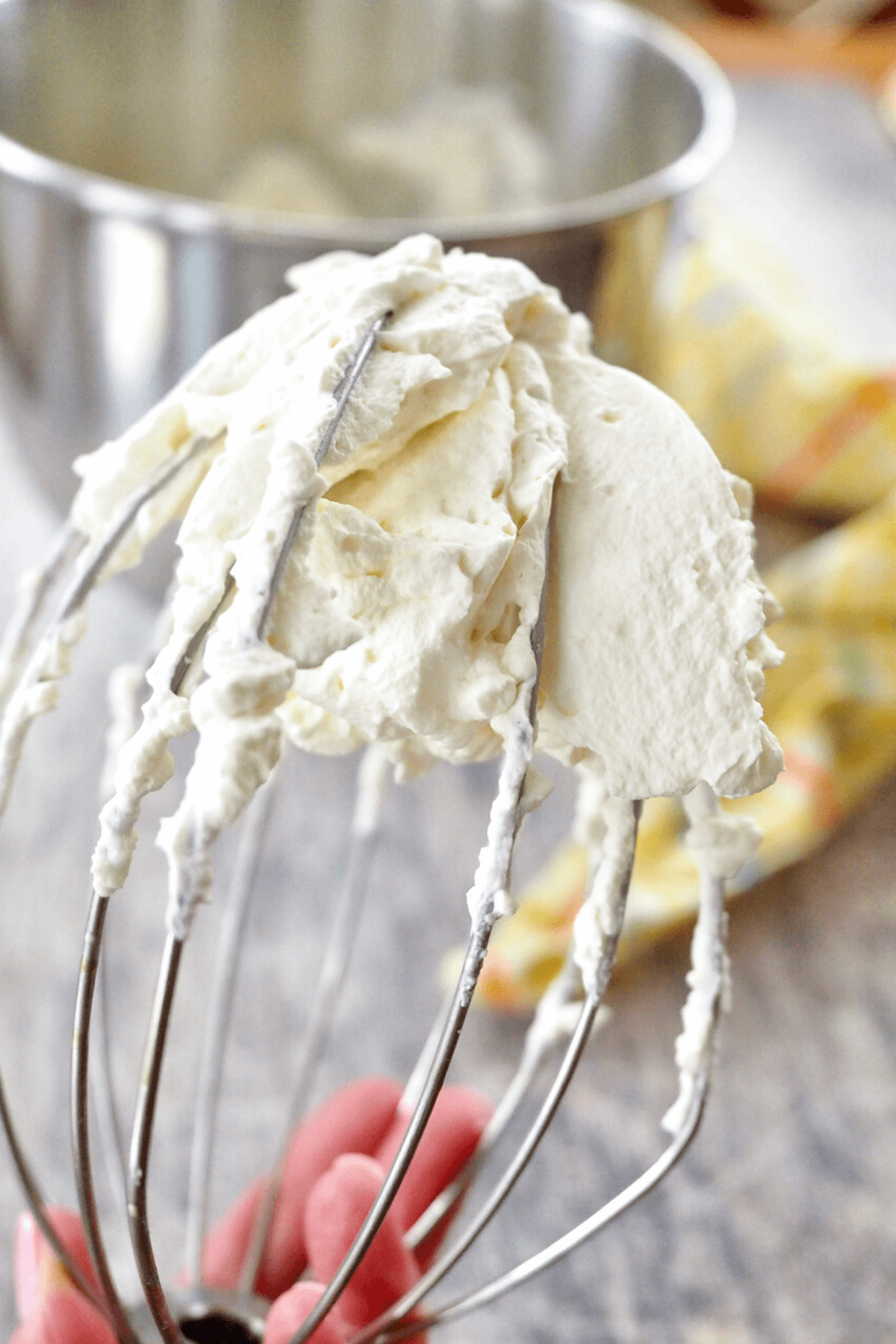 Fresh Tip
I have not tried the above method, but have heard that it works, let me know if you try it. Trader Joe's shelf-stable whipping cream is the best. I keep the cartons in my fridge, and it stays good long past the sell by date! Great for those heavy cream emergencies!
12 Whipped Cream Variations
Chocolate Whipping Cream or Cool Whip | When you add the powdered sugar, add ¼ cup of cocoa powder along with the vanilla extract.
Coffee Whipped Cream | Add 2 teaspoons of espresso powder to the mixture.
Strawberry Whipped Cream | 2-4 tablespoons of strawberries pureed in a blender (fresh or frozen). Or try a couple tablespoons of your favorite jam.
Bailey's Irish Cream Whipped Cream | Add 2-4 ounces of Irish Cream Liqueur to whipped cream mixture along with other ingredients, to taste.
Lemon or Lime Whipped Cream | Zest from one medium lemon or lime (or both) to the mixture
Peanut Butter Whipped Cream | Add 2-4 tablespoons of creamy peanut butter, you could also use Almond butter or try Cookie Butter!
Kahlua Whipped Cream | Add 2-4 ounces Kahlua liqueur and mix with other ingredients.
Cinnamon Whipped Cream | Add 1 teaspoon of ground cinnamon to the whipped cream.
Toffee Whipped Cream | Crush 2 Heath bars and fold in after whipped cream is all whipped.
Maple Whipped Cream | Add ¾ teaspoon maple extract or 1-2 tablespoons of pure maple syrup.
Lavender Whipped Cream | In a small pot heat heavy whipping cream until just simmering. Remove from heat and add 1 ½ teaspoons culinary lavender let steep for 25 minutes. Strain and chill for a minimum of 6-8 hours, then whip as directed.
Peppermint Whipped Cream | Add 1 teaspoon peppermint extract at the end of the whipping process.
Top Tips
Use cup for cup in recipes that use store bought Cool Whip, as a substitute, this is my favorite way to use it
Chill your bowl! For best results place the mixer bowl in the freezer for 15 minutes before you start whipping and make sure your whipped cream is really cold.
Immediately store this healthy Cool Whip substitute in the fridge, this is the best way keep regular whipped cream
Stable whipped cream is perfect when used in a pastry bag with an icing tip, super easy recipe to use for the budding cake decorator.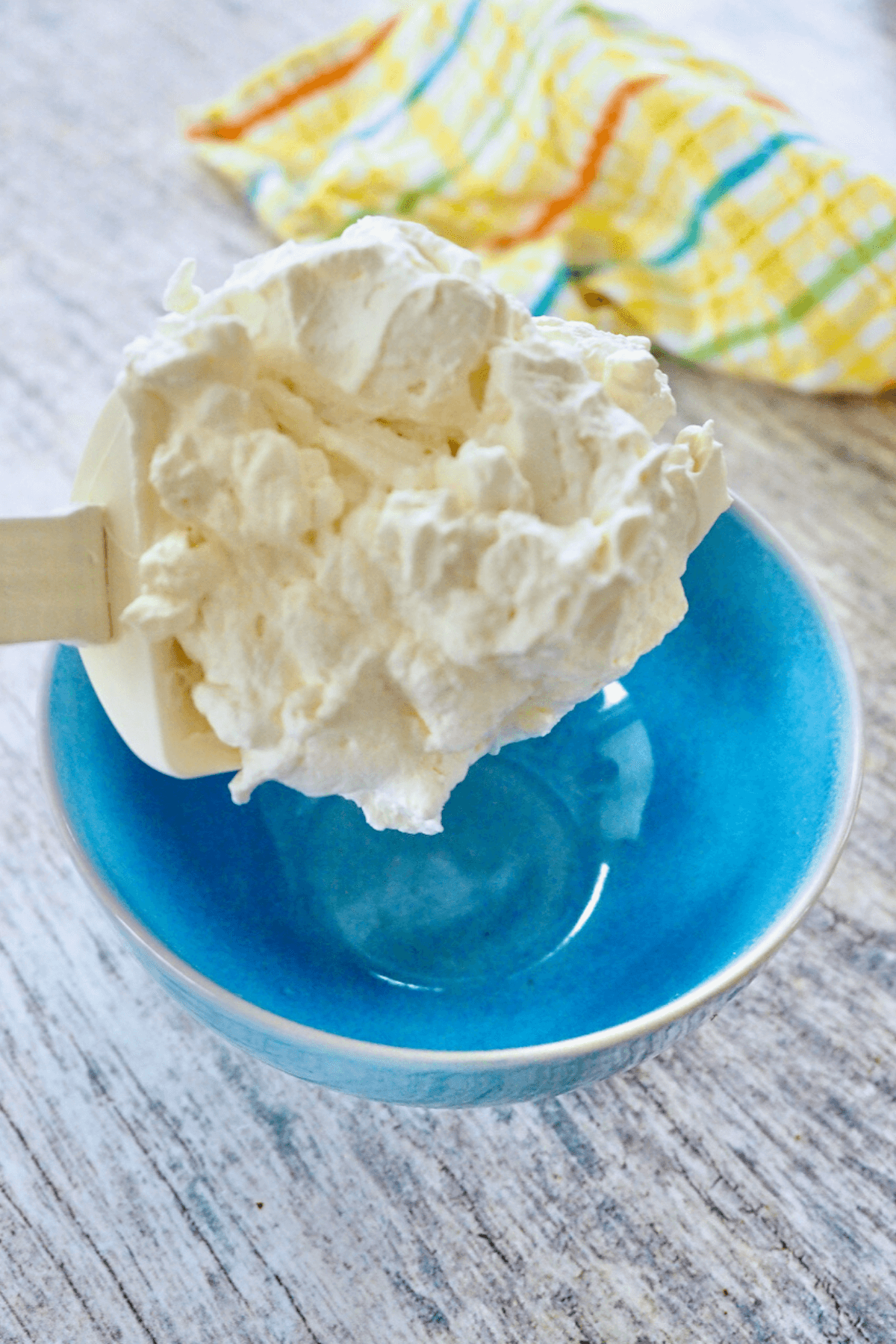 Frequently Asked Questions
Is Cool Whip Healthy?
Have you looked at the list of ingredients on the tub of Cool Whip? I am going with a big fat NO! With ingredients like hydrogenated vegetable oil, high fructose corn syrup, corn syrup, skim milk, light cream and less than 2% sodium caseinate (a milk derivative), natural and artificial flavor, xanthan and guar gums, polysorbate 60, sorbitan monostearate and beta carotene (as a coloring).

Not that I don't occasionally use Cool Whip. Guilty! But I am trying to eat cleaner on a regular basis!
Many of these ingredients are toxic to our bodies, check it out this article.
How to fix overbeaten whipped cream
Accidentally beat the whipped cream too much? Been there, done that! It might get a wee bit grainy, almost butter like.

To fix: Add a couple tablespoons of chilled whipped cream and whisk it in by hand. This will thin it out and bring it back to soft peak consistency.
Can I whip whipped cream in a blender?
Yes! Depending on the size of your blender, be sure you have enough room in the blender for double the volume.

Freeze blender container for 15-30 minutes before blending. Add cold whipped cream, cover and blend on high speed for about 30 seconds.

Check and scrape down sides, it should be slightly thickened. Blend again on high until you hear a change of speed in the motor. Stop and check, adding powdered sugar and vanilla extract.

Return lid and continue blending on high speed until whipped cream reaches stiff peak stage. Chill for 15 minutes to allow stabilized whipped cream to rest.
Can I use stabilized whipped cream frosting for cake decorating?
Yes! You can easily use stabilized whipped cream frosting for cake decorating, but note that this frosting will not hold up in hot weather. Try this vanilla buttercream frosting if your cake needs to be outside. The good news is, it's still a great way to frost a layer cake.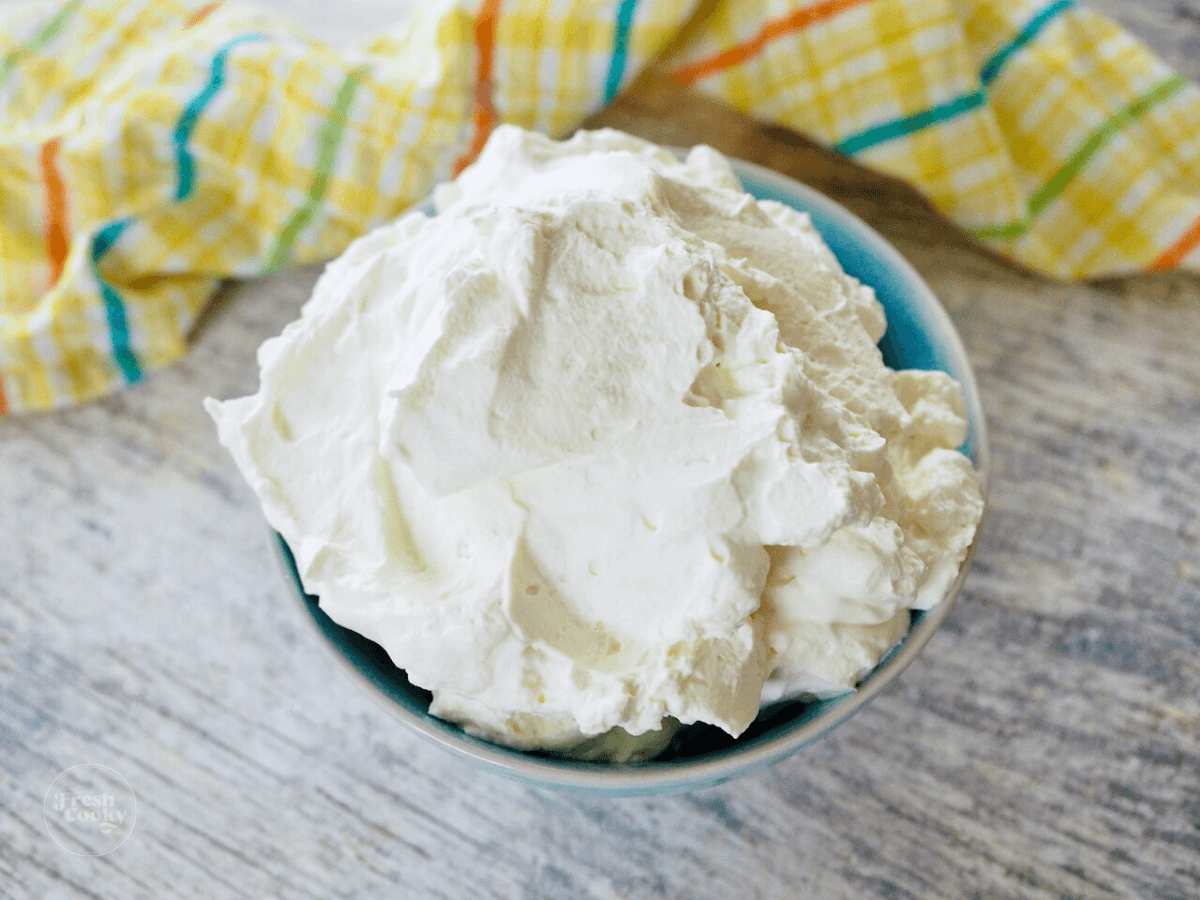 Storage
Stiffly whipped whipped cream will last covered in the refrigerator up to 3 days, this stable whipped cream might last a day or two longer in refrigerators that keep foods colder.
Can you freeze whipped cream? Yes, you sure can, this is a great way to use leftover whipped cream.
If you are planning on using it for a recipe, I would not recommend freezing it, just make fresh whipped cream.
However if you are looking to use up leftover whipped cream, then line a tray with parchment or silpat and spoon or pipe dollops of whipped cream onto the tray. Freeze for one hour, then peel and store in an airtight container.
Frozen whipped cream is great to use on hot drinks like hot chocolate, coffee, white hot chocolate, or this Hot Buttered Rum or even on top of a warm piece of pie or cake.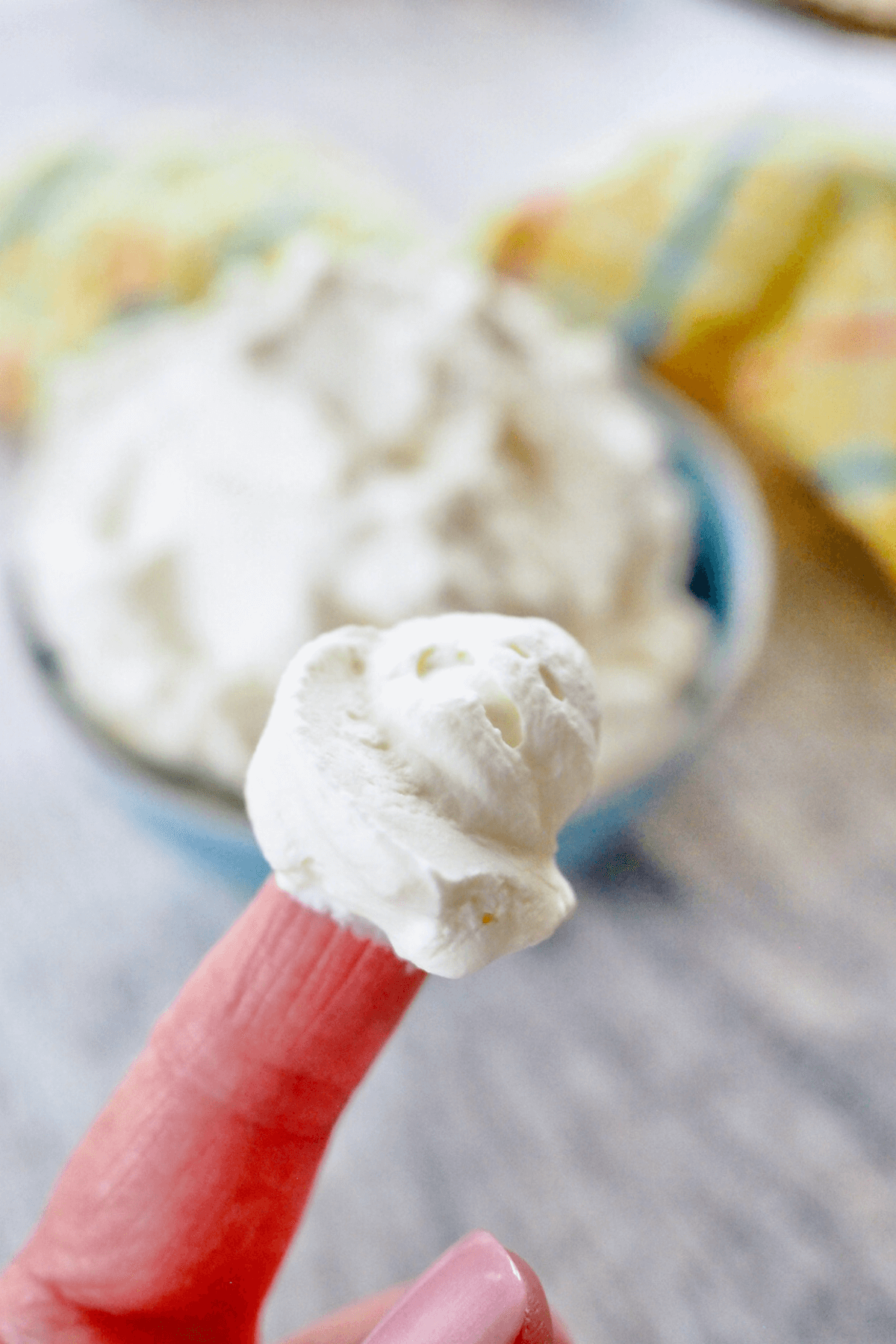 Ways to Use your Stabilized Whipped Cream
Any dessert that calls for Cool Whip or whipped topping can be substituted with this stabilized whipped cream. Use it on any dessert recipe, from pies, chocolate cake, crisps — any time you need a healthy substitute for Cool Whip.
Use stabilized whipped cream frosting for cake decorating!
This is really a fun way to frost an Ice Cream Cake too! If you try stabilized whipped cream frosting for cake decorating, let me know! The possibilities are endless! Let me know how you use it by commenting below!
LOVE IT? PIN IT!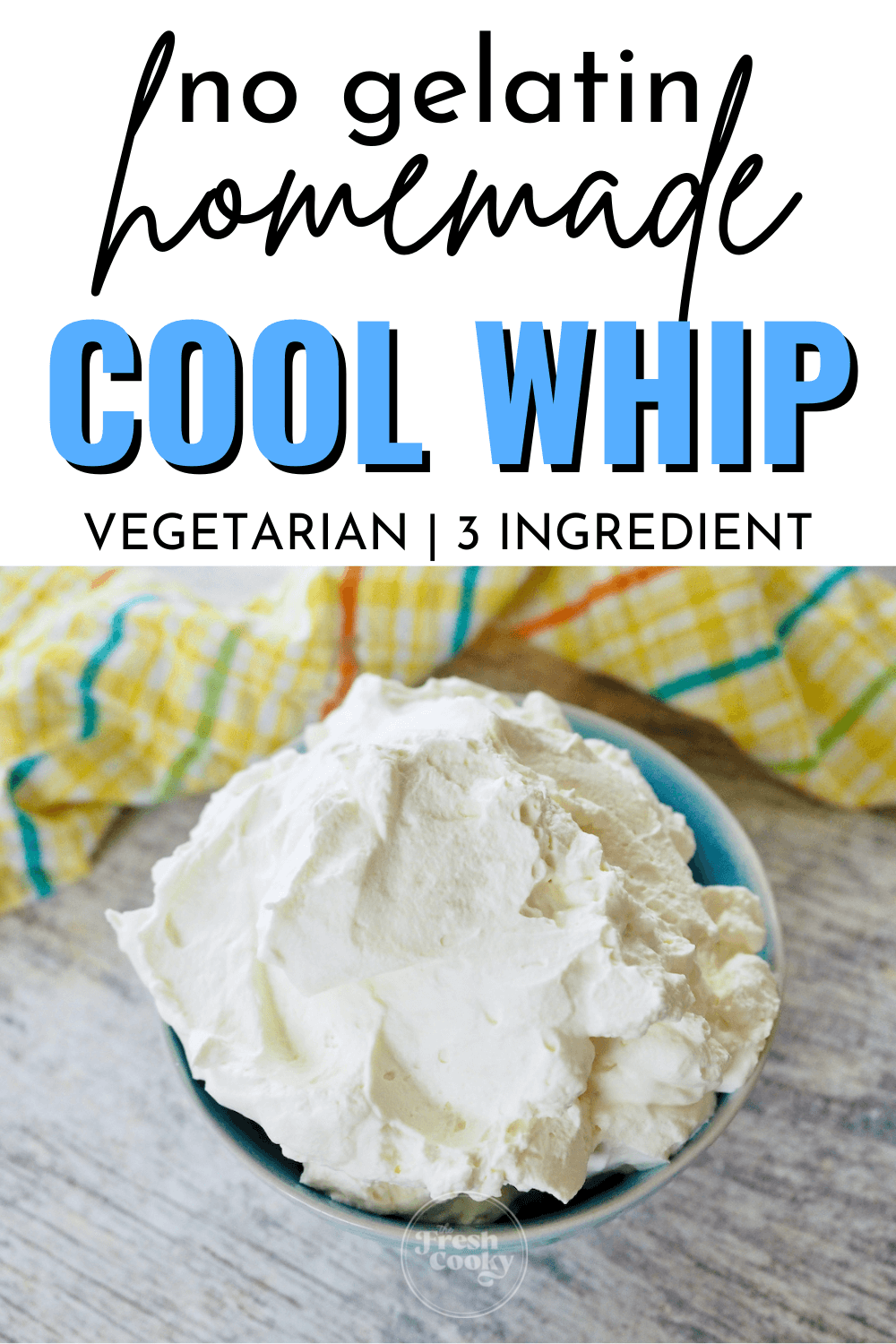 Like this recipe?
Don't forget to give it a ⭐️⭐️⭐️⭐️⭐️ star rating and comment below the recipe!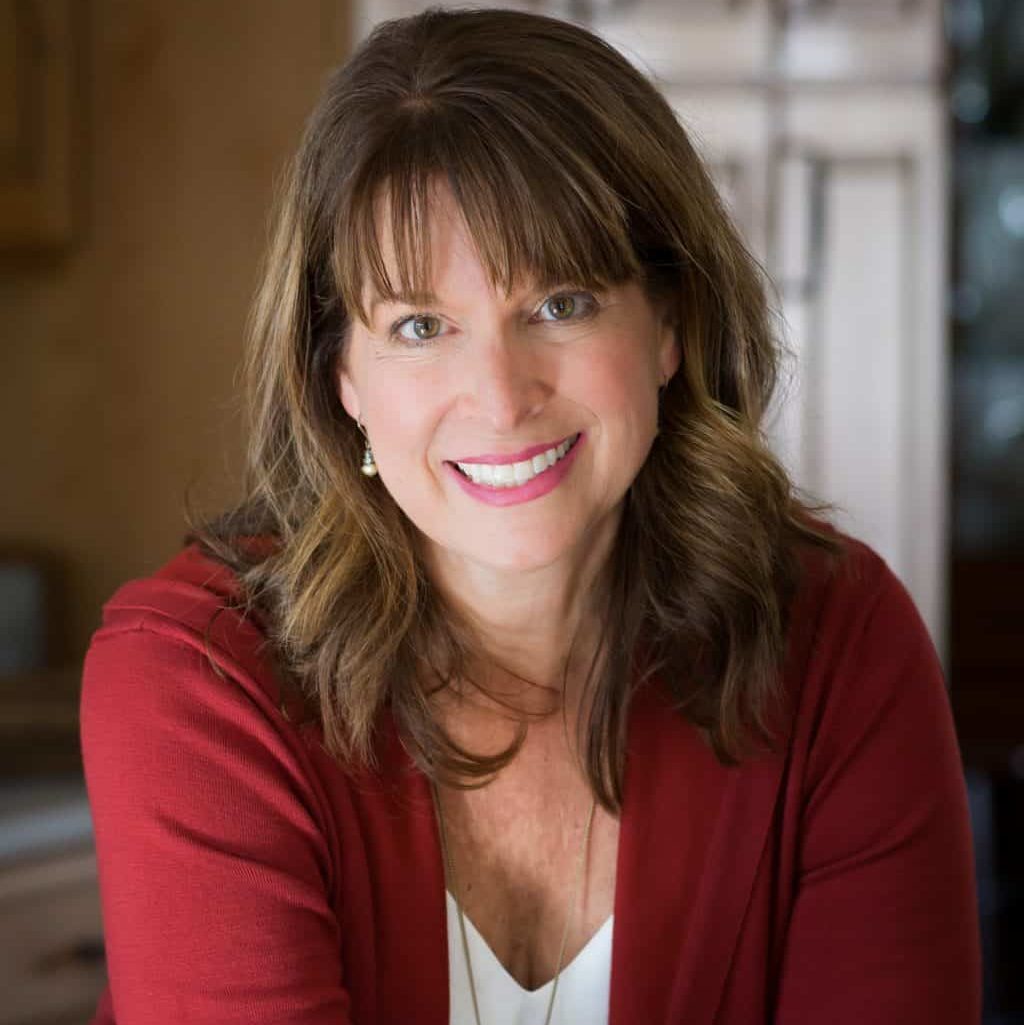 About Kathleen Pope
Recipe Innovator | Food Photographer | Food Writer
Hi, I'm Kathleen Pope. Here at The Fresh Cooky you will find easy, mostly from-scratch, trusted recipes for all occasions. From speedy dinners to tasty desserts, with easy step-by-step instructions. I am here to help teach you how to make mouthwatering recipes without spending hours in the kitchen. Read more about Kathleen here.