Red Lobster Cheddar Biscuits (biscuits & skillet bread)
As an Amazon Associate, I earn from qualifying purchases. Please read my disclosure policy.
A better than Red Lobster Cheddar Biscuits recipe, this copycat recipe is so easy to make, ready in about 20 minutes! Make them as biscuits or bread in a cast iron skillet. Cheesy, filled with garlic, and so tender.
I am a bit obsessed with these copycat Red Lobster Cheddar Biscuits! I have probably made this a dozen times getting them just right; tender, bursting with flavor and a bit healthier too!
A good quick bread recipe is a must have, while I occasionally have time to bake fresh yeast bread, typically I am looking for something quick. If you love quick breads, give these reader favorites a try: Beer Bread Popovers, Cheesy Garlic Bread.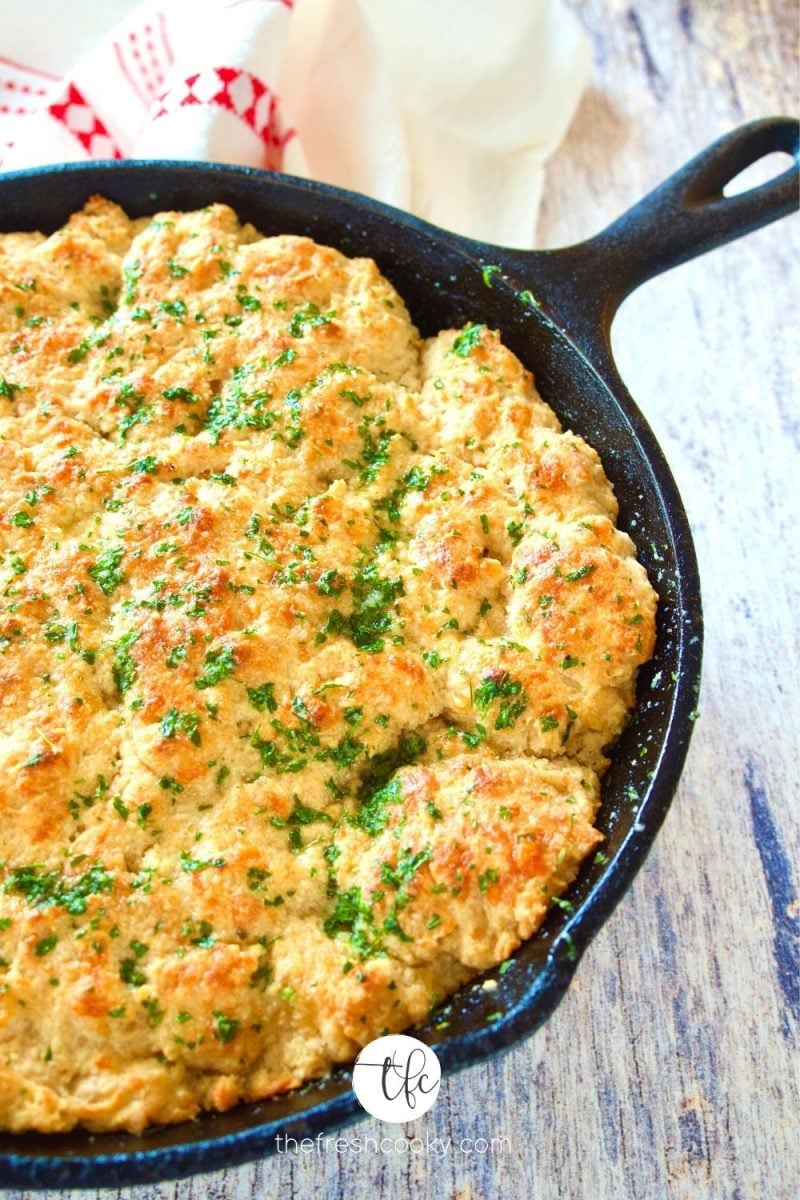 Best Red Lobster Cheddar Biscuits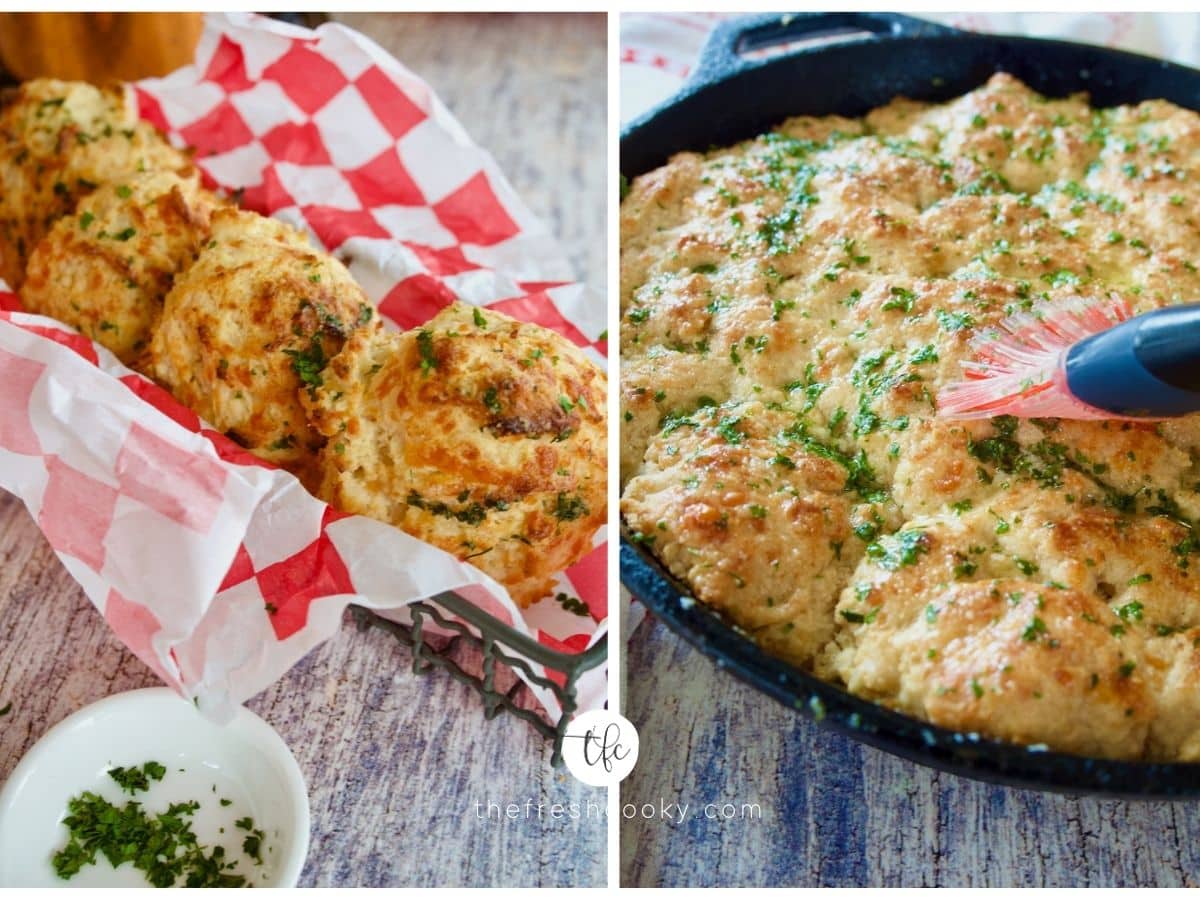 Why You Will Love this Biscuit Bread
EASY | Cheddar Bay biscuits take 10 minutes to prep and about 10 minutes to bake — that's it!
EVEN EASIER | Sometimes, I get lazy (er), I've adapted this recipe to bake in a cast iron skillet for even quick biscuit bread.
FLUFFY | Thanks to the buttermilk and baking power, you get the most tender, fluffy biscuits ever!
HEALTHIER | After several recipes testings, I discovered you still get a tender, delicious biscuit when replacing 1/2 cup all purpose flour with whole wheat flour.
VARIETY | At the TFC we are all about make it yours! So make as drop biscuits, drop biscuits into a skillet, or smoosh all the dough into a skillet.
KEY INGREDIENTS
This cheddar bay biscuits recipe could not be any easier. Gather the following ingredients: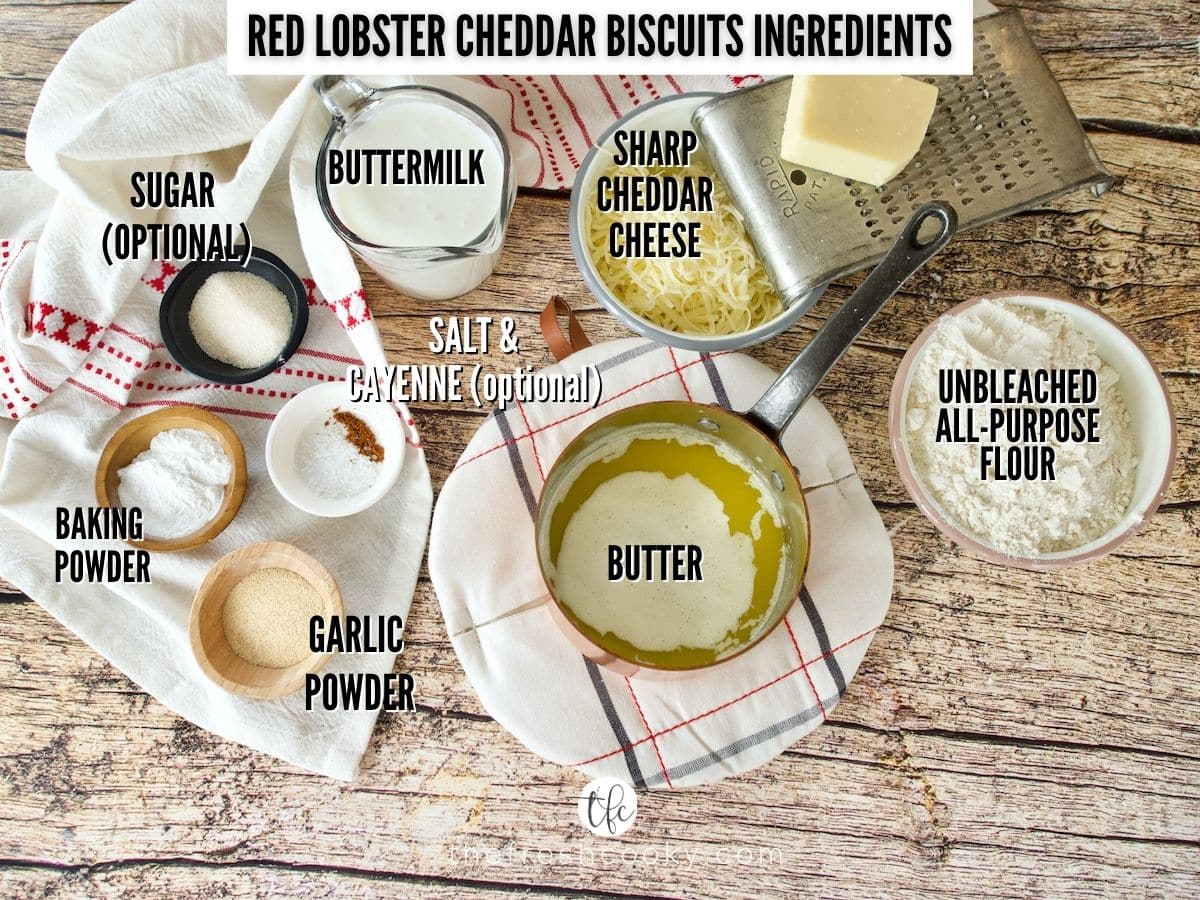 FLOUR | I use organic, unbleached all-purpose flour
BAKING POWDER | this recipe calls for a lot, it's what provides the fluffiness and lift, purchase a non-GMO, no aluminum baking powder <<- my favorite brand.
GARLIC POWDER | Also called granulated garlic, this gives the biscuits their unique flavor and lots of it! I use organic garlic powder.
CAYENNE PEPPER | Just a touch, gives it a teensy (really teensy) kick, and it is entirely optional
BUTTERMILK | I have made this using my "homemade*" buttermilk and store-bought buttermilk, both have turned out great.
BUTTER | the real deal, if soft coming out of the fridge it's not real butter. I have used both salted and unsalted, reduce salt by ¼ teaspoon if using unsalted.
SHARP CHEDDAR CHEESE | these Cheddar Biscuits are traditionally made with yellow cheese, but I prefer all natural sharp white cheddar cheese.
SECRET TOPPING INGREDIENTS
Not really a secret, but I caught your attention didn't I? This topping is what gives these biscuits a softer, buttery and bright tasting finish!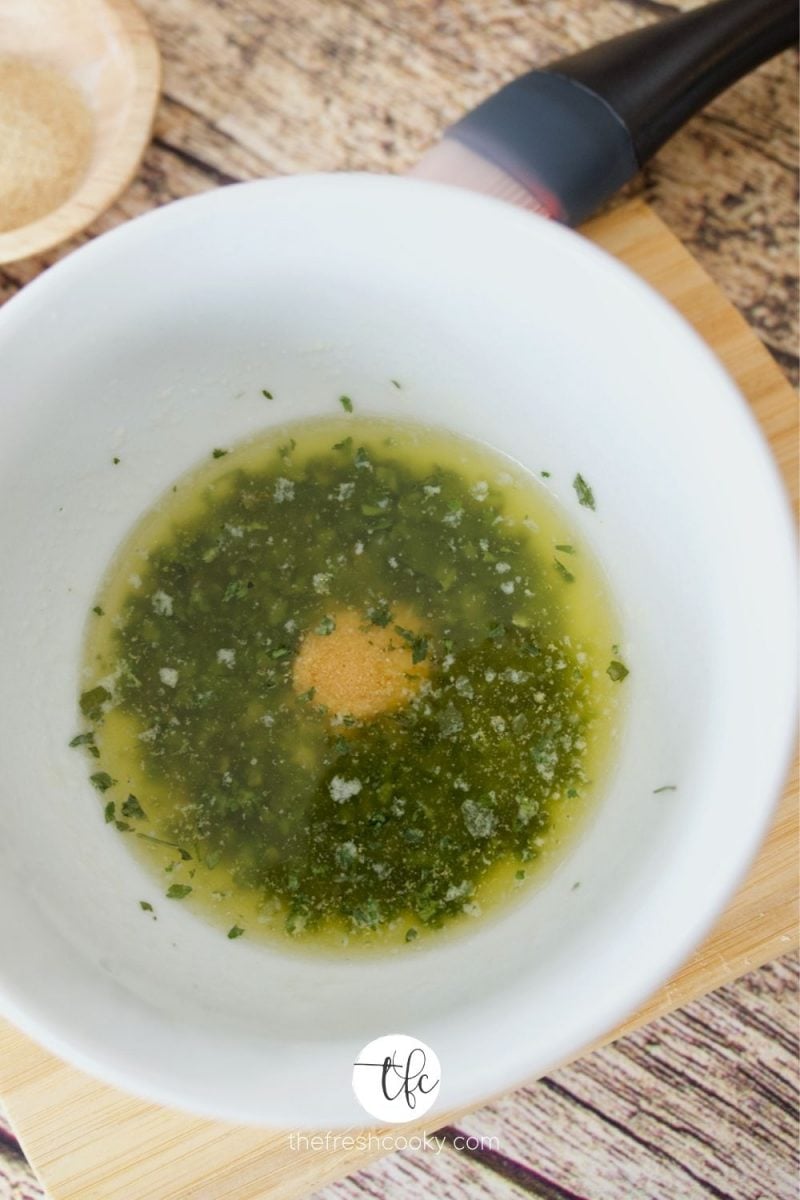 BUTTER | melted, salted or unsalted, though I prefer salted for the topping
PARSLEY | adds bright perks of color to an otherwise bland looking biscuit, fresh is best, but in a pinch I have re-hydrated (add a teensy bit of water to dried parsley and let sit, pull out and dab with paper towel.
GARLIC POWDER | Yes more! And it is fantastic!
HOW TO MAKE RED LOBSTER CHEDDAR BISCUITS FROM SCRATCH
Preheat oven to 450 degrees F and line a baking sheet with parchment paper or spray lightly, set aside.
Or for skillet biscuit bread, place 1 tablespoon butter in 10″ cast iron skillet (or oven safe skillet), place in oven a few minutes to melt butter, then swirl around to coat pan.
Melt butter, allow to cool a few seconds.
Combine flour, sugar (optional), baking powder, garlic powder, salt and cayenne pepper (if using) in a large mixing bowl, stir to combine.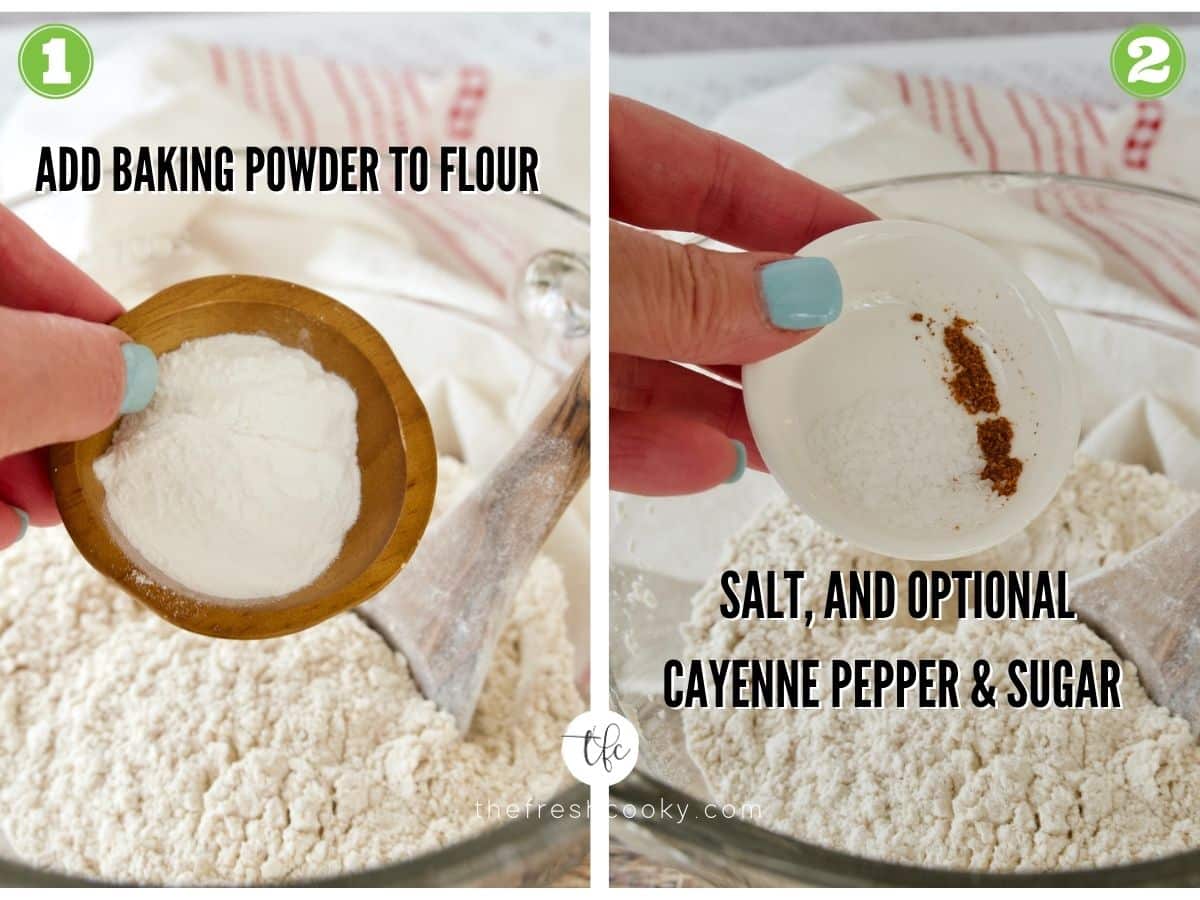 Gently stir in melted butter, stirring until incorporated and clumpy.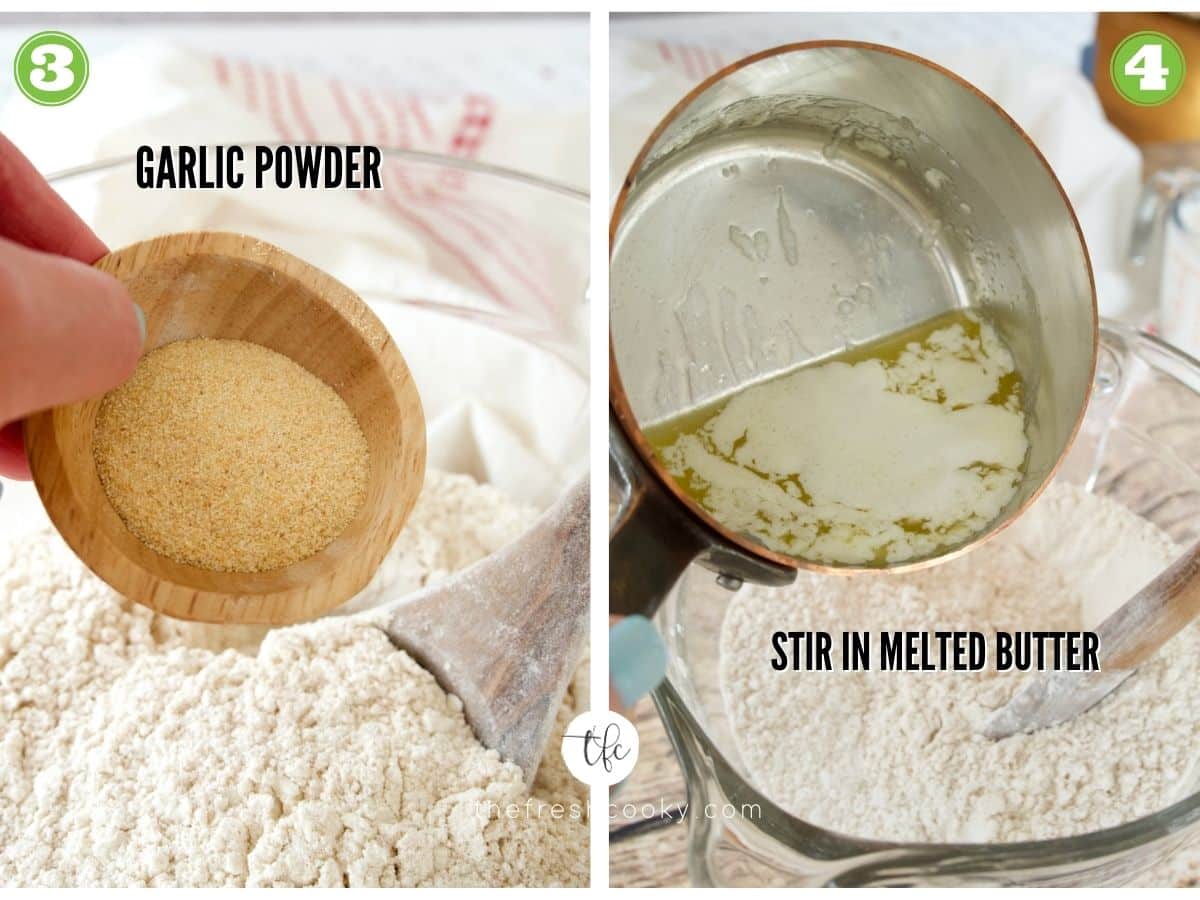 Pour in buttermilk, stir using wooden spoon or rubber spatula until moist.
Gently fold in cheese.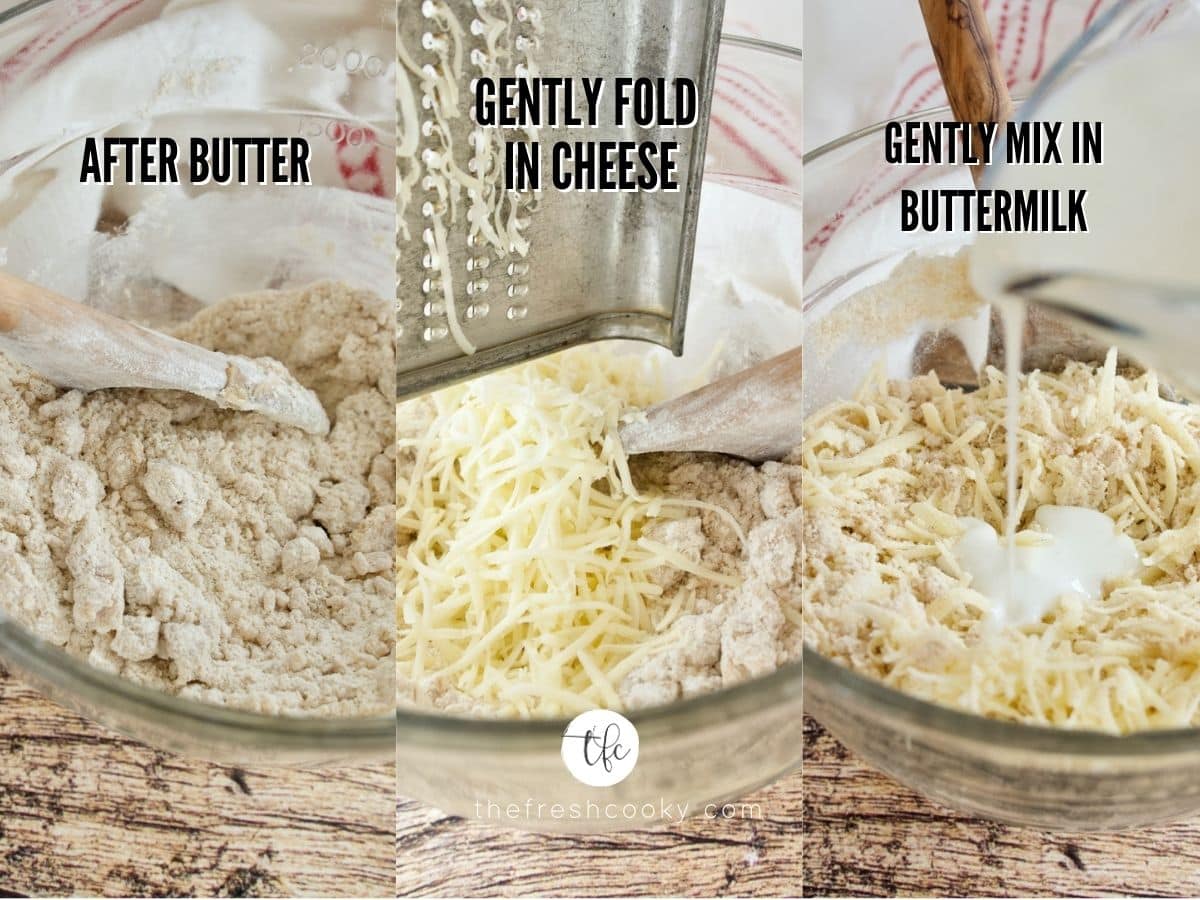 For Cheddar Bay Biscuits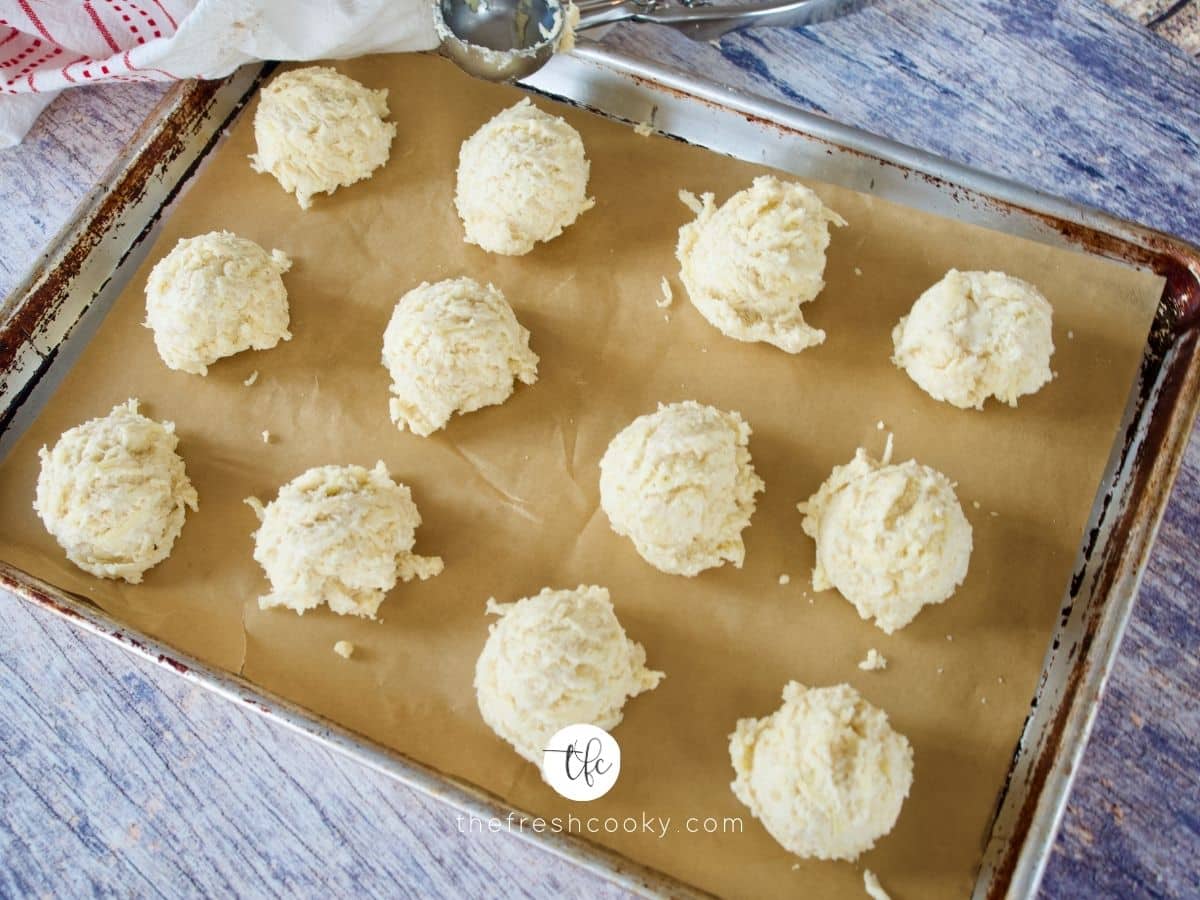 Using a ¼ cup measuring cup or scoop, spoon the batter onto prepared baking sheet. Place in oven and bake for 10-12 minutes, until tops are golden brown.
Immediately after removing from oven, brush tops with butter, parsley and garlic mixture. Serve, devour immediately.
For Biscuit Bread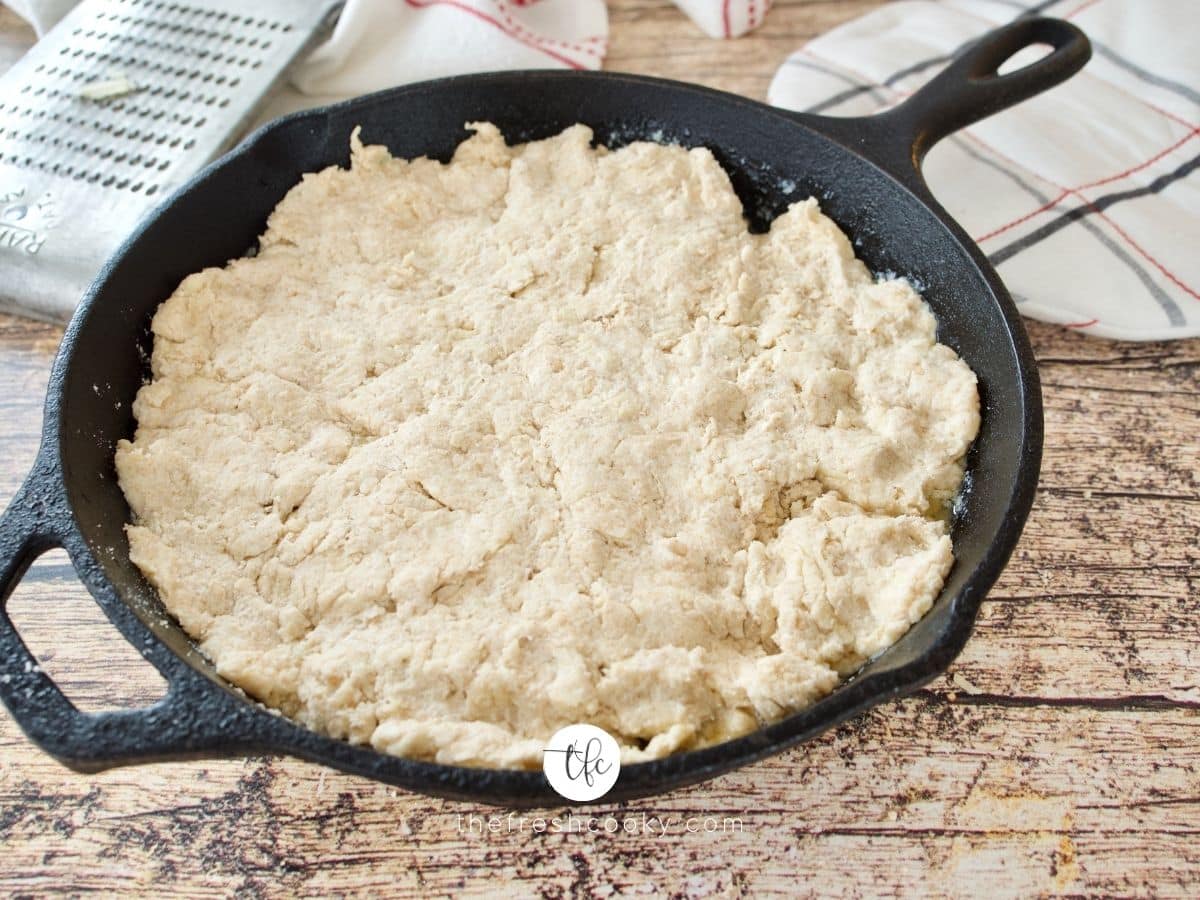 Place biscuit bread dough in prepared skillet (brushed with a little melted butter), pressing with hands (I use a piece plastic wrap or parchment paper).
Bake for 13-18 minutes until top is golden and toothpick inserted comes out with small crumbs.
Immediately brush with melted butter, parsley, garlic mixture.
Slice into wedges and serve immediately.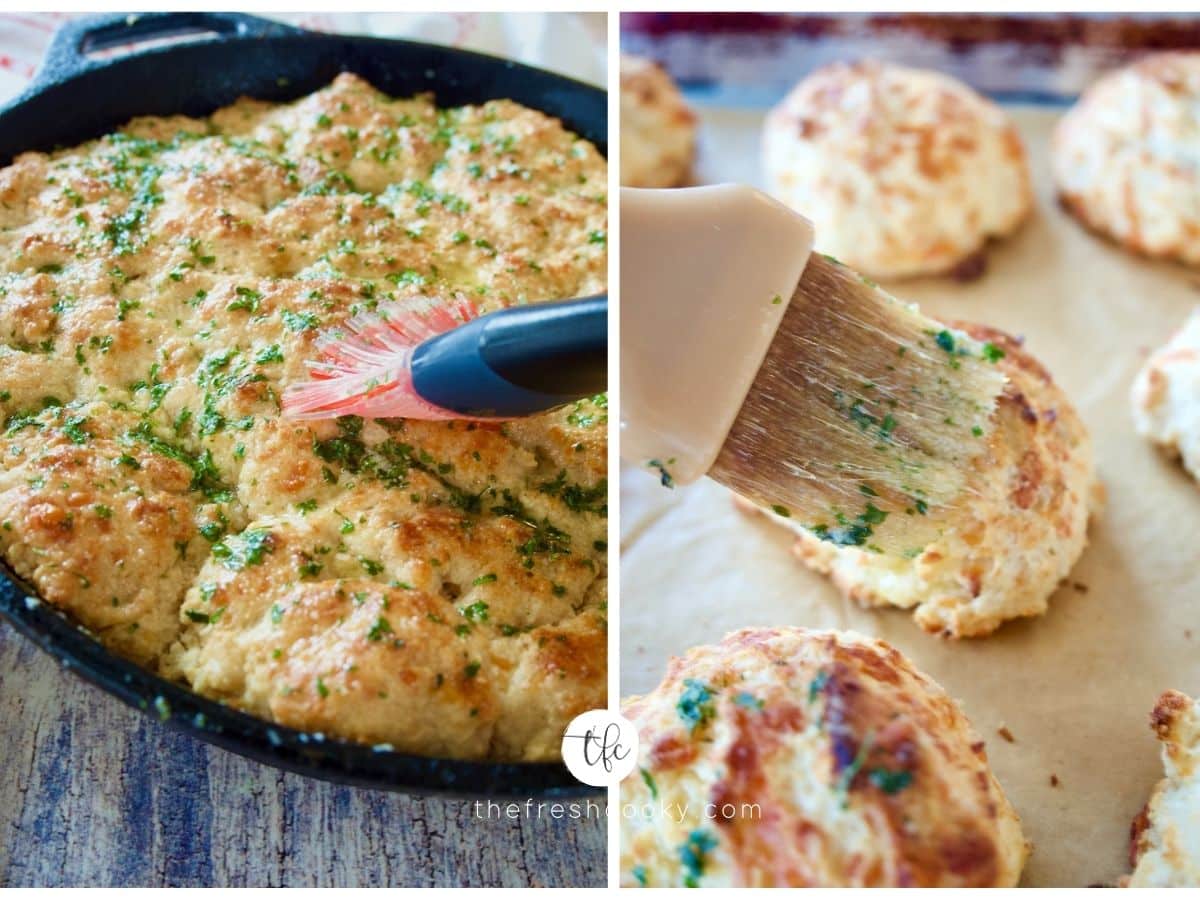 WHY ARE RED LOBSTER BISCUITS SO GOOD?
The main reason is these biscuits are made fresh and served piping hot! So do the same, even popping them back in the oven if they have cooled too much.
CAN I MAKE BISCUITS AHEAD OF TIME?
If you bake ahead of time, slightly undercook them, popping in a 450 degree oven for 5 minutes before serving will bring them back up to piping hot temps.
HOW CAN I STORE BISCUIT BREAD?
If you did not eat it all in one sitting, have no fear. Cool completely, place in freezer baggie and store in fridge up to 5 days, reheat as described above. Or freeze up to 3 months.
CAN I FREEZE THE DOUGH?
You can freeze though dough (I would flash freeze in biscuit form first, then seal well in freezer baggies). However; when I tried this, they were not as tender as the fresh made biscuits. You can freeze the baked biscuits and bread however, thaw and reheat in 350 degree for 10 minutes until hot.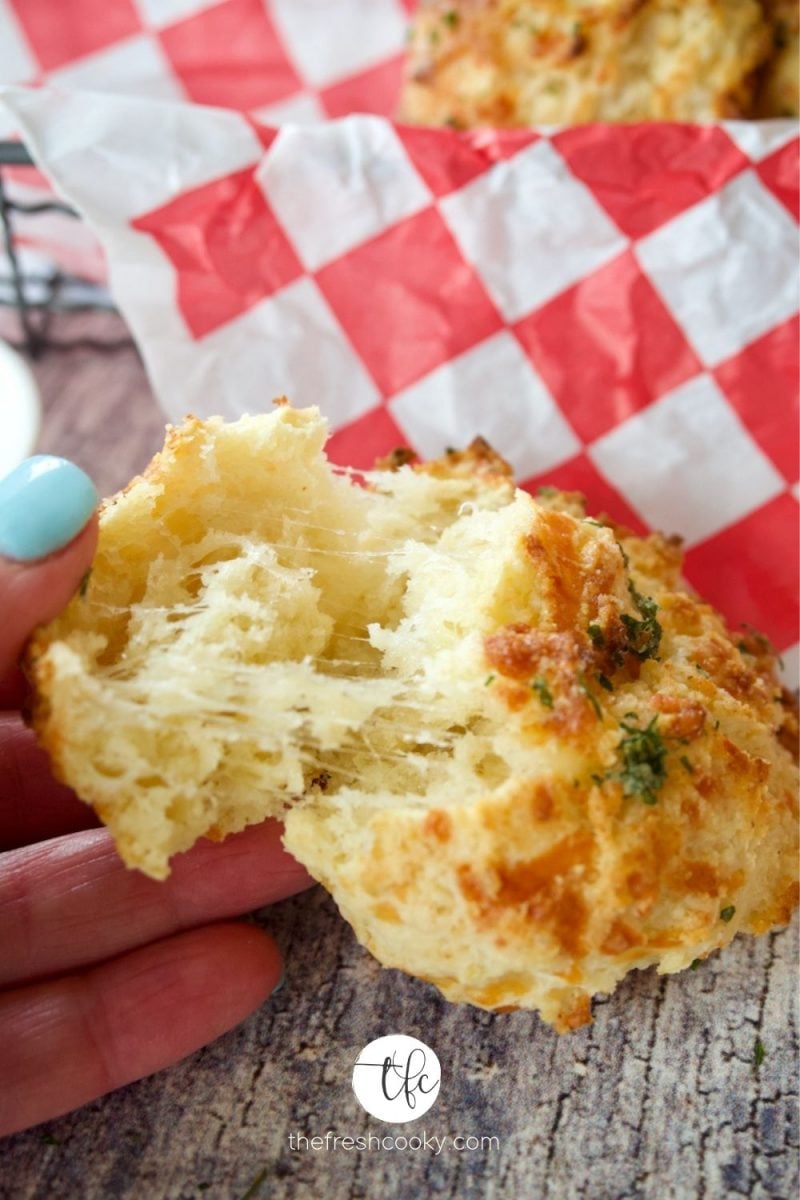 HEALTHIER CHEDDAR BAY BISCUIT RECIPE
One thing I am always trying to do is get more whole grains into our diet, while I admit I did not like the whole wheat version as much as the regular version, they were still delicious and got rave reviews from my husbands co-workers. Here are my tips:
Tips
WHOLE WHEAT FLOUR | try substituting ½ cup of whole wheat flour for ½ cup regular flour. I tried this and it turned out more dense but still delicious.
LIQUID | When adding whole grain flour, it absorbs more liquid, so add up to ¼ – ⅓ cup additional buttermilk.
OMIT SUGAR | While this is a small amount it is totally optional.
CHANGE THE FAT | I used organic butter in my recipe testing, however; I have had decent experiences replacing butter with melted coconut oil, do this for a more heart healthy biscuit.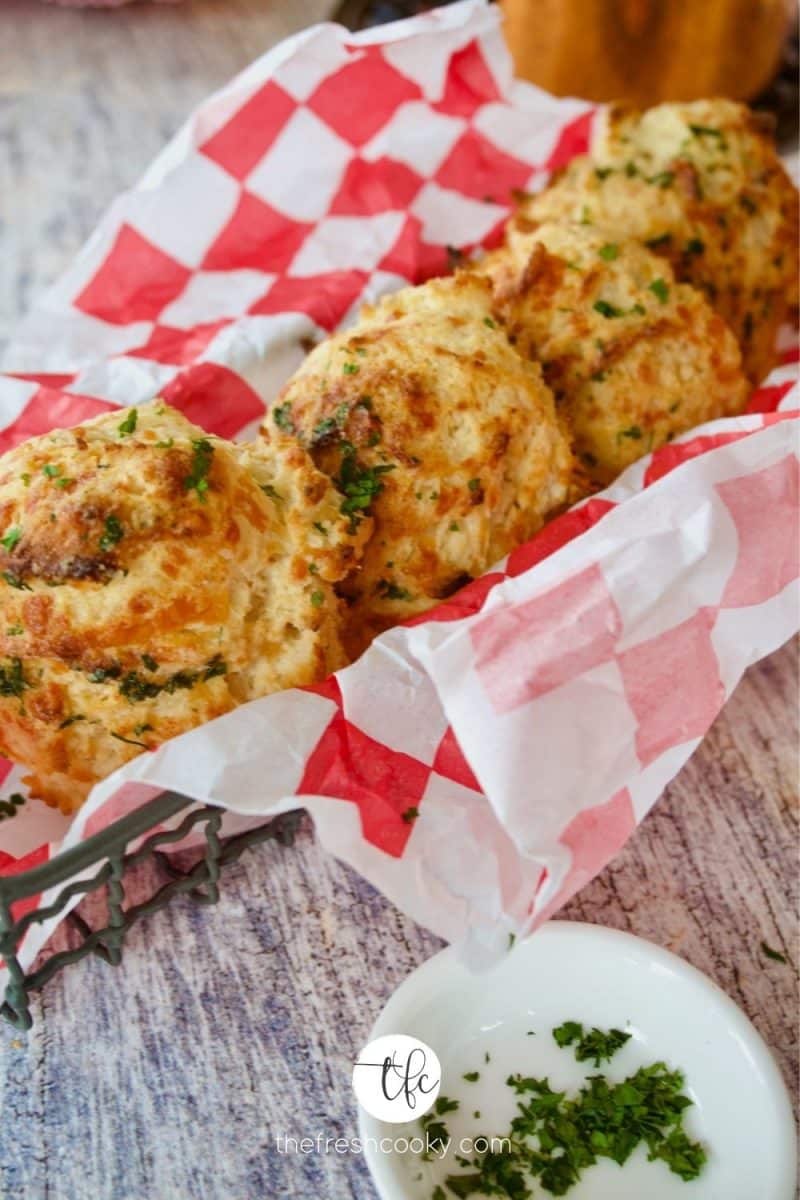 Red Lobster Gluten-Free Biscuits
I have had good luck making many an item gluten-free by substituting for a good Gluten-Free AP Flour (my favorite), substitute cup for cup a solid gluten-free flour and bake away! Check out my Gluten-Free recipes.
Serving Suggestions
My favorite part, what does this Cheddar Bay Biscuit recipe compliment?
This recipe adapted from Damn Delicious.
Like this recipe?
Don't forget to give it a ⭐️⭐️⭐️⭐️⭐️ star rating and comment below the recipe!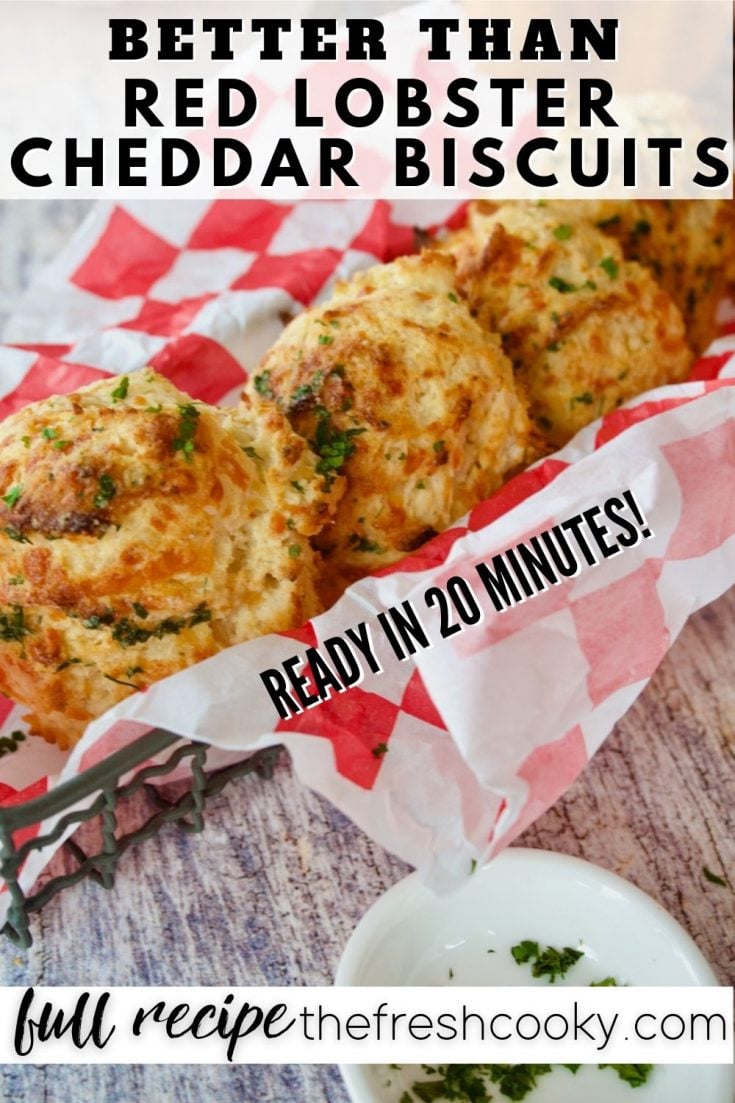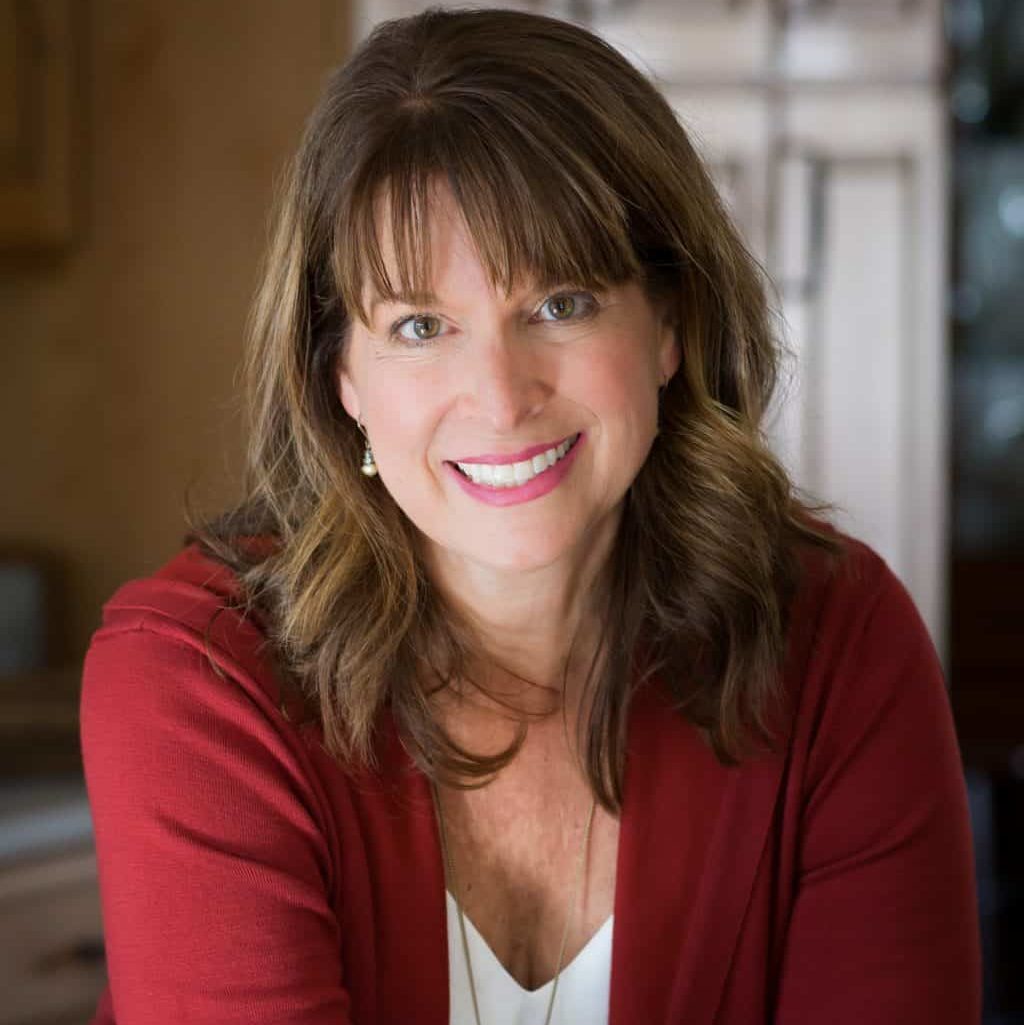 About Kathleen Pope
Recipe Innovator | Food Photographer | Food Writer
Hi, I'm Kathleen Pope. Here at The Fresh Cooky you will find easy, mostly from-scratch, trusted recipes for all occasions. From speedy dinners to tasty desserts, with easy step-by-step instructions. I am here to help teach you how to make mouthwatering recipes without spending hours in the kitchen. Read more about Kathleen here.