Sweet Maple Apple Pecan Salad
As an Amazon Associate, I earn from qualifying purchases. Please read my disclosure policy.
This Sweet Maple Apple Pecan salad is the best spring salad, also fabulous in the fall, brightens up a dreary winter day and it's scrumptious for a summer luncheon, okay so truly it's a salad that fits every season.
Sweet Maple Apple Pecan Salad has subtle flavors of maple, blending beautifully with the crisp tartness of the apples, crunch sweet pecans, sweet strawberries and the creamy goat cheese.
We love salads in our house, try a few of our favorites: Harvest Wild Rice Salad, Sun Dried Tomato Pasta Salad, and this simple Cobb Salad.
JOIN THE FRESH COOKY ON PINTEREST
Every time I make this salad people ask for the recipe, I even have a friend who has taken the recipe to her family in New Zealand and it is now spreading all over New Zealand. I love it! An international sensation!
Whether for brunch, luncheon or dinner, this salad compliments so many dishes. I gave the recipe to my sister-in-law a few years back, she L.O.V.E.D. it, in fact she loved it so much my niece called begging me to give her a new salad recipe…because it was all she ever made! LOL!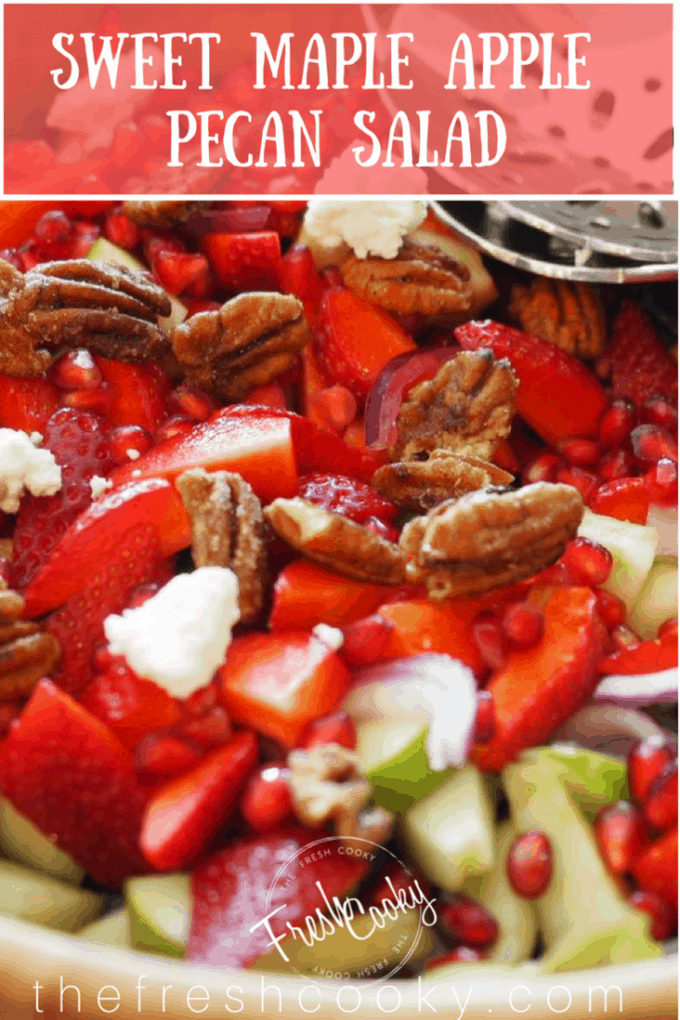 Assembling Maple Pecan Salad
Grab the ingredients for your maple vinaigrette and pour in a mason jar and shake, shake, shake. (see options below). Go ahead and count that as your arm workout for the day! Refrigerate until ready to serve.
Place mixed spring lettuce (I like baby mixed greens) or other favorite greens into a salad bowl. The small salad containers from the market is perfect, depending on how many you are feeding, this recipe easily doubles or triples for larger crowds.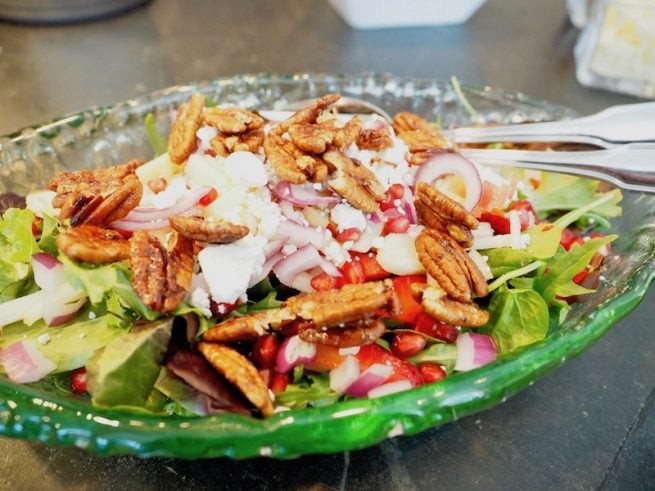 Slice apple into thin slices and then chop into smaller pieces, no need to peel, more vitamins and fiber that way, but if you must, feel free to peel. My apple preferences are Granny Smith (for tartness) or Honeycrisp (for sweet-tart), but use your fave!
Throw in thinly sliced red onions, I like mine nice and thin, my favorite knife! I like red onions, I just don't want them overwhelming each bite or take it a notch higher and try these pickled red onions!! They are mildly flavored, without the bite of raw onions. Oh my!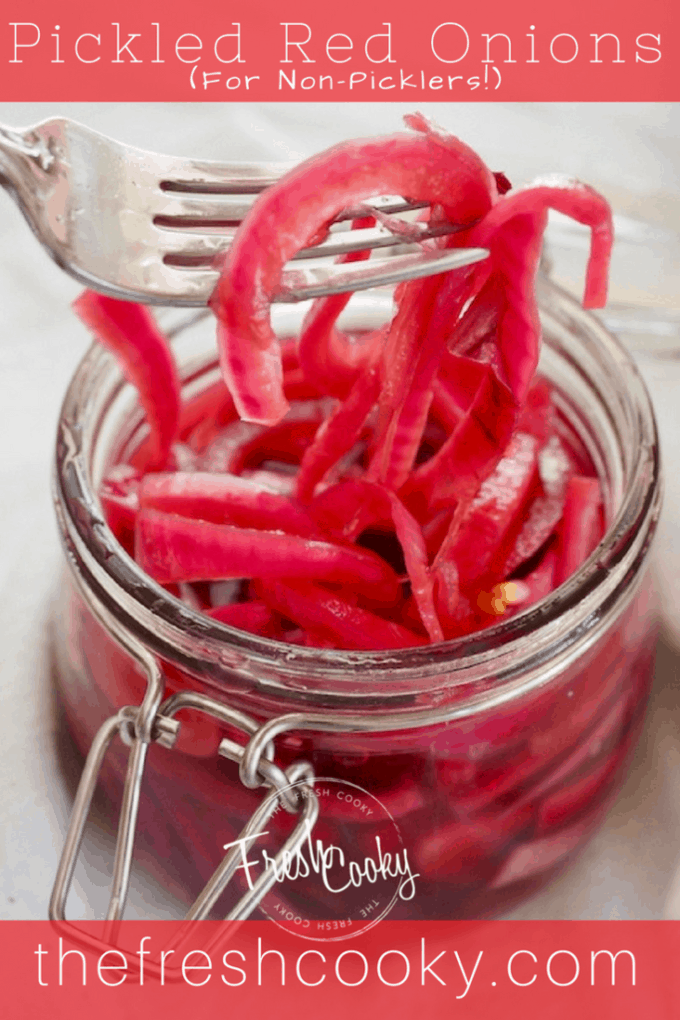 Add candied pecans or try my Simple Low Sugar Candied Nuts. You can buy them, but these are super easy to make and aren't as sugary as your average brand.
Or even take it up a notch and serve with these crisp, smoky Maple Bourbon Pecans!
Lob in goat cheese (or check out options below), pour desired vinaigrette over the salad and toss to coat. Serve immediately.
MAKE AHEAD TIPS
Slice apples ahead of time; squeeze in a teaspoon of fresh lemon juice and toss well, refrigerate
Prep sliced onions, place in a baggie or glass container in fridge
Measure candied pecans and have ready to toss in salad
Make your dressing and refrigerate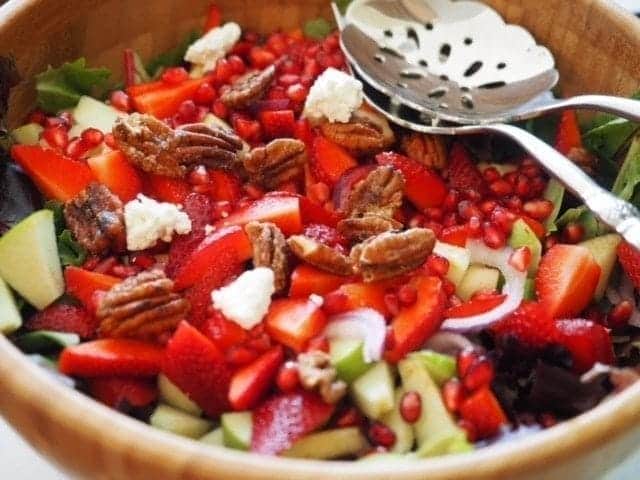 OPTIONAL MIX-INS OR TRADES:
Add fresh berries; I used sliced strawberries and pomegranate arils in the salad shown. Fresh boysenberries, blueberries or raspberries would be yummy.
Instead of candied pecans, use candied walnuts or almonds, macadamia nuts or even plain toasted pumpkin or sunflower seeds, or pine nuts.
Try feta or blue cheese instead of goat cheese.
Change your vinegar; try white or dark balsamic vinegar, apple cider vinegar or a wine vinegar (red or white).
Add shredded cooked chicken to make this a heartier salad for a luncheon
Sling in a handful of crisp fried bacon bits, now we're talking!
Toss salad with dressing just before serving, adjusting dressing to size of salad served. Serve immediately.
Don't forget to PIN to your favorite SALAD BOARD!
Like this recipe?
Don't forget to give it a ⭐️⭐️⭐️⭐️⭐️ star rating and comment below the recipe!
Photo Credit: www.southyourmouth.com
Photo Credit: www.thecountrycook.net
Photo Credit: www.soulfullymade.com
Wild Rice Harvest salad is overflowing with lots of satisfying crunchies, and you'll enjoy eating the rainbow of toppings. Dressed with this easy to prepare maple Dijon vinaigrette.
Asian Ramen Noodle Salad is powered with crisp cabbage, organic ramen noodles, mandarin oranges, toasted almonds, sesame seeds, green onions, garnished with chopped fresh cilantro, cashews; dressed in a sweet-sour (reduced sugar) Asian dressing.
Crisp bacon pieces strewn throughout this delectable, creamy bacon balsamic macaroni salad that is loaded with crunchy celery, bright red grape tomatoes, sharp cheddar cheese and topped with a mouthwatering creamy balsamic ranch dressing.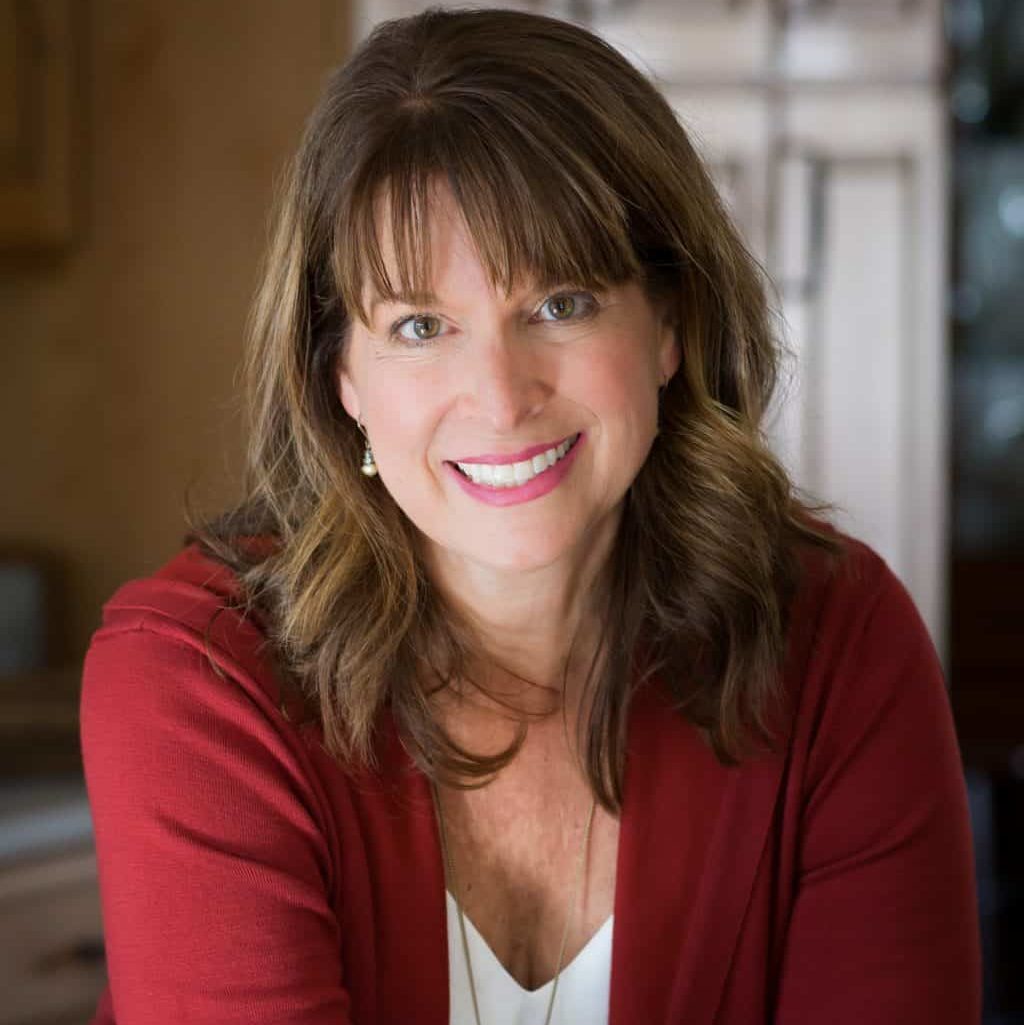 About Kathleen Pope
Recipe Innovator | Food Photographer | Food Writer
Hi, I'm Kathleen Pope. Here at The Fresh Cooky you will find easy, mostly from-scratch, trusted recipes for all occasions. From speedy dinners to tasty desserts, with easy step-by-step instructions. I am here to help teach you how to make mouthwatering recipes without spending hours in the kitchen. Read more about Kathleen here.