As an Amazon Associate, I earn commissions from qualifying purchases (
disclosure policy
).
This easy lemonade bundt cake recipe is the best lemon bundt cake with cream cheese frosting. An incredibly moist buttermilk batter with a tangy lemon cream cheese frosting. Luscious, lemony, and light, this is one moist cake using fresh lemon juice; the perfect summer cake!
I love easy bundt cake recipes, much less fussy than regular cakes, simple enough for everyday, fancy enough for a special occasion. Very much like a lemon pound cake in texture, this is a delicious cake for all lemon lovers.
Try our other reader favorite bundt cakes; Chocolate Chocolate Chip Bundt Cake, White Chocolate Raspberry Bundt Cake, Blueberry Pancake Bundt Cake Recipe and this Cinnamon Swirl Bundt cake.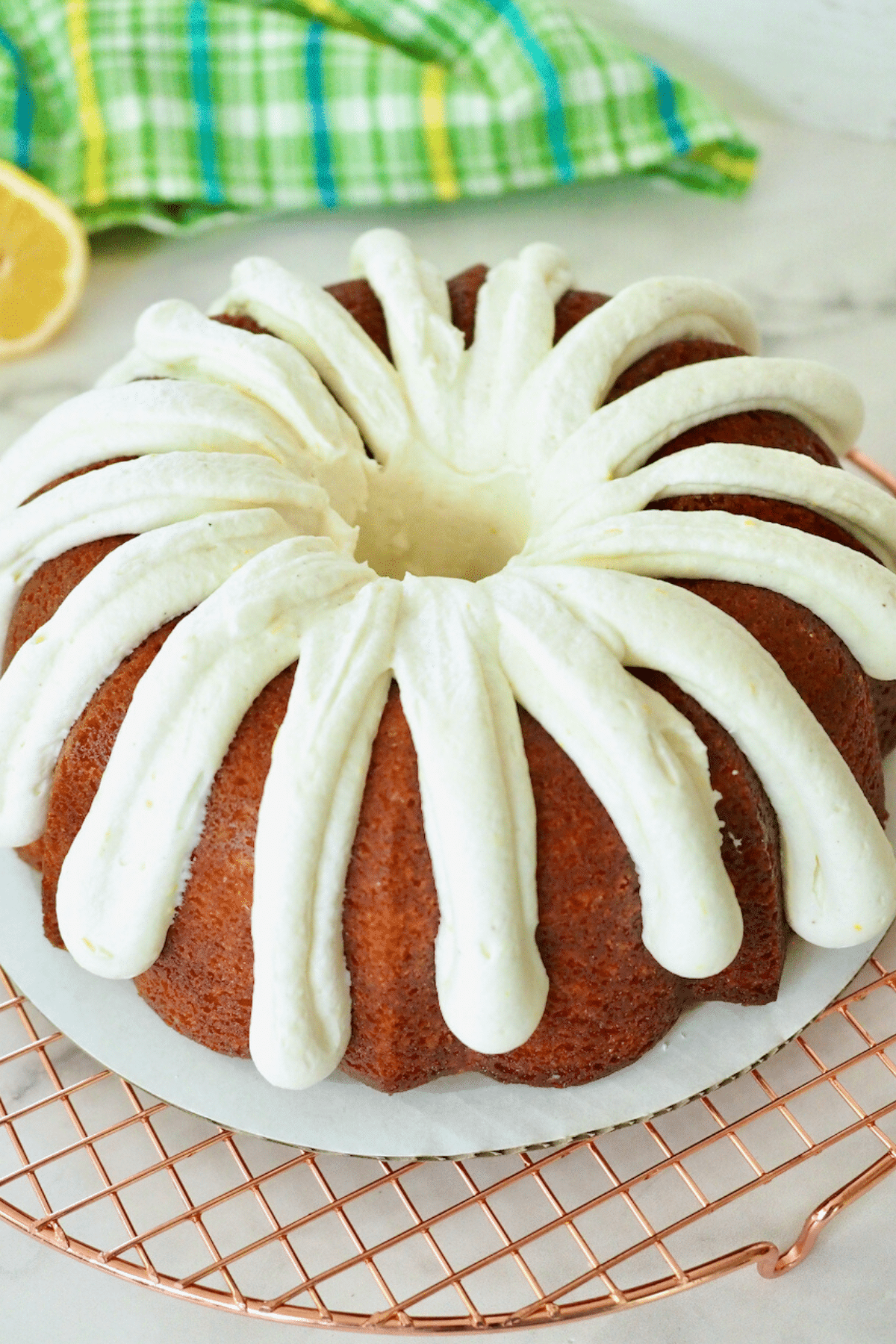 Welcome to #LemonWeek 2022 hosted by Lynn from
Fresh April Flours
and Rebecca from
Devour Dinner.
This week is sponsored by Rodelle and
La Tourangelle
. I received product samples from these sponsors to help in the creation of my recipes. All opinions are my own. Come join me and my fellow Lemon Week bloggers as we bring you recipes from appetizers to drinks to entrées and desserts!
Try all of my fantastic lemon recipes from this week; try this Pink Vodka Lemonade, One Pot Lemon Garlic Pasta, Lemon Dump Cake and this amazing Italian Lemon Ricotta Cake.
Does summer have you craving lemon desserts? You're not alone! Try out this delicious lemon icebox pie , Lemon gelato, and shortbread cookie recipes.
Why You Will Love This Lemon Bundt Cake with Cream Cheese Frosting!
This tangy dessert isn't cloyingly sweet — it strikes the perfect balance!
Its thick, rich frosting is beyond easy, and you can use it on pretty much anything.
This would be beautiful for bridal showers, baby showers, or a great Mother's day dessert.
Simple Ingredients
Full recipe with list of ingredients and instructions are in the printable recipe card at the end of this post.
Butter | Use real butter, if it's soft coming straight from the fridge it's not 100% butter, you will use salted or unsalted butter at room temperature.
Sugar | We used all-natural cane sugar but you can use regular white sugar if you wish
Buttermilk | Buttermilk* makes this cake so very moist and delicious, however you can replace some or part with sour cream or Greek yogurt if you wish.
Lemon Juice | Fresh squeezed lemon juice is kind of a must in this cake, using bottled lemon juice will give it an off taste.
Lemon Zest | You will use the zest from 4 large lemons for this recipe, this Microplane zester tool makes quick short work out of zesting. Fresh lemon zest gives amazing lemon flavor!
Vanilla Extract | I love Rodelle vanilla extract, it's pure, all-natural and amazing.
Eggs | I used large eggs, brought to room temperature
Flour | All-purpose flour is what we use here, I used organic, unbleached all-purpose flour
Misc | We'll also use baking powder, baking soda and a little kosher salt
Lemon Facts
How to Choose the Best Lemons | Choose lemons that are firm, but yield to gentle pressure, with a smooth, thinner skin. The lemon should not have blemishes, be pale or have any green; this indicates unripeness. Good lemons for juicing, should be heavier relative to their size.
How Best to Store Lemons | Lemons stored on the counter, look pretty, but dry out within a week. Lemons stored in the fridge will last longer, about a week to 10 days, lemons stored in a sealed plastic bag last up to a month!
Zesting | It is much easier if you zest your lemons before cutting in half to juice them. Wash and dry lemons before zesting, and do not zest too far down, the white part, called the pith is bitter.
Juicing Lemons | To get more juice from your lemon, try these ONE of these two tricks: 1) Place lemon on cutting board or counter and firmly roll with palm of hand until it starts to yield slightly, OR 2) Place lemon in microwave for about 10 seconds, then roll and squeeze.
An average lemon contains about 2 ½ – 3 tablespoons of juice.
Check out this post for all the fun facts about lemons!
*How to Make Buttermilk
Make your own buttermilk by adding 1 tablespoon vinegar or lemon juice into a 1 cup measureing cup, then add whole milk, stir and allow to sit 5-7 minutes.
Lemon Cream Cheese Frosting Ingredients
Butter | Again, real butter, room temperature
Cream Cheese | I used full fat cream cheese, but you can use Neufchatel or lower fat cream cheese as well
Powdered Sugar | Also called confectioners or icing sugar, this will be how you sweeten the cream cheese frosting
Vanilla Extract or Vanilla Bean Paste | Personally, I love using Vanilla bean paste for frostings, those gorgeous vanilla bean flecks shining through
Lemon Zest and Lemon Juice
How to Make Lemonade Bundt Cake
Step 1 | Prep the Pan & Preheat the Oven
With your oven rack placed in the center rack, preheat to 350 degrees. Lightly spray a 12 cup bundt pan and set aside — I recommend using Tourangelle non-stick baking spray!
Step 2 | Make Lemonade bundt cake batter
In a large bowl whisk together the all-purpose flour, baking powder, baking soda, and salt. In a 2 cup liquid measuring cup or in a medium bowl, combine the buttermilk, vanilla extract, and lemon juice with a whisk.
Add the butter to the bowl of a stand mixer fitted with a paddle attachment and mix until light and fluffy, about 2-3 minutes. Add the sugar and lemon zest. Beat on medium-high until light and fluffy once more about 4-5 minutes — this will take longer if using natural cane sugar.
Add the eggs to the electric mixer one at a time and mix on medium for 1 minute for each egg, scraping the sides of the bowl on occasion.
Reduce the speed to low, add a cup of the dry ingredients. Follow with a cup of the wet, and alternate between the two — finishing with a cup of the dry. Beat until just combined.
Pour batter into the prepared bundt cake pan, tapping on a cutting board or hot pad several times to settled the batter and reduce air pockets. Bake for 45-60 minutes, and poke the center with a skewer or cake tester, it should come out with a few moist crumbs. Let cake cool in the bundt pan for 10 minutes on a wire rack before inverting onto a cooling rack.
Step 3 | Make the Lemonade Syrup (optional)
While the cake cools, add the sugar and lemon juice to a saucepan, warming over medium-low heat. Once the sugar dissolves and syrup thickens, brush it all over the warm cake. Cool the cake completely.
This step is optional, but adds more great lemon flavor and moisture to the cake.
Step 3 | Make the Lemon Cream Cheese Frosting
Add butter and cream cheese to the stand mixer and beat on medium-high for a couple of minutes, until light and fluffy. Add the vanilla extract, salt, and lemon zest.
Mix again on low while slowly adding the powdered sugar and a bit of lemon juice, alternating between the two. Continue whipping and adding a little lemon juice at a time until the desired consistency is reached.
Transfer the frosting to a piping bag with a round tip, or cut ½" off a plastic bag edge and use that instead.
Fresh Tip
If the lemon cream cheese frosting is too thick, add more lemon juice or a little water or milk to the mixture, if too thin, add a few tablespoons of powdered sugar at a time until desired consistency.
Variations
Lemon Blueberry Bundt Cake | Add 1-2 cups of fresh or frozen blueberries into your batter for a delicious lemon blueberry cake! Before folding gently into the batter, toss blueberries with a few tablespoons of the flour mixture, this will help keep the blueberries from bleeding and sinking.
Lemonade Cupcakes or Bundtettes | Bundtlettes or cupcakes | scoop batter into prepared pans (not quite ⅔ full, makes about 14 bundtlets, probably closer to 18 cupcakes. Bake as directed above; 20-25 minutes bundtlets, 18-22 minutes cupcakes. Done when cake springs back when lightly touched and no longer jiggly, don't over bake. Cool 10 minutes, then invert onto cooling rack.
Lemon Poppy Seed Cake | Add ¼ cup poppy seeds into batter when adding the dry and wet ingredients.
Lemon Extract | I prefer using real ingredients and real lemon juice and zest for the best fresh lemon flavor, but if you wanted it extra lemony, add ¼-½ teaspoon of lemon extract.
Yellow Food Coloring | I try and keep my cakes as natural as possible, so this looks more like a pound cake since I am not using a lemon cake mix. I wouldn't recommend adding just for color, to me it doesn't add to the overall goodness of the cake. If you do add food color, just add a few drops.
Pro Tips
For gorgeous "fingers" of frosting you see on Nothing Bundt Cakes lemon bundt cake with cream cheese frosting. Begin frosting from the inside or outside of the cake and work your way up, over, and into the center, but be consistent, you can double back for a thicker finger of frosting. I use an offset spatula to smooth the inside of the delicious lemon cream cheese frosting.
Frosting too thin? You can add small amounts of powdered sugar, ¼ cup at a time, until it thickens up.
If the top looks like it's browning too quickly, cover the pan loosely with a bit of tinfoil.
Frequently Asked Questions
How do you moisten a bundt cake?
The simplest solution to moisten any cake is with a simple syrup soak! Brush the liquid over the top while the cake is still warm, adding moisture.

This lemon bundt cake with cream cheese frosting is also made incredibly moist and decadent with the addition of buttermilk. Buttermilk is more acidic than regular milk, helping to tenderize the cake, and also adds a pleasant, tangy bite.
How do you make a lemon glaze for a bundt cake?
You can make an easy tart lemon glaze with 1 cup of powdered sugar, 1-2 tablespoons of lemon juice (to taste), and 1-2 tablespoons of milk. Whisk all of that together and drizzle over your cake once it's cooled a bit. I would add the zest of one lemon as well.
Do you glaze a bundt cake when it's hot?
Sort of! Apply glaze to your cake while it's still warm, coating evenly along the sides and all over the top. You don't want it to be hot — wait until just warm and the mixture will spread easily and thoroughly.
How should I store my easy lemon bundt cake?
If frosted with cream cheese frosting, I would keep the bundt cake in the refrigerator. The lemon bundt cake will get hard, but set on the counter, bringing to room temperature for about 45 minutes before serving to soften it up.
Can I make Gluten-Free Lemon Bundt Cake?
Yes, I have actually made this recipe several times using half gluten-free flour and ½ almond flour, the texture is consistent and delicious. Be sure to use a cup for cup gluten-free all purpose flour blend.
Recommended Equipment
Bundt Cake Pan | I love all of my Nordic Ware Bundt Cake pans! They are heavy, solid, have some non-stick properties to them and bake up bundt cakes more evenly. Use any of the beautiful Nordic Ware Bundt pans, just be sure to grease extremely well!
You can use a Stand Mixer or a Hand Mixer for this easy lemon cake!
Microplane Zester | this tool will become your new best friend! Use it for zesting lemons, limes or oranges (like in this Orange Scones) or for the best Key Lime Pie! But you can also use it for grated cheese, chocolate, nuts, spices and more.
How to Store Easy Lemon Bundt Cake Recipe
Store the cake in a bundt cake keeper on the counter if eating within a few hours of baking. If not, store in the fridge up to 7 days, or flash freeze the lemon cake for one hour in the freezer (if frosted) and then wrap well in plastic wrap and freeze up to 3 months.
Lemon cream cheese icing may also be frozen up to 3 months, bring to room temperature and whip well with whisk or with mixer, then frost as planned.
High Altitude Lemon Bundt Cake
With just a few simple adjustments you will be able to make this delicious lemonade bundt cake at high altitude!
Reduce sugar to 1 ¾ cups
Increase Flour by 2-3 tablespoons
Reduce baking powder to ¾ teaspoon
Bake cake in 375 degree oven
Lemon bundt cake with cream cheese frosting
Serve this beautiful lemon bundt cake with cream cheese frosting on a cake platter or cake plate and enjoy! This is definitely one of the easiest cakes made from scratch, perfect for lemon lovers.
Don't forget to enter the giveaway for some fantastic free products! Check out the prizes below the recipe card along with the raffle entry form. And be sure to check out all of our fabulous recipes this week for Lemon week below.
Monday #LemonWeek Recipes
Love it? Pin It!

More Delicious Bundt Cake Recipes

Like this recipe?

Don't forget to give it a ⭐️⭐️⭐️⭐️⭐️ star rating and leave a comment below the recipe!

Lemonade Bundt Cake with Cream Cheese Frosting

This easy lemonade bundt cake recipe is the best lemon bundt cake with cream cheese frosting. An incredibly moist buttermilk batter with a tangy lemon cream cheese frosting. Luscious, lemony, and light, this is one moist cake using fresh lemon juice; the perfect summer cake!

Click stars to rate now!

Print Pin SaveSaved! Rate

Ingredients

1

cup

salted butter

room temperature (if using unsalted butter increase salt by ⅛ teaspoon)

2

cups

granulated sugar

I use all natural, cane sugar (reduce to 1 ¾ cups for high altitude)

1

cup

buttermilk

see notes for how to make or replacements

¼

cup

lemon juice

fresh squeezed, about 1-2 lemons

1

teaspoon

vanilla extract

I love Rodelle

4

large

eggs

room temperature

lemon zest

from 4 lemons

3

cups

unbleached all-purpose flour

add 2 tablespoons for high altitude

1

teaspoon

baking powder

reduce to ¾ teaspoon for high altitude

½

teaspoon

baking soda

½

teaspoon

kosher salt

Lemon Syrup

½

cup

granulated sugar

I used cane sugar, regular may be used

⅓-½

cup

lemon juice

3-4 large lemons

Lemon Cream Cheese Frosting

½

cup

butter

I used salted, room temperature

8

ounces

cream cheese

room temperature, may use low fat

2 ½ – 3

cups

powdered sugar

1

teaspoon

vanilla extract

or use vanilla bean paste

pinch

kosher salt

1-2

tablespoons

lemon juice

fresh squeezed (about ½ large lemon)

1

large

lemon zest

Instructions

With your oven rack placed in the center rack, preheat to 350 degrees (375 for high altitude). Lightly spray a 12 cup bundt pan and set aside — I recommend using Tourangelle non-stick baking spray!

Whisk together flour, baking powder, baking soda and salt, set aside.

Stir together buttermilk, lemon juice, vanilla and set aside.

In the bowl of a stand mixer or hand mixer, cream butter 2-3 minutes until light and fluffy. Next add sugar and lemon zest and beat on medium-high speed for 3-4 minutes, scraping sides occasionally. If using all natural cane sugar, beat on the longer side.

Add eggs one at a time, beating on medium speed for 1 minute after each addition, scraping sides of bowl occasionally.

With mixer on low, add one cup of flour mixture, alternating with half of the liquid ingredients, ending with the flour mixture. Mix just until combined, scraping down the sides of the bowl.

Pour cake batter into prepared bundt pan, smoothing with spatula. Place pan on cutting board or oven mitt and tap the pan firmly a couple of times to smooth batter and settle.

Bake for 45-60 minutes or until a skewer or cake tester comes out clean, covering the top loosely with foil if browning too quickly.

Remove from oven, cool on wire rack for 10 minutes, then carefully invert onto wire rack keeping hot bundt pan on top until ready to brush with lemon syrup.

Lemon Syrup

Make the lemon syrup by adding sugar and lemon juice to small saucepan, stirring over medium-low heat until sugar is dissolved and the mixture thickens. Brush lemon syrup over the warm cake over the bottom, sides, center of cake, allow to cool completely.

Lemon Cream Cheese Frosting

Beat butter and cream cheese in stand mixer until light and fluffy, about 3 minutes on medium-high speed. Scrap down sides of bowl and then add vanilla extract (or vanilla bean paste), pinch of salt and lemon zest.

With mixer on low speed, slowly add the powdered sugar along with a little lemon juice at a time. Start with 2 cups powdered sugar and 1 tablespoon lemon juice, if needed add more of each until desired consistency and tartness.

Once cake is cooled, spoon frosting into piping bag fit with a large round tip and starting from the inside of the bundt cake, pipe a large finger to the outside and then back in if thick fingers of frosting desired. Smooth inside of bundt cake using off set spatula. Serve alone, with whipped cream or make it crazy and serve with vanilla ice cream or lemon ice cream.

Notes

High Altitude Lemon Bundt Cake

Reduce sugar to 1 ¾ cups
Increase Flour by 2-3 tablespoons
Reduce baking powder to ¾ teaspoon
Bake cake in 375 degree oven

Storage Store the cake in a bundt cake keeper on the counter if eating within a few hours of baking. If not, store in the fridge up to 7 days, or flash freeze the lemon cake for one hour in the freezer (if frosted) and then wrap well in plastic wrap and freeze up to 3 months.

Lemon cream cheese icing may also be frozen up to 3 months, bring to room temperature and whip well with whisk or with mixer, then frost as planned.

TIPS

For gorgeous "fingers" of frosting you see on Nothing Bundt Cakes lemon bundt cake with cream cheese frosting. Begin frosting from the inside or outside of the cake and work your way up, over, and into the center, but be consistent, you can double back for a thicker finger of frosting. I use an offset spatula to smooth the inside of the delicious lemon cream cheese frosting.
Frosting too thin? You can add small amounts of powdered sugar, ¼ cup at a time, until it thickens up.
If the top looks like it's browning too quickly, cover the pan loosely with a bit of tinfoil.

Variations

Lemon Blueberry Bundt Cake | Add 1-2 cups of fresh or frozen blueberries into your batter for a delicious lemon blueberry cake! Before folding gently into the batter, toss blueberries with a few tablespoons of the flour mixture, this will help keep the blueberries from bleeding and sinking.
Lemonade Cupcakes or Bundtettes | Bundtlettes or cupcakes | scoop batter into prepared pans (not quite ⅔ full, makes about 14 bundtlets, probably closer to 18 cupcakes. Bake as directed above; 20-25 minutes bundtlets, 18-22 minutes cupcakes. Done when cake springs back when lightly touched and no longer jiggly, don't over bake. Cool 10 minutes, then invert onto cooling rack.
Lemon Poppy Seed Cake | Add ¼ cup poppy seeds into batter when adding the dry and wet ingredients.

Nutrition

Calories:

683

kcal

|

Carbohydrates:

94

g

|

Protein:

7

g

|

Fat:

32

g

|

Saturated Fat:

19

g

|

Polyunsaturated Fat:

2

g

|

Monounsaturated Fat:

8

g

|

Trans Fat:

1

g

|

Cholesterol:

144

mg

|

Sodium:

438

mg

|

Potassium:

132

mg

|

Fiber:

1

g

|

Sugar:

68

g

|

Vitamin A:

1088

IU

|

Vitamin C:

6

mg

|

Calcium:

94

mg

|

Iron:

2

mg