Italian Braised Short Ribs
As an Amazon Associate, I earn from qualifying purchases. Please read my disclosure policy.
These tender Italian Braised Short Ribs are exquisite, and perfect for a chilly fall or winter day! Both elegant and amazingly simple; for Sunday dinner or a special occasion.
Slow braised Italian short ribs in a rich, herb and vegetable infused red wine beef gravy. This is a slow cooked meal done in your Dutch Oven.
Fall-off-the-bone tender and the gravy, the deep, dark, rich gravy was out-of-this-world!! Serve over roasted garlic mashed potatoes and you have comfort food of gastronomic proportions!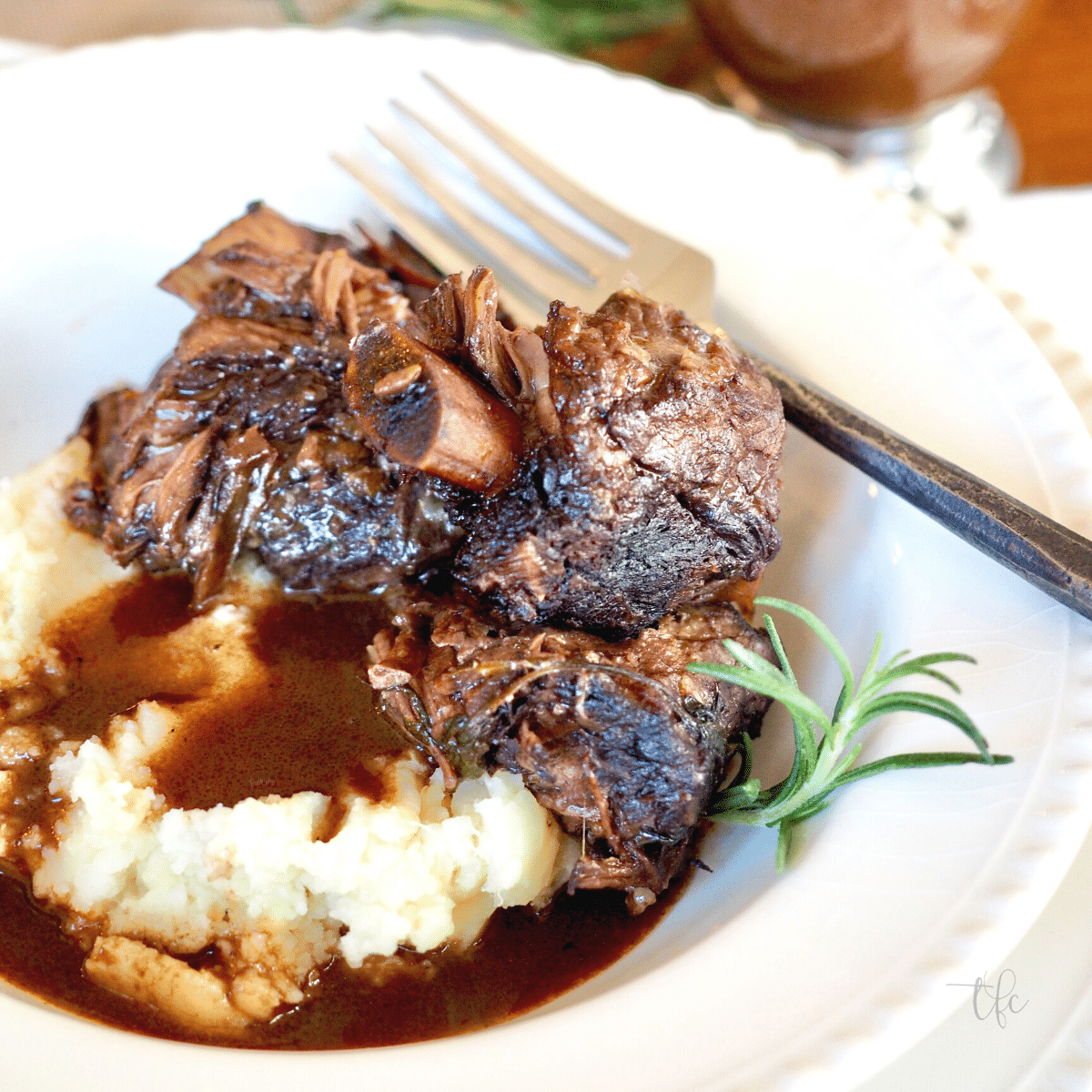 This Italian short rib recipe was adapted from Bon Appetit and they recommended that the flavors were even better the next day.
The recipe didn't offer any overnight instructions, but I'm pretty sure I improvised well because – holy cow – incredible flavor!
This recipe has been updated for a better user experience, originally posted November 2018.
Why You Will Love Italian Short Ribs
This short ribs recipe is a fantastic fall or winter entertaining meal; hearty, rich, filling, brimming with flavor, make-ahead — easy, elegant comfort food!
This would be a lovely meal for a special date night (just cut the recipe in half) holiday entertaining, Christmas Eve or dinner, and Valentine's Day!
Sure it might have a longer list of ingredients, take a few more minutes to assemble, but the fact that you can make this ahead of time and slow cook it wins every time.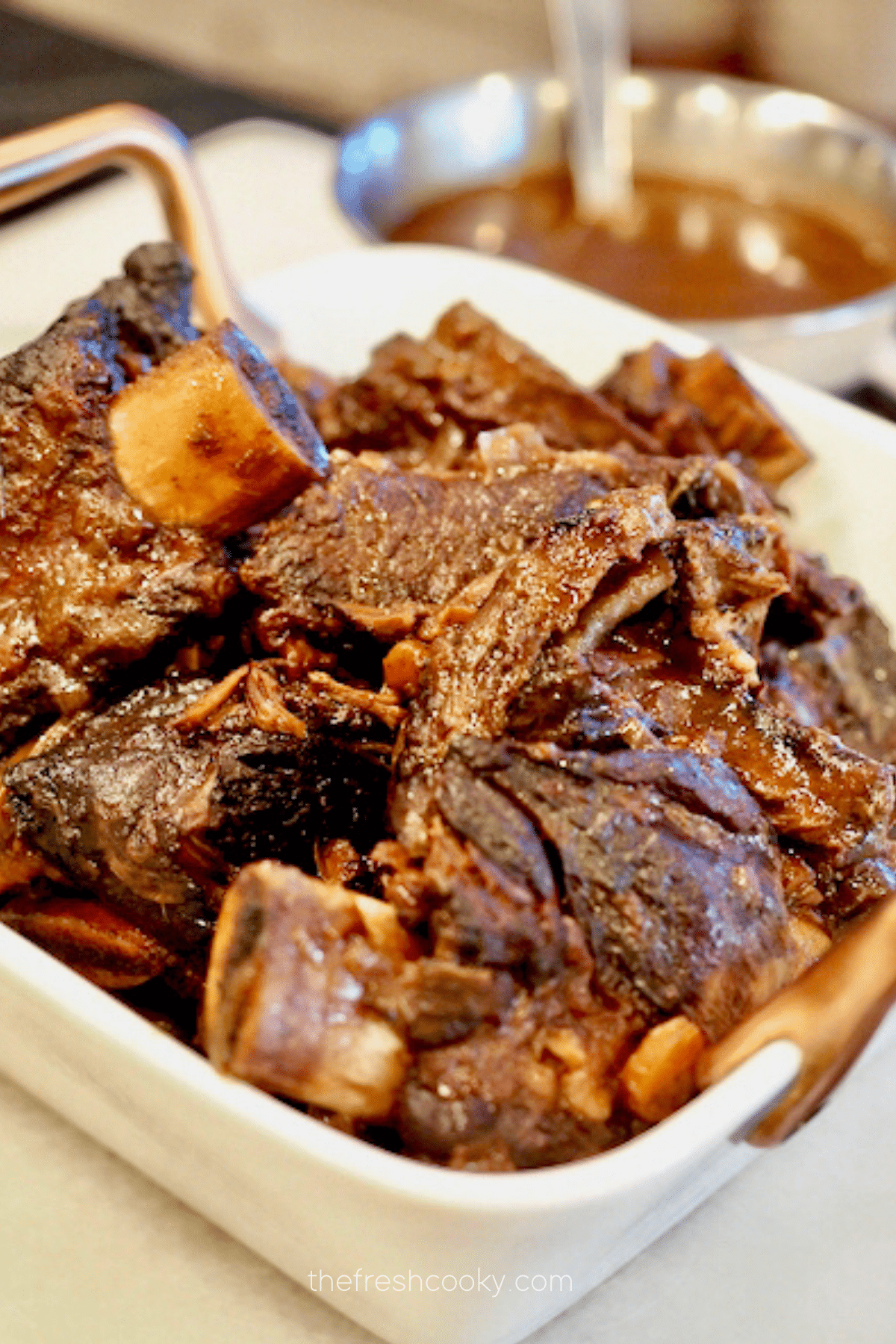 Italian Braised Short Rib Ingredients
Bone-in beef short ribs, cut crosswise into 2 inch pieces
Onions | You will use yellow or sweet onions along with leeks, a lighter but oh so flavorful veggie from the onion family
Veggies | Carrots and celery will add a huge amount of flavor
Herbs | Fresh ones here are best, parsley, rosemary, oregano, thyme, garlic
All-purpose flour | to thicken your gravy, you may substitute Gluten Free Flour
Tomato paste | Not much, adds tang, thickens and depth to the sauce
Dry red wine | Use a good drinking wine, like Ina Garten says, preferably Cabernet Sauvignon
Beef broth or stock | More huge flavor boosting here!
Instructions
Preheat your oven to 350°. Season your short ribs with kosher salt and pepper.
If you have some smoked salt on hand, use that by all means, this Frontier is one of my favorites for beef and pork dishes, because it adds a smoky flavor and depth that is amazing.
Step 1 | Braise Short Ribs
Heat oil in large Dutch oven (5-6 qt ideal) over medium-high heat, low temps steam the meat, you want it browned.
Once oil is hot, working in a couple of batches (don't overcrowd the pot); brown your short ribs on all sides, about 4 minutes per side.
Transfer browned short ribs to plate. Pour off all but roughly 3 tablespoons of drippings from the pot.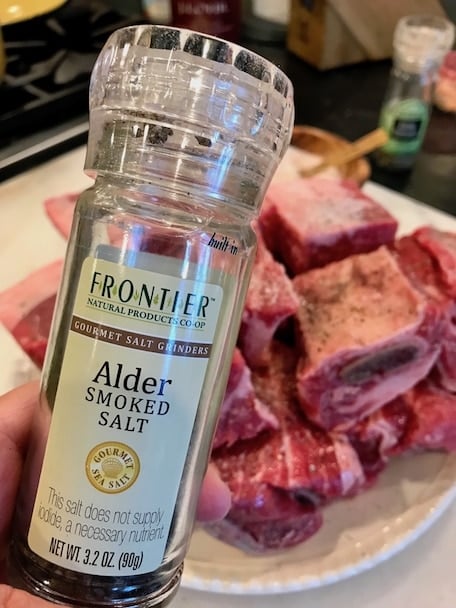 Step 2 | Caramelize the veggies & deglaze pan
Add onions, leek, carrots and celery to pot and cook over medium-high heat, stirring often until veggies are browned, about 5 minutes.
Pour in wine, making sure you stir the bottom getting all the browned bits off, because that's where the flavor is! I recommend Cabernet Sauvingon, but the Barefoot Contessa also recommends Burgundy, Côtes du Rhône, and Chianti.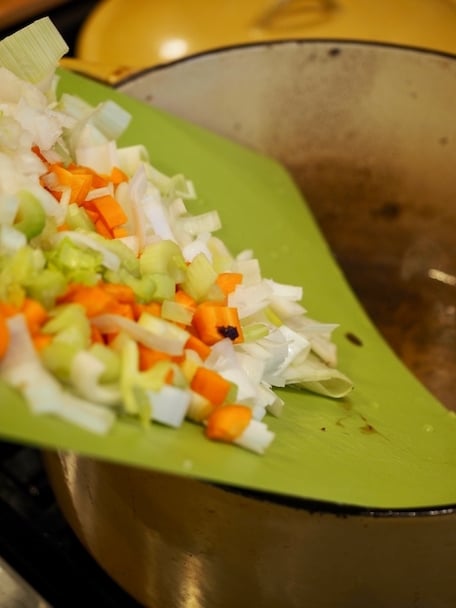 Return the short ribs to the pot; along with any accumulated juices. Bring to a boil; lower heat to medium or low and simmer until wine is reduced by about half, around 25 minutes.
TFC PRO TIP | An easy way to tell reduction, is to place a clean wooden spoon in the pot (straight in) creating a line, remove, then measure again in 20-25 minutes.
Add herbs and garlic to the pot, tucking into the meat.
Stir in beef stock, bring to boil, cover and transfer to oven.
Store bought broth is fine, but buy a good brand like Pacific, but if you really want crazy good short ribs, homemade is even better!
Never made your own broth? Try my immune boosting Beef Bone Broth because it's amazing!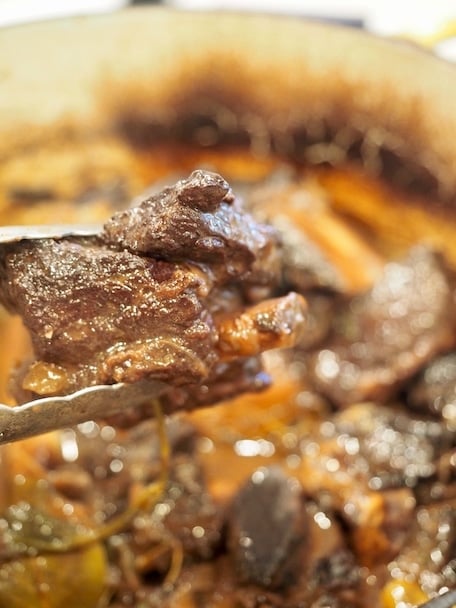 Step 3 | Slow Cook in Oven
Cook in oven until short ribs are tender, check at 2 hours and if not falling off the bone, then cook another 30-60 minutes. (see notes in recipe about letting sit overnight)
Remove short ribs to a platter or large shallow bowl. Strain sauce from pot into a large measuring cup.
If any fat rises to the surface of the gravy/sauce, spoon off and discard. Season sauce if needed with salt and pepper.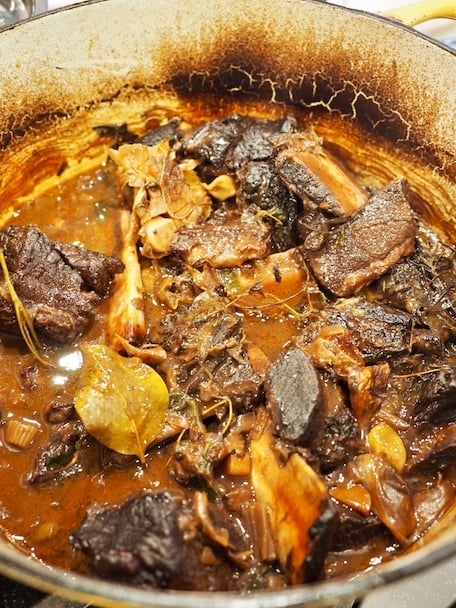 In shallow bowls place several short ribs on top of mashed potatoes (forgot your potatoes, try these Instant Rustic Mashed Potatoes!) spooning the gravy over it all. You can also serve over rice, buttered egg noodles or just by themselves.
Serve with a crisp caesar salad and some crusty bread for a delicious and simple meal.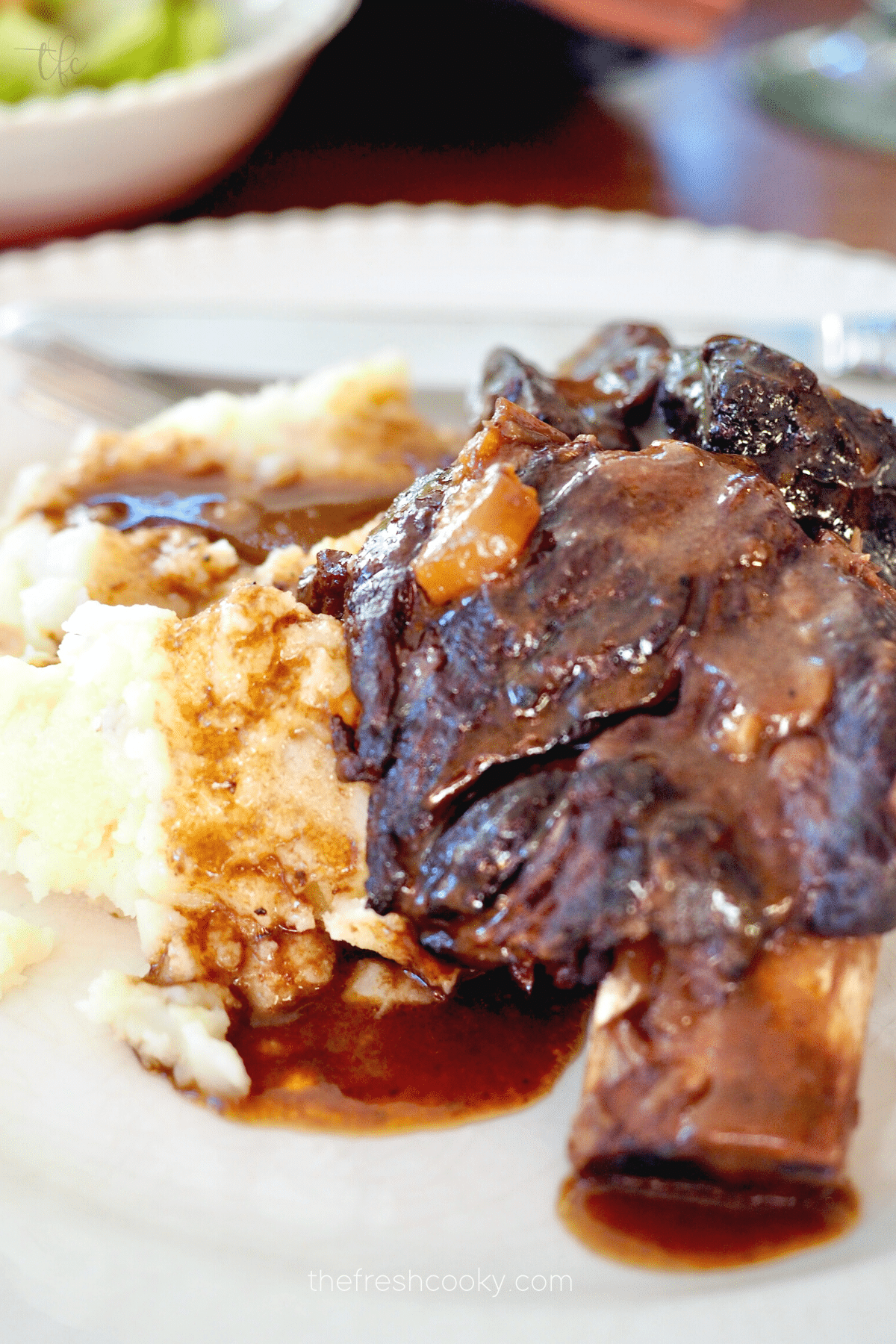 Frequently Asked Questions
Are Italian Braised Short Ribs Gluten-Free?

Yes, I love adapting recipes to be allergy friendly and this is an easy one. Add flour (substitute gluten free flour if making GF, I like Bob's Red Mill 1 to 1 Gluten Free)
Why Should I Cook with a Good Wine?
I think it was Ina Garten who said always use a good wine when you are cooking, one that you would drink, so keep that in mind! Buy what you can afford for these amazing Italian Red Wine Short Ribs.
How do I know when short ribs are done?
Italian Braised Short Ribs are done when you lift them out and the bone slips right out.
What does braising short ribs mean?
Braising is simply a term applied to meat that has been seared (browned) and then slow cooked in liquid.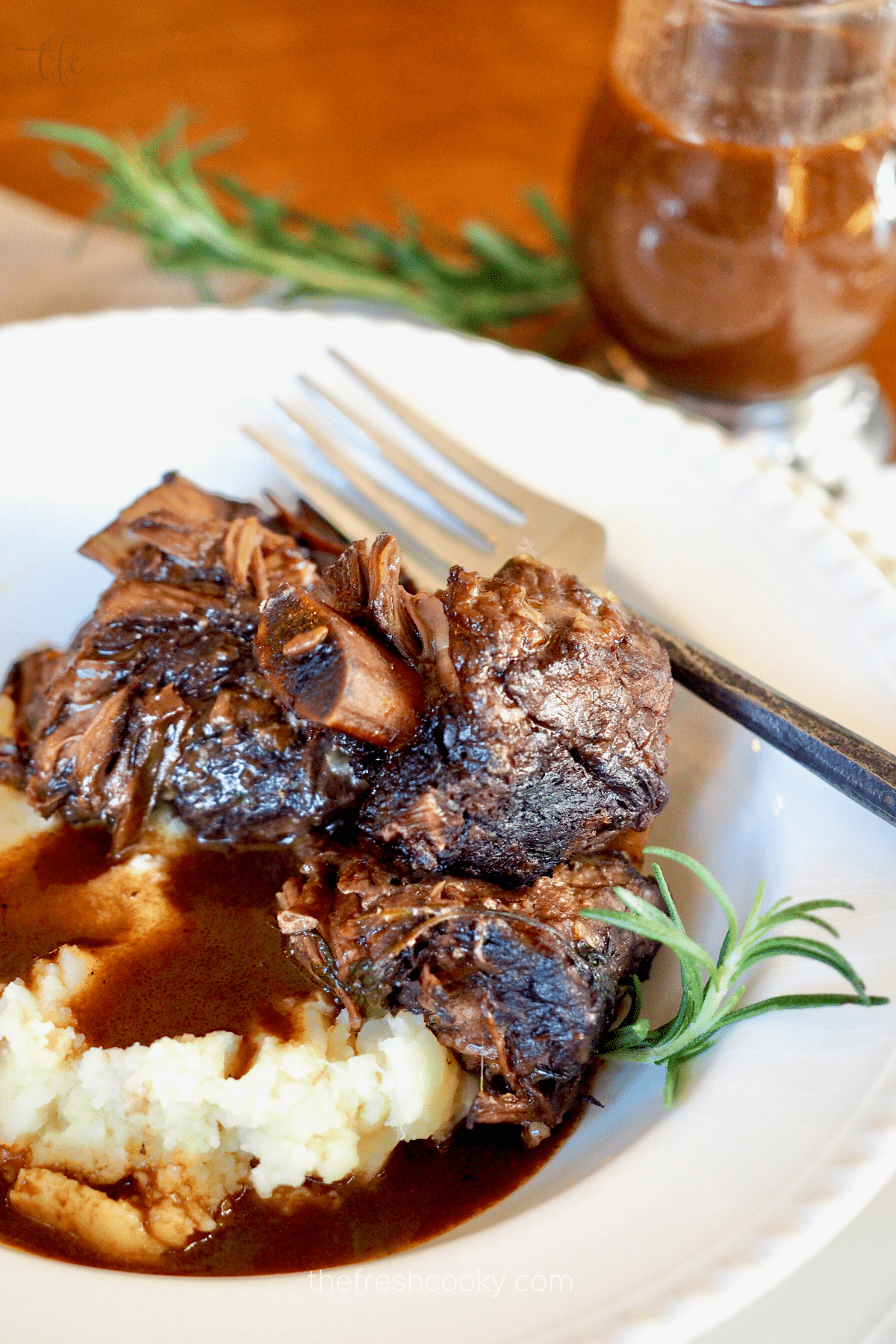 Recommended to Make Ahead
If desired, for even MORE flavor, allow the ribs to cool and refrigerate overnight, see notes in recipe for reheating the next day. These really are so much better when you make them 24 hours ahead of time! Trust me!
What Should I Serve with Short Ribs
LOVE IT? PIN IT!
Like this recipe?
Don't forget to give it a ⭐️⭐️⭐️⭐️⭐️ star rating and comment below the recipe!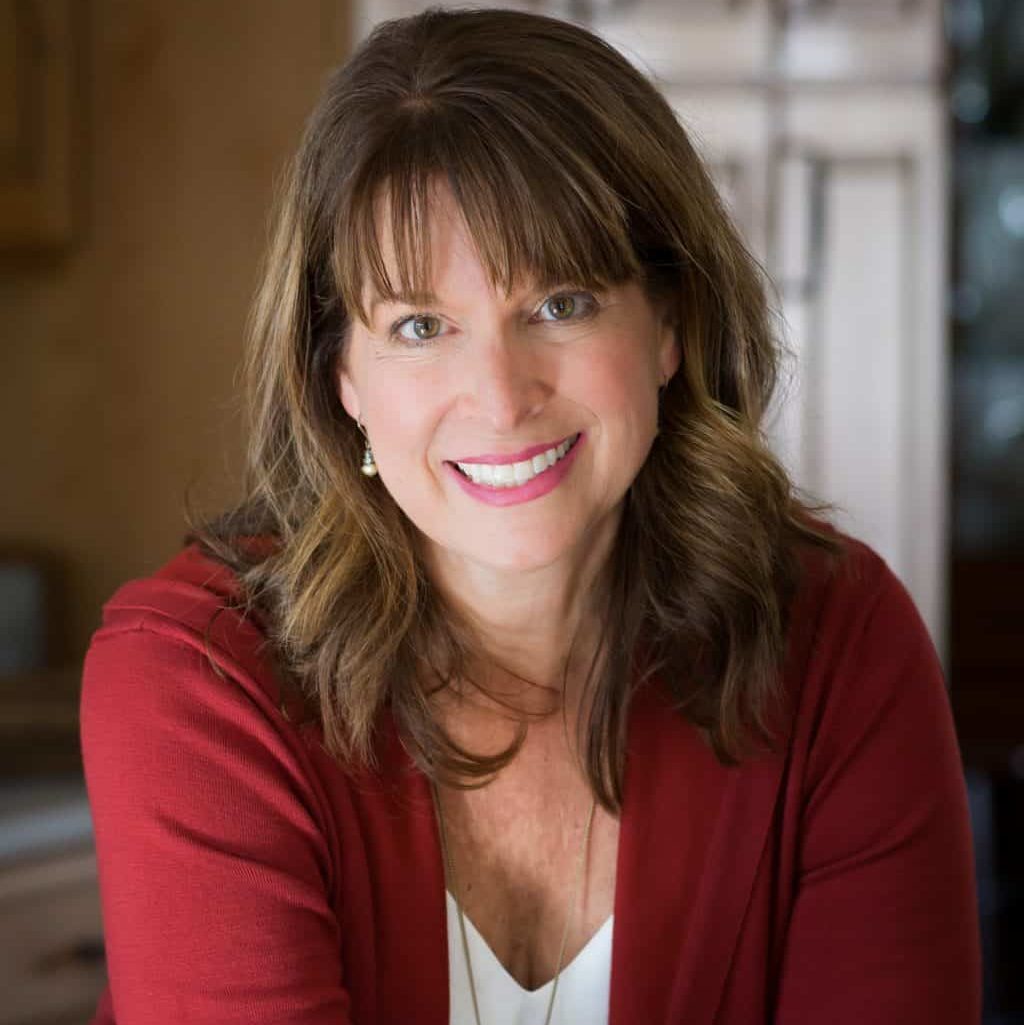 About Kathleen Pope
Recipe Innovator | Food Photographer | Food Writer
Hi, I'm Kathleen Pope. Here at The Fresh Cooky you will find easy, mostly from-scratch, trusted recipes for all occasions. From speedy dinners to tasty desserts, with easy step-by-step instructions. I am here to help teach you how to make mouthwatering recipes without spending hours in the kitchen. Read more about Kathleen here.