As an Amazon Associate, I earn from qualifying purchases. Please read my disclosure policy.
Strawberry Rhubarb Salad is a simple and light fruit salad perfect for spring celebrations; juicy strawberries, sweet-tart fresh rhubarb, tossed in a light citrus dressing with mint and slivered almonds.
I love it when I stumble upon a unique rhubarb recipe and this wonderful Strawberry Rhubarb Salad is the definition of unique.
Tart rhubarb blanched crisp tender making a light and lovely rhubarb simple syrup, then tossed with fresh, ripe strawberries for a unusually good spring salad.
I love the brightness and lightness of spring fruits and vegetables; if you do too, you might want to try these fresh recipes; Tropical Mango Salad, Sweet Apple Maple Salad and Blackberry Chicken Salad.
My favorite unique rhubarb recipe
Are you a rhubarb lover? Never tried it?
This is by far the most unique way I have enjoyed rhubarb, it is not buried in a concoction of strawberries and baked into a jam (though, there is nothing wrong with that).
Instead it is front and center, a sweet-tart delight amidst this quick and easy fruit salad.
Spring screams fresh rhubarb season, and for good reason too, as that is rhubarb's prime growing season. It's the perfect compliment to sweet strawberries.
What you'll need for Rhubarb Fruit Salad
When I am entertaining whether for Easter or a spring ladies luncheon, I want recipes that are simple and straight forward and hopefully make ahead or quick to assemble and this strawberry rhubarb salad is exactly that!
FRESH RHUBARB | more details below on how how to pick the best rhubarb, but you want it to be firm and not limp, the color doesn't matter as much as the state of the stalk.
STRAWBERRIES | purchase fresh, firm, deep red strawberries
MINT | Adds a delightful brightness to the salad, mince it really small if you are not a huge mint lover.
SLIVERED ALMONDS | These add a bit of protein and crunch, always a plus in my salads.
SUGAR | I use all natural cane sugar in my recipes, you will use this to make slightly sweeten the rhubarb.
FRESH ORANGE & LEMON JUICE | A touch of orange and lemon juice along with zest adds the perfect citrus touch.
How to Make Rhubarb Salad
The hardest thing (and it is not hard) about this unique rhubarb salad is preparing the rhubarb, you will need to cook it crisp-tender and in the process make a light and delicious rhubarb simple syrup that we will use for the dressing.
Making Rhubarb Simple Syrup
In a small saucepan, stir together sugar and water over medium-high heat; bring to a light boil, stirring occasionally until sugar dissolves.
Add cut rhubarb to sugar water; cook 1 minute, remove pan from heat, cover and let stand about 10-15 minutes, until rhubarb is crisp-tender. Remove rhubarb with slotted spoon, reserving rhubarb syrup.
Assemble Rhubarb Salad Recipe
In a medium to larger bowl, stir together orange juice, lemon juice, and two tablespoons rhubarb syrup.
Add cooled crisp-tender rhubarb and quartered strawberries, gently toss to coat in salad dressing.
Add julienned or minced mint.
Toss in slivered almonds, serve room temp or chill up to an hour before serving.
USES FOR RHUBARB SIMPLE SYRUP | Use this leftover simple syrup to flavor cocktails and drinks, drizzle over ice cream, sorbet or yogurt. Store in a glass jar in fridge indefinitely.
Tips
PREP | Make the rhubarb and simple syrup ahead of time, zest and squeeze the juices and set aside, then assembly comes quickly and easily.
FRESHEST RHUBARB | When choosing rhubarb you want it to be firm, like a stalk of celery, not limp. Rhubarb varies in colors from greenish pink to deep red, the color is varietal and does not impact the flavor.
STORING RHUBARB | If possible leave a portion of the leaf on when storing rhubarb. It is best stored in refrigerator crisper drawer, wrapped in a damp paper towel in a vented bag.
Why you'll love this Salad
UNIQUE |Strawberry salads are a dime a dozen and nothing wrong with them, but adding rhubarb and a light citrus dressing makes this a delicious different unique rhubarb recipe.
FRESH | I am all about fresh! Using seasonal fresh rhubarb and ripe strawberries is as fresh as it gets!
GOOD FOR YOU | Fresh rhubarb and strawberries are high in antioxidants and have vitamins and minerals in them.
SUBSTITUTIONS | This blog is all about making a recipe yours!

NUTS | Don't like nuts, leave them out or swap them with pecans, walnuts, hazelnuts or pistachios.
BERRIES | No strawbs? Use ripe raspberries, blackberries or even blueberries instead.
MINT | Not a mint lover or cannot find it, try swapping with fresh basil or even thyme or omit all together.
Frequently Asked Questions
Is rhubarb a fruit or a vegetable?
It is vegetable, though we usually combine it with fruits for desserts. A perennial plant that has stalks similar to celery.
Can rhubarb be eaten raw?
Rhubarb can be eaten raw, but because of its tart flavor, it is more often cooked and sweetened with sugar
Is rhubarb good for you?
Yes, high in antioxidants that have anti-bacterial, anti-inflammatory, and anti-cancer properties, which can help protect you from many health-related issues such as heart disease, cancer, and diabetes.
Can I make strawberry-rhubarb salad ahead of time?
Most fruit salads can be made a little ahead of time, but for this salad, I wouldn't recommend making it more than an hour or two ahead of time. I recommend cooking the rhubarb ahead of time so it has time to chill before mixing in the salad.
How to Make a Rhubarb Ribbon Garnish
If you would like to get the look for a fun garnish, wash a stalk of rhubarb and pat dry, using a sharp vegetable peeler (this is my favorite).
Starting at one end, with gentle pressure pull towards you to create a thin slice. Using a toothpick alternate directions creating a ribbon.
More great rhubarb recipes:
I have just started in the rhubarb recipe game, but I have blogging friends who have crazy great recipes, both sweet and savory!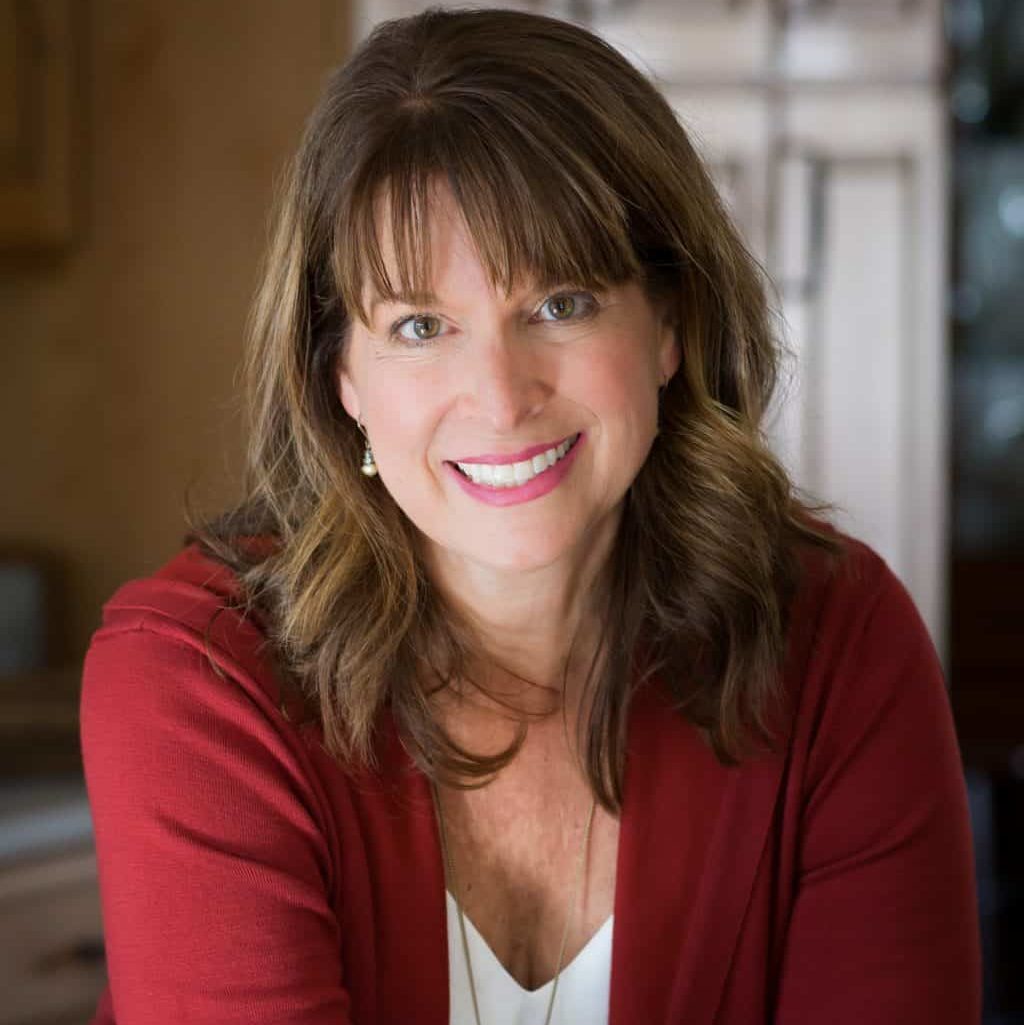 About Kathleen Pope
Recipe Innovator | Food Photographer | Food Writer
Hi, I'm Kathleen Pope. Here at The Fresh Cooky you will find easy, mostly from-scratch, trusted recipes for all occasions. From speedy dinners to tasty desserts, with easy step-by-step instructions. I am here to help teach you how to make mouthwatering recipes without spending hours in the kitchen. Read more about Kathleen here.