Biscuits and Gravy Casserole | Breakfast Casserole
As an Amazon Associate, I earn from qualifying purchases. Please read my disclosure policy.
Biscuits and Gravy Egg Bake is an easy breakfast casserole, easily made overnight or the morning of for a delicious feed-a-crowd breakfast. Filled with flaky biscuits, light eggs with a layer of delicious green chile sausage gravy on top. Plus extra sausage gravy for serving.
While not a southern girl, that does not mean I cannot appreciate southern style food, I have spiced this up a bit (not much, you know I am a spice wimp) with some mild and delicious green chiles.
We now have access to recipes from every region, cuisine and tradition, which enhances our taste buds, like these other Southern favorites; Chicken & Sausage Jambalaya, Slow Cooker Red Beans and Rice and Kentucky Butter Cake.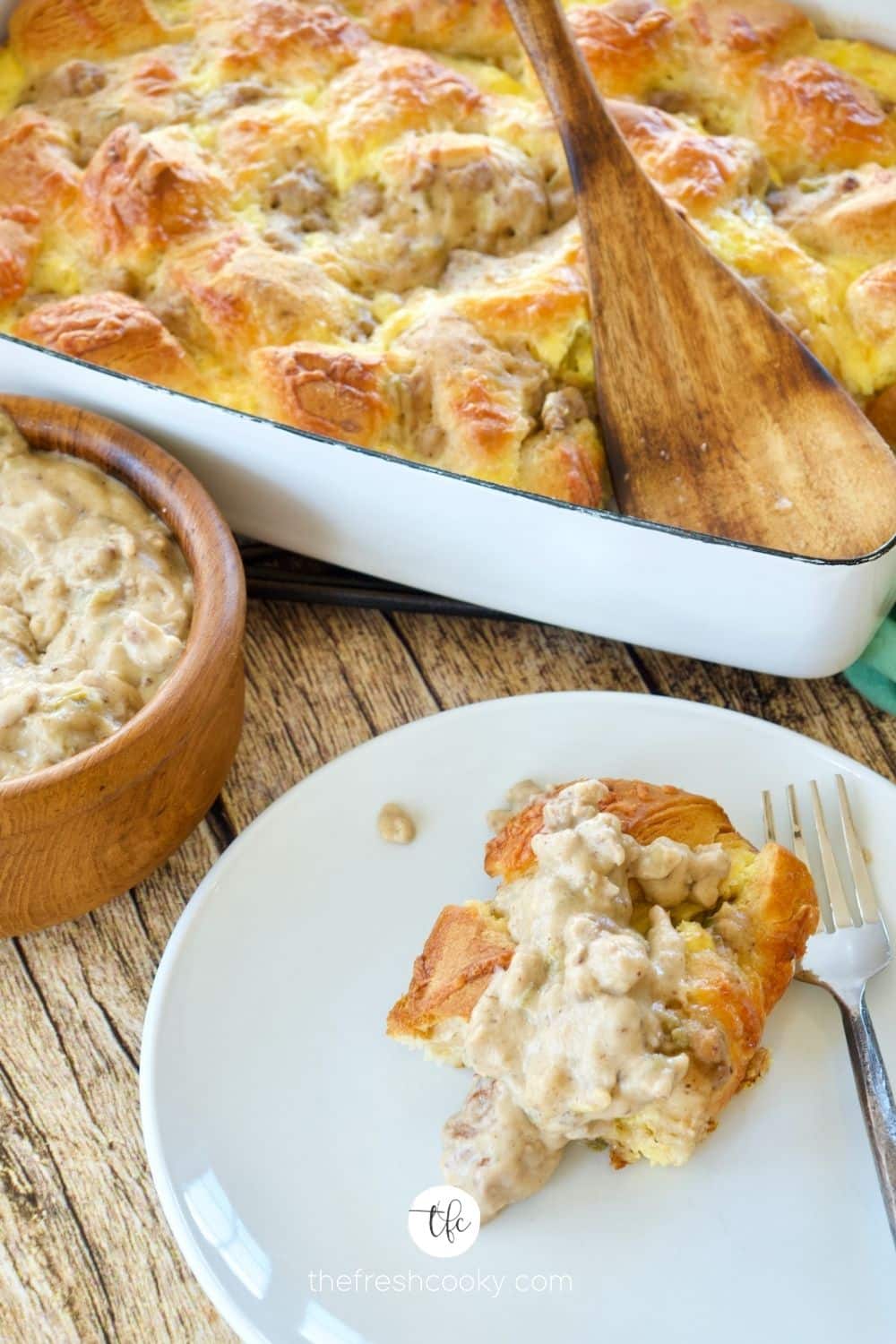 A favorite overnight breakfast casserole
We needed a larger breakfast dish recently for a family gathering, but I knew I wouldn't have much time in the morning, so I assembled this entire dish the night before and let it hang out in the fridge until I was ready to bake it.
Biscuits and gravy egg bake with sausage gravy is so simple to whip together, if you have ever wanted to make sausage gravy and biscuits or biscuits and gravy as they are called, this is a great dish to start with! You would also love this Pancake Bacon Casserole recipe from my friend Jennifer!
Key Ingredients
The biscuits and gravy casserole ingredient list might seem long, but it's not really when you break it down!
Sausage Gravy with Green Chile
BREAKFAST SAUSAGE | Pork or Chicken your choice! I used an all natural pork breakfast sausage (no fillers, corn syrup or other ingredients)
BUTTER | not as much as you would think, but this is what makes the roux to thicken and flavor to the gravy.
FLOUR | Gluten free flour may be used here, for Gluten Free sausage gravy
WHOLE MILK | I use organic whole milk in all of my cooking and baking, you can certainly try using lower fat %, but it's a gravy, so why?
SALT | Gotta have a little salt, I use kosher salt
CHOPPED GREEN CHILES | I used organic mild chopped green chiles, certainly feel free to add more than 4 oz.
Egg bake ingredients
EGGS | I always use large eggs in my baking and cooking, I like using organic when I am able.
WHOLE MILK | just a touch to add to the fluffy creaminess of the biscuits and gravy casserole.
KOSHER SALT | Yup, a bit more!
CANNED BUTTERMILK BISCUITS | Yes I use canned biscuits, I like Annie's, Immaculate or Trader Joe's brand organic and all natural canned biscuits. But you could make your own if you wanted to show me up, try Julia's biscuits.
WHITE SHARP CHEDDAR CHEESE | Pre-shredded or shredded off the block, I used organic shredded white cheddar cheese.
How to make the best breakfast casserole
Let's make this amazing biscuits and gravy egg bake, first we'll make the amazing green chile sausage gravy.
Step 1
Brown the sausage | In a large skillet (I love my cast iron skillets) brown the breakfast sausage until just browned and remove from pan, drain any excess fat (I used lean sausage, so left the little bit of fat behind for flavor)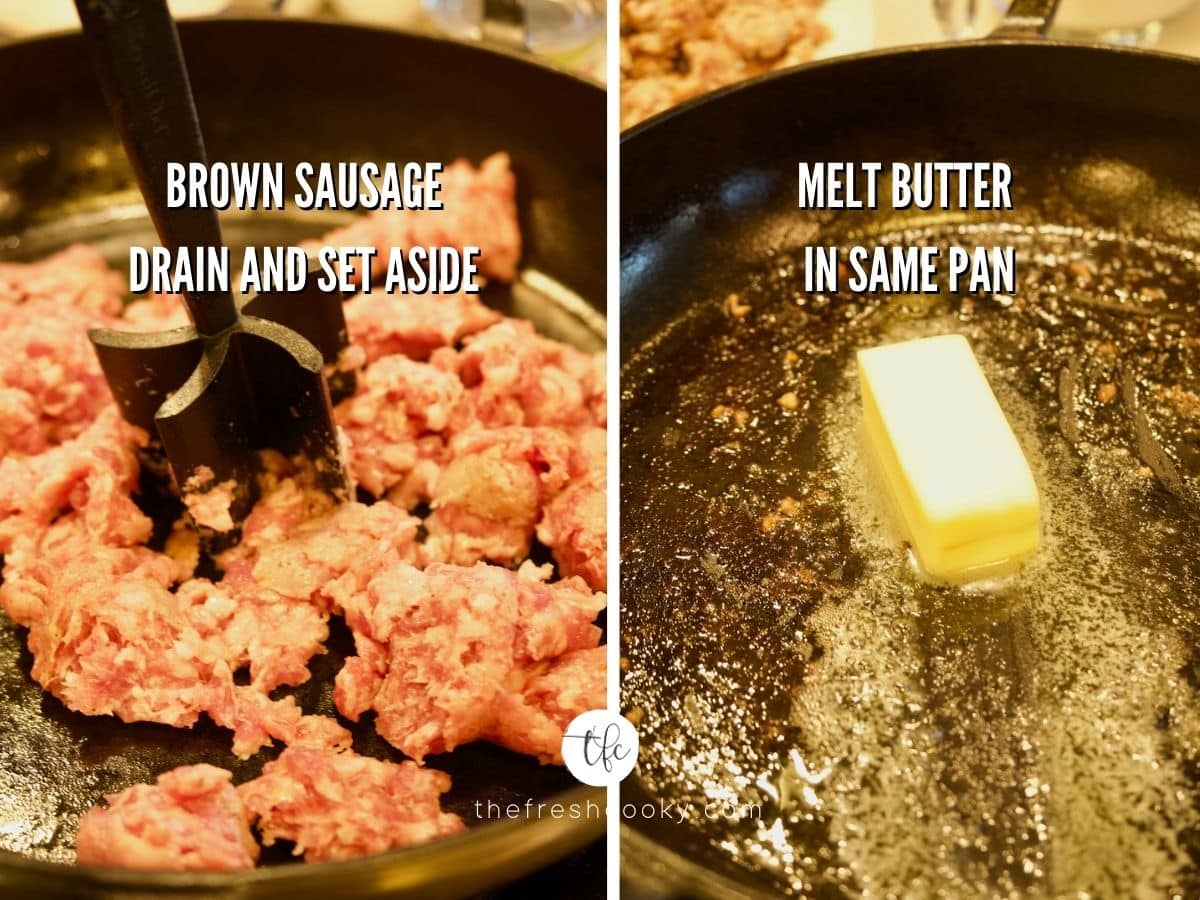 Make the Gravy | In the same skillet, melt the butter over medium-low heat, slowly whisk in flour until thickened, just a couple of minutes. Whisk in milk, a little at a time, it will thicken as you whisk it, keep whisking until smooth. Add diced green chiles, salt and return the sausage to the gravy, stirring to combine.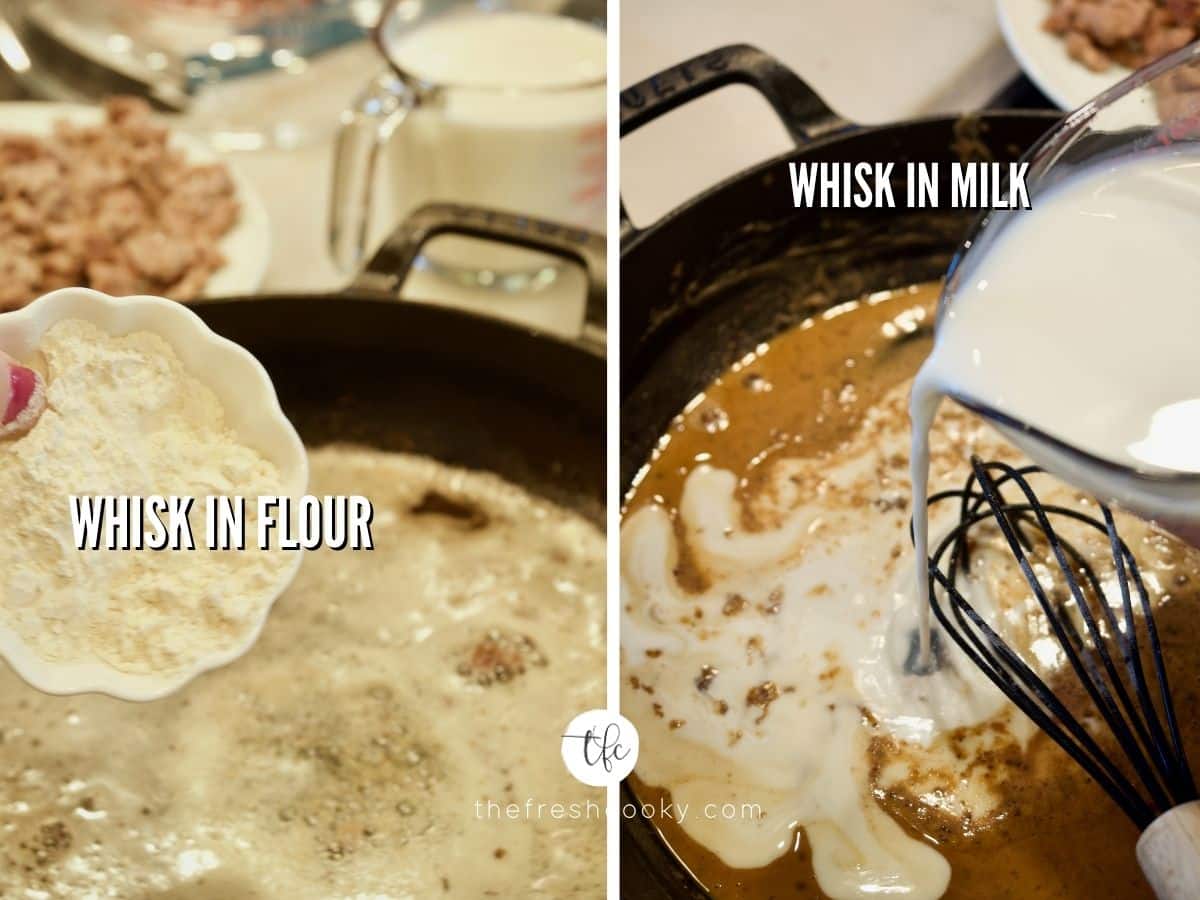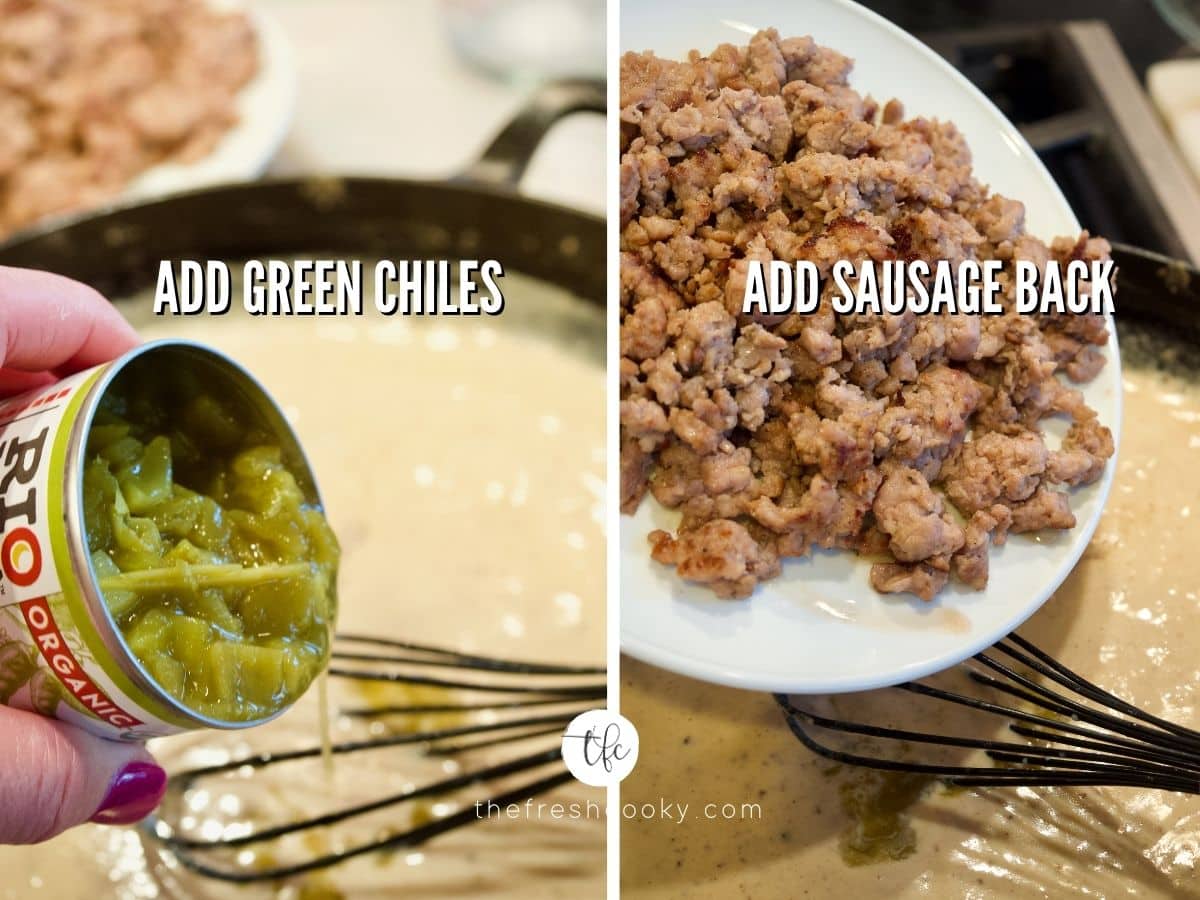 Step 2 | Assemble Egg Casserole
If making the morning of, preheat oven to 350 degrees F and generously spray a 9×13 inch casserole dish with spray oil.
In a small mixing bowl whisk eggs, milk and salt together.
Cut the biscuits into 1/4s and place the biscuit pieces over the bottom of the pan.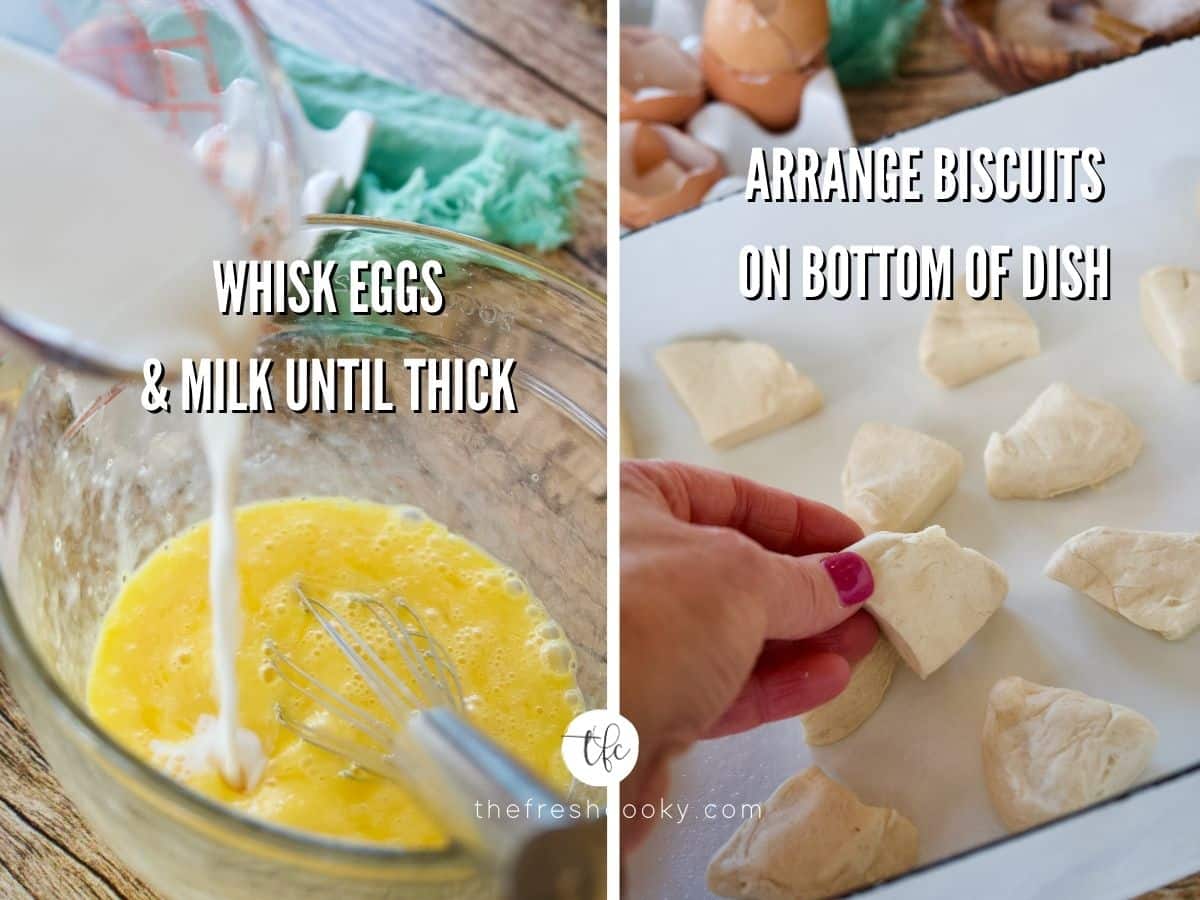 Pour egg mixture over the top of the biscuits.
Sprinkle with cheese and place a few blobs of sausage gravy around the casserole, be sure to save most for serving. Bake 30-35 minutes until golden and eggs are set.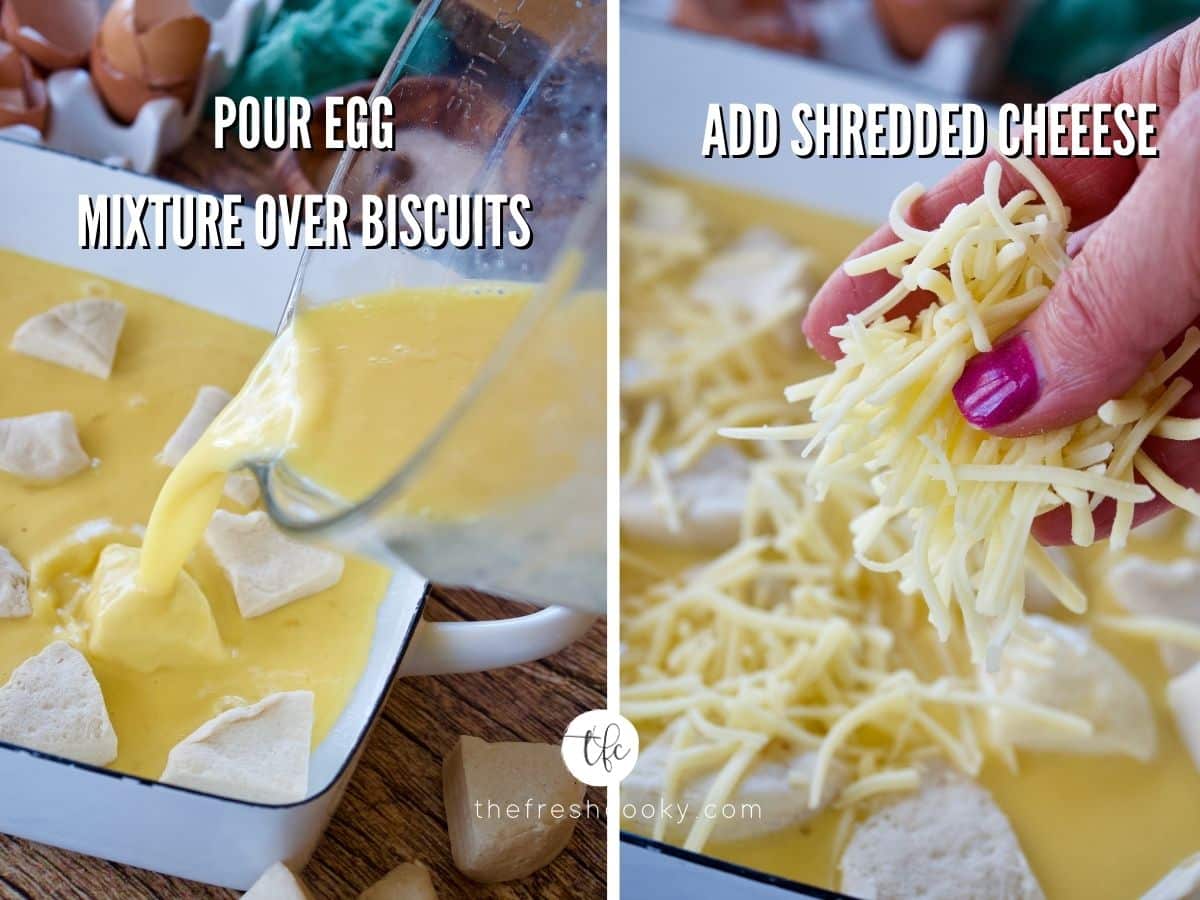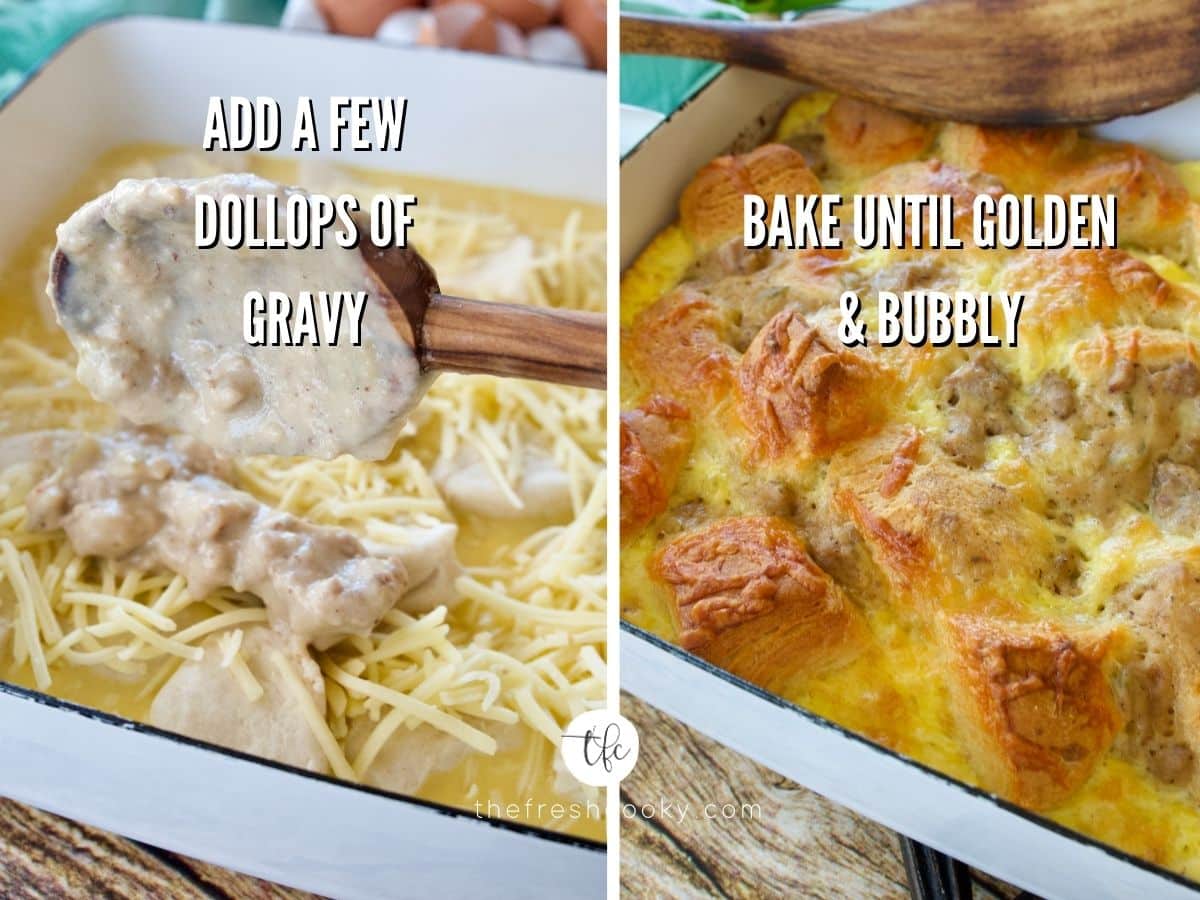 Step 3
Serve warm with a spoonful of the delicious green chile sausage gravy. Grab a napkin, drool will happen!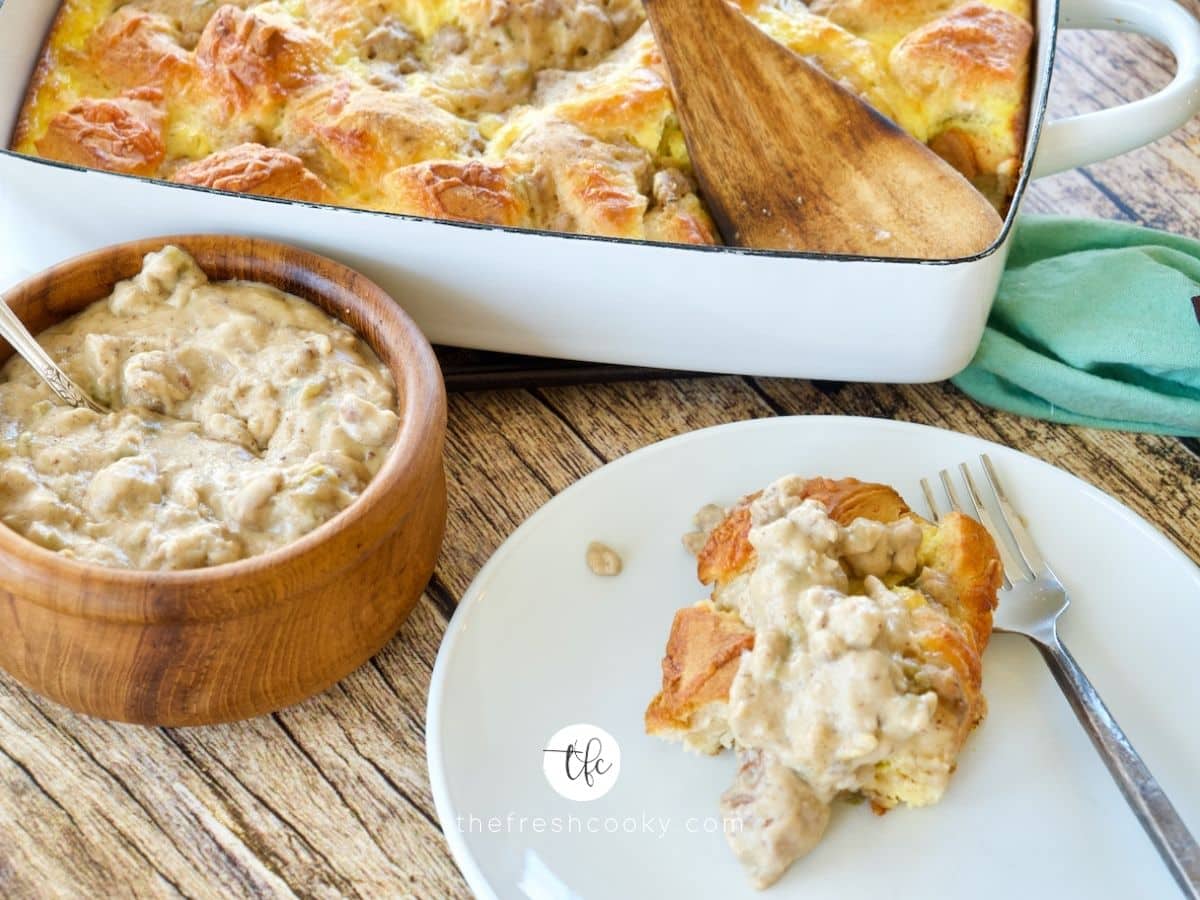 Overnight Biscuits & Gravy Casserole
A few simple instructions for making this casserole ahead of time so you can wake up, pop it in the oven and enjoy!
Make the green chile sausage gravy, assemble the biscuits and gravy egg bake, cover with foil or plastic wrap refrigerate. Place sausage gravy in separate container and refrigerate.
When ready to bake, take casserole dish out of fridge for 30-40 minutes before baking, allowing it to come to room temperature.
Bake as directed; meanwhile, pour sausage gravy back into saucepan or skillet, heating on low heat, adding a few splashes of milk to thin so it's pourable.
Gluten-Free Sausage Gravy
So why would I give you a gluten free sausage gravy if there are gluten-full biscuits in this easy egg bake? Because, I am going to show you a couple of ideas for how to make it gluten free biscuits and gravy!
Gluten Free Sausage Gravy | Simple, swap the regular flour Gluten Free All Purpose flour or your favorite GF Flour mix and proceed with recipe.
Instead of using canned biscuits:

Replace with hunks of a soft gluten free free bread
Try this amazing GF Challah bread from my friend, Jenny!
Or make your own gluten free biscuits, but don't bake them, cut into hunks and pop in the egg batter.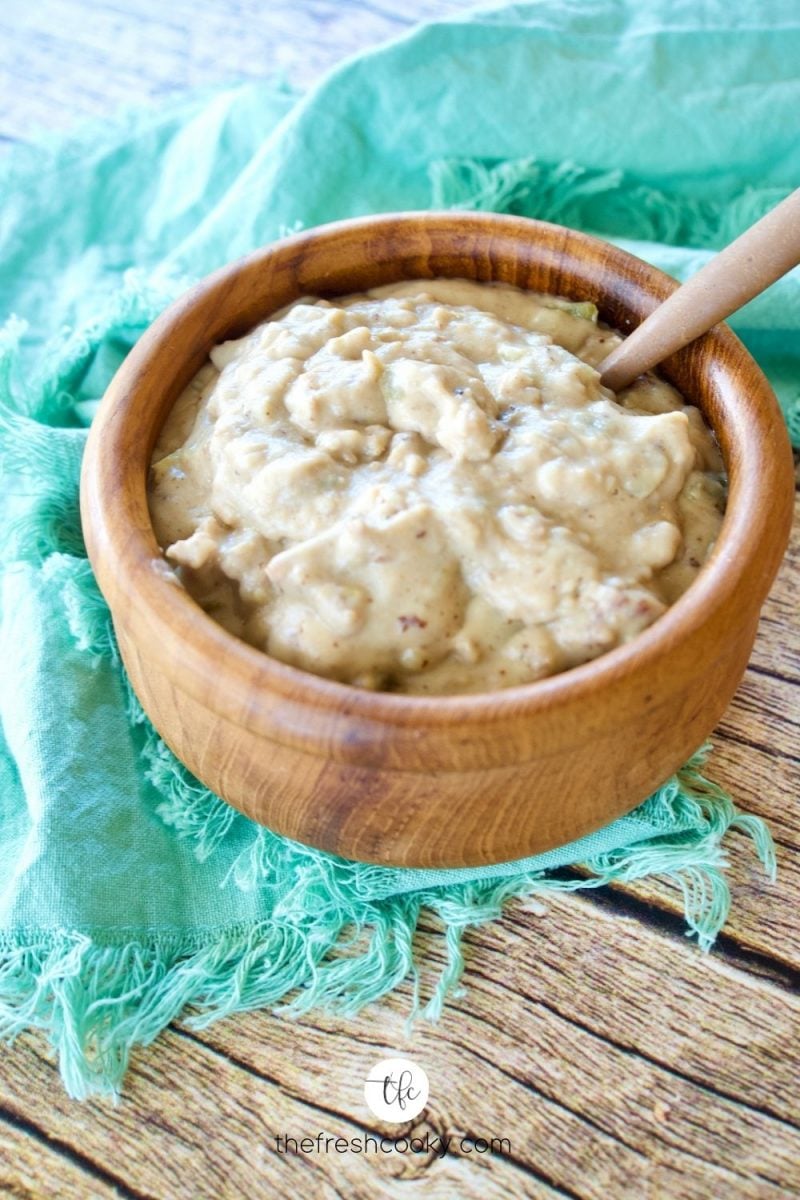 Frequently Asked Questions
Can I make Biscuits and Gravy Casserole ahead of time?
Yes, assemble the entire casserole ahead of time, even refrigerating overnight. Simply bring to room temp (about 30-40 minutes on counter) before baking.
Why does my sausage gravy taste like flour?
A common problem and one easily fixed, you did not "cook" your flour mixture (called a roux) long enough, between 2-3 minutes is enough to cook out the flour taste.
Why is my sausage gravy so thick?
Gravy thickens as it cools, if it has cooled and is too thick, simply thin while heating over low heat with a little extra milk.
If your sausage gravy does not thicken, it might mean you didn't add enough flour, or you did not cook it long enough, try adding a touch more flour or even a teaspoon of corn starch (mixed with a teaspoon of water) and see if that thickens it up.
Can I freeze Overnight biscuits and gravy casserole?
If baked: Cool completely, cover well with plastic wrap and foil, freezes up to 3 months. Thaw in fridge overnight and bake at 350 degrees for 20 minutes, covered (remove plastic wrap).
Unbaked: Cover well with plastic wrap and foil and freeze up to 2 months, thaw in fridge overnight and bake as directed, removing from fridge 20-30 minutes prior to baking.
Sausage Gravy: Thaw overnight in fridge, reheat in skillet or small saucepan, thinning with a little milk if needed.
Tips
PREP AHEAD | recipes always come together easier if you pre-measure your ingredients, chop, etc.
Try drizzling a little Hot Honey over this easy casserole.
CHILES or NO CHILES | If you are not a green chile fan, omit the chiles all-together. Or if you are big fan, add extra green chiles, up to 8 oz.
DON'T EAT PORK? Make Kosher Biscuits & Gravy Casserole, use chicken breakfast sausage.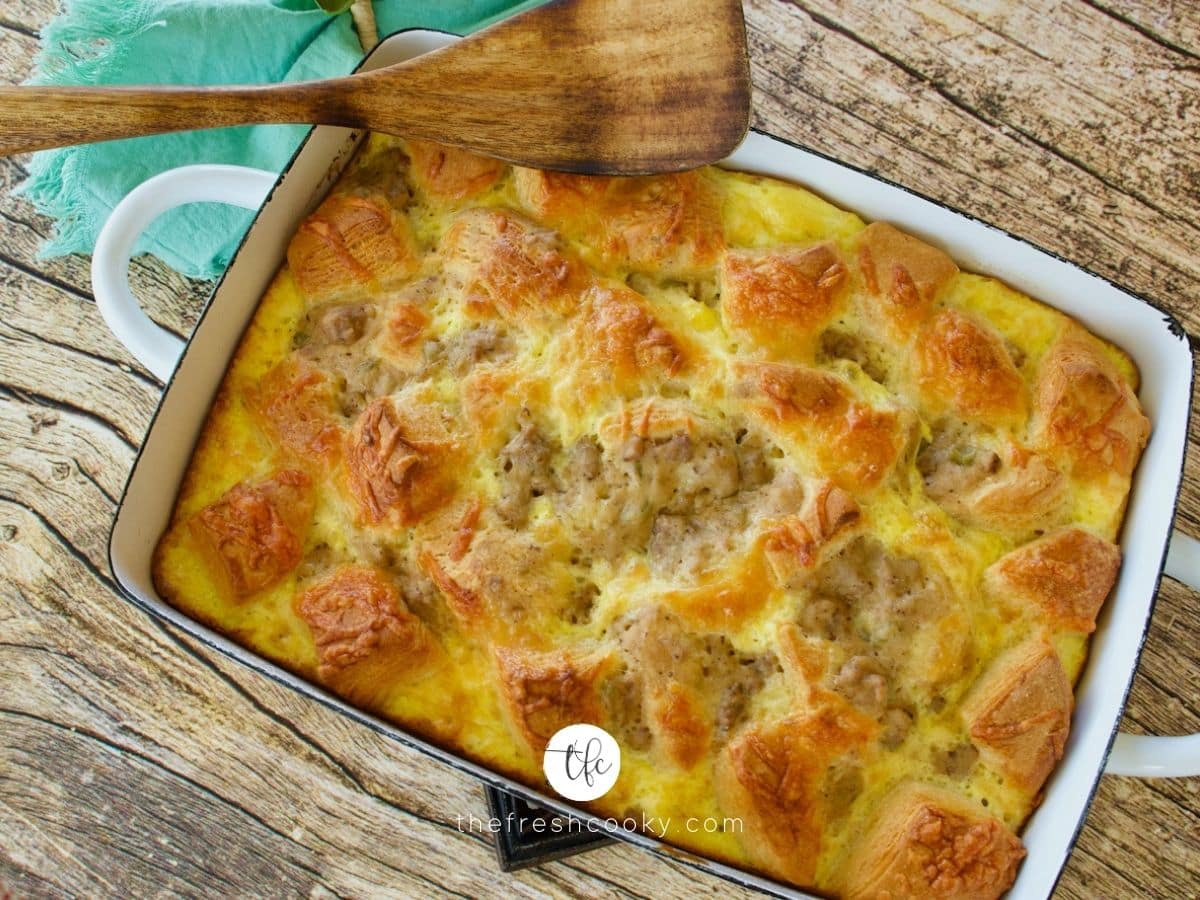 Recipe lightly adapted from Pinch of Yum.
More great breakfast recipes:
Thanks for hanging out with me today, I hope that you find ways to enjoy this delicious egg bake year round, but it's especially delicious for Easter brunch, Thanksgiving or Christmas breakfast or brunch, Mother's Day or a lazy weekend.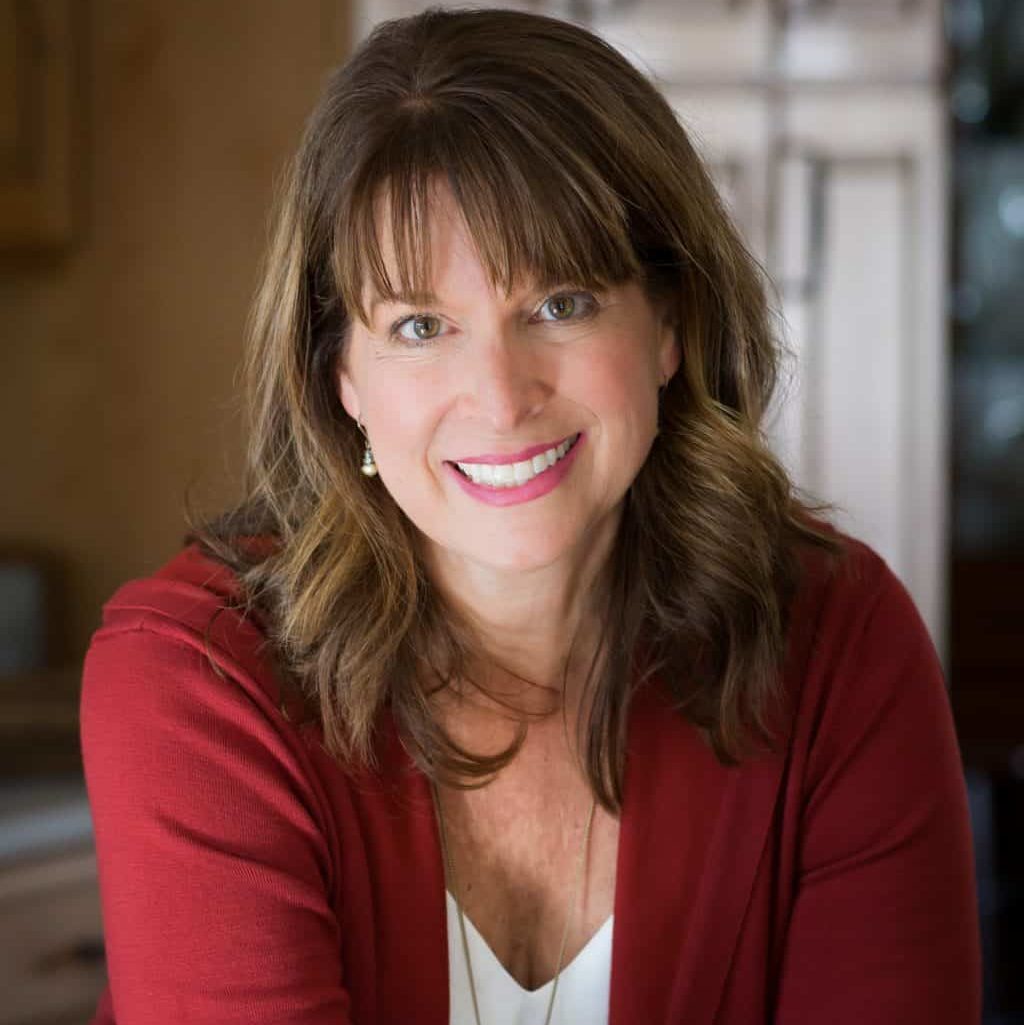 About Kathleen Pope
Recipe Innovator | Food Photographer | Food Writer
Hi, I'm Kathleen Pope. Here at The Fresh Cooky you will find easy, mostly from-scratch, trusted recipes for all occasions. From speedy dinners to tasty desserts, with easy step-by-step instructions. I am here to help teach you how to make mouthwatering recipes without spending hours in the kitchen. Read more about Kathleen here.