Old Fashioned Lemon Squares Recipe
As an Amazon Associate, I earn from qualifying purchases. Please read my disclosure policy.
This easy Old Fashioned Lemon Squares recipe starts with a delicious buttery shortbread crust, filled with a creamy, gooey oh-so lemony center and finished with a thick layer of powdered sugar lemon glaze. The essential Lemon Bar recipe!
Lemon bars are a super simple, a three step dessert that is bright, beautiful, can be refrigerated and frozen! Making them a wonderful make-ahead dessert. But do not limit these beautiful lemon squares to summertime; think tailgating, holidays, spring and definitely potlucks!
Are you a lemon lover like me? Then you have got to try my Lemon Cream Pie (so luscious), Lemon Gelato Ice Cream, and these easy Lemon Shortbread Sandwich Cookies.
Why You Will Love Lemon Shortbread Cookies
Make Ahead Dessert | There are times when I just need to make a dessert ahead of time and these old fashioned lemon squares are the perfect recipe to do that!
Fresh & Natural | Using fresh lemons, all natural ingredients, you can feel good about serving this all-natural dessert.
Old Fashioned Recipe | I grew up on a similar lemon shortbread cookie recipe, only we didn't put glaze on top, just a sprinkling of powdered sugar, change it up, these are delicious either way!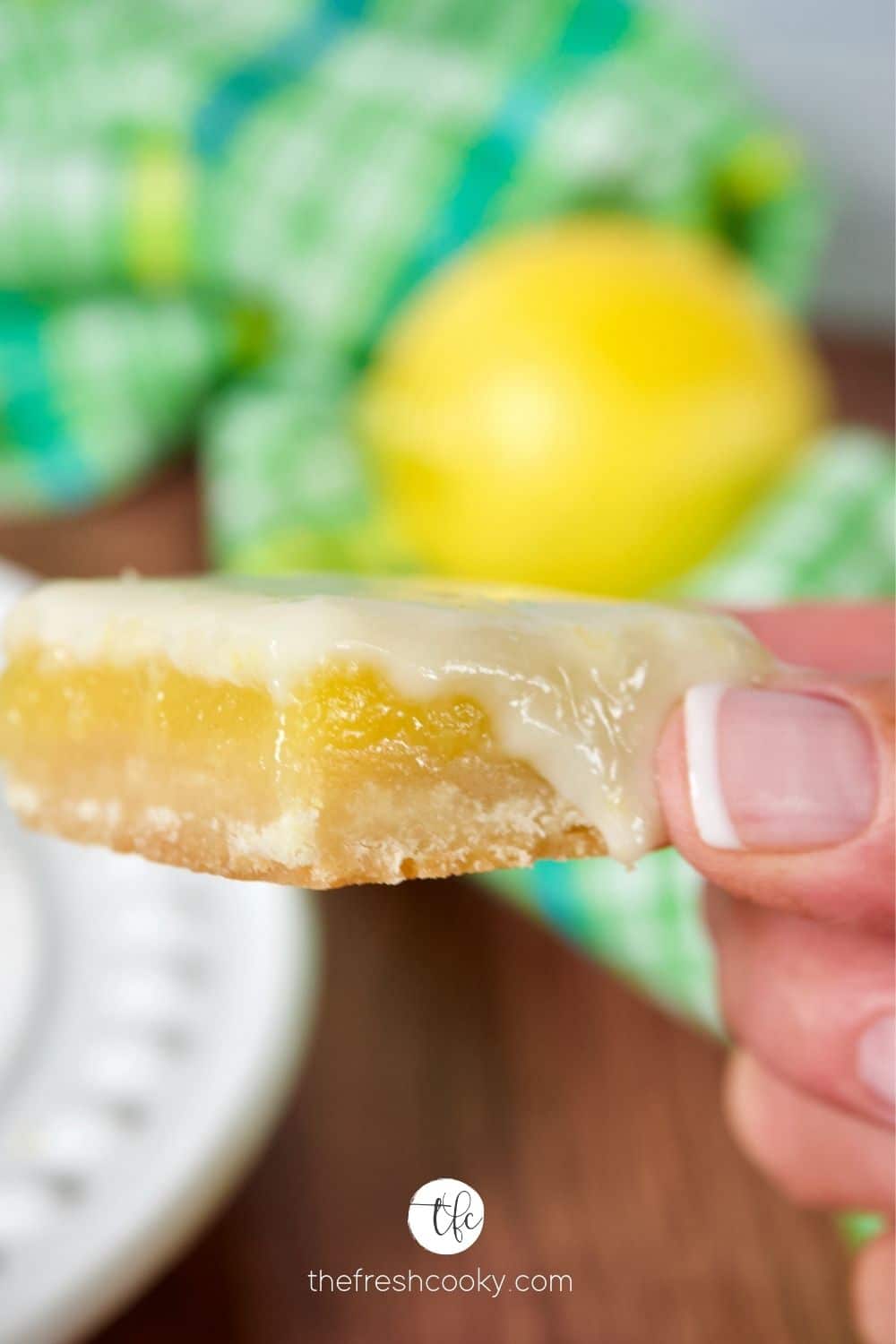 What is the Freaky Friday Blog Hop!?
Today is Freaky Friday, which is simply an old fashioned blog hop!

Our Freaky Friday Blog Hop creator is Michaela from An Affair from the Heart, where she secretly assigns participating bloggers to another blog to remake a recipe of their choice.
We make their recipe, photograph it as if it were our own, write a post about it in our own words, then all share our posts on the selected Friday. I hope that this collaboration helps you discover some amazing new recipes AND a few new bloggers to follow!
Here are a few of my previous Freaky Friday recipes; Creamy Bow Tie Pasta Recipe Cranberry Bourbon Sour, Sweet Molasses Brown Bread, Mint Fudge Brownies, and Oatmeal Rolled Sugar Cookies.
Meet Michaela from An Affair from the Heart
This round, I was assigned Michaela's blog! You are in for a treat!
Michaela is a Nebraska native; creative, funny, and delivers up easy to make, delicious, craveable recipes on An Affair from the Heart. Here are a few reasons I know you will love Michaela too and visit her site often:
Michaela and I would hit it off for many reasons; but the biggest one is probably this; all we ever wanted to be was a mom! What a privilege! Read more about Michaela and her family.
Boxer Mom | When I discovered that Michaela and her family had boxer's, as a former "Boxer mom" we are kindred spirits. Boxers are special people, I mean dogs, that think they are people! Her pups, Theo and Libby are her official taste testers and foot warmers!
Family Dinners | Having time to connect as a family nightly is encouraged with simple, tasty, easy to make meals that you can put on the table in no time! She says that "nothing makes me happier than when EVERYONE is home, and I can look around my table and there is a "seat in every seat." Amen sister!!
Reuben Everything! Michaela is the queen of reuben-izing (is that a word?) delicious dishes! Check out all of her reuben inspired recipes.
A Practical Entertainer | Michaela and I both love to entertain, throw a party, have people over! Check out her posts on how to fold napkins, make your own Bisquick mix and her numerous Copycat Recipes!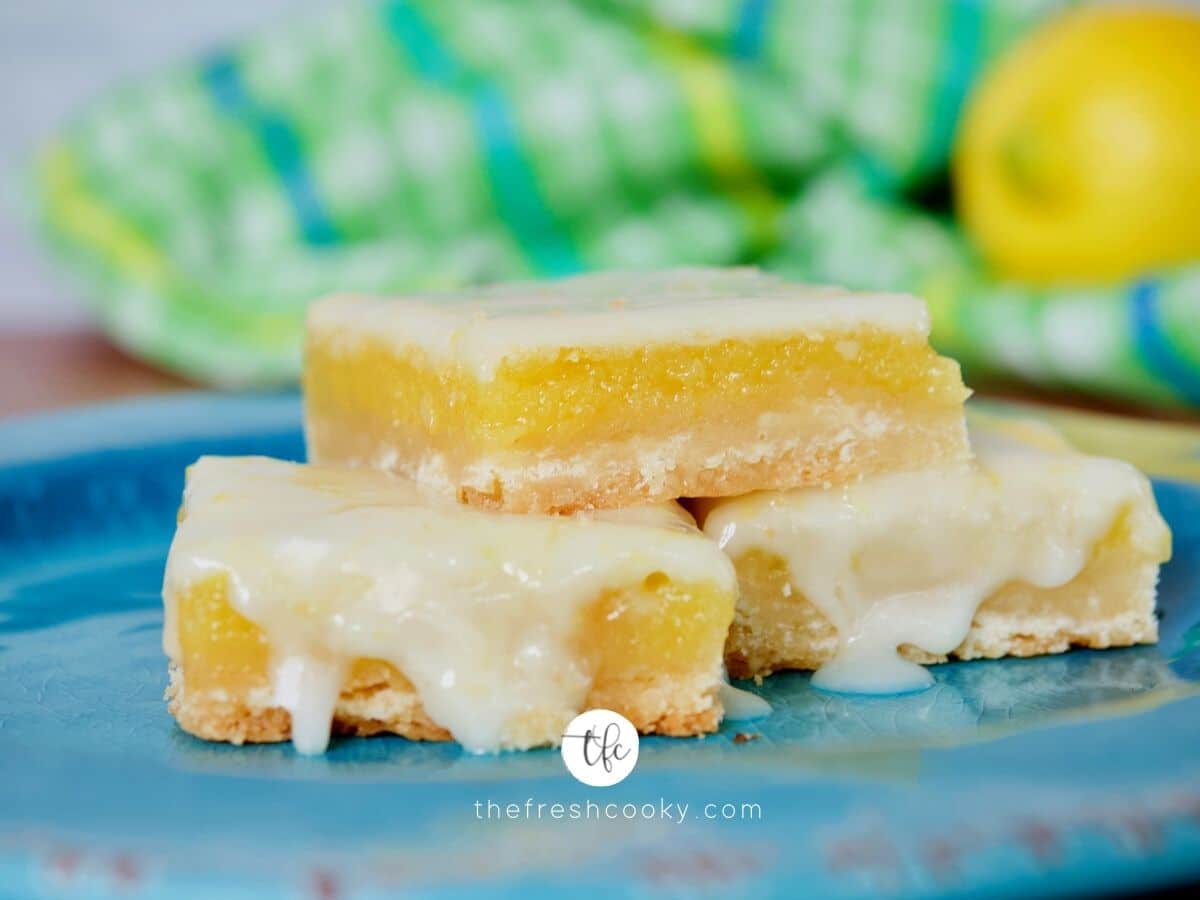 So how does one go about choosing which recipe to re-make and share? Well, you spend hours drooling through the recipe index, printing off recipes like this mouthwatering Texas Trash Bean Dip, or this Nebraska famous Copycat Runza recipe, but I was feeling more dessert-y!
The decision was not easy; between her homemade Buster Bars, this gooey, rich Chocolate Macaroon Tunnel Cake or these chewy Butter Brickle Cookies, I landed on her Glazed Lemon Bars, because well LEMON!
Ingredients
The ingredients for old fashioned lemon squares recipe are simple, mostly pantry ingredients!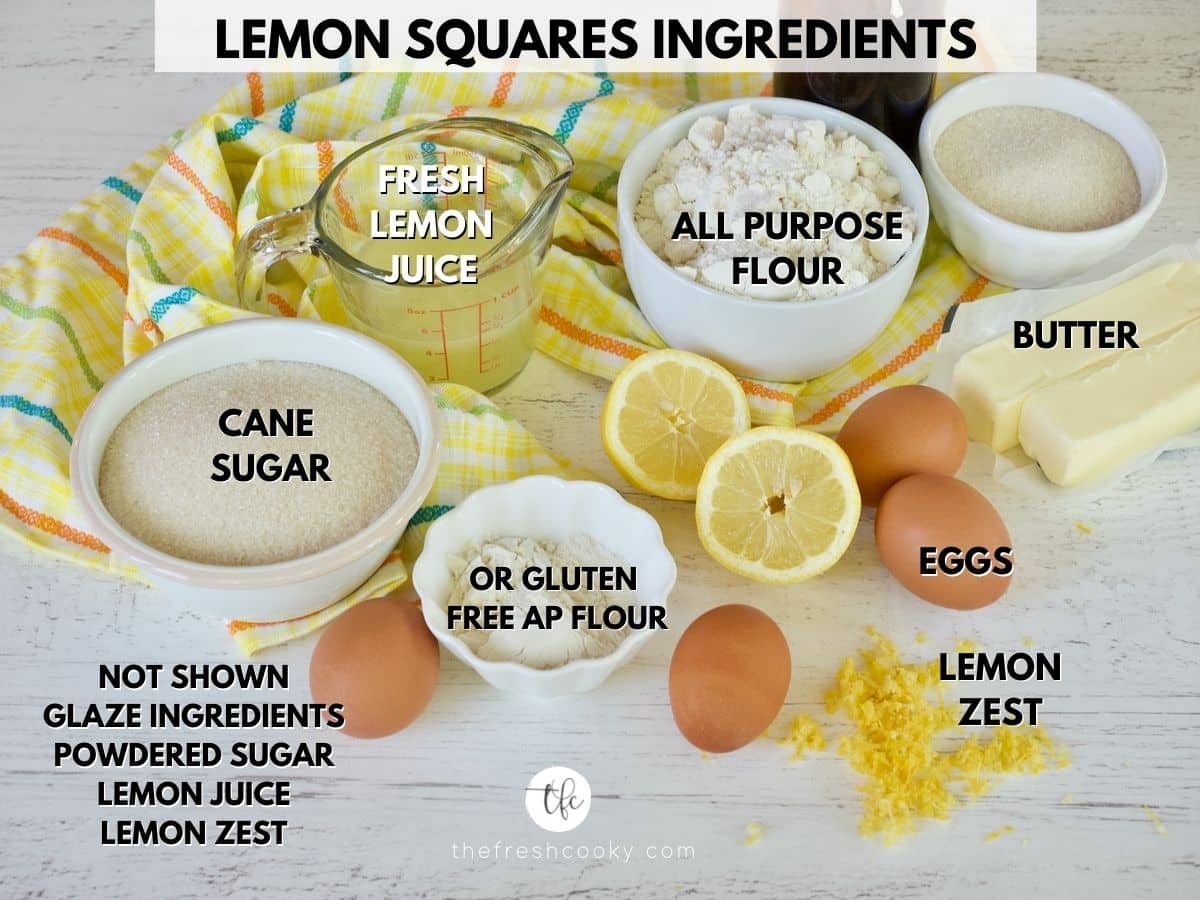 Butter | You cannot have a smooth, buttery shortbread crust without real butter!
Sugar | I use organic all natural cane sugar in all of my baking, you can certainly use white sugar.
Flour | I used organic all-purpose flour, you may use a regular all purpose flour of course.
Eggs | I use large eggs in all of my baking, this provides the creaminess for the lemon filling, center.
Lemons | You will need lemons for both their zest and their juice! Since I love lemons, I always add more zest as it adds that beautiful natural tartness and citrus kapow! Can you replace with bottled lemon juice? I suppose so, read more about that below in my FAQ's.
Powdered Sugar | I will show you how to transform simple powdered sugar, lemon juice and zest into an incredible lemon glaze.
Frequently Asked Questions
Can I use bottled lemon juice in place of fresh squeezed lemon juice?
Yessss? I say that with a question mark because bottled lemon juice tends to have preservatives in it and can have an off-putting taste. Squeezing a couple of lemons is so simple and the zest is something that adds amazing flavor to this lemon shortbread cookie recipe.
Are Lemon Bars supposed to be served cold?
The flavors really pop when you serve lemon bars cold, but be sure to allow to cool completely (about 2 hours) before refrigerating. Lemon bars may be left on the counter for about 6 hours.
What consistency should old fashioned lemon squares be?
When you remove from the oven, give them a little shake test. The filling should not really wiggle, maybe like really firm jello, but not a lot, the bars will firm up as they cool and set.
Gluten Free Lemon Bars
As with many of my recipes, I love to provide options to make our favorite recipes gluten free! And these lemon bars are so simple to convert to a Gluten Free Lemon Bar!
That's it! Super simple to make gluten free lemon bars by substituting one key ingredient and you will have the best gluten free lemon bars around!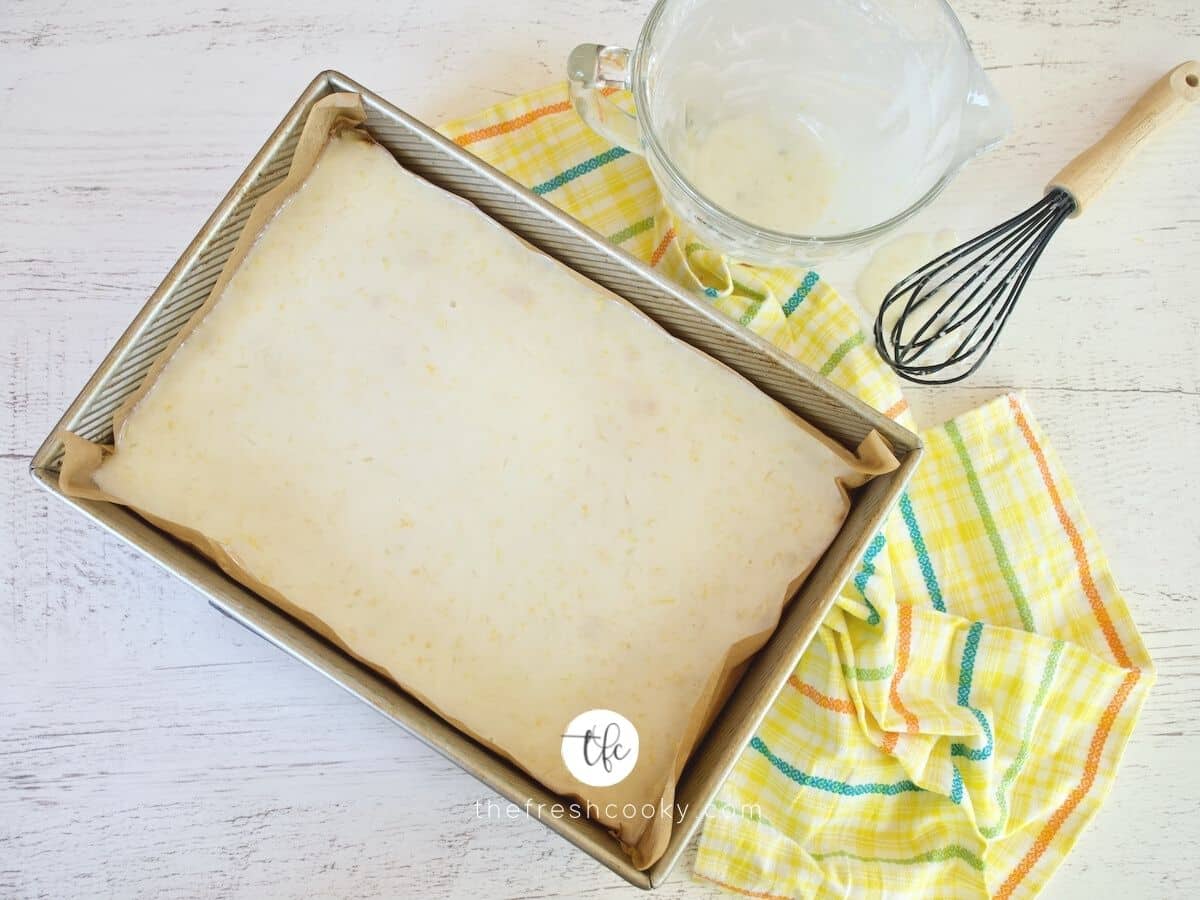 How to Make the Bars
Not only is this one of the best recipes for old fashioned lemon squares; featuring fresh ingredients, a gooey, tangy and sweet center, soft buttery crust and amazing lemony glaze on top, but it is the easiest recipe too!
This is a multipart recipe, not difficult, at all, but you do need to make these luscious lemon bars in stages.
How to make shortbread crust for bar cookies
Shortbread Crust | Blend together the softened butter, vanilla, sugar and flour in a mixing bowl or stand mixer on low until smooth and combined.
Prep & Bake the Crust | Press the shortbread batter into the bottom of a parchment lined or well sprayed 9×13 inch baking pan <== my favorite pan company! Using a sheet of parchment or wax paper, press the batter evenly into the bottom of the pan. Bake at 350F degrees for 15-20 minutes, just until firm and starting to turn golden.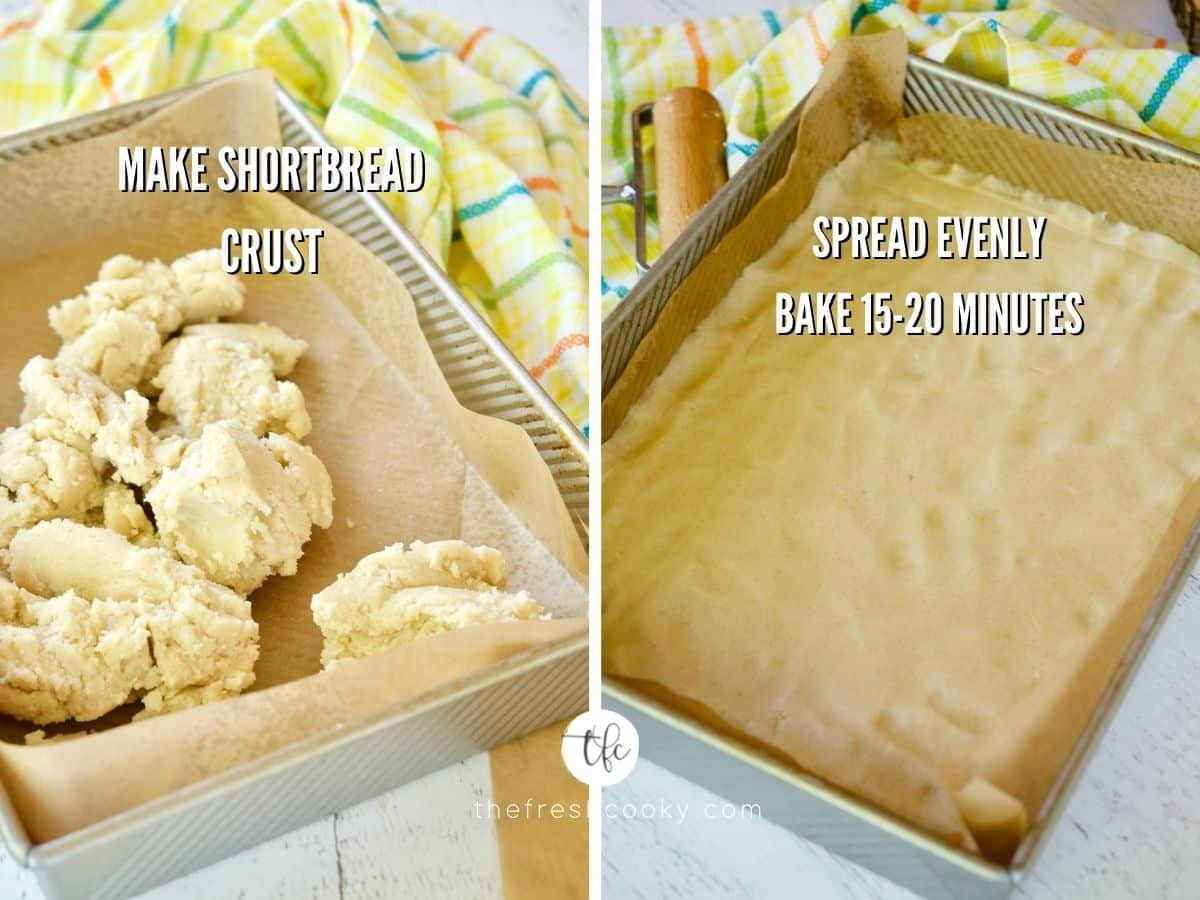 Make the Fresh Lemon Filling
While the crust is in the oven; in a large mixing bowl, whisk together the sugar and flour.
Whisk in the eggs, whisking well until frothy and sugar has dissolved, (cane sugar will take a little longer) then slowly whisk in lemon juice and zest from one-two lemons. (more is better in my opinion, but I like it tart!)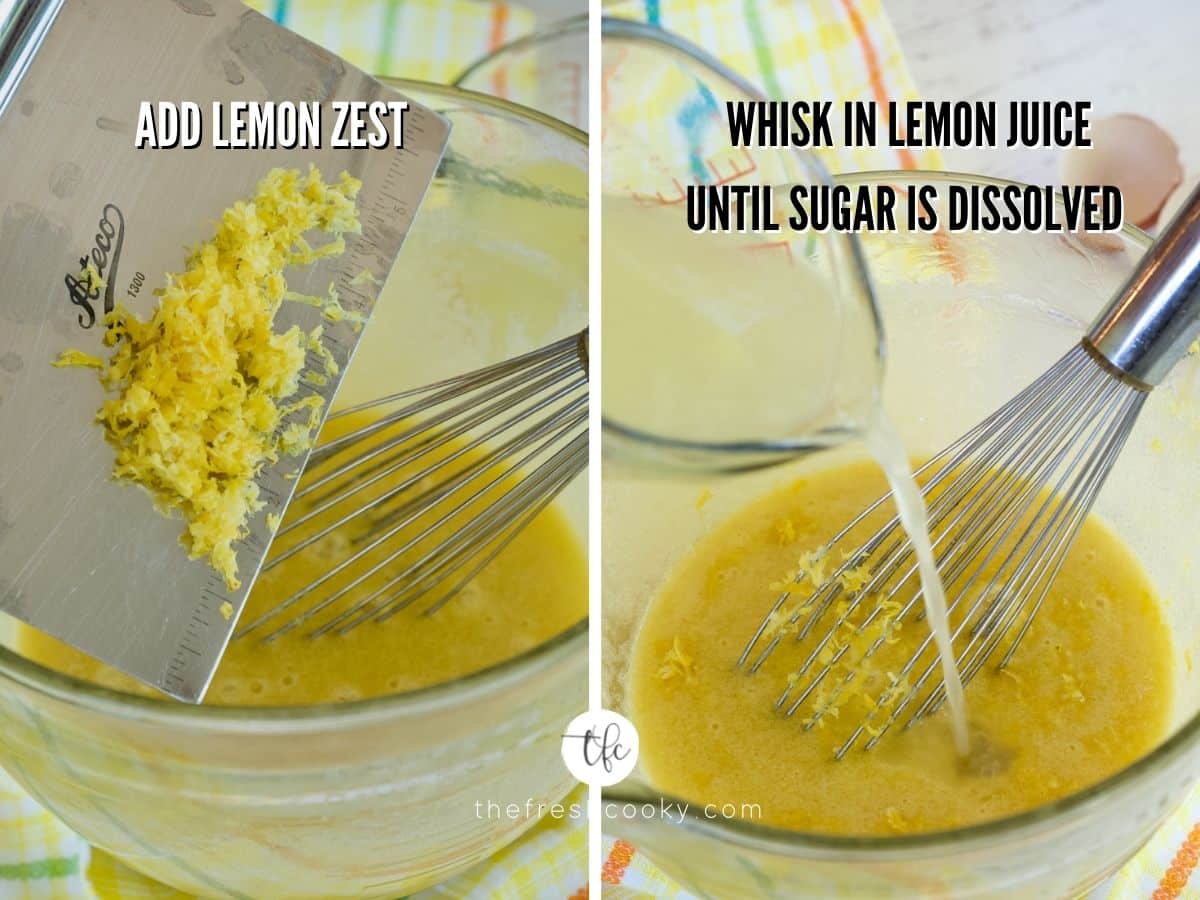 Pour lemon filling over the hot, baked shortbread crust (or almond flour shortbread crust), returning to the oven for an additional 15-20 minutes. Give the filling a final whisk just before you pour it over the hot crust.
Bake until the filling feels firm when lightly touched. Lemon squares will firm up and set as they cool. Remove from oven and cool on a wire rack.
Prepare Lemon Powdered Sugar Glaze
Mix powdered sugar, lemon zest into medium mixing bowl, whisk to combine, slowly add lemon juice, whisking until glaze is desired consistency.
Once the lemon squares have cooled on a wire rack for 20 minutes, then pour glaze over warm (not hot) lemon shortbread cookie bars.
Cool completely, then cover and refrigerate.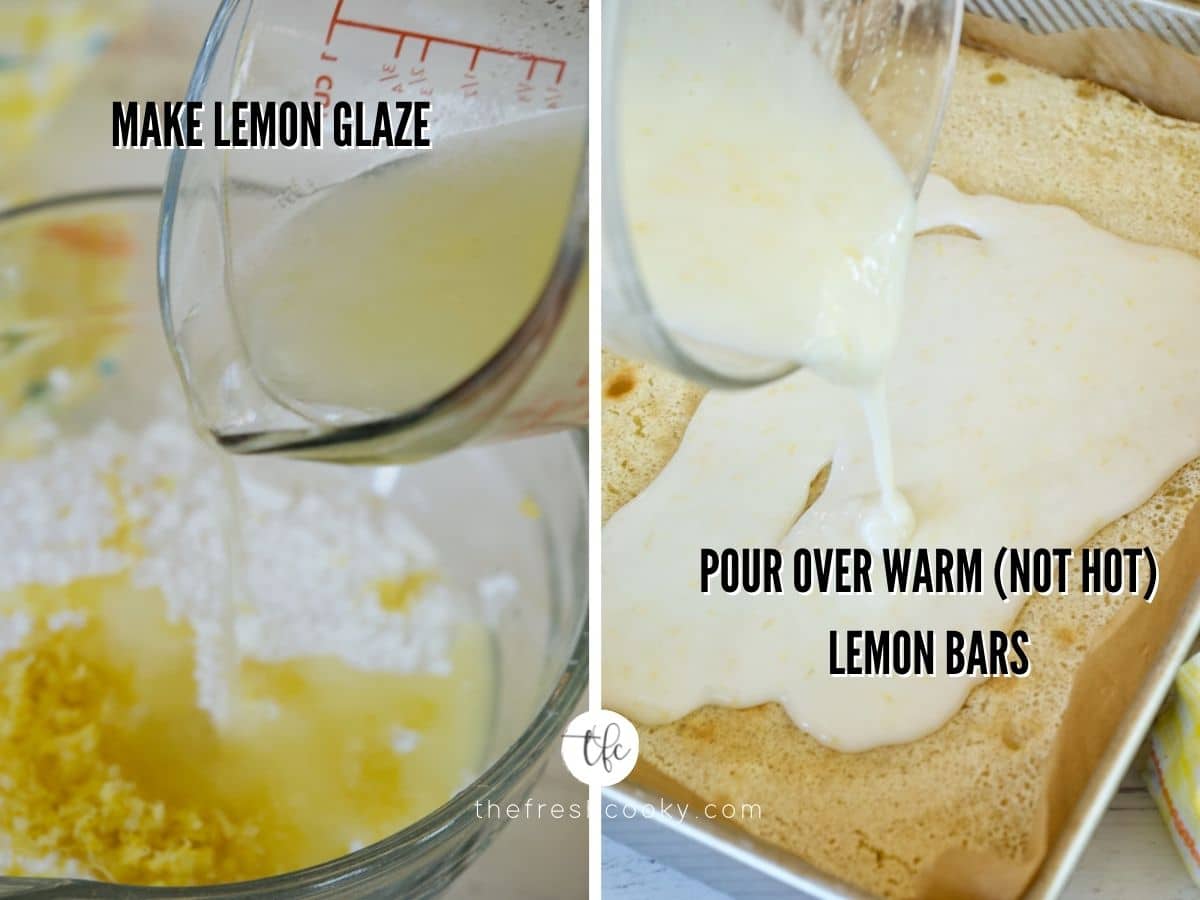 Baking Tips
Softened Butter | Take your butter out ahead of time, about an hour in the summer should soften it perfectly!
Parchment Paper Liner | If you have not worked with parchment paper, you are in for a treat, use pre-cut sheets or rip off a generous amount. You want enough to sit tightly in the pan AND have enough to hang over the long edges, using as a sling. Tip: lightly spray the pan with a little oil or nonstick spray, then your parchment tends to stick easier.
COOL COMPLETELY | To make cleaner slices, be sure to cool the old fashioned lemon squares completely.
LEMON FACTS
How to Choose the Best Lemons | Choose lemons that are firm, but yield to gentle pressure, with a smooth, thinner skin. The lemon should not have blemishes, be pale or have any green; this indicates unripeness. Good lemons for juicing, should be heavier relative to their size.
How Best to Store Lemons | Lemons stored on the counter, look pretty, but dry out within a week. Lemons stored in the fridge will last longer, about a week to 10 days, lemons stored in a sealed plastic bag last up to a month!
Zesting | It is much easier if you zest your lemons before cutting in half to juice them. Wash and dry lemons before zesting, and do not zest too far down, the white part, called the pith is bitter.
Juicing Lemons | To get more juice from your lemon, try these ONE of these two tricks: 1) Place lemon on cutting board or counter and firmly roll with palm of hand until it starts to yield slightly, OR 2) Place lemon in microwave for about 10 seconds, then roll and squeeze.
An average lemon contains about 2 ½ – 3 tablespoons of juice.
How to Slice Lemon Squares
Everyone loves a clean sliced lemon bar, or brownie or bar cookie! Here are a few tips for clean sliced squares.
COOL COMPLETELY | Allow the lemon squares to cool completely, it is actually much easier if you can refrigerate them for a few hours or overnight before you slice them.
REMOVE FROM PAN | Using the parchment paper as a sling, remove cooled old fashioned lemon squares from the pan onto a cutting board.
KNIFE | Run a long, sharp knife under warm or hot water, I keep a glass nearby with a paper towel to dry off between slices.
CUT | Using the warm knife, cut into desired square sizes, wiping off in between slicing.
SERVING | Lemon Squares will come to room temperature pretty quickly, it's fine to serve them that way, but the glaze will weep a bit, which isn't bad. For individual serving ideas, place in a cupcake wrapper and serve unstacked on a tray.
Storing and Freezing
For all methods of storage, be sure to cool the lemon bars completely before cooling, this will help you avoid too much moisture being trapped, which will cause sogginess and weeping of the glaze.
If serving the same day, lemon bars may be left on the counter for 6 hours.
Store leftover lemon bars tightly covered in the fridge for 2-7 days, slice and serve when ready.
Freezing | If freezing is desired, freeze the entire bar for an hour (this will set the glaze), then wrap frozen lemon squares well with plastic wrap or keep in a sealed container. Store up to 4-6 weeks.
More easy dessert recipes you will love
I hope you find many new recipes from this Blog Hop today and I know that you will love these Lemon Shortbread Cookies as well! Be sure to comment below the recipe if you tried them!
Take a look at all of our 2021 Freaky Friday Summer Edition Recipes:
Like this recipe?
Don't forget to give it a ⭐️⭐️⭐️⭐️⭐️ star rating and comment below the recipe!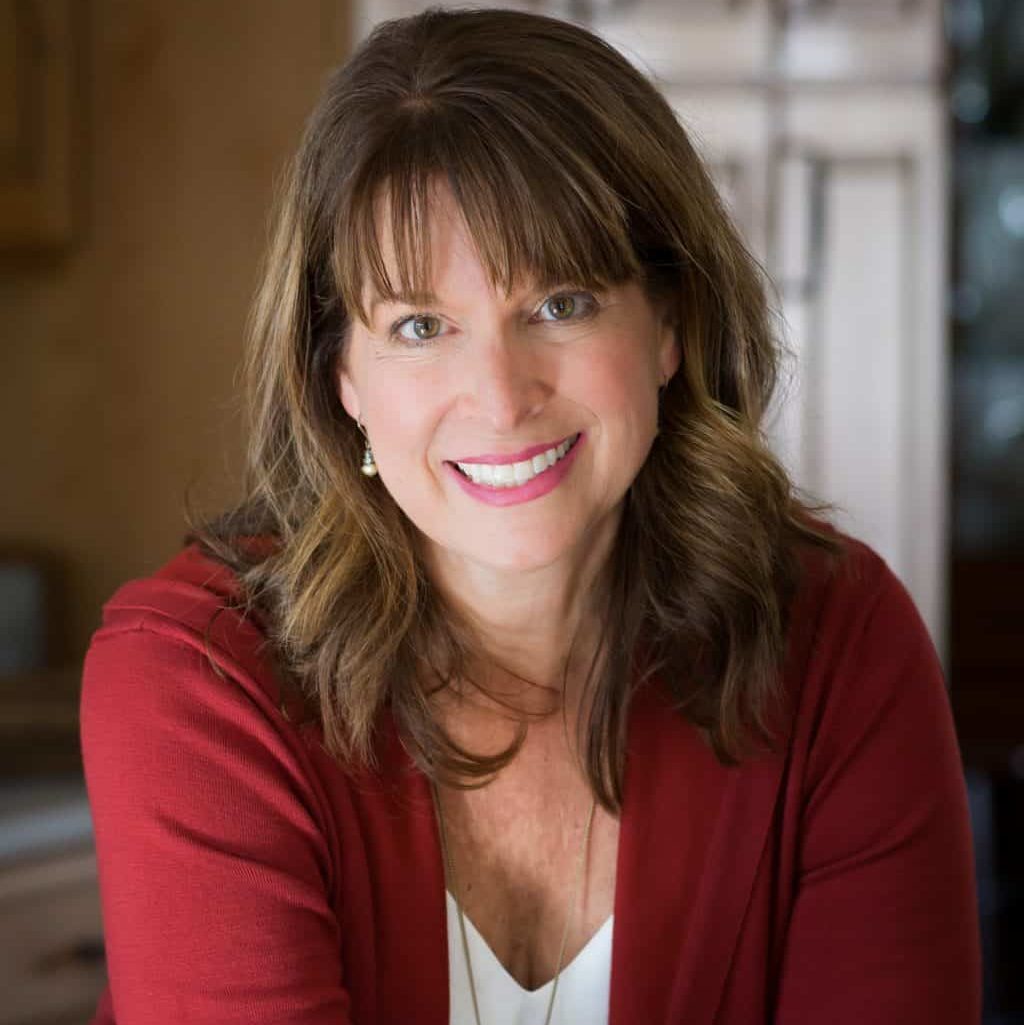 About Kathleen Pope
Recipe Innovator | Food Photographer | Food Writer
Hi, I'm Kathleen Pope. Here at The Fresh Cooky you will find easy, mostly from-scratch, trusted recipes for all occasions. From speedy dinners to tasty desserts, with easy step-by-step instructions. I am here to help teach you how to make mouthwatering recipes without spending hours in the kitchen. Read more about Kathleen here.