Prosciutto & Gruyere Quiche with Hash Brown Crust
As an Amazon Associate, I earn from qualifying purchases. Please read my disclosure policy.
Prosciutto & Gruyere Quiche with a hash brown crust is filled with creamy eggs, Gruyère cheese, caramelized leeks, peppers, artichoke hearts, mushrooms and prosciutto. A real crowd pleaser and gluten free to boot.
Perfect for Sunday Brunch, Easter, Mother's Day, a Ladies Luncheon or whenever you feel like it. In fact, if you are a lazy day breakfast maker, you should try our Blueberry Crumb Cake, or Overnight Cinnamon Crunch French Toast or these incredible Mock Eggs Benedict.
Want it vegetarian? Simply omit the meat! Easily customize this potato crust quiche to your tastes!
A DELICIOUS HASH BROWN CRUST QUICHE
Looking for a tasty, go to Quiche that both women and MEN will love!? Why is it that they say "real men don't eat Quiche" anyway? I'm married to a real man, a "guy's, guy", a manly man and he likes Quiche!
I'm thinking if you load it with good stuff and bake it in a hash brown crust you might just have some manly converts. This is a mash-up of my favorite Quiche by the Pioneer Woman and an old recipe I've had for years with a hash brown crust.
How to Make a Hash Brown Crust
Start by making your crust, prep a 9 inch spring form pan. Cut out a parchment circle (maybe even slightly larger than bottom of pan, created a "well") for the bottom and spray with non-stick oil, then cut out a couple of strips and line the edges of the pan with parchment as well. If you spray the pan before hand it will help the parchment stick.
BAKING TIP | You can make this in a deep dish pie pan, you might need to reduce some of your ingredients depending on the size of the pan.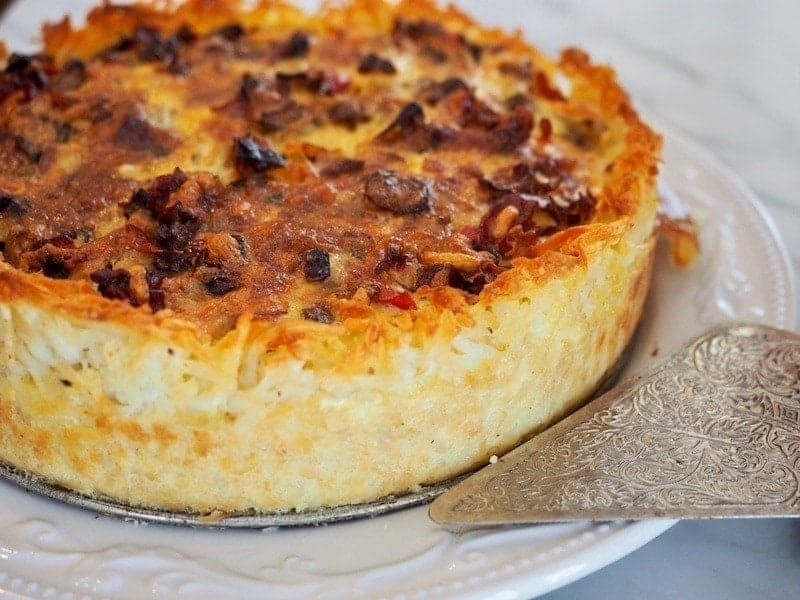 HOW TO BAKE A QUICHE IN A SPRINGFORM PAN
Make sure your springform pan is put together tightly and correctly. Test it before putting anything in the pan by adding a cup of water to the pan.
If it leaks, reposition the bottom and the sides and try again, if it still leaks, you might try lining the pan as a whole with parchment paper, it won't be as pretty, but at least it won't leak eggs all over your oven, stove and floor…like mine did one time!
Squeeze the water out of the thawed hash browns, in a large bowl; mix egg, melted butter, onion powder, garlic powder, salt and pepper. Press into springform pan until it comes evenly up the sides.
Bake hash brown crust in preheated 400° oven for 25-35 minutes until golden brown and crispy.
While the crust is baking, prep your filling ingredients.
HOW TO MAKE PROSCIUTTO (HAM) QUICHE
In a large skillet (I love Lodge Cast Iron pans!), over medium heat, sauté your leeks, mushrooms, and peppers in butter until golden and caramelized, about 10 minutes.
Have you ever cooked with prosciutto before? It's so yummy, crispy and very delicious, you might like this Pizza Rustica, which is also a prosciutto and egg dish!
Once caramelized, scoot to one side and toss in your diced prosciutto ham and crisp fry it quickly, tossing it to crisp all sides.
In a large mixing bowl, combine eggs, cream, salt and pepper and whisk or blend until smooth and combined.
Next stir in your veggie mixture into the egg mixture. Add your chopped artichoke hearts (marinated or brined, either is fine, just drain first) and last, add your cheese, the mixture will be very thick.
Just to be on the safe side, place your springform pan crust onto a parchment lined cookie sheet, then pour your mixture into the center of the cooked crust.
Immediately place into 400º oven and cook for 45-65 minutes until set in the center and golden on top. If it starts getting too brown, cover the top loosely with foil. Allow to sit for 10 minutes before serving. Slice and serve warm.
CAN I MAKE MY QUICHE AHEAD OF TIME?
Go for it!! You can make this the day before, keep in pan and refrigerate after cooling completely on counter. Cover loosely with foil and heat until warm in 325° oven, about 30 minutes.
QUICHE INGREDIENT ADD-IN OPTIONS
Add fresh chopped spinach
Stir 2 tablespoons pesto into mixture before baking
Use crisp bacon, sliced or cubed ham instead of prosciutto
Replace Gruyère with Swiss, Sharp Cheddar, Smoked or regular Gouda cheeses (or a mixture)
Half & half in place of cream
Omit meat for a vegetarian quiche
TO GO WITH YOUR QUICHE TRY THESE FRESH RECIPES!
DON'T FORGET TO PIN TO YOUR FAVORITE BREAKFAST AND BRUNCH BOARD!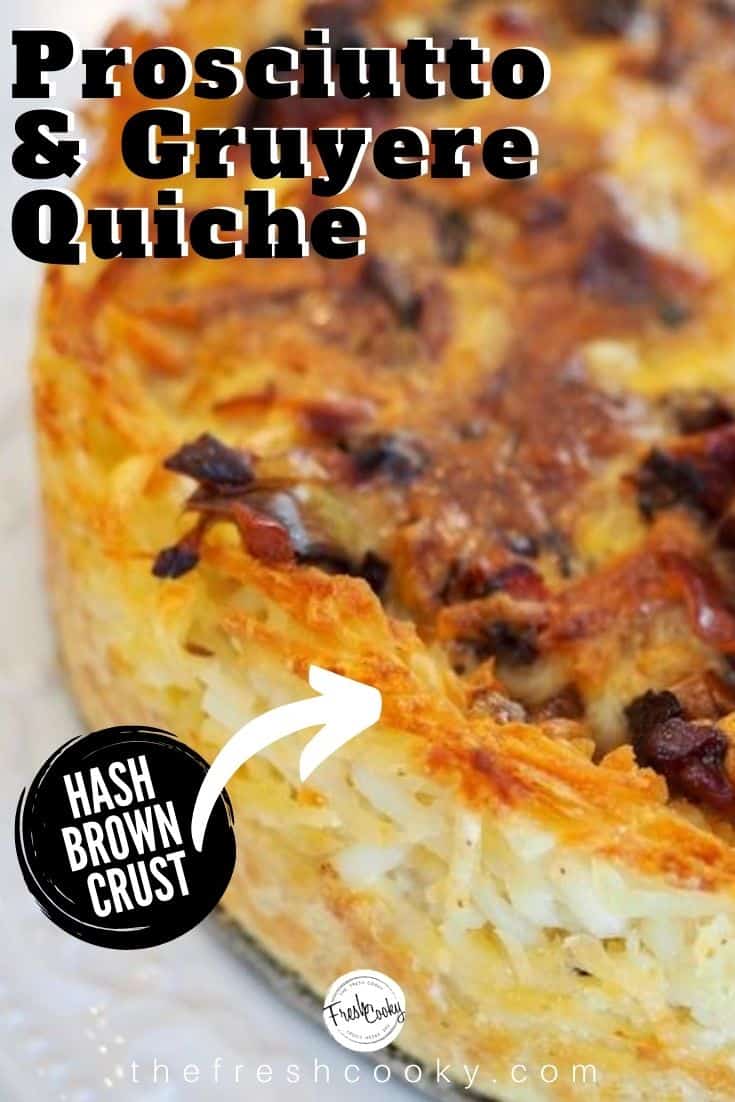 Like this recipe?
Don't forget to give it a ⭐️⭐️⭐️⭐️⭐️ star rating and comment below the recipe!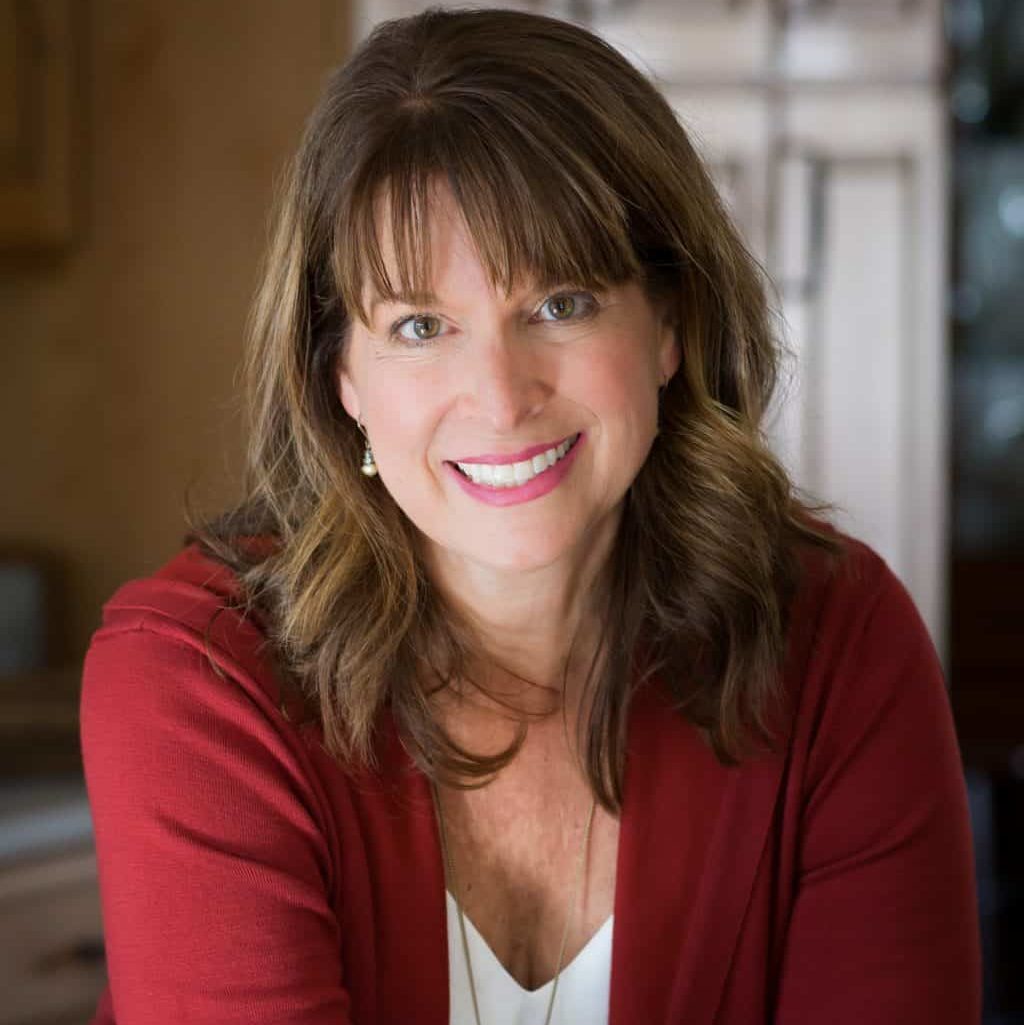 About Kathleen Pope
Recipe Innovator | Food Photographer | Food Writer
Hi, I'm Kathleen Pope. Here at The Fresh Cooky you will find easy, mostly from-scratch, trusted recipes for all occasions. From speedy dinners to tasty desserts, with easy step-by-step instructions. I am here to help teach you how to make mouthwatering recipes without spending hours in the kitchen. Read more about Kathleen here.