Healthy Chocolate Chip Banana Bread
As an Amazon Associate, I earn from qualifying purchases. Please read my disclosure policy.
Sweetened with maple syrup and ripe bananas, this recipe for Healthy Chocolate Chip Banana Bread cuts the refined sugar and gluten without losing the delicious homemade taste. The recipe makes either bread or healthy banana chocolate chip muffins and is gluten free, dairy free, grain free, and Paleo friendly.
There are thousands of banana bread recipes out there, but most of them use refined sugars and ingredients that are not overly healthy. With this recipe, I focused on replacing the sugar and gluten with healthy organic ingredients. I'm happy to report that the results were fantastic!
If you're looking for more gluten free, refined sugar free, and dairy free, check out Healthy Strawberry Bread for a high protein boost. Or try this amazing Banana Bread.
If you love Chocolate Chip Banana Bread as much as I do, you may want to check out a few other variations I have made in the past like Banana Nutella Bread, Banana Graham Oat Bread, and Healthy Banana Streusel Muffins. I adore all three!
Primary Ingredients
Bananas | You want your bananas to be very brown and ripe.
Pure Maple Syrup | I use pure maple syrup as a sweetener. It's healthier and tastes great!
GF Oat Flour | Bob's Red Mill Gluten Free Oat Flour, is my fave. It's already blended and has a great consistency. Or you can blend your own in a blender until fine, measure after you blend.
Almond Flour | The almond flour and oat flour blend make this recipe perfect, every time.
Cocoa Powder | my favorite is this one, organic, rich and clean.
Dark Chocolate Chips | Chocolate Chip Banana Bread would not be the same without the chips! Dark chocolate has less sugar than it's milk chocolate counterpart. Or choose dairy and sugar free to keep it even cleaner.
How to make Healthy Chocolate Chip Banana Bread:
Preheat the oven to 350 degrees F. Line a loaf pan with parchment paper. Spray the pan (and parchment) with spray oil to prevent sticking.
Using a spoon or spatula gently add in almond flour, oat flour, cocoa powder, baking soda and salt and finally fold in chocolate chips.
Spoon batter into prepared pan, smoothing with a spatula. Sprinkle 2 tablespoons of chocolate chips on top.
Bake on the middle rack for about 50-65 minutes or until a tester comes out clean. (A few crumbs clinging are okay.) Start checking for doneness at 45 minutes. Loaf should spring back when touched lightly.
Allow bread to sit on a wire rack, cooling for 10 minutes. Then using the parchment paper, lift it out, and cool completely on a wire rack.
If desired sprinkle with some flaky sea salt or monkfruit sugar just before serving.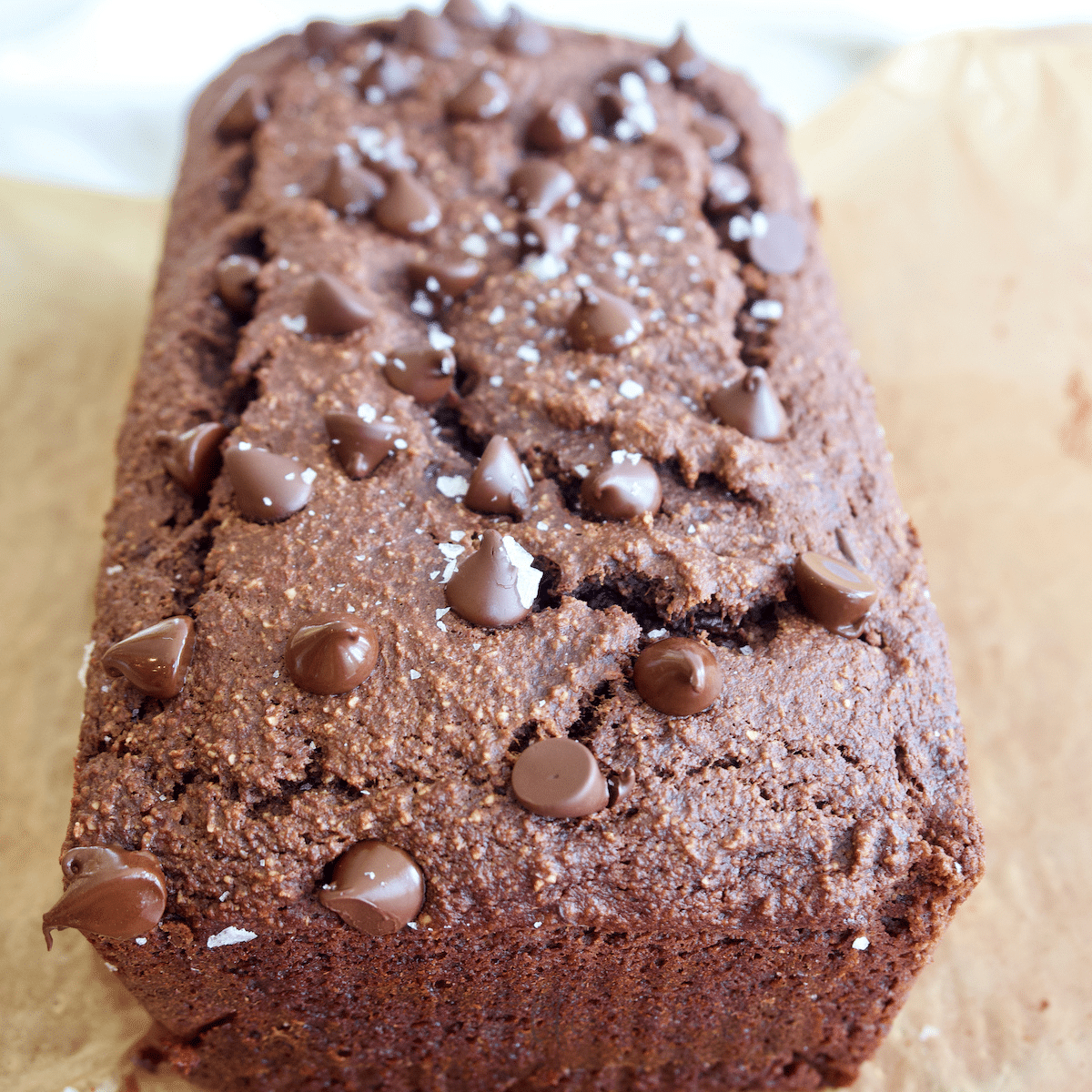 How to make Healthy Banana Chocolate Chip Muffins from this recipe:
This batter makes 14 to 16 regular size muffins. Or you can make 12 regular sized muffins, and 12 mini muffins. (Mini-muffins are great for popping into school lunches!)
Insert cupcake liner into muffin tin and fill ⅔ full with batter. Bake regular sized muffins at 350 degrees for 20-25 minutes until the tops spring back lightly when touched.
Bake Mini Chocolate Banana Bread Muffins for about 15-20 minutes, until the tops spring back lightly when touched. Sprinkle with a little Monkfruit sugar or flaky sea salt.
Variations
Nut Fans | Add chopped walnut, pecans or almonds would be delicious in this bread, about ⅓ of a cup.
Try Zucchini | To cut more sugar, reduce the banana count by one banana. Add 1 cup of shredded zucchini, that has been drained on paper towels for about 20 minutes.
Add More Protein | Add a scoop (or two) of a good vanilla or chocolate protein powder or collagen protein. *Make sure your protein is not whey based if making dairy free.
VEGAN | If you are vegan, make a flaxseed egg replacement by grinding a tablespoon of flaxseed and adding it to three tablespoons of water. Aquafaba is also a good choice.
NUTELLA | If you don't mind a little extra sugar, serve with a little nutella spread.
High Altitude Instructions
For High Altitude: Increase oven temperature to 375 degrees. Start checking your bread at 45 minutes. It will likely be done sooner than the full hour. No other changes necessrary.
TFC PRO Tips
TIME | Banana breads are always better the next day. If you can wait, after your bread cools, wrap tightly in plastic wrap, and then dive in the next day.
STORAGE | Keep bread well sealed on the countertop for about 3 days. Then transfer to the fridge or freezer. Your bread will keep in the fridge for up to 10 days. This recipe freezes well if wrapped tightly in plastic wrap, and then in a freezer baggie, for about 3 months. Thaw at room temperature or freeze individual slices.
RIPE BANANAS | All banana breads are great with very ripe bananas. To get this ripeness there are several options. The easiest is to buy bananas and wait a week until they turn brown enough. OR if you need your bananas to ripen quickly, you can bake bananas at 300 degrees for about 30 minutes, until the skins are browned.
Frequently Asked Questions
Is a slice of banana bread good for you?
Banana bread has so many variations. Most of the variations use refined sugars and gluten. However, if you want to make a healthy banana bread, replace those refined sugar ingredients with healthier ones like maple syrup and oat flour.
How long should banana bread cool before cutting?
Banana bread should be fully cooled before cutting for the best results. I allow for ten minutes of cooling in the pan and ten minutes of cooling on the rack.
Is banana good for weight loss?
Bananas are like most foods, they have good and bad properties. Replacing refined sugars with bananas will definitely help with weight loss. However, all food needs to be portioned and calorie counted if you are trying to lose weight.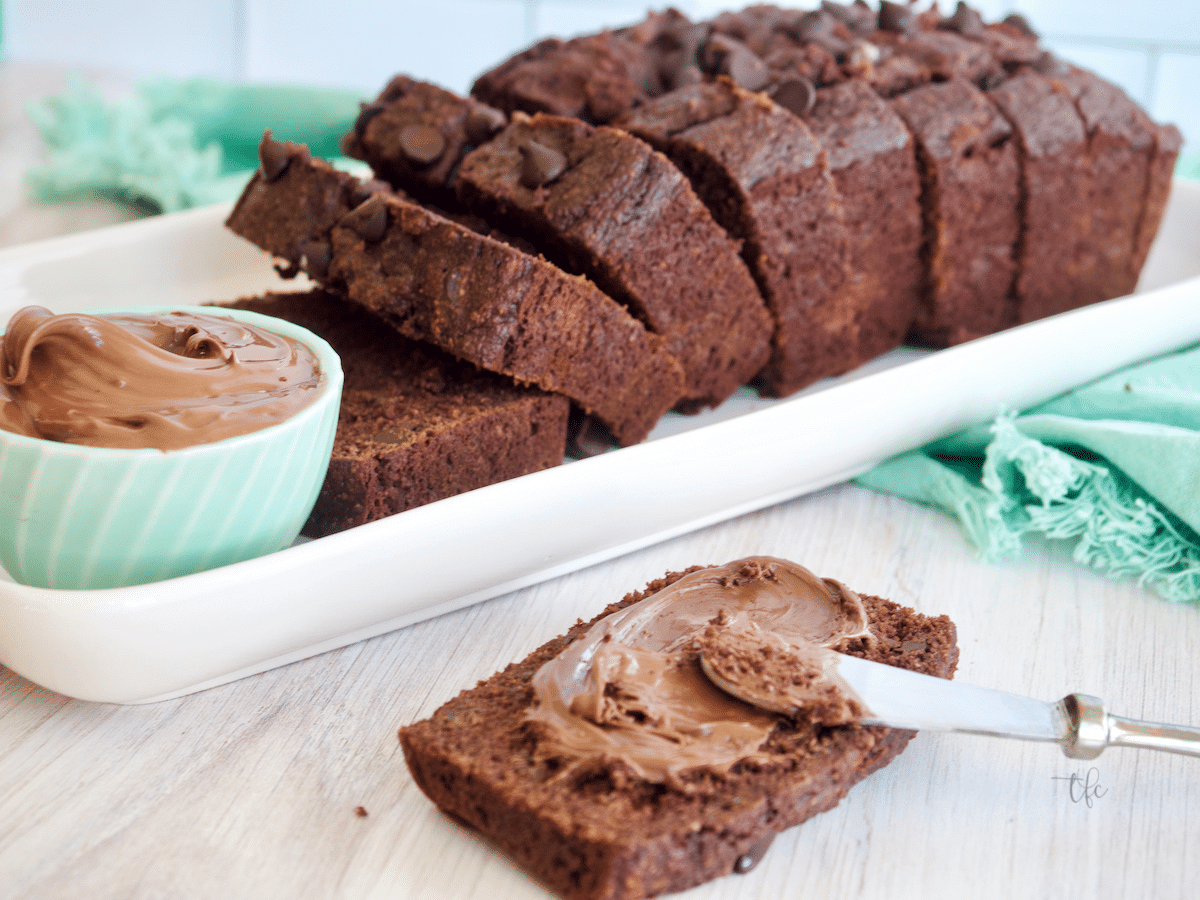 Recommended Equipment
Storage
Keep bread well sealed on countertop for 3 days, then transfer to fridge or freezer. Will keep in fridge up to 10 days. Freezes well if wrapped tightly in plastic wrap, then in a freezer baggie, for about 3 months. Thaw at room temperature or freeze individual slices.
I hope you loved this recipe, you might also enjoy my gluten free, dairy free, Protein Breakfast Cookies!
TFC Pro Tip
If you want a bakery style quick bread, as soon as quick bread/muffins come out of the oven, place 3-5 chocolate chips on top of each muffin and a handful sprinkled on top of the loaf. The heat will melt them to the baked goods.
Like this recipe?
Don't forget to give it a ⭐️⭐️⭐️⭐️⭐️ star rating and comment below the recipe!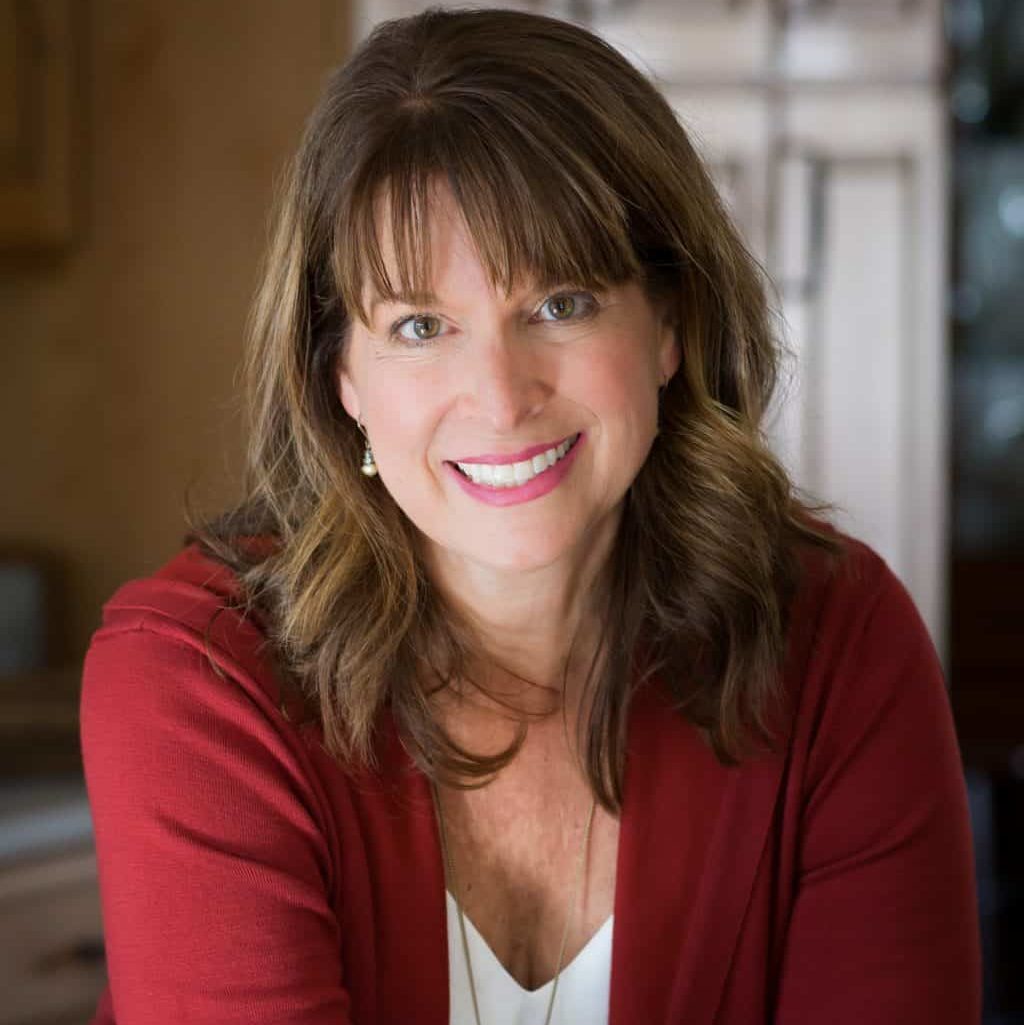 About Kathleen Pope
Recipe Innovator | Food Photographer | Food Writer
Hi, I'm Kathleen Pope. Here at The Fresh Cooky you will find easy, mostly from-scratch, trusted recipes for all occasions. From speedy dinners to tasty desserts, with easy step-by-step instructions. I am here to help teach you how to make mouthwatering recipes without spending hours in the kitchen. Read more about Kathleen here.