Italian Pizza Rustica Recipe (Easter Pie)
As an Amazon Associate, I earn from qualifying purchases. Please read my disclosure policy.
A traditional Italian Pizza Rustica is like a pastry, pie, and pizza all baked into one flaky, flavorful, tender dish. And it's amazing! Stuffed with cheese, eggs, meats, and vegetables. A traditional Italian Easter pie.
This savory Italian pie popped up in Napoli hundreds of years ago. Since then, Pizza Rustica has traditionally been enjoyed by Italians on Easter Sunday as an end of Lent celebration. Many families will make it on Good Friday and then eat it on Easter Saturday or Sunday.
Love all things pizza? Then please try my Chicago Deep Dish Pizza (not difficult), 10 Minute Pizza Dough and my rich and robust Pizza Sauce.
Why is it called Pizza Rustica?
A rustic, country style stuffed pizza. Honestly, it goes by many names, including Easter Pie and Pizza Gain or Pizza Gaina, and Pizza Ripiena literally translated to stuffed pizza. Kind of like these dreamy calzones.
In Neapolitan dialect it's called Pizza Chiena, in Italian Pizza Piena which quite literally means – stuffed pizza or full pizza. No matter what you call this rustic pizza, think savory pie, filled with rich meats and cheeses wrapped well in an egg based pizza dough. Kitchenaid stand mixer.
What's in an Italian Easter Pie aka Rustica Pizza?
Well, a whole bunch of whatever you want! I use a hand-picked selection of Mediterranean cheeses, meats, and veggies.
But, you can completely customize your Rustica pizza with any veggies and meats that you like, I provide lots of ideas in the variations section below. Bottom line, this is like a double crusted, meaty, cheesy quiche that will serve a crowd and keep them full.
Check out my favorite holiday recipes for Easter Brunch:
Why You Will Love This Pizza Rustica!
Filled to the brim with delicious Italian meats and cheeses
Totally customizable – let your creativity shine!
Great for breakfast, lunch, or dinner
Freezes well and reheats even better – great leftover potential!
Simple Ingredients
The full recipe, tips and measurements are in the printable recipe card at the end of the post.
Pie Crust Recipe (may be made a day or two ahead of time)
All-Purpose Flour | I used organic unbleached all-purpose flour
Butter | Use real butter, really cold. I cut mine into cubes, then pop in the freezer while prepping the rest of the ingredients.
Eggs | Eggs are what makes this pizza dough crust sturdy enough to hold the filling
Fresh Tip
The crust may be made a day or two ahead of time, wrapped well and refrigerated.
It may also be frozen, up to 3 months. Place in fridge overnight to thaw.
Rustica Filling Ingredients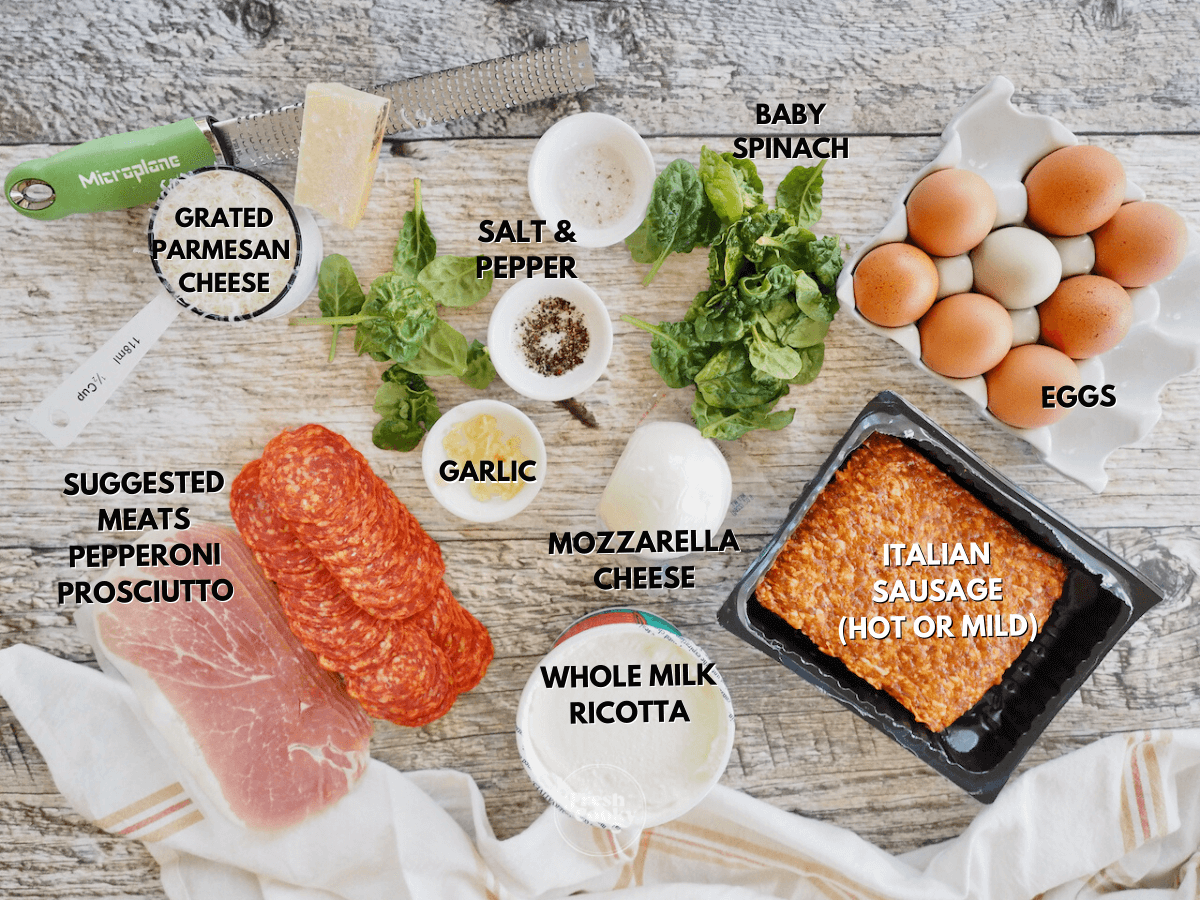 Italian Sausage | Hot or mild, this is the bones of the pizza dish
Garlic & Spinach are added to the Italian sausage near the end, then everything is cooled
Eggs | I use large eggs, Happy Eggs are my favorite!
Ricotta Cheese | I used whole milk ricotta, which I recommend, not the time for watery!
Parmesan & Mozzarella Cheese | Fresh shredded is best as it doesn't contain fillers, also try Pecorino Romano cheese
Prosciutto | Diced and crisped up in the oven quickly
Pepperoni | diced, I used uncured
Optional Additions
Replace any of the meats above one for one with salami, soppressata, ham or any other meat you'd like to add. I also love adding provolone cheese when I have it!
And if you can find it, authentic pizza rustica recipe includes Basket cheese. Typically found at Italian Deli's near Easter, the soft cheese is very mild in flavor and gets its name as it is made and formed inside of a plastic basket.
How to Make Pizza Rustica
Step 1 | Make the Crust Dough
Combine the flour and salt with a whisk. Add in the cold chunks of butter and then cut in with a pastry cutter — if you don't have a pastry cutter, use two knives or just your hands. This recipe doesn't lend itself as much to using a food processor, but if yours is big enough, give it a try. Continue until the mixture appears crumbly, with coarse crumbs throughout.
Lightly beat the eggs and add them to the flour. Gently stir into the mixture and knead with your hands until it all comes together, sprinkling in a tablespoon of iced water at a time to help the dough form, it is important that it is cold water.
Split the dough into two pieces, one ⅔ and the other ⅓ of the dough. Flatten each into a disc, wrap with plastic wrap separately, and refrigerate for at least an hour or up to 2 days, may also be frozen.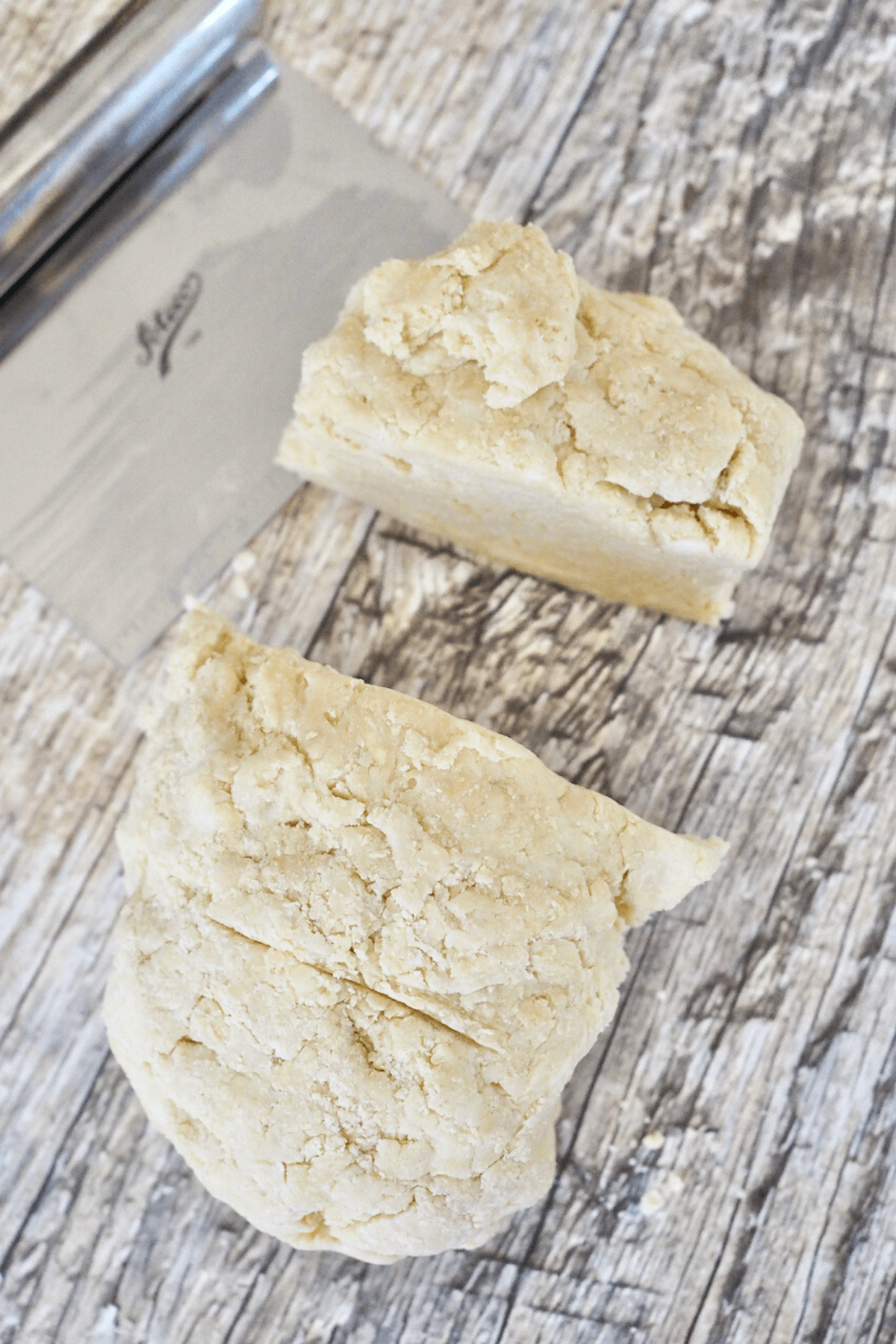 Step 2 | Make the Filling
Coat your skillet with a little olive oil and heat on medium-high. Add Italian sausage and break apart while cooking until browned. Throw in the garlic and spinach and stir. When the spinach wilts, remove from the heat and allow to cool, I put mine in a bowl and place in the fridge for about an hour.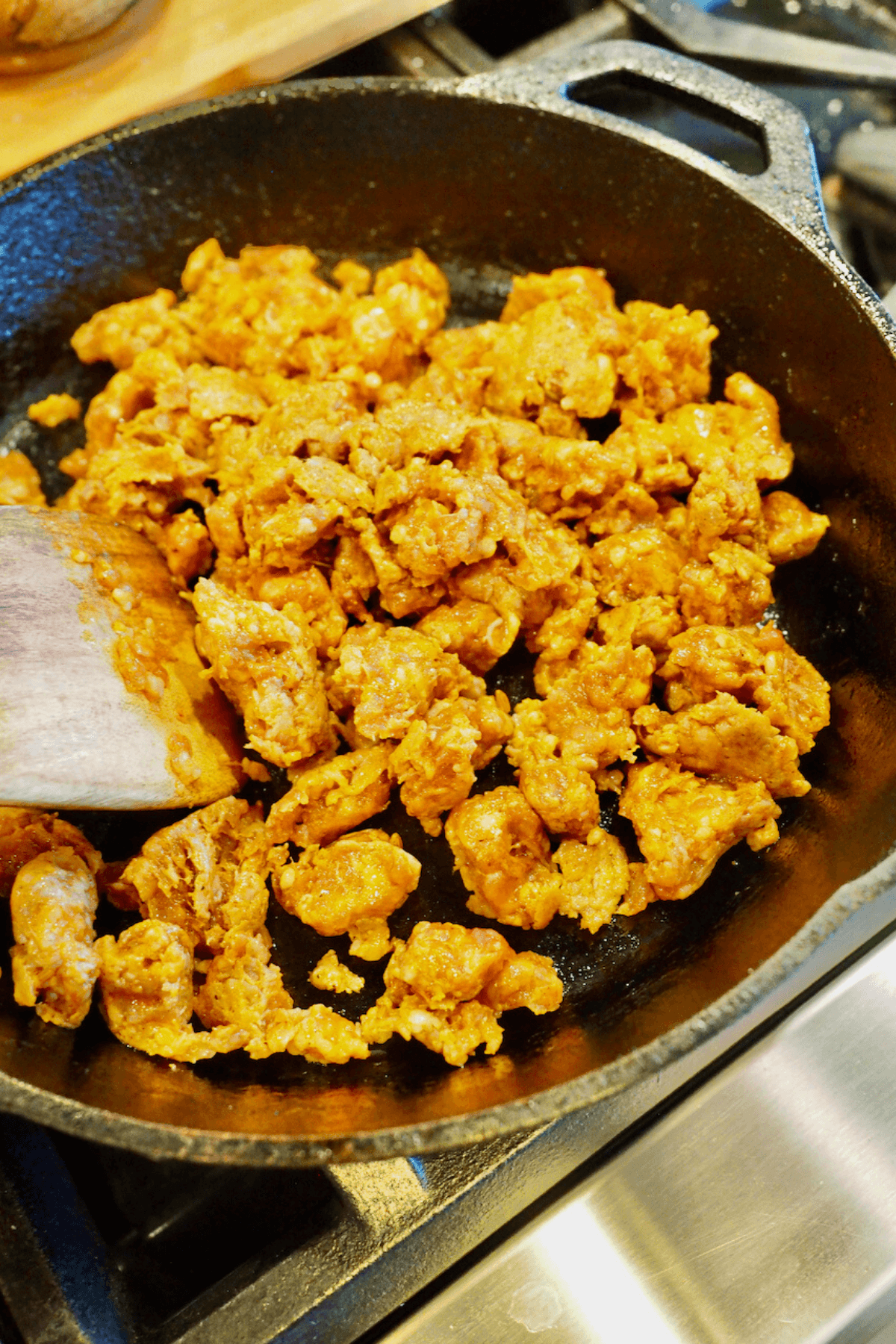 Step 3 | Roll out the pizza dough crust
Take out the larger piece of dough and lay at room temperature for 5-15 minutes. Using a rolling pin, roll into a 16" circle on a floured surface.
Lay in the pan forming the bottom crust, pressing against the sides of the pan and allowing a portion to hang over the edges. I place my dough in the freezer while I prepare the ricotta pie ingredients.
Step 4 | Finish the filling and pour into pie
Beat the eggs in a large bowl and add all of the cheeses. Add the meats, cooled sausage and veggies, and mix everything together. Sprinkle in salt and pepper.
While your oven preheats to 375 degrees, prep your 8" springform pan (or any deep pie or baking dish) with a generous coating of cooking spray.
Roll the remaining dough disc into a smaller 12" circle. Cover with a damp paper towel while you pour the filling into the pan. Lay the smaller dough circle over top of the filling, again allowing some of the dough to hang over the sides.
Trim the excess dough using a sharp knife to 1" and pinch the two crusts together. Tuck the edges back into the pan.
Carefully cut a couple of slits into the top of the pie. Whisk together a beaten egg with a tablespoon of water for an egg wash and brush it over the top crust. Bake the Easter pie for 1 hour and 15-25 minutes, or until the top browns. If it browns too quickly, cover with a loose piece of aluminum foil.
When done, let sit on a wire rack for at least 15 minutes before removing from the pan and serving.
Variations & Substitutions
Meats: Salami or soppressata are two more great choices. Looking for ways to use leftover ham and leftover turkey? This is a great place for them!
Cheeses: Go full Mediterranean and throw in feta or goat cheese for extra tang and flavor, try provolone and for sure try traditional Basket cheese, if you can find it!
Vegetables: This is where you can really change things up. Red bell peppers, mushrooms, onions, asparagus, broccoli…you get the idea!
How to use any extra pie dough
Have some extra pie dough? Growing up we begged my mom to make too much pie dough, she would then roll out the extra dough, spread it with butter, sprinkle with cinnamon and sugar and bake into a surprise additional pastry treat! Give it a try! Bake at 375 for 15-20 minutes until golden and crispy.
Top Tips
If you plan on freezing and reheating, freeze in portions, then reheat what you need!
This could easily be a vegetarian recipe — you don't need to use meat at all! Use "meaty" veggies like mushrooms to give real substance to the dish.
It's very important to use cold dough for the pie crust. It's the secret to getting a super flaky crust that really takes the dish to another level!
Frequently Asked Questions
Is pizza rustica served hot or cold?
Hot, right out of the oven! Of course, that's the preference — what's better than melty cheese and warm veggies?
However, I also love to eat leftover Easter pie right out of the fridge, making it great for Easter Monday leftovers.
When should you eat pizza rustica?
Traditionally, this "Easter pie" is served on Easter Sunday, but certainly may be enjoyed on Easter Saturday. It's also generally served during brunch or as an appetizer.

That being said, its ingredients make it a certified all-day dish, perfect for Easter dinner! It can be a filling, meaty quiche for breakfast, lunch, or dinner.
What is the best way to reheat pizza rustica?
Just pop it right back into the oven at 375 degrees. Give it 10 to 20 minutes, or until it's warmed through the center.
Equipment Needed
8″ Springform Pan | this is smaller than you think, if you use larger, just roll the dough out a bit thinner and larger to easily fit the pan.
Rolling Pin and Dough Scraper | I have an antique rolling pin that I love, but I have wanted to try these rolling pins with measured guides on them.
Healthy Twist
My healthy twist on this recipe, is using organic fresh cream butter, organic flour, organic eggs, uncured meats and all-natural and organic cheeses.
Storage
Cool completely before refrigerating. Refrigerate up to 7 days well wrapped in plastic wrap.
Freezing | Freeze Rustica pizza after cooling completely, wrap well in plastic wrap and then in aluminum foil.
Reheating | From the fridge, place in 375 degree oven for about 15 minutes until warmed through. From frozen, thaw in fridge overnight, then reheat for 15-25 minutes.
More Easter Recipes
Love it? Pin It!
If you love this pizza rustic recipe (Easter Pie), be sure to rate and comment below the recipe!
Like this recipe?
Don't forget to give it a ⭐️⭐️⭐️⭐️⭐️ star rating and comment below the recipe!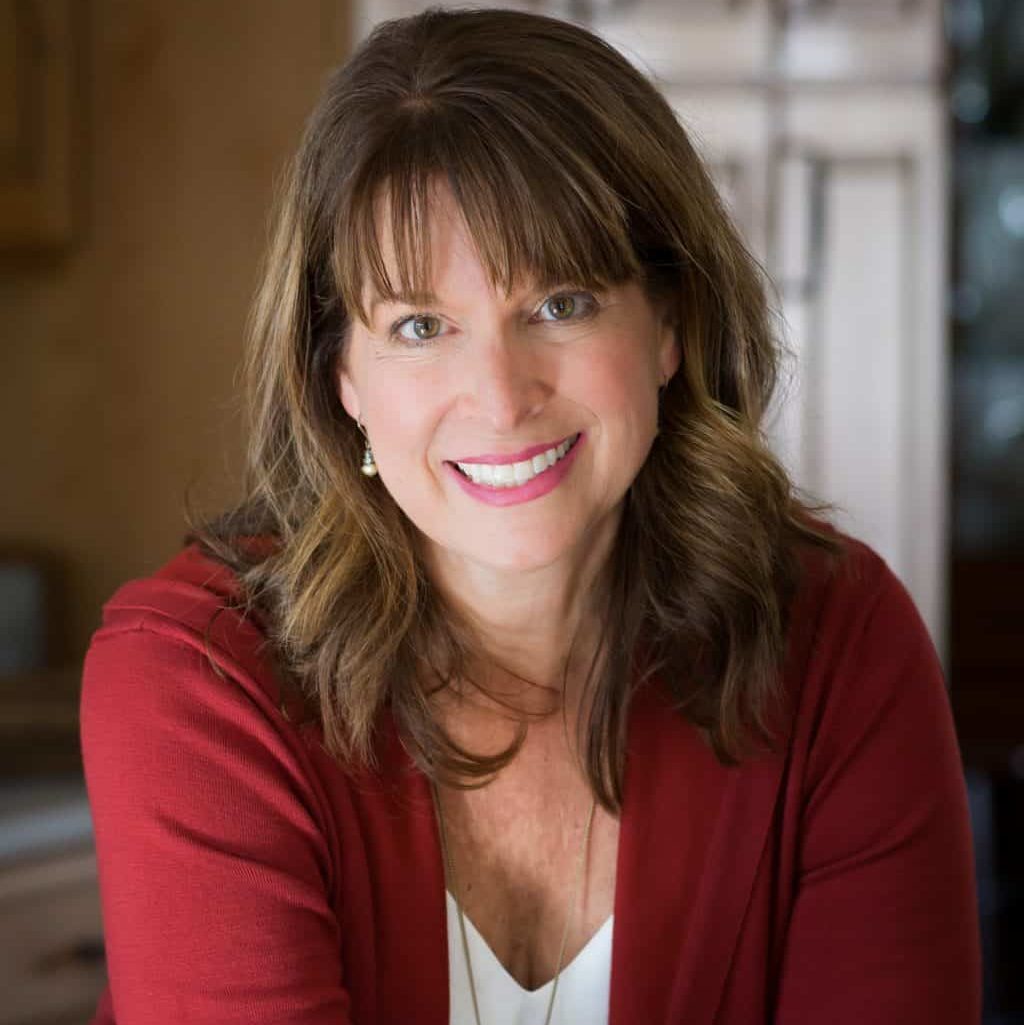 About Kathleen Pope
Recipe Innovator | Food Photographer | Food Writer
Hi, I'm Kathleen Pope. Here at The Fresh Cooky you will find easy, mostly from-scratch, trusted recipes for all occasions. From speedy dinners to tasty desserts, with easy step-by-step instructions. I am here to help teach you how to make mouthwatering recipes without spending hours in the kitchen. Read more about Kathleen here.