Easy Strawberry Shortcake Cookie Recipe
As an Amazon Associate, I earn from qualifying purchases. Please read my disclosure policy.
This strawberry season, you are going to fall in love with this Old-Fashioned Strawberry Shortcake recipe from scratch. Really it's a strawberry shortcake cookie recipe, buttery, rich, nutty; this will become your new favorite homemade shortcake recipe.
I have never been a fan of shortcake, love me some juicy strawberries and whipped cream, but most of the shortcake recipes I have had are dry, crumbly, rather tasteless or at best a sweet biscuit. Not this easy recipe, this is like a traditional strawberry shortcake in a delicious cookie recipe form!
Who loves using fruit in desserts, me too! Try these reader favorites: Best Banana Bread, Best Strawberry Rhubarb Crumb Bars, Apple Crumb Cake and Blueberry Crumble Cake.
My favorite recipe for Homemade Shortcake
I was at book club and my friend Misti made these strawberry shortcake bars! At first, I was like, sure, I'll have a small slice, but one bite told me this recipe was a different kind of shortcake!
Goodbye dry, crumbly, tasteless shortcake biscuits or store bought sponge cake; hello, rich, buttery, old-fashioned strawberry shortcake cookie recipe! Perfect for Easter, Mother's day, spring brunch or summer desserts!
Simple Ingredients Old-Fashioned Strawberry Shortcake from scratch
A few simple ingredients, that I can almost guarantee you will have in your pantry and fridge, except maybe the fresh strawberries: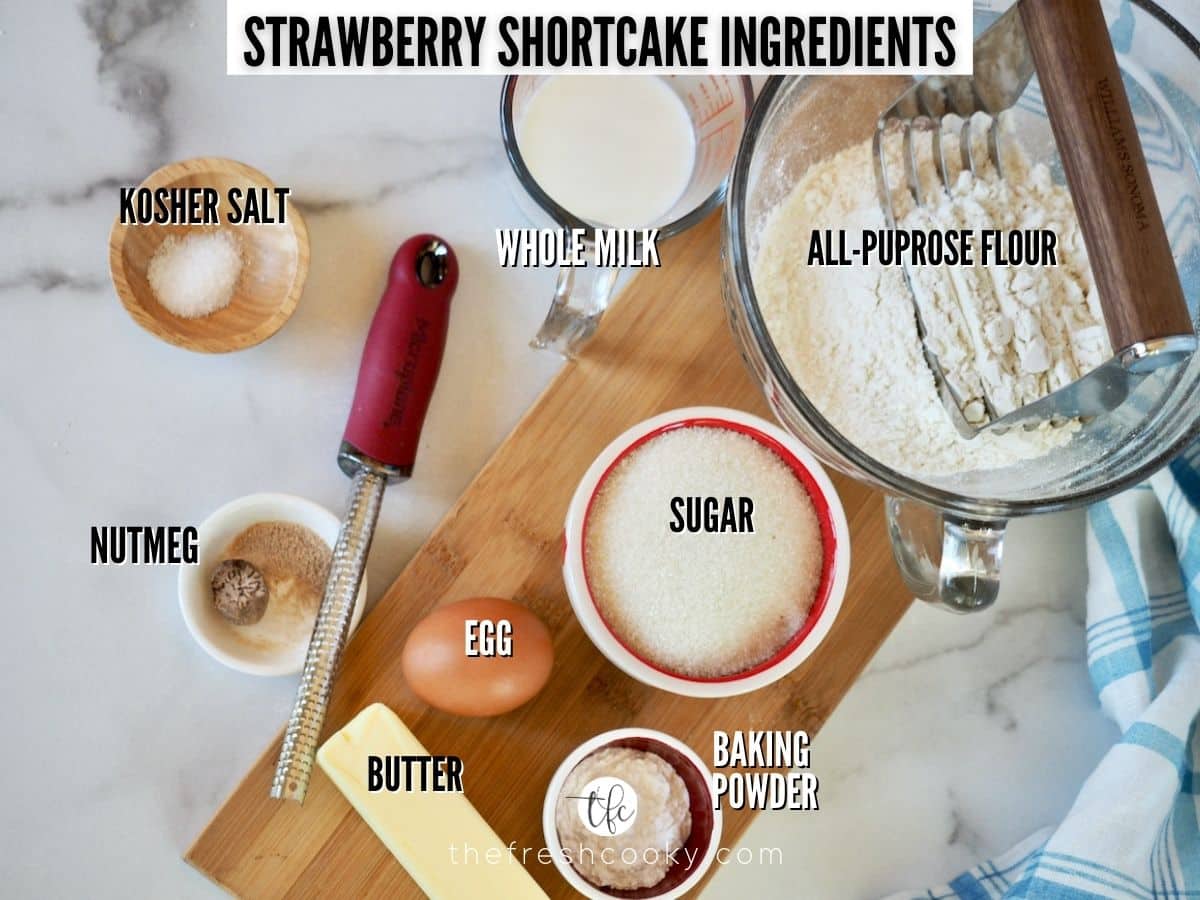 ALL-PURPOSE FLOUR | I always use organic, unbleached all-purpose flour for my baked goods, unless otherwise specified.
GRANULATED SUGAR | I used organic pure cane sugar, it's a bit more coarse, but I love the caramel notes it lends to baked goods.
BAKING POWDER | provides the lift needed to elevate this to shortcake cake, I bake with no aluminum baking powder.
KOSHER SALT | just a touch, brings out the buttery sweetness
BUTTER | the real deal, all cream dairy butter, if it's soft coming out of the fridge it's not real butter.
EGG | Adds richness, along with provides leavening for the strawberry shortcake cake! I use large eggs in most of my recipes.
MILK | I used organic whole milk, I haven't tested with lesser fat %, let me know if you try it!
FRESH STRAWBERRIES | kind of a must for Strawberry shortcake!
WHIPPED CREAM | Optional, but lends to a delicious strawberries and cream tasting dessert.
Why you'll Love Strawberry Shortcake Cake
NOT TYPICAL | I love that this old-fashioned strawberry shortcake recipe is a little sweeter than typical shortcake, but not too sweet, I reduced the sugar slightly.
NUTMEG | the secret ingredient, this fresh nutty spice enhances the simple and basic cake ingredients.
EASY | I am all about making recipes easier, because you make this in a cake pan, takes using a medium cookie scoop or pastry cutter out of the equation, just bake, slice and serve, cookie form.
CHEWY | This old-fashioned shortcake is chewy, a bit cookie like, which to me pairs well with fresh chopped strawberries, sopping up the juices well.
How to make Homemade Shortcake from Scratch
Since this is made in a round cake pan, I think of this as more of a strawberry shortcake cake, make it in a square pan for strawberry cookies or bars. Preheat oven to 450 degrees F and grease a 9 or 8″ baking pan, or line with parchment paper.
Sift dry ingredients; flour, sugar, baking powder, salt and fresh grated nutmeg in a large bowl.
Using a pastry blender, food processor (do not to over mix) or two knives or even your hands, cut in butter into small pieces until mixture resembles coarse crumbs.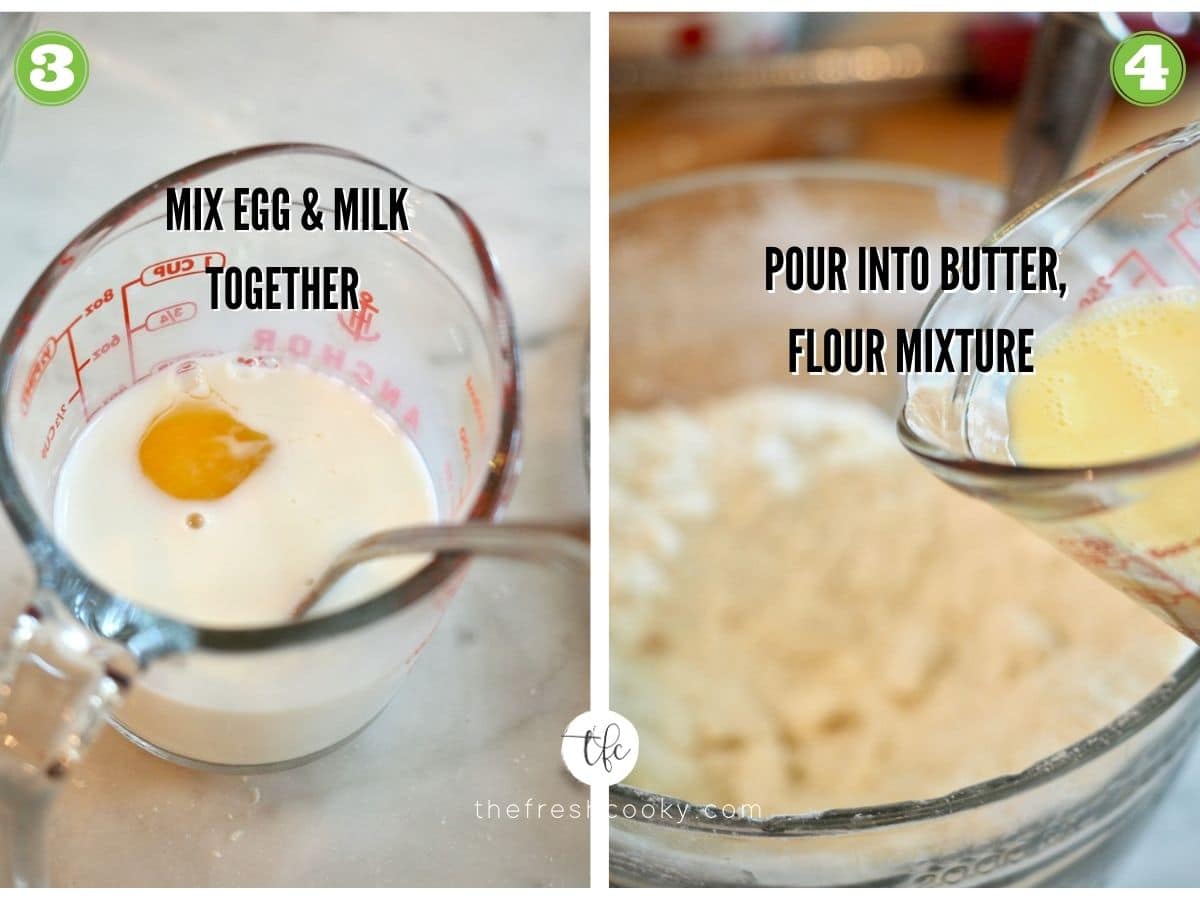 In a small bowl beat egg and milk together.
Using a fork, gently stir into flour mixture, just until blended.
Spread shortcake batter, pressing with your fingers evenly into prepared baking pan. This is not a pourable cake batter, more like a sugar cookie dough.
Bake in preheated oven about 15 minutes for 8″ pan, 15-18 for 9″ pan. Cool in pan for 10 minutes before removing to wire cooling rack to cool completely.
Pro Tip
Baking at a higher temperature yields a crisp golden brown top and a gooey center. If you prefer a more typical shortcake texture, then reduce the temp to 350 degrees and bake longer, test around 20 minutes.
The original recipe is from All Recipes and has lots of comments about baking times, I've given you my tips below.
Make a Strawberry Shortcake Bar Cookies or Slab Cake
If you do not want to fuss with making individual mini strawberry shortcake desserts, then I suggest you keep your cake in whatever sized pan you chose, cool completely (very important) and then do the following:
Spread a layer of macerated strawberries over the top of the shortcake, then spread a layer of whipped cream, garnishing with a few whole strawberries OR
Flip it around and place the whipped cream on the shortcake first, then top with the strawberry mixture garnishing with fresh mint. Slice into fresh strawberry shortcake cookies and serve, refrigerate until ready to serve.
Storage
Once cooled, store the shortcake in airtight container on counter up to 5 days. Or wrap well in plastic wrap and place in ziplock baggie and freeze up to 3 months.
Fresh Tips
PAN OPTIONS • Our motto at TFC is "Make It Yours"! So try different pans, an 8×8 or 9×9 square, 7×11, press into a tart pan or maybe 1 ½ x the recipe and make it in a 9×13 inch pan.
FRESH BERRIES • Nobody said you HAVE to use strawberries, try fresh cherries, blueberries, raspberries, blackberries, heck even mango, apricots, peaches, nectarines and pineapple would be amazing! Of course you'd have to change the name. 🙂
SPICE SWAP • Not a fan of nutmeg? Try a teaspoon of cinnamon, vanilla extract or leave out the spice all together.
MAKE AHEAD • Make and cool the shortcake completely, then refrigerate (up to 7 days) or freeze (up to 3 months) in air tight container. In fact, many times shortbread recipes like this are better the next day.
CHEWY PREFERENCE • My directions will yield one crispy outside, but chewy, gooey inside old-fashioned shortcake, see below baking if you want a different result:
Crisp outside, chewy, gooey inside: Bake at 450 degrees F for 15 minutes.
Cakier inside: Bake at 350-375 degrees F for 20-30 minutes.
Frequently Asked Questions
What is a shortcake?
The name "shortcake" is derived from an old English cooking definition of short which referred to something made crisp with the addition of fat. Traditional shortcake is made from butter, making it crisp, dense without a big rise.
What is the difference between shortcake and shortbread?
While similar; they are different. The difference is that shortcake is made with milk, egg and a chemical leavening agent such as baking powder, which gives it a different texture.

Shortbread (one of my most popular recipes!) is made with more butter, typically no leavening or liquid, or egg and is more of a cookie than a cake.
How do you cut in butter?
Cutting in is a term used when the desired result is a lighter biscuit style baked good.
To cut in, you cube your butter and use a pastry blender, knives or even your fingers to blend butter into small crumbs, it is not creamed in and typically uses cold butter.
What does maceration mean?
The process of sugar drawing out the liquid in the berries in this case.
How to Assemble Strawberry Shortcake
You can make this cake in a round or square pan, cut into triangles like I did, or into neat squares, then add the following:
Cut fresh strawberries into quarters or smaller chunks. Combine strawberries sprinkle with 1-3 tablespoons of sugar*, tossing to coat (try adding lemon zest from half a lemon too if you'd like). This process is called maceration**. Cover and allow the strawberries to sit on the counter for 20 minutes.
If desired, remove a little bit of strawberries ¼ cup of strawberries and mash with fork or masher, returning to the mixture.
Place slice of shortcake cake on plate or bowl, spoon desired amount of berries over the top, top with whipped cream or vanilla ice cream, serve immediately!
*Many recipes call for a lot more sugar when macerating strawberries; since this shortcake recipe is already sweet, I think a more tart strawberry adds a nice touch. Sweeten to taste.
Gluten and/or Vegan Free Strawberry Shortcake
Gluten-Free Strawberry Shortcake Cookie Recipe | Substitute the all-purpose flour with a good cup-for-cup GF Flour or my favorite variation is using half almond flour (or oat flour) and half Gluten-Free All-purpose flour.
Vegan Strawberry Shortcake Recipe | Try using coconut oil or vegan butter in place of butter and plant based milk in place of whole milk and use a plant based whipped cream, omit the egg all together or use a your favorite vegan egg replacement.
*I have not tried either of the two variations, but believe with the nature of the shortcake it should still turn out fine.
High Altitude Adjustments
No adjustments necessary for high altitude for this recipe.
More great recipes using fresh fruit:
I hope you loved this easy strawberry shortcake cookie recipe, with all of the goodness of strawberry shortcake, delicious fresh strawberry flavor!
Love It? Pin IT!
Like this recipe?
Don't forget to give it a ⭐️⭐️⭐️⭐️⭐️ star rating and comment below the recipe!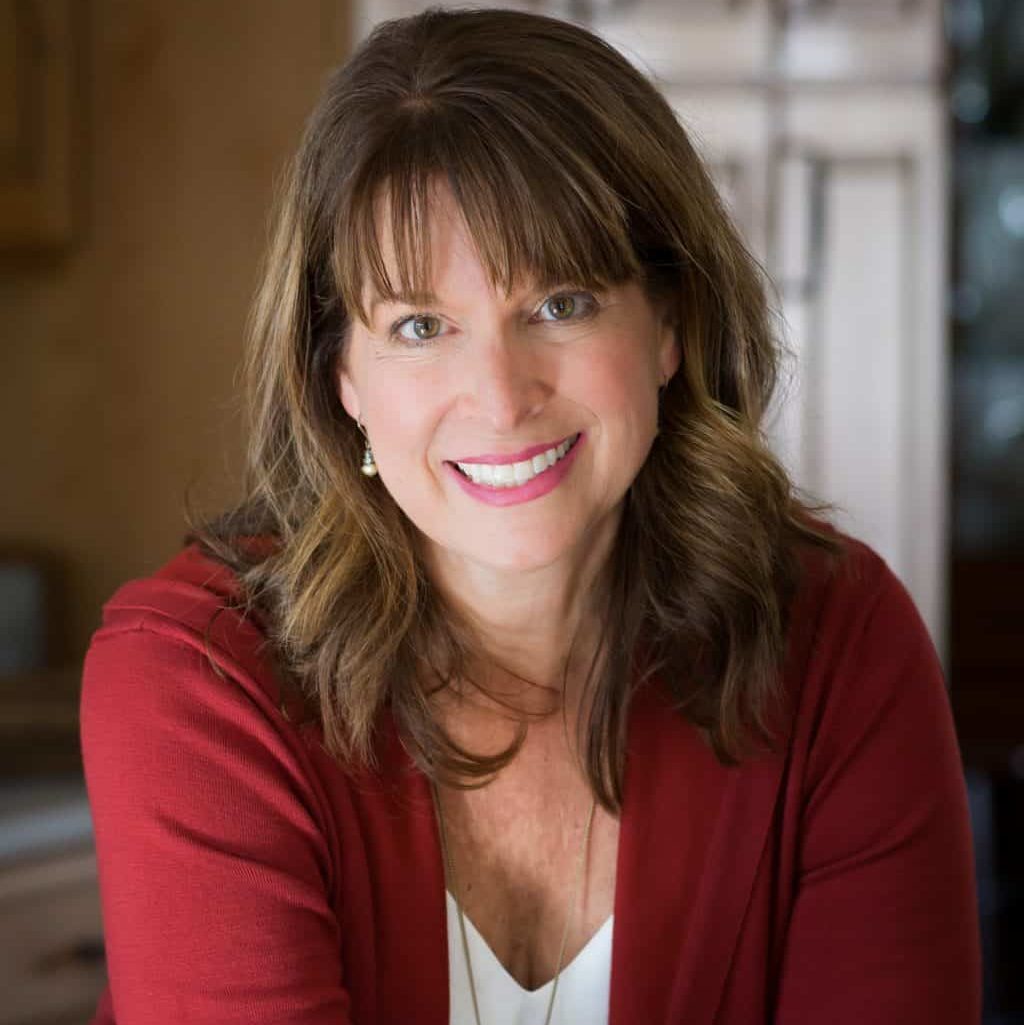 About Kathleen Pope
Recipe Innovator | Food Photographer | Food Writer
Hi, I'm Kathleen Pope. Here at The Fresh Cooky you will find easy, mostly from-scratch, trusted recipes for all occasions. From speedy dinners to tasty desserts, with easy step-by-step instructions. I am here to help teach you how to make mouthwatering recipes without spending hours in the kitchen. Read more about Kathleen here.