Honeybaked Ham Recipe (Copycat)
As an Amazon Associate, I earn from qualifying purchases. Please read my disclosure policy.
Learn how to cook spiral Ham without drying it out, it is easier than you might think. My copycat Honeybaked Ham Recipe is a perfectly moist spiral ham. With a honey sugar crust and most of the work is done in your crock pot.
Spiral sliced hams come pre-sliced for convenience and I would imagine most have tasted the delicious flavors of honeybaked hams, but they are expensive, as in $93 dollars expensive! Pick up a Costco ham which is even less expensive than the supermarkets and you save loads of money AND you get a honey ham that will have people coming back for seconds!
This recipe has me dreaming of creamy and cheesy Potatoes au Gratin (Potatoes Dauphinoise) with sides of Easy Corn Casserole, Classic Green Bean Casserole with Bacon and Roasted Brussel Sprouts with Honey.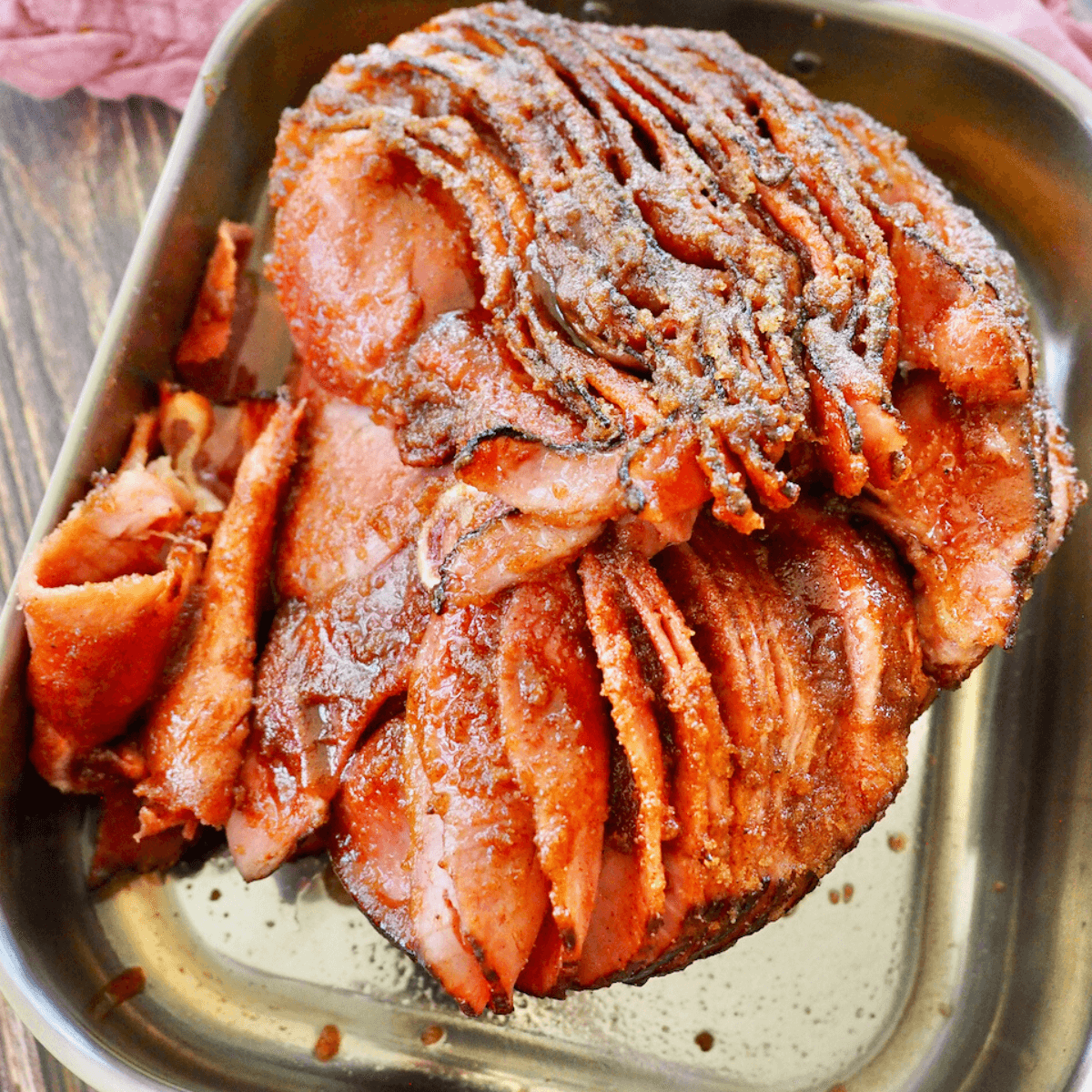 Today I'll show you how to make your own honeybaked ham without drying it out. Picture it, a sweet spicy glaze dripping into the spiral slices coating the entire bone-in ham with deliciousness and an amazing sugary crust!
My family requests ham for every holiday meal, we typically have ham at Thanksgiving, Christmas dinner and for Easter dinner! Just think of the savings on honeybaked ham, times three!
Then after the meal, I will serve up my Award Winning Key Lime Pie, this crazy good no bake Tiramisu, a simple classic Shortbread recipe or try my gluten-free apple pie.
The point is, I love this Honey Glazed Spiral Ham Recipe, and I think you will too! So let's dive into how to cook spiral ham without drying it out!
Why You Will Love this Recipe
Pre-sliced ham | Whether you choose to get a Costco ham, grocery store ham, or a Kirkland Ham, as long as you are cooking a Spiral Ham, you are good!
Never Dry |This honey baked ham recipe is started in the crock pot, making your whole ham even more moist and juicy.
Tried and True | Copycat honey baked ham is a flavor you won't soon forget. Check out the list I have included at the end of this recipe!
Simple Ingredients for Honeybaked Ham
The full recipe and instructions are in the printable recipe card at the end of this post.
Spiral Sliced Ham | Get the bone in sliced ham to make your life much easier! If you buy a boneless ham you might have to spiral slice it yourself and well that's the whole point!
Butter | Butter makes everything better! But in this recipe, the melted butter and honey make the perfect moist, browning glaze!
Honey and Sugar | While the honey is used for the ham honey glaze, the sugar combines with all the fragrant spices to form that iconic candied topping of authentic honey ham.
Seasonings | The seasonings are the best part of this honey ham recipe. The specific seasonings I use are seasoned salt, onion powder, garlic powder, ground cinnamon, ground nutmeg, ground ginger, ground cloves, smoked paprika, and allspice.
Healthy Twist
NOTE | I wouldn't call this honeybaked ham recipe healthy; it's for the holidays, and it's all about balance!
Toss away the glaze packet that comes with the spiral ham; I am always leery of packaged seasonings having hidden MSG, gluten or preservatives.
Seasoned salt adds more flavor dimension to your savory dishes. So, you can use less seasoned salt than regular table salt.
Instructions to Make Honey Glazed Ham
Before you get started, remove the plastic that encases the ham and pour the juices into the bottom of your slow cooker (moist trick!), trim the ham, especially if your ham is larger than 8 pounds. Don't worry; you can still tuck those pieces into the slow cooker.
And be sure to remove any plastic discs from the ham bone and discard the ham glaze mixture packet that comes with the ham. Pat the ham dry with some paper towels.
Bring the ham to room temperature for 30 minutes before placing in the crock pot.
Step 1 | How to cook spiral ham without drying it out
Start with a small bowl and measure in the melted butter and honey. Mix the two and massage the mix into all the cracks and crevices of the precooked ham.
Now you can place ham (and trimmed pieces) into a slow cooker, ensuring your lid will still fit. Hint: I used a 10-pound ham and it fit in my 7-quart crock pot.
Cook covered on LOW 4-5 hours, I don't recommend cooking on HIGH for this recipe as this could dry it out.
Step 2 | Add the Flavor
Once the ham is warmed all the way through*, you will want to get that candied topping ready:
Measure and add the sugar, seasoning salt, and all the other spices in a small bowl to mix.
Then separate that mixture into two bowls, one for the first sprinkle and the other for the final crusty sugar glaze topping.
Rub half of that sugar and spice mix onto the ham.
Fresh Tips
Most hams come precooked, and it's optional to warm them through. If you are worried about it being warmed through, the best way to check the internal temperature is using a meat thermometer, it should read 140 degrees F. However; ham is safe to eat straight from the packaging (make sure it says precooked), it's just nice to eat it warmed.
Step 3 | Make the classic Honeybaked Ham spiced sugar crust
Now it is time to make your own glaze and spice topping crispy and bubbly.
Top Pro Tip | You may skip warming the ham in the crockpot, but make sure you bring the ham out of the fridge for 30 minutes before starting this process. Then jump to Steps 2 -4 3 adding the honey butter glaze and sugar crust.
Use a large shallow roasting pan or baking dish that will hold your ham, line the bottom of the pan with heavy-duty aluminum foil (for easy clean-up), then remove the ham from the crockpot (reserving the juices) and place it in the prepared pan. Place the uncovered ham under the broiler and watch until it is just bubbling.
The higher temperature will burn the sugars, so don't walk away during this step. Then take it out of the oven.
Step 4 | Mix the Glaze
Add the remaining half of the sugar and spice mix to a small saucepan and juices from the ham or water*. Bring it to a boil and remove it from the heat. This part only takes about a minute – and sugar burns! So be sure you stir it often and keep an eye on the pan.
*I like to add a splash of bourbon or whiskey to the glaze, then bring it to a boil. The alcohol will burn off, but you will be left with the delicious flavor!
Pour or brush that glaze mixture all over the top of the ham and return the pan to the oven to broil one more time. And really watch to ensure it gets golden and broiled but does not burn.
Then remove the ham from the oven and allow it to rest 5-10 minutes to lock in all those gorgeous spice flavors and ham juices.
Then you can slice, serve, and enjoy your Honey Glazed Ham Recipe, either warm or cold!
Oven Honey Baked Ham Instructions (No crockpot, no problem!)
Preheat the oven to 275 degrees F and adjust the oven rack to the lower third of the oven.
Then line the roasting pan or large pan with heavy duty aluminum foil for less mess and easy cleanup.
Remove any plastic pieces covering the ham bone, pat ham dry with paper towels and place the ham flat side down in the pan.
Rub or brush the entire ham with honey butter mixture from STEP 1 above, making sure some of the sticky sweet goodness gets between the slices.
Brush the foil with a bit of honey butter as well, and tuck it up around the ham to keep the moisture in. And add a sheet of foil over the top if needed.
Place ham in preheated 275 degree f oven and bake according to your ham size.
Finally, continue making the sugar glaze steps as indicated in STEP 2 through the end of the above instructions.
Note: The ham will take between 15-20 per pound in a 275 F degree oven, which will take about 2 ½ hours.
How much ham per person?
Typically the proper estimate for a ham is about ½ pound per person for a bone-in ham, ⅓ of a pound of ham for boneless hams.
Also keep in mind that when serving a ham there are usually amazing side dishes and decadent desserts. Some will eat more than others, some will eat less! For instance a 10-pound bone-in ham will feed about 20 people.
Variations & Substitutions for your Holiday Ham
Want to make a larger Slow Cooker Spiral Ham? Great idea. If your ham is larger than 8 pounds, you may need to trim it to fit in the pot. Otherwise, you may want to get two spiral-cut hams and borrow the neighbor's slow cooker for the day so you can run two at a time. Or if you have one of these roasters that will work great too! Also great for roasted turkey!
Gluten-free Honey Ham Recipe | According to Celiac.com, Costco ham or Kirkland Spiral Ham is gluten-free. Make sure your spices are all GF and the rest is cake – or honey ham.
No honey? Try using maple syrup instead!
Swap out the all natural cane sugar for a combination of brown sugar and regular sugar.
Recommended Equipment
My Crockpot is similar to this one without the locking lid, very handy when transporting soups and stews!
Shallow Roasting Pan | You don't have to spend an arm and leg on a roasting pan you might only use 2-4 times a year, wait for sales, I bought mine on half off sale at Sur la Table.
Storage Tips
Storing honey baked hams is easy! It is like most proteins.
Cool the meat and place it in an airtight container.
Place in the fridge for 4 or 5 days and munch away.
Chop the meat into cubes and seal in a freezer zippered bag to make Ham, Mac & Cheese Soup later.
Or take the leftover ham and freeze the slices in an airtight container. Then pull out and thaw to make these crazy popular Hammy Sammies!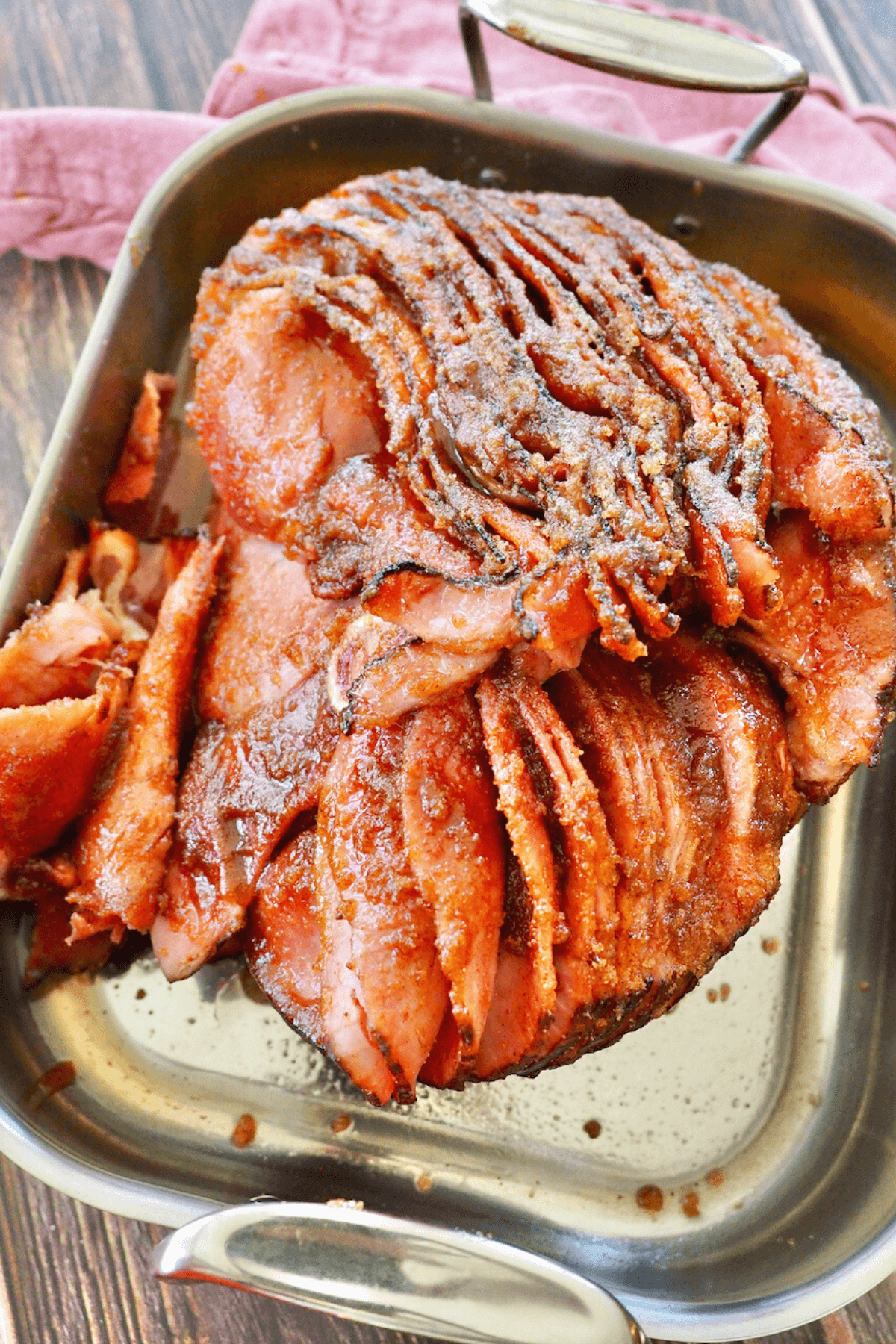 Frequently Asked Questions
Can I use a ham without a bone?
Well, sure, in theory you could use a boneless ham. However; they are typically not spiral cut. Bone-in ham maintains flavor, tastes better, and keeps moisture in the meat and is typically spiral cut.
Will an instant pot work to warm the Honey baked Spiral Ham?
Instant pot Spiral Ham turns out almost the same as a slow cooker or crock pot ham. There are two main differences here to note.
Instant Pots are indeed slow cookers, but they are tall rather than long. So be sure your ham fits and use the slow cooker function for full flavor.
If you are looking for low and slow—slow cookers are perfect. But if you need a quick cook of the cold fresh ham, you will want to make it instant pot spiral ham instead.
What is the Difference between Black Forest ham vs. Honey Ham?
Typically, black forest ham is a German recipe that has been dry-cured with salt and spices. The meat itself takes up to three months of cold smoking to get it just perfect.

Whereas honey ham is a bone-in ham that is honey infused and typically has a sugary crust on the outside layer. And this perfect ham is a copycat of the famous Honey Baked Ham Brand of spiral ham.
How will you enjoy your honeybaked ham?
More Deliciously Fresh Copycat Recipes
Type "copycat" into my Fresh Cooky search bar! Go ahead and try it out; in fact, try them all!
Leftover Ham Recipes
Holiday Meal Side Dish Recipes that Go with Ham
Love It? Pin It!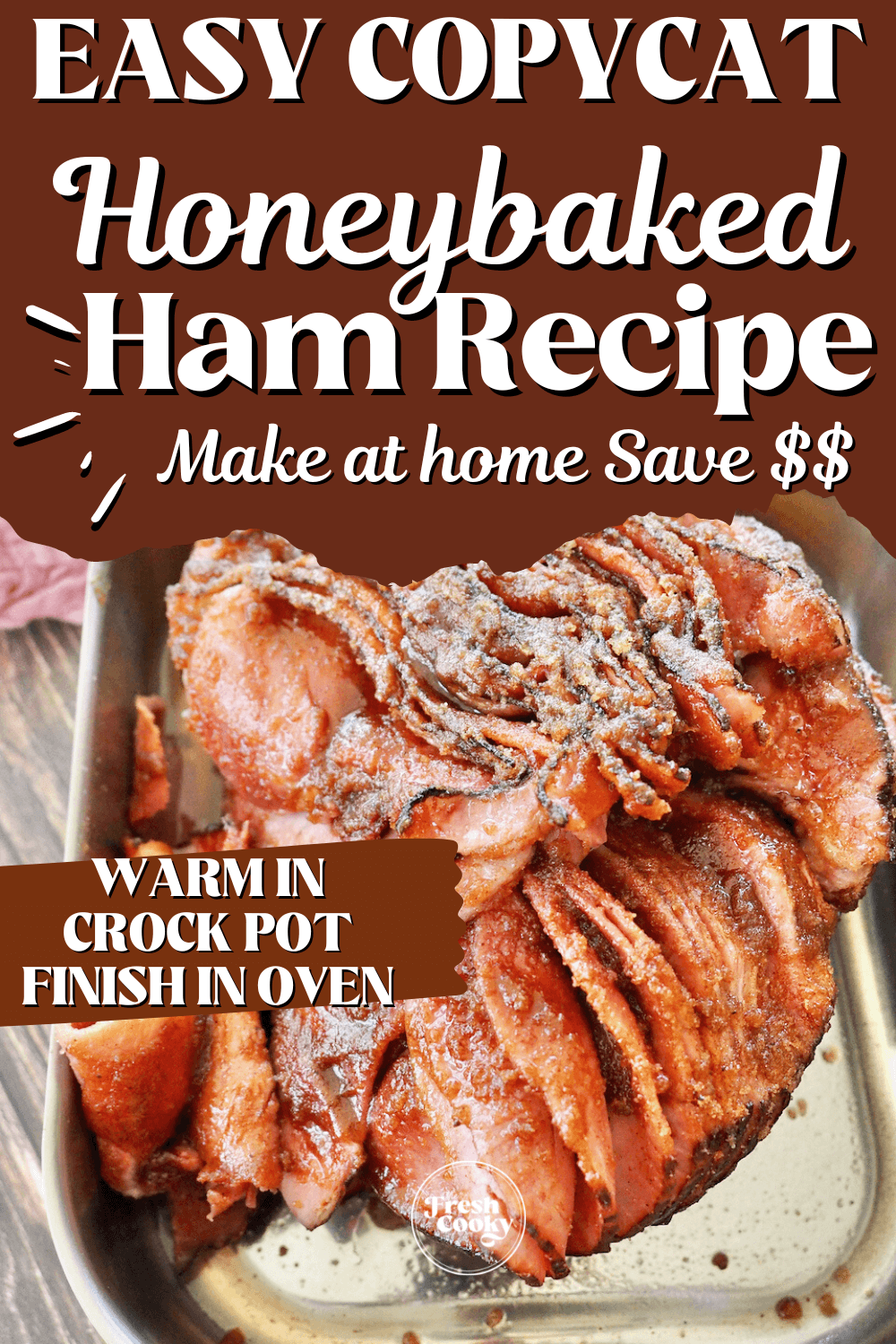 Top Tip
For the best results when broiling any dish—stay attentive. Now, this recipe has the trifecta of burning potential, using sugary mixtures, butter, and the broiler. Pay attention, and it will all go just sweetly!
If you loved this Honeybaked ham recipe, be sure to leave a comment and a 5 start rating below the recipe card.
Like this recipe?
Don't forget to give it a ⭐️⭐️⭐️⭐️⭐️ star rating and comment below the recipe!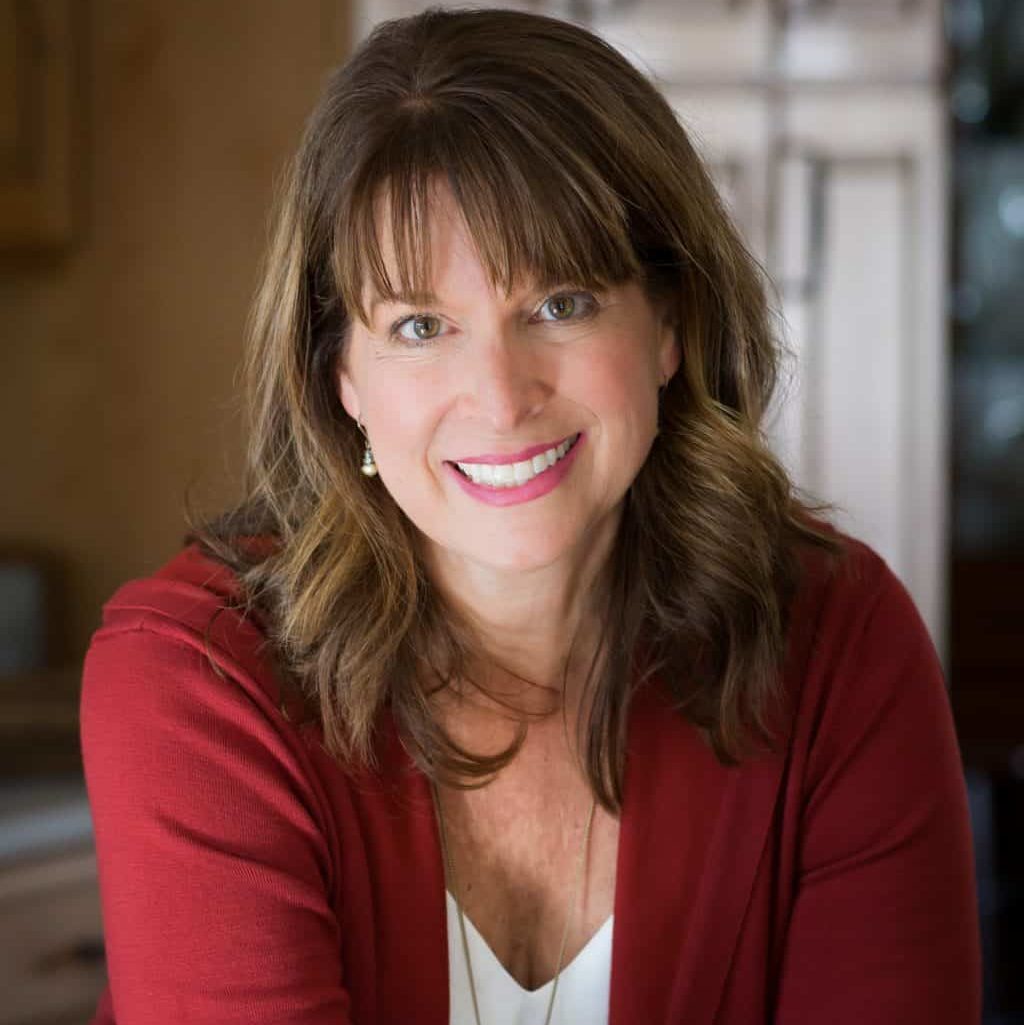 About Kathleen Pope
Recipe Innovator | Food Photographer | Food Writer
Hi, I'm Kathleen Pope. Here at The Fresh Cooky you will find easy, mostly from-scratch, trusted recipes for all occasions. From speedy dinners to tasty desserts, with easy step-by-step instructions. I am here to help teach you how to make mouthwatering recipes without spending hours in the kitchen. Read more about Kathleen here.