As an Amazon Associate, I earn from qualifying purchases. Please read my disclosure policy.
Whether you call these roast beef sliders, sandwiches, or mini grinders, we can all agree they are delicious! Thinly sliced roast beef layered between sweet Hawaiian rolls with cheese, and caramelized onions. A savory butter sauce over the top really makes them stand out and helps them brown in the oven too.
These roast beef sliders on Hawaiian rolls are great for holiday parties, game day, or anytime you want to make a meal in advance. I also love them for a New Year's Eve snack — or the next day when we're all still tired!
If you loved the idea of shaved steak, then you have to also try this Steak Bomb recipe — all I can say is WOW! Also try my Philly Cheesesteak sliders and these breakfast sliders! NOM!
Truly, they're perfect for any celebration (hello Super Bowl) and easy enough for the kids to help! They can get the rolls layered and ready while you cook the onions and whip up the sauce.
Aside from baked slider sandwiches, your guests will love my Easy Instant Pot Buffalo Chicken that explodes with just the right amount of heat! Or, make a tray of Caprese BLTs for a lighter option!
Simple Ingredients for Roast Beef Sliders on Hawaiian Rolls
The full list of ingredients and measurements are in the printable recipe card at the end of this post.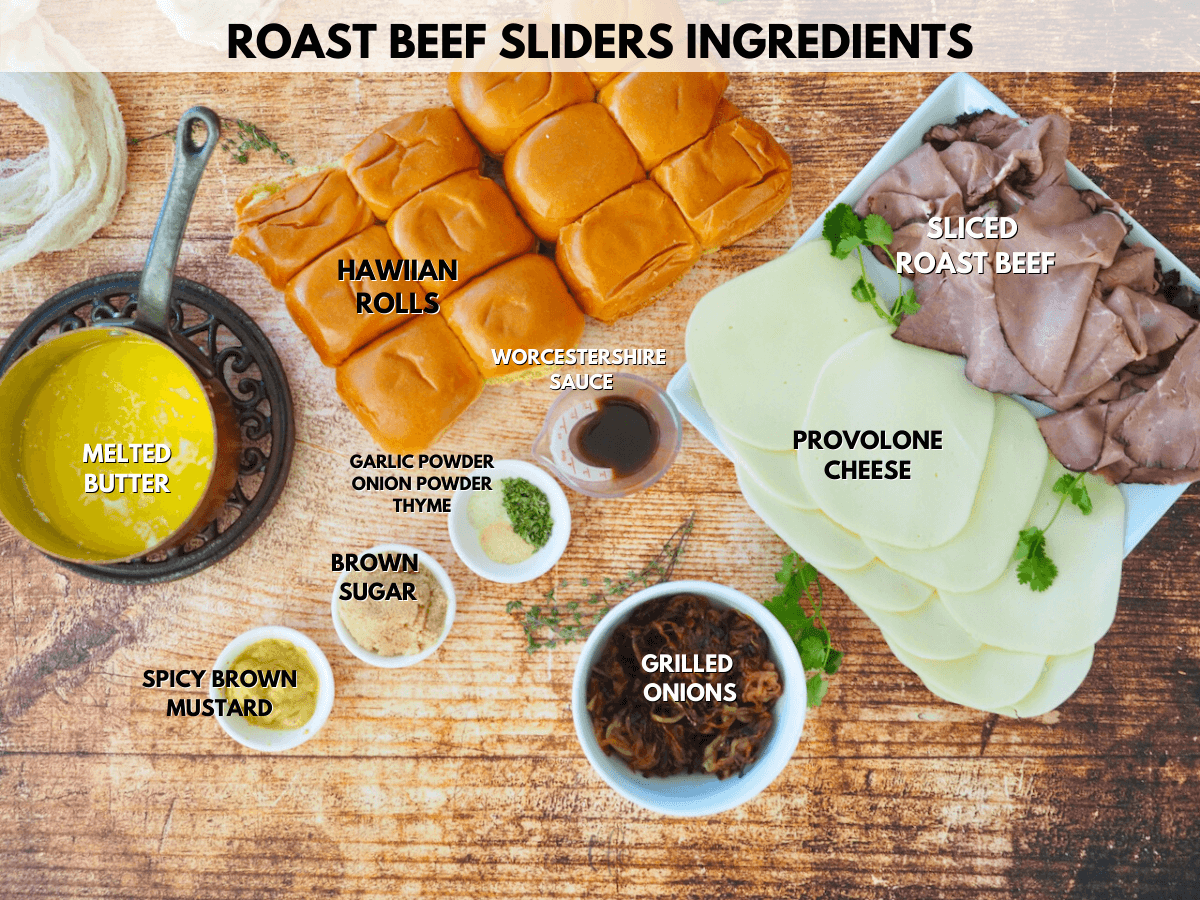 Deli Roast Beef | Ask the deli counter to slice it thin for this recipe, I used sliced prime rib for an upgraded sandwich.
Hawaiian Bread Rolls | These are unique because they're sweeter than other varieties, pairing perfectly with the flavorful sauce.
Cheese | Use a good melting variety like provolone, sharp white cheddar, Havarti, or Swiss.
Onion | Sweet varieties like Vidalia or Walla Walla are best, but you could easily get away with a red onion if needed.
Butter | Melt this down to make the sauce for the roast beef sliders.
Brown Sugar | I use Dixie Crystals Light Brown in this recipe, just a touch adds a hint of sweetness!
Worcestershire Sauce | There is a trace amount of fish in this sauce, so if you have a fish allergy, substitute with dark molasses mixed with vinegar and water.
Spicy Brown Mustard | Earthier than regular mustard, this plays off the Worcestershire and tastes incredible with the meat.
Spices | I use a combo of garlic and onion powder with dried thyme.
Horseradish | This is optional but really goes well with the other flavors.
Instructions
Preheat your oven to 350 degrees F and lightly spray a large baking dish (9×13 pan works great).
Over medium-low heat, slowly caramelize the onions in skillet with butter and oil, stirring often until they are softened and browned, it will take about 15-30 minutes.
Chef's Tip
For thinly sliced, easy to caramelize onions, use a mandolin style slicer for evenly and easily sliced onions. This economical version is my favorite!
Slice the slab of rolls evenly in half lengthwise, leaving them all connected to each other. Nestle the bottom half into your baking dish (9×13), splitting it into rows as needed so it fits.
Layer on the meat, cheese, and onions before covering everything with the tops of the rolls. If you know everyone loves spicy, then spread with a thin layer of horseradish, if not, leave it off and serve on the side.
For the sauce, melt butter in a small saucepan. Add the mustard, brown sugar, Worcestershire, and spices, stirring until the sugar dissolves and the sauce thickens.
Pour the sauce over the Hawaiian rolls, brushing sauce to cover evenly. Cover with aluminum foil and bake for about 25 minutes. Then, remove the foil and bake for another few minutes until the tops are lightly browned.
You can serve these fresh from the oven or allow them to cool slightly first before slicing. Have plenty of mustard and horseradish ready!
Variations & Substitutions
You can also use whole wheat, Brioche rolls or pretzel rolls for this roast beef sliders recipe, just make sure they are nice and soft, a hard roll won't work well in this recipe.
Substitute beet horseradish for regular horseradish, it adds a lovely pop of red (I leave mine on the side so everyone can make theirs as spicy as they like!)
Add some extra tang and crunch with pickles! Include a layer of long pickle slices or bread and butter chips between the cheese and caramelized onions.
Gluten-Free Roast Beef Sliders | Yes! Swap out the Hawaiian bread rolls for gluten-free slider buns.
Don't need as many? Easily cut the recipe in half or double for a crowd!
Poppy Seeds | As you can see there is no poppy seeds for these roast beef sliders on Hawaiian rolls, that's because I am not a fan, black specks stuck in teeth and all. But if you like, you can certainly add a ½ – 1 teaspoon to the buttery sauce or just sprinkle some on top after adding the sauce.
Fresh Tips
Just like my Hammy Sammies, or Turkey Sliders, you may prep this entire dish (sauce included) and refrigerate covered up to 12 hours before baking.
Use a large serrated bread knife to slice your rolls in half. The serrated edge cuts cleanly like a saw without compressing or tearing the rolls.
Frequently Asked Questions
What's the best deli meat for roast beef sliders?
Look for one that is low in sodium and not overly processed. I personally love organic brands like Boar's Head.
How do you keep sliders from getting soggy?
Be sure to slice the rolls evenly so the bottom half isn't too thin. You can also toast the bottom half in the oven for a few minutes before you start assembling everything. But the buttery sauce and the melting cheese caramelizes on the bottom creating a delicious, warm, slightly sweet crust.
Can I make this recipe ahead of time?
Yes, you can assemble these roast beef sandwiches ahead of time including the sauce and pop in the oven before serving.

If you are making roast beef sliders on Hawaiian rolls for a party, you'll need a way to keep them warm! Wrap individual sandwiches in foil and place them in a slow cooker on the warm setting. That way, guests can grab one whenever they would like throughout the event.

For a travel option, place the baking dish in an empty ice chest with a towel underneath. The insulated container will keep your food warm.
So whether you are making these for a quick lunch or dinner, wowing the fans at a tailgating party or you need a great tasting, slam-dunk appetizer. These shaved beef sliders will rock your world.
If you love shaved beef recipes, you are going to love my popular Cheesesteak Sandwiches or this healthier Mongolian Beef.
Storage & Freezing
Store any leftovers in the fridge in an airtight container, rewarm in 300 degree oven for 15-20 minutes.
Can I freeze Roast Beef Sliders?
Hawaiian roll sliders also known as Funeral sandwiches and they are extremely freezer friendly. Make up a bunch ahead of time and pop in the freezer. If frozen, cook in a 300 degree oven for 15-20 minutes longer. I recommend thawing in the fridge before baking, bake as directed.
Recommended Equipment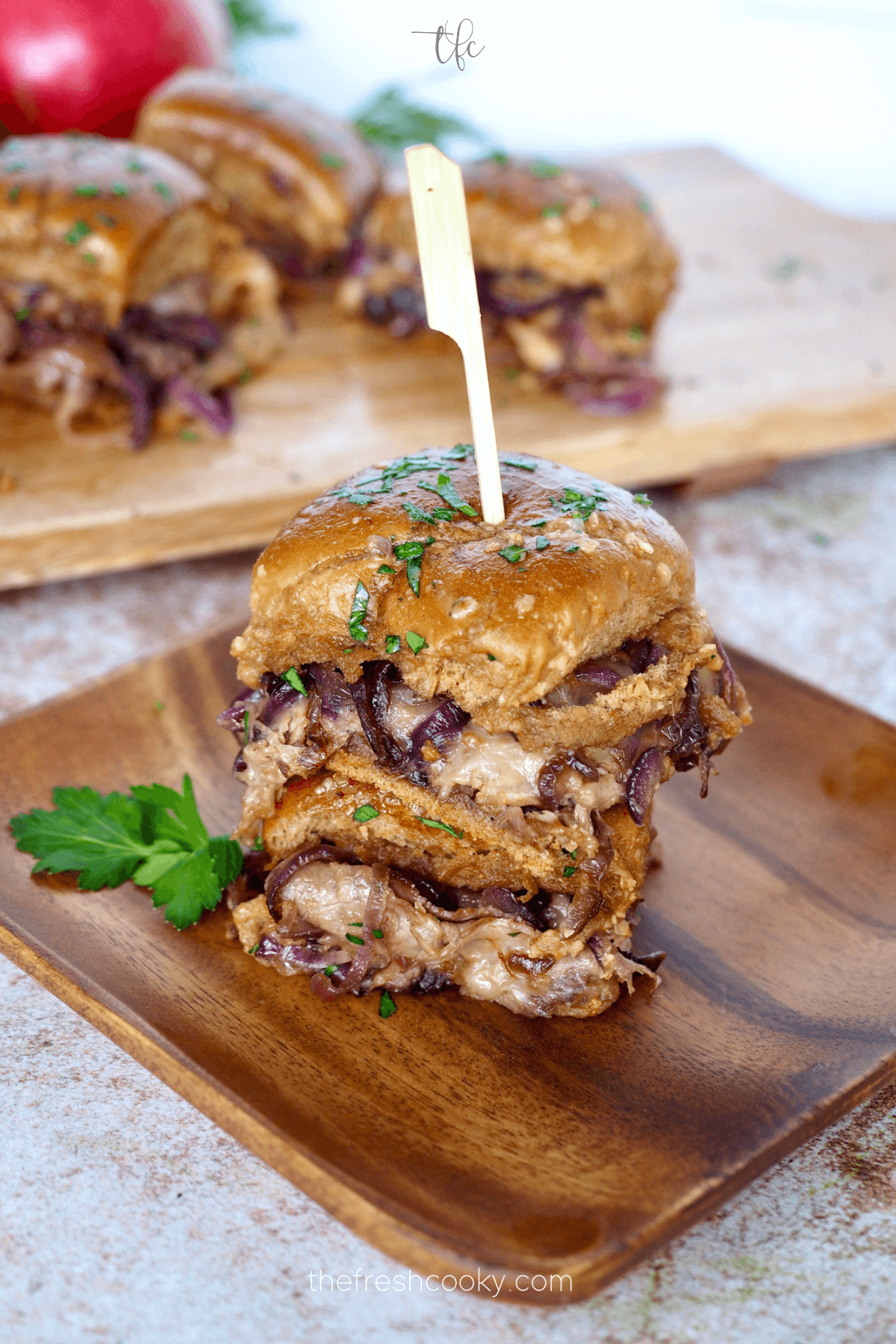 Top Tips
Make Caramelized Onions up to 1-2 days ahead of time, refrigerate until ready to use.
Assemble the sandwiches and bake just before serving for fresh, hot, gooey roast beef sandwiches.
More Great Recipes for Having Friends Over
Like this recipe?
Don't forget to give it a ⭐️⭐️⭐️⭐️⭐️ star rating and comment below the recipe!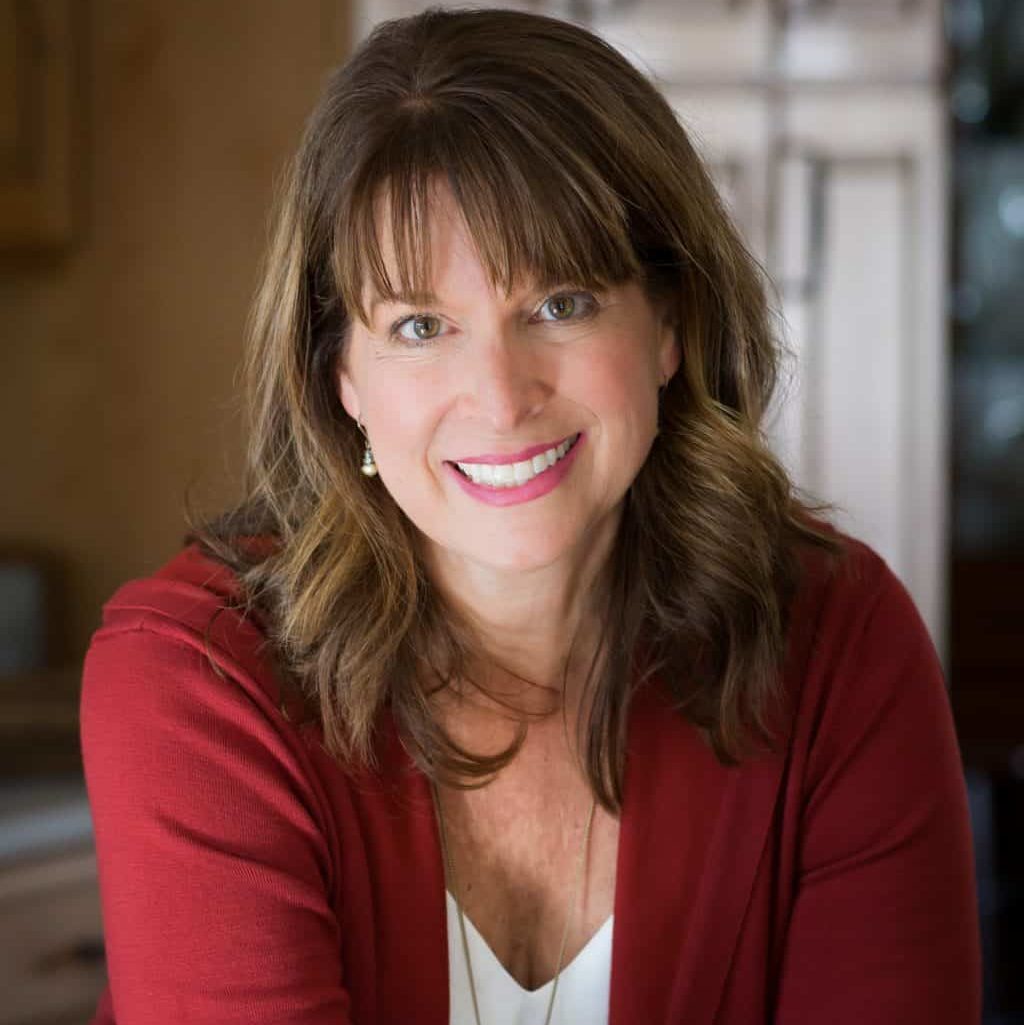 About Kathleen Pope
Recipe Innovator | Food Photographer | Food Writer
Hi, I'm Kathleen Pope. Here at The Fresh Cooky you will find easy, mostly from-scratch, trusted recipes for all occasions. From speedy dinners to tasty desserts, with easy step-by-step instructions. I am here to help teach you how to make mouthwatering recipes without spending hours in the kitchen. Read more about Kathleen here.