Classic Green Bean Casserole Recipe with Bacon
As an Amazon Associate, I earn from qualifying purchases. Please read my disclosure policy.
A homemade green bean casserole recipe with Worcestershire sauce that is packed with creamy and savory from scratch flavors. Made with fresh green beans, crisp bacon and topped with traditional French-fried onions. No canned soups in sight!
Who doesn't love Green Bean Casserole? And this one has a secret ingredient! I know I look forward to this classic side dish every year. While this recipe can be enjoyed during any season, there's just something about the holidays that makes it extra delicious! Still, it's an incredible side for a Sunday dinner with the family.
If you like Classic Green Bean Casserole recipes with bacon you need to try my Southern Green Beans with Bacon, Potatoes au Gratin, and Easy Corn Casserole.
Why You Will Love this Recipe
From Scratch | No canned cream of mushroom soup or canned green beans used in this green bean casserole recipe.
A Holiday Classic | A staple at holiday meals, perfect Thanksgiving dinner or the Christmas table.
Make Ahead | This casserole is perfect for the busy holiday season. You can easily make it ahead of time and pop it in the oven before you serve it up.
Honestly, I am ready for the holiday dinners this year. When recently asked what my favorite holidays are, my reply was simple. My favorite is clearly the one where my family is gathered around the table for a family dinner. As a recent empty nester, I am really looking forward to having everyone gathered together.
I am all about the juicy turkey, stuffing and this amazing gravy, but my family prefers this copycat Honeybaked Ham, Funeral potatoes and this amazing Butterscotch Cinnamon Pie!
Healthy Twists
Optional Topping | You can omit it and save a few carbs and calories.
No Canned Cream Soups | Omitting canned soups removes preservatives and fillers.
Key Ingredients
Ingredients, directions and nutritional information in the printable recipe card at the end of the post.
Green Beans | Use fresh green beans for the most authentic flavor rather than the french cut canned beans.
Bacon | Fry up some diced thick-cut bacon. Choose your favorite brand and bring this green bean casserole to the next level.
Yellow onion & Garlic | Finely diced yellow onion will bring a sweet yet savory flavor to the casserole, garlic adds loads of flavor.
Mushrooms | Meaty chopped mushrooms bring texture and umami flavor to the recipe. You may use shitake, cremini, baby bella, or button mushrooms.
Flour | All-purpose flour thickens the sauce, naturally!
Half and half | Adds the perfect creamy touch to this easy green bean casserole.
Chicken broth | Chicken broth lends a meaty, savory taste to the casserole sauce.
Whole milk | Rich and creamy whole milk works with the half and half to complete the delicious gravy.
Sharp white cheddar cheese | Adds creaminess and the right bite.
Worcestershire sauce | Worcestershire sauce adds a little something special!
Thyme | I suggest using fresh thyme leaves. However, you may also use dried thyme.
Salt and Pepper | Sprinkle a little kosher salt and pepper to your liking.
French fried onions | Use quality French fried onions for a salty and sweet crunch on top of the green bean casserole. I like the Trader Joes' brand, or Sprouts, which has an organic and gluten-free product.
Optional Toppings
Breadcrumbs | Panko breadcrumbs are very crunchy and crisp. If you prefer, you can use normal breadcrumbs or the gluten-free version.
Butter | Tasty butter acts like the glue to hold together the panko breadcrumbs.
Salt and pepper | Add some kosher salt and freshly ground black pepper to taste.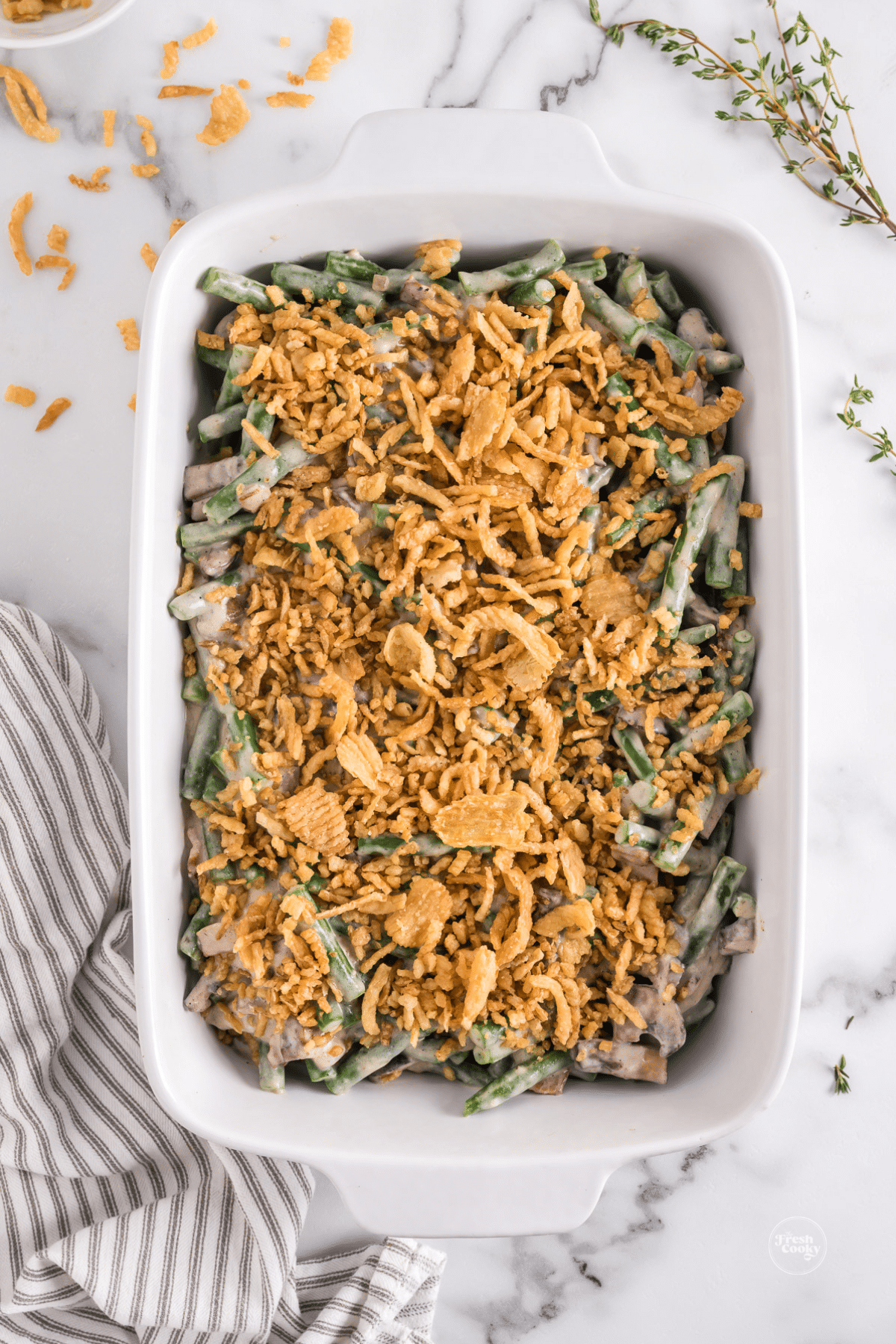 Gluten-Free Easy Green Bean Casserole Recipe
Swap the all-purpose flour for a gluten-free cup-for-cup flour and find gluten-free crispy fried onions or omit it altogether.
Make sure the bacon package you choose is gluten-free as well as the chicken broth.
For the remaining ingredients, double-check to ensure they are gluten-free, particularly the dried seasonings and Worcestershire sauce. In most cases, these products are naturally gluten-free, but it's wise to confirm.
How to Make Green Bean Casserole Recipe with Worcestershire Sauce
Step 1 | Prep the Green Beans and Preheat the Oven.
Start this traditional holiday recipe by preheating the oven and spraying the baking dish you'll use with cooking spray. Then, wash, trim, and cut the green beans in halves or smaller pieces, if desired.
Step 2 | Blanch the Green Beans.
Meanwhile, bring a large pot of water to boil over high heat. Add a tablespoon of kosher salt to subtly season them. Adjust your salt according to taste in the cheesy mixture.
Toss the prepared green beans into the boiling water and blanch for about three to five minutes, stirring occasionally. Then, using a slotted spoon or a spider strainer, remove the tender green beans from the pot and plunge them into a large bowl of ice water.
Step 3 | Cook the Remaining Ingredients.
Fry the bacon in a large skillet over medium-high heat until it's nice and crispy. Then, remove the crispy bacon to a paper towel lined plate. Add the onions to the skillet and sauté until they are soft and just starting to brown.
Next, add the mushrooms and sauté for another four to five minutes until soft. Toss in the minced garlic cloves during the last minute of sautéing and stir until fragrant. Then, remove onion mixture from the skillet.
Step 4 | Create the Sauce.
Now, for the creamy mushroom sauce! In the same skillet, melt the butter over medium heat. Once it's melted, whisk in the flour, continually stirring for at least 2 minutes. You should notice the mixture darkening in color.
Slowly whisk the half and half, milk, and chicken broth into the flour mixture. Whisking constantly until the sauce is smooth and has thickened slightly. Stir in the fresh or dried thyme, as well as the Worcestershire sauce. Then, whisk in the cheese until melted, creamy, and smooth.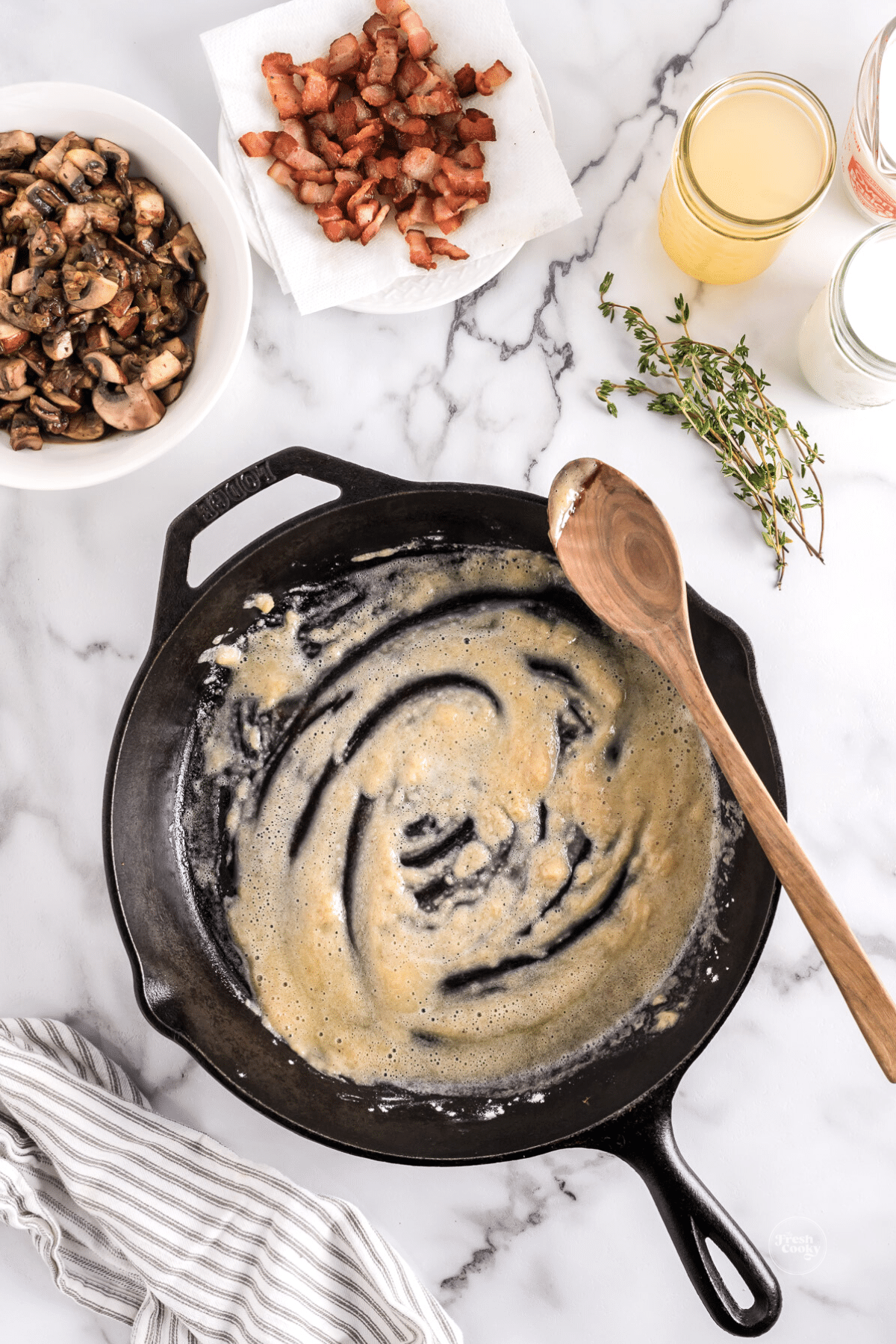 Step 5 | Combine and Bake.
Finally, add the onion and mushroom mixture along with the bacon pieces and allow the mixture to simmer for a couple of minutes over medium-low heat. Drop in the blanched green beans and stir for the sauce to cover them. Then, add salt and pepper to taste.
Pour the green bean mixture into a 9×13 greased casserole dish. If desired, sprinkle the casserole with French onions. Then, bake in the preheated oven uncovered for 30-40 minutes. You want the green bean casserole to be bubbly and golden brown and the onions to be crispy on top.
Step 6 | Make the Optional Panko Topping.
If you'd like to add a crispy buttery topping, here's how. First, in a mixing bowl, combine the panko, melted butter, salt, and pepper. Then, spread the mixture on top of the casserole and sprinkle with a handful of French Fried Onions.
Fresh Tips
Using the same large skillet for many ingredients will blend the flavors and season each as you go. While you can certainly switch skillets and make more dishes, why not use the same one all the way through and boost the flavors?
Blanching the green beans brightens their color but also keeps their crisp and tender texture.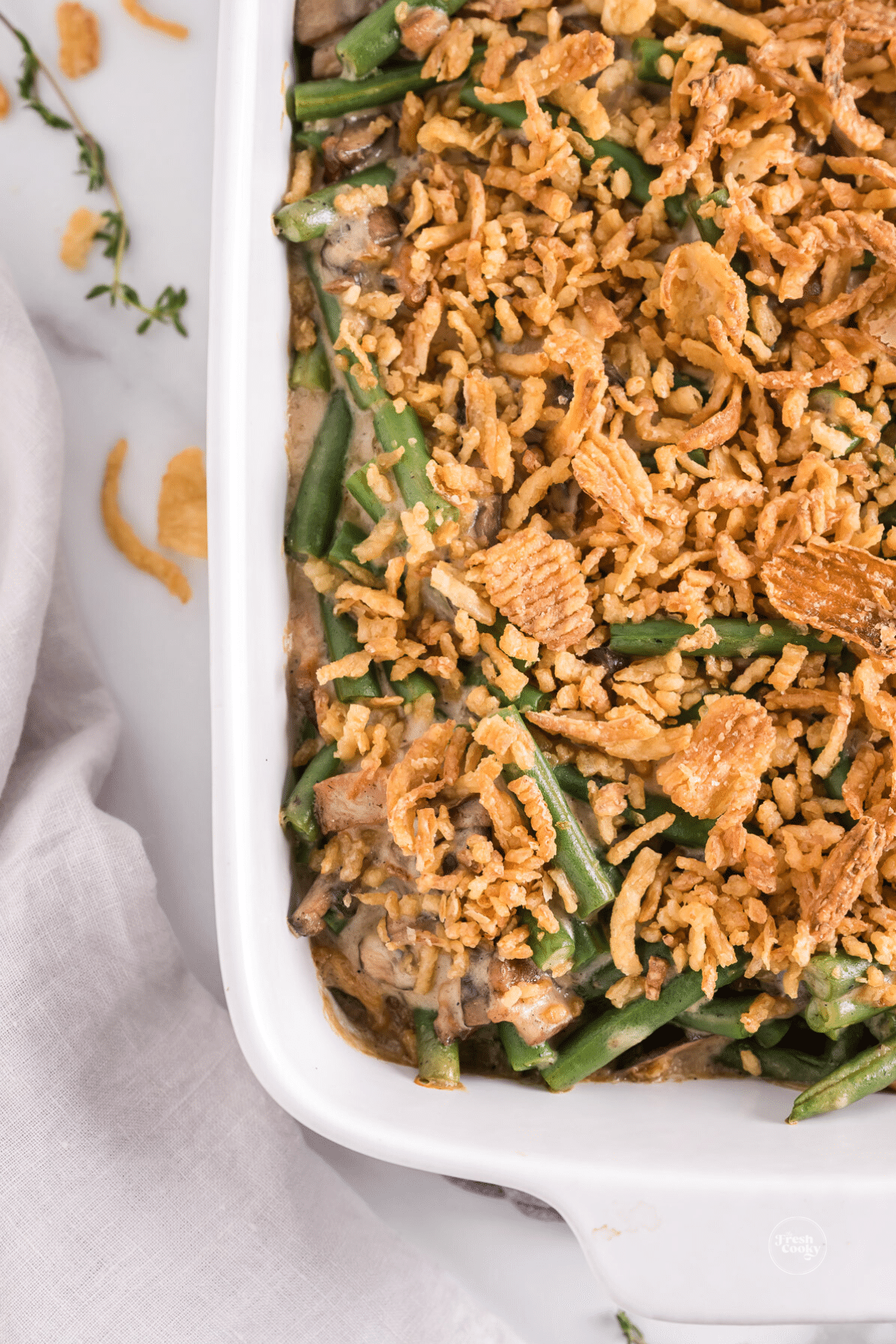 Variations & Substitutions
Try Different Cheeses – Use a mix of mild and sharp white cheddar or some Monterey jack. Include parmesan cheese, or get creative and try gouda or something with a bold flavor like gruyere!
Keep it Simple – Especially for picky eaters, you can keep the recipe basic and leave out fresh mushrooms.
Creole Green Bean Casserole – Sprinkle in some thinly sliced Cajun sausage, Creole seasoning, and diced pimentos. Make it spicier with some red pepper flakes.
Worcestershire – You can switch the Worcestershire sauce for soy sauce. Get the gf version.
Storage Tips
Can I make green bean casserole ahead of time? | Yes! Make Ahead instructions: Make sure the casserole is completely cooled, covered tightly with plastic wrap or stored in an airtight container, for up to 2 days. Leaving off the topping until ready to bake.
FREEZER | The casserole dish will freeze for up to 3 months. When you're ready to serve, remove the casserole from the freezer and allow it to thaw in the refrigerator for about 3 days. Cream mixtures sometimes change in texture when frozen, but it will still taste the same, check out my post on the best way to freeze cream casseroles.
When freezing, allow the mixture to cool completely, press plastic wrap firmly onto the mixture, ensure the green beans are submerged and cover tightly with foil.
Then, when ready to bake, remove the thawed casserole from the refrigerator and let it sit on the counter for 30-60 minutes to come to room temperature. Remove plastic wrap, add the crunchy topping, and bake covered with foil for 20 minutes. Finally, remove the foil and bake for another 10-15 minutes until golden and bubbly. Then, it's ready for the holiday table!
Use your leftover Green Bean Casserole Recipe with Worcestershire Sauce in this divine Leftover Ham pot pie! Or add to this Turkey Divan!
Frequently Asked Questions
Can you use canned or frozen green beans?
Fresh green beans are always best, but you can certainly make this the best green bean casserole recipe with canned or frozen green beans if you prefer. If you use frozen green beans, remember to thaw them before adding them to the recipe. Drained green beans would be best to avoid a watery casserole.

Furthermore, you only need to blanch the green beans when using fresh beans.
How do you soften green beans for casserole?
By quickly blanche fresh green beans (submerge in salted boiling water for a few minutes, then shock in ice water bath) to soften them before making the casserole. The time in the oven is not enough time to properly soften and cook the green beans. Plus blanching them, makes the green beans bright green for a much prettier and more tasty presentation.
How do you keep green bean casserole from getting runny?
Using flour in the sauce should keep this from happening. If you are concerned about the sauce being too runny be sure to drain the green beans well and cook your roux (flour, butter, cream mixture) until it's nice and thick. Using flour in the sauce should make the bacon green bean casserole thick enough, so the topping lays on top without sinking into the moist casserole.
How different is from scratch green bean casserole from the canned-soup version?
Classic Campbell's green bean casserole recipe is made with canned soup. And it is still tasty, for sure. However, when the creamy sauce is made from scratch, there's no competition—homemade green bean casserole is the winner. There's so much more authentic flavor that makes a massive difference.
More recipes that are great for a traditional Thanksgiving side dish
Don't skip blanching the green beans. Otherwise, your green beans will be too raw and crispy for most people's preferences. And be sure to toss them into an ice bath after boiling them for a few minutes. This ensures the beans stop cooking.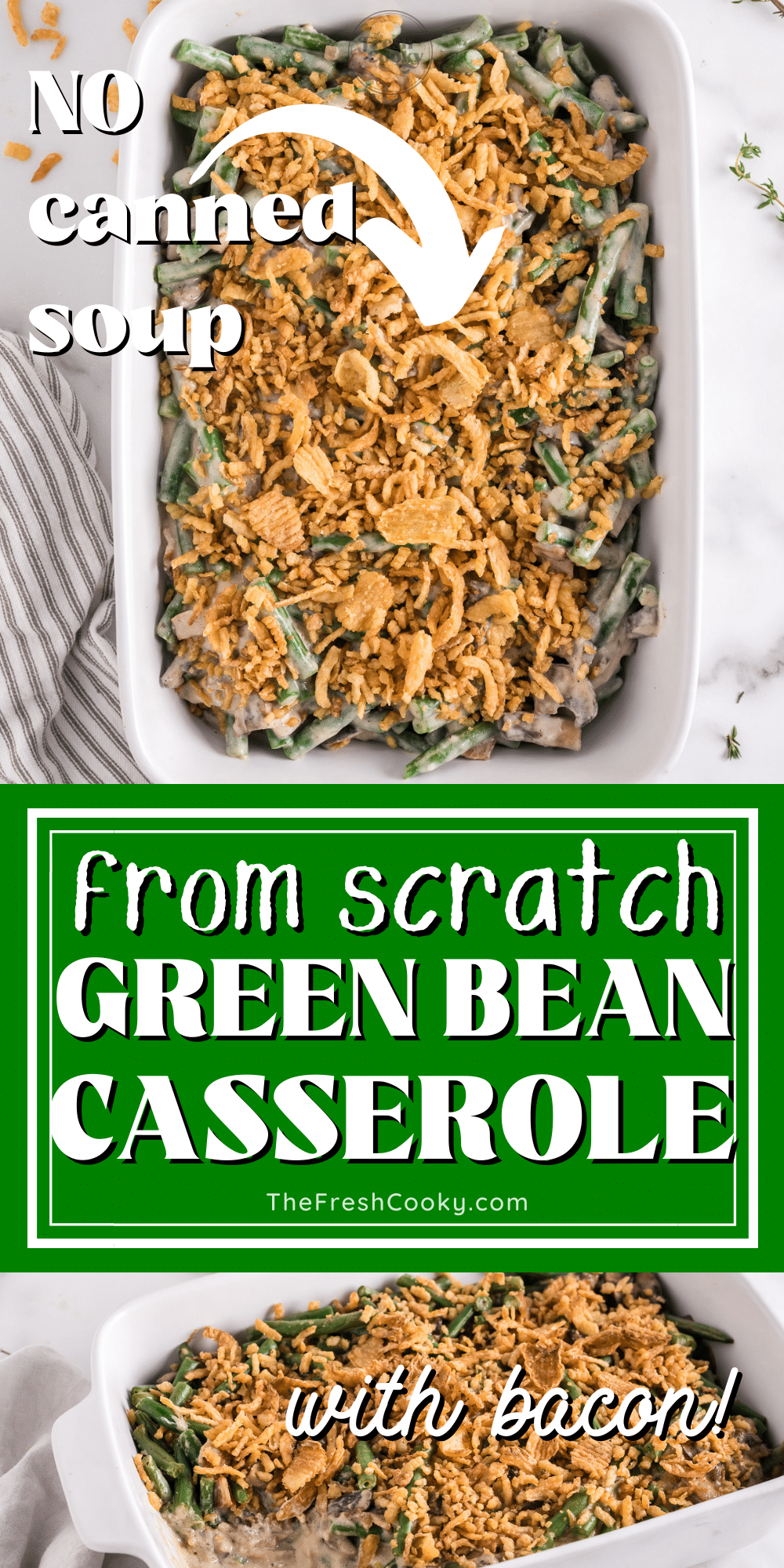 I hope you loved this green bean casserole recipe with Worcestershire sauce — if you did, would you share your creation on Instagram, Facebook and Pinterest? And be sure to comment below!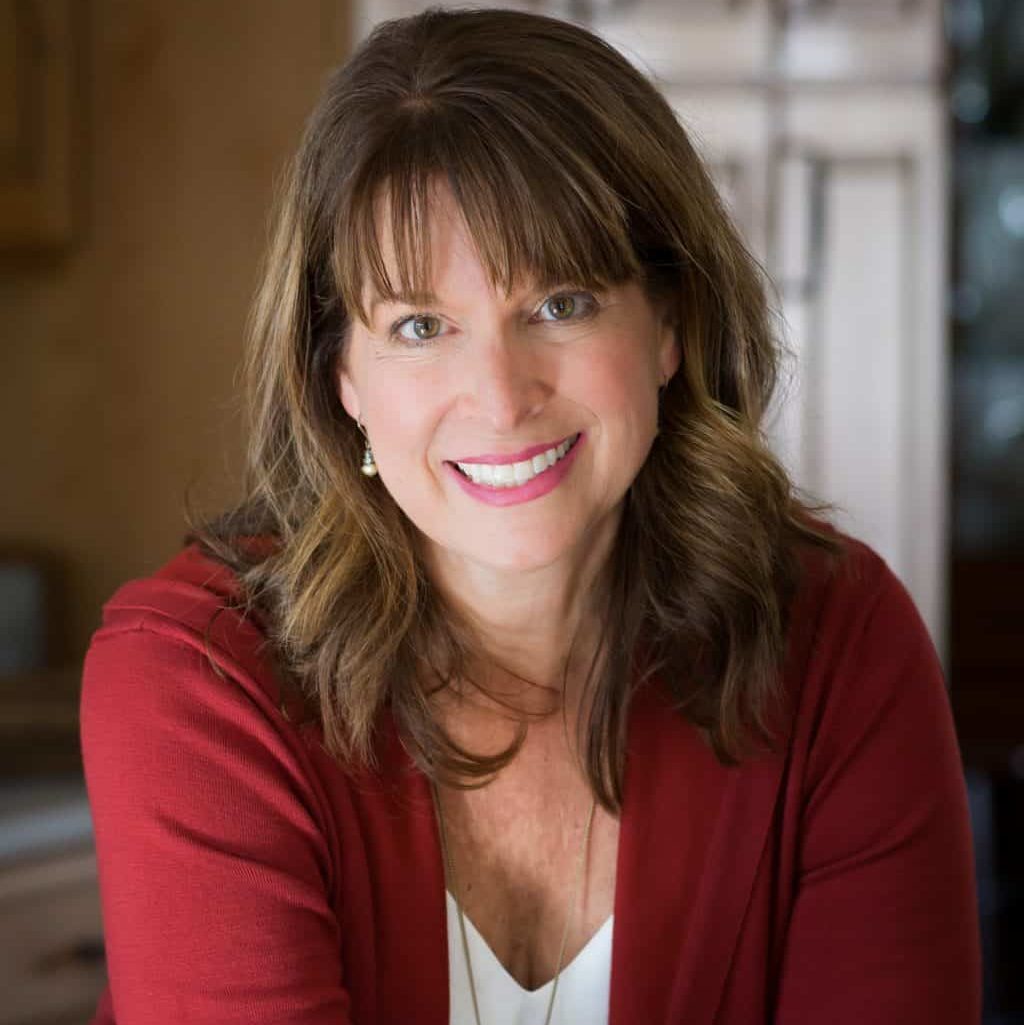 About Kathleen Pope
Recipe Innovator | Food Photographer | Food Writer
Hi, I'm Kathleen Pope. Here at The Fresh Cooky you will find easy, mostly from-scratch, trusted recipes for all occasions. From speedy dinners to tasty desserts, with easy step-by-step instructions. I am here to help teach you how to make mouthwatering recipes without spending hours in the kitchen. Read more about Kathleen here.