Old-Fashioned Vanilla Bean Ice Cream
As an Amazon Associate, I earn from qualifying purchases. Please read my disclosure policy.
Creamy, homemade old fashioned ice cream, with gorgeous flecks of vanilla beans and no sweetened condensed milk! This churn ice cream has simple ingredients that will be ready in no time for your ice cream maker.
We ALWAYS have ice cream in our freezer, often it's store bought, but there is something about making your own churned ice cream that takes us into a deep freeze on the sultry, scorching days of summer.
Some of our favorite cool treats to make at home are Old Fashioned Chocolate Ice Cream, Rose Pistacho No Churn Ice Cream, Fried Ice Cream (Air Fryer) and the hit at every party; Mile High Mud Pie.
Why you will love this churn ice cream
No Cook | Yes, this churn ice cream is a no cook ice cream; using pasteurized (safe) eggs which give it an amazing thick, rich, creamy texture that is every bit like a gourmet ice cream.
Simple Ingredients | As you can see below, the ingredients are super simple, this old fashioned vanilla ice cream comes together quickly for ice cream machines, old crank style as well as electric machines.
Vanilla | The vanilla shines in this recipe, there is nothing "plain" about it!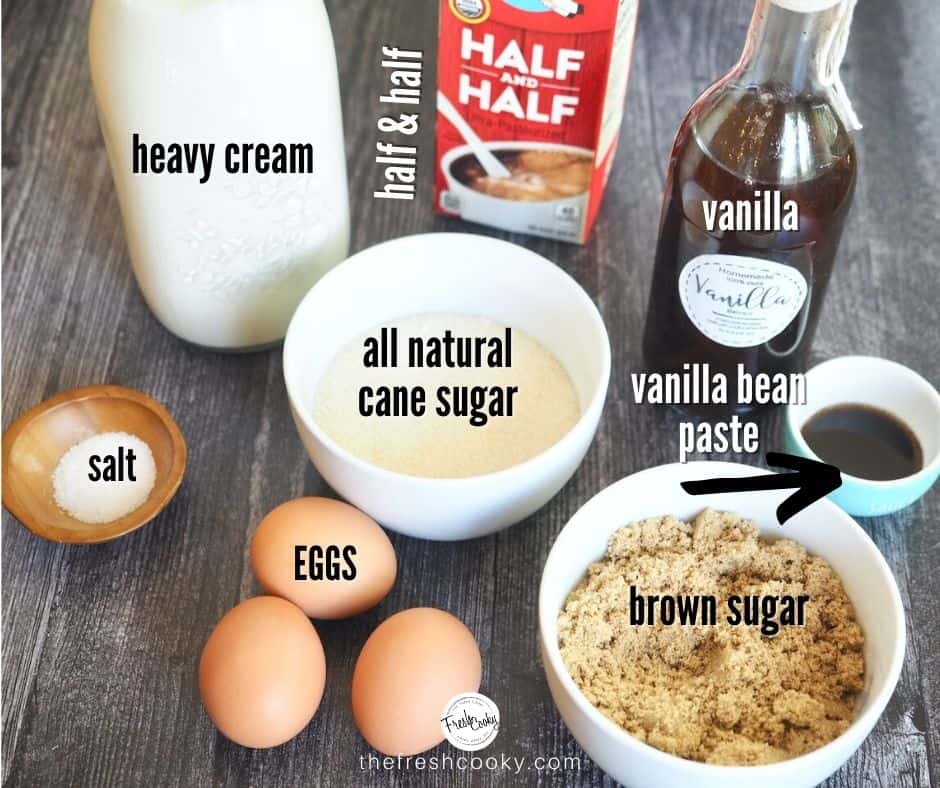 SIMPLE INGREDIENTS & SUBSTITUTIONS
Easy, pure ingredients, many organic make this churn ice cream the best!
EGGS | makes it ultra creamy!
HALF AND HALF | no fat free here, pretty please, this isn't diet food, this will deliver the creamiest ice cream!
WHIPPING CREAM | the good, rich stuff, I used organic ingredients
SUGAR | I use all natural cane sugar, in all of my recipes, you can replace with white sugar
BROWN SUGAR | I used light brown, but dark brown may be used too, lending aslightly more molasses flavor.
SALT |(yes, salt! Salt really does bring out amazing flavors
VANILLA EXTRACT | pure vanilla extract <== easiest extract to make at home and so much better!
VANILLA BEAN PASTE |

or scrape a vanilla bean and use seeds, this is so worth it!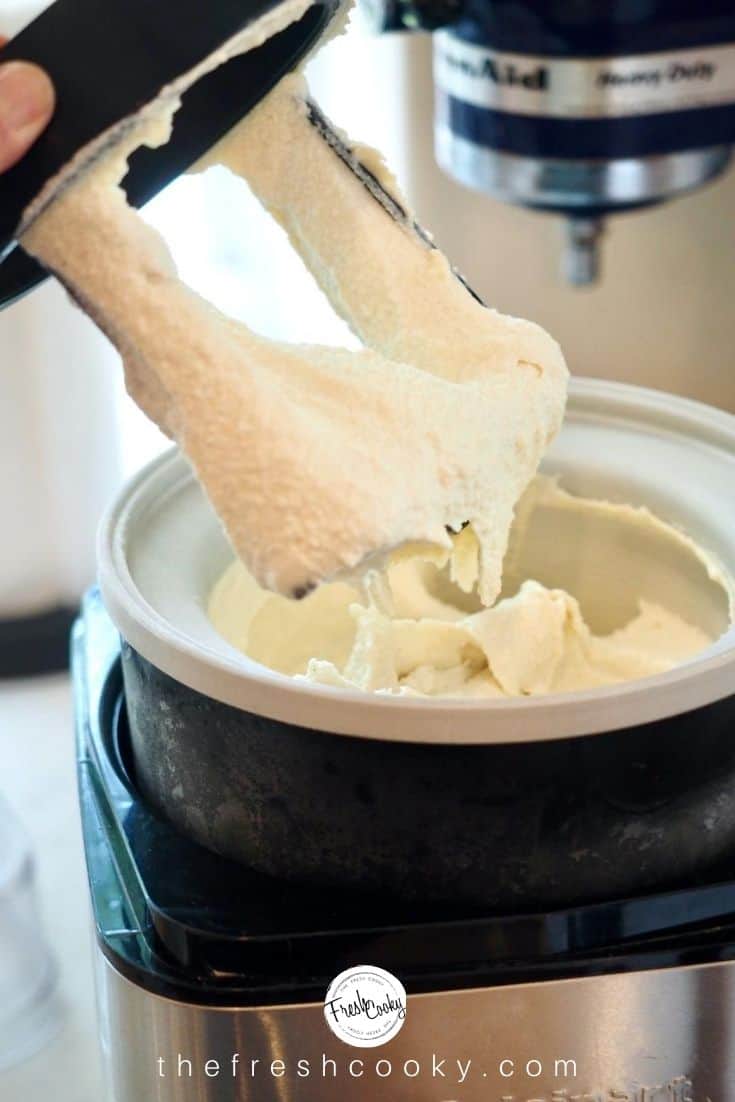 Recommended Equipment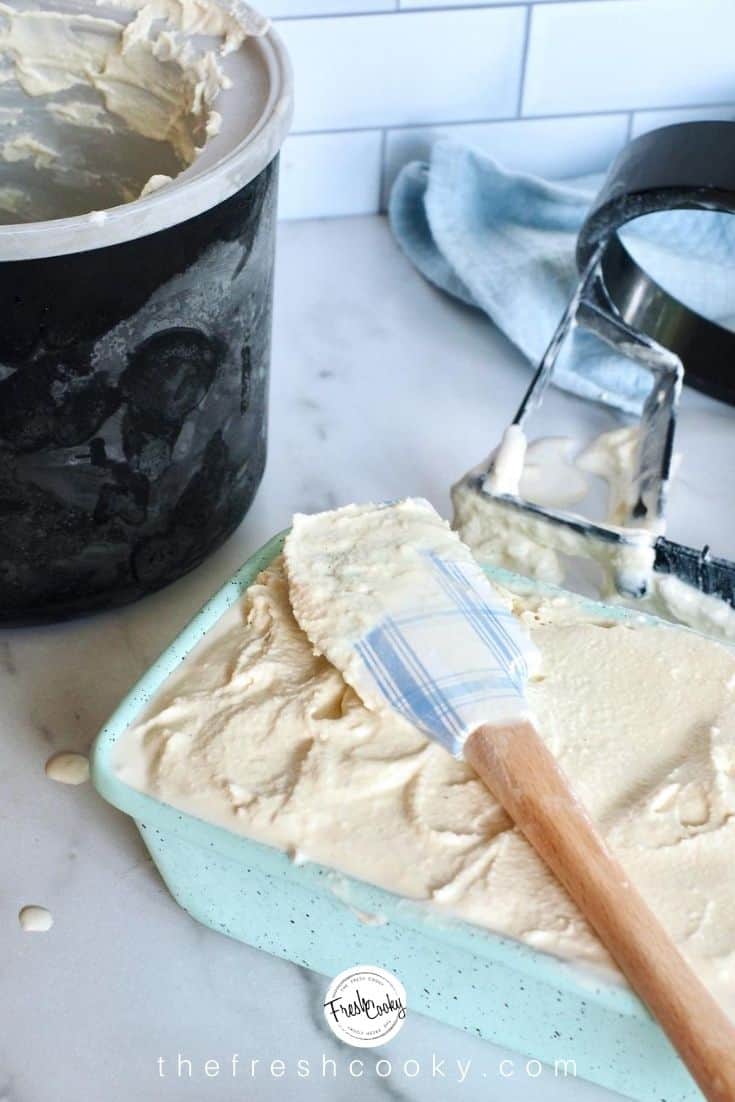 How to Make Vanilla Churn Ice Cream
It's so simple if you have never made a churned ice cream, you have GOT to try this recipe!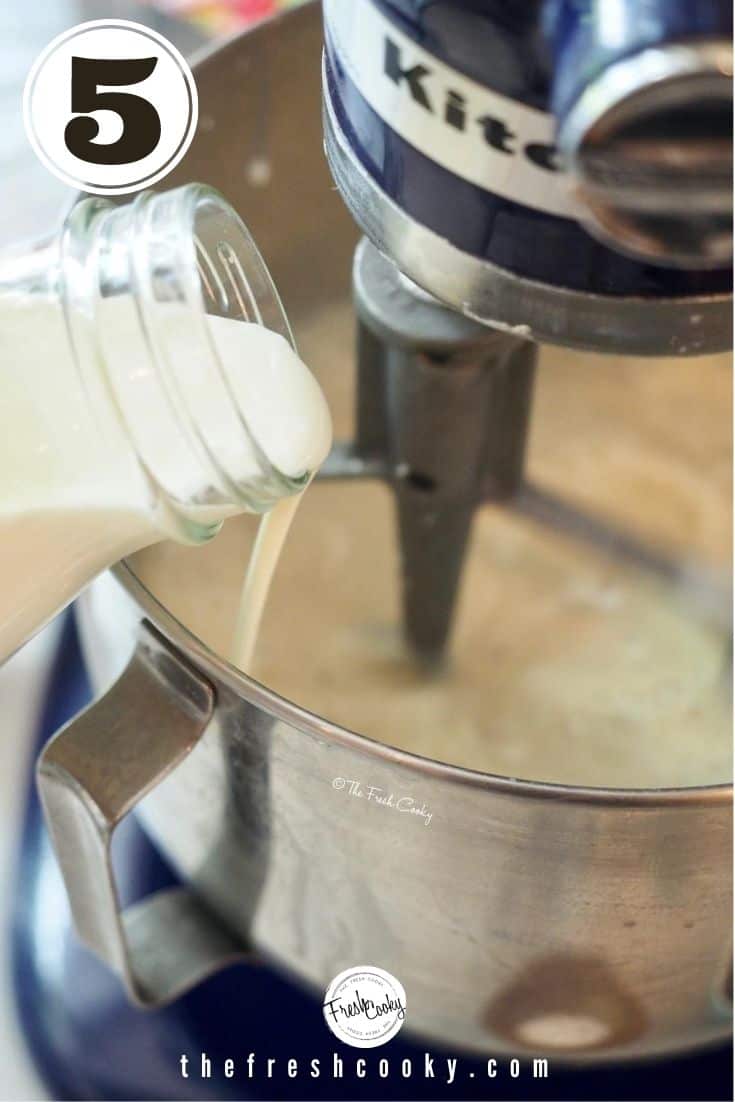 Allow the batter to sit in the fridge for about 15-20 minutes while you set up the ice cream maker, this allows time for the flavors to get to know one another, you don't just throw strangers into an ice cream maker!
Once ready, depending on the size of your ice cream machine (see above about how much this makes) pour into the freezer and follow your manufacturer's directions. Mine takes about 20-30 minutes for a good thick soft serve consistency.
SOFT SERVE vs. SCOOPABLE ICE CREAM
For firmer, scoopable ice cream, scoop into a freezer friendly loaf pan or storage container, cover and freeze for at least 6-8 hours for soft scoops, overnight for firmer scoops.
But nobody ever said you can't just plop some of that delicious soft serve ice cream into a bowl and enjoy, maybe with fresh peaches or strawberries?! Be sure to let someone lick the beater!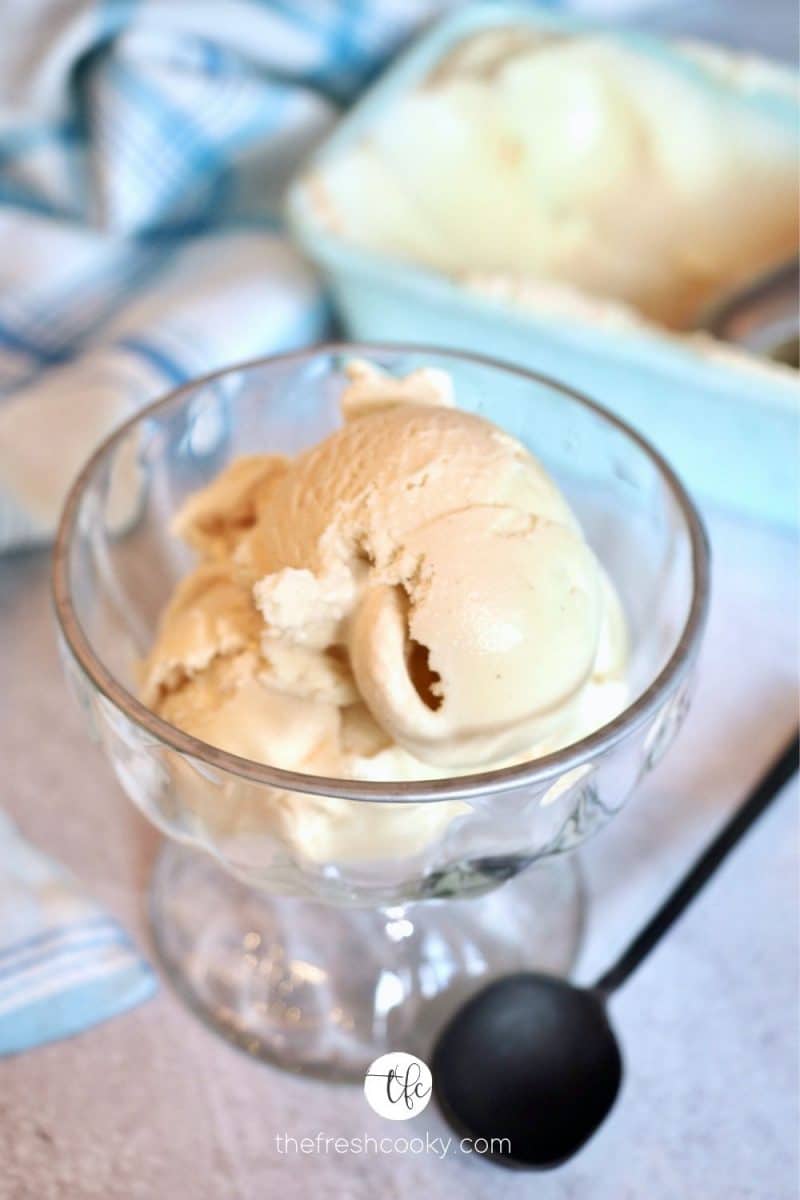 Is it safe to eat uncooked eggs?
If you are squirming because the eggs are not cooked, the US Department of Agriculture (USDA) considers it safe to use raw eggs if they are pasteurized. (Source)
If you still have the heebie jeebies, you may do one of two things:
Omit the eggs (but don't do it!), we've eaten recipes with raw eggs for years, and never once had a brush with salmonella. If you are feeling it, try these amazing Mini French Silk Chocolate Pies!
Or make a Custard Ice Cream recipe; which means taking the time to cook the egg and cream mixture into a custard, which takes longer.

I'm not saying it's not delicious, but I'm not a fan of standing over a hot stove in the summertime, then waiting hours for the custard to cool, and finally making the ice cream.
If you feel more comfortable cooking the base, try my friend Michaela's Grape Nut Vanilla Custard Ice Cream (leave out the Grape Nuts or leave them in cause this sounds amazing) or this simple Cooked Vanilla Ice Cream by Debra, another blogging friend!
Frequently Asked Questions
I have a small ice cream maker, can I still make this?
Yes! You can halve the recipe, which gets a bit tricky with some odd numbers, but I've done the math for you in the recipe card if you are interested.
Do what I did, simply split the batter in half and keep the half not currently freezing, covered and refrigerated until ready to make another batch. Batter will last in the fridge up to 3 days, I just needed 24 hours in order to allow enough time for the freezing drum to fully refreeze before making the second batch.
Can I make another batch of ice cream using the same frozen drum?
I do not recommend doing another batch right after the first with the frozen drum style of ice cream maker, unless you have two freezer drums. It just doesn't freeze as well, it will freeze a bit, but it will not be the consistency you want…don't ask how I know this, just trust me that I know! 🙂
How much ice cream does it make?
Here's the kicker, the original recipe by fellow blogger, The Reluctant Entertainer is designed for a large, old fashioned ice cream maker, making 2 ½ – 3 quarts.
Most old fashioned ice cream makers (that use ice and rock salt) have between 2 ½ – 3 quart capacity, larger than electric ice cream machines.
We use a 2 qt Cuisinart electric ice cream maker, which works just fine, though I did divide the batter and made two batches (see above).
When I need a really fast ice cream, I turn to my no churn vanilla ice cream, but when I want a creamy, vanilla ice cream, this is the one!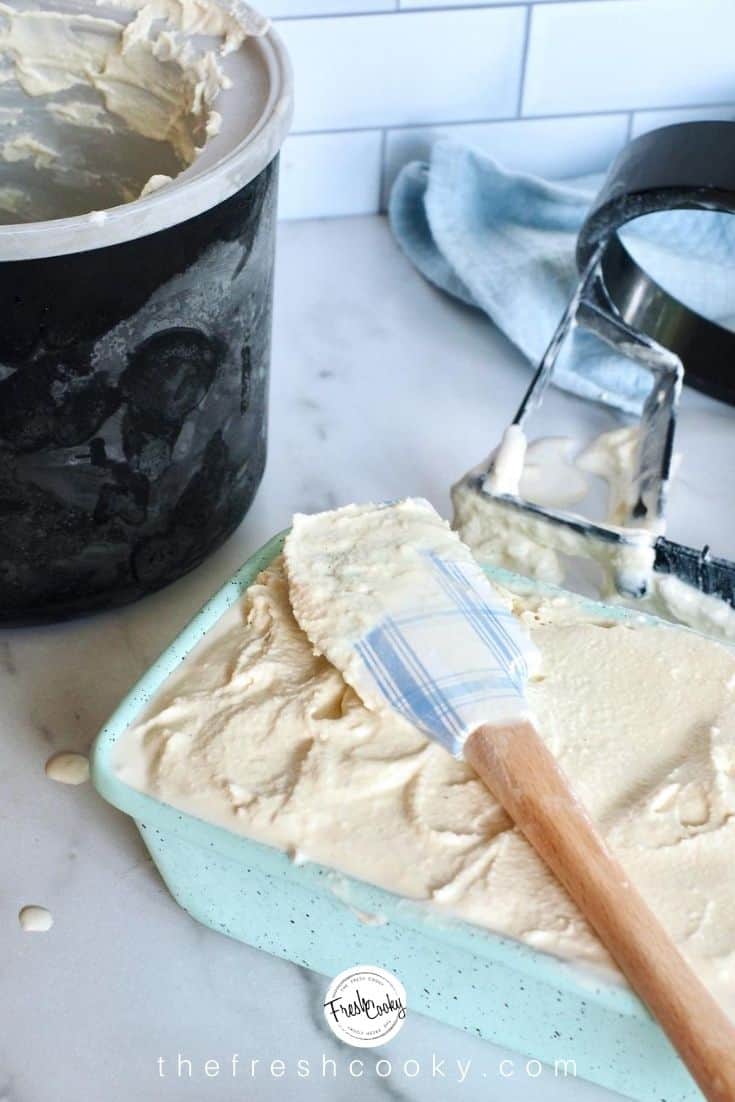 Mix-In Ideas
Fudge Ripple Ice Cream | On our second batch of vanilla ice cream, I swirled a ribbon of fudge sauce into the soft ice cream before freezing hard (see picture above).
Caramel Ribbon Ice Cream | Do the same as above, swirl into soft ice cream a few ribbons of caramel or maybe even make this amazing salted vanilla caramel!
Cookie Dough Ice Cream | Make a batch of chocolate chip cookie dough (bake some, freeze some dough), or this edible no egg cookie dough and pinch off small chunks and stir into soft ice cream before freezing.
Fudge Brownie Ice Cream | Bake or buy a batch of brownies and cool, pull or roll into small balls and stir into ice cream, extra decadent, add a ribbon or two of fudge!
Peanut Butter Cup Ice Cream | Mix into soft vanilla ice cream a cup or so of mini Reese's Peanut Butter cups or even the Reese's Peanut Butter chips.
Chocolate Chip Ice Cream | Mix in 1 cup of chopped chocolate chips (or use mini chocolate chips), or even better, finely chop a good quality milk or semi-sweet chocolate bar and stir into soft ice cream.
Mint Chocolate Chip Ice Cream | Mix into batter before freezing 1 ½ – 2 teaspoons pure mint extract, then after freezing, stir in 4-6 ounces finely chopped semi sweet chocolate.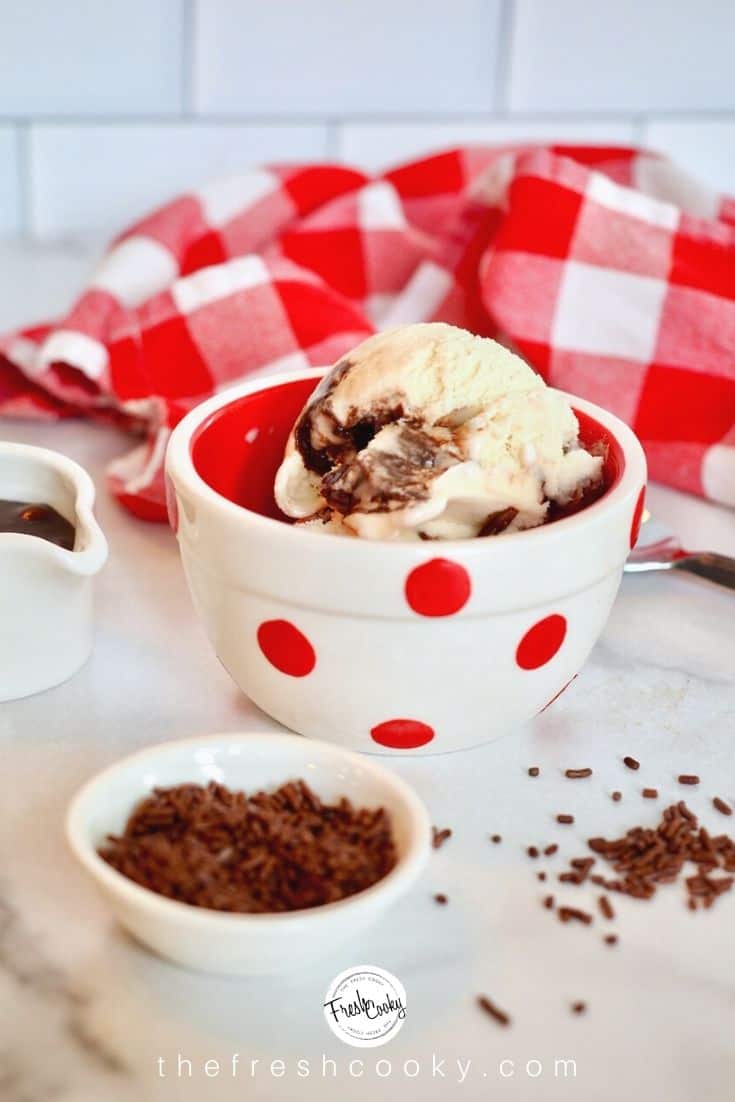 Ways to Use Vanilla Ice Cream
I am sure you can find your own amazing ways to use this churn ice cream, but here are a few of our favorites!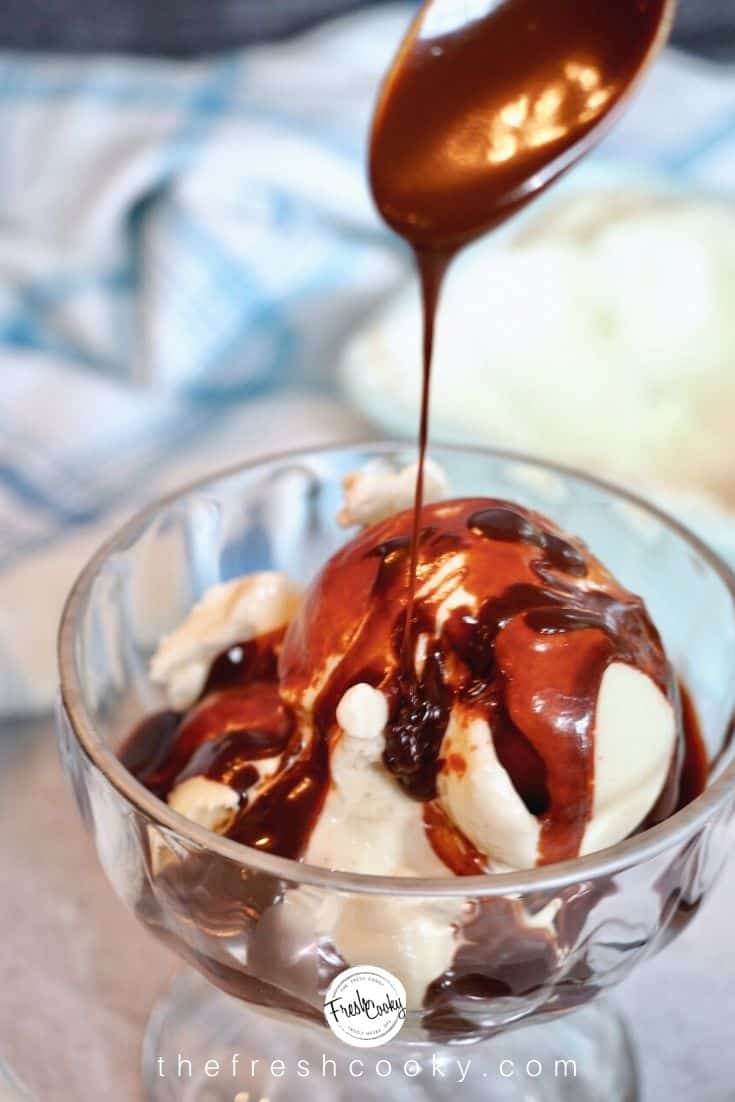 I sure hope you enjoy this homemade old fashioned ice cream recipe, it might take a little longer, but in the end, it's sooo worth it!
You have got to visit this post with 29 Tempting Ice Cream Topping & Sauce Recipes!
More dessert recipes you will love:
Like this recipe?
Don't forget to give it a ⭐️⭐️⭐️⭐️⭐️ star rating and comment below the recipe!
Old Fashioned Homemade Vanilla Ice Cream
Creamy, homemade old fashioned ice cream, with gorgeous flecks of vanilla beans and no sweetened condensed milk! This churn ice cream has simple ingredients that will be ready in no time for your ice cream maker.
Ingredients
3

pasteurized eggs

,

beaten (1-2 eggs half batch)

1

quart

half and half

,

2 cups half batch

1

quart

whipping cream

,

2 cups, half batch

¾

cup

granulated sugar

,

I used all natural cane sugar (6 tablespoons, half batch)

¾

cup

brown sugar

,

packed (6 tablespoons, half batch)

1

teaspoon

salt

,

½ teaspoon half batch

[2 tablespoons pure vanilla extract,

1 tablespoon, half batch]

[1 tablespoon vanilla bean paste,

½ tablespoon, half batch]

Special Equipment: Ice Cream Maker
Instructions
Beat eggs in bowl of stand mixer until creamy and frothy, mix all additional ingredients in mixer until combined, about 2-3* minutes.

Place in fridge for 15-20 minutes while preparing the ice cream freezer.

Pour about ⅔ full into ice cream maker, following manufacturers instructions.

This recipe makes 2 ½ – 3 quarts of ice cream, if you have a 2 quart or smaller ice cream maker, split the batter in half, store remaining batter in refrigerator up to 3 days. Refreeze ice cream drum at least 24 hours before trying to make another batch.

See post for suggestions on mix-ins, topping ideas and recipes.
✱ Kathleen's Tips
If using all natural cane sugar, beat closer to 3 minutes so that it breaks down the larger sugar granules.
One vanilla bean, seeds scraped may be used in place of the Vanilla bean paste.
See post for details on using raw eggs in ice cream.
Recipe adapted from the Reluctant Entertainer.
Nutrition
Calories:
254
kcal
Carbohydrates:
16
g
Protein:
3
g
Fat:
20
g
Saturated Fat:
13
g
Polyunsaturated Fat:
6
g
Trans Fat:
1
g
Cholesterol:
85
mg
Sodium:
138
mg
Sugar:
16
g
Nutrition Disclaimer
The Fresh Cooky is not a dietician or nutritionist, and any nutritional information shared is only an estimate. We recommend running the ingredients through an online nutritional calculator if you need to verify any information.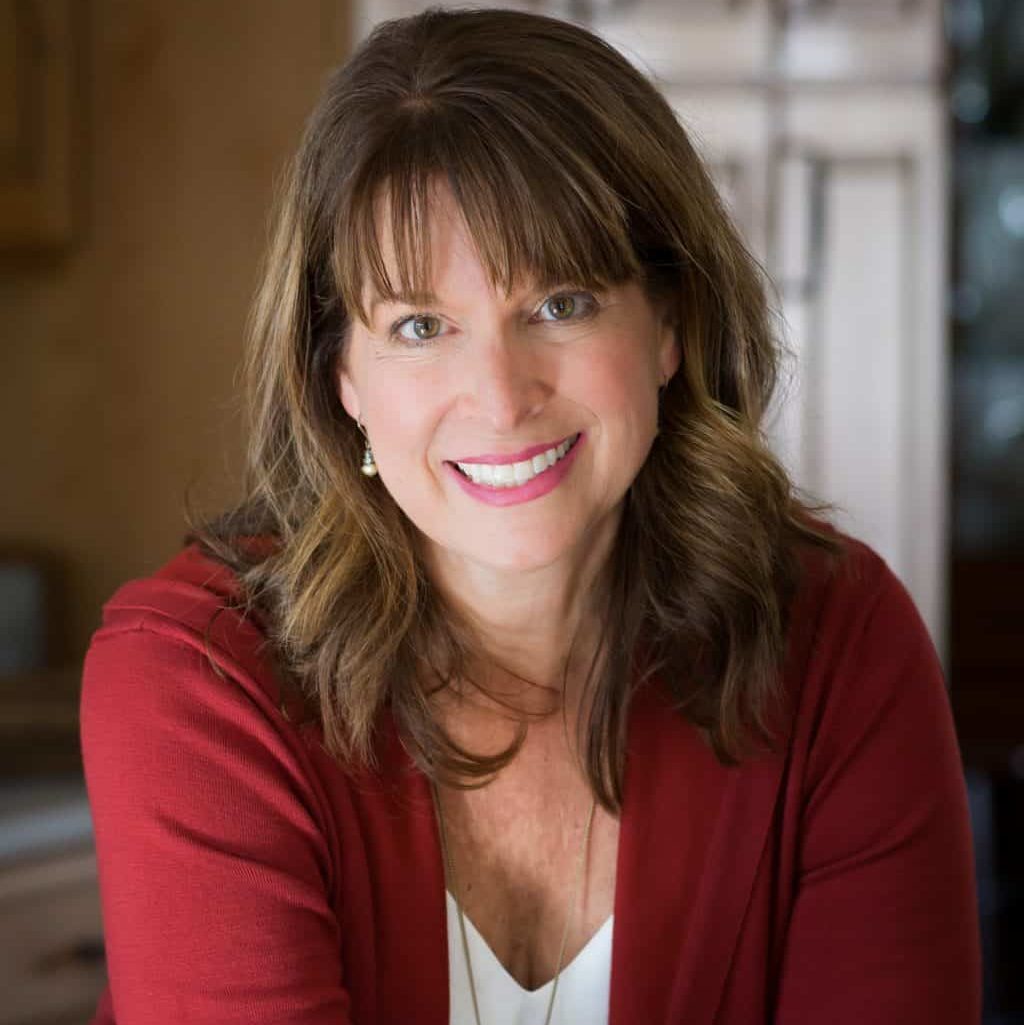 About Kathleen Pope
Recipe Innovator | Food Photographer | Food Writer
Hi, I'm Kathleen Pope. Here at The Fresh Cooky you will find easy, mostly from-scratch, trusted recipes for all occasions. From speedy dinners to tasty desserts, with easy step-by-step instructions. I am here to help teach you how to make mouthwatering recipes without spending hours in the kitchen. Read more about Kathleen here.