As an Amazon Associate, I earn commissions from qualifying purchases (
disclosure policy
).
This easy shish kabob marinade recipe is ready in minutes – The Best Shish Kabob Marinade recipe for chicken and steak! The whole family will love an easy weeknight dinner recipe, regardless if you call them kebaps, kabobs, kebobs, or kababs!
A great recipe that has been in our family for decades! Copies of the recipe are requested every time I make it; so easy, simple, flavorful, and tasty!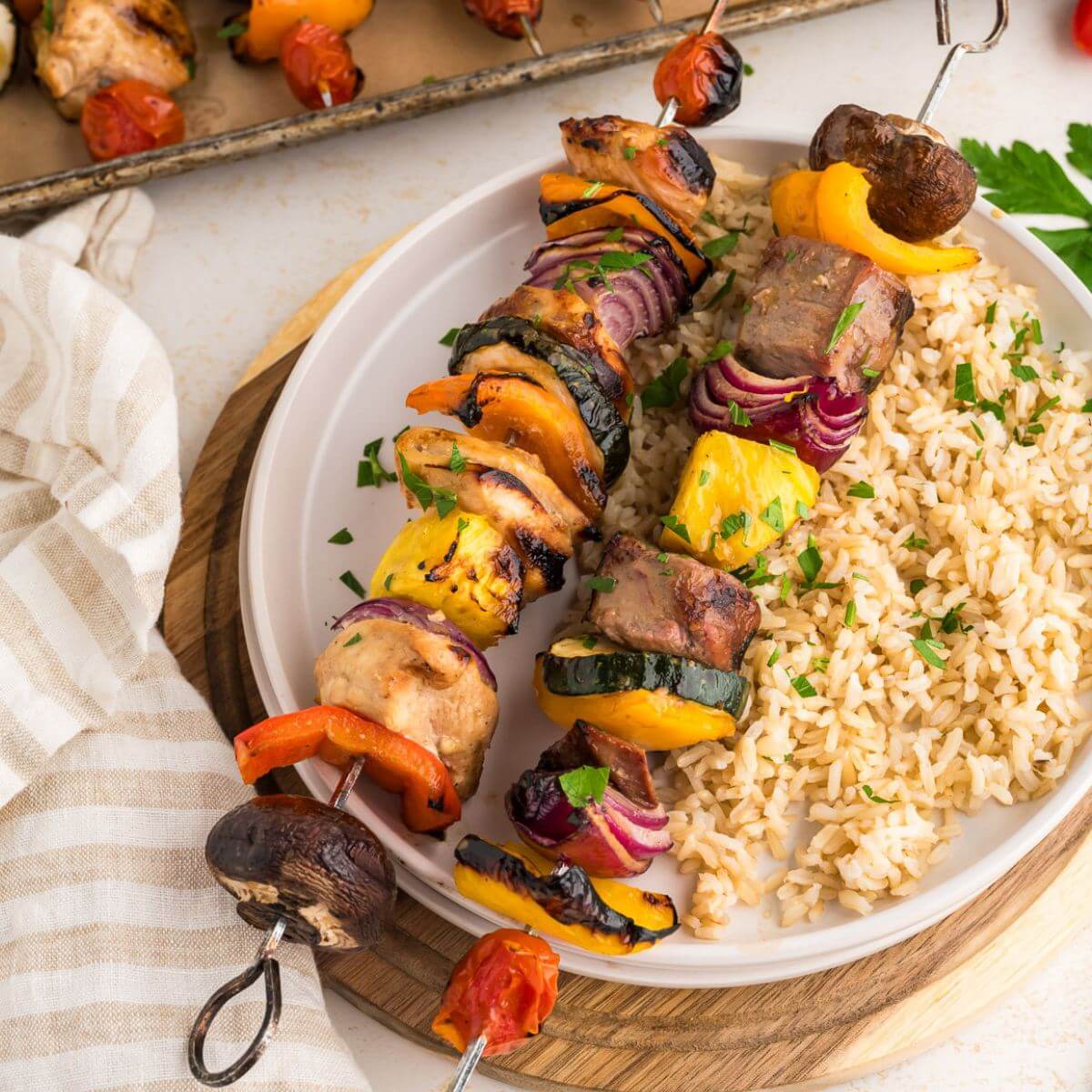 I enjoy giving precise details in my recipe posts to lead my readers through any questions. If you're just here for the printable recipe, you can Jump to Recipe to head straight there!
Why You Will Love this Shish Kabob Marinade
Something for Everyone – These simple kabobs are fresh, tender, and oh-so-ever-flavorful. It's like eating a Farmer's Market on a skewer!
Customizable – Allow your family or guests to make their shish kabob to their taste. Set out cut-up vegetables, pineapple, tomatoes and mushrooms and let them have a go.
Make-Ahead Recipe – This steak and chicken shish kabob recipe is excellent for guests. Marinate overnight, then all you need to do is assemble and grill the kabob
What is a Shish Kabob
Kebab (also kebap, kabob, kebob, or kabab) is a dish hailing from the Middle East, Eastern Mediterranean and South Asian cuisine that involves roasting or grilling small pieces of meat, fish, or vegetables on skewers or spits. It's become a global culinary term, often called shish kebab in English.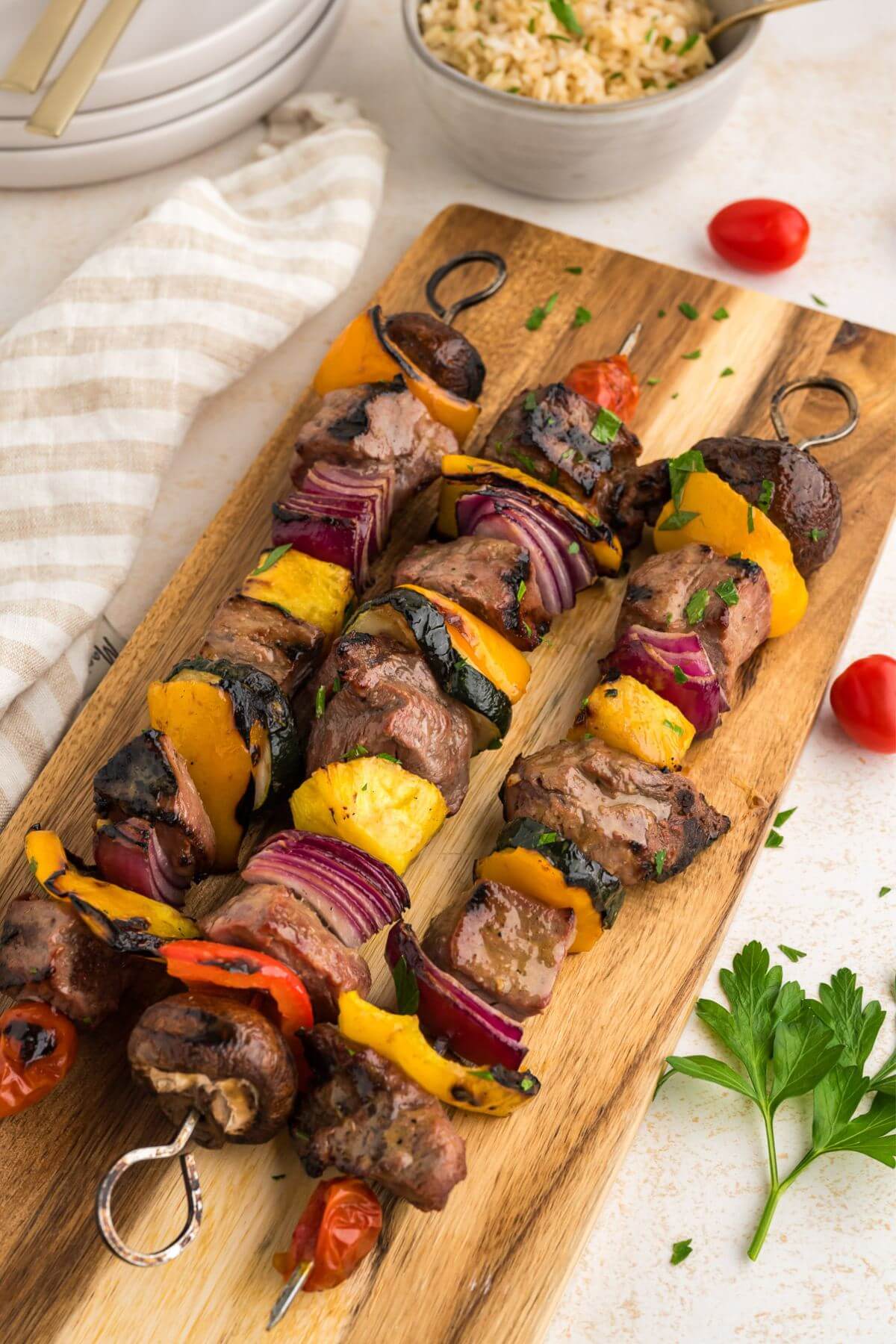 Simple Ingredients
Shish Kabob Marinade
Garlic | Add two large cloves of garlic, crushed and chopped. I prefer mincing the garlic so the flavor is fresh, but buying a jar of minced garlic is a convenient shortcut.
Oil | I used avocado oil; use your favorite vegetable oil, olive oil works too!
Soy sauce | Use regular soy sauce or this recipe easily adapts to Bragg's Liquid Aminos (or Coconut Aminos) or Tamari for gluten-free kebabs!
Worcestershire sauce | If being gluten-free is important for you, use a known GF Brand, such as Lee & Perrin's.
Dijon Mustard | There are several varieties of Dijon mustard, and each brand has its twist on the recipe, so choose whichever is your favorite.
Lemon | Pour in some freshly squeezed lemon juice for authentic flavor, or opt for the store-bought kind to make your job easier.
Salt and pepper | I prefer kosher sea salt and freshly ground black pepper for the most flavor for these delicious kabobs.
Kabob Ingredients
Steak Shish Kabobs | Use your favorite kind of meat. Suggested cuts of steak are; sirloin tip, beef tenderloin, top sirloin steak or New York Strip steak. Cut the steak pieces into 1 ½ inch cubes for best results.
Best Chicken Kabobs | Cut up 1 ½ inch hunks of boneless, skinless, chicken breast. I have never tried with chicken thighs, but I think it would be fabulous!
Veggies and Fruit | I love to pack the skewers with colorful veggies, like sweet onions, a mix of red, yellow, and orange mini peppers or cut squares bell peppers, fresh pineapple, summer squash or zucchini, cherry tomatoes and mushrooms!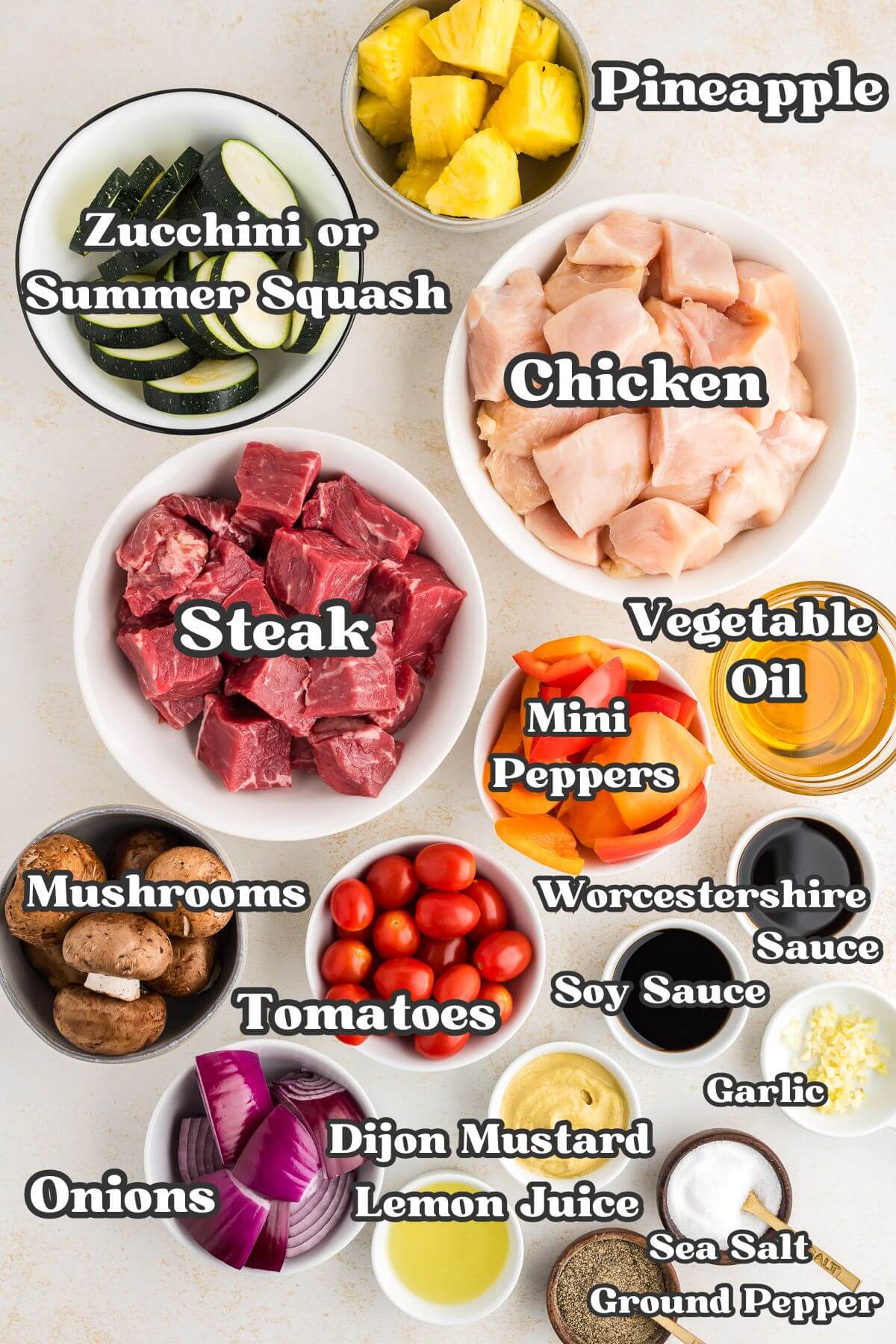 How to Make the Best Kabob Marinade
Start by whisking all the shish kabob marinade ingredients in a medium bowl and set it aside.
Next, cut the meat (beef, chicken, or both) into 1 ½ inch cubes and place them in a shallow dish or container. If desired, keep the beef chunks and chicken breast pieces in separate containers so that the chicken doesn't start to taste like beef! But if marinating for a short period of time you can put it all together.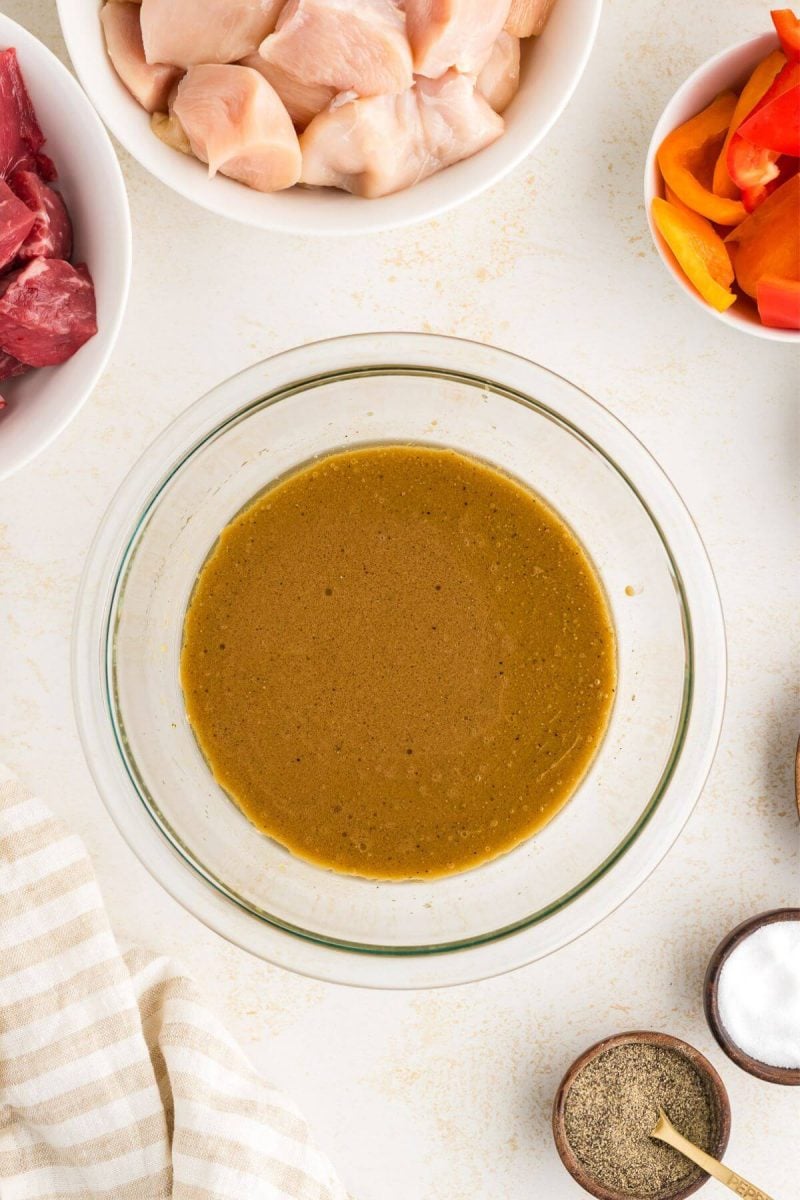 Pour the marinade over the pieces of meat and stir to coat all sides. Cover with plastic wrap or place in plastic baggies, marinating in the refrigerator for about 4-6 hours – overnight is even better! Just be sure to mix the kabob ingredients occasionally.
Fresh Tips
Remember to start marinading at least 4 hours in advance. For the best flavor, marinade 6 hours ahead or more. Overnight works, too, as does freezing the meat in the marinade and then thawing it in the refrigerator!
How to Choose the Right Skewer for Shish Kebabs
It's important to soak wooden skewers in water for at least 30 minutes, but plan to soak them overnight for best results. Bamboo skewers absorb water slowly; soaking longer will prevent your wooden skewers from burning while grilling.
We love these metal skewers for easy and reusable skewers. BUT BEWARE, turn your kabobs using tongs and do not grab the skewers until they have cooled down; they are HOT.
Assembling the Shish Kebobs
When ready to assemble the kabobs, prepare the veggies and pineapple for the skewers by cutting them into large chunks, and don't forget to remove the stems from the mushrooms.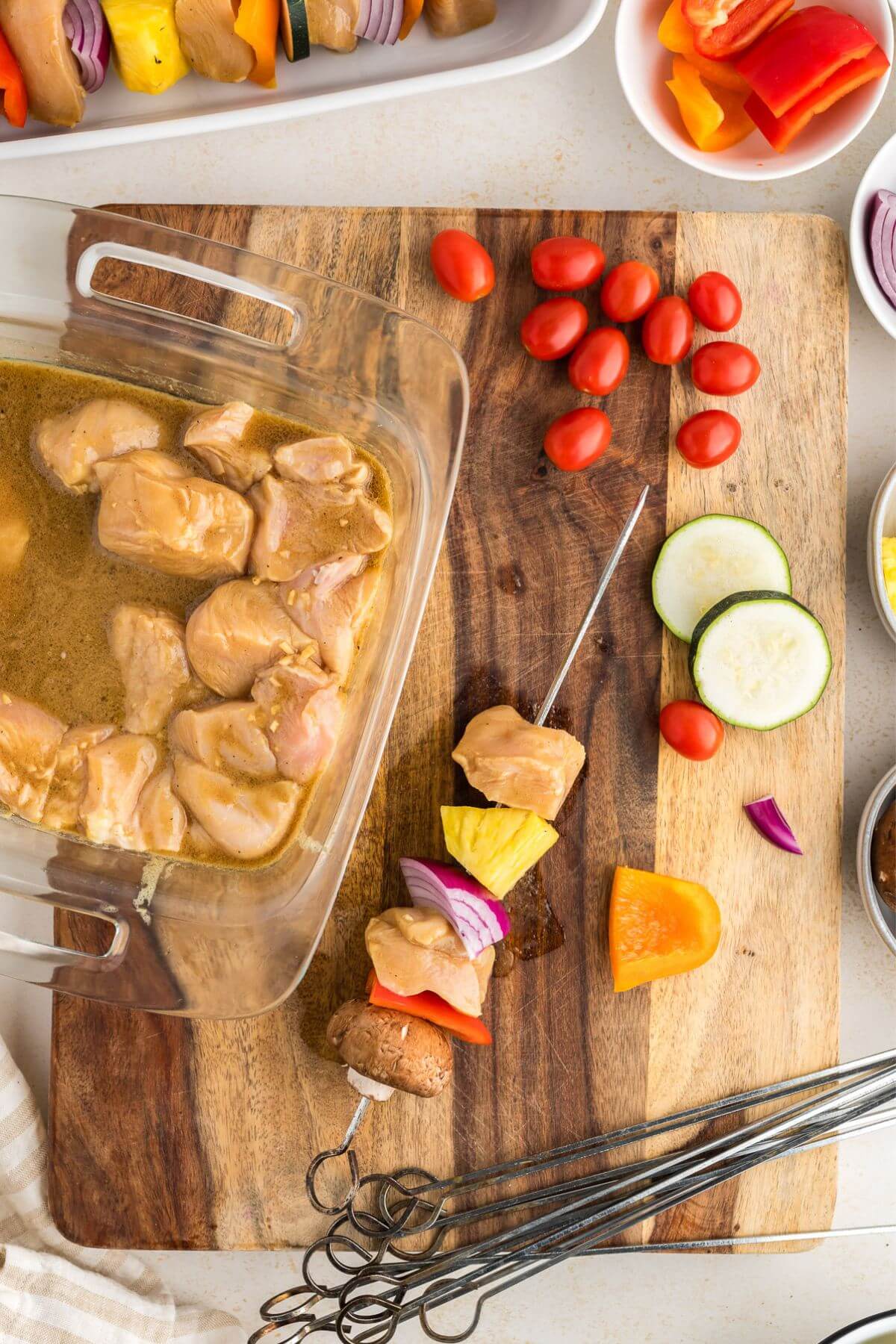 Once the meat has marinated for the suggested time, assemble the kabobs, alternating colors, and chicken and beef cubes. Then, reserve the leftover marinade for basting (*see notes about basting).
Finally, fire up the grill over medium-high heat and place the kebobs in the opposite direction of the grill grates. Grill for 4-5 minutes per side, basting with the reserved marinade for 8-10 minutes. Remove the kabobs from the grill and cover them with foil, allowing the dish to rest for 5 minutes. Then, serve and enjoy!
Fresh Tips
Alternate colors for beautifully crafted chicken and steak kabobs.
Don't baste just before you remove them from the grill; the kabobs will have raw chicken or beef juice on them from when the meat sat to marinate!
To ensure the meat is fully cooked, check the internal temperature with a meat thermometer. Chicken should read between 160-165° F, and beef should reach 145° F. Adjust the cooking time according to the thickness of the meat, if necessary.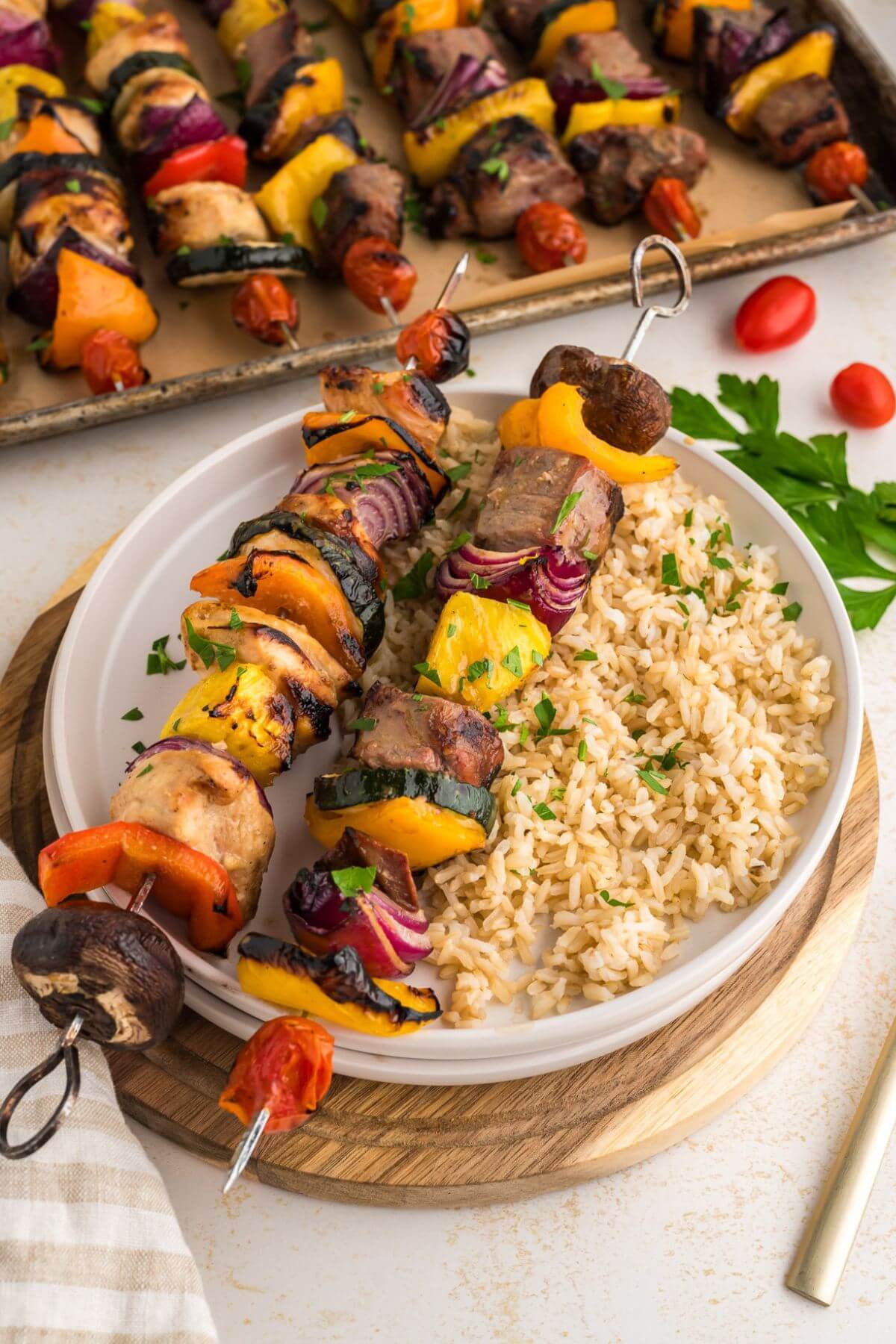 If cooking shish kebabs over an open flame on a charcoal grill, watch the heat and use a spray bottle to quench those fire flare-ups.
Looking for more recipes to throw on the grill before the weather gets extra chilly? Try this winning Flank Steak Marinade or these; Coconut Lime Chicken marinade and this easy Chicken Fried Rice recipe.
Variations & Substitutions
Grill Pan: If you don't have a grill, shish kabobs can be grilled indoors using a griddle or grill pan or I love my Ninja Foodi XL indoor grill!
Balsamic Vinegar: Add a tablespoon of balsamic vinegar for a slightly nutty, sweet flavor!
Garlic: If you can't get your hands on fresh garlic, substitute for a small spoonful of garlic powder instead.
Other Fruits and Veggies: Red onion, juicy cherry tomatoes, artichoke hearts, and asparagus are also delicious for this chicken and beef kabobs recipe.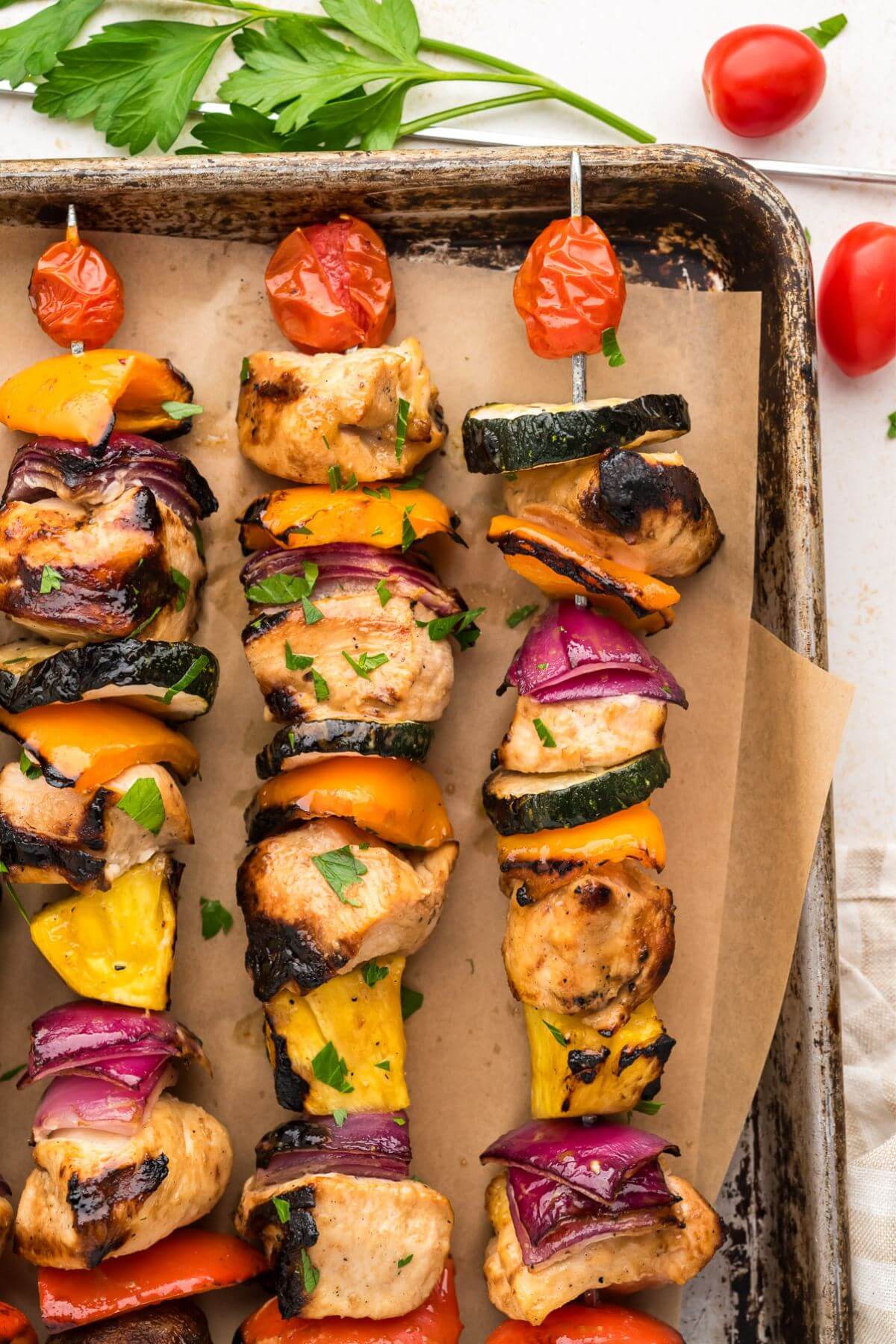 Gluten-Free and Dairy-Free Kabobs
Be sure your soy sauce, Worcestershire, and Dijon are all gluten-free. Otherwise, this is a delightful, gluten-free and dairy-free recipe.
Spicy Chicken and Beef Shish Kabobs
Turn up the heat by adding red pepper flakes, chili sauce, or freshly chopped peppers to the marinade mix!
Veggie Shish Kabobs
Got vegetarians coming for dinner? Place your favorite diced vegetables into the marinade, skewer, grill and enjoy!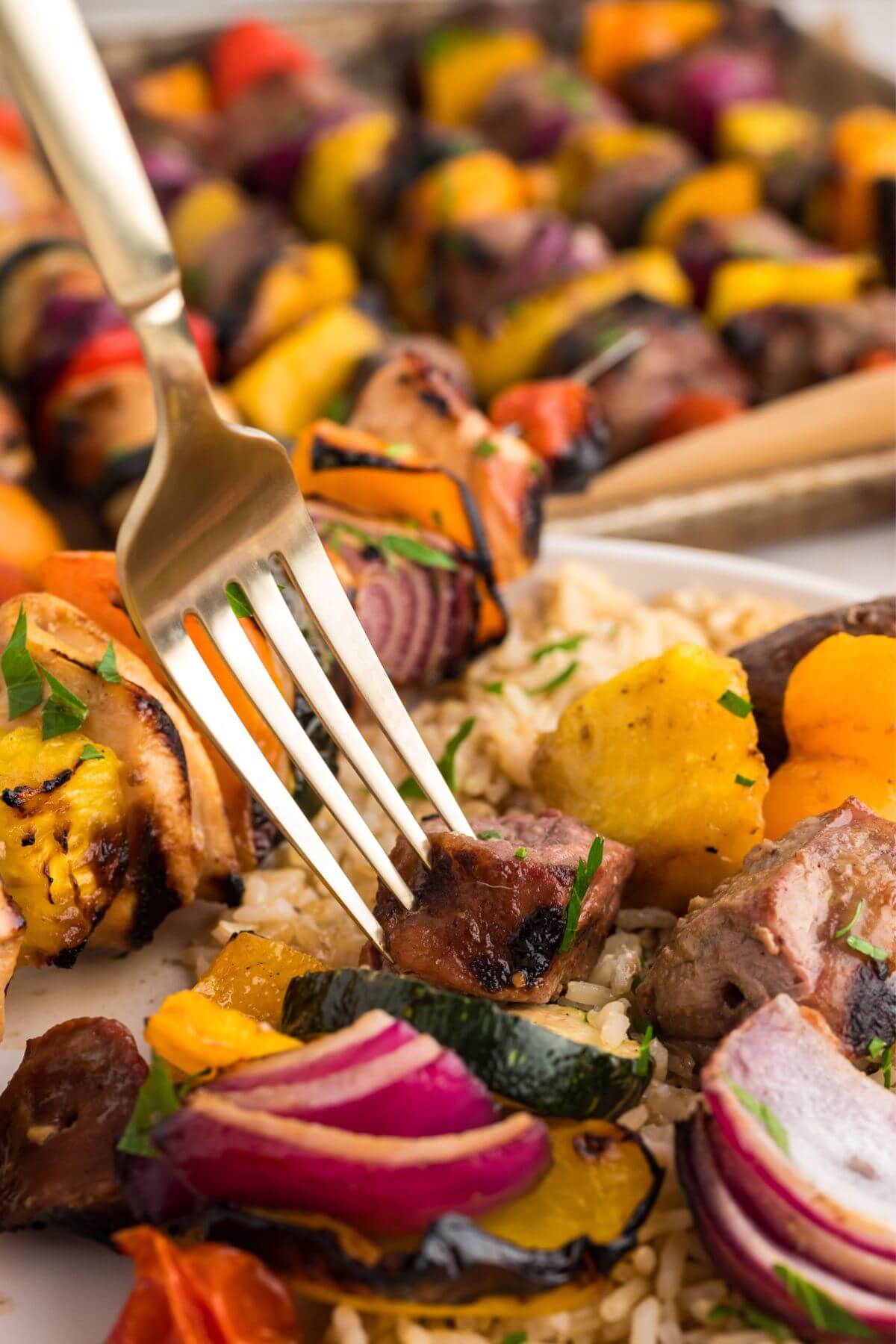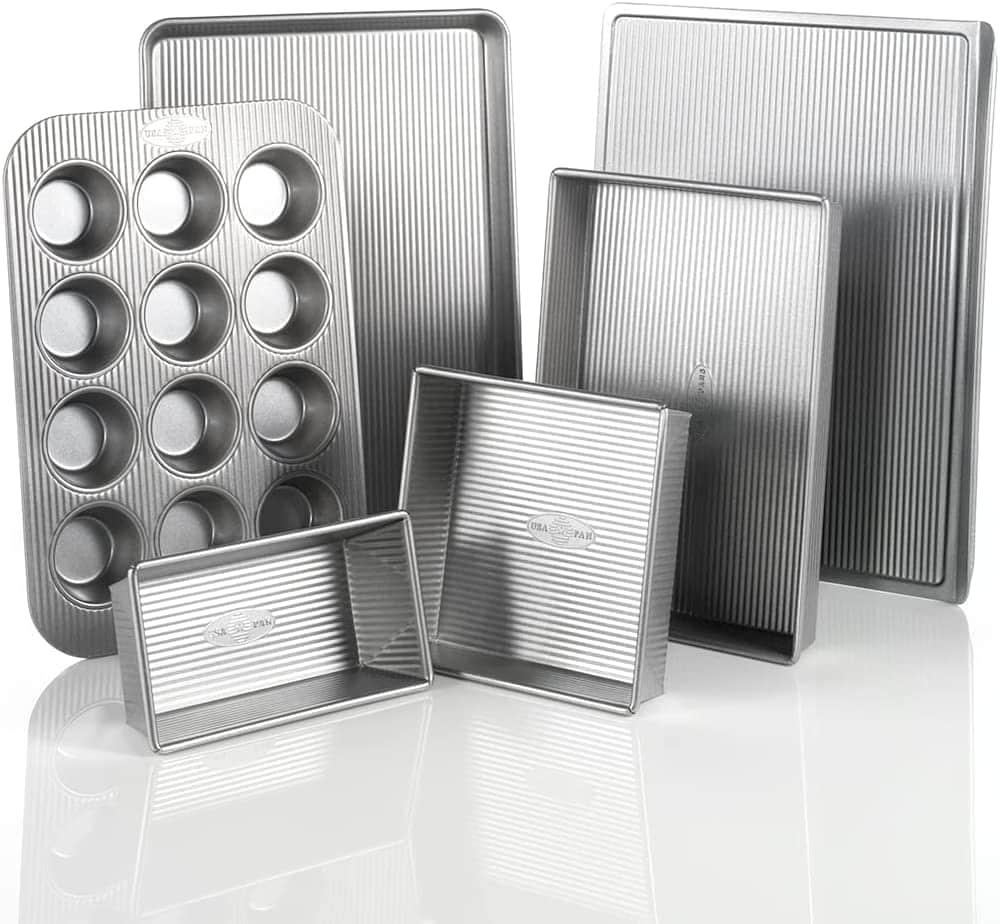 Tips for Two
It is easy to make this recipe fit for two by using only one or two small sirloin steaks or chicken breasts and splitting just one of each veggie between the two kabobs! See the serving button on the recipe card to reduce the ingredients automatically.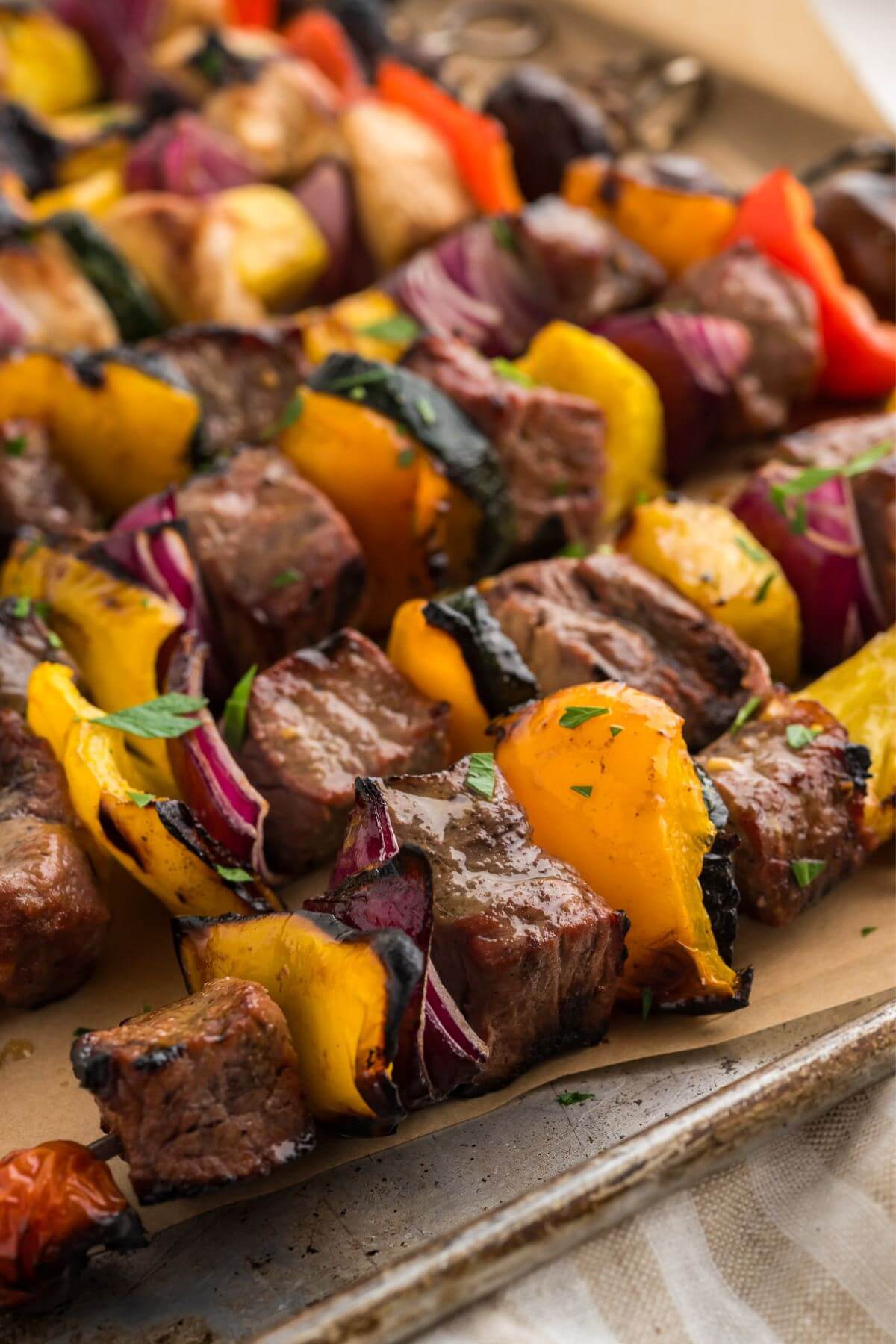 Frequently Asked Questions
Why are they called shish kabobs?
When I hear 'shish kabobs,' my mind always says, "What in the world is a kebab, and who shished them?" Is it just me? The word kebab literally means 'to roast,' and it's of Turkish origin, with 'shish kebab' meaning 'gobbets of meat roasted on a spit or skewers.' So there you have it, enjoy your gobbets of meat roasted on skewers!

What is the best cut of beef for shish kabobs?
Most use sirloin for shish kabobs because the meat is tender and relatively affordable. Other excellent options are flat iron steak, beef tenderloin tips, or NY strip.

Can you marinate chicken and beef together?
Yes! You can marinate the two meats together. However, the beef flavor tends to soak into the chicken, melding the two different tastes, and most recipes will recommend keeping them separate to preserve the contrasting flavors.

Can you cook kabobs in the oven?
Sure! Line a rimmed baking sheet with parchment paper or foil and bake the kabobs at 425° F (220 ° C) for 25 to 30 minutes. Remember to turn and baste the kabobs every few minutes with tongs. That's it!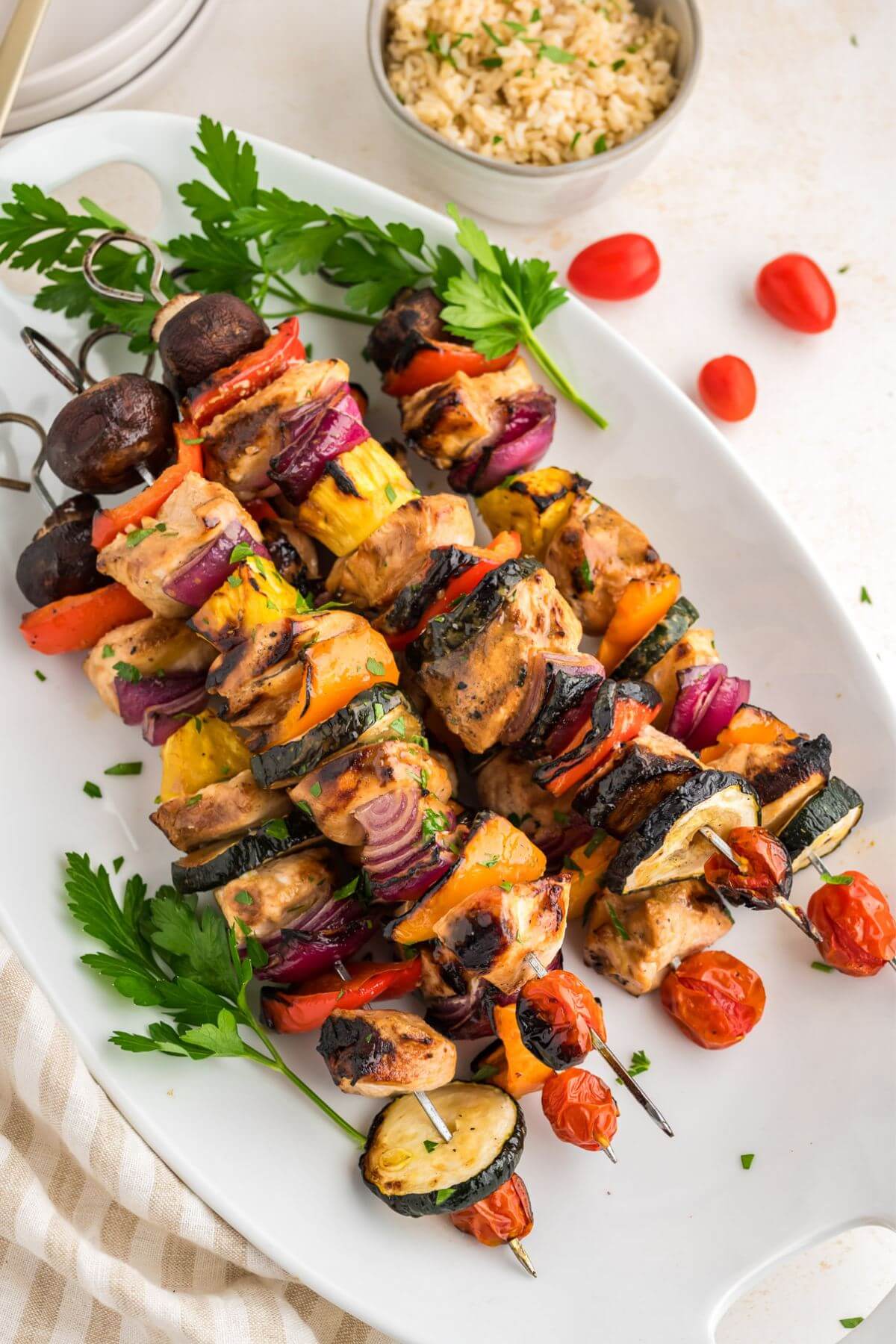 Storage Tips
Refrigerate – Once completely cooled, store leftover kabobs in an airtight container in the fridge for up to three days.
How to Freeze Shish Kabobs – Place cooled, cooked shish kebabs on a parchment or foil-lined baking sheet and freeze for 1-2 hours, then cover the baking sheet well with foil or transfer to an airtight container or baggie (you may need to snip the sharp ends off the skewers). Or remove contents from the skewers, place in an airtight container and freeze for up to 3 months.
Reheat by thawing shish kabobs overnight in the fridge, then fire up the grill once again and place over low heat until just warmed through. Or place in 350° F oven for 5-10 minutes until warmed through.
What to Serve with Beef and Chicken Kebobs
Serve over rice or rice pilaf.
Try this amazing Greek Potato Salad
A Greek Salad would be amazing!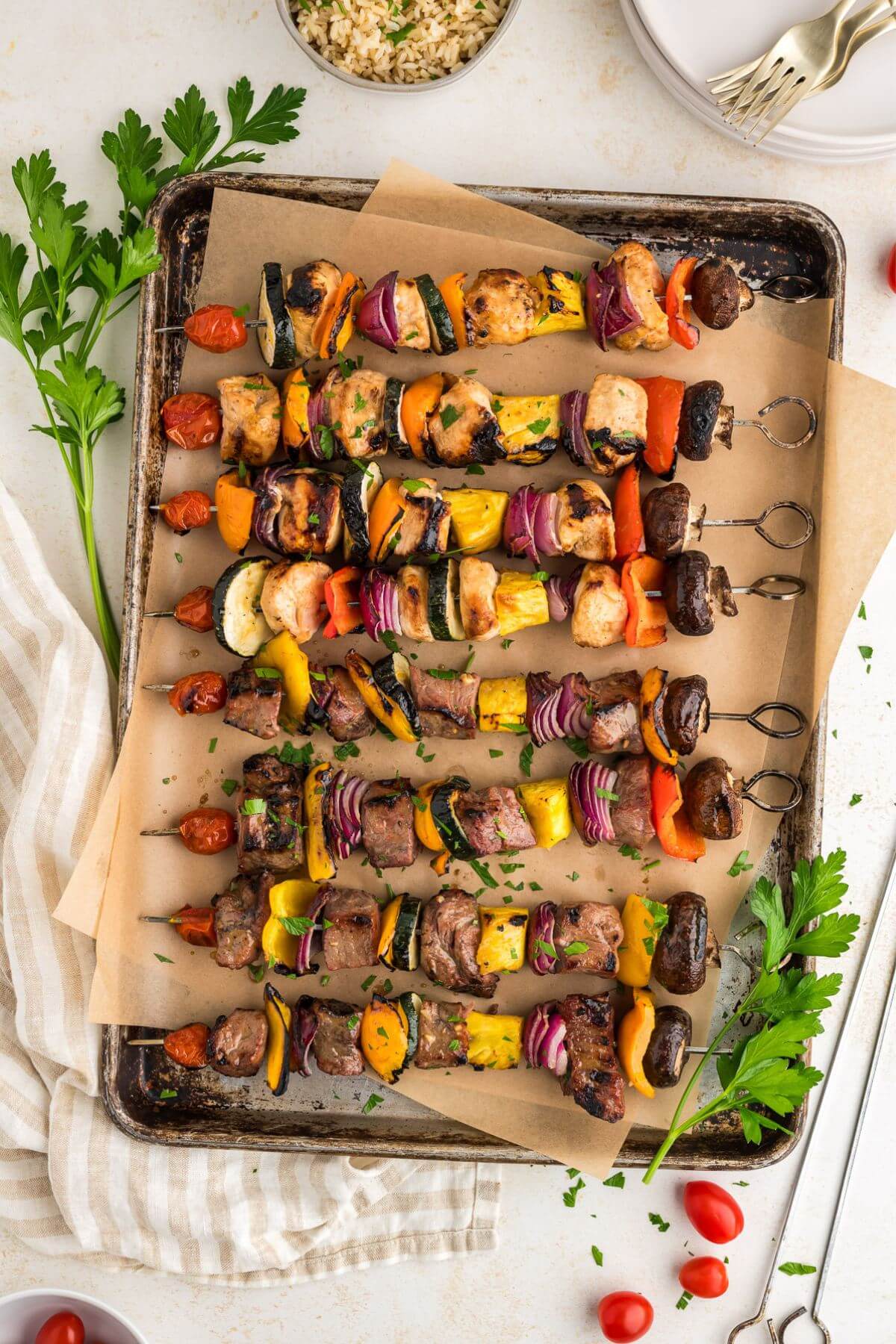 Best Desserts to Serve with easy Shish Kabob Recipe
Try something cool and light, like my award-winning Key Lime Pie, this no-bake Lemon pie, or a family favorite, this Mile High Mud Pie Ice Cream Cake!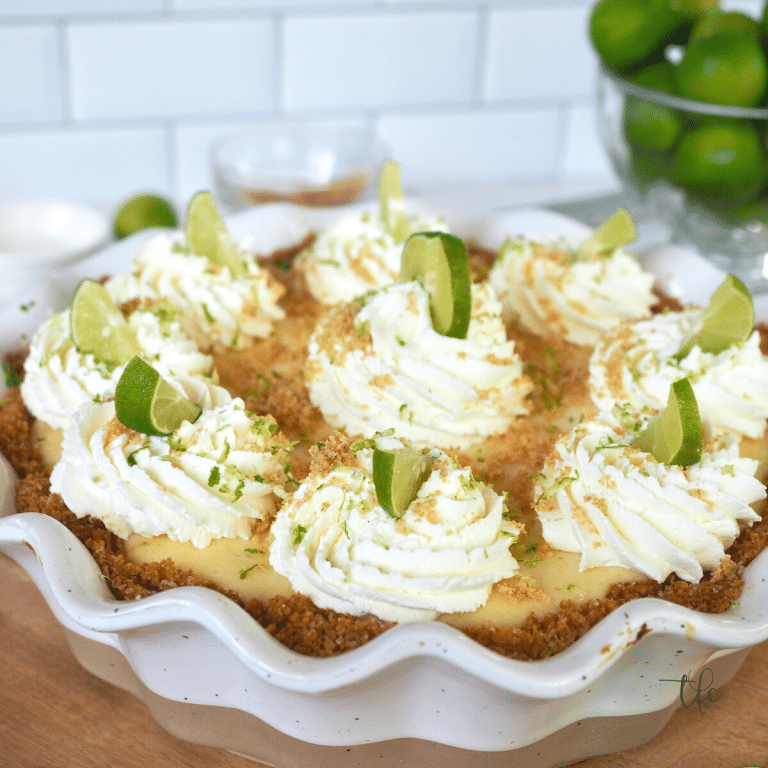 The Best Key Lime Pie | A Traditional Key Lime Pie Recipe
This is the BEST Key Lime Pie, so easy too! A traditional Key Lime pie recipe that is, citrusy, sweet-tart — the perfect sweet to-pucker ratio; light and bright with a crisp not-to-sweet graham cracker crust! Award winning!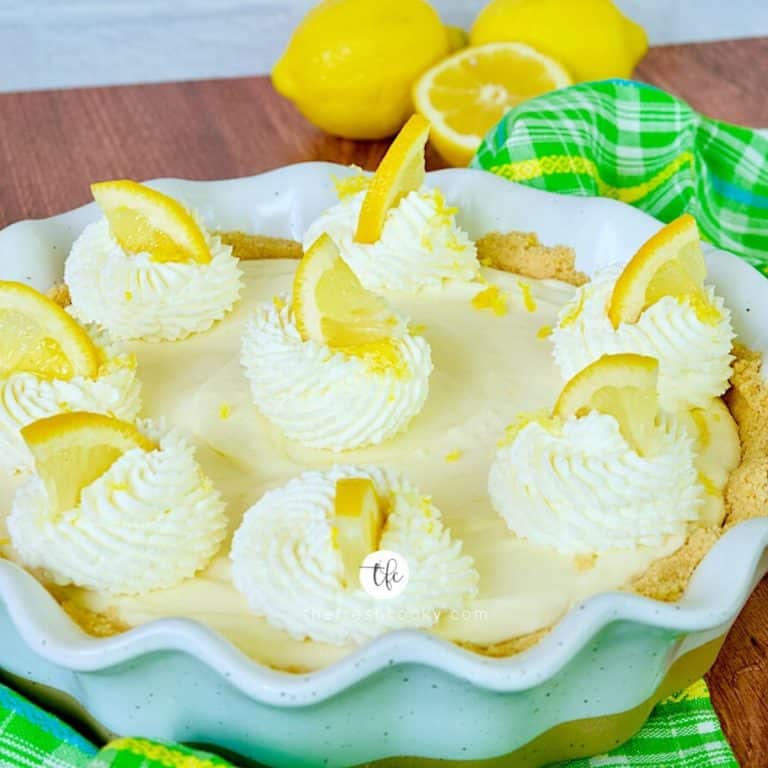 No Bake Lemon Icebox Pie Recipe
This recipe for easy lemon cream cheese pie is amazing! Ready to chill in about 30 minutes, made with real lemon juice, cream cheese, mascarpone and sweetened condensed milk all tucked into an amazing Golden Oreo cookie crust.
Best Mud Pie Recipe (Ice Cream Cake)
Outrageously delicious & easy! Mile High Mud Pie is layers of creamy ice, fudge and whatever you want to put between with a rich oreo cookie crust.
Our Favorite Marinade Recipes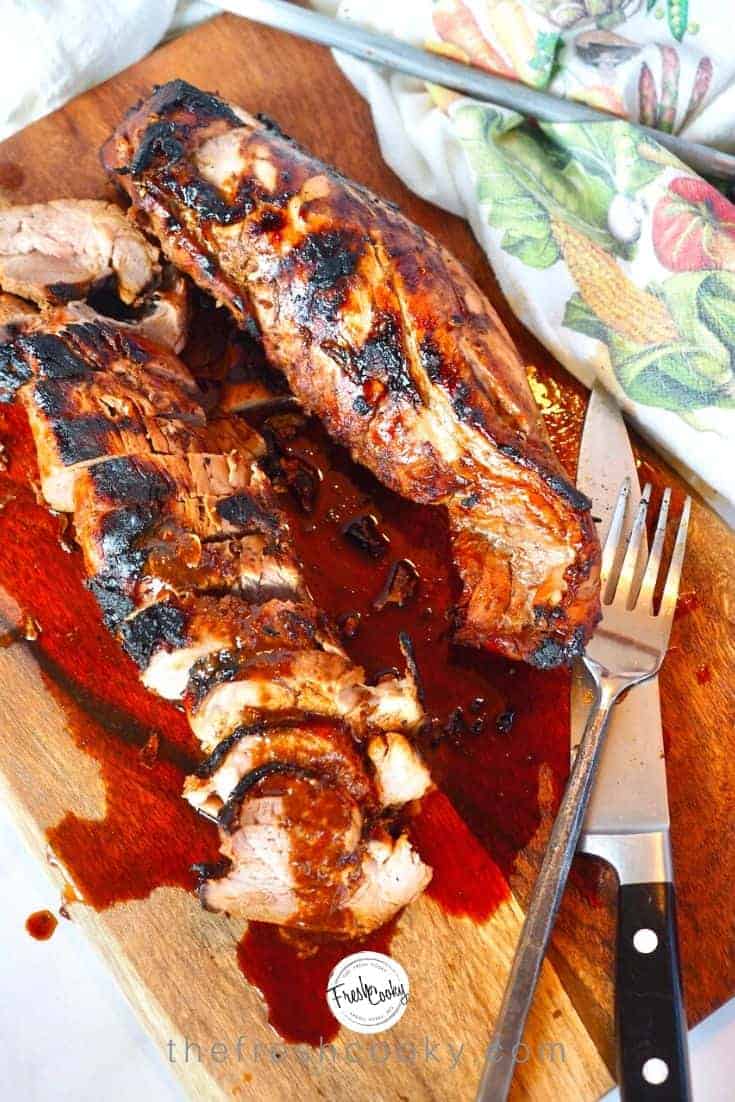 Asian Marinated Grilled Pork Tenderloin Recipe
Tender, tangy, Asian pork marinade; super easy to put together for a quick weeknight meal. Freeze for an ready made meal.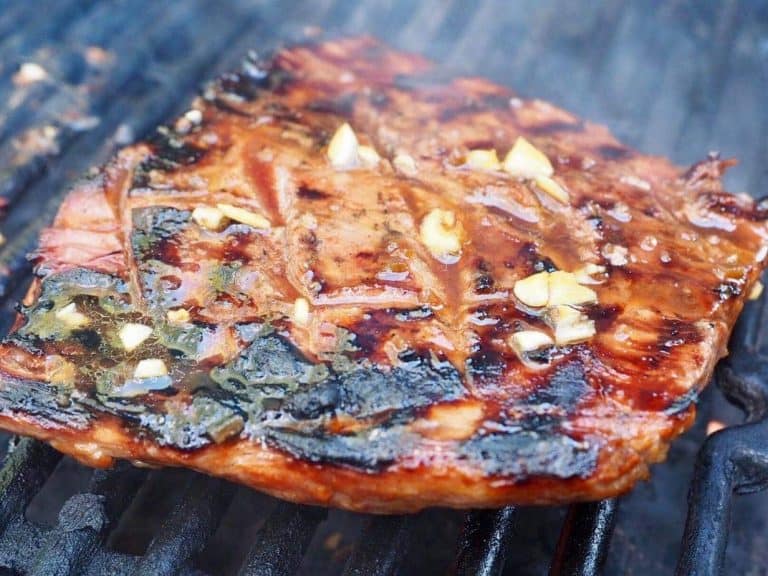 Famous Flank Steak Marinade
Another family favorite! Whip up this flank steak marinade in minutes and then sit back and drool!
More Chicken Recipes
More Beef Recipes You Will Love
Cut all the kabob ingredients into similar sizes for even cooking and bites.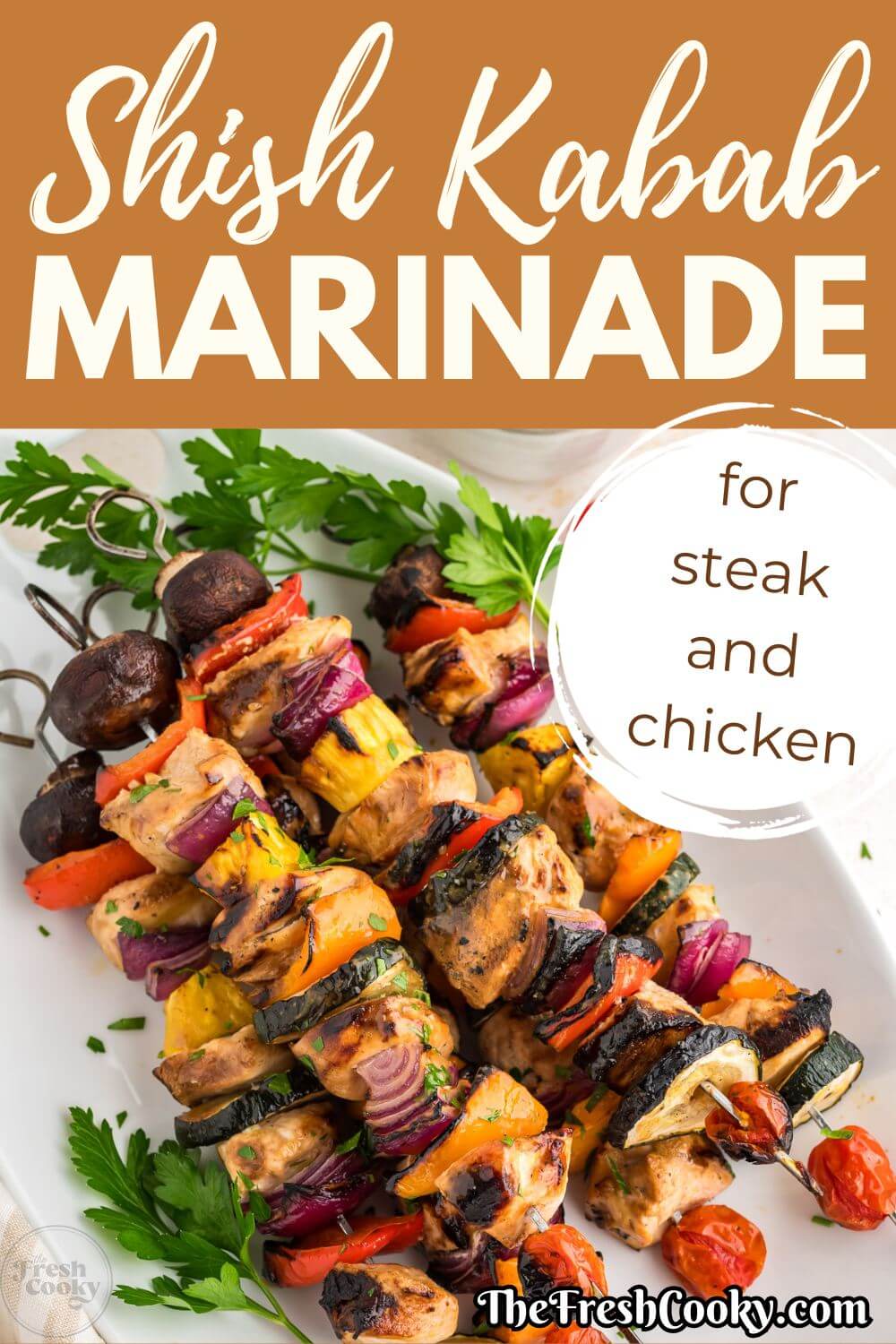 I hope you loved this Shish Kabob Marinade — if you did, would you share your creation on Instagram, Facebook and Pinterest? And be sure to comment below!
Like this recipe?
Don't forget to give it a ⭐️⭐️⭐️⭐️⭐️ star rating and leave a comment below the recipe!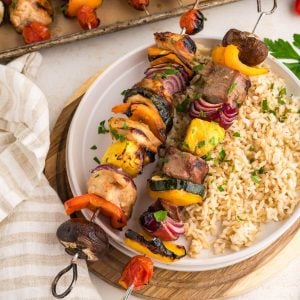 Best Shish Kabob Marinade Recipe for Chicken and Steak
This easy shish kabob marinade recipe is ready in minutes – The Best Shish Kabob Marinade Recipe for Chicken and Steak! An easy weeknight dinner recipe the whole family will love.
Click stars to rate now!
Print
Pin
Save
Saved!
Rate
Equipment
Pyrex Portables Glass Bakeware

Grillaholics BBQ Grill Tools Set – 4-Piece
Ingredients
MARINADE
2

cloves

garlic

crushed and rough chopped

1

cup

vegetable oil

I used Avocado oil, any oil will work

¼

cup

soy sauce

I prefer Bragg's or Tamari

¼

cup

Worcestershire sauce

use Lee & Perrin's if gluten-free

¼

cup

Dijon mustard

¼

cup

lemon juice

fresh

Pinch

kosher salt

1-2

teaspoons

ground pepper
KEBOBS
2 ½

lbs

sirloin

or New York Strip steak, cut into cubes

2 ½

lbs

chicken breast

cut into cubes

1-2

onions

such as Walla-Walla, Vidalia, or red onions

1-2

bell peppers

variety of colors, cut into cubes

1

lb

mushrooms

optional

½

fresh

pineapple

cut into large chunks

1-2

zucchini

sliced ½ in discs, or summer squash

1

carton

grape tomatoes
Instructions
In a medium bowl, whisk together all marinade ingredients, set aside. Cut beef and/or chicken into 1 ½ inch cubes and place in shallow dish or container (keeping meats separate if marinating for longer than 4 hours.

Pour marinade over meat(s) and stir to coat all sides. Marinate in fridge 4-6 hours, or overnight. Stirring occasionally.

Prepare veggies & pineapple for skewers, by cutting into large chunks. Remove stems from mushrooms. Once meat has marinated required amount of time, assemble kabobs by placing what each guest would like on their kabob, alternating colors and meat(s). Reserve marinade for basting.

Grill over medium high, eat 4-5 minutes per side, turning and basting with reserved marinade. Remove from grill and cover with foil, allowing to rest 1-2 minutes. Carefully remove from the skewer and serve over rice or with your favorite salad.
Nutrition
Serving:
1
serving
|
Calories:
639
kcal
|
Carbohydrates:
8
g
|
Protein:
65
g
|
Fat:
38
g
|
Saturated Fat:
7
g
|
Polyunsaturated Fat:
17
g
|
Monounsaturated Fat:
10
g
|
Trans Fat:
0.2
g
|
Cholesterol:
177
mg
|
Sodium:
854
mg
|
Potassium:
1415
mg
|
Fiber:
2
g
|
Sugar:
4
g
|
Vitamin A:
573
IU
|
Vitamin C:
32
mg
|
Calcium:
75
mg
|
Iron:
4
mg