As an Amazon Associate, I earn commissions from qualifying purchases (
disclosure policy
).
With a few simple ingredients, and 15 minutes you can make this incredibly easy old fashioned butter pound cake recipe — from scratch. A great recipe for an easy cake with buttery flavor and a tender crumb, that some also call a Kentucky Butter Cake with a to-die for buttery vanilla glaze on top.
This old fashioned pound cake recipe supremely moist, buttery and dense and I've taken it up a notch by making this warm vanilla sauce poured over the warm cake, seeping into all the nooks and crannies giving the top a sweet, crunchy, crusty sugary coating, simply dust on a little powdered sugar and you have an easy, delicious, portable dessert.
Want to take it another 10 notches higher? Drizzle this decadent Vanilla Caramel Bourbon Sauce on top and you'll have people licking their plates, no seriously, I've had grown women ask if it's okay.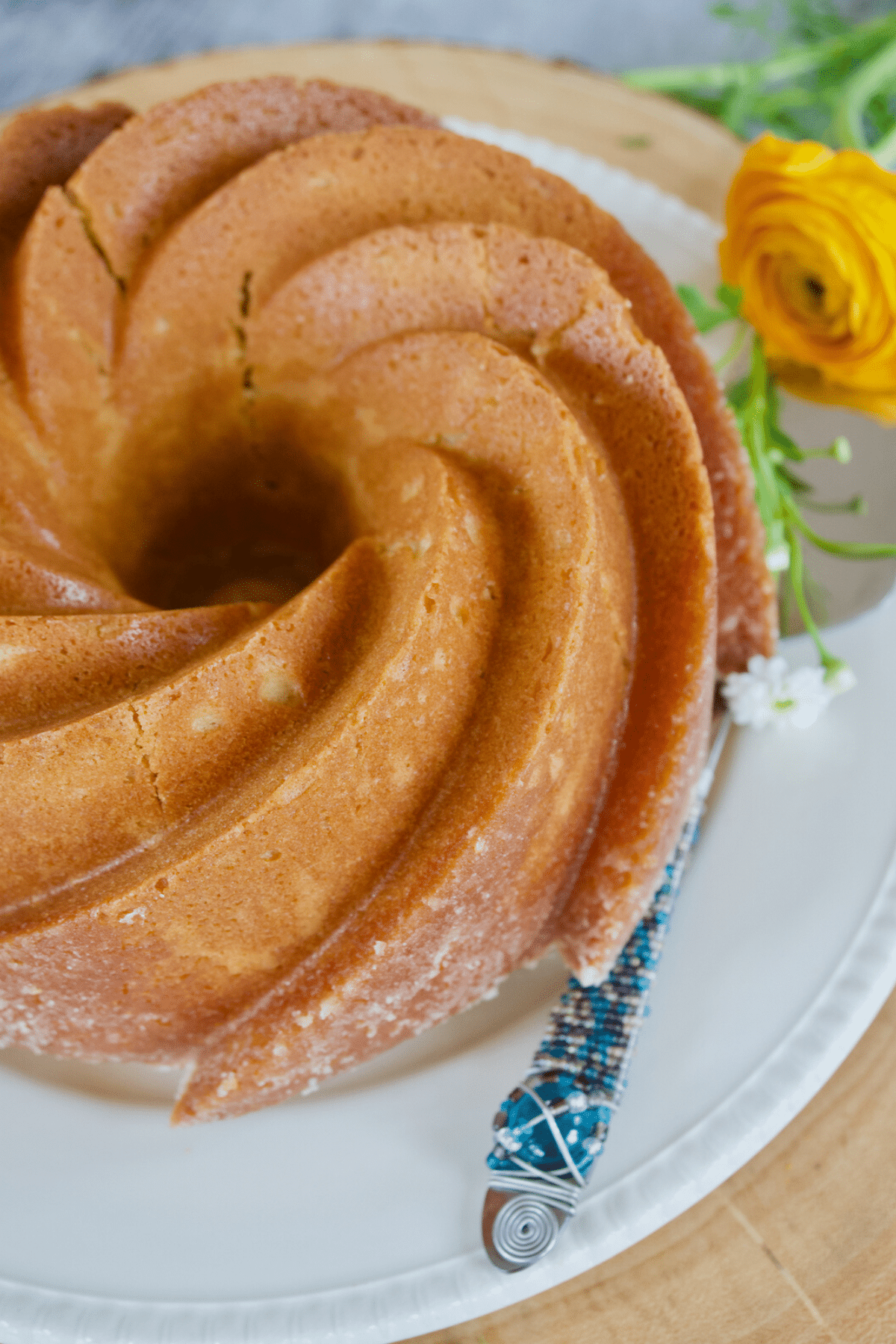 I've adapted the cake slightly for my ingredients and for high altitude from Cookies & Cups original recipe. You simply toss all of the ingredients in the bowl of a mixer, mix until smooth and you've got an amazing Kentucky Butter Cake, that really is just an Old-Fashioned Butter Pound cake recipe!
Why you will love this Old Fashioned Butter Pound Cake Recipe
Super Easy | Literally jump pour the ingredients in the stand mixer bowl and go, 15 minute prep!
Make Ahead | Bundt cakes and especially butter pound cakes are even better when they are allowed to sit and hang out for a day
Plain or Dressed up, it is the perfect pound cake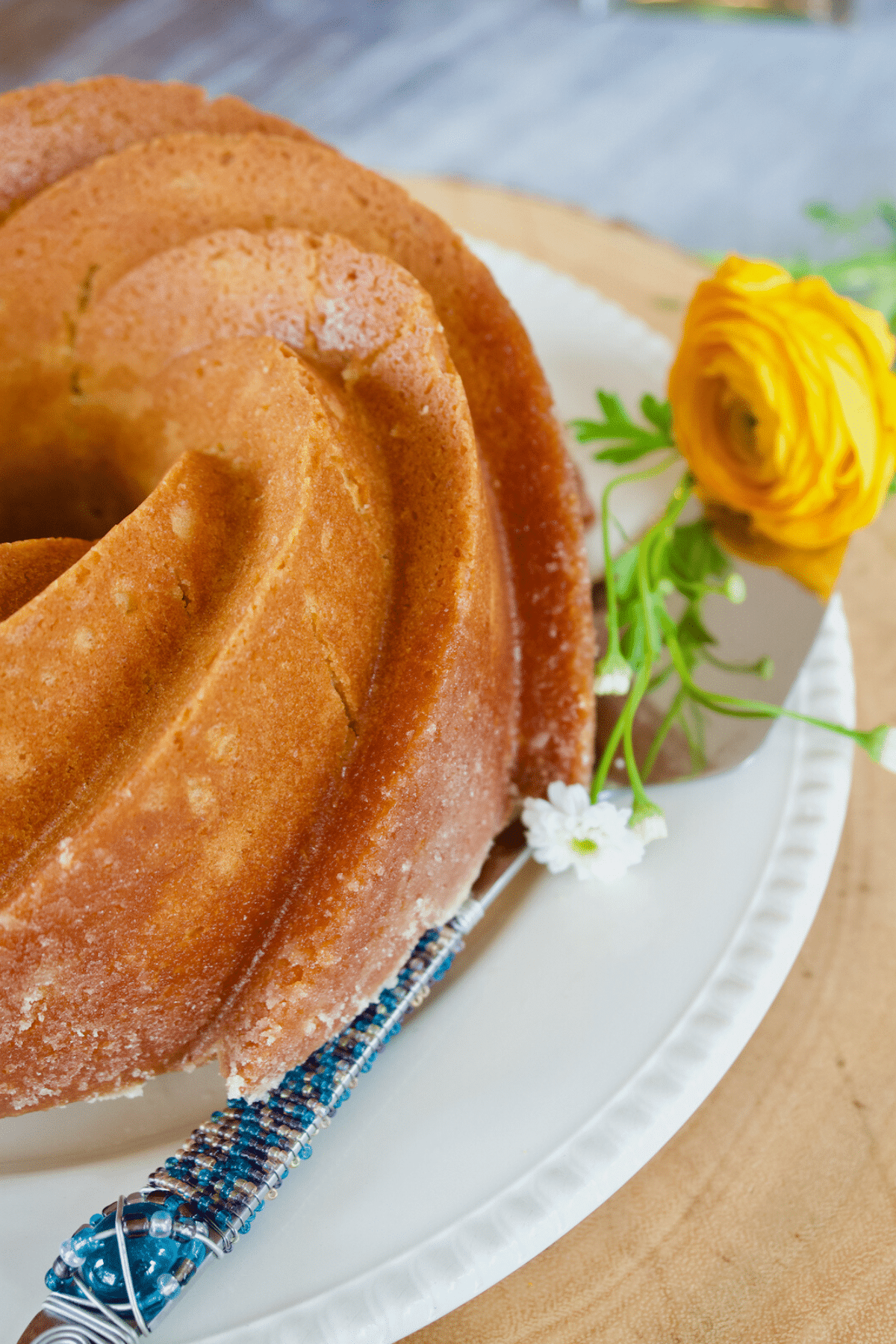 What is an Old-Fashioned Butter Pound Cake?
Only the best cake you will ever make, perfect for special occasions and this easy recipe is easily made a head of time. Originally a traditional pound cake recipe has a pound of butter, a pound of flour, sugar, and eggs. But this is delicious version reduces the eggs slightly making it a little bit less dense than a classic recipe pound cake.
Simple Ingredients
For the full list of ingredients and directions, print the recipe card at the end of this post.
Butter | at room temperature. Use real butter, it's not Kentucky Butter cake or Butter pound cake for nothing! Remember if it's soft coming out of the fridge it's not real butter. I used unsalted butter, if using salted butter, decrease the salt by ¼ teaspoon.
Sugar | I use all-natural cane sugar, but regular white sugar may be used
Eggs | You want all of your ingredients to be room temperature!
Vanilla Extract | you will use a tablespoon worth, so be sure you have enough! Sometimes I use my homemade Bourbon Vanilla Extract! YUM!
All-purpose Flour | I use organic, unbleached AP flour in my baking, no need for cake flour here, told you it isn't fussy!
Salt, Baking Powder, Baking Soda | The trifecta for a perfect rise, with the right amount of density
Buttermilk | Buttermilk adds wonderful moisture, tang and flavor, you can make your own if you don't have any.
DIY Buttermilk
It is easy to make your own buttermilk, just add 1 tablespoon of white vinegar or lemon juice plus enough milk to measure 1 cup. Stir, then let stand for 5 minutes. It is best to let this sit out until it's room temperature, this will give the cake a much smoother texture in the long run.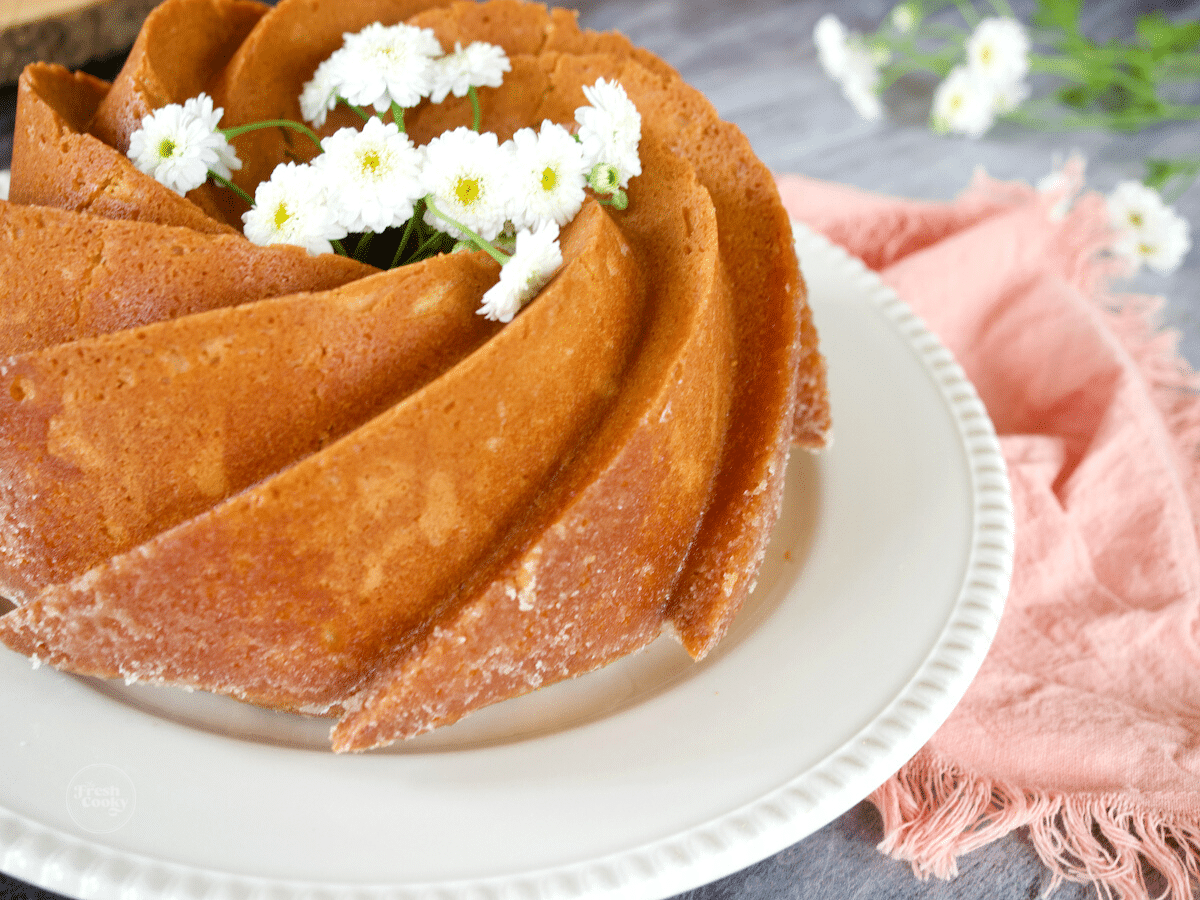 The Secret to Getting an Old-Fashioned Pound Cake to Release
Start by buttering a 10 cup bundt pan (a 12 cup pan will work too), really, really well! I take a soft stick of butter, hold it by the wrapper and smoosh away, then using a pastry brush, make sure you get into all of the ridges.
Then toss a couple tablespoons of flour into the buttered bundt cake pan, I like to do this over a trash can or sink, slowly turn the pan and pat the sides to allow the flour to coat all sides. This is a great video showing you how.
OR, use a REALLY good baking spray that already contains flour, like this Bak-Klene, a favorite of mine, along with this Gluten-Free version from La Tourangelle Baking Spray. Not all baking sprays work for this cake, so proceed with caution and if in doubt, use the butter and flour method.
How to Make Kentucky Butter Cake
Preheat the oven to 325F (350F for High Altitude) and make sure you have prepped your bundt pan or tube pan very well! See above about getting your cake to release.
In the bowl of a stand mixer, place all ingredients in order listed. You may also use an electric mixer (hand mixer) with a large batter bowl.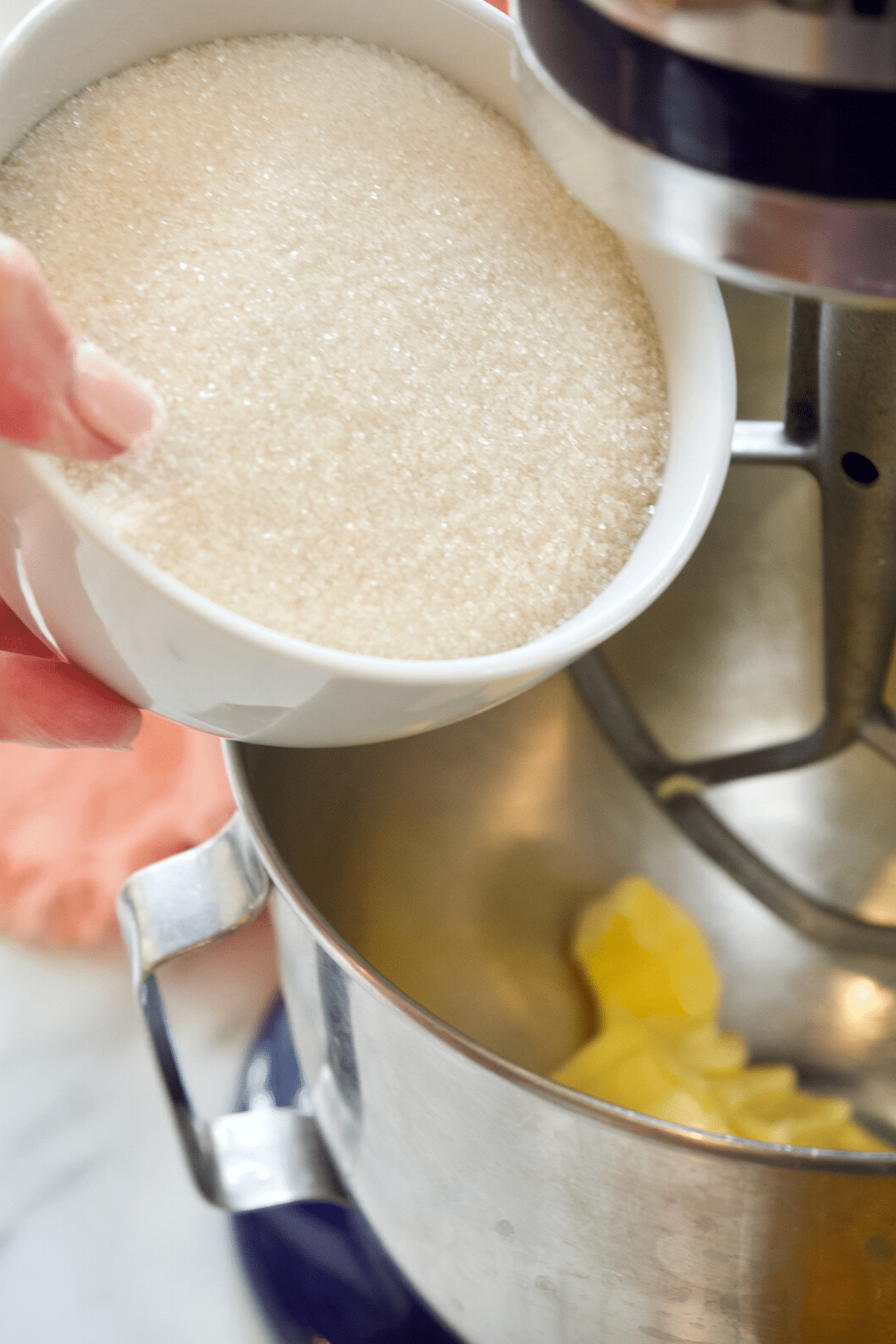 Pour in buttermilk* mixing on low speed for 30 seconds, then increase speed to medium speed and mix for 3-4 minutes. For best results beat on the longer side, especially if you used all-natural cane sugar.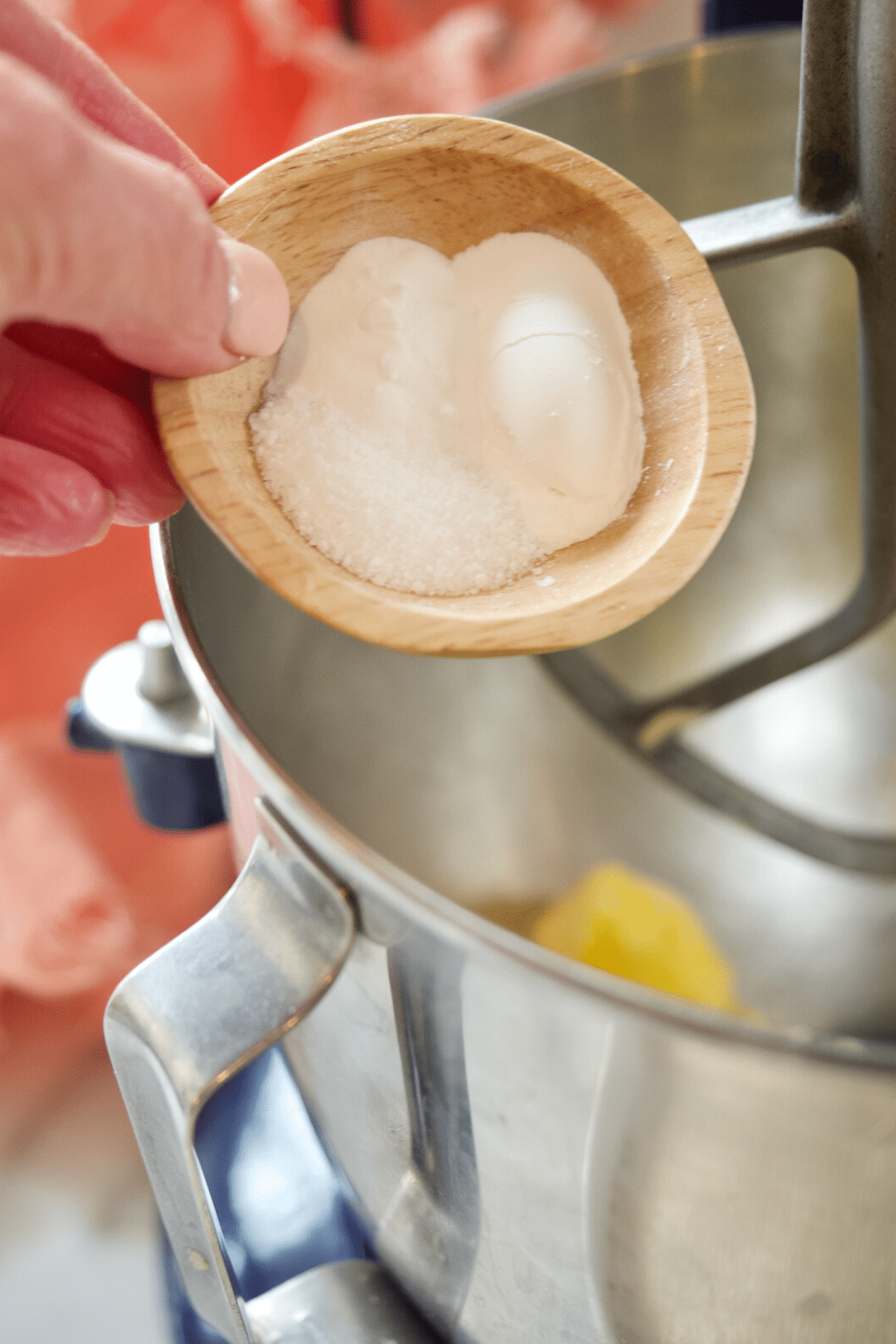 Pour the cake batter into prepared bundt pan and smooth batter to even out. Place the bundt pan with batter on a cutting board or hot pad and give it a few gentle taps to settle the batter.
Bake for 65-75 minutes until toothpick or skewer inserted into the center of the cake comes out clean or with a few moist crumbs. Remove from oven onto wire rack.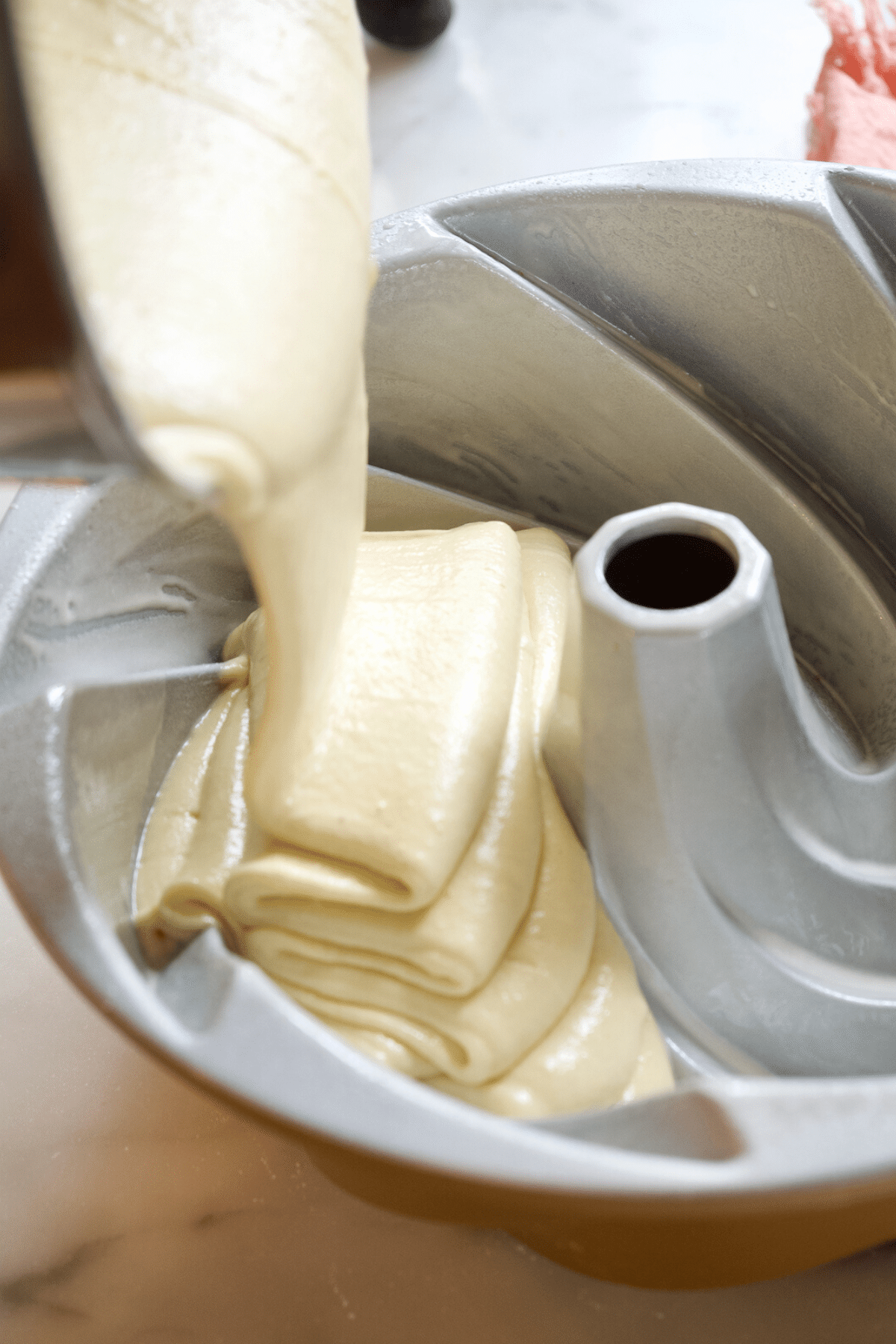 Make Vanilla Butter Glaze
Add all ingredients into small pan over medium-low heat and stir until the butter is melted and dissolved. Do not boil.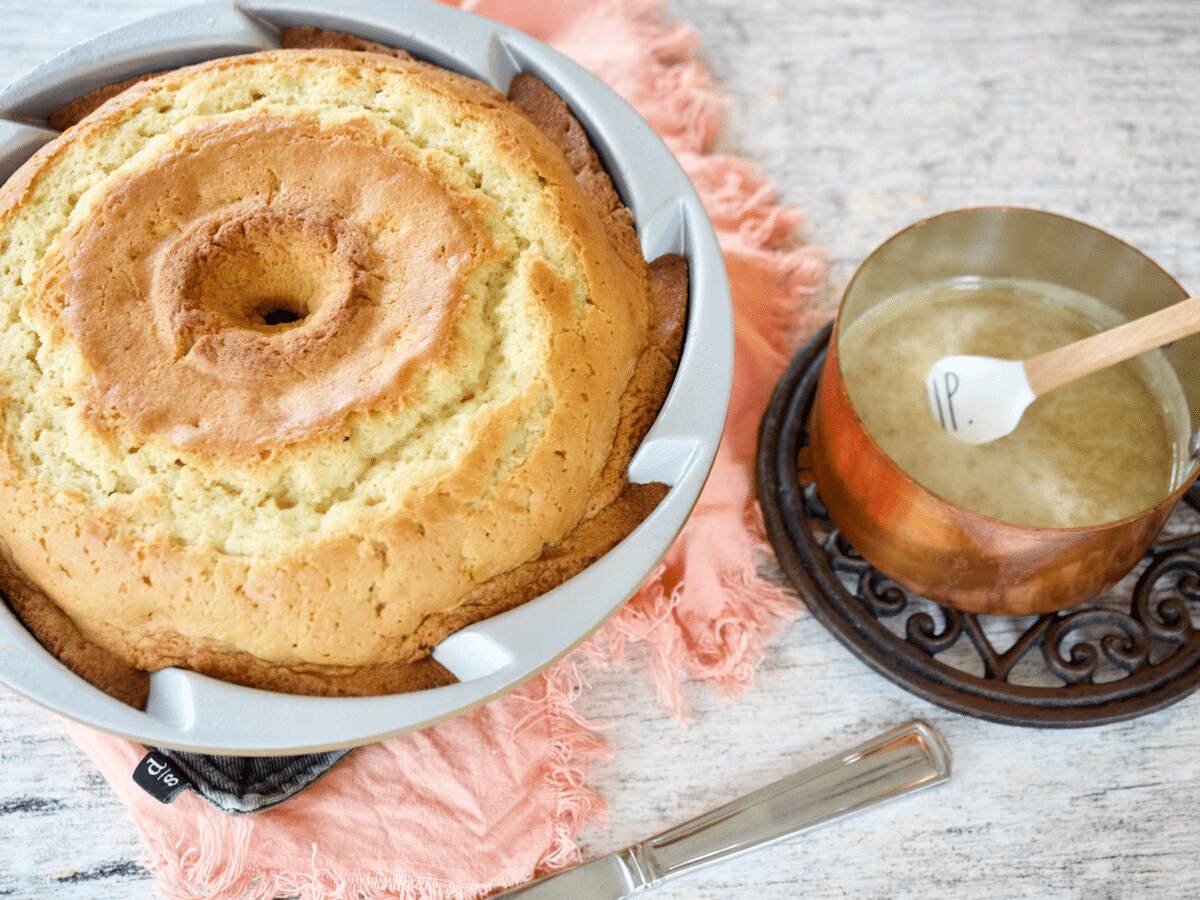 Poke holes all over the warm cake, using a skewer or a knife, then pour the glaze over the warm cake and allow to cool completely in the pan (this will form the sweet crust on the cake). When cake is completely cooled, invert pan onto serving plate, dust with powdered sugar.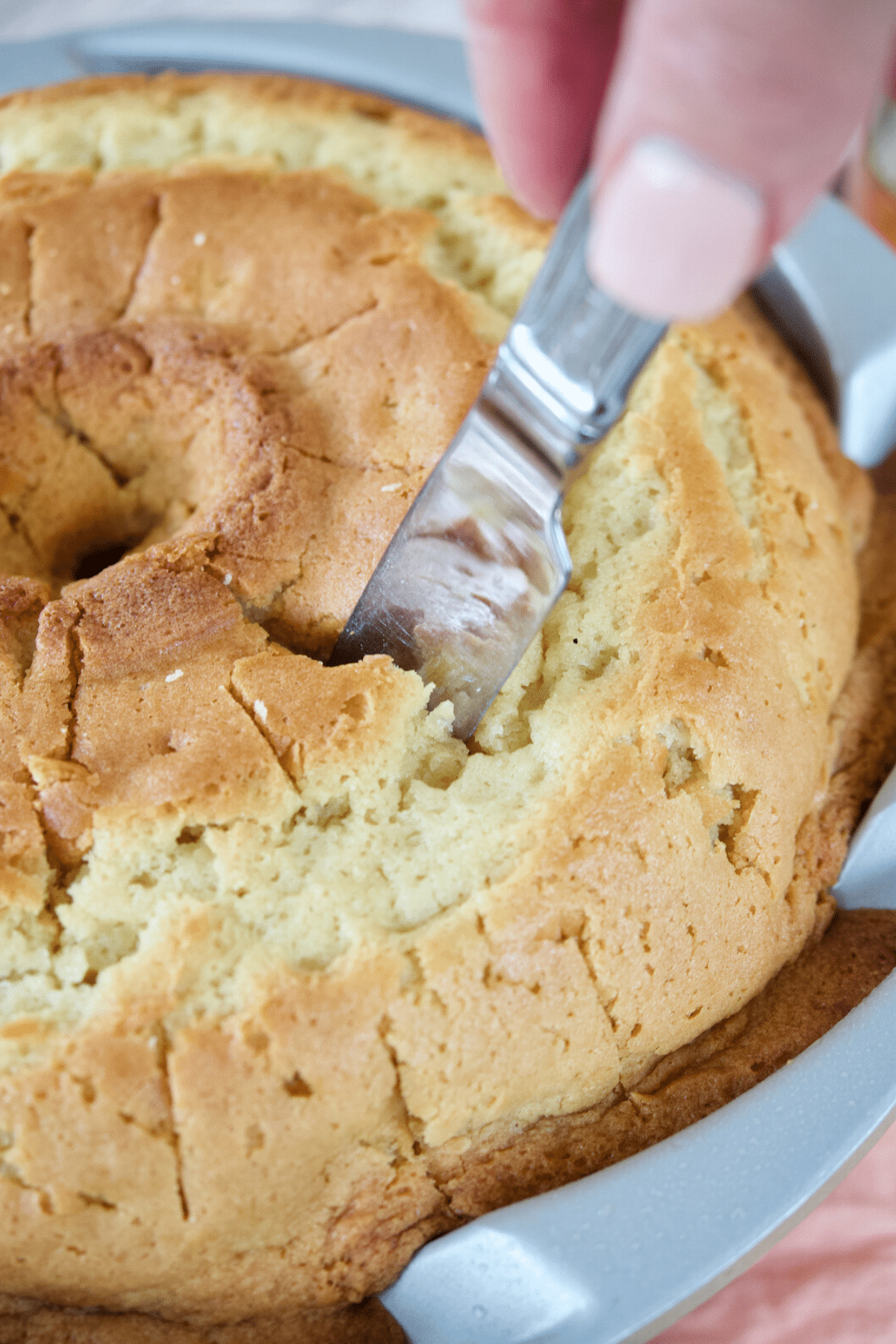 TOP TIPS
If your bundt cake sticks | simply warm cake in pan in a preheated 325° oven for 5 minutes, invert immediately onto a plate and allow to cool completely. You might need to release the sides of the cake, carefully using a butter knife prior to heating and then releasing.
Room Temperature | All of your ingredients should be at room temperature, this will ensure the best, tender crumb and moist cake.
This easy pound cake recipe, is a decadent cake and will not disappoint! Give it a try this Christmas, Easter, Derby Day, Mother's Day or bring to your next potluck.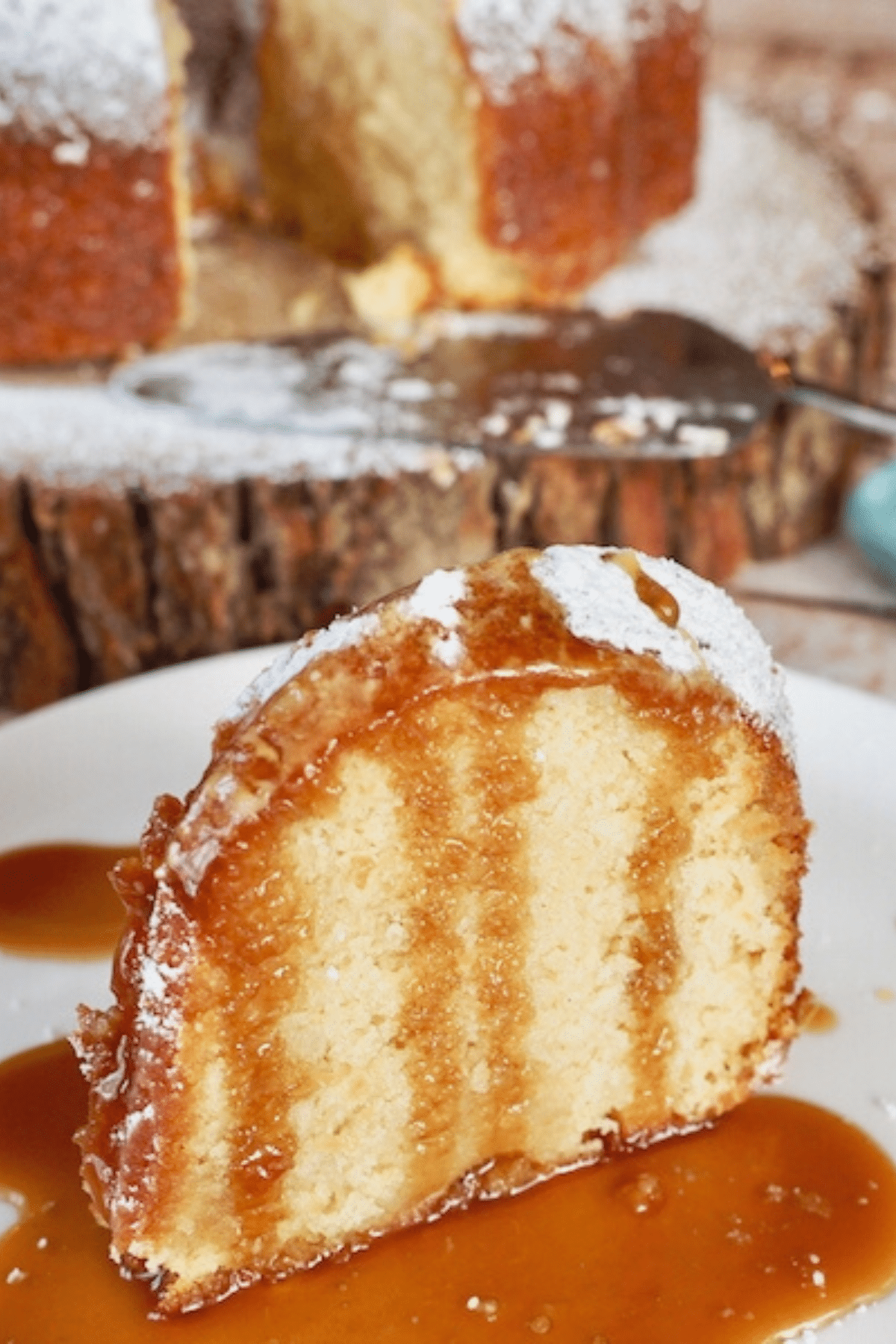 Frequently Asked Questions
What is Kentucky Butter Cake?
It is essentially a vanilla classic pound cake recipe combined with a butter crunch cake. It's said that it was created by Nell Lewis in 1963 who entered it into a Pillsbury Bake-off contest in Missouri and won, can I hear a YAY NELL!

What sets Kentucky Butter Cake apart is the sweet butter vanilla sauce, I adore this sauce and also use it on my Pear Bundt Cake, as well as slather it on this Eggnog Coffee Cake. I digress, by poking holes in the homemade pound cake while it's warm, the vanilla butter sauce seeps into all parts of the cake. The buttery glaze also creates a wonderful, crunchy, sugary, buttery coating on outside of the cake.
Do I need oil and butter to make a homemade pound cake?
Actually for a real pound cake, you would only use real butter, no oil.
Can I make Gluten-Free Kentucky Butter Cake
While I have never tried it personally, I have made other bundt cakes gluten-free and they worked great, my favorite cake flours to use for gluten-free are Bob's Red Mill 1-to-1 or King Arthur Cup for Cup, if you try it let me know how it turns out.
Can I bake Old Fashioned Pound Cake ahead of time?
Yes! In fact, I encourage you to do just that, a day or two makes the cake even more moist and delicious than the first day.
Variations & Substitutions
I love a basic cake that with a few slight changes you can make into just about any flavor! Think of the Kentucky Butter cake as a blank canvas!
Replace the vanilla with lemon extract, almond flavoring (add a little at a time, as almond flavoring can be strong), peppermint, chocolate flavor, and even rum extract.
Serve topped with your favorite chocolate sauce, or go one better with this hot fudge sauce.
Or take it to another level with strawberry syrup or cook up a simple strawberry sauce (or raspberries) and serve with fresh berries, kind of like a strawberry shortcake.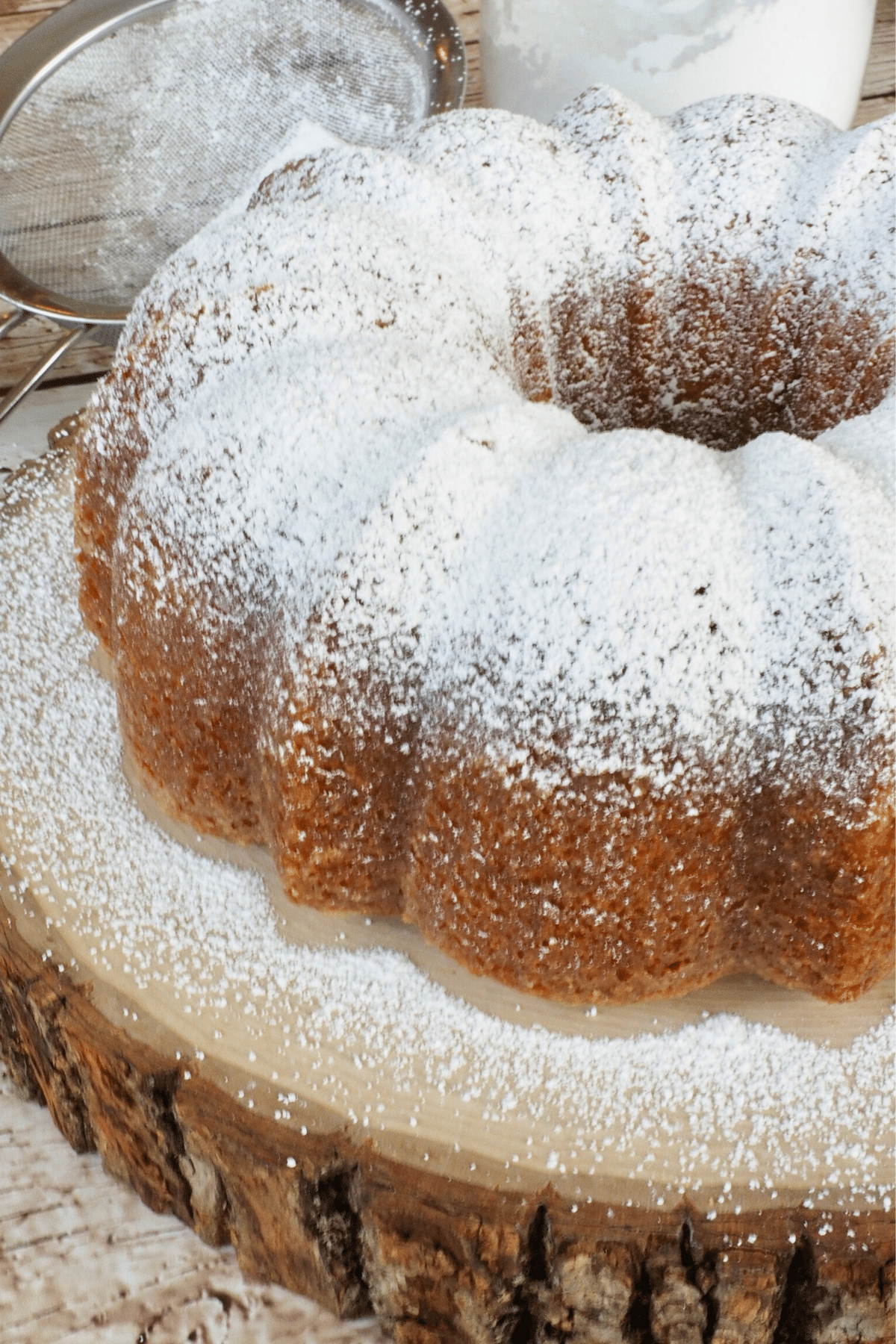 High Altitude Adjustments
I did not alter the ingredients at all for high altitude, if you are above 7,000 feet, you may want to reduce your baking soda and baking powder by ¼ teaspoon.
Otherwise make as directed, but do BAKE AT A HIGHER TEMPERATURE, preheat and bake at 350 degrees, unless you are using a dark coated pan.
Top Tips
Make sure you have greased and floured your pan really, really well, getting into all the nooks and crannies!
Room temperature ingredients! So important!
Do not overmix the cake batter!
No Peeking | Let the cake do its thing for at least 50 minutes before you start opening the oven to check on it.
Do not over bake the old-fashioned pound cake! This is the main reason for dry cakes!
Poke holes using a thick butter knife, skewer that is rounded or even better, use a chopstick!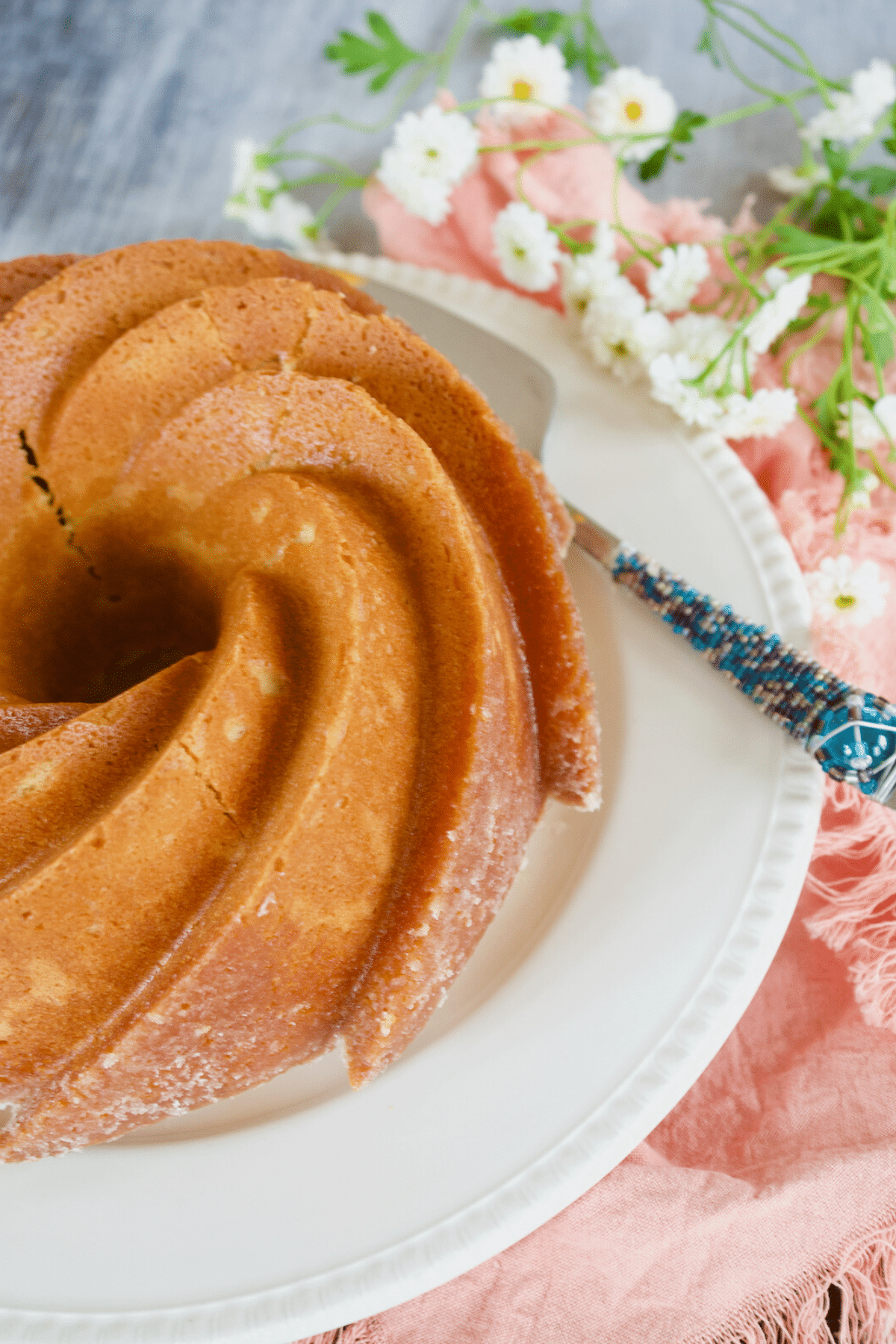 Don't forget your Mint Juleps and the Caramel Bourbon Sauce! And may the best horse (and jockey) win! Wanna take this totally over the top, try making the cake and sauce with my Bourbon Vanilla Extract.
More great bundt cakes
If you loved this old-fashioned butter pound cake recipe please leave a comment below.
Like this recipe?
Don't forget to give it a ⭐️⭐️⭐️⭐️⭐️ star rating and leave a comment below the recipe!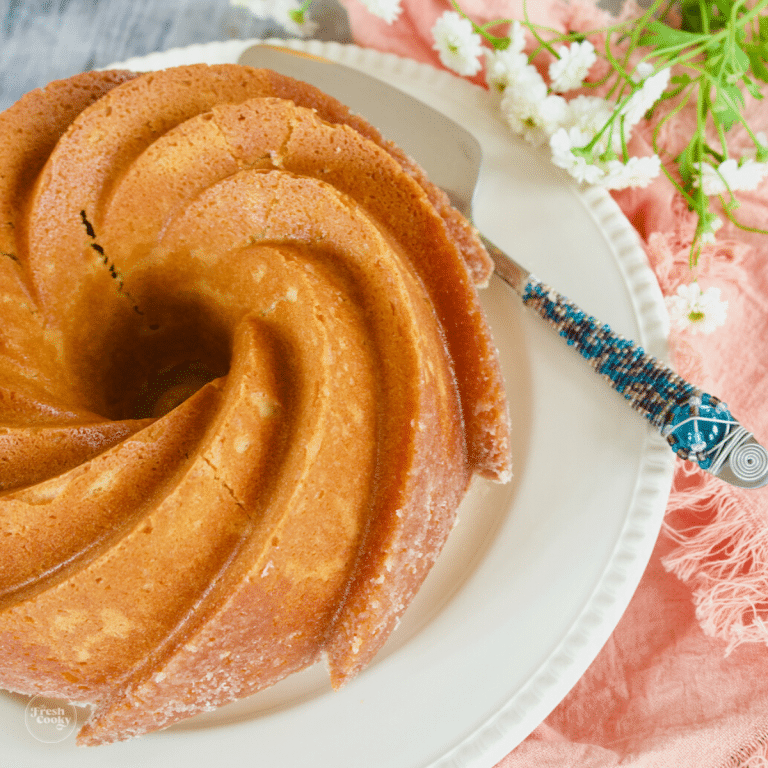 Kentucky Butter Cake
This Kentucky Butter Cake is simply delicious and ridiculously easy! You can't mess it up! Rich buttery pound cake drenched in a vanilla sauce and if desired, served with Vanilla Bourbon Caramel sauce.
Click stars to rate now!
Print
Pin
Save
Saved!
Rate
Ingredients
CAKE
1

cup

butter

room temp, cubed

2

cups

sugar

I use all-natural cane sugar, regular white may be used

4

large

eggs

room temp

1

tablespoon

vanilla extract

not teaspoon
3

cups

all-purpose flour

I use unbleached

1

teaspoon

kosher salt

1

teaspoon

baking powder

½

teaspoon

baking soda

1

cup

buttermilk*
VANILLA BUTTER GLAZE
⅓

cup

butter

¾

cup

sugar

unbleached cane sugar (granulated may be substituted)

2

tablespoons

water

2

teaspoons

vanilla extract
Instructions
Prepare your 10-12 cup bundt pan by slathering with butter, using a pastry brush if needed to get up and down the sides and the center tube siding. Dust the bundt pan with a few tablespoons of flour, knocking out any excess. Set aside.

Preheat your oven to 325° F, see Notes for high altitude adjustments.

In the bowl of a stand mixer (or hand mixer works too) place ingredients in order listed. Mix on low for 30 seconds to combine ingredients, slowly increasing speed to medium for 3-4 minutes. Mix a bit longer if you've used natural cane sugar as it's more granular. Pour the batter into the prepared pan and bake for 65-75 minutes until cake tester comes out clean.

The cake should be a beautiful golden color and have some small cracks on top. Remove from oven and set on cooling rack.
Butter Glaze
In a small saucepan, place all glaze ingredients and stir consistently over medium-low heat. Stir until butter and sugar is dissolved, if using natural cane sugar, reduce your heat slightly and stir, cooking a bit longer. Do not boil. Remove from stovetop once the glaze has thickened slightly and set aside.

Using a butterknife or chopstick, poke holes all over cake, trying to go all of the way to the bottom of the cake, this will allow that glaze to seep through the entire cake. Pour warm glaze evenly over the warm cake, I like to pour a little extra at the edges and center, so those get extra crunchy with the glaze as it cools. Allow cake to cool completely in pan.

Once cooled, invert pan onto serving plate. It might help to carefully insert a butter knife along the edges and sides of cake if it's sticking a bit. If that doesn't do the trick, place cake in preheated 325°F oven for 5 minutes, remove and invert immediately. Allow to cool before dusting with sugar. Dust cooled cake with powdered sugar.

If desired, serve cake with warmed Bourbon Vanilla Sauce. Cake is fresh for up to 3 days, a week in the fridge or up to a couple months if frozen.
Notes
No Buttermilk? No problem, add 1 teaspoon of white vinegar or lemon juice to a cup of milk, stir and let stand 5 minutes.
Forget to bring your eggs to room temp? Simply immerse eggs in bowl of warm water for 10 minutes while you prep the rest of your ingredients.
High Altitude Adjustments
I did not alter the ingredients at all for high altitude, if you are above 7,000 feet, you may want to reduce your baking soda and baking powder by ¼ teaspoon.
Otherwise make as directed, but do BAKE AT A HIGHER TEMPERATURE, preheat and bake at 350 degrees, unless you are using a dark coated pan.
Nutrition
Serving:
1
serving
|
Calories:
513
kcal
|
Carbohydrates:
71
g
|
Protein:
6
g
|
Fat:
23
g
|
Saturated Fat:
14
g
|
Polyunsaturated Fat:
1
g
|
Monounsaturated Fat:
6
g
|
Trans Fat:
1
g
|
Cholesterol:
118
mg
|
Sodium:
483
mg
|
Potassium:
93
mg
|
Fiber:
1
g
|
Sugar:
47
g
|
Vitamin A:
753
IU
|
Calcium:
64
mg
|
Iron:
2
mg