Pomegranate Salad Dressing Recipe
As an Amazon Associate, I earn from qualifying purchases. Please read my disclosure policy.
My favorite Pomegranate salad dressing recipe will take your simple salad recipe to the next level with the elevated flavor combination of a vinaigrette made with pomegranate juice, citrus, shallots, and creamy Dijon mustard. Easy, healthy and delicious!
With the holidays rolling around in no time, having a menu planned ahead of time is essential. May I suggest my holiday salad recipe with this Pomegranate Dressing? It is the perfect way to add a touch of the holiday color to a salad with all the healthy benefits of citrus juice and pomegranate.
For all my pomegranate lovers out there, and I know quite a few, start your celebration off with a Goat Cheese Pomegranate and Fig Appetizer or this Whipped Goat Cheese with Bacon & Dates. Then complete your holiday table setting with more gorgeous pomegranate recipes like Pomegranate Punch or the Pomegranate Mule.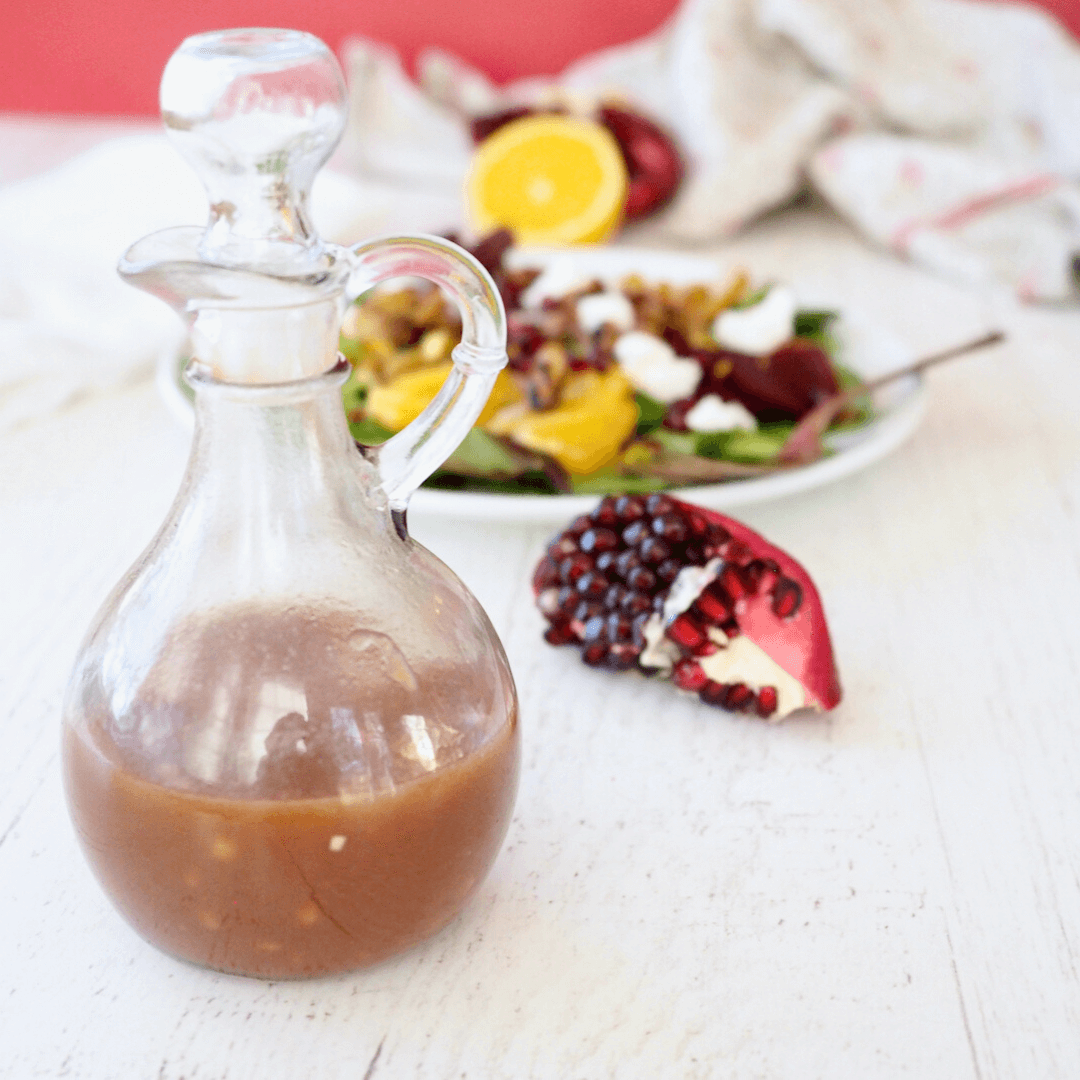 Why You Will Love this Recipe
Elevated Flavor | This delicious dressing has the depth of a classic balsamic vinaigrette with a tangy citrus lick and a little sweetness too.
Healthy Option | Making your own healthy dressing recipe is an excellent way to control precisely what is going in your body.
Pom Juice | If you are a fan of pomegranate, this is a great way to enjoy your favorite salads with the fresh pomegranate flavor.
Key Ingredients
Ingredients, directions and nutritional information in the printable recipe card at the end of the post.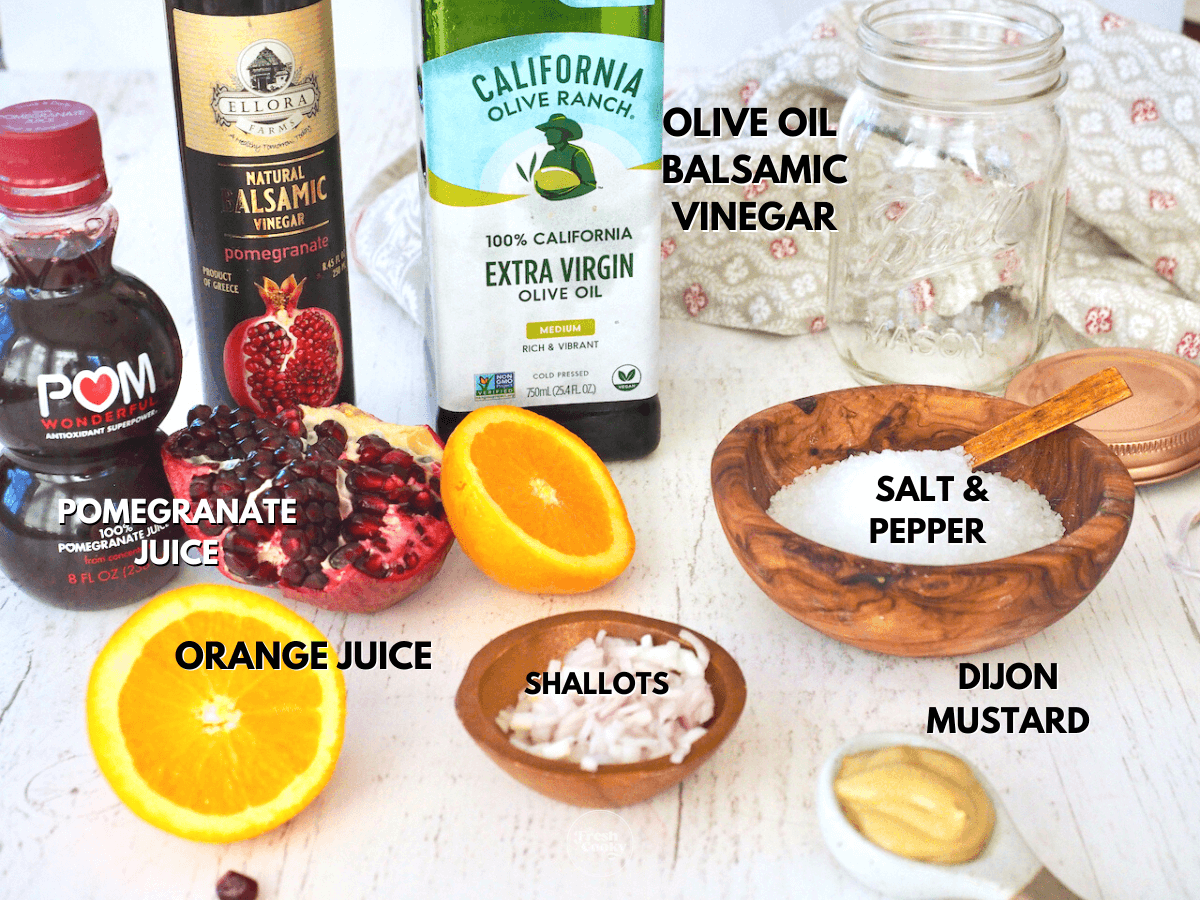 Balsamic Vinegar | Vinegar is the tang and flavor of any vinaigrette recipe. Use regular or pomegranate balsamic, but red wine vinegar would be delicious too.
Olive Oil | The bold taste of olive oil in a salad dressing helps the dressing cling to the veggies and fruits and adds flavor too.
Shallots | Shallots are the onions I prefer in salads for a delicate sweet onion flavor without the punch of other onions.
Orange Juice | Fresh squeezed orange juice is best in salad dressing.
Pomegranate | Not only does it add gorgeous color, but pure and fresh pomegranate juice provides antioxidants and a sweet and tangy flavor profile. If no Pom juice on hand, use pomegranate arils, pressing for juice.
Dijon Mustard | Spice it up and add a touch of creaminess to your dressing with Dijon.
This tangy sweet citrus salad dressing recipe is the "icing on the cake"- so to speak- for my Holiday Salad Recipe. The Christmas Salad Pomegranate plate is already stunning in presentation and full flavored. But when you dress any salad with this delicious homemade salad dressing, it brings all the lovely flavors together with a sweet and tangy finish.
How to Make Pomegranate Dressing
This easy recipe makes the ultimate salad dressing to compliment the bold flavors and the juicy pomegranate syrup on your favorite salad.
Get started with making the vinaigrette by finely dicing the shallots. Be sure to use a sharp knife; the smaller the shallot pieces, the better in your dressing.
Next, choose a mason jar or a small bowl and measure in the oil, vinegar, juices, mustard, salt, and onion pieces. You can always transfer the dressing to a small glass pitcher for your holiday buffet if you would like.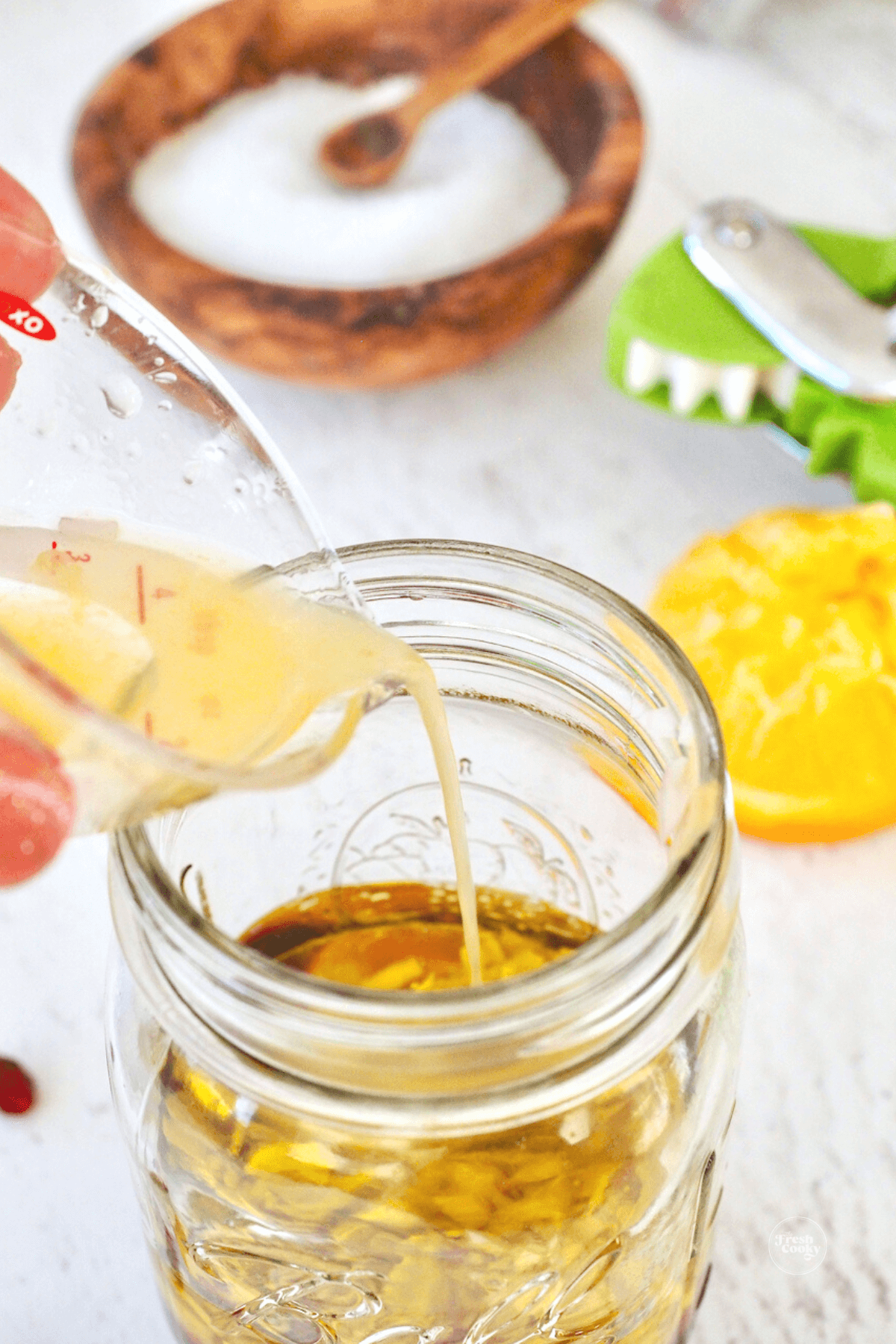 Shake or whisk the ingredients until the oil and vinegar combine. You can also use a blender or a Vitamix to fully blend the dressing for a silky smooth dressing.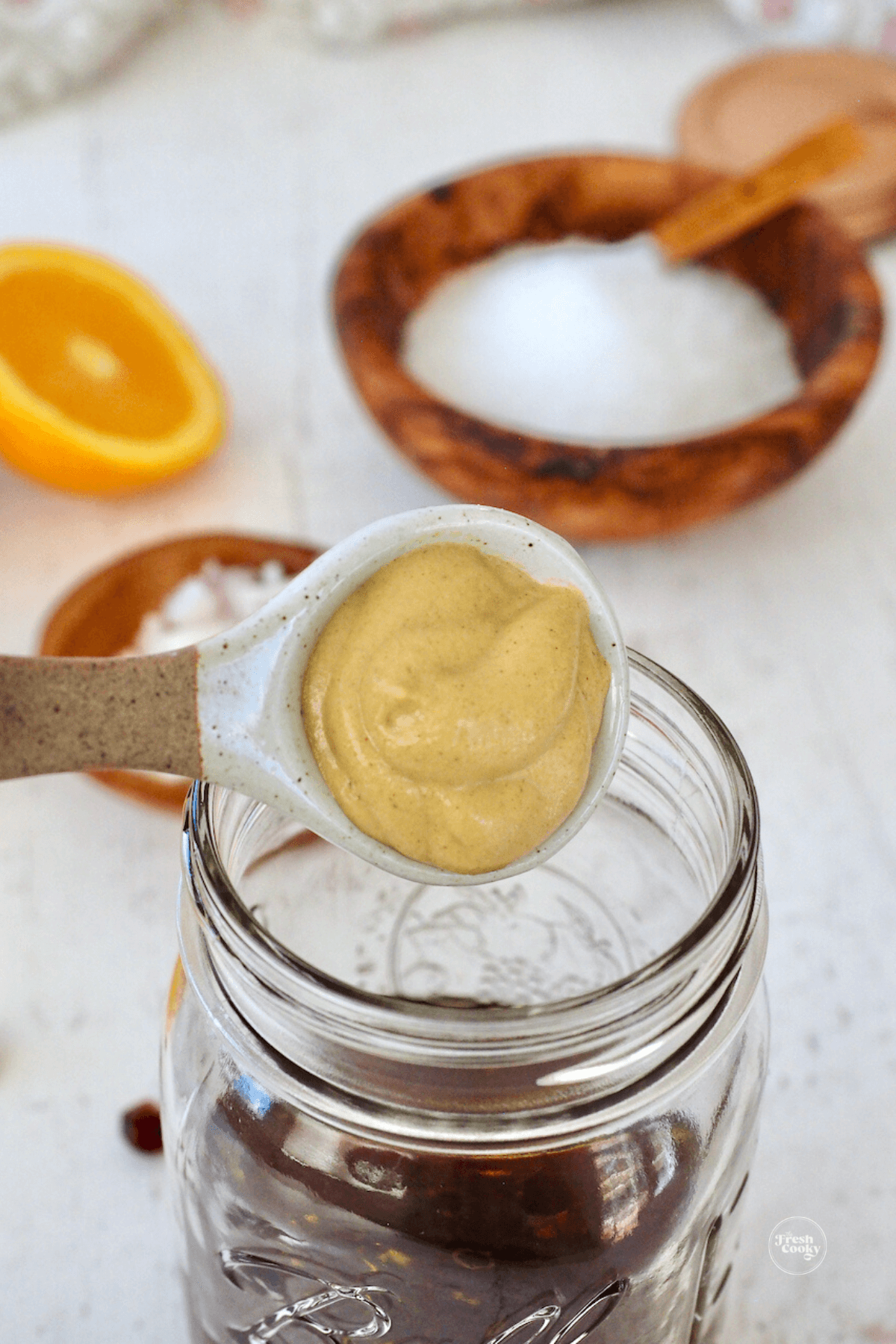 Finally, put a lid or covering on your mixture and place your homemade dressing in the refrigerator. Leave plenty of time for the flavors to marry and the dressing to chill.
Fresh Tip
A great idea for your holiday season prep is to stage out your food prep. Make this dressing a few days before, and then there will be one less thing to do on the day of your celebration.
Use the best ingredients you can afford, they will shine in this recipe.
Salad Suggestions for Festive Pomegranate Vinaigrette Recipe
Try this simple vinaigrette recipe over your favorite green salad, or try one of mine. Pour it over my Festive Holiday Salad Recipe. Or perhaps change it up and make a batch for this Fall Harvest Chicken Salad. This Harvest Wild Rice Salad, tastes divine with this tangy vinaigrette and some pomegranate seeds (arils) sprinkled on top.
Oh, and you can switch out the blackberries in this Blackberry Grilled Chicken Salad with Fried Goat Cheese. No matter which of the holiday salads you decide to make; friends, and family and your baby greens will love this healthy recipe!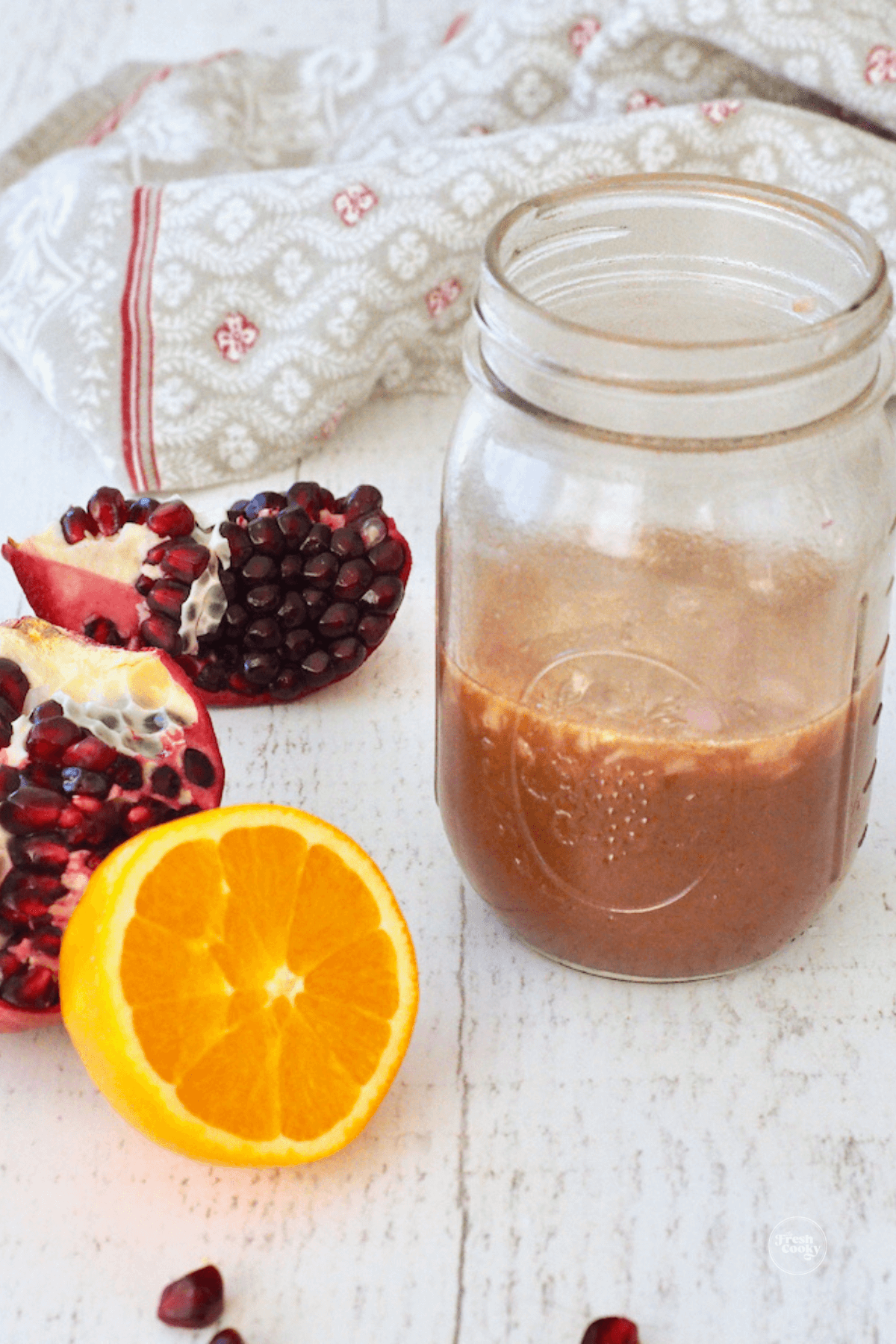 Variations & Substitutions
Vinegar | Choose balsamic or pomegranate vinegar. White wine vinegar, apple cider vinegar, rice vinegar and a splash of pomegranate molasses work well too!
Swap the Oil | You can use vegetable oil, I like Avocado oil, or use Canola, Grapeseed or your favorite.
Cheese Please | |Try feta, goat, blue cheese or even burrata cheese with this salad dressing recipe.
Sweet Spice | Add a squeeze of Hot Honey or regular honey to sweeten it up a bit! Or a smidge of maple syrup.
Frequently Asked Questions
What is a vinaigrette?
A sauce typically made of oil, vinegar and your favorite seasonings; used on salads, as a marinade, cold meats and fish.
Is vinaigrette dressing healthy?
Vinaigrette dressings are generally healthier than creamy dressings, though by emulsifying the oil and vinegar you can emulate a creamy dressing without using any milk based products. Dijon mustard can make recipes taste creamy as well.
What is a traditional vinaigrette ratio?
A traditional vinaigrette has 3:1 ratio. 3 parts oil to 1 part vinegar.
What is Pomegranate Molasses?
Similar to a balsamic glaze reduction, pomegranate molasses is a reduction of pure pomegranate juice and sugar, most used in Middle Eastern cuisines.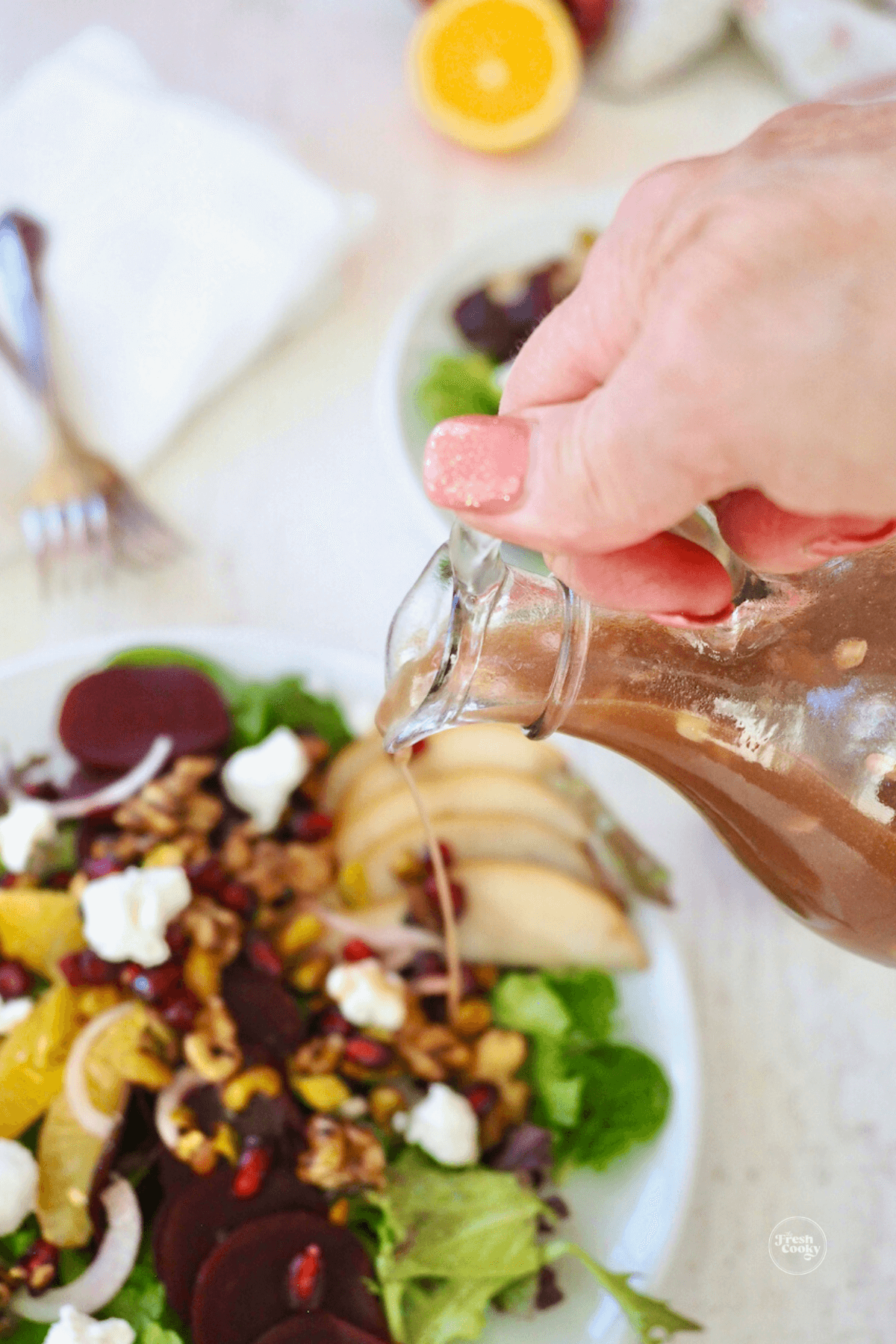 Storage Tips
Making your own salad dressings and vinaigrette dressings keep well in an airtight container, refrigerated up to 1 month.
Mason jars are a great way to store your own pomegranate juice dressing recipe. That way, you can just take out the jar and give it a good shake! If using olive oil, bring to room temperature before serving.
Make the flavorful vinaigrette dressing ahead of the salad, so it has time for the ingredients to incorporate and chill in the fridge. Bring to room temp for 30 minutes before serving.
More Homemade Dressings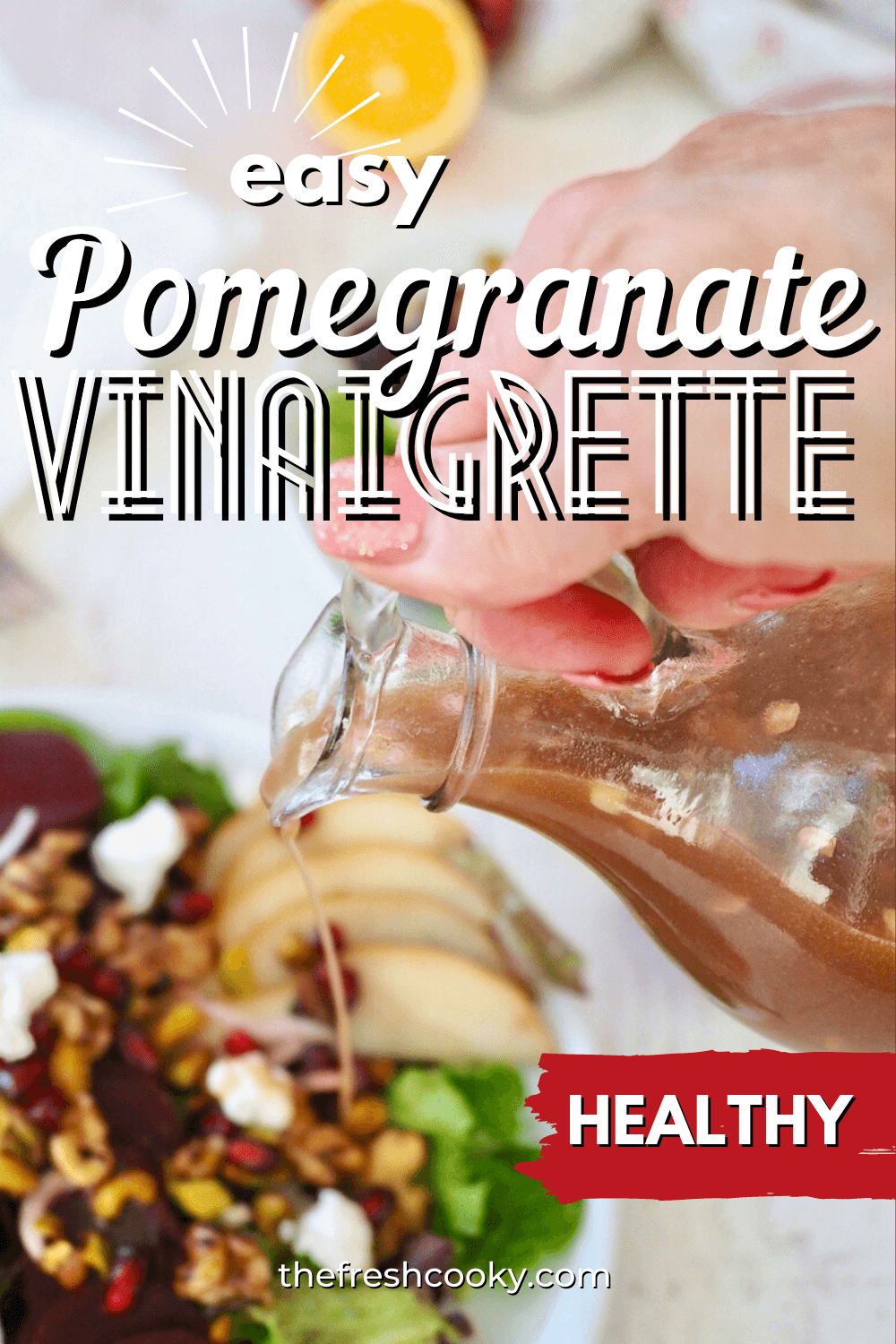 I hope you loved this Pomegranate salad dressing recipe — if you did, would you share your creation on Instagram, Facebook and Pinterest? And be sure to comment below!
Like this recipe?
Don't forget to give it a ⭐️⭐️⭐️⭐️⭐️ star rating and comment below the recipe!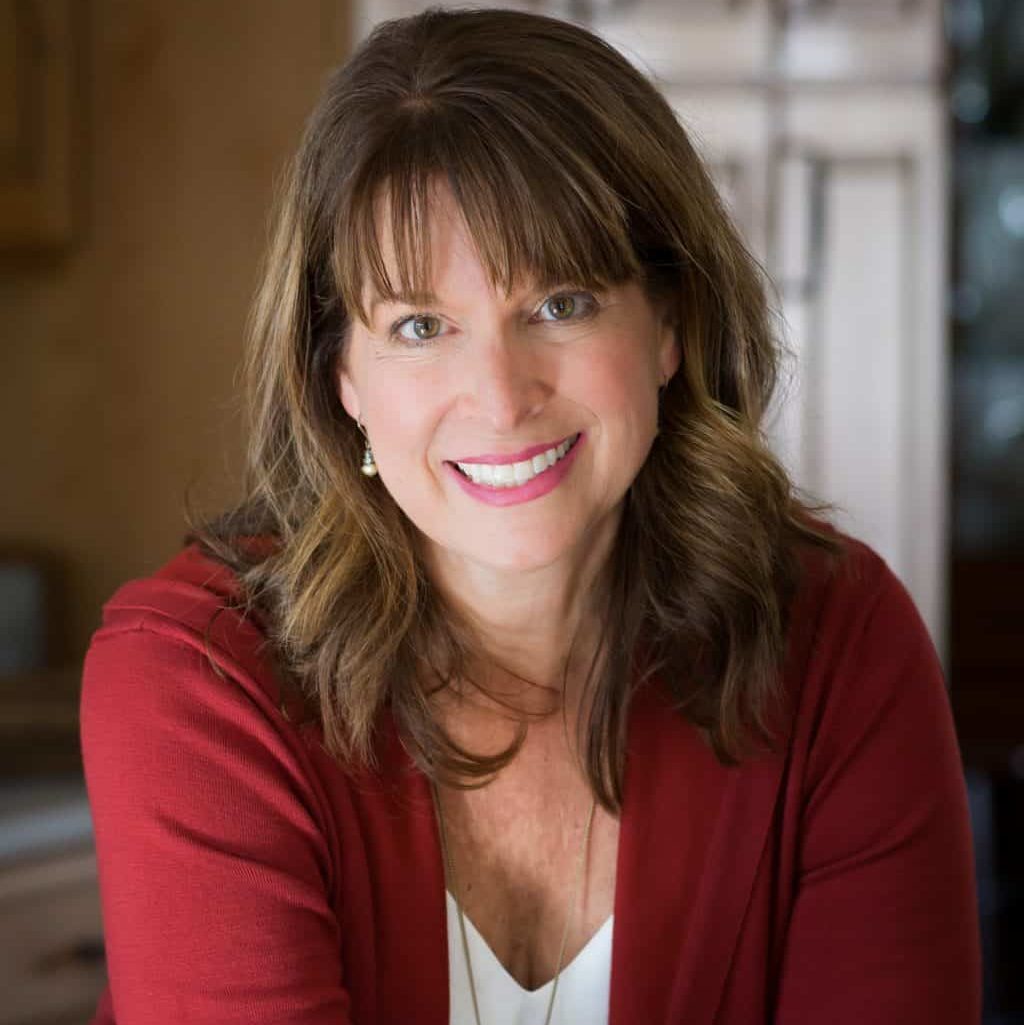 About Kathleen Pope
Recipe Innovator | Food Photographer | Food Writer
Hi, I'm Kathleen Pope. Here at The Fresh Cooky you will find easy, mostly from-scratch, trusted recipes for all occasions. From speedy dinners to tasty desserts, with easy step-by-step instructions. I am here to help teach you how to make mouthwatering recipes without spending hours in the kitchen. Read more about Kathleen here.