Grapefruit Basil Vodka Smash
As an Amazon Associate, I earn from qualifying purchases. Please read my disclosure policy.
A recipe for a refreshing, bright, and delicious cocktail (or mocktail) using red grapefruit, fresh basil and a fizzy grapefruit soda. This Grapefruit Basil Vodka Smash is the perfect drink for a hot summer evening.
GRAPEFRUIT BASIL VODKA SMASH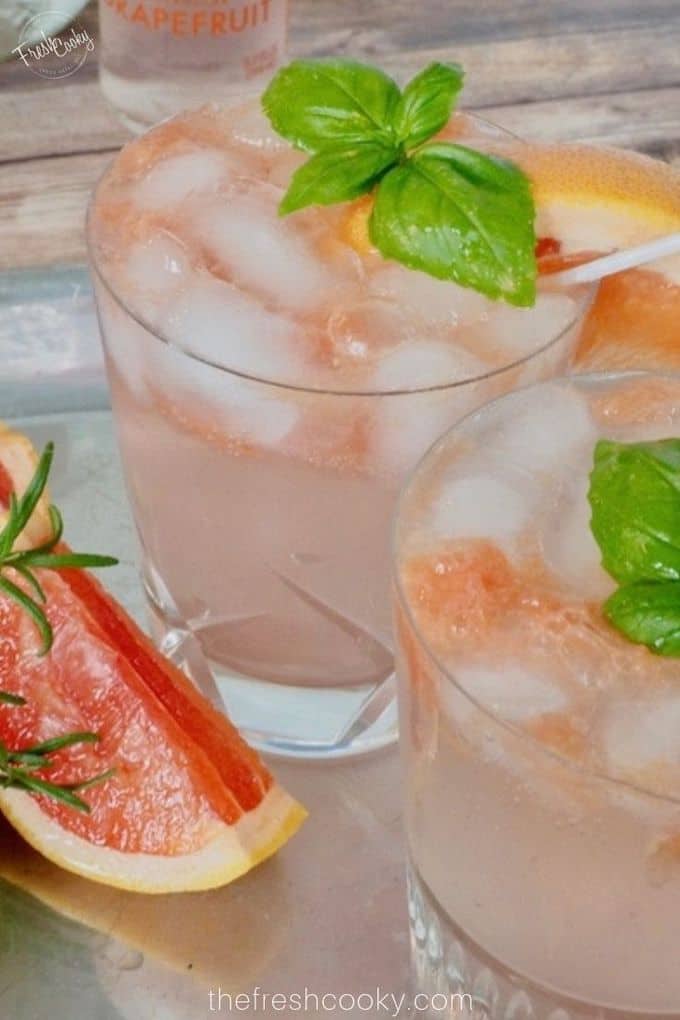 I love mixing new drinks and I especially love drinks that incorporate fresh fruit, because they are well, so fresh and fruity, not very original, but there's my reason! Speaking of new drinks, try this fresh Cherry Bomb or this amazing all natural Cranberry Lemon Drop Martini!
Last week I wanted to make a cocktail using our grapefruit infused vodka, there was only one problem, we were out of infused vodka! But, I had a grapefruit…and fresh basil…and a yummy grapefruit soda mixer…voila the Grapefruit Basil Vodka Smash was created! I'm sure it's not unique, but it was for us and it was DELICIOUS!
Start with 2-3 sections of grapefruit, I used red grapefruit, just make sure it's nice and juicy. Trim away all pith (white, bitter sections), chop into chunks and toss into your glass.
Using a muddler (I love that word) gently press the juice of the grapefruit, smashing it gently. Add a little basil if desired and gently muddle that as well. You don't want to smash them to smithereens, just enough to release their fragrance and flavors.
Pour in your vodka, I love my mini measuring cup! Use your favorite vodka!
Add ice to your glass, filling it up, then pour on your favorite Grapefruit mixer, soda or Club Soda.
What Other Mixers Can I Use?
Try Q Grapefruit which is delicious all by itself, like a healthier version of Fresca.
I've also used Virgil's No Sugar Lemon-Lime, also delicious
Give any Grapefruit or Citrus Sparkling Water a try for an even lighter and dryer cocktail
Plain soda water or even a delicious crisp tonic would be delicious with this cocktail!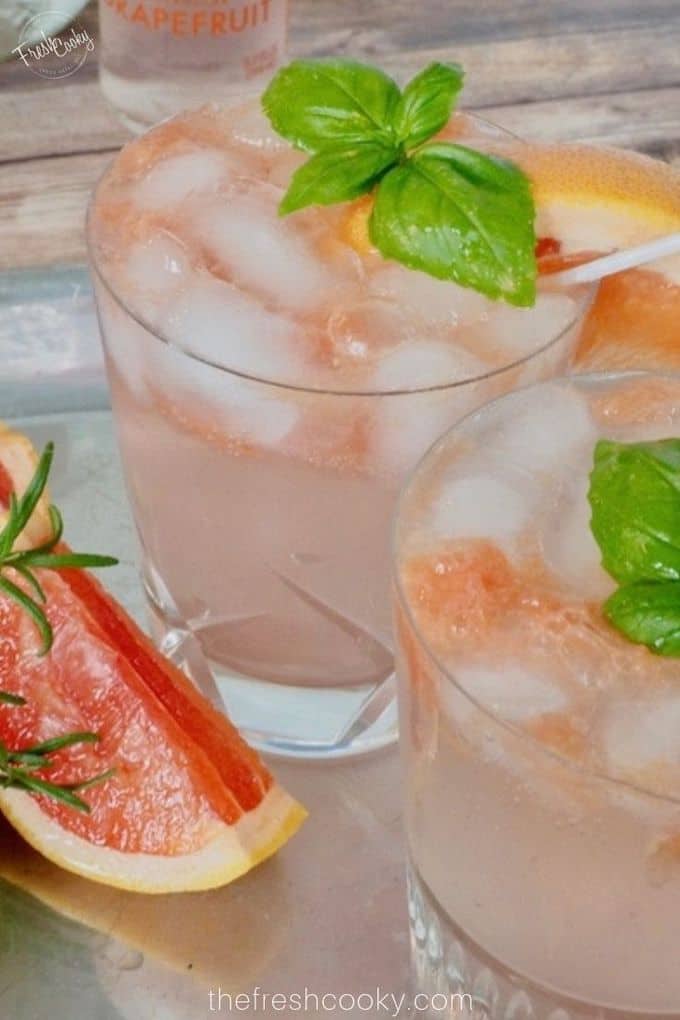 Can I Make Grapefruit Basil Smash into a Mocktail?
You can easily make a grapefruit basil smash non-alcoholic as well, just omit the vodka, add a bit more grapefruit and soda and you have a light, so very refreshing summer drink!
Garnish, if desired with a slice of grapefruit and a sprig of fresh basil. And when you take a sip of this drink your senses will come alive with the beautiful combination of basil and grapefruit and the bubbles just might tickle your nose! It's a party in a glass!
If omitting the vodka, just add a bit more grapefruit and soda of choice. A light, refreshing, summery drink!
Sharing this week on Weekend Potluck and Meal Plan Monday!
This recipe when it includes vodka is intended for those 21 and older, please drink responsibly.
Like this recipe?
Don't forget to give it a ⭐️⭐️⭐️⭐️⭐️ star rating and comment below the recipe!
If you enjoy this cocktail, give these others a try as well!
Fabulous Grapefruit Drinks and Other Cocktails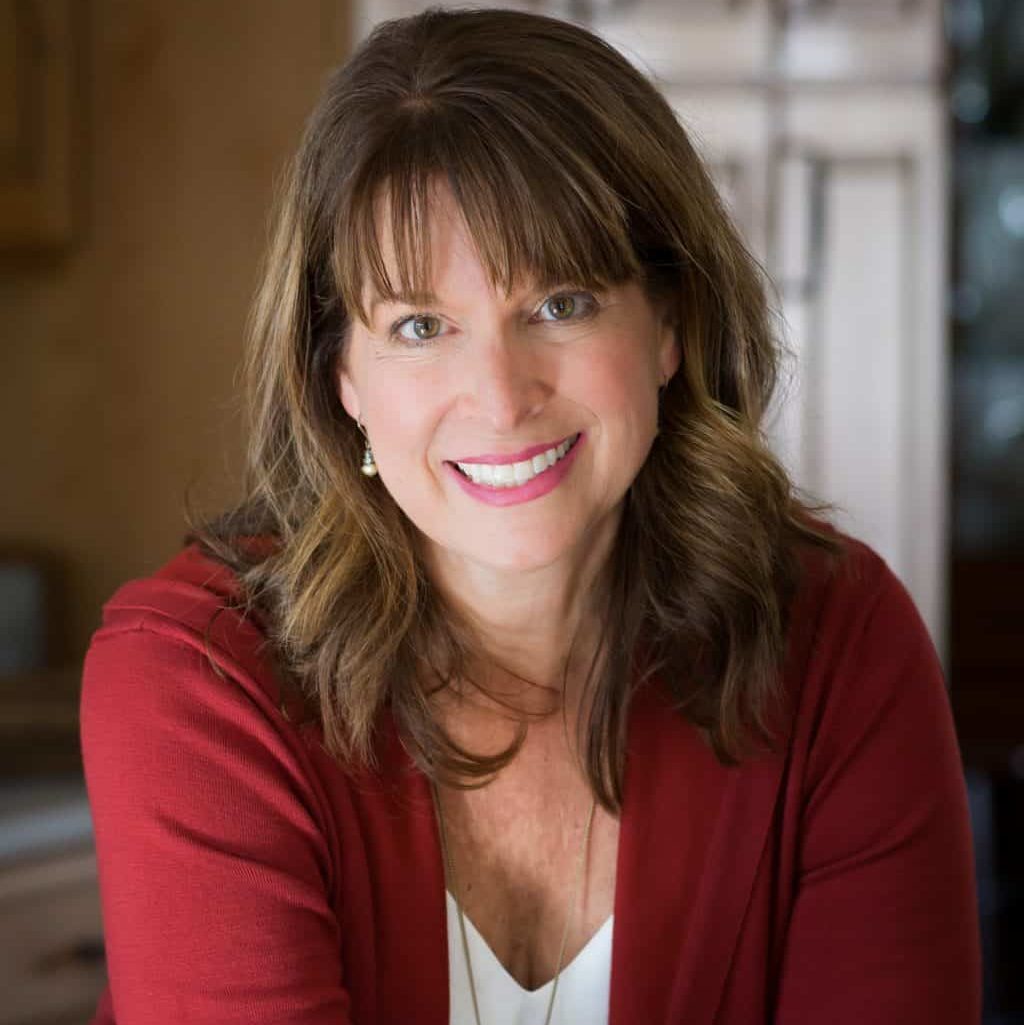 About Kathleen Pope
Recipe Innovator | Food Photographer | Food Writer
Hi, I'm Kathleen Pope. Here at The Fresh Cooky you will find easy, mostly from-scratch, trusted recipes for all occasions. From speedy dinners to tasty desserts, with easy step-by-step instructions. I am here to help teach you how to make mouthwatering recipes without spending hours in the kitchen. Read more about Kathleen here.