Easy Rhodes Rolls Monkey Bread Recipe (with Chocolate)
As an Amazon Associate, I earn from qualifying purchases. Please read my disclosure policy.
Gooey chocolate oozing out of warm caramel chocolate monkey bread, yes please! This small batch easy Rhodes rolls monkey bread recipe is stuffed with real chocolate and has an optional bourbon sauce. Rhodes rolls to make it a snap to put together! Perfect for special breakfasts, like Christmas, Valentine's Day, Easter brunch or any special breakfast!
I am not sure who named this divine, gooey, sweet breakfast pastry monkey bread, but this pull apart breakfast bread is one of our family favorites, I have modified it to be ideal for a family of 4-6. But it is easily doubled for crowd-sized monkey bread!
If you are a fan of gooey, sweet breakfast recipes, then you should try our Ooey-Gooey Cinnamon Rolls, Easy Chocolate Chip Croissant Casserole Bake or this simple Cinnamon Swirl Coffee Cake.
Look in any church cookbook and you will probably find at least 6 recipes for monkey bread, all slightly different, but all incredibly delicious! Our standard monkey bread recipe is pretty much butter, vanilla or butterscotch pudding mix, Rhodes rolls and cinnamon, delish!
This chocolate stuffed monkey bread recipe is fabulous for a special occasion, it takes a bit longer since you have to thaw the bread rolls and then stuff them with the chocolate, but it couldn't be easier! Instead of putting it all together the night before, you simply lay out the rolls, then assemble and bake it the next morning.
Ingredients for Rhodes Rolls for Monkey Bread
For the full ingredient list and instructions, print the recipe card at the end of this post.
Frozen bread dough rolls | thawed overnight (I used Rhodes Rolls)
Semisweet or dark chocolate baking bars | I used the Trader Joes Belgium dark chocolate bar which breaks into perfect sized squares.
Butter | the real stuff, nothing soft coming out of the fridge
Sugar | I use all natural organic cane sugar, white sugar is fine
Brown sugar | I used light, but dark would be fine
Bourbon or whisky | if no alcohol is preferred use heavy cream instead
Vanilla extract or try this amazing bourbon vanilla extract too! (optional)
See, super simple, even the ingredient list is easy!
How Do you Make Monkey Bread from Scratch
The original recipe for Chocolate Monkey Bread is from Taste of Home and you actually make your own bread dough, I am not saying this is not worth it, but usually when the whim to make easy Rhodes Rolls monkey bread hits, I just want to get it going!
I wanted to make this fancier version of monkey bread a bit simpler, so I modified using frozen bread rolls. And I know you will love it!
THE NIGHT BEFORE – Thawing the rolls
The hardest part sometimes is remembering the you need to start most monkey breads ahead of time.
Spray a baking sheet with cooking spray and lay out frozen bread rolls 2-3 inches apart — spray plastic wrap and cover loosely.
We just want them to thaw, not necessarily rise, so you will place the pan in the fridge overnight.
The Next Morning – Stuffing Rolls & Assembling the Monkey Bread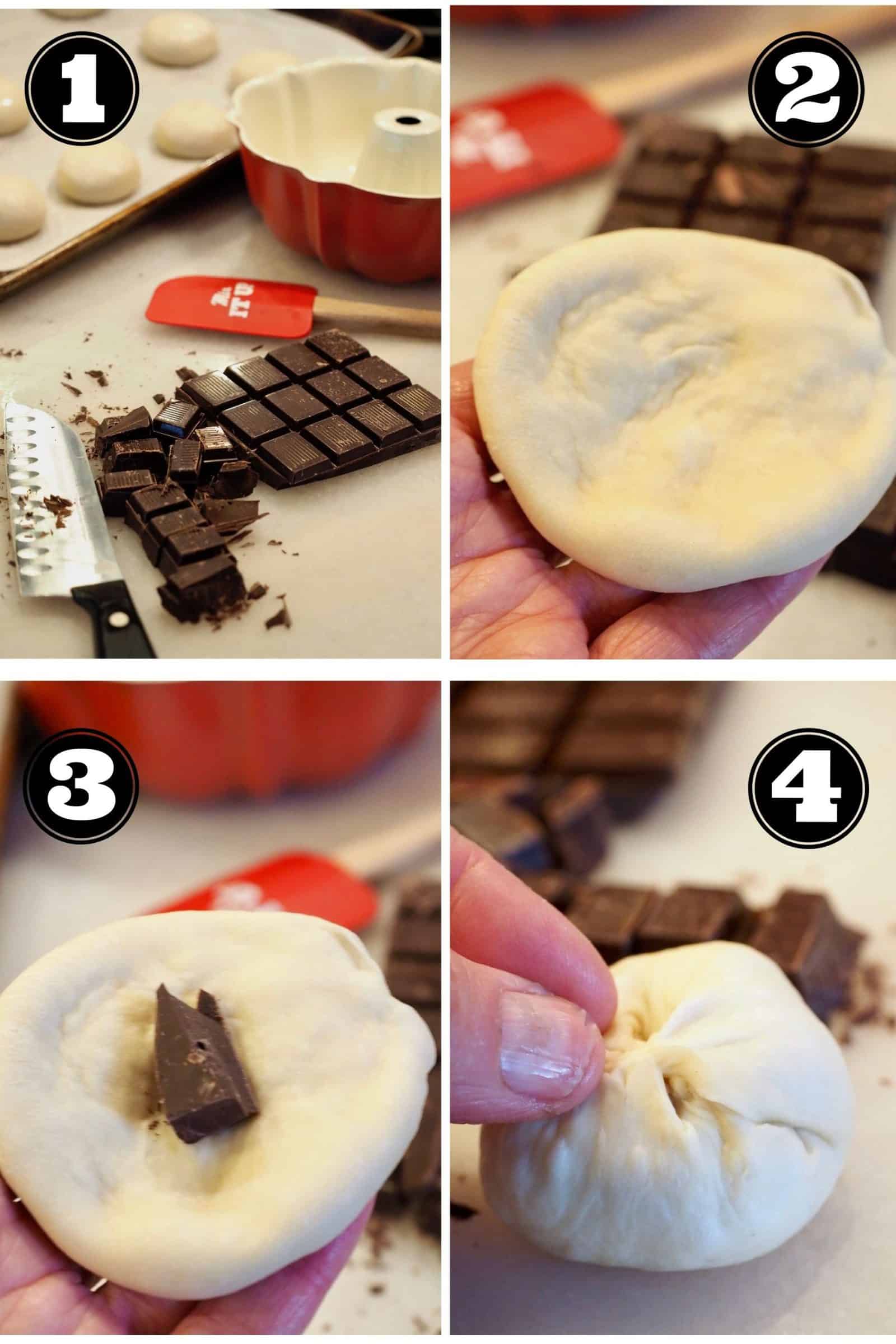 Grease a bundt pan well (use spray or butter)! For a small batch monkey bread, I used this 6 cup bundt pan, double the bread rolls for a 10-12 cup bundt pan (see notes on doubling).
Chop or break chocolate into nine 1/4 oz (roughly) squares and set aside. Flatten bread rolls into circles; placing 1 chocolate piece in the center of each. Folding dough over, pinch edges to seal well, return to the baking sheet until you finish all of the rolls.
Melt 1/4 cup butter and remove from heat, placing 1/2 cup sugar into a bowl.
Dip each chocolate filled dough ball in the melted butter, then roll in the sugar and return to the baking sheet.
Bourbon Caramel Sauce for Rhodes Rolls Monkey Bread
This recipe, unlike many others does not use pudding mix, nothing wrong with those, but this recipe without pudding is easy and superb!
Place brown sugar, butter chunks and bourbon (or heavy whipping cream) in a small saucepan over medium heat. Stirring constantly until it comes to an easy boil, reduce the heat to simmer and cook stirring for 3 minutes.
Toss any leftover shards and pieces of chocolate into the bottom of the pan, then pour half of the caramel into greased 6 cup bundt pan. Layer with half the dough balls; pour a little more caramel, then place rest of dough balls and pour any remaining caramel. Cover with sprayed plastic wrap, let rise in warm place until doubled, about 45 minutes.
To create a warm place to rise bread, before placing the dough in the oven, heat to 100 degrees, then turn OVEN OFF. Place covered dough in warm oven and close door.
Preheat oven to 350°F and place bundt pan on baking sheet (in case of spillage). Bake on middle rack for about 40-55 minutes until lightly brown on top. If browning too quickly, cover loosely with foil for last 10-15 minutes. Cool in pan for 5-10 minutes, then place serving plate on top of bundt pan and invert, removing the bundt pan.
Optional Bourbon Chocolate Glaze
Melt chocolate in small saucepan (heavier is better) over low heat, remove from heat; stir in bourbon until smooth. Drizzle glaze over warm bread. I do not typically make the chocolate glaze, but I have drizzled a little chocolate sauce over the top! YUM!
Melt chocolate in small saucepan (heavier is better) over low heat, remove from heat; stir in bourbon and vanilla extra if desired, until smooth. Drizzle glaze over warm bread.
I do not typically make the chocolate glaze, but I have drizzled a little chocolate sauce over the top! YUM!
Can I Double this Recipe for Easy Monkey Bread?
Yes! Follow these easy steps:
Simply remove 18-20 rolls for thawing the night before
Use a 10-12 cup bundt pan instead of the smaller 6 cup
Double the amount of chocolate you need for stuffing
Double the amount of butter (½ cup) and (1 cup) sugar for dipping
I actually never cut in half the original caramel bourbon sauce, so you should be fine just making that same amount, but heck, gooier is better right!? So go ahead and double if you please!
You will need to bake closer to 50-55 minutes, remember to cover with foil the last 15-20 minutes if getting too brown.
Substitutions and Additions
I am always ALL about making it yours! Thank God we all have different tastes, likes, dislikes and more! Here are a few ideas!
Substitute the bourbon for Scotch, Whisky, Rum, or Brandy.
No Alcohol? No worries, replace Bourbon with Heavy Cream or even half and half.
Add nuts! Pecans are perfect to add to this chocolate monkey bread recipe. About 1 cup chopped, also try walnuts, almonds, hazelnuts!
Stuff the rolls with white or milk chocolate instead of dark chocolate.
Can't find the right baking chocolate? Use Semisweet chocolate chips instead, use about a tablespoon per roll.
Make smaller "monkey pieces" if desired by cutting each roll in half, you will need to double the amount of chocolate, stuffing each smaller portion of roll with a piece of chocolate.
Do you let kids eat food with alcohol baked in it?
I am asked this all the time. My husband and I have a more European take on alcohol with our kids, we believe by occasionally giving small amounts of alcohol and talking a lot about it, this has erased much of the allure of alcohol.
Since our boys were little we've offered them sips from our drinks (to which they always would wrinkle their noses), served them foods with alcohol in them, like this Honey Bourbon Chicken or Red Wine Braised Beef Short Ribs.
Never enough to get close to them even getting tipsy. Plus in recipes like this one, the alcohol almost always cooks or bakes out completely, leaving behind the amazing flavors.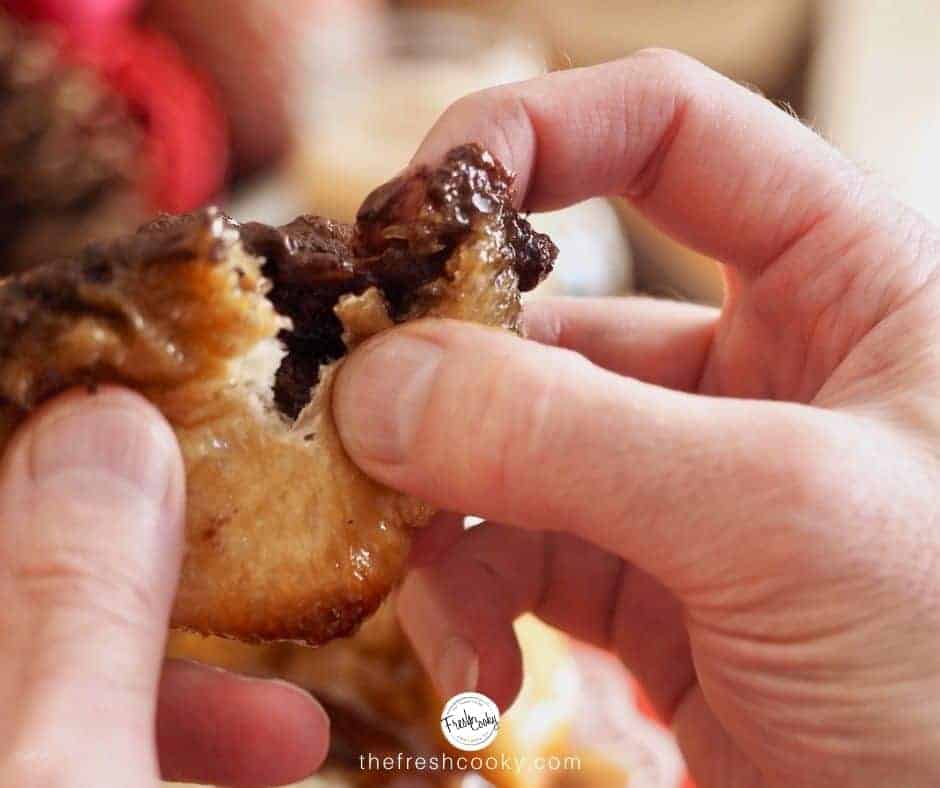 Does Easy Monkey Bread need to be refrigerated?
I treat monkey bread like I would any other sweet bread or coffee cake; safe on the counter sealed tightly for 3-5 days, in the refrigerator for up to 7 days and may be frozen up to 3 months.
Whether you call this Monkey Bread or Pull Apart Bread, you are going to LOVE it, especially if you are a chocolate lover, my family has gone ga-ga over this delicious breakfast pastry.
PIN to your favorite Breakfast Sweets Board
Here are a few more fun Rhodes Rolls Monkey Bread Recipes from my blogging friends!
More fantastic brunch sweet recipes
Like this recipe?
Don't forget to give it a ⭐️⭐️⭐️⭐️⭐️ star rating and comment below the recipe!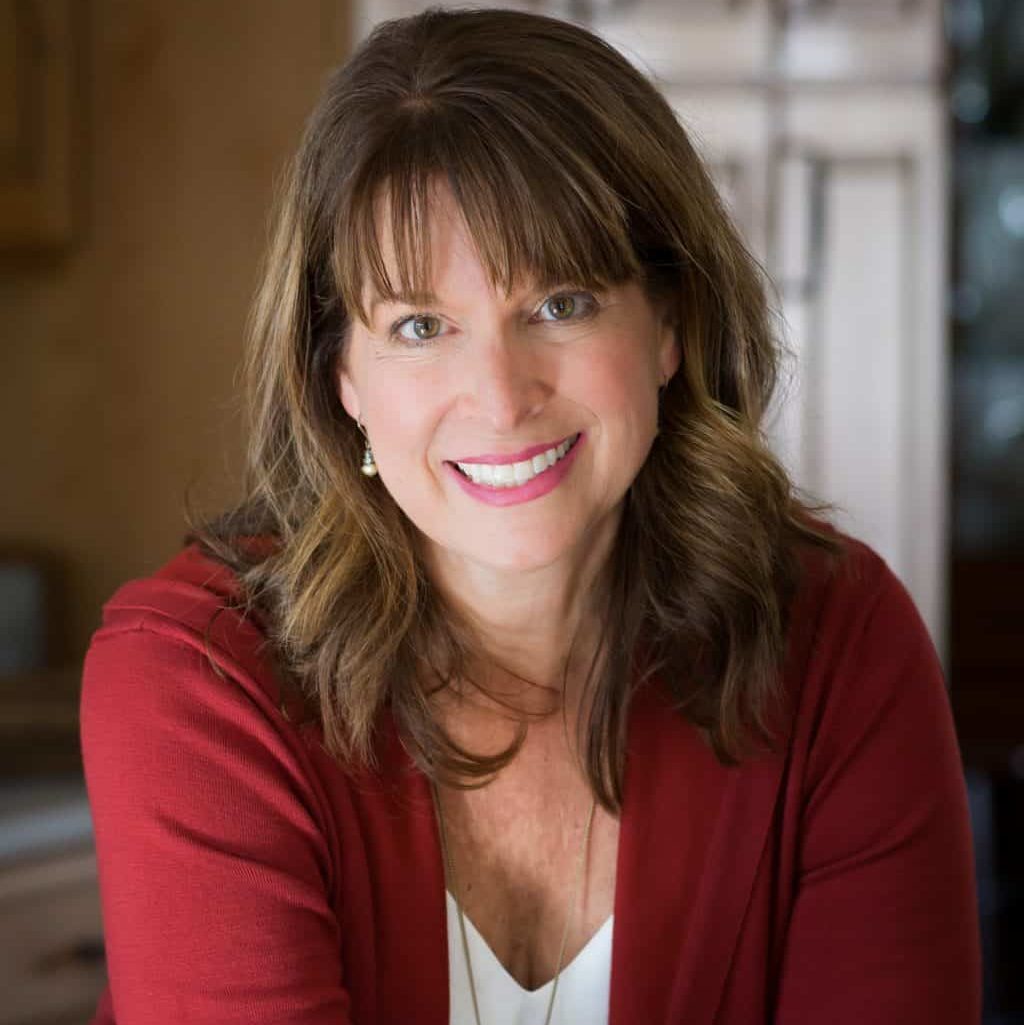 About Kathleen Pope
Recipe Innovator | Food Photographer | Food Writer
Hi, I'm Kathleen Pope. Here at The Fresh Cooky you will find easy, mostly from-scratch, trusted recipes for all occasions. From speedy dinners to tasty desserts, with easy step-by-step instructions. I am here to help teach you how to make mouthwatering recipes without spending hours in the kitchen. Read more about Kathleen here.