Classic Italian Tiramisu Recipe
As an Amazon Associate, I earn from qualifying purchases. Please read my disclosure policy.
I have always been intimidated by this lovely layered, classic Italian dessert; so today, I'm going to show you how very easy it is to make this Traditional Tiramisu recipe! With a not-to-sweet, creamy mascarpone custard, light vanilla whipped cream, layered between rum and espresso soaked ladyfingers. Bellissimo! Which loosely translates to the BEST tiramisu recipe!
If you are looking for an elegant, make ahead, simple dessert recipe; this simple Tiramisu recipe is the one! This classic Italian tiramisu recipe is perfect for the holidays, Valentine's Day, Mother's day, bridal showers; anytime you want a show stopping make ahead dessert.
Love make ahead desserts like I do, try this Best Key Lime Pie, Old Fashioned Vanilla Bean Ice Cream, Dirt Cake or this amazing no bake Mile High Mud Pie.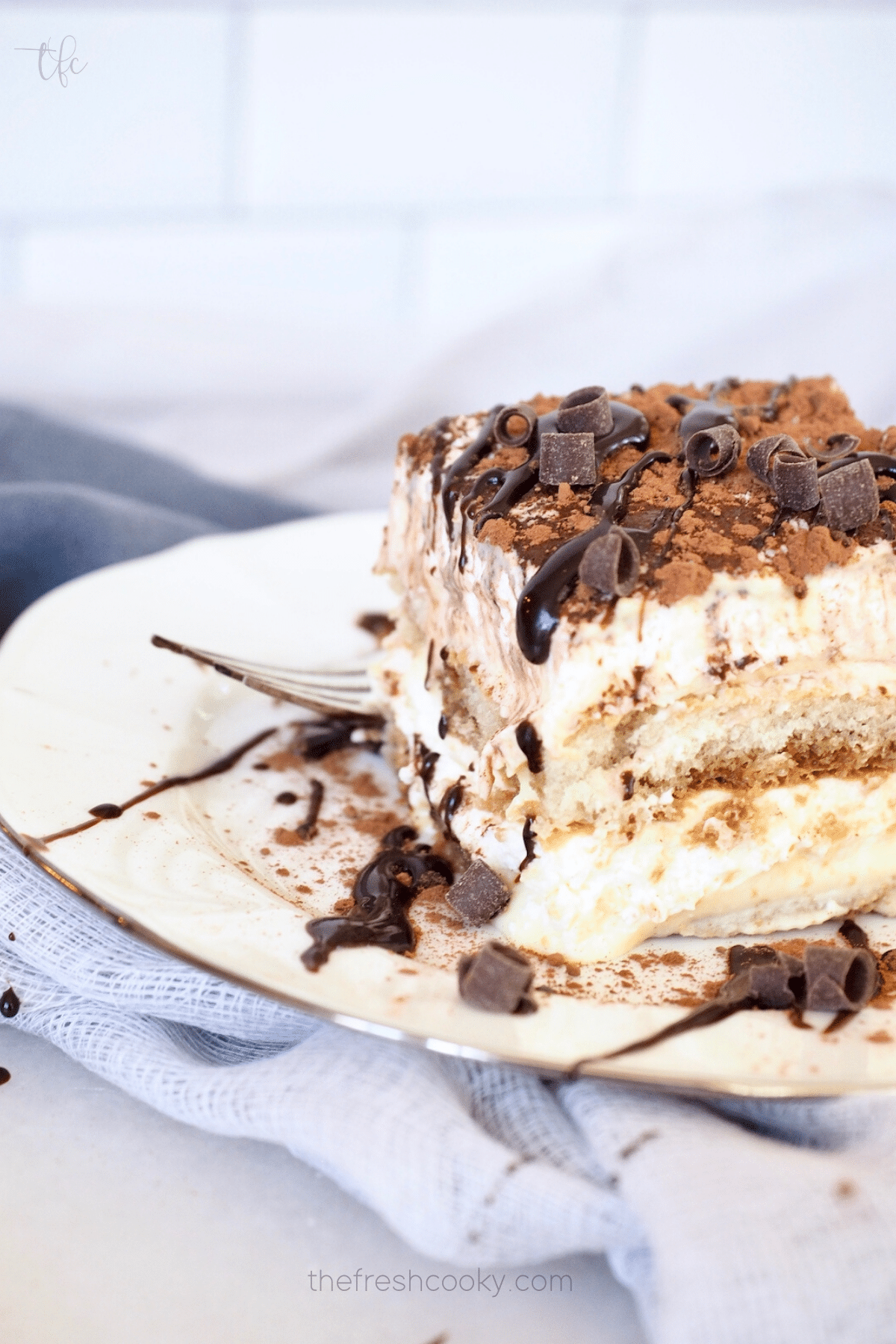 Recently while at a Favorite Things Party (<— check it out!), my friend, Natalie brought this simple tiramisu recipe!
I love receiving recipes from friends, how about you? Her recipe is AMAZING and I love that she made her own tweaks, like I tend to do which I will note below in the step-by-step.
Post update: I just learned that this recipe was actually discovered first by Natalie's teenage son, who wanted to make an Italian dinner for Natalie on Mother's day by himself! Bravo Bendor!!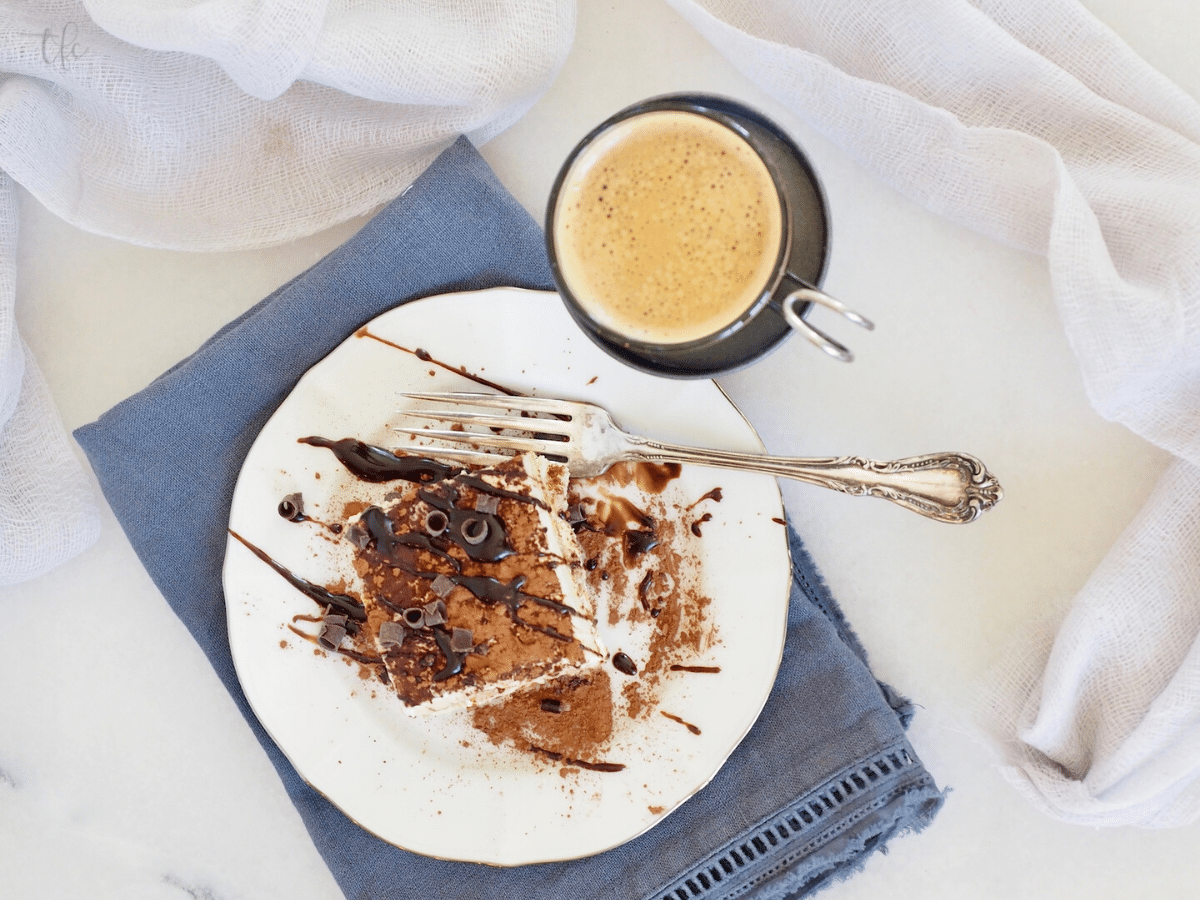 Authentic Tiramisu Recipe broken down into 4 easy steps
Make custard, cool and whisk in mascarpone cheese…Mascarpone Custard, DONE!
Whip whipping cream, so easy!
Drizzle coffee and rum mixture over ladyfinger cookies…voilà
Layer and refrigerate until ready to serve! Ahhh, dreamy!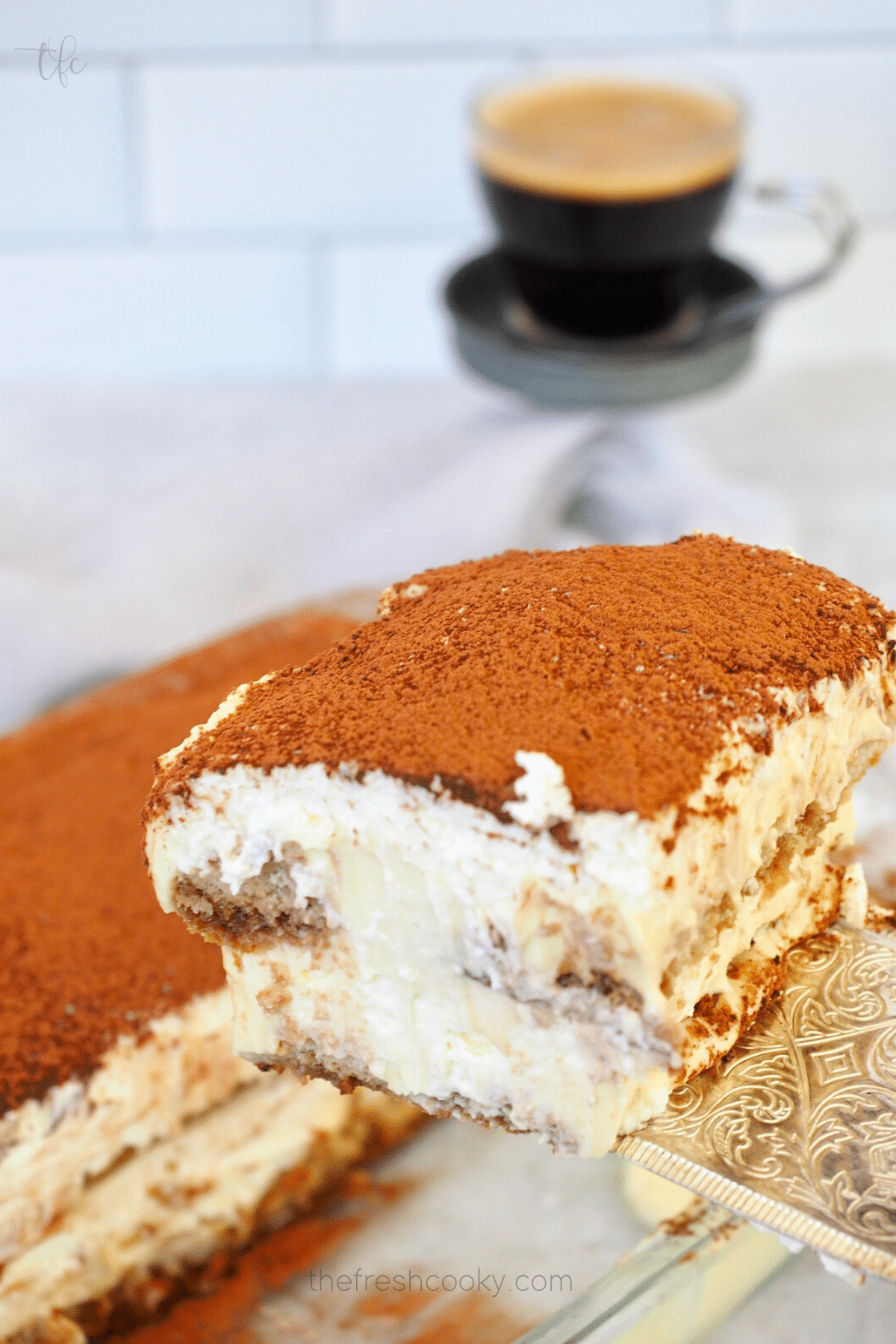 How do you make Classic Tiramisu
INGREDIENTS
The full list of ingredients is in the printable recipe card at the end of the post.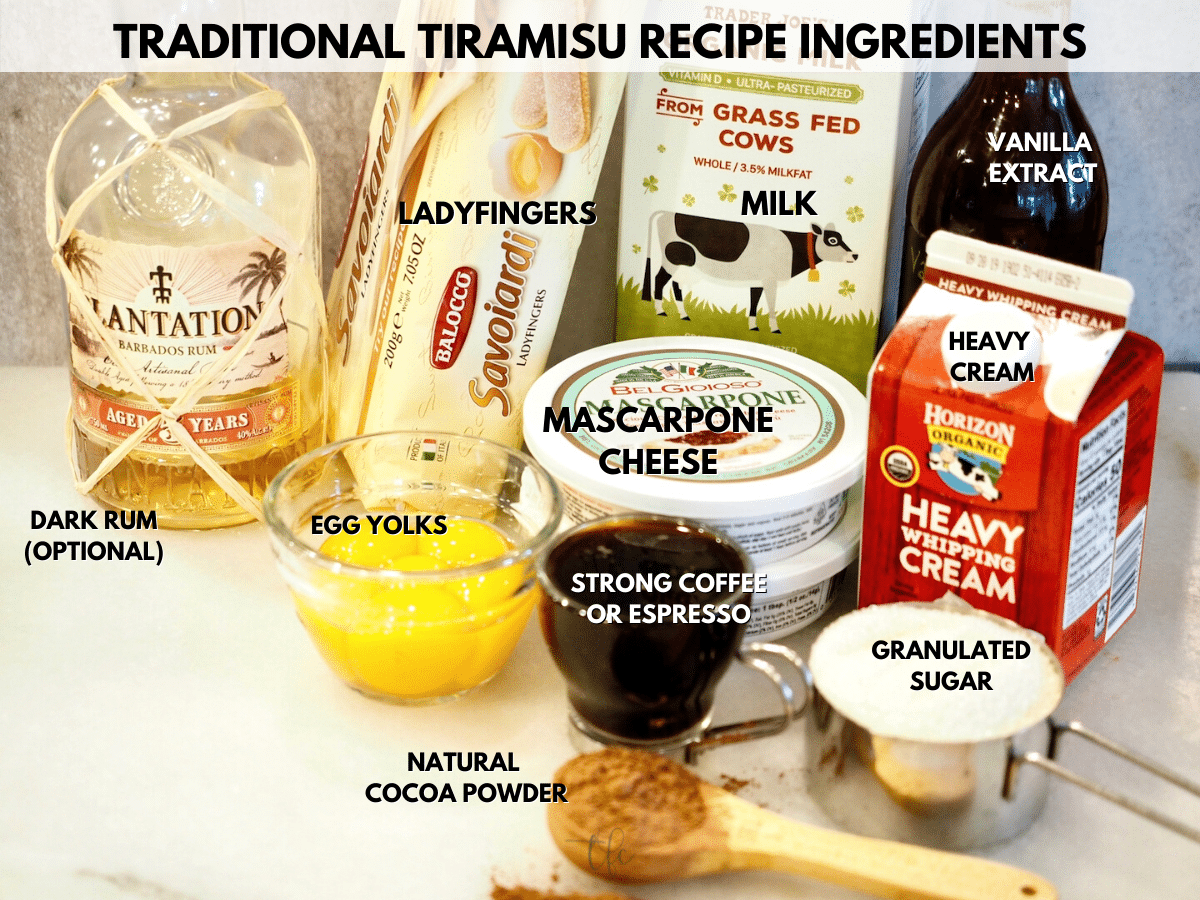 Egg yolks | Start with room temperature eggs (scramble up the egg whites for a dog, or make an egg white omelet, then you'll feel better about eating this dessert! HA)
Granulated sugar | I use all natural cane sugar, which is unrefined, you may substitute refined white sugar
Whole milk | I use organic whole milk in my baking
Heavy cream (no substitutions here, the real, full fat kind)
Pure vanilla extract | Make your own vanilla or purchase quality vanilla.
Mascarpone cheese (typically found in the deli section, near the fresh mozzarella, parmesan, you'll need two tubs)
Strong brewed coffee | Room temp or a pull of espresso
Rum | Use light or dark (or see notes below for other alcohol options or to omit entirely)
Ladyfingers | Instead of the really soft ladyfingers you find in the local grocery store, try and find real Italian ladyfingers, which are a little more firm and will do a nice job soaking up the liquids, for a perfect spongy tiramisu.
Optional chocolate drizzle and chocolate curls
How to separate eggs?
Personally, I use the shell to shell method, where you crack the egg, open it and slip the yolk from shell to shell allowing the whites to drip into a bowl beneath.
I've also used the hand method; crack an egg and pour entire egg into your hand, slowly opening your fingers just enough to allow the whites to slip through, then sliding the yolk into a clean bowl.
If both those methods scare you or gross you out (I get it) then you can always buy one of these handy dandy yolk separators.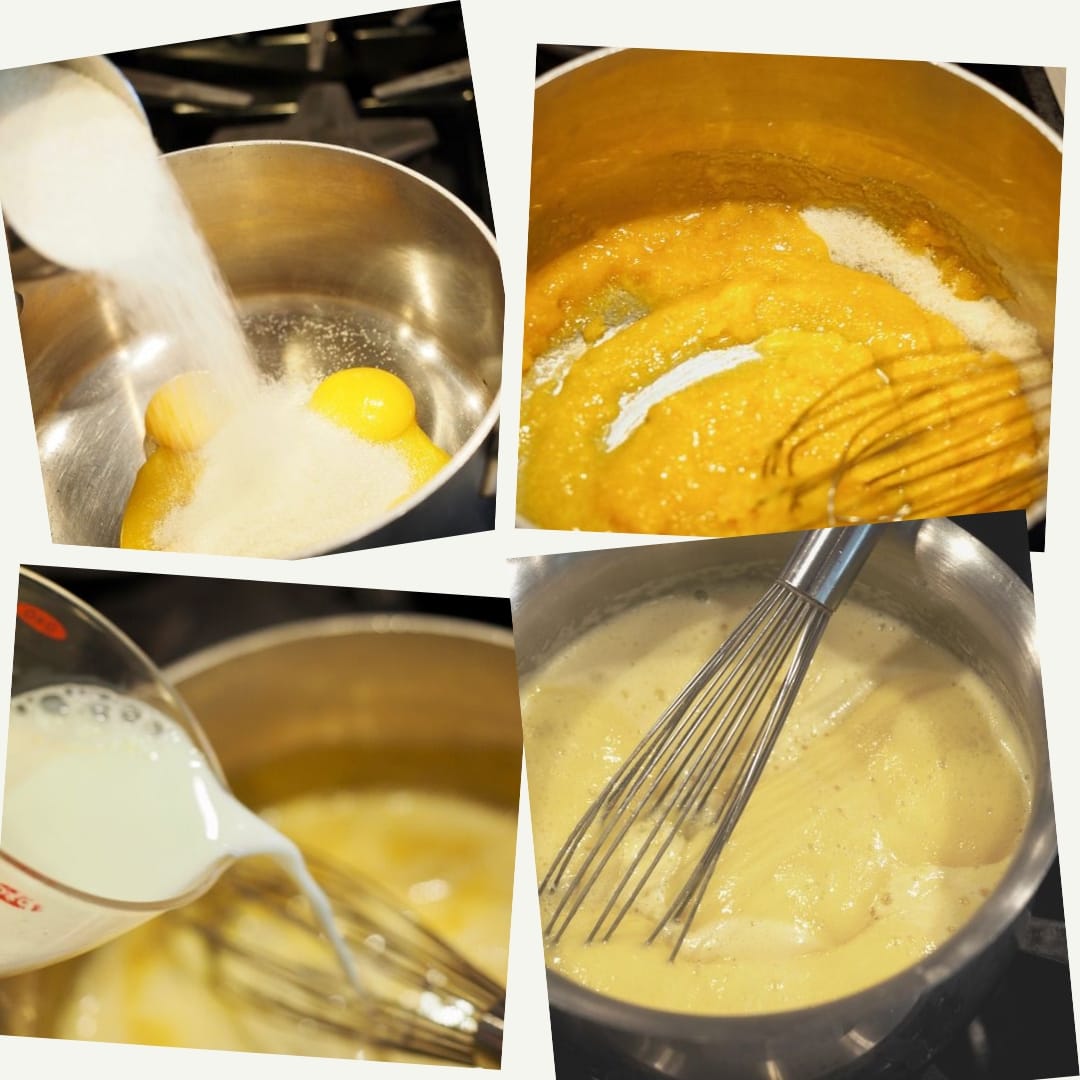 Place egg yolks in a medium saucepan, whisking sugar until well blended. If using all natural cane sugar, whisk a little longer than normal to incorporate the coarser crystals of all natural cane sugar.
Whisk in milk and stirring constantly, cook over medium heat, until the mixture comes to a gentle boil. Boil gently for 1 minute.
Remove from heat and allow to cool for 5-10 minutes. Cover with plastic wrap and place in refrigerator for 1 hour or more if needed.
Once egg mixture custard is cool; in a separate large bowl, using a whisk attachment beat heavy cream and vanilla until stiff peaks form, refrigerate until ready to use. I love that Natalie increased the whipping cream to the full pint, after-all, what do you do with the leftovers?
Whisk the softened mascarpone into the yolk mixture, whisking the mascarpone cream until smooth, set aside.
If your Tiramisu cream is runny, read to the end of the post for reasons and fixes.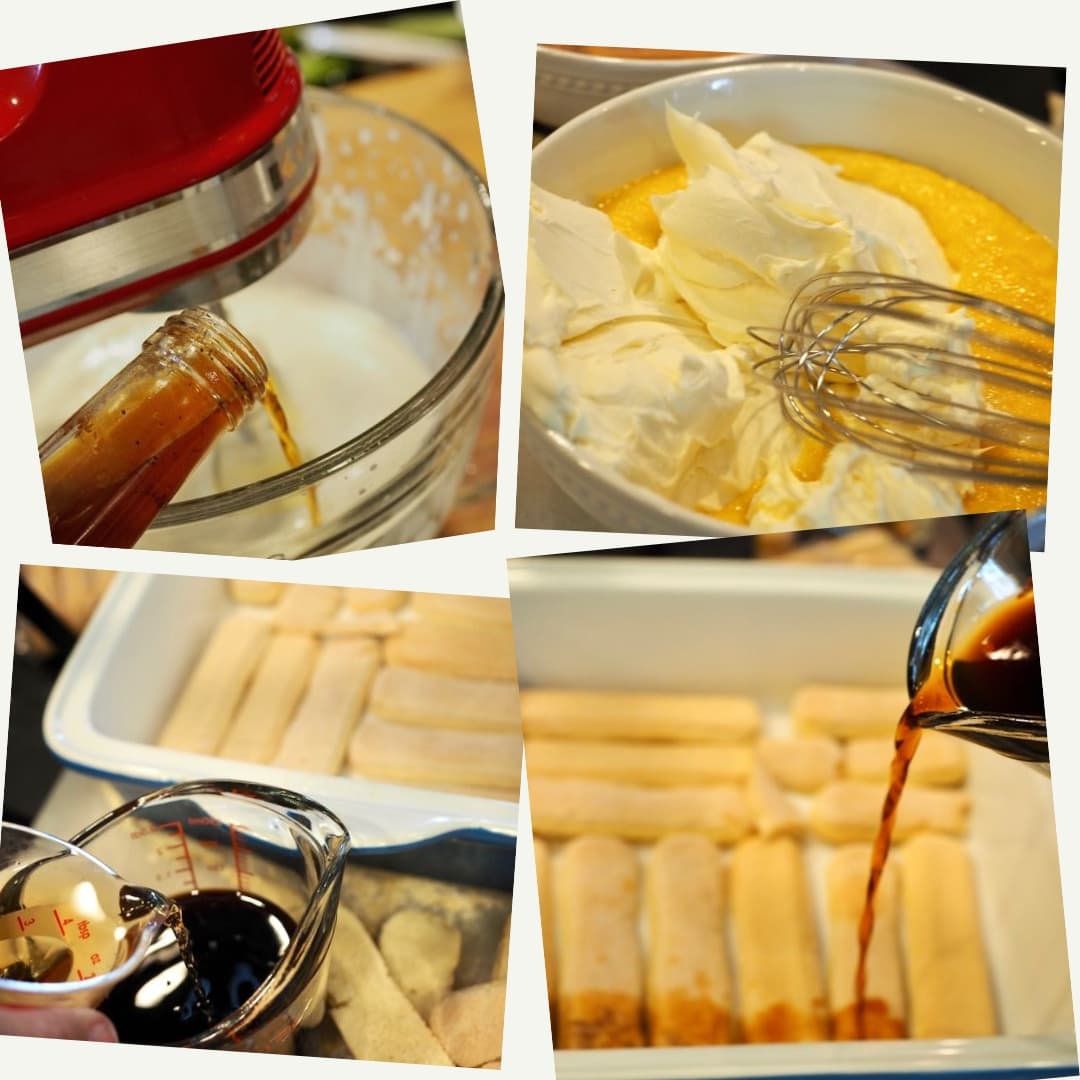 How to Assemble Traditional Tiramisu Recipe
The original recipe calls for a 7×11 dish, which is fine, but Natalie's notes and I completely agree are to put it in a deep 8×8 or 9×9 pan, makes it more compact, with thicker tiramisu cream layers between. Choose your preference.
In a 1 cup measuring cup, mix the strong coffee and dark rum (see notes below to make without rum), Natalie doubled from the original recipe, I concur!
Layer ladyfingers evenly on the bottom of your chosen dish.
Drizzle 1/2 of the espresso mixture over the top, they do not need to be completely soaked, but should be evenly drizzled, I ended up adding a couple additional tablespoons of coffee to the lady fingers.
Swirl your plate around so that the ladyfingers soak up the liquid.
WHAT ARE LADYFINGERS?
"Ladyfingers (sometimes known by their Italian name savoiardi,sponge fingers in British English, or as Boudoir in French) are low density, dry, egg-based, sweet sponge biscuits roughly shaped like a large finger. Plain ladyfingers are commonly given to infants, being soft enough for teething mouths, but easy to grasp and firm enough not to fall apart. Source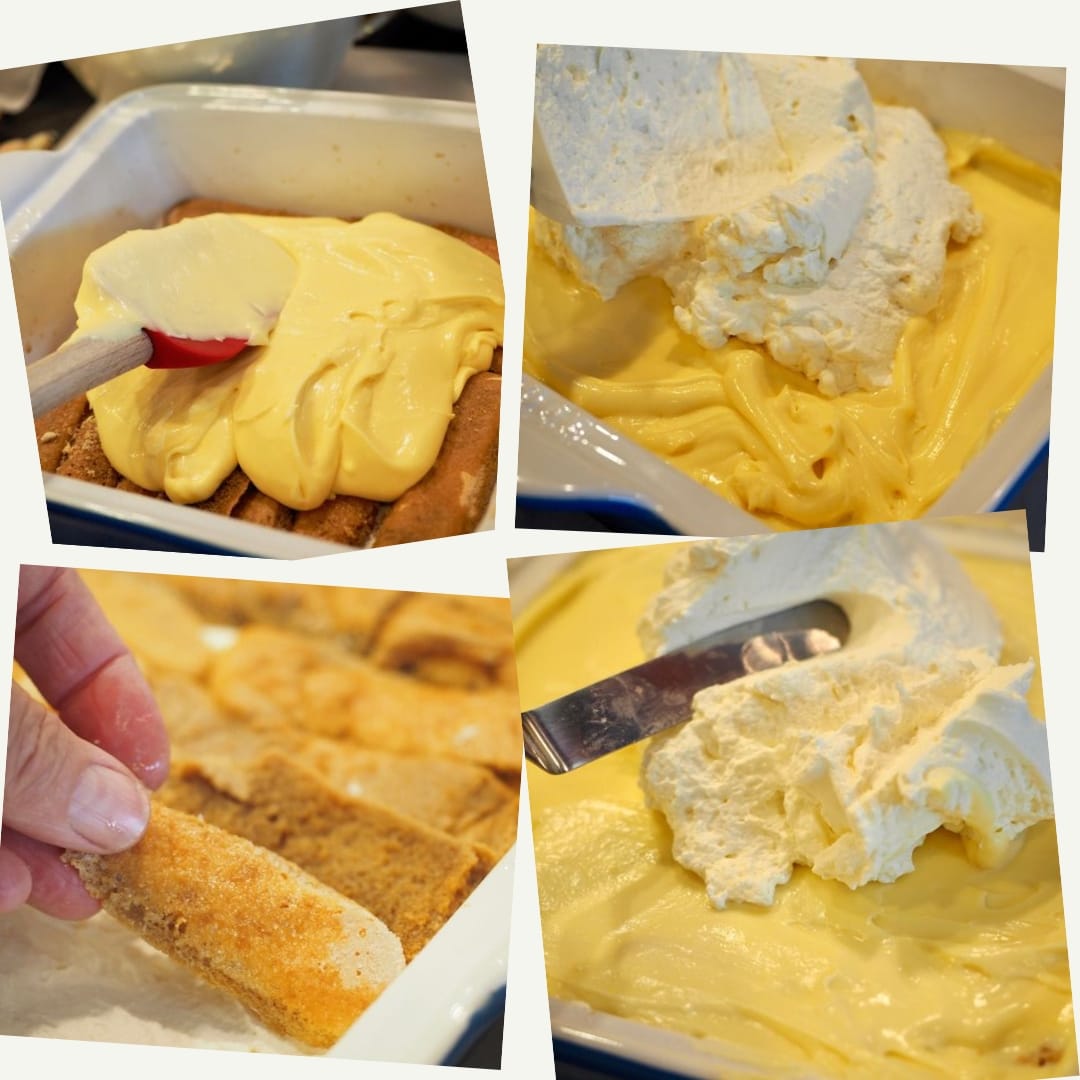 Layer half the mascarpone custard on top of the lady fingers, smoothing out. I even gave the dish a little gentle "tap" on the counter to get the custard to settle between the lady fingers.
Spread half of the vanilla whipped cream on top of the mascarpone mixture, smooth out evenly. I like using an offset spatula for things like this, makes the smoothing go a lot quicker.
In a separate dish or shallow bowl, lay out ladyfingers and pour reserved coffee-rum liquid over the tops, until evenly drizzled.
Carefully place ladyfingers on top of whipped cream-custard layer, they should not be too soggy, but a couple of mind did get soaked and it didn't seem to impact the texture or taste of the tiramisu dessert.
Repeat layering with custard and whipped cream, cover and refrigerate for 4-6 hours.
Before serving, don't forget the traditional dusting of cocoa powder.
The easiest way to get this dessert plated pretty is by using a mini spatula, I have three and I use them for everything from brownies, to cornbread.
If desired, drizzle a little chocolate sauce and/or chocolate curls to dress it up even more!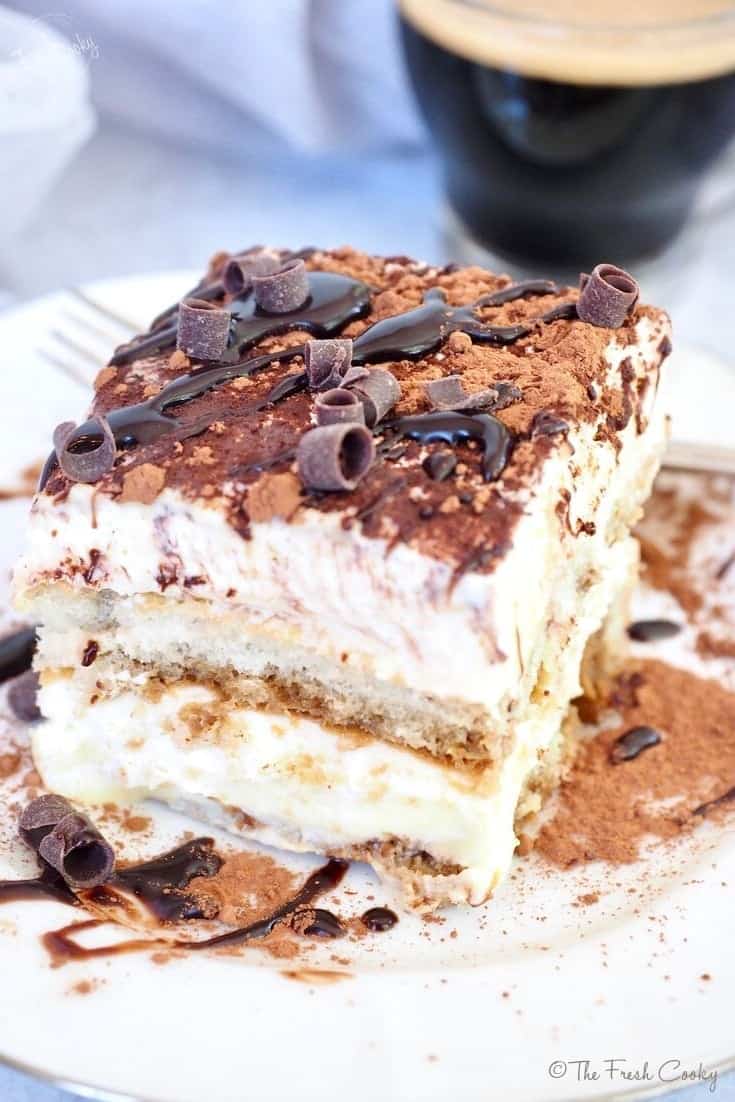 Frequently Asked Questions
Can this easy tiramisu recipe be made a day ahead?
Yes! Tiramisu can be made the day ahead, in fact, I dare say it's better the next day!

I have made it both ways, the day of…and the day before serving, just make sure you have plenty of chill time built in.
Why is my tiramisu cream runny?
There could be a few reasons why it's runny, here are the most common:
1. Using a low or non-fat mascarpone can cause it to be runny, there is more water in low – non-fat versions. Go for the full fat version. Read more about that here.
2. Over beating the mascarpone, it can cause curdling and separation of the cheese curds and water, simply whisk until smooth and creamy.
3. Not cooking the custard long enough, it should be thick and pudding like when you take it off the stovetop.
4. Mixing the mascarpone into the egg custard mixture before the mixture is completely cooled.

How do I fix runny tiramisu cream?
Right off the bat, if you notice runniness or separation, pour off the runny portion.
2. The easiest way however; is to refrigerate mascarpone custard for a couple of hours, it will set up.
3. If you've already assembled your tiramisu and it's pretty runny, allowing it to sit in the fridge will firm it up. The moisture will be absorbed by the ladyfingers and all should be good!

Bottom line? These are delicious, simple, quality ingredients, runny or not, it should taste amazing!
Can you make traditional Italian tiramisu without alcohol?
Yes! Simply increase your coffee or add water to the coffee to equal the liquid portions out.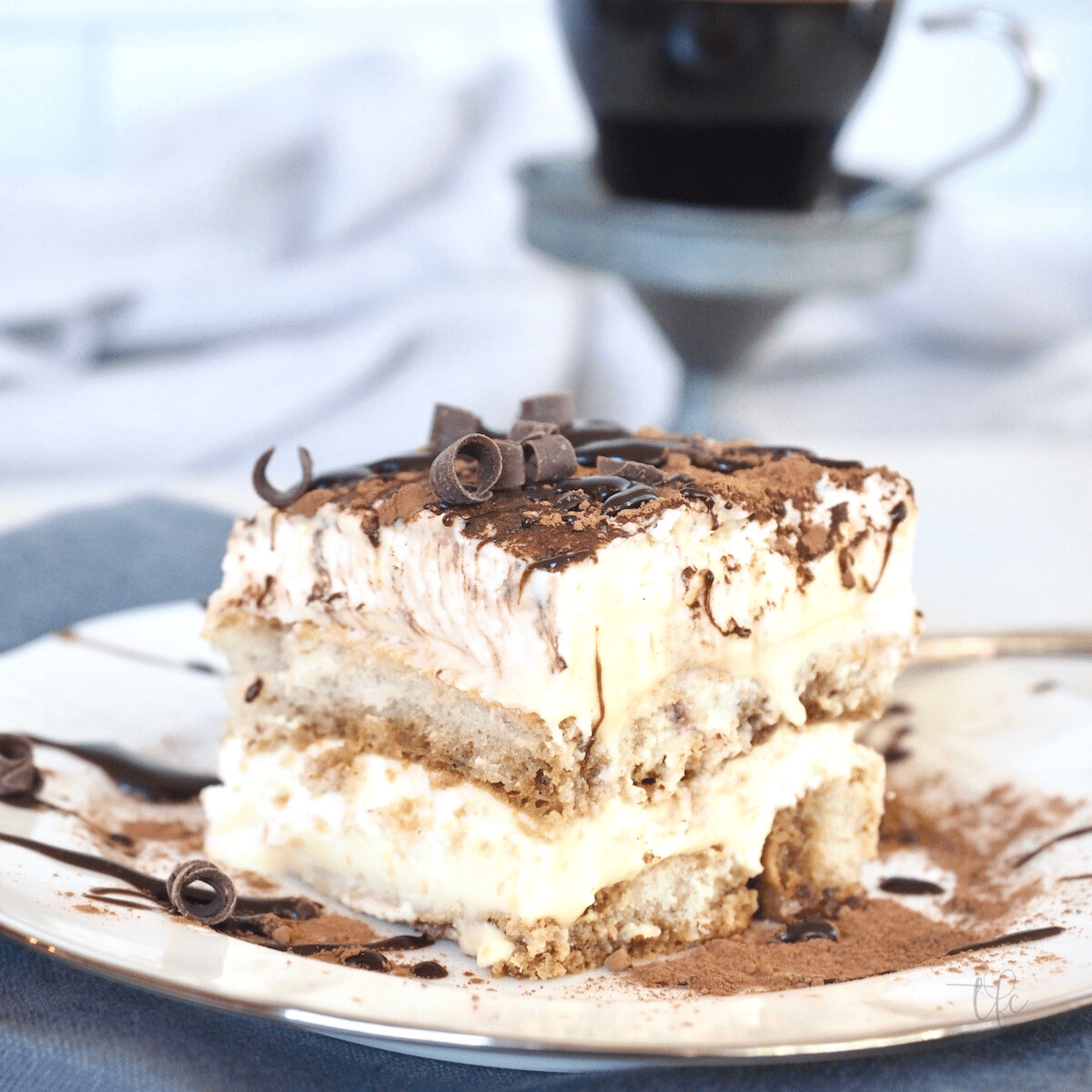 How long does tiramisu last?
It is best kept in the refrigerator and will last up to 4 days (though we have certainly eaten leftovers longer after that! The flavors are at their peak at day 1 and 2, so eat it sooner rather than later.
Is Tiramisu a cake?
Technically it is not a traditional cake, however; I would consider this a cake in many ways! It is a layered dessert that is best served in slices, just like cake.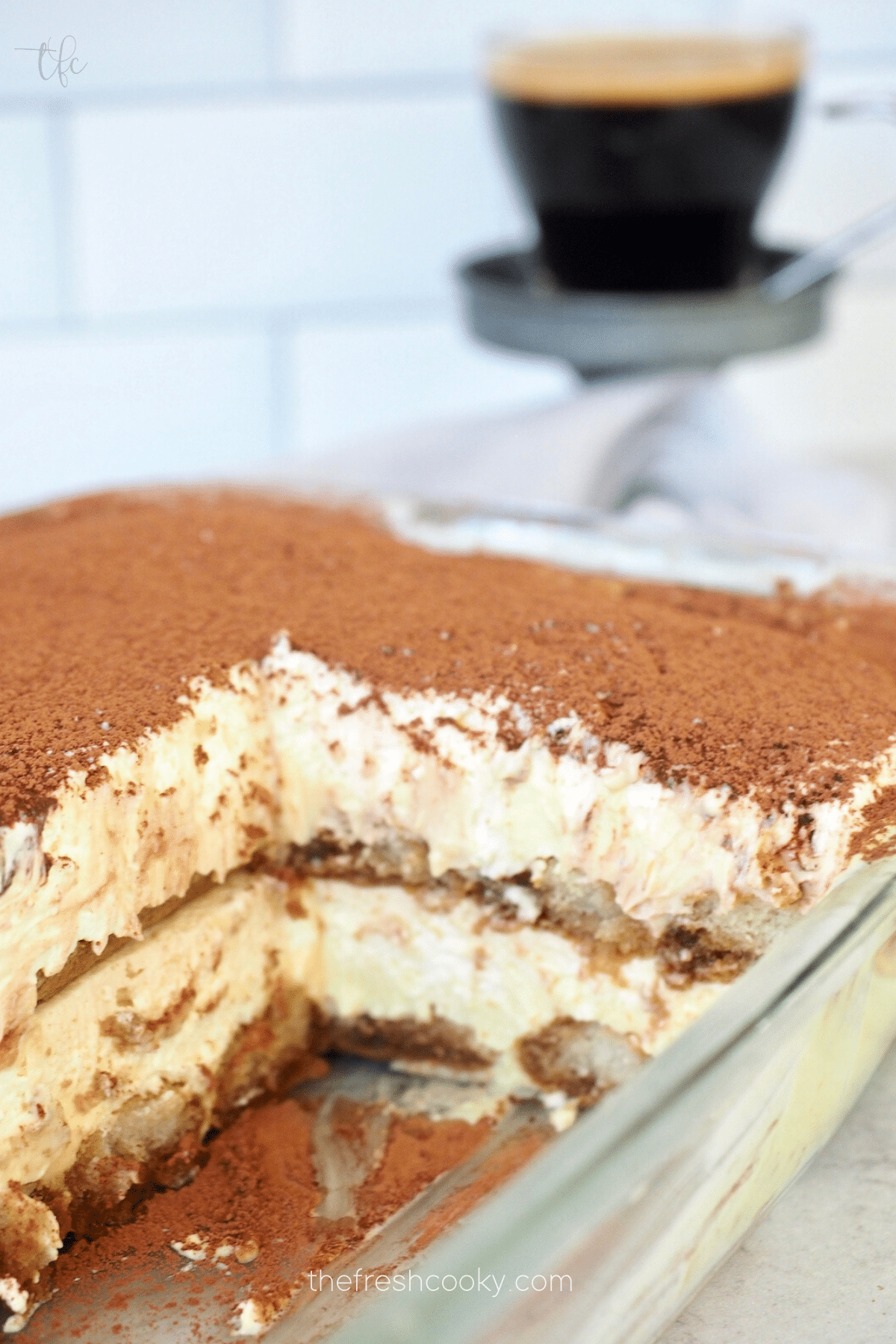 Variations & Substitutions
Does Tiramisu have alcohol? Yes! I used traditional rum, but a nice Marsala or Madeira wine, a Tawny Port, amaretto or coffee liquor like Kahlua are also acceptable choices. Other sweet liquors like Irish cream, orange or chocolate liquor will blend well with tiramisu coffee and cocoa flavors. Change it up! Make it Yours!
Individual Tiramisu desserts | You may have to get creative about cutting your ladyfingers, but simply choose your dishes or cups and layer away! Tiramisu in a cup! Yes!
Can I substitute cream cheese for mascarpone? Not easily, but it can be done. "Mascarpone is a cream cheese with a high fat content and a slightly sweet taste. It is difficult to find a substitute and regular cream cheese has a lower fat content and a more acidic flavor.

However you could try beating together 225g (8 ounces) full fat cream cheese with 60ml (4 tablespoons/1/4 cup) double or whipping cream and 30g (1 ounce/2 tablespoons) softened unsalted butter until just blended. This will give the equivalent of around 300g (10 ounces/1 1/4 cups) mascarpone." Source
I can't find ladyfingers, now what? I can't find ladyfingers, now what? Instead of the Italian Savoyardi (ladyfingers/sponge fingers) a vanilla or plain sponge cake would be the best choice.
Slice the cake into "finger sized" portions and bake fingers in 350 degree oven for 10 minutes, until dry and crisp or leave it on a wire rack to dry out for a day or two so that when it is dipped into the coffee mixture it absorbs liquid without breaking up too much. Or try making homemade ladyfingers.
I hope you enjoy this traditional tiramisu recipe, it's one of my most popular recipes on the blog and if you are into creamy, delicious, decadent desserts, this won't disappoint! Looks fancy, but it's really not!
More Italian Recipes
Here are some menu suggestions from an Italian mama, to you! Mangia!
LOVE IT? PIN IT!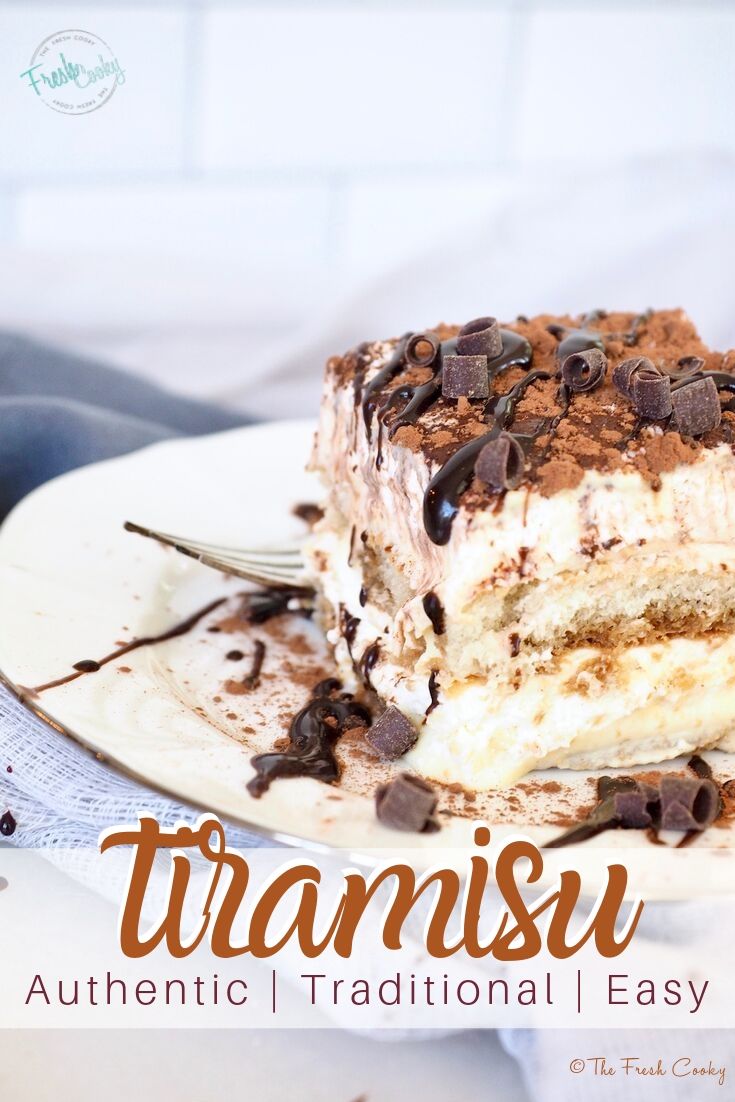 I hope you loved this traditional tiramisu recipe, if you do, be sure to pop down to the comments section below and don't forget to share to your favorite social platform!
Like this recipe?
Don't forget to give it a ⭐️⭐️⭐️⭐️⭐️ star rating and comment below the recipe!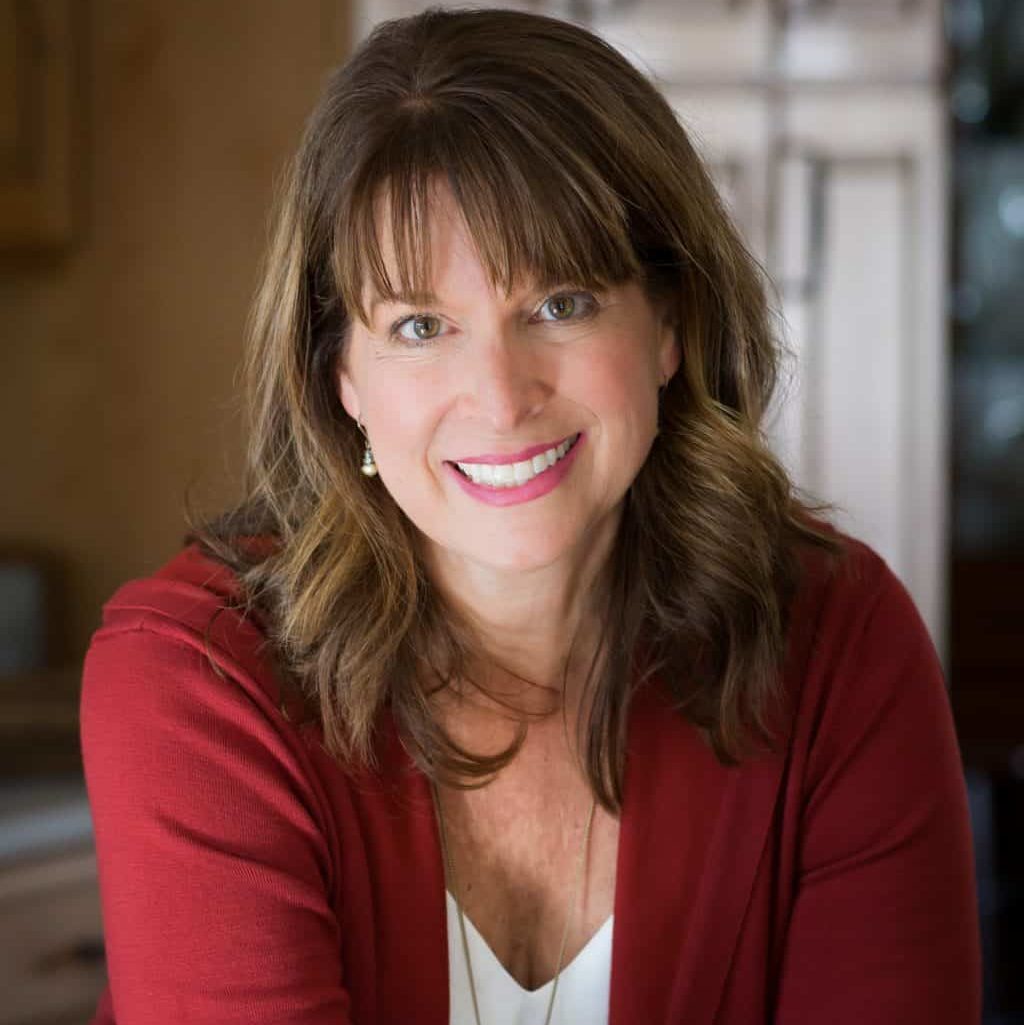 About Kathleen Pope
Recipe Innovator | Food Photographer | Food Writer
Hi, I'm Kathleen Pope. Here at The Fresh Cooky you will find easy, mostly from-scratch, trusted recipes for all occasions. From speedy dinners to tasty desserts, with easy step-by-step instructions. I am here to help teach you how to make mouthwatering recipes without spending hours in the kitchen. Read more about Kathleen here.