Italian Lemon Ricotta Cake Recipe
As an Amazon Associate, I earn from qualifying purchases. Please read my disclosure policy.
You are going to love my Italian Lemon Ricotta Cake Recipe. This rich, moist cake is an easy cake recipe filled with rich lemon flavor and creamy ricotta that is an authentic Italian treat – made right in your kitchen. This easy lemon ricotta cake may look plain, but the taste is out of this world! An Italian cheesecake if you will! Plus I provide adjustments for high altitude.
Classic Italian Tiramisu and cannoli are what most people think of when it comes to Italian desserts. This Lemon Ricotta Cake recipe is another traditional Italian cake you can find all over Italy or try this amazing Italian Ricotta Cheesecake.
The recipe originated in Sicily, but often, the recipes are varied according to the region. No matter where you find it, boy, is it amazingly moist, with a dense, but fluffy texture making it the perfect dessert for spring and summer.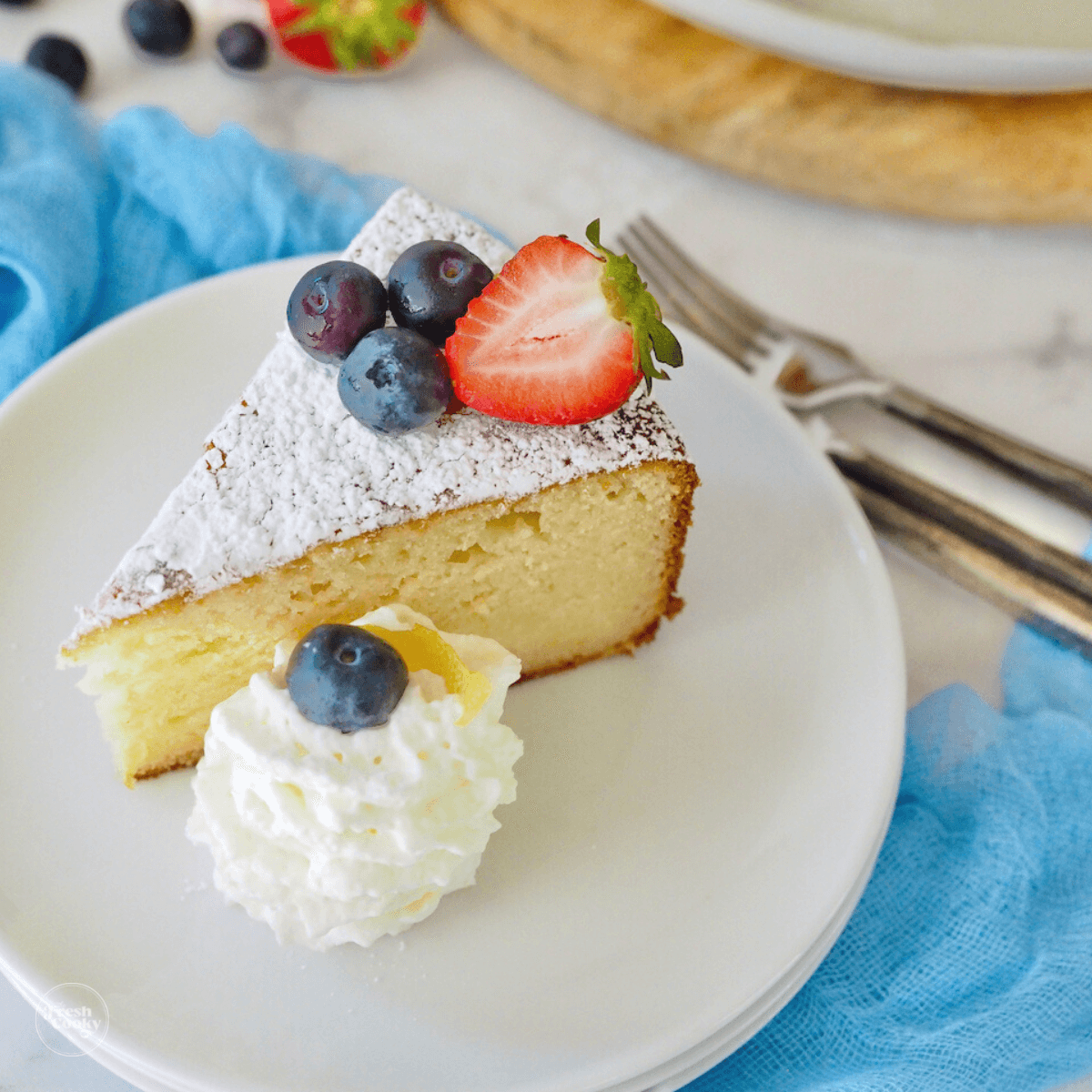 Lemon dessert recipes are all the rage in the spring and summer. If you love the buttery texture of a delicious lemony dessert as much as I do, try my Old Fashioned Lemon Squares, No Bake Lemon Icebox Pie Recipe or some berry good Lemon Cranberry Bars.
Learn more about lemons in this installment of Fresh Fridays called Fun Facts About Lemons.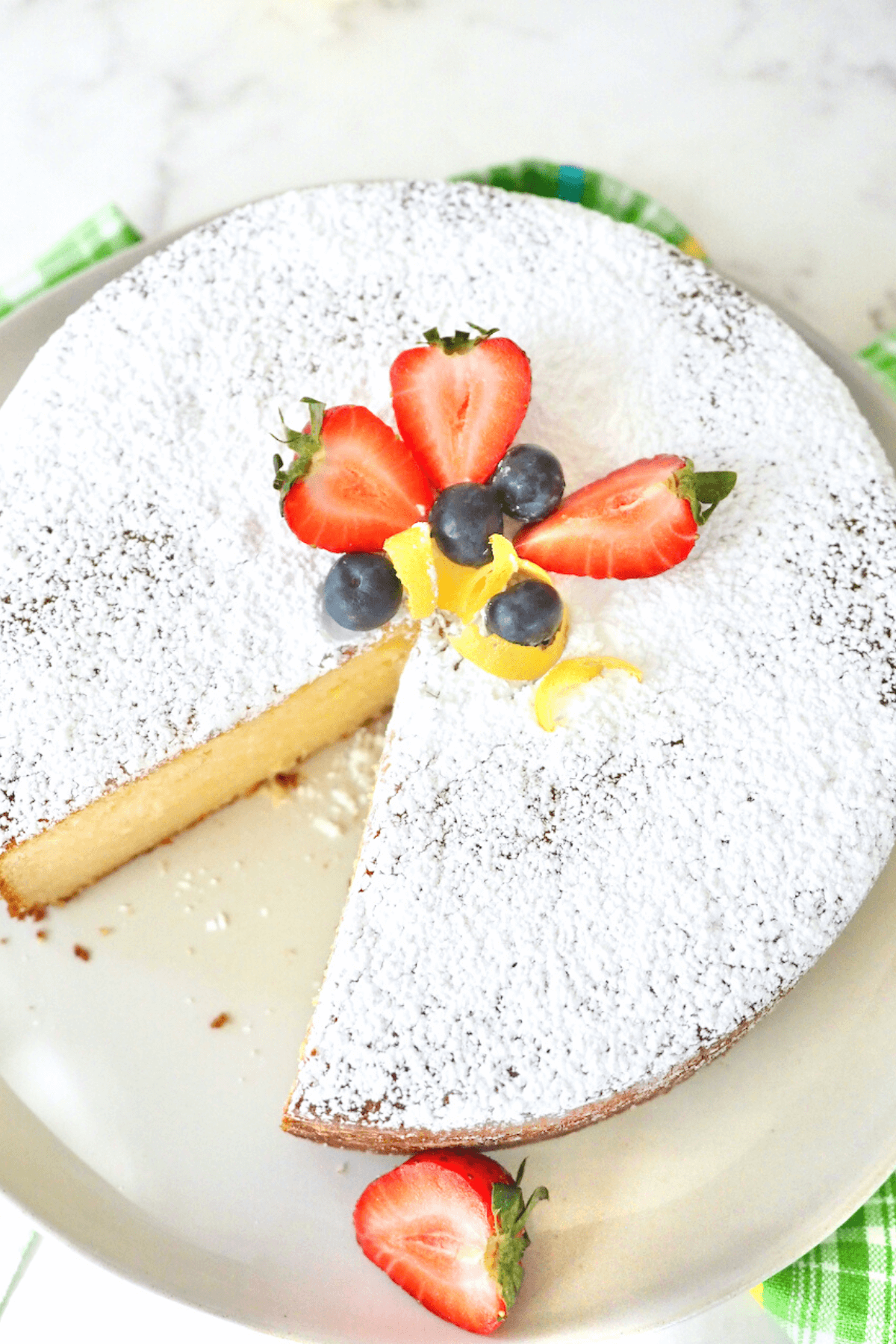 Welcome to #LemonWeek 2022, hosted by Lynn from Fresh April Flours and Rebecca from Devour Dinner. This week is sponsored by Rodelle and La Tourangelle. I received product samples from these sponsors to help create my recipes. All opinions are my own. Come join my fellow Lemon Week bloggers and me as we bring you recipes from appetizers to drinks to entrées and lemon desserts!
Today is the last day of lemon week, be sure to check out all of my lemony posts, Lemonade Bundt Cake, Pink Lemonade Vodka Cocktail, One Pot Lemon Garlic Pasta, and Lemon Dump Cake. And browse the end of each post for all of the other blogger's luscious lemon entries!
Why You Will Love this Lemon Ricotta Cake Recipe
Breakfast or Dessert | Choose this recipe for dessert, then have it the next morning too. Or serve it at your next luncheon or brunch gathering.
Make-Ahead | Cheesecakes can be made ahead and dusted with powdered sugar before serving.
Moist Texture | A dry cake is no good. This perfect Italian dessert does not disappoint. I actually believe it tastes better the next day.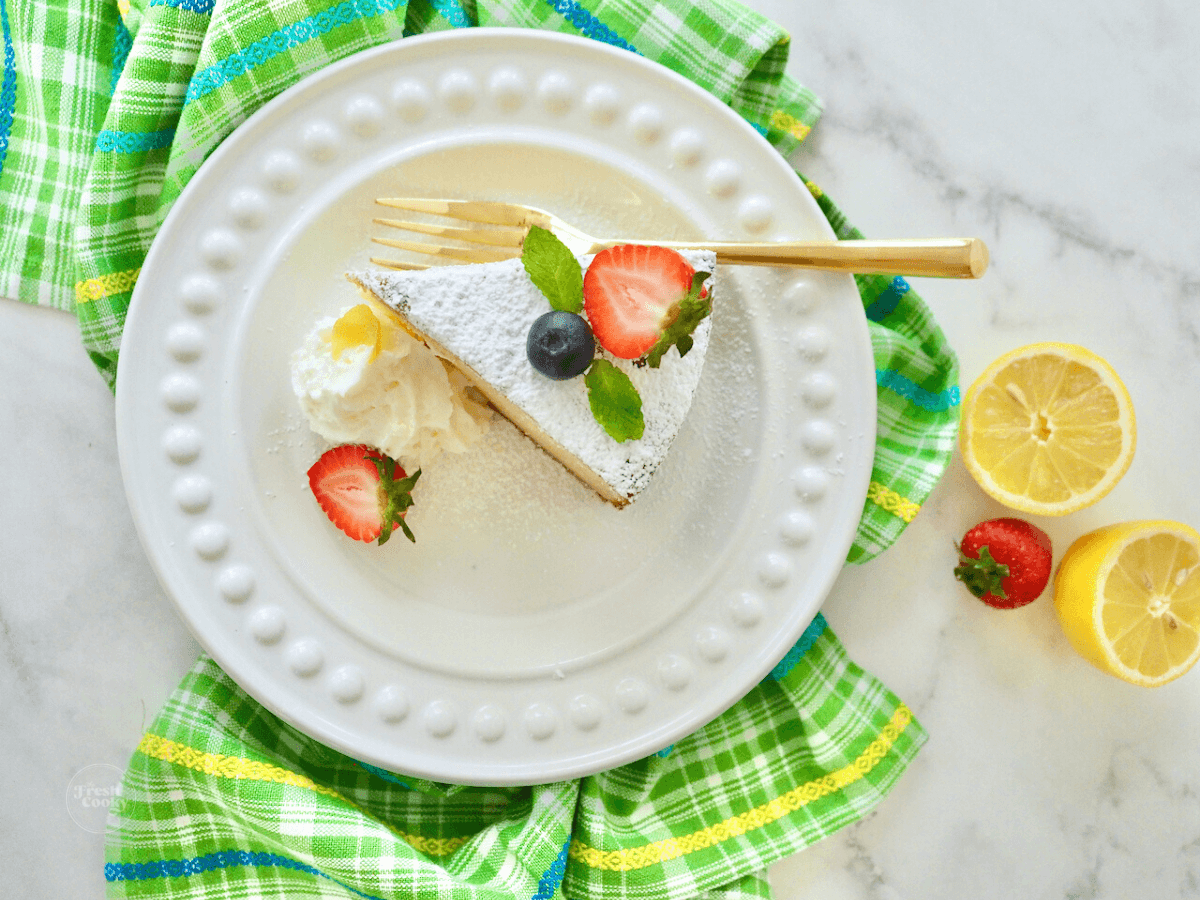 Healthy Twist
Lemon benefits – Not only are lemons rich in vitamin C, but they are loaded with fiber and may help with heart, liver, and kidney health. Plus , these ingredients are whole and all natural!
Simple Ingredients
The full list of basic ingredients and directions are in the printable recipe card at the end of the post. For best results bring all ingredients to room temperature.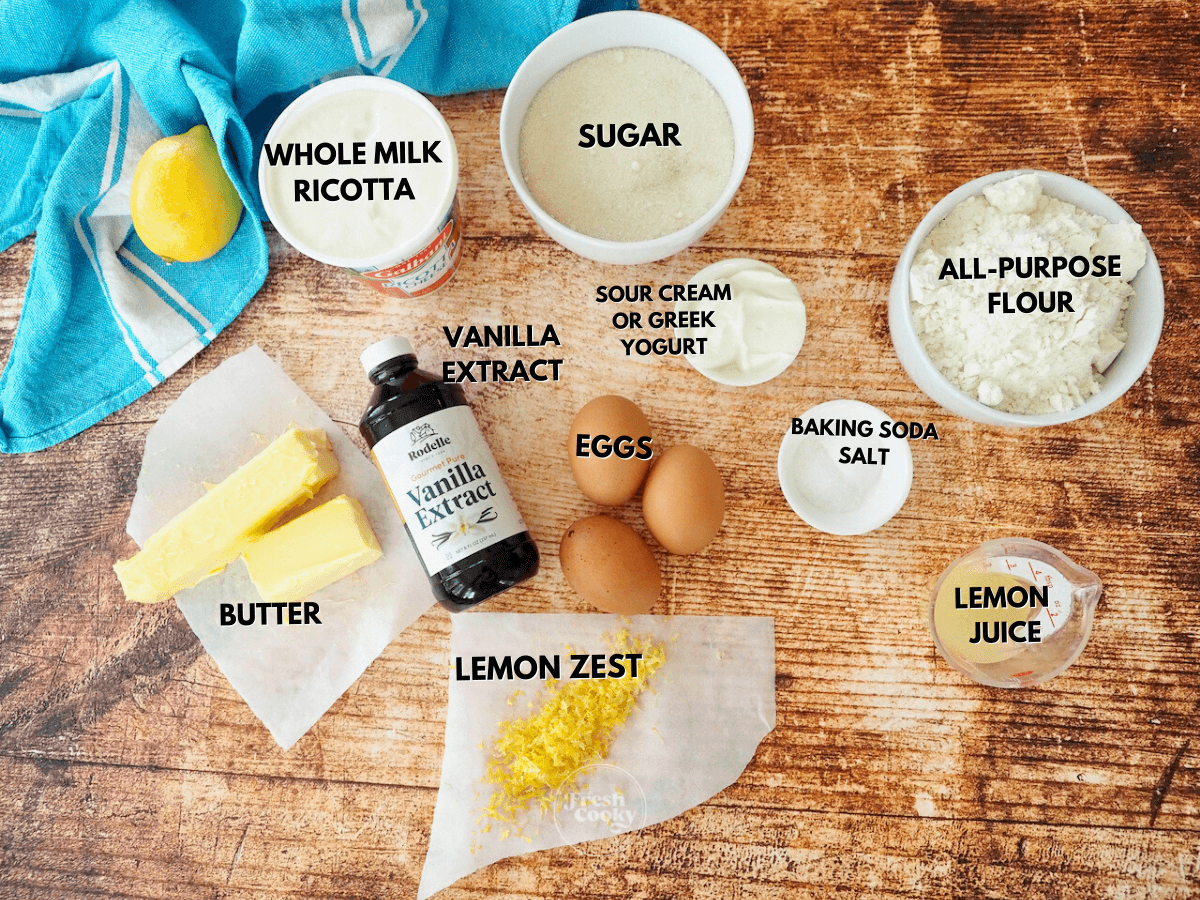 Butter | Room temperature butter will mix easier and yields that creamy texture, I use salted butter, but you can also use unsalted butter, just add additional ⅛ teaspoon of salt.
Sugar | I like to use all-natural cane sugar, but regular white sugar is just fine.
Ricotta Cheese | Whole milk ricotta with full fat for that creamy cheesecake texture – from the grocery store is perfect. Plus it tends to be less watery, see notes about straining if yours if watery.
Eggs | Bring large eggs to room temperature before adding them in, if you forgot, simply immerse eggs in bowl with warm (not hot) water for 5-7 minutes.
Sour Cream | You can also use Greek yogurt instead to add an even more tangy flavor.
Rodelle Vanilla Extract | Pure vanilla wakes up the lemon and other flavors in the ricotta cake.
Lemons | Get the most out of those fresh lemons and use both the juice and the fresh lemon zest. And fresh lemon juice is always the best!
Baking Soda and Kosher Salt | Key ingredients for any cake recipe.
All-Purpose Flour | I use organic, unbleached all-purpose flour.
Rodelle Vanilla
Rodelle Pure Vanilla Extract is hand-crafted with the highest-quality Bourbon vanilla beans. And it is Gluten Free! I love the richness of Rodelle vanilla products!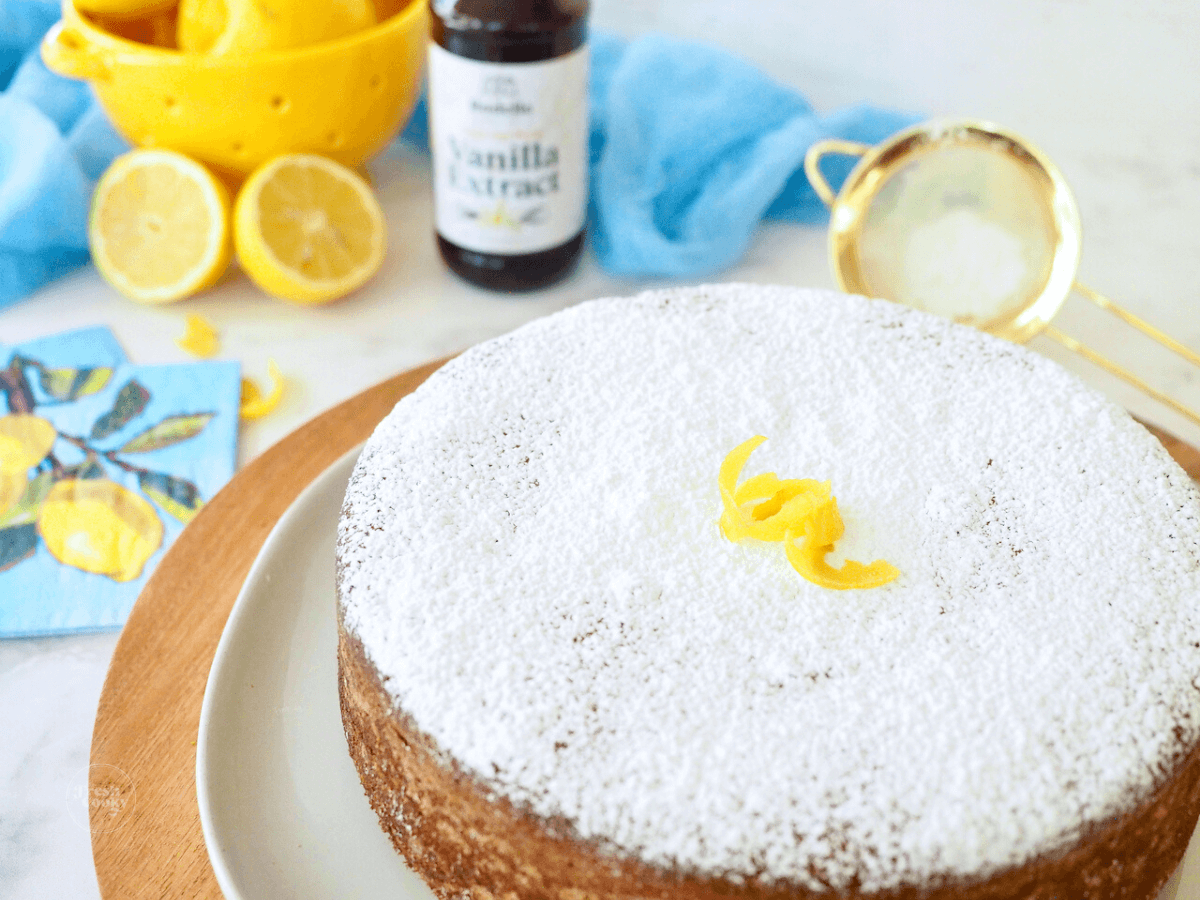 La Tourangelle Baking Spray
La Tourangelle baking spray is gluten-free and all-natural with only 2 ingredients- oil and lecithin. This quality baking spray makes your cakes come out without sticking and no chemical additives. Unlike other non-stick sprays that occasionally still stick, La Tourangelle does not! Cakes, cupcakes, quick breads come out clean every time!
How to Make this Traditional Italian Cake
Start with a 350 degree F preheated oven and use baking spray or butter to grease the springform pan. I also line my pan with a round of parchment paper. Then dust the greased pan with powdered sugar or with a light dusting of flour. I used a 9″ springform pan because it releases from the edges so well.
In a large bowl of your stand mixer (or in a large mixing bowl using an electric hand mixer), on medium speed cream the wet ingredients, starting with the room temperature butter, adding in the sugar, and scraping the sides with a rubber spatula. Beat well about 2-4 minutes.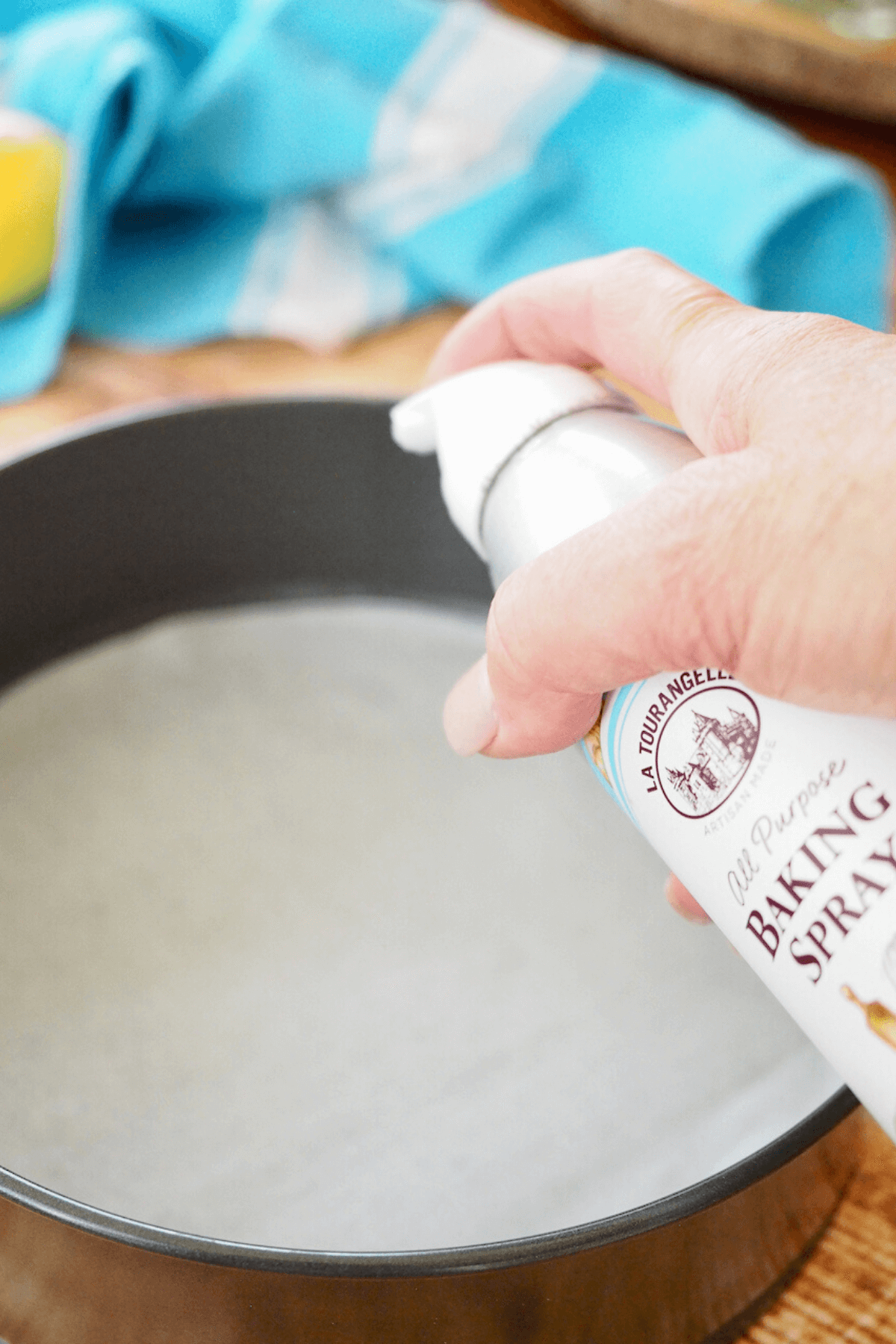 Add ricotta cheese and sour cream and blend until light and fluffy, about 4-5 minutes.
Now add the eggs one at a time; then the vanilla, lemon zest, and lemon juice to the mixing bowl and cream.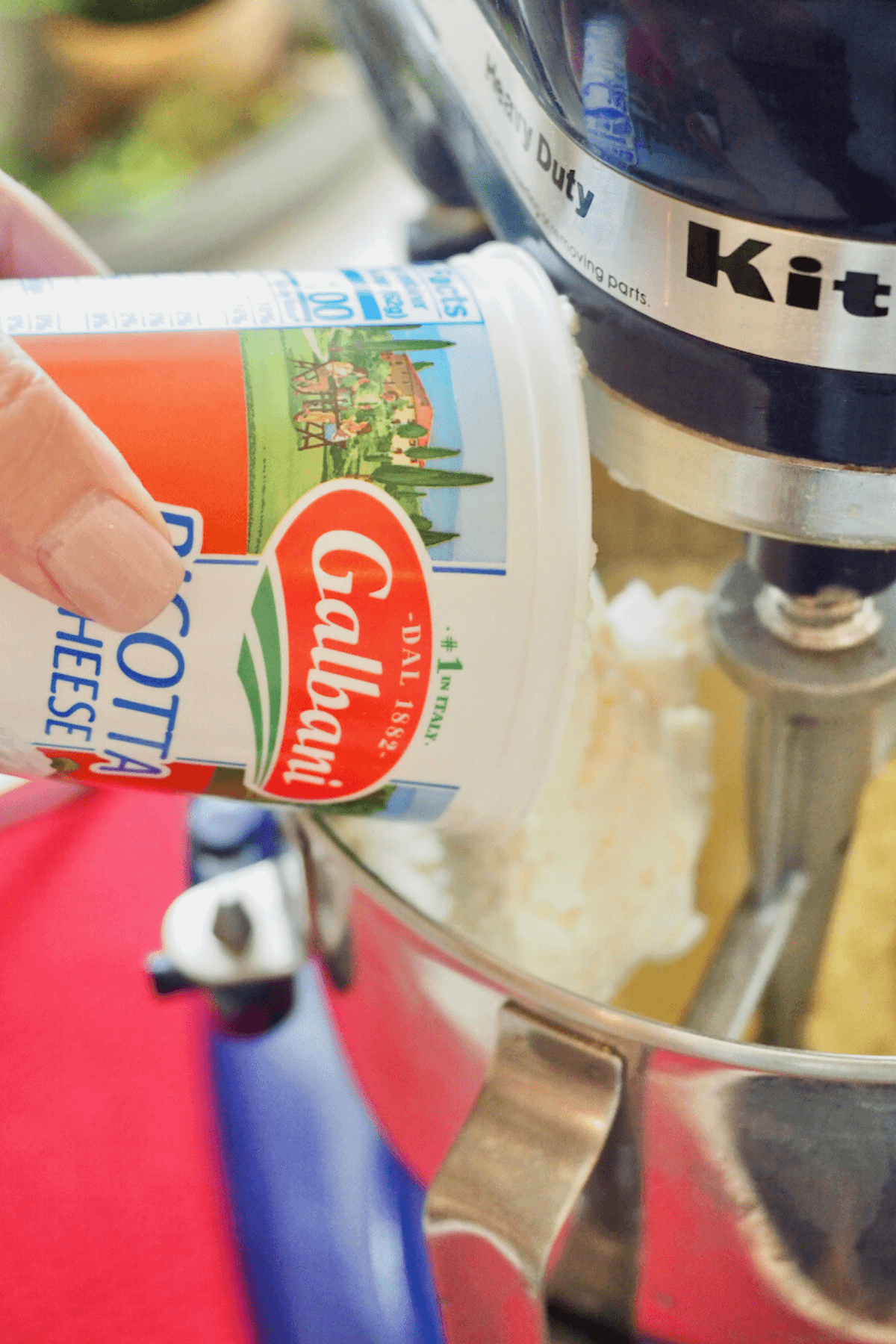 Fresh Tip
At this point, the creamy batter may look a bit curdled. Lemon tends to do that in a batter, but it will smooth out in the oven – just right.
In a medium bowl, add the dry ingredients and whisk. That way, there are no clumps of salt or soda. Add the flour mixture into the mixer a scant one cup at a time on low speed.
Now you are ready to add the lemon ricotta cake batter to the prepared pan, place it in the oven and bake until golden.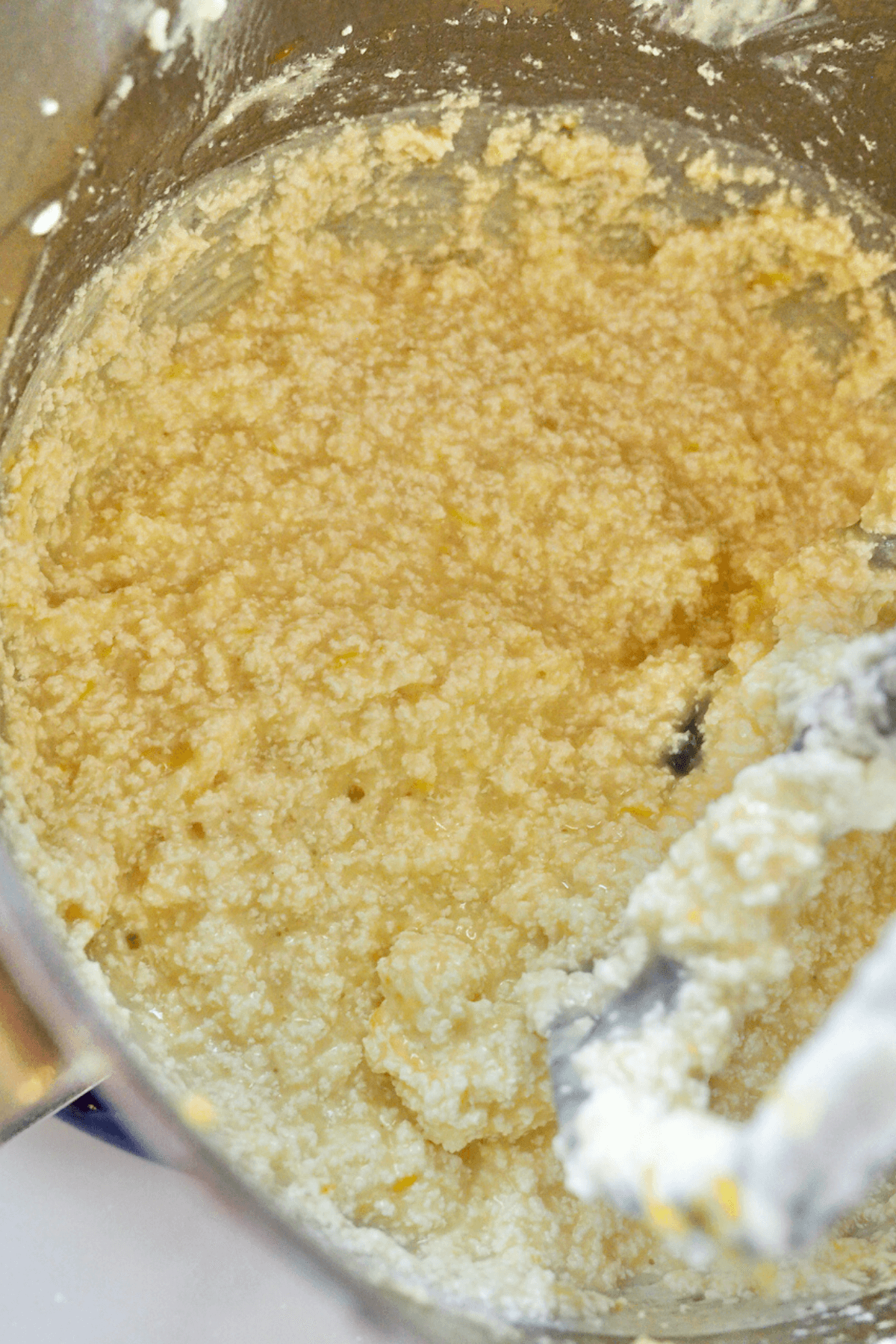 Pro Tips
Like all cheesecakes, they can be finicky at times. The first few times making this cake, I took it out too soon. It looked gorgeous until it cooled, then sunk slightly in the middle. Bringing my ingredients up to room temperature helped to reduce this problem, as well as baking a little longer. However; it tasted amazing each and every time!
If using an 8 or 9″ inch springform pan, you will need to adjust the baking time a little longer, closer to 60 minutes. If you see the cake browning too much, lay a sheet of aluminum foil over the top.
I dare say this cake is even better the next day. Cool the cake completely and then wrap in plastic wrap and refrigerate overnight, something quite magical happens.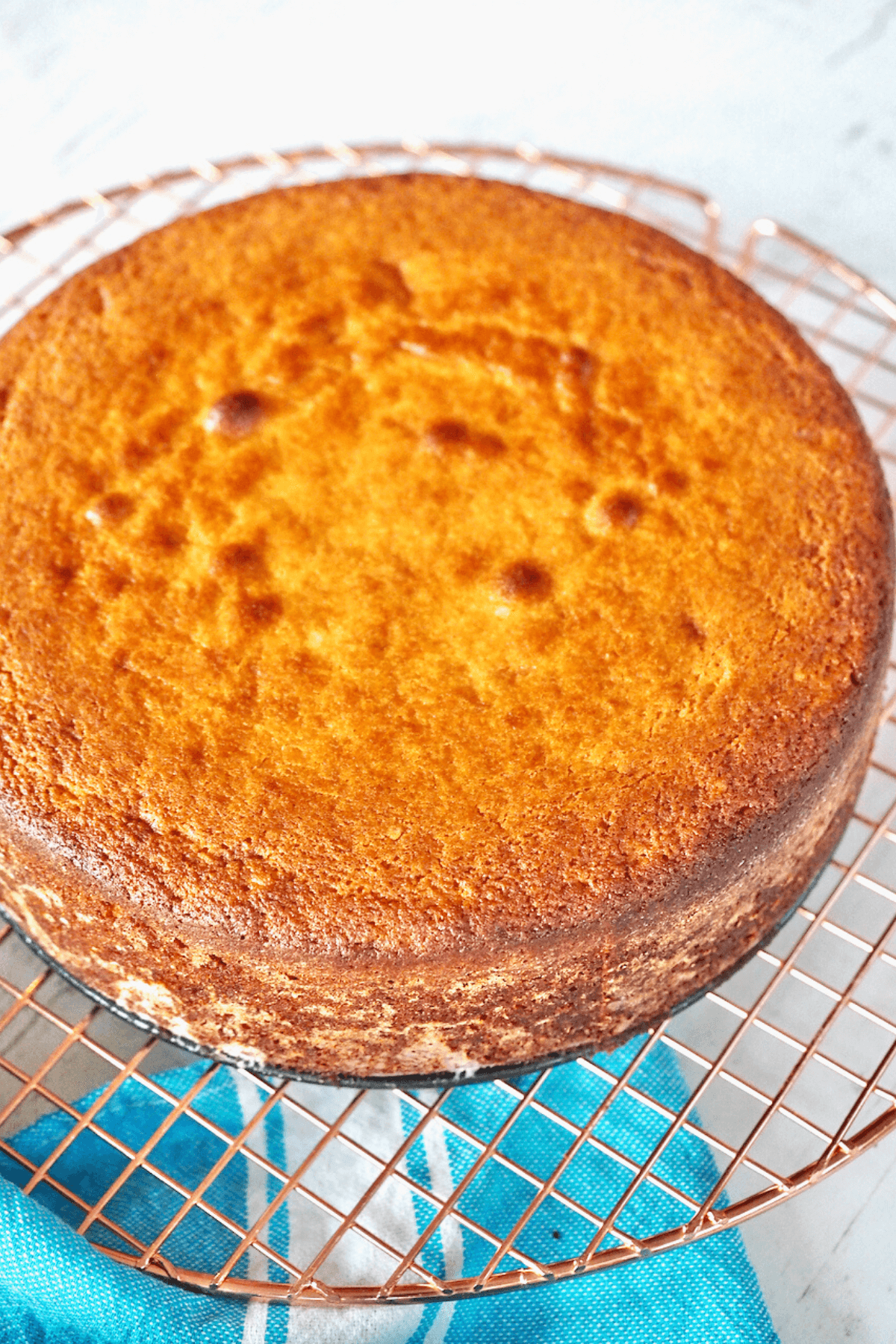 When the cake is perfectly cooked and golden, take the cake out of the oven and place the pan on a wire rack. Let the cake cool in the pan for 15 minutes before you remove the pan's collar.
Finally, dust the cooled cake with powdered sugar. A fine colander works well to sift the sugar and allow it to sprinkle evenly on the cake.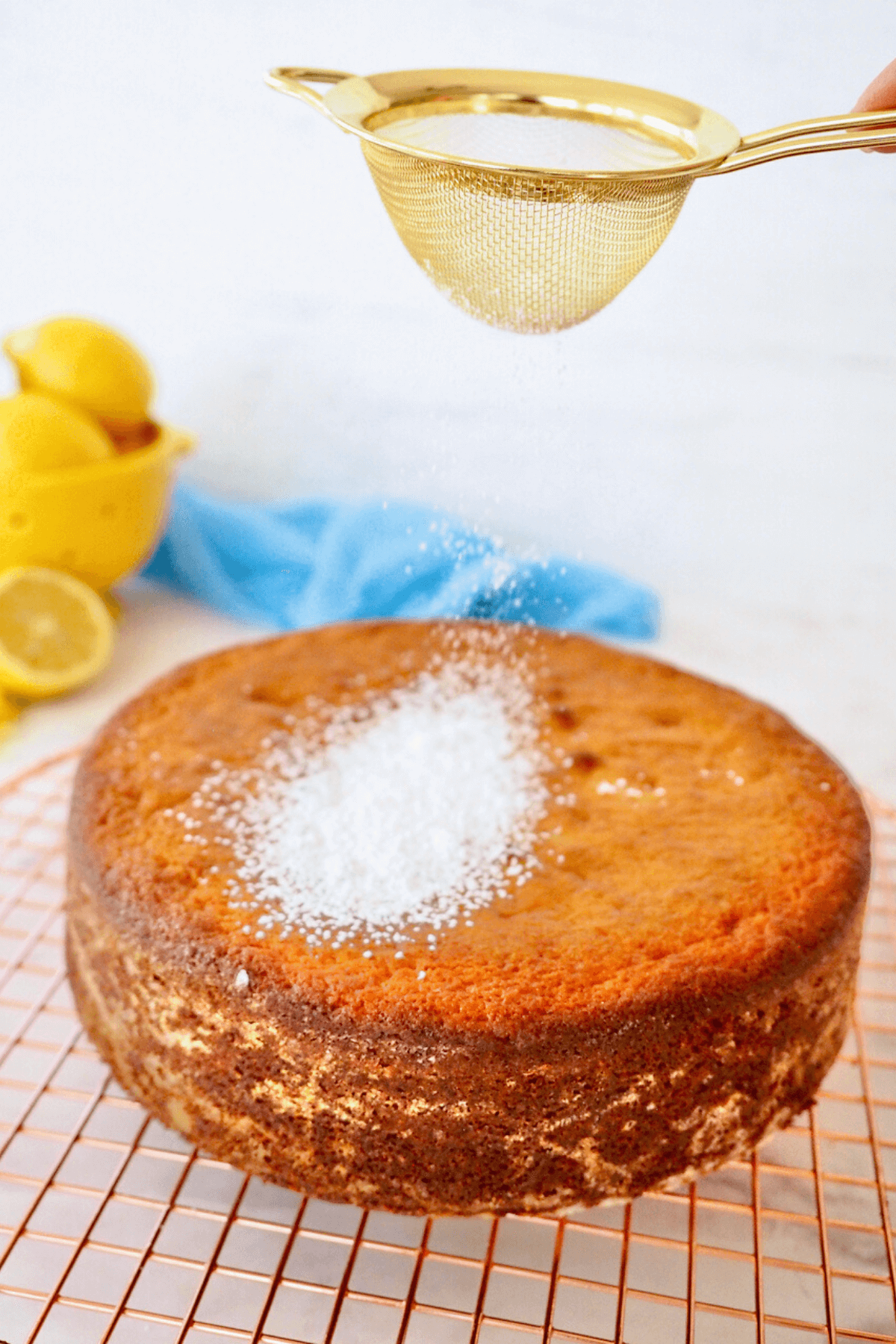 You can serve the cake warm or cooled, and be sure to top it with your favorite toppings. Try fresh whipped cream with some fresh lemon zest and your favorite berries.
Fresh Tip | Getting the most out of your lemons
Here are my best tips for zesting and juicing lemons. Keep in mind that each lemon yields approximately 2 ½ – 3 tablespoons of lemony tart juice.
Zesting Lemons | It is much easier to zest your lemons before cutting them in half to juice them. Wash and dry lemons before zesting, and do not zest too far down; the white part called the pith is bitter.
Juicing Lemons | To get more juice from your lemon, place the lemon on a cutting board or counter and firmly roll with the palm of your hand until it starts to yield slightly. You can also try putting lemon in the microwave for about 10 seconds, then roll and squeeze.
Variations & Substitutions
Flavorings | You can change the recipe for your taste like they do in Italy by switching the vanilla to almond extract for a delicious almond ricotta cake. Also, consider adding Amaretto or Frangelico to the cake batter for a nice twist.
Lemon Blueberry Ricotta Cake | Add fresh or frozen berries tossed in a tablespoon of the flour mixture and then hand fold into the batter. The flour will help them not sink to the pan's bottom when baking.
Rhubarb Ricotta Cake | during rhubarb season this would be a fabulous add in, keep the lemons and add 1-1 ½ cups of chopped rhubarb that has been tossed in some of the flour mixture. Try my Rhubarb Bread or rhubarb cake too!
Sugar Crust | Sprinkle coarse sugar (like demerara) on top before baking for a crunchy sweet crust on top of the cake.
Toppings | Forgo the powdered sugar and instead add a lemon glaze to the warm cake. Mix together 1 cup powdered sugar and 1-2 tablespoons lemon juice. Or you could also top with a dollop of lemon curd.
Fresh Fig & Ricotta Cake | Try this Barefoot Contessa version of a ricotta cake. Keep the lemon juice and zest in there and before baking, quarter 8 large figs through the stem (stems removed) and arrange the fresh figs on the cake, cut sides up. A delicious way to use fresh figs!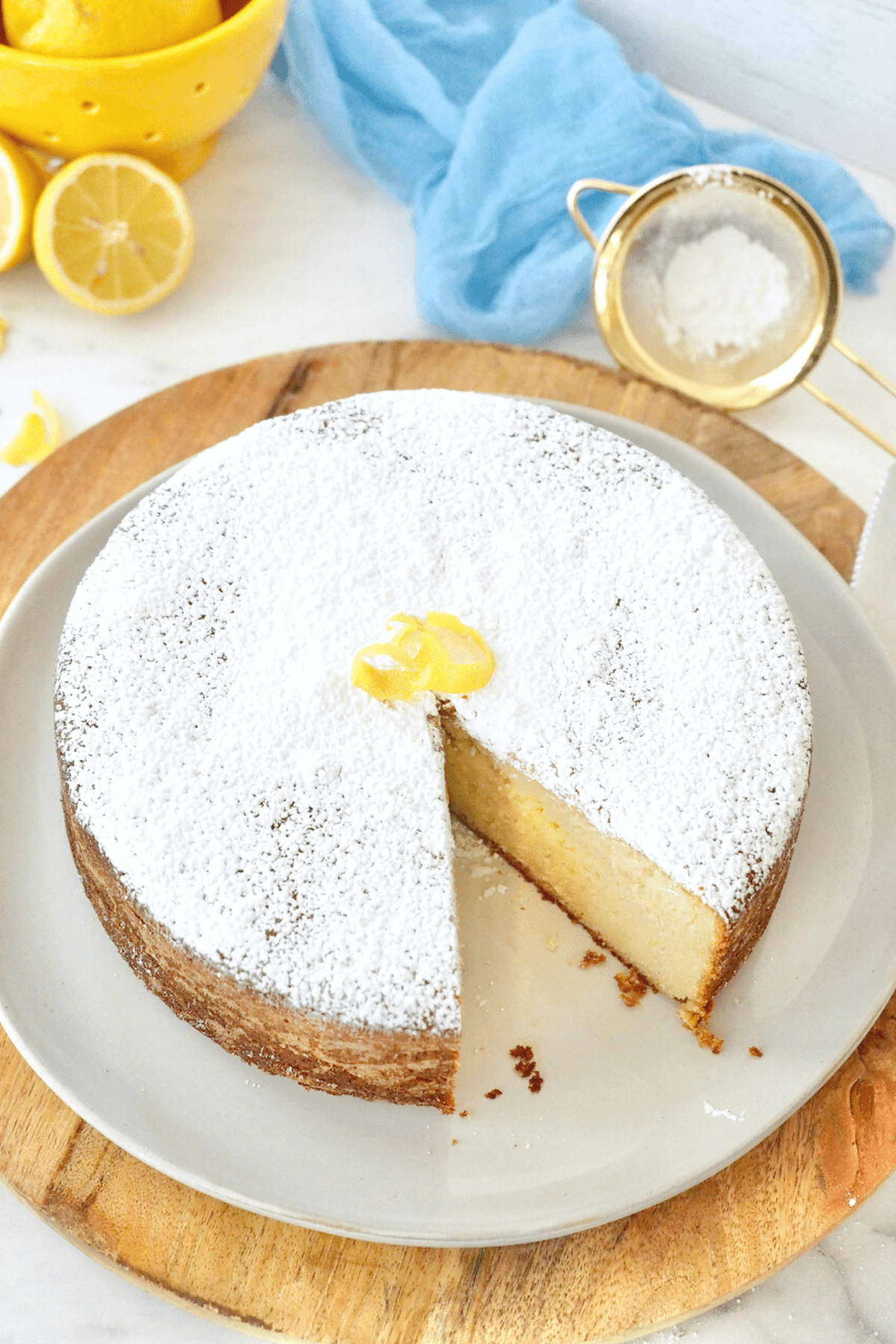 Equipment
The only true special equipment you need is a springform pan, use an 8 or 9 inch springform pan.
However, an off-set spatula, a powdered sugar shaker and a cake server will come in handy as well!
High Altitude Adjustments for Lemon Ricotta Cake Recipe
Reduce sugar to 1 ¼ cups
Increase all-purpose flour by 3 tablespoons
Bake as directed
Gluten-Free Easy Ricotta Cake
This recipe will adapt well to be gluten free. Replace the regular flour with half Gluten-Free All-purpose flour (I like King Arthur Measure for Measure or Bob's Red Mill 1-to-1) and the other half with GF almond flour. It will yield a moist crumb and a delicious gluten-free lemon ricotta cake.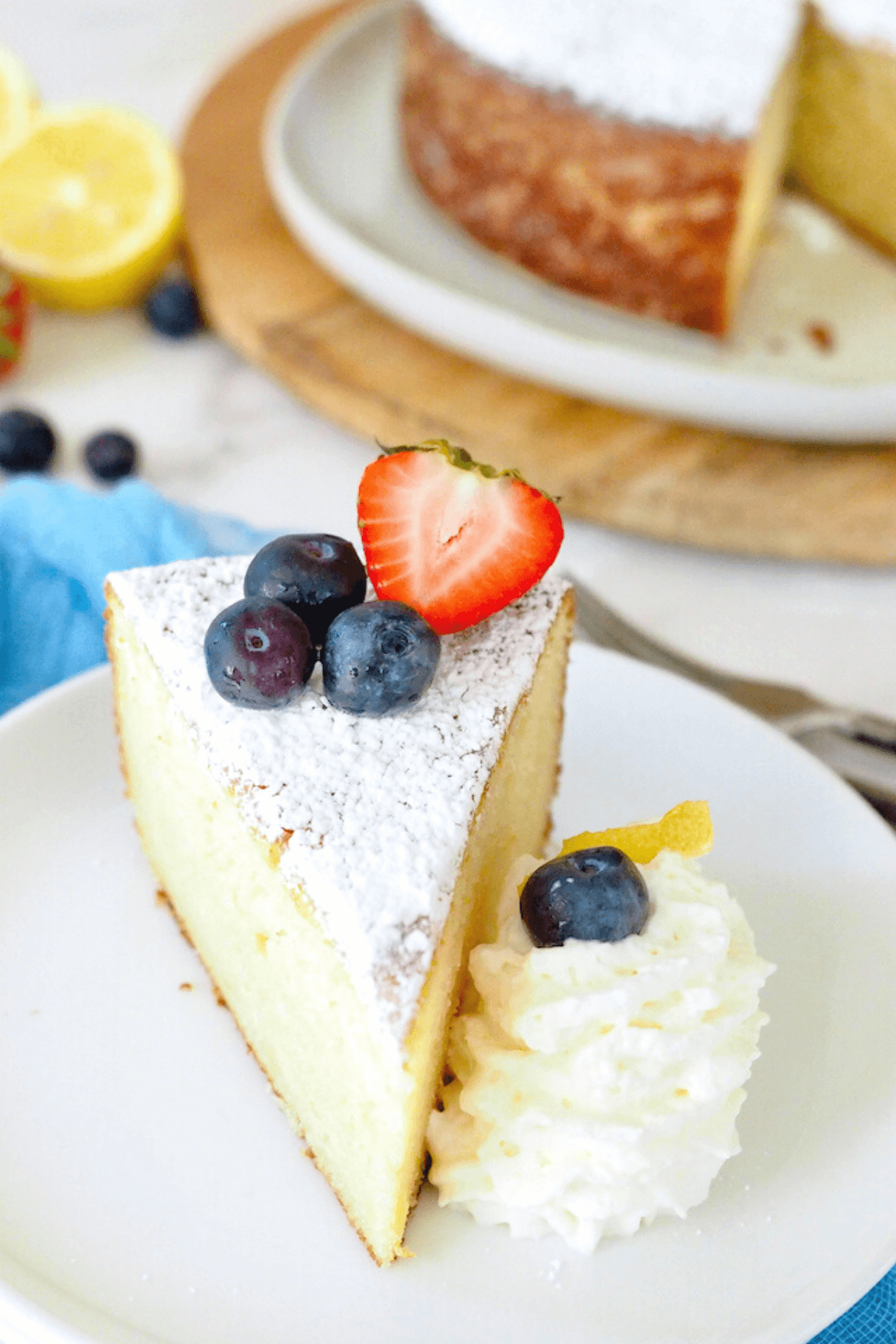 Storage Tips
Store on the counter wrapped in plastic wrap or in an airtight container for up to 3 days. Refrigerate for up to 7 days and may be frozen for 3 months.
Freezing: You can freeze your lemon ricotta cheesecake for around 2 months! Just make sure you cool the cake completely, then wrap it well in plastic wrap and seal it in an airtight container or a zippered freezer bag.
Frequently Asked Questions
How do I choose the best lemons?
Your lemons should be firm with smooth thinner skin. They should also yield to gentle pressure. If they are green, they are not ripe quite yet.
Where should I store my fresh lemons?
When you store lemons on the counter in a pretty bowl, they add color and seasonal style to the kitchen- but they dry out quickly. Store them in the fridge so they last longer.

In the fridge drawer, lemons keep a week to ten days. But in a plastic bag in the fridge, they can last up to a month!
What if the ricotta is watery?
You do not want watery ricotta in your cake. So, drain the cheese in a fine strainer and over a bowl first.
What if I do not have a springform pan?
If you want to use a pan other than a springform, place parchment paper at the bottom of the pan for easier release. You can use almost any round cake pan in that case. When the cake cools a few minutes, run a knife along the sides of the pan to help it release when slicing.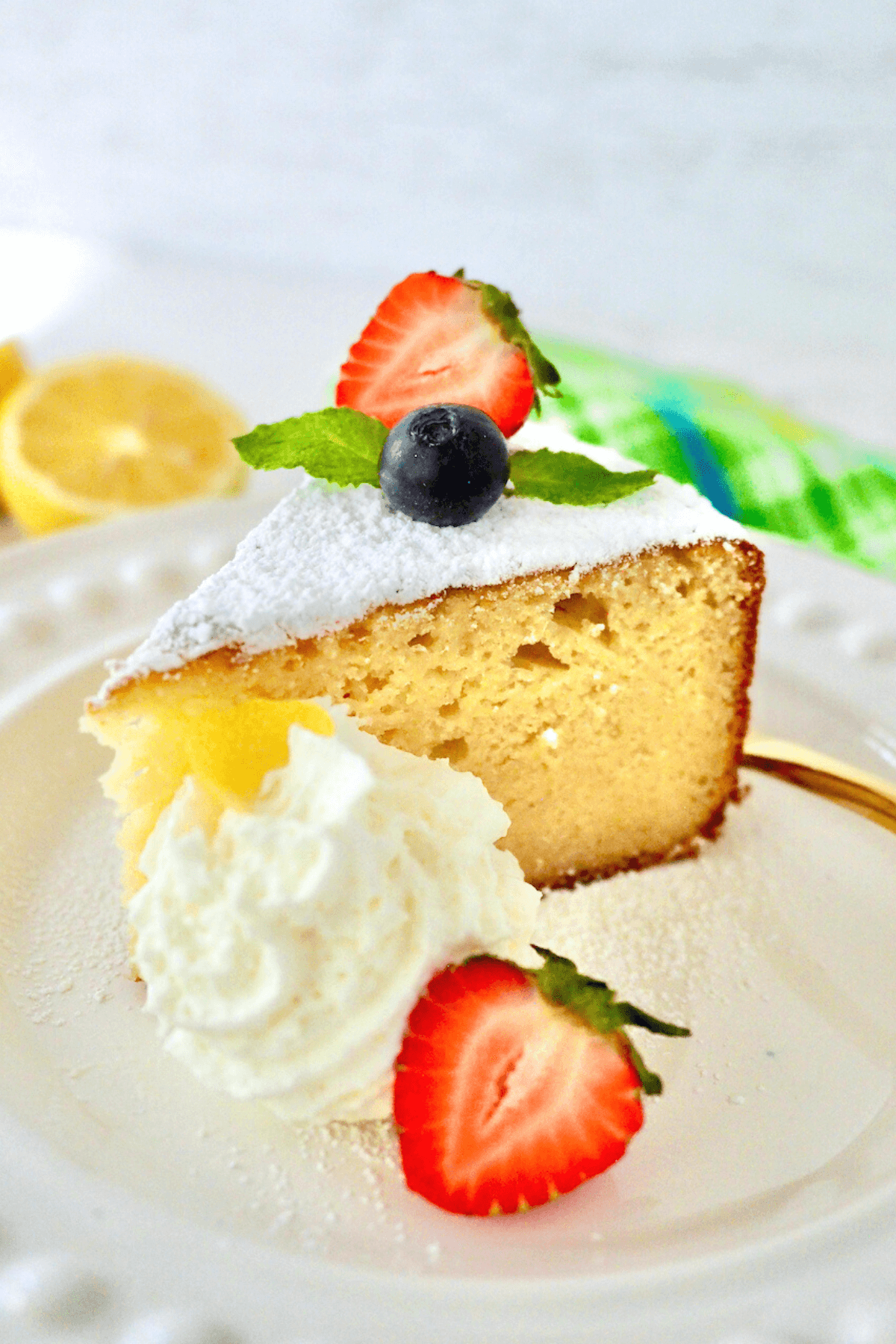 More Italian Recipes for an Authentic Italian Meal
And that's Italian – from my kitchen to yours!
Top Tip
Never overmix cake batter. The delicious cake recipe will become a fragile and dense cake and it may even collapse.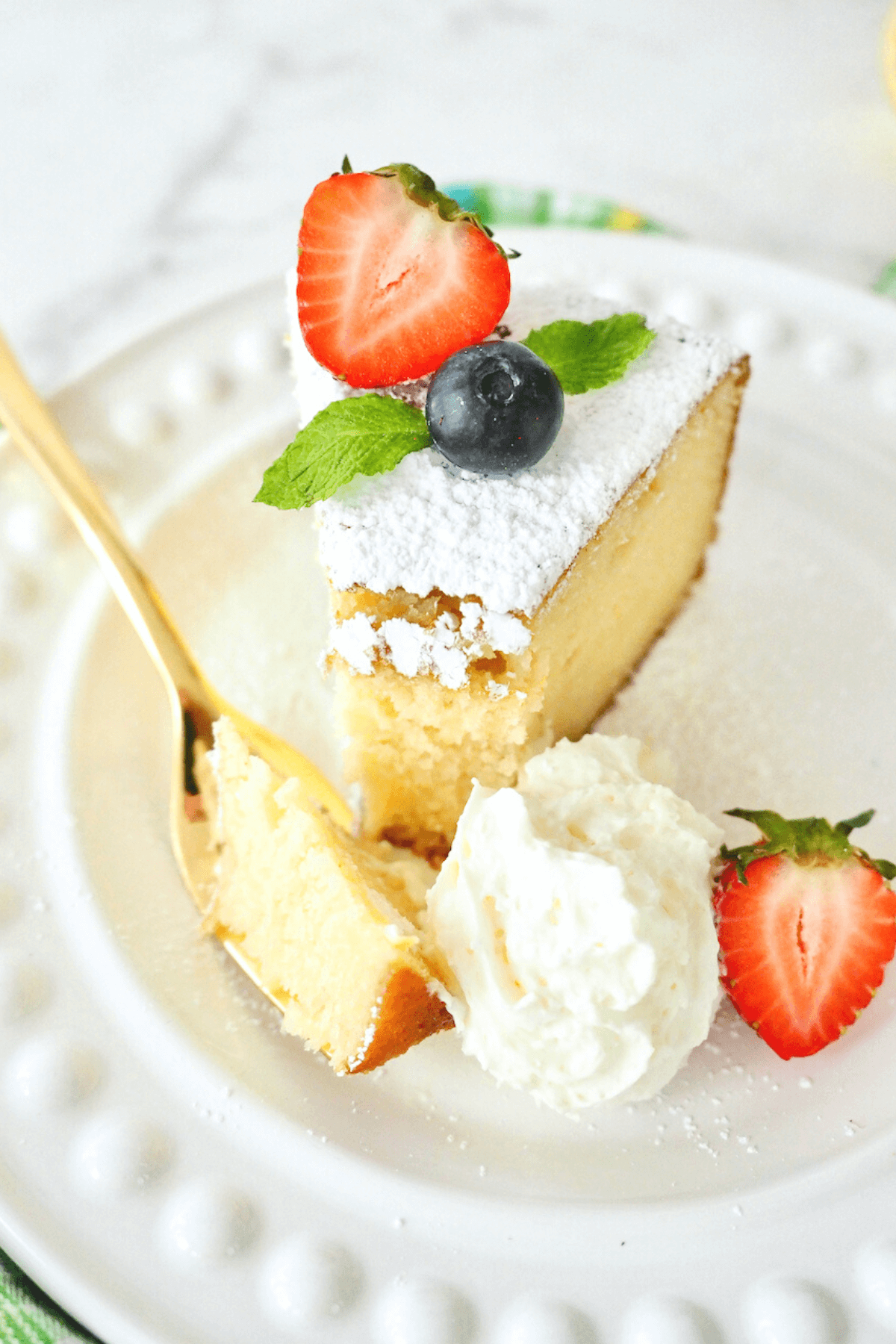 Did you love this recipe? Be sure to pop below the recipe card and give it a 5 star rating and comment! I love hearing from my readers.
Check out all of our great final entries for Lemon Week below.
Friday #LemonWeek Recipes
Love it? Pin it!

Like this recipe?
Don't forget to give it a ⭐️⭐️⭐️⭐️⭐️ star rating and comment below the recipe!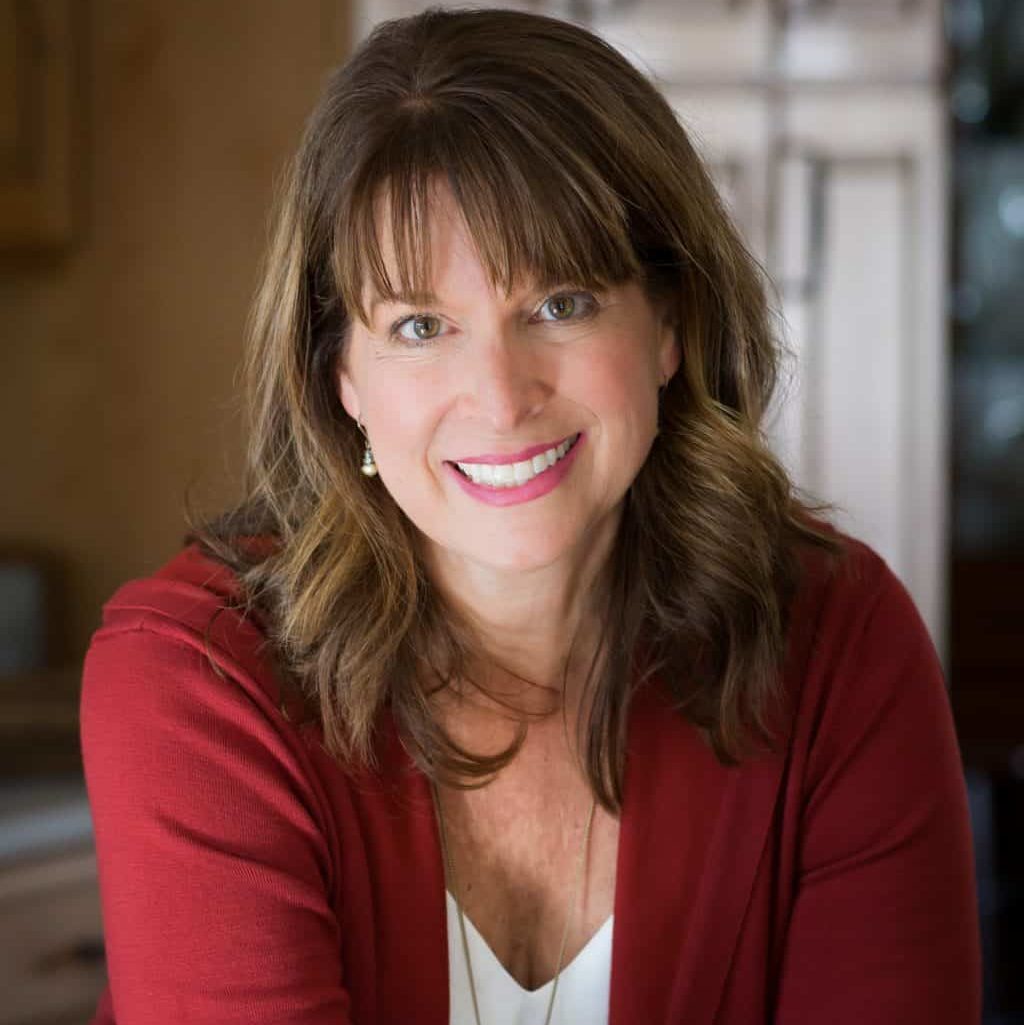 About Kathleen Pope
Recipe Innovator | Food Photographer | Food Writer
Hi, I'm Kathleen Pope. Here at The Fresh Cooky you will find easy, mostly from-scratch, trusted recipes for all occasions. From speedy dinners to tasty desserts, with easy step-by-step instructions. I am here to help teach you how to make mouthwatering recipes without spending hours in the kitchen. Read more about Kathleen here.