Are you in for a treat! This Cherry Bomb Cocktail is quite frankly, "the bomb"! Fresh cherries muddled with rich bourbon, vanilla, maple syrup, lemon juice and a splash of club soda
CHERRY BOMB COCKTAIL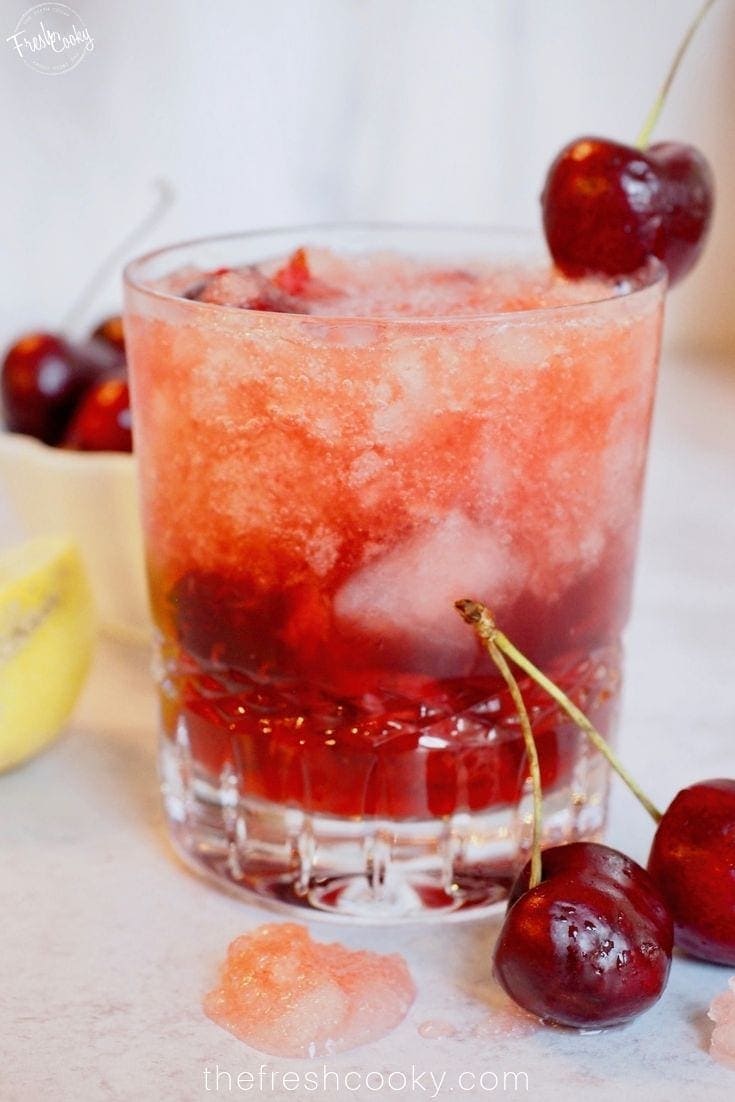 JOIN THE FRESH COOKY ON PINTEREST
I was trying to figure out what to name this cocktail, a "Cherry Vanilla", but it also has maple syrup in it, perhaps "Cherry Maple Vanilla Cocktail", though it's made with bourbon as well, "Maple Cherry Vanilla Bourbon Cocktail" that's a bit long. Then I asked my husband if he wanted a drink last week and he said, "Yes, can you make that Cherry Bomb again!?" A star is born!
I love fresh seasonal cocktails, like this Blackberry Bourbon Moscow Mule or this Grapefruit Basil Vodka Smash. So it shouldn't come as a surprise that I concocted this perfect late summer cocktail, with in-season, fresh cherries, bursting with amazing flavor, encouraging their dark red juice and flavors to mix with wee dram of bourbon, maple syrup, vanilla and club soda. The perfect way to end a long, hot summer day.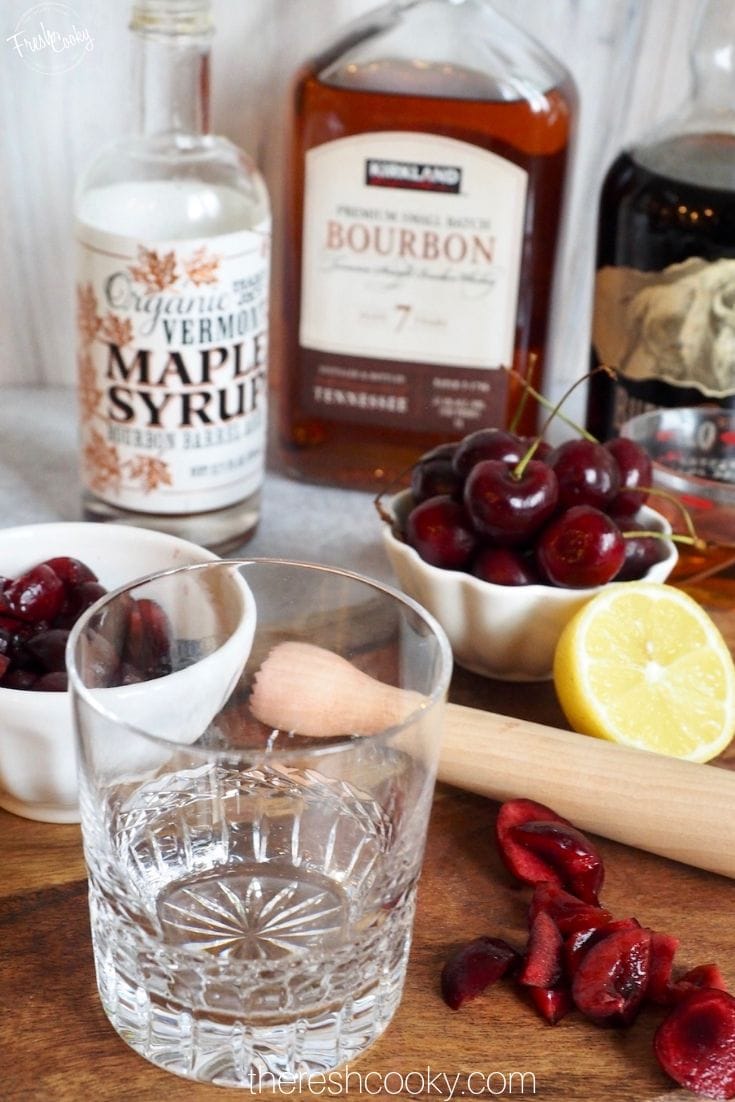 Cherry Bomb Ingredients
1/3 cup fresh cherries, pitted and sliced
1 – 1.5 oz bourbon
1/2-1 Tablespoon Pure Maple Syrup
1 teaspoon pure vanilla extract
1 teaspoon lemon juice
Ice cubes or crushed ice
Club soda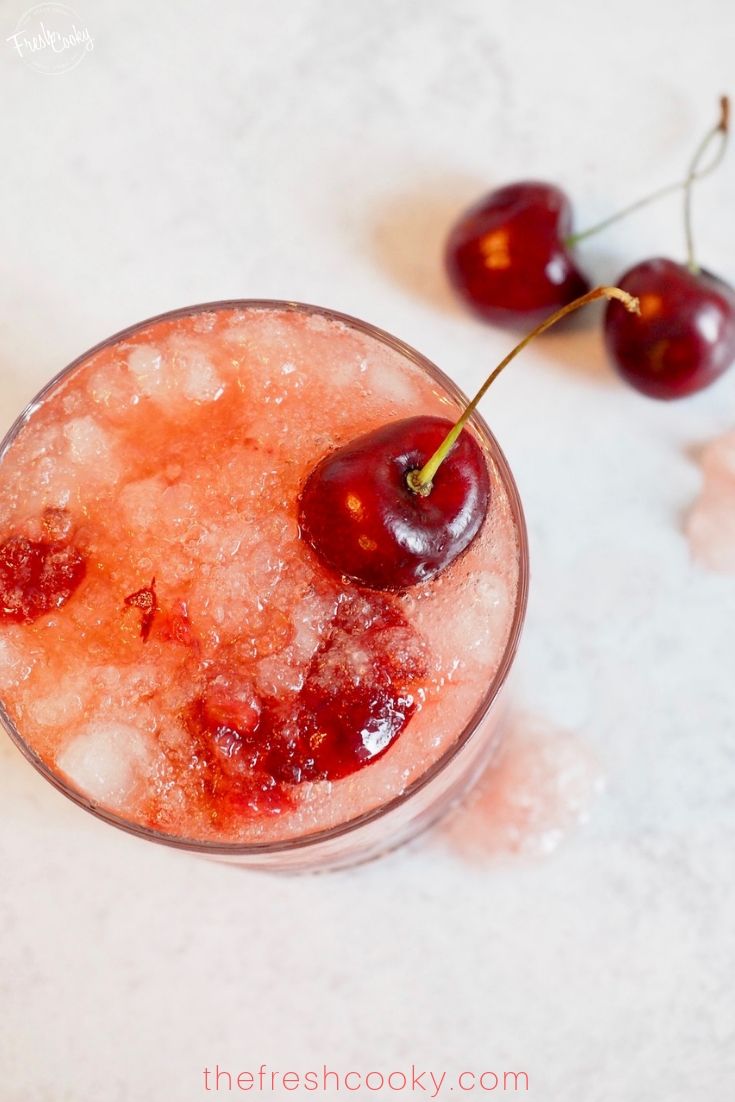 Cut or pit about 1/3 of a cup of fresh cherries and place into an old fashioned glass.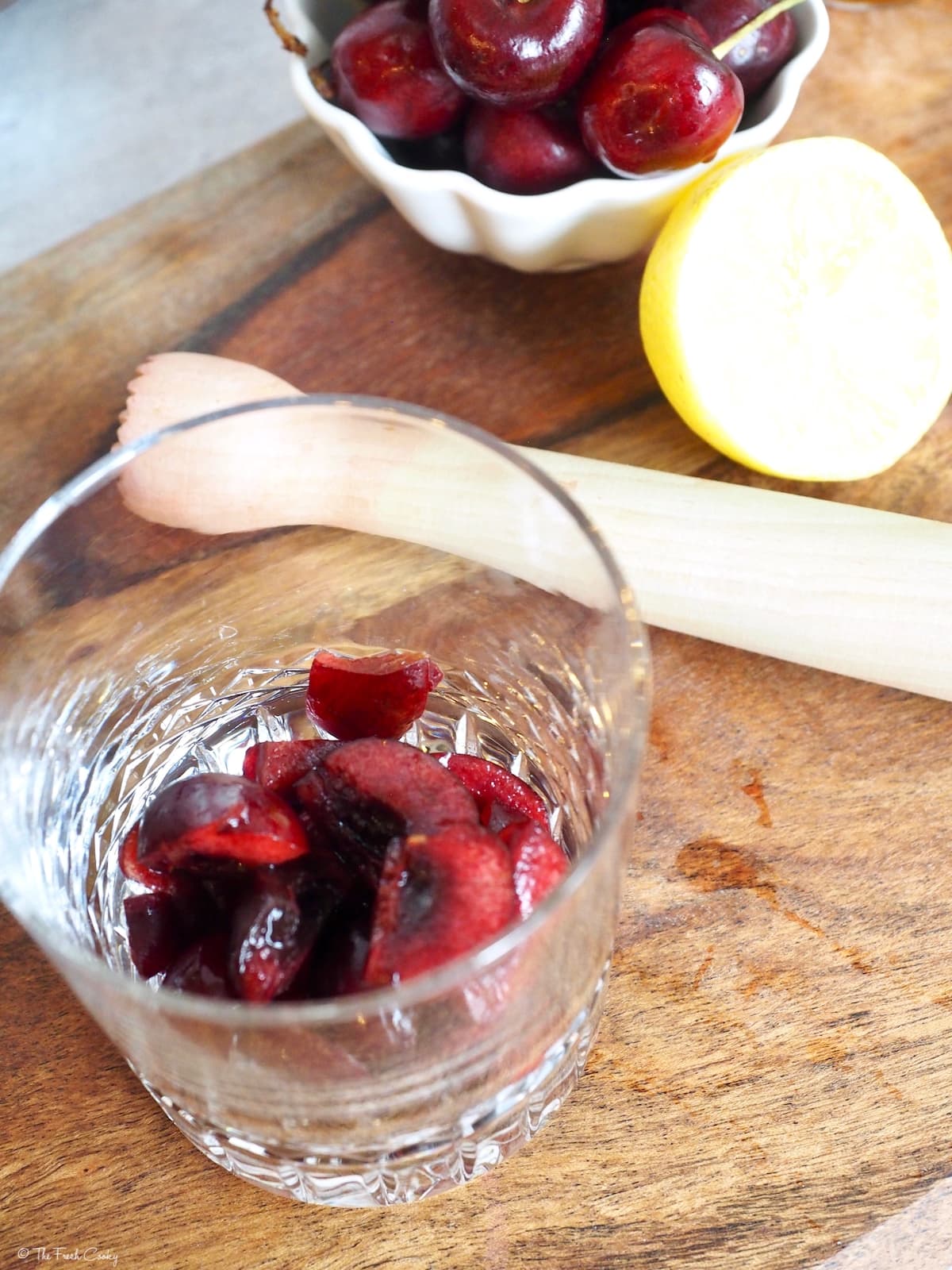 Pour the bourbon over the cherries…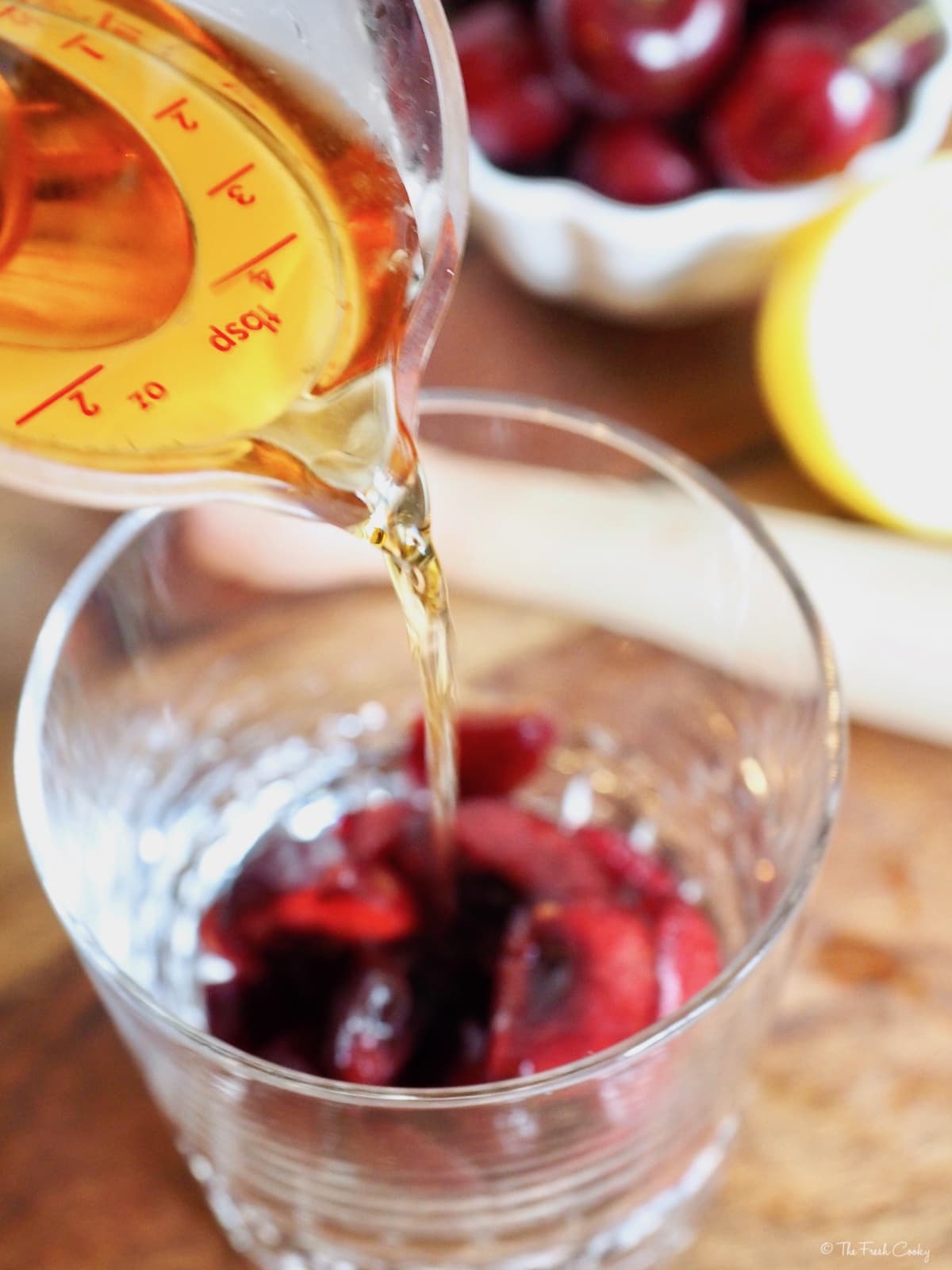 …and then the vanilla, I made homemade vanilla using a bottle of bourbon, hence bourbon vanilla, either vanilla is fine.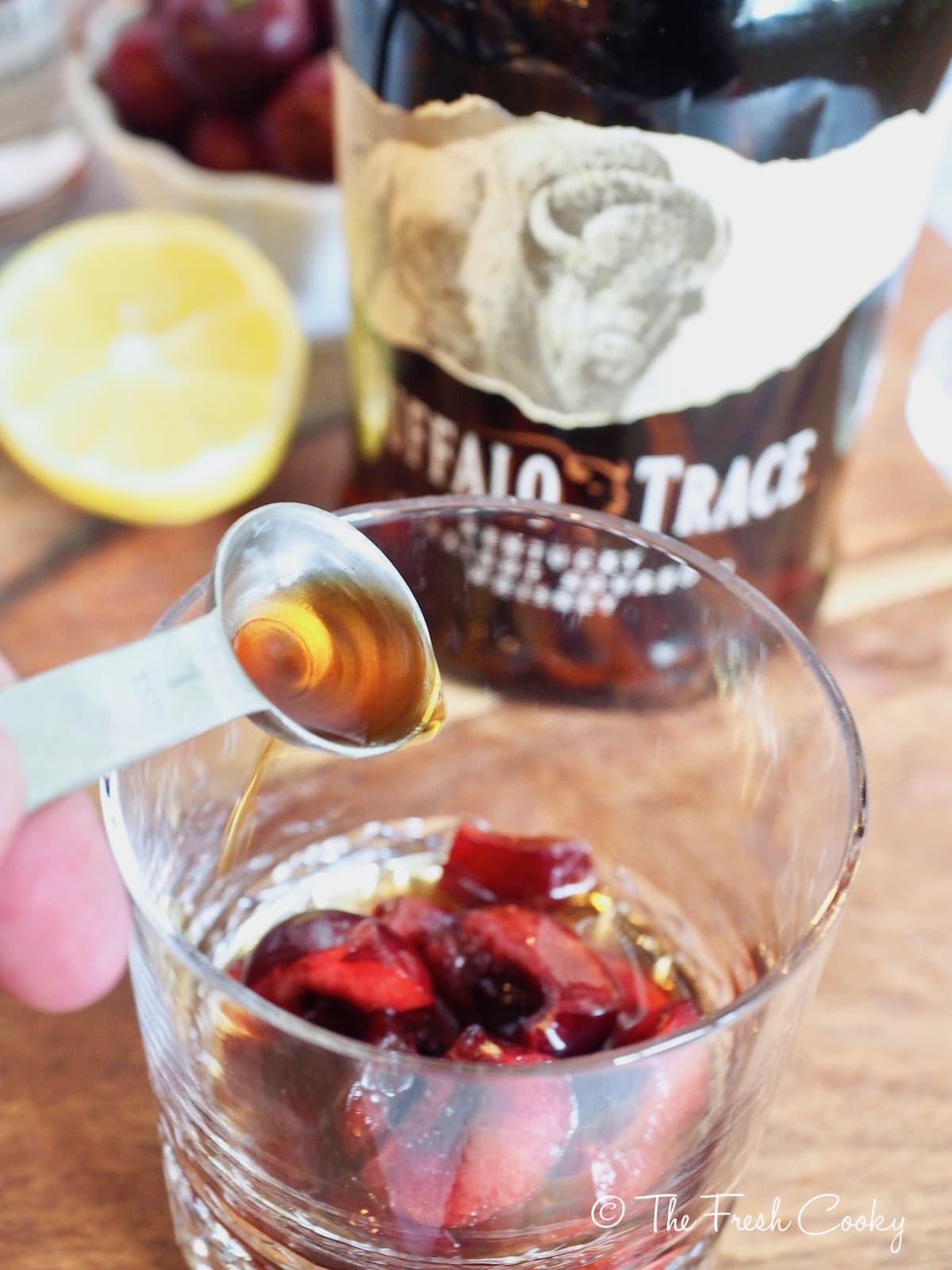 Then add in maple syrup…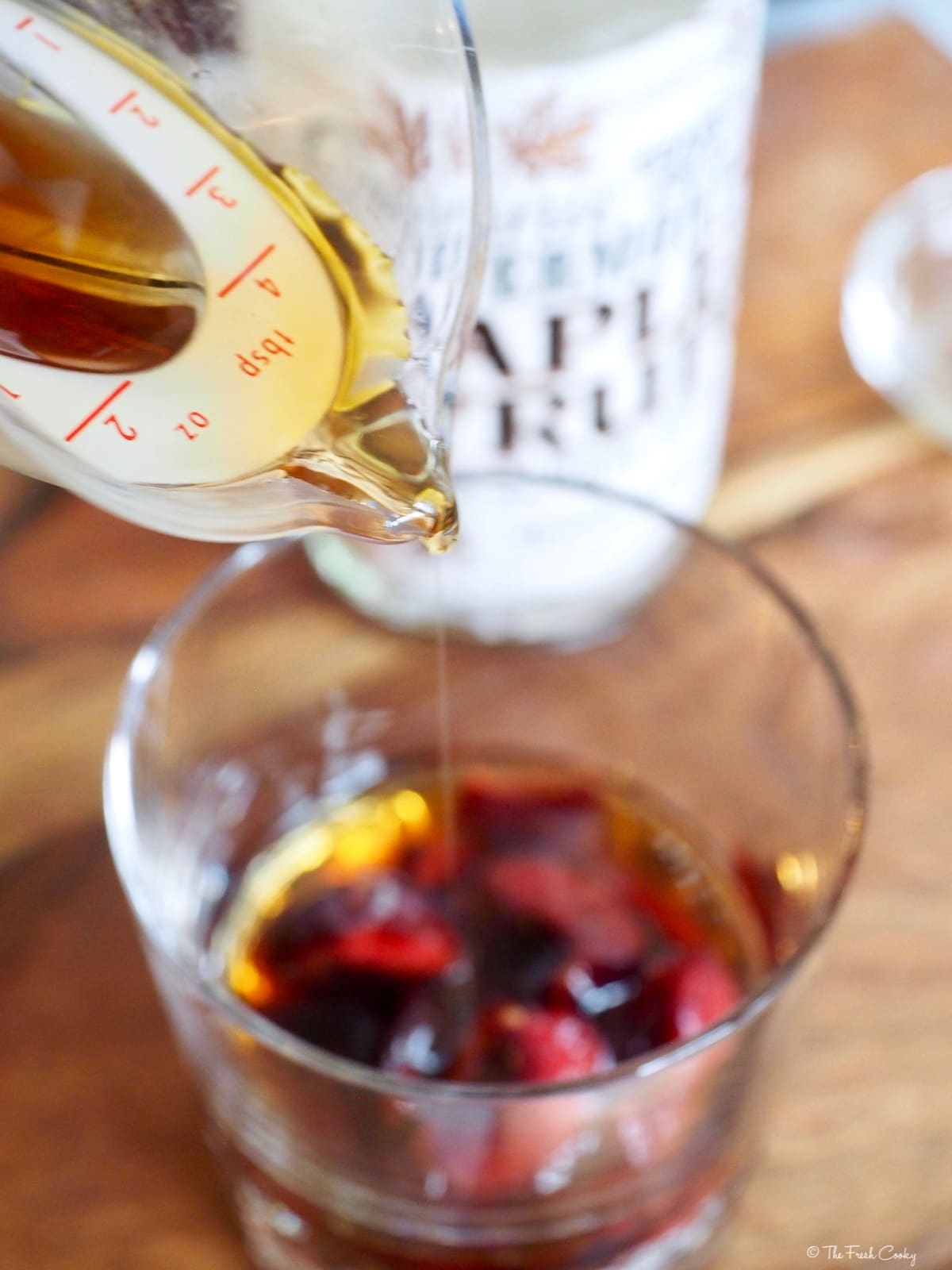 Finally, the fresh lemon juice.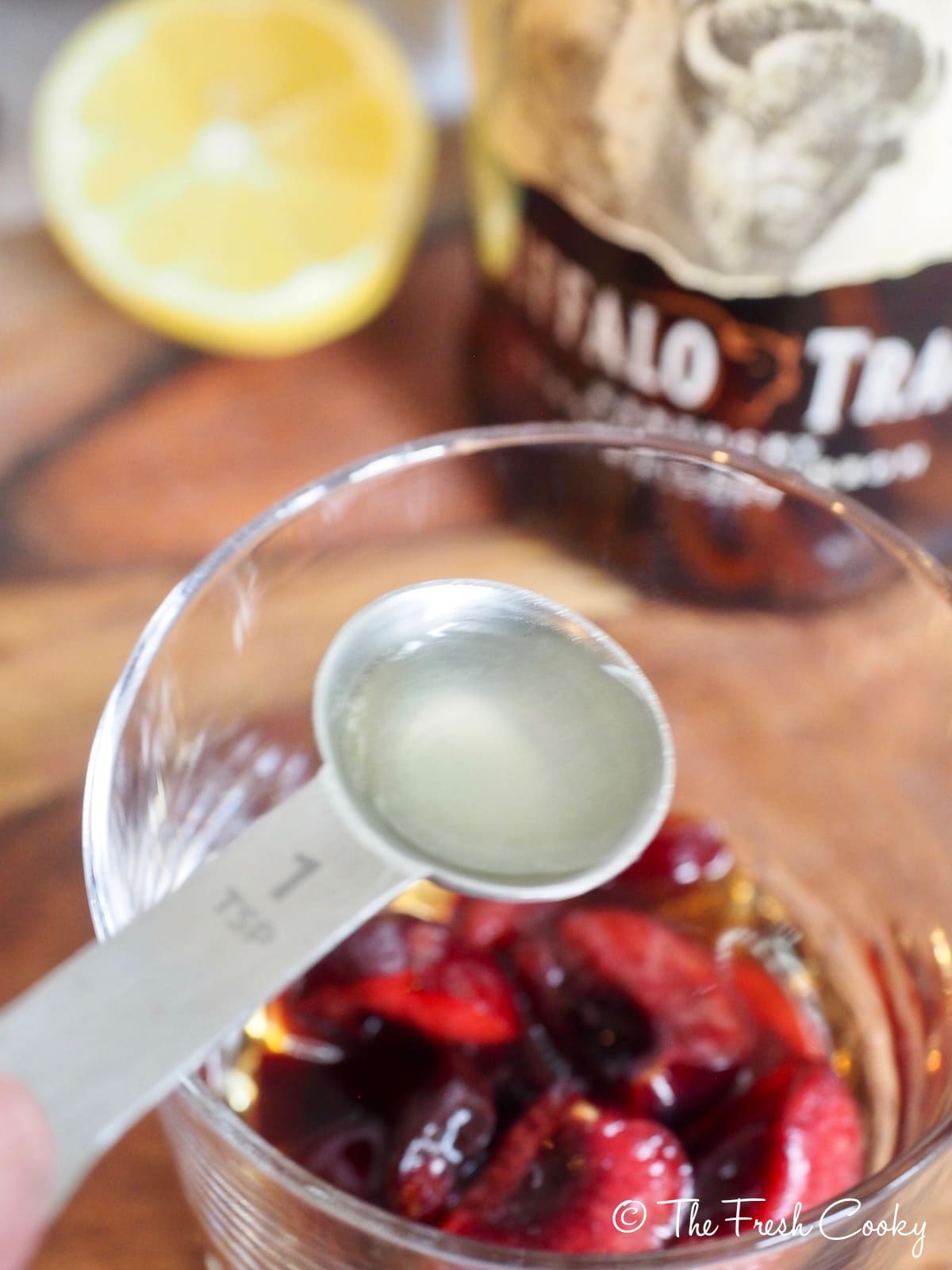 Grabbing a muddler or the end of a thick wooden spoon, gently smash the cherries with the liquids, releasing their juices and flavors.
Filling your glass with ice (I used my Ninja blender and crushed ice)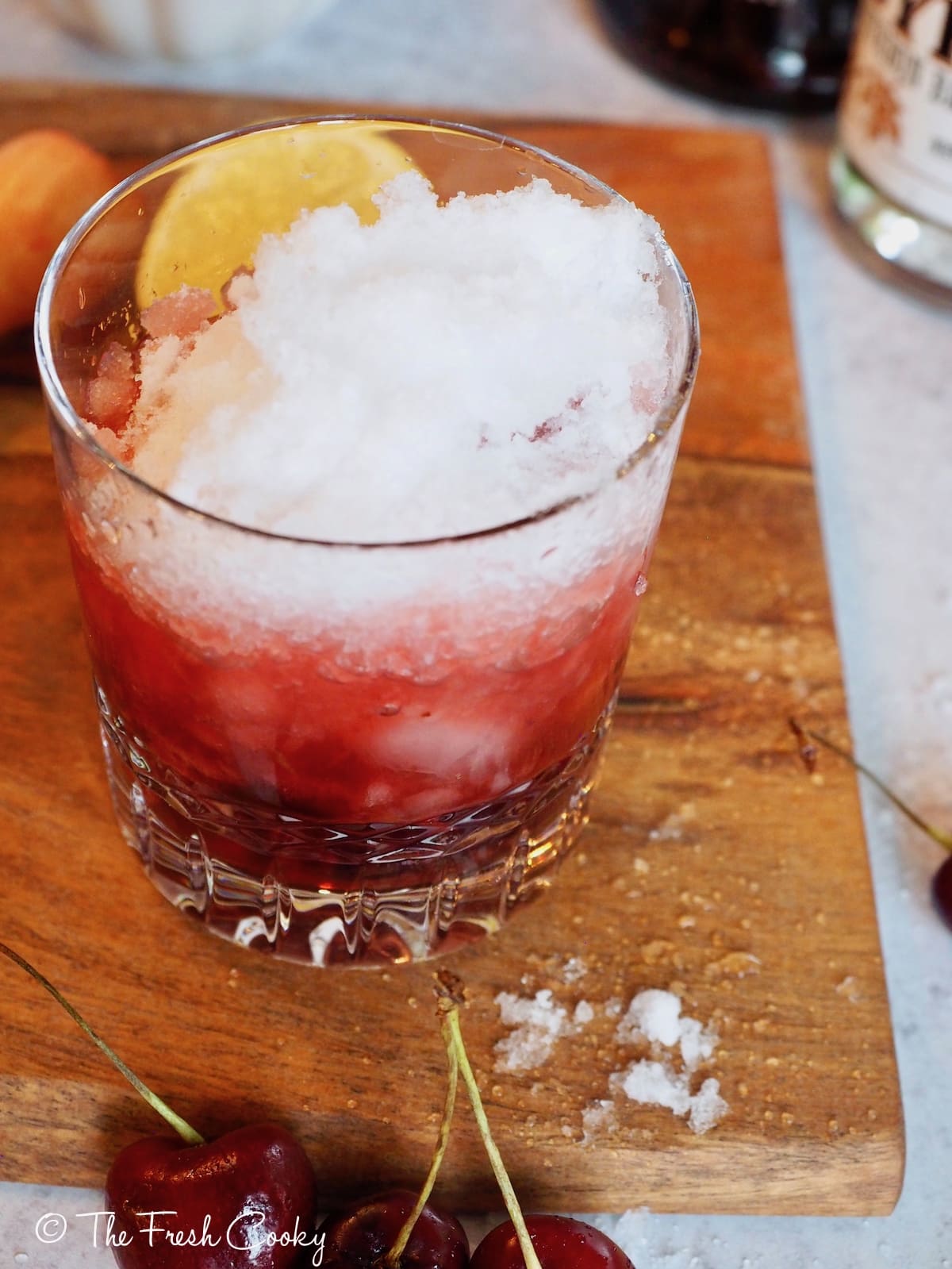 Top off the glass with club soda, using a spoon gently stir and bring up some of the cherries to the top for a delicious, refreshing, stunning Cherry Bomb Cocktail!!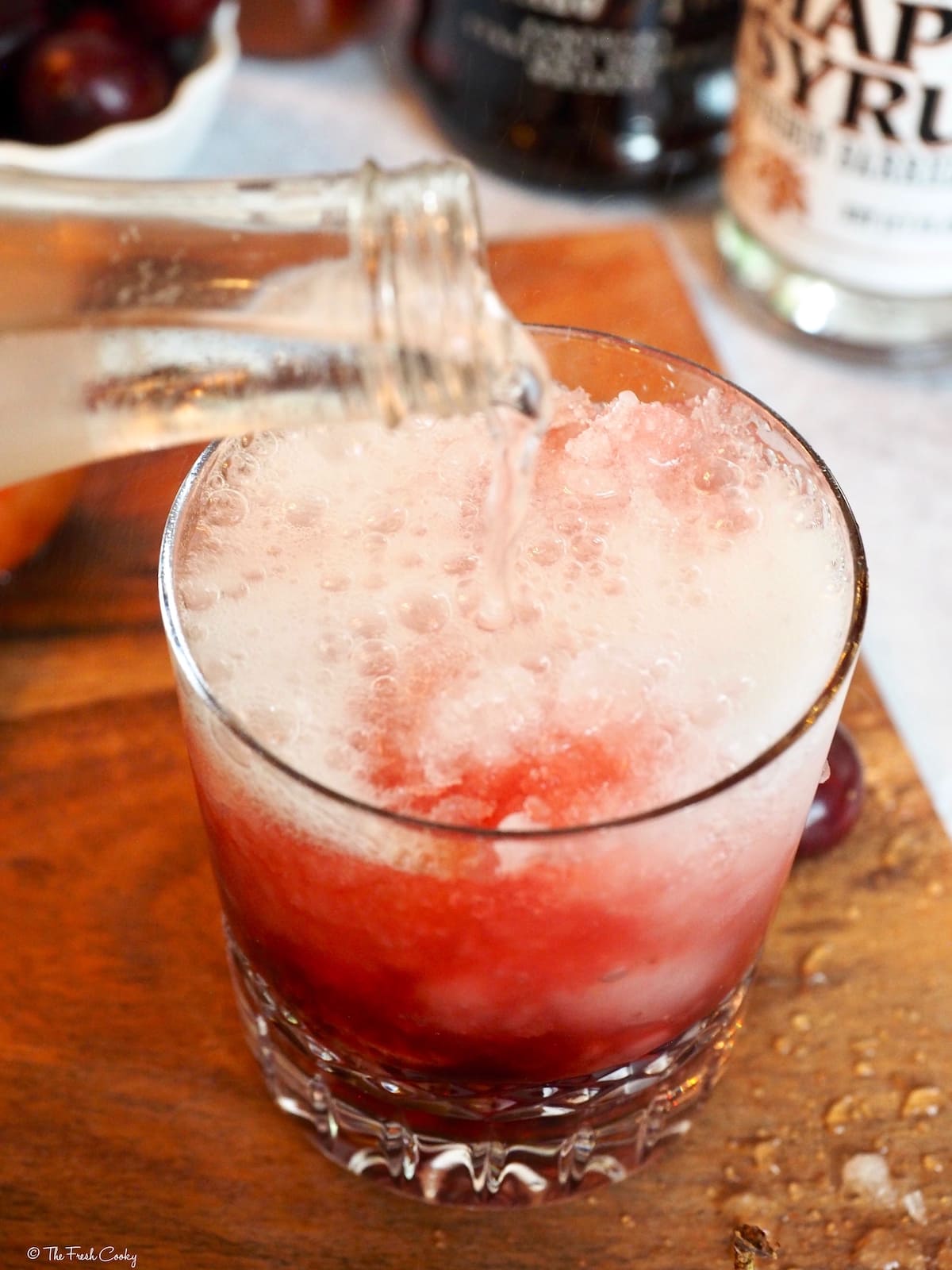 Simply the best, aromatic, earthy, rich cherry flavor, blends beautifully for a summer or early fall cocktail. Try omitting the bourbon and adding a bit more cherries/juice and club soda for a slightly different Shirley Temple.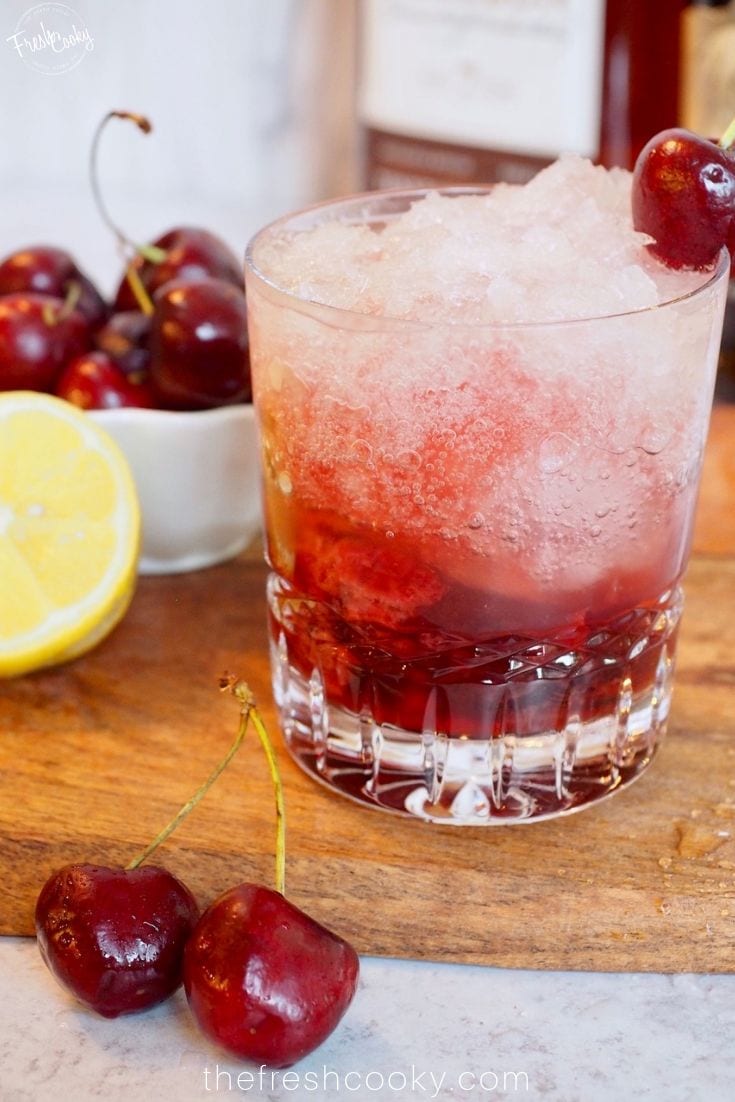 Enjoy this recipe? Please leave a comment and rate the recipe in the recipe card.
Hashtag any recipes you make from The Fresh Cooky #thefreshcooky or tag me @thefreshcooky on Instagram to be featured on our stories!

LOVE WHOLESOME DELICIOUS RECIPES? COME FOLLOW ALONG!
Share a picture and tag it #TheFreshCooky so we can see it.
GET FREE RECIPES

FROM THE FRESH COOKY DELIVERED RIGHT TO YOUR INBOX!