Cinnamon Swirl Bundt Cake
As an Amazon Associate, I earn from qualifying purchases. Please read my disclosure policy.
Sugar and spice and everything nice? It is when you make this simple Cinnamon Swirl Bundt Cake for your family or friends. A simple, moist, coffee cake recipe – hands on on time; 15 minutes, maybe! The hardest part about this cake is waiting for it to bake.
We adore coffee cakes in this house, I mean what's not to love, something warm from the oven, smells like love and it has cake in the title! You bet! Try these other family & reader favorites! Blueberry Crumb Cake, Apple Crumble Cake, Starbucks Copycat Coffee Cake or Pumpkin Spice Coffee Cake.
CINNAMON SWIRL BUNDT CAKE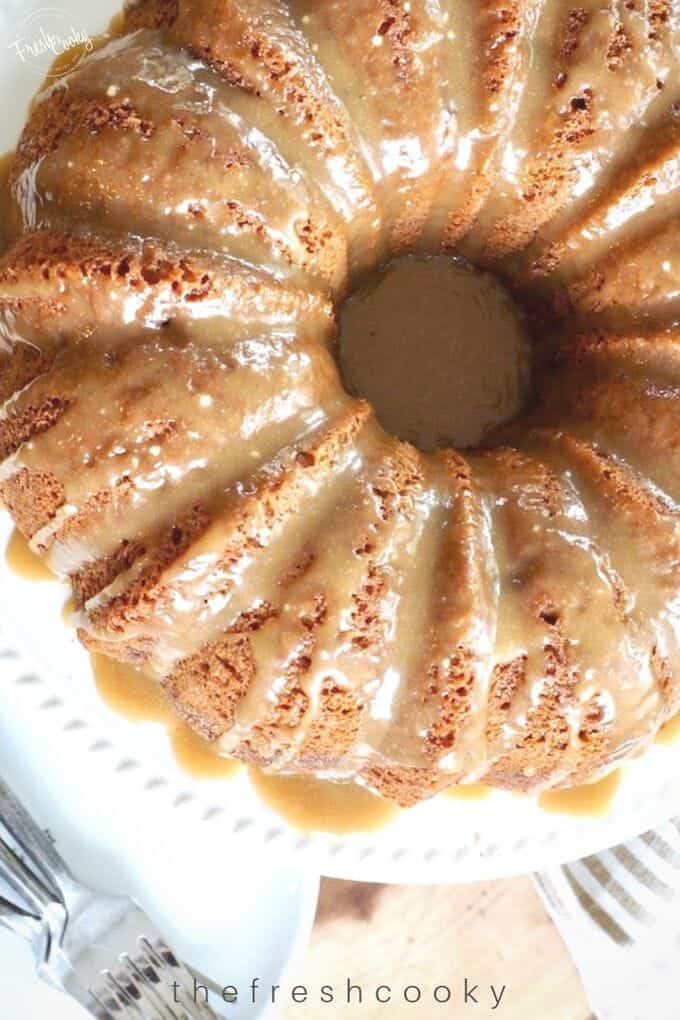 Hopefully you know me well enough by now to know that I typically make things from scratch, but I've had this recipe for eons and it really is a winner, every-single-time, so yes, sometimes I bake from a mix and I'm okay with that!
And you might just enjoy this other to-die-for Chocolate Chocolate Chip Bundt Cake (Copycat Nothing Bundt Cakes)
Best Cinnamon Swirl Bundt Coffee Cake
The "all-natural and wholesome" side of me has really tried to adapt this recipe to being both quick and healthy, but as of today, right-at-this-moment, I haven't been successful. It doesn't mean I won't stop trying, but for now, why should you be penalized from enjoying this tender Cinnamon Swirl Bundt Cake all because I can't seem to figure out my recipe testing?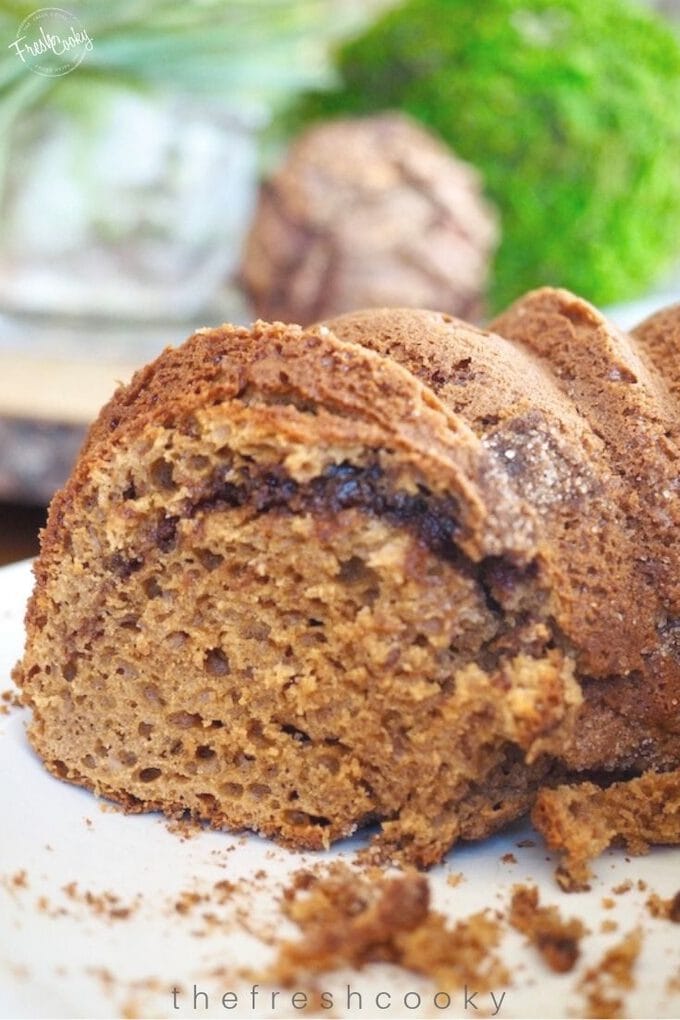 Life is about balance, I hope you embrace that! And sometimes I make my family something not so healthy or natural, but something that tastes really, really, really good and is so SIMPLE!!
EASY CINNAMON SWIRL BUNDT CAKE
Last weekend was the first time in months that we haven't had a commitment (usually involving swimming) consuming our weekends. Plus I slept really well Saturday night, woke up early and refreshed; it was a chilly morning and after my quiet time (I love this book), I decided to bake a coffee cake for my family. THIS Cinnamon Swirl Bundt Cake to be exact!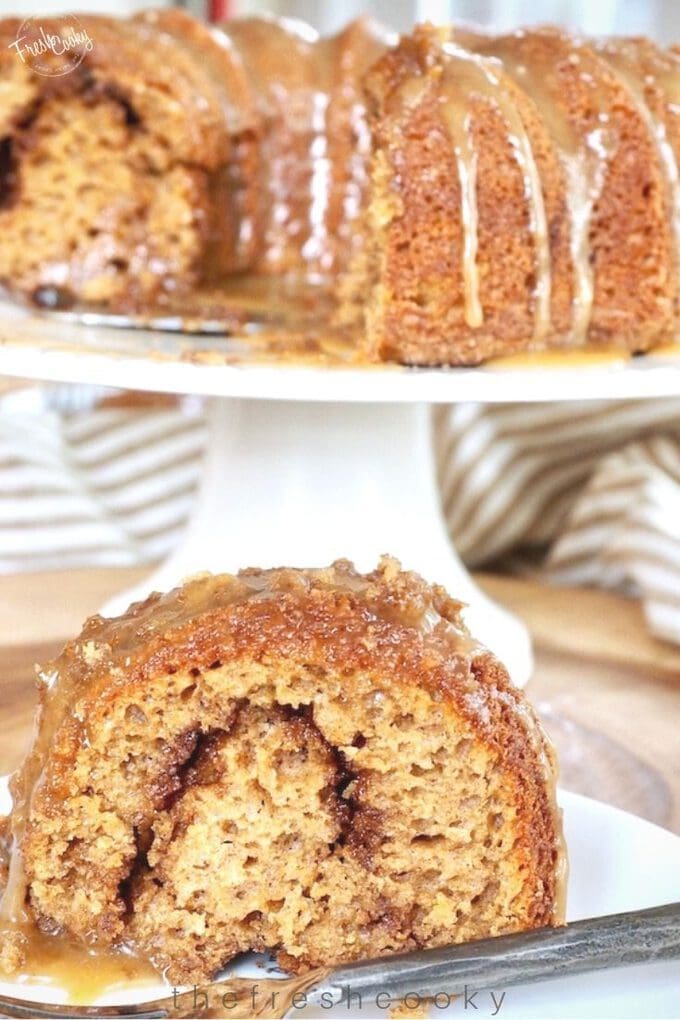 I keep a few cake mixes in my pantry just for this purpose; for that time when I decide to be "Susie Homemaker" early on a lazy Sunday morning and really don't want to run to the store for supplies.
My original recipe calls for an 18 oz package of spice cake mix, however, the two major names in cake mixes, you know Mrs. Crocker and Mr. Hines, well their packaging is only 15.25 oz. Perhaps cake volumes have changed since my recipe came out, perhaps I typed the amounts wrong on the original recipe. Typo? Moi? Type something incorectly? Neever! 🙂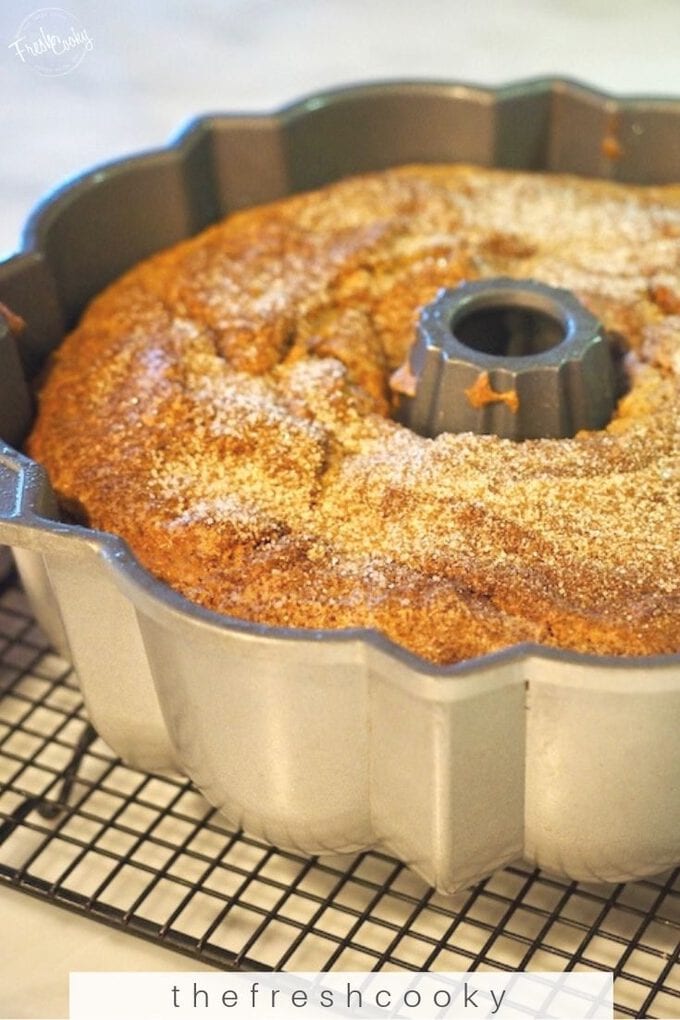 The 15.25 oz package of cake mix works just fine, or try Miss Jones brand it's organic, vegan, non-GMO. I've tried using the FoodStirs brand which I can get in my grocery store, but it's 20 oz. I weighed out the dry mix to be exactly (18 oz) and things didn't work out so well, maybe I'll just try that without making any adjustments. Maybe healthy ingredients just weigh more? I dunno!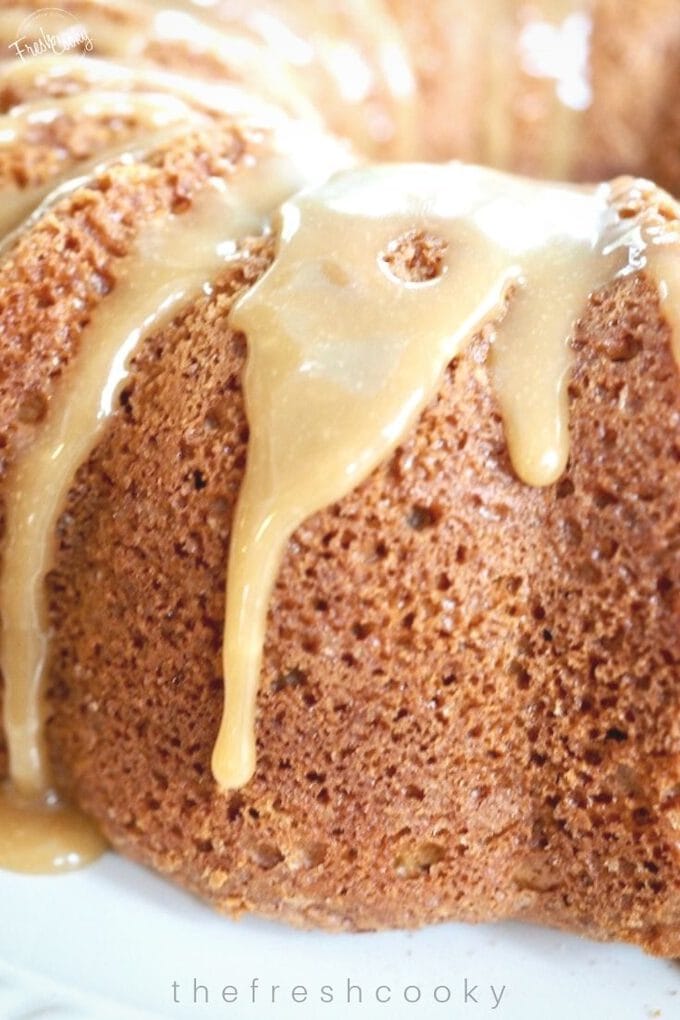 My recipe says a "4 oz package of instant pudding mix", maybe I was rounding when I typed, new math?? As long as we're going all crazy with mixes, just buy the 3.4 oz box of Jell-O brand. I have used vanilla, butterscotch and caramel; all yummy. Jell-O discontinued their all-natural pudding mix or pick up an all natural pudding mix from your health food store, there are several good ones.
CINNAMON SWIRL CAKE READY FOR OVEN IN 15 MINUTES
The recipe is really difficult; so get ready to take notes. In the bowl of a stand mixer, dump in cake mix, instant pudding mix, sour cream, eggs, and oil (use a good healthy oil, I like Avocado oil). Mix on medium for about 2 minutes until smooth. Sorry, I know that was rough, did you break a sweat?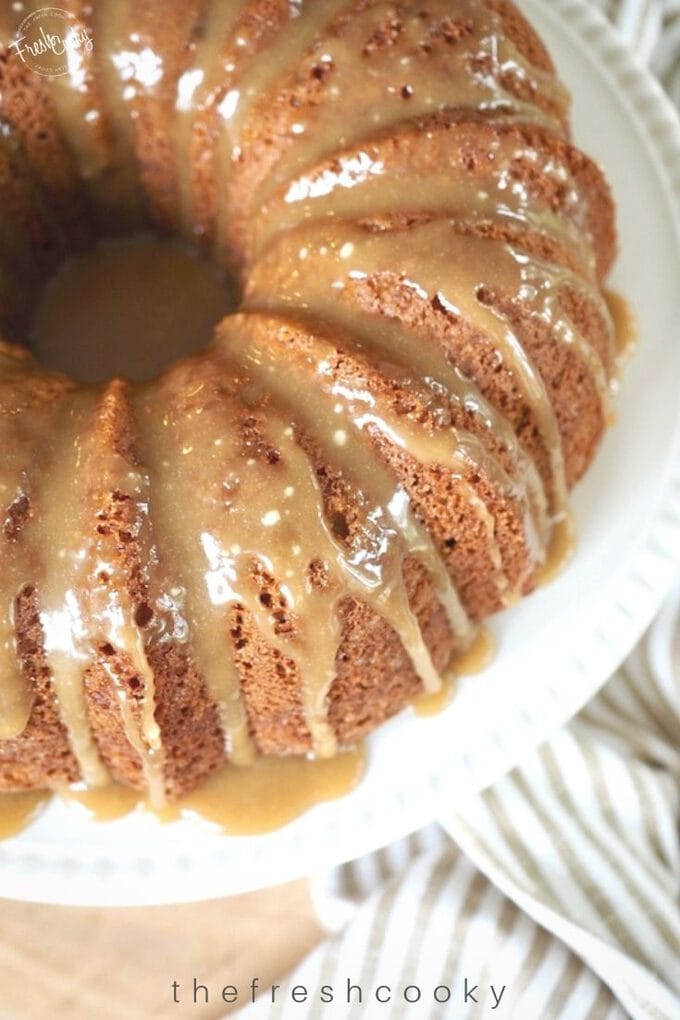 While the batter is battering, in a small bowl add your sugar and cinnamon and mix with a fork until blended, adding nuts after blender, if desired. We can't do nuts in our baked goods, I love nuts, but alas our son has nut allergies, so I gladly refrain.
When the batter is done, grease your pan. Using a spray oil or non-stick spray, heavily spray a 9 or 10″ bundt pan, brushing into nooks and crannies, don't forget the center tube! Wait to grease your pan until just before you are ready to fill it, this way the oil or spray doesn't have a chance to run down the sides, collecting at the bottom. Read this fun article from King Arthur on preventing bundt pans from sticking.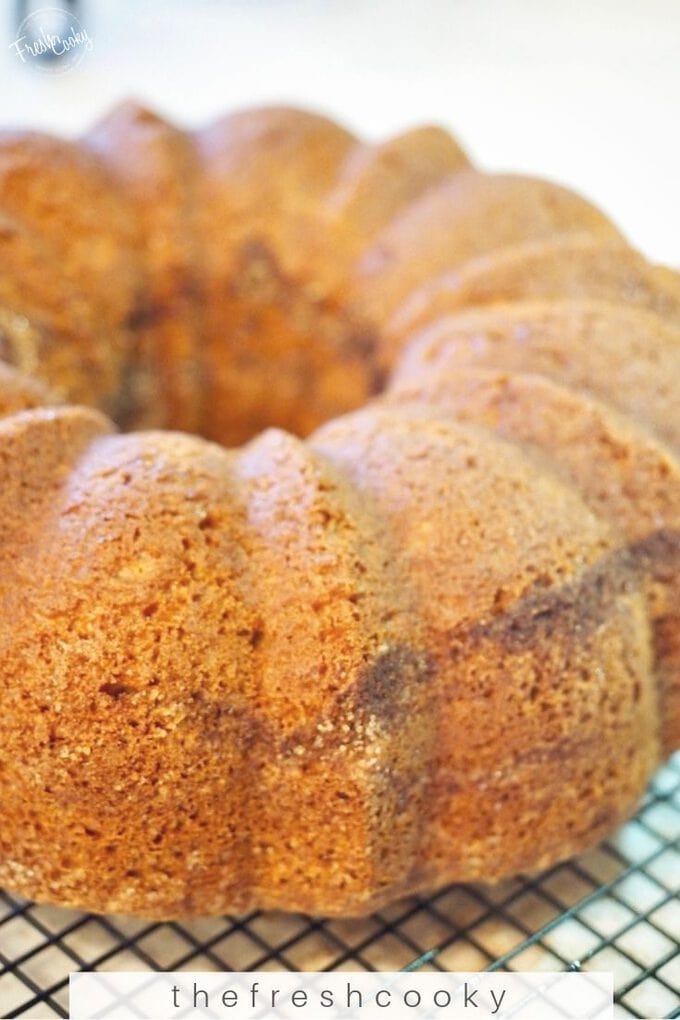 Pour half of the batter into greased bundt pan and sprinkle on a little over half of the cinnamon-sugar mixture, reserving a little to sprinkle on top. Pour the rest of the batter into the pan, gently pushing around to even out and meet sides of the pan. Sprinkle top with the rest of the sugar mixture.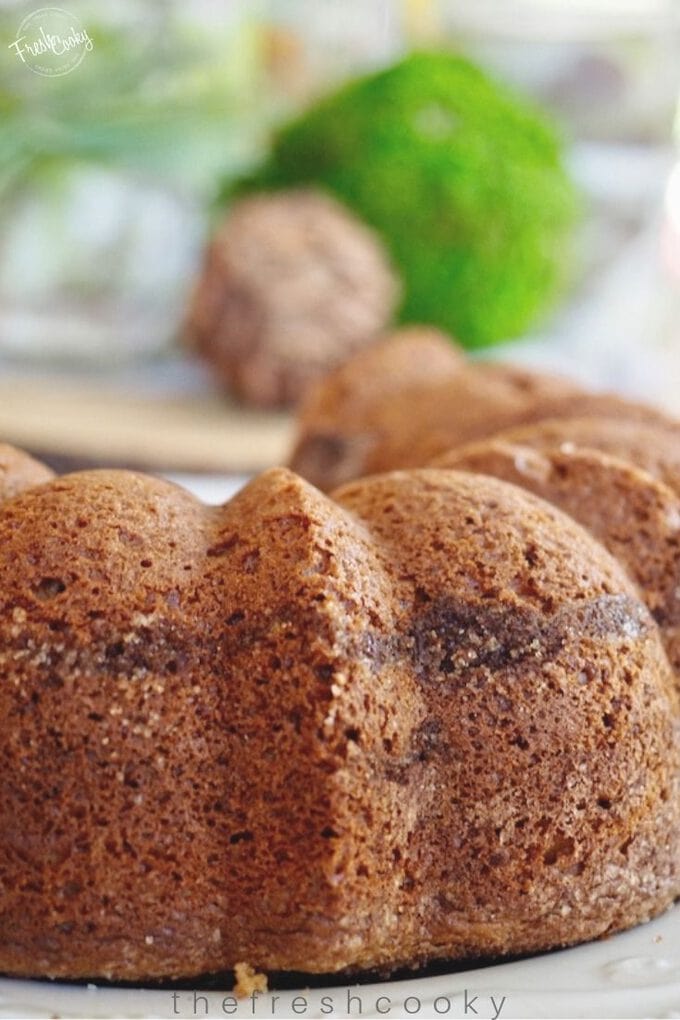 Bake at 350° for 45 minutes to an hour, until toothpick inserted comes out clean or with a few crumbs. Remove from oven, using a table knife to gentle loosen the edges of the cake from the pan, then invert onto cooling rack for 10 minutes before removing pan.
Note | If your pan is dark inside or out, reduce oven temperature by 25° and check at 45 minutes.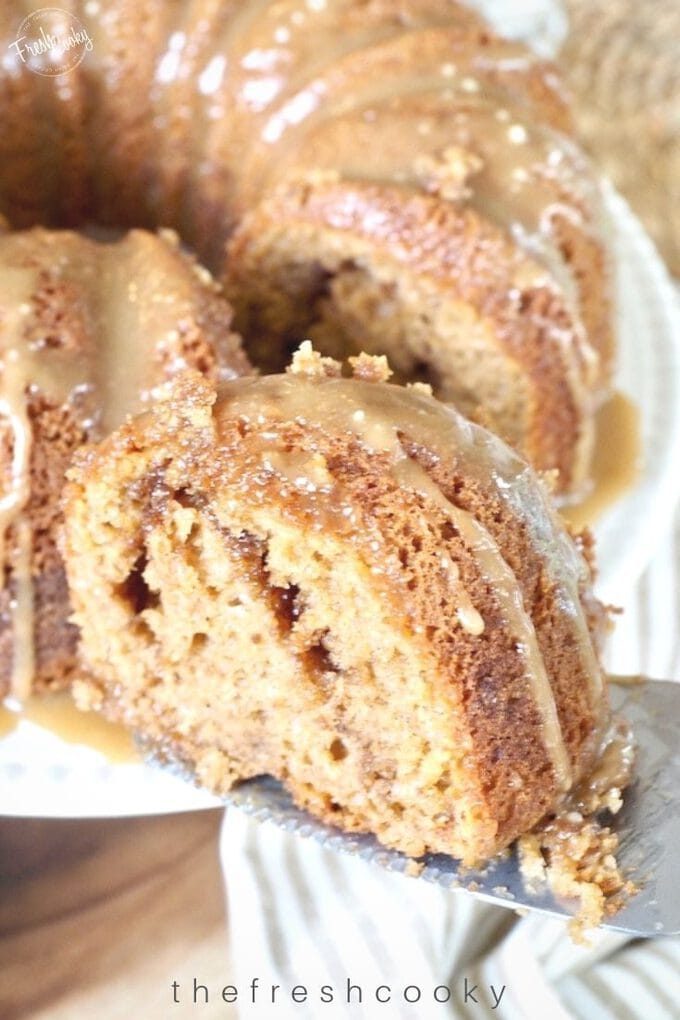 Sometimes bundt pans are a little stubborn; read this article on sticky bundts.
Serve warm or cool, and if you really love the people you are making it for, you'll make this delectable salted brown sugar glaze for the top drizzling over warm cake, instructions in recipe.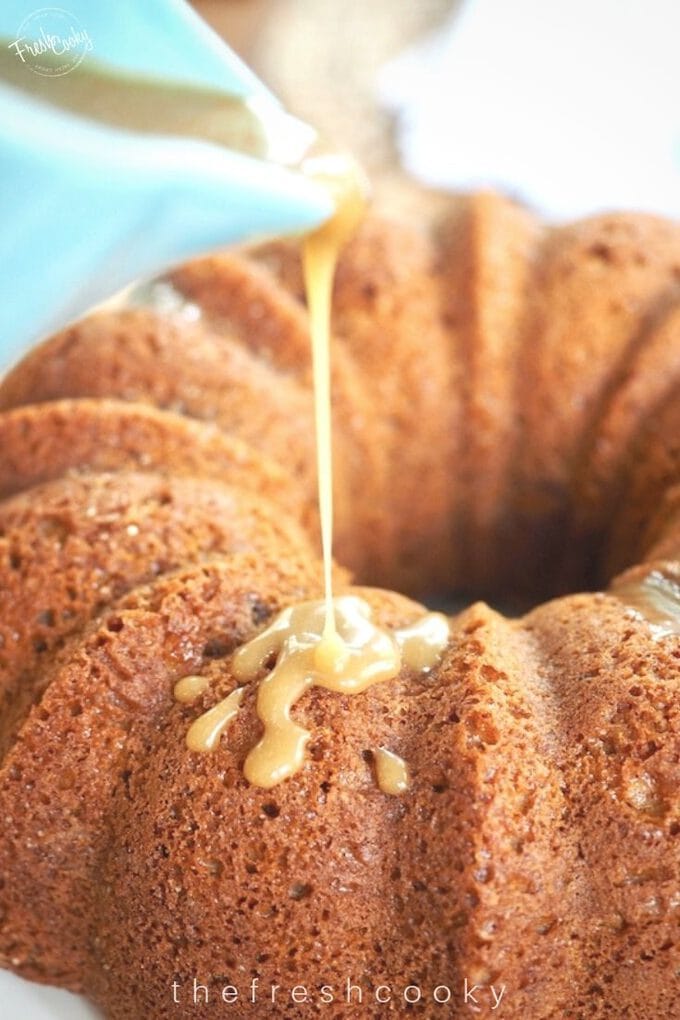 Other breakfast recipes that will (not) make you break out in a sweat:
Ugly Cake or The You Can't Mess it Up Coffee Cake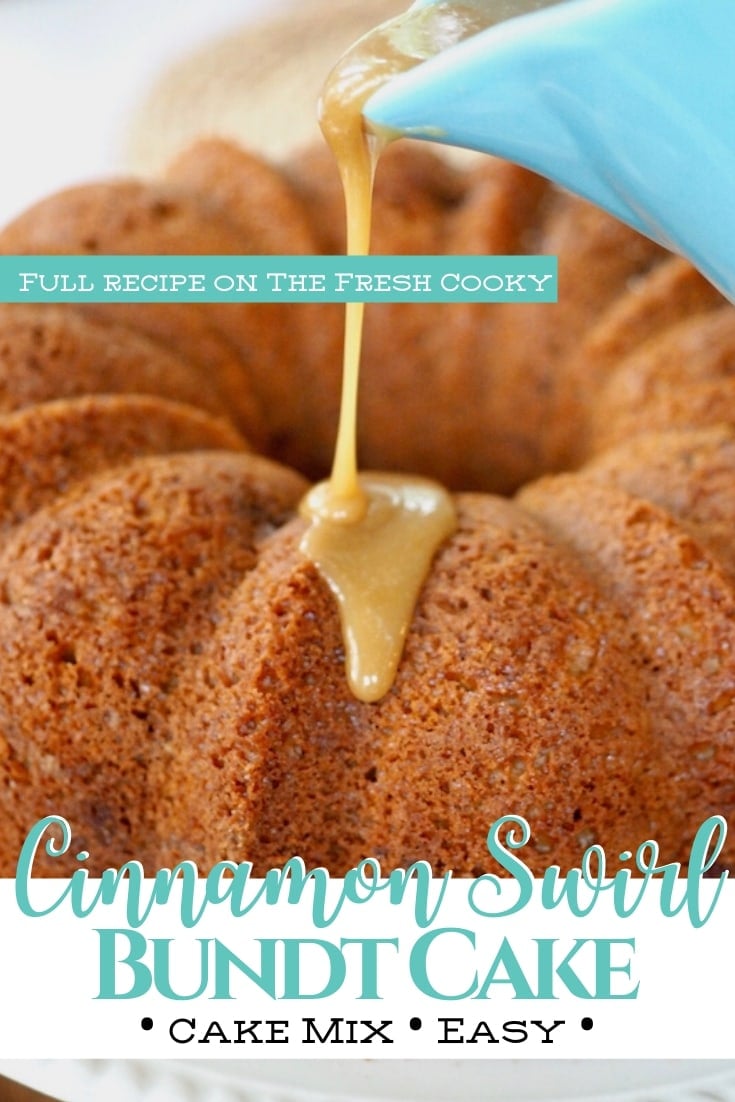 Like this recipe?
Don't forget to give it a ⭐️⭐️⭐️⭐️⭐️ star rating and comment below the recipe!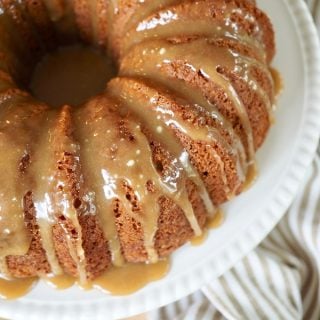 Cinnamon Swirl Bundt Cake
Sugar and spice and everything nice? It is when you make this Cinnamon Swirl Bundt Cake for your family or friends. Hands on time, maybe 15 minutes, maybe! The hardest part about this cake is waiting for it to bake.
Ingredients
Cinnamon Swirl Bundt
1

package of spice* cake mix

1

small package of instant vanilla

,

caramel or butterscotch pudding mix

1

cup

sour cream

,

or greek yogurt

4

eggs

,

beaten

½

cup

vegetable oil

,

such as Grapeseed or Avocado

5

tablespoons

all natural or refined sugar

2

teaspoons

ground cinnamon

½

cup

chopped pecans

,

optional
Glaze (optional)
4

tablespoons

butter

,

unsalted or salted

1/2

cup

light brown sugar

,

packed

1/4

teaspoon

flaky salt

1/4 – 1/2

cup

heavy cream depending on thickness
Instructions
Preheat oven to 350°F (325° for dark or coated pans).

Combine cake mix, instant pudding, sour cream, eggs, and oil and beat together well, batter will be thick. Grease with spray oil a 10″ bundt pan. In a separate bowl, combine sugar, cinnamon and pecans, if using.

Pour half of the batter into prepared pan and sprinkle with the sugar mixture, reserving a little to sprinkle on top. Pour the rest of the batter into the pan and sprinkle with the rest of the sugar. Bake 45-1 hour, until toothpick comes out clean or a few crumbs. Invert onto cooling rack and let cool for about 10 minutes on rack, then remove from pan. If your cake sticks see post for tips on how to release.

Glaze Instructions

Melt butter and brown sugar in small saucepan, cook stirring for 1 minute. Add cream and salt, bringing to simmer, cooking for 2 minutes. Cool for 10-20 minutes (longer for thicker glaze). Drizzle over top of warm or cooled cake. Drizzling over warm cake will yield a moist sticky glaze, allowing to cool and drizzling over cooled cake will yield more of a drizzle.
✱ Kathleen's Tips
Try vanilla or white cake mix also, if you still want it "spicy", add 2 teaspoons cinnamon, 1/2 teaspoon nutmeg, 1/4 teaspoon cloves and allspice
Try replacing with an all natural cake mix or Gluten Free cake mix.
© 2019 | This recipe for Cinnamon Spice Coffee Cake was featured first on The Fresh Cooky.
Nutrition
Serving:
1
Calories:
598
kcal
Carbohydrates:
58
g
Protein:
6
g
Fat:
39
g
Saturated Fat:
14
g
Polyunsaturated Fat:
9
g
Monounsaturated Fat:
13
g
Trans Fat:
1
g
Cholesterol:
111
mg
Sodium:
416
mg
Potassium:
286
mg
Fiber:
2
g
Sugar:
42
g
Vitamin A:
646
IU
Vitamin C:
1
mg
Calcium:
112
mg
Iron:
3
mg
Nutrition Disclaimer
The Fresh Cooky is not a dietician or nutritionist, and any nutritional information shared is only an estimate. We recommend running the ingredients through an online nutritional calculator if you need to verify any information.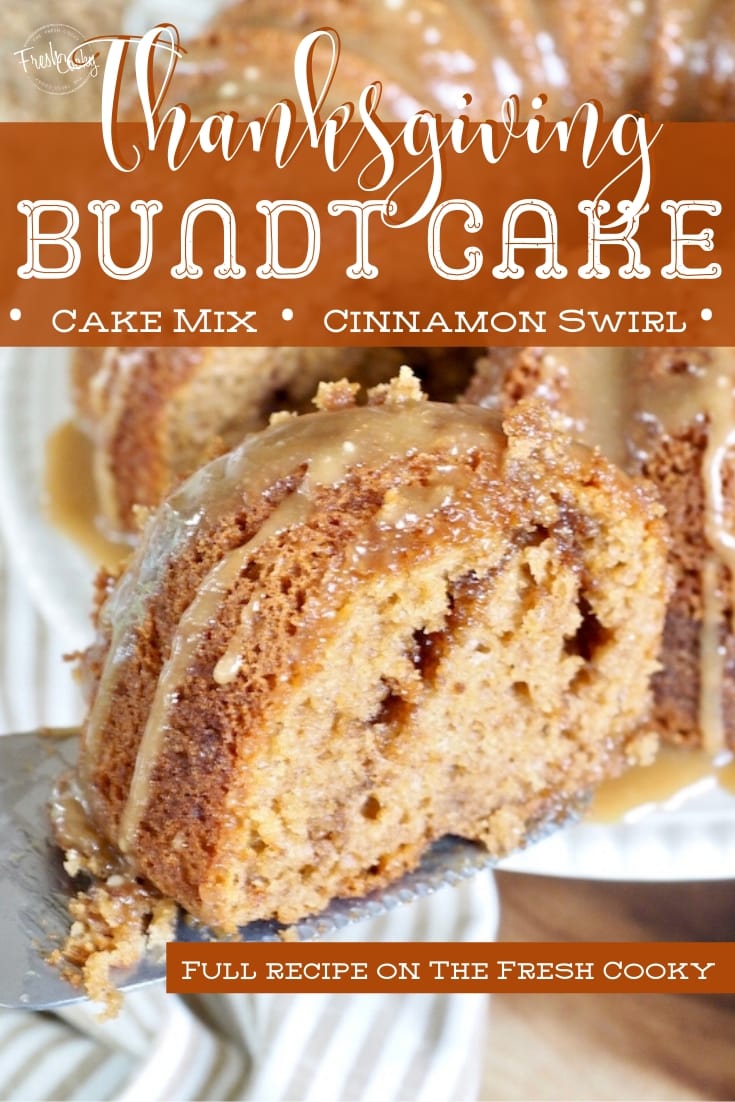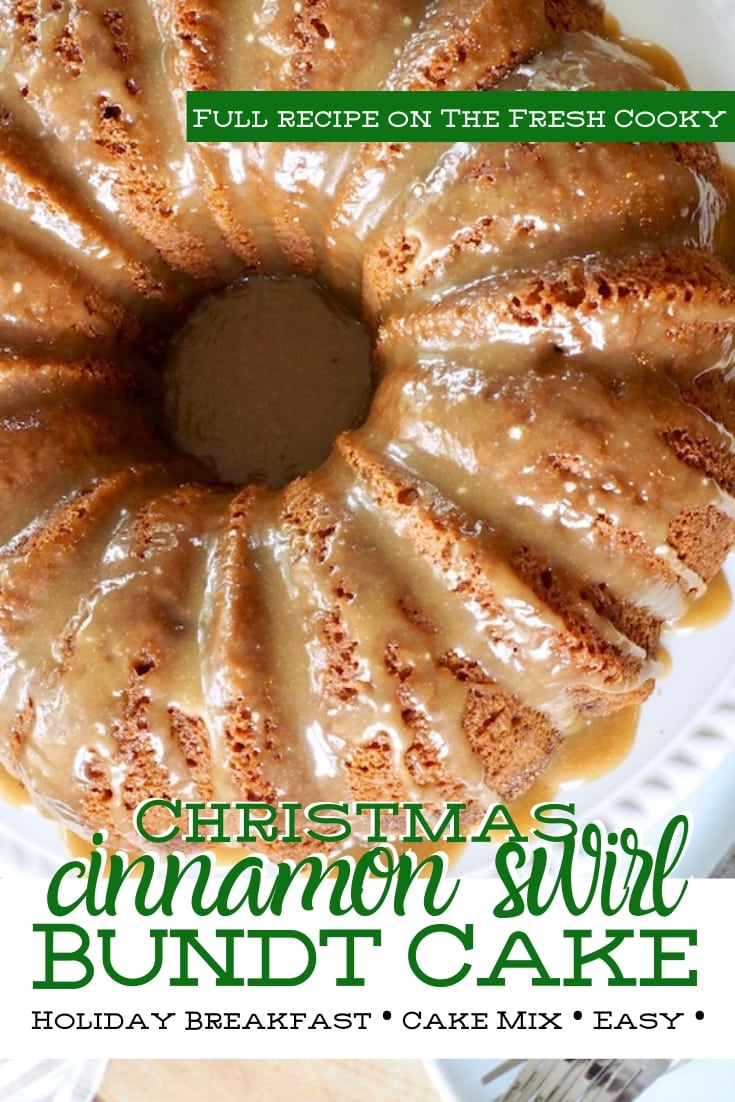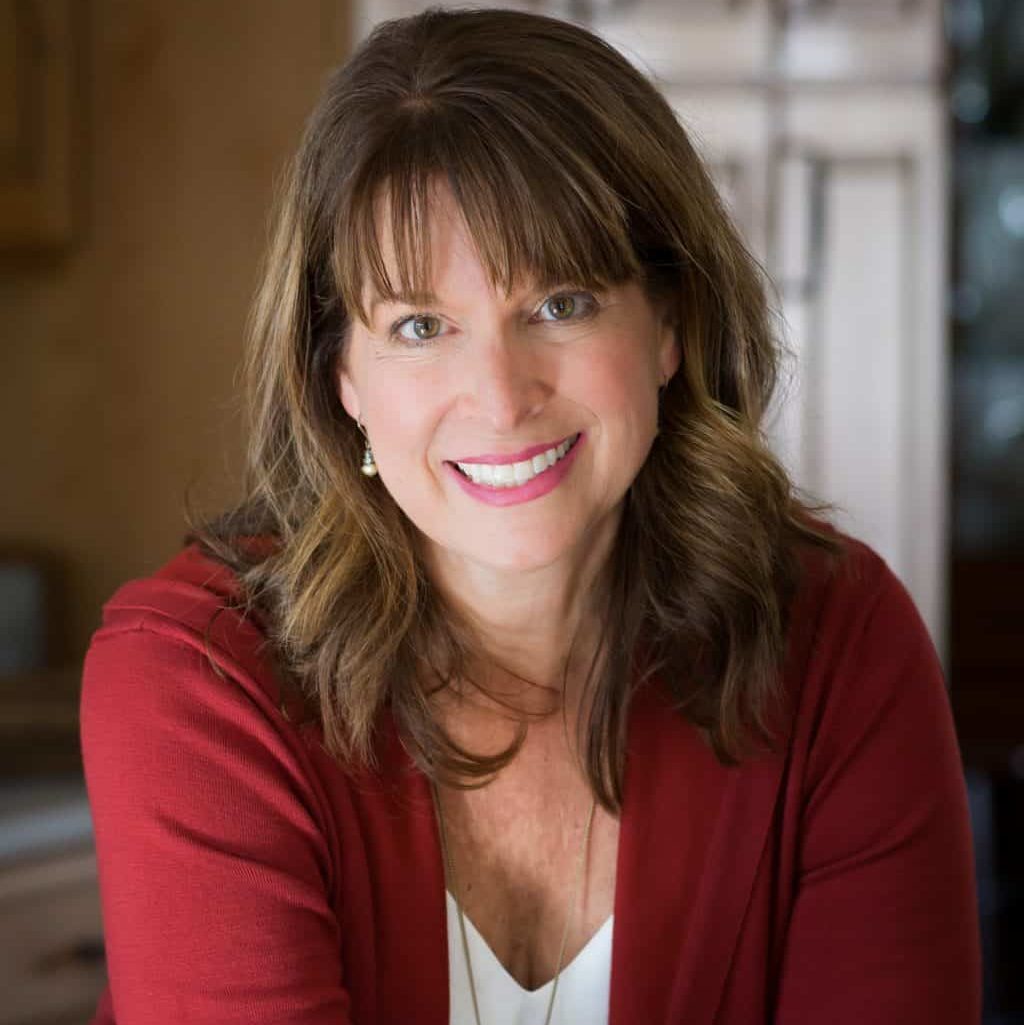 About Kathleen Pope
Recipe Innovator | Food Photographer | Food Writer
Hi, I'm Kathleen Pope. Here at The Fresh Cooky you will find easy, mostly from-scratch, trusted recipes for all occasions. From speedy dinners to tasty desserts, with easy step-by-step instructions. I am here to help teach you how to make mouthwatering recipes without spending hours in the kitchen. Read more about Kathleen here.