Air Fryer Asparagus Recipe
As an Amazon Associate, I earn from qualifying purchases. Please read my disclosure policy.
This Air fryer asparagus recipe is a healthier and easier way to prepare garden fresh asparagus. A fresh and healthy veggie side dish with simple seasonings for amazing flavor and beautiful presentation.
Cooking asparagus in the air fryer is a healthy way to get all of the deliciousness from fried asparagus, without all of the oil and greasiness. Air fryer roasted asparagus makes an amazing side dish for everyday or for special occasions like Easter.
Enjoy this air fryer asparagus with this delicious Instant Pot Ground Beef Stroganoff, or with juicy Air Fryer Steak Bites or this flaky tender Air Fryer Halibut.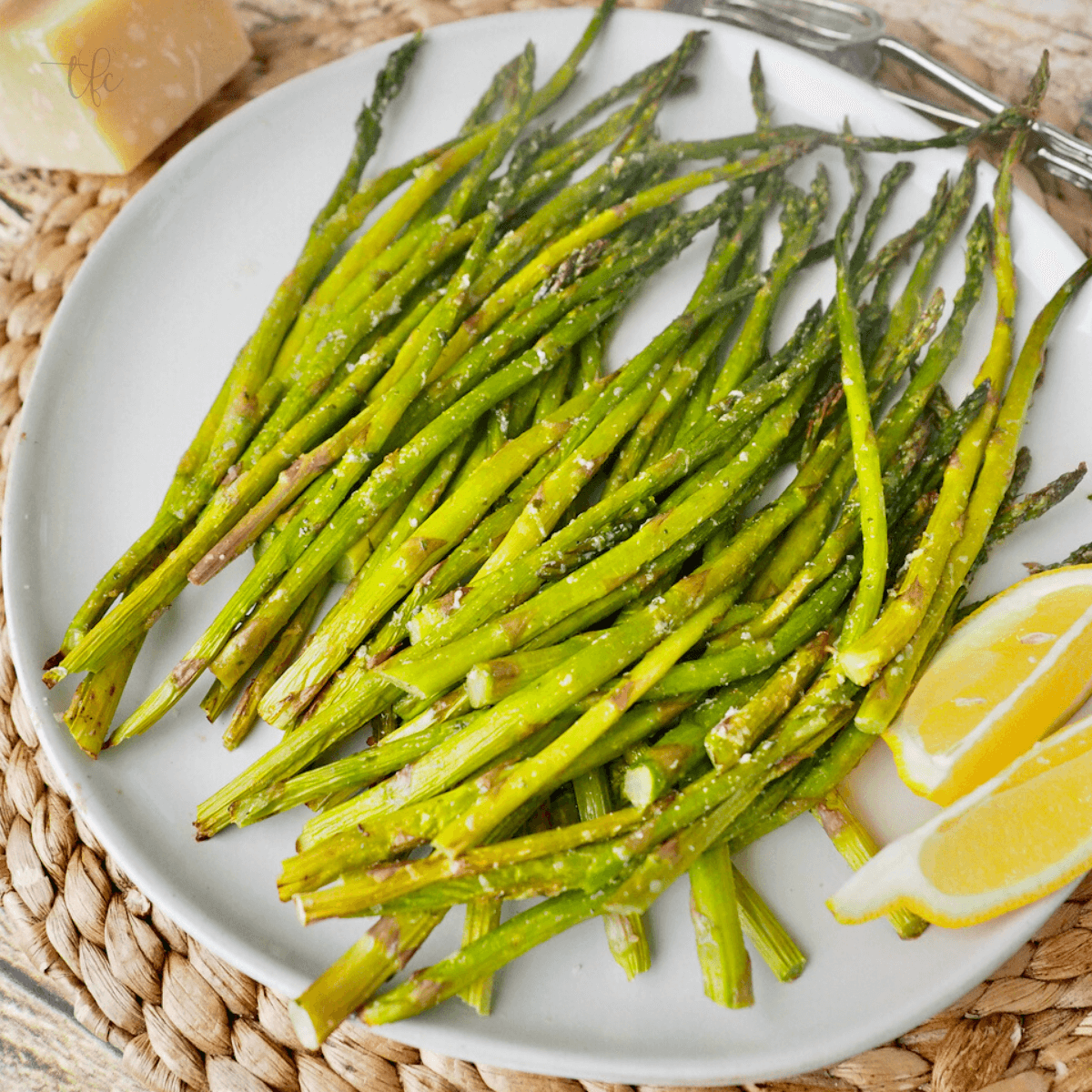 Why You Will Love Air Fryer Asparagus!
Easy! Toss together a few ingredients; cooking asparagus in the air fryer is easy!
Roasty! Crisp, and roasted tender asparagus and ready in minutes.
Healthy! Unlike fried asparagus fries, these are perfect crispy and delish
You might also enjoy my easy, cheesy asparagus, a keto version of asparagus, equally as delicious as air fried asparagus.
Ingredients
Full measurements and instructions is in the recipe card at the end of the post.
Fresh Asparagus | Go for asparagus that is not too skinny, but not super thick either
Herbs & Spices | We will use kosher salt, garlic powder and dried parsley in our recipe
Oil | Just a bit to help those seasonings stick to the asparagus spears, I used Avocado oil, but you can use Olive oil or your favorite.
Grated Parmesan Cheese | Fresh grated is best for this recipe, adds a bit of punch
Instructions
Step 1 | Trim and rinse the asparagus
Cut off about 1 – 2 inches of the white bottom of the asparagus stalks, rinse stalks and pat dry with paper towels.
Preheat Air Fryer to 400 degrees. This is the air fryer I used, I love the nice large air fryer basket on it!
Step 2 | Prep & Air Fry Asparagus
Lay asparagus out on a small sheet pan or a piece of foil or parchment paper. In a small bowl mix together oil, salt, garlic and parsley, stir to combine.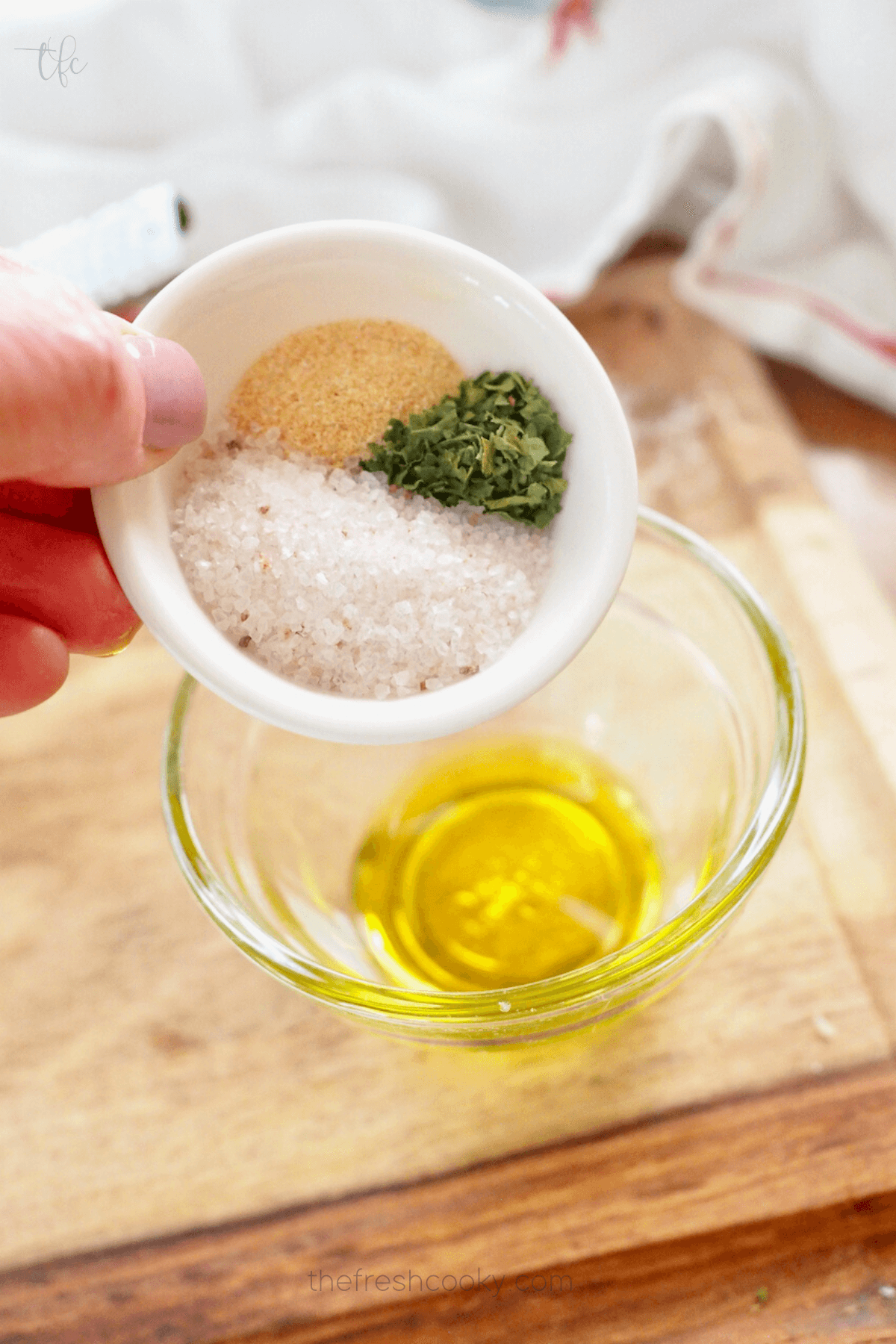 Drizzle the infused oil mixture over the asparagus, sprinkle with parmesan cheese and roll gently to coat all pieces.
Transfer the asparagus to the air fryer basket (do it in batches if you cannot fit all asparagus in one layer). Air fry asparagus at 400 degrees for about 7 minutes, or until they are just browning up to a golden brown.
Sprinkle with a little extra grated parmesan and squeeze a little fresh lemon juice on the top. Serve immediately.
Fresh Tip | Don't overcrowd the air fryer tray. Keep the asparagus to one layer so they get adequate circulation of hot air, and crisp on the outside. If necessary cook in several batches.
How long to Air Fry Asparagus?
Depending on the thickness of your asparagus, it should only take about 7 minutes in the air fryer, as long as you have the asparagus in a single layer.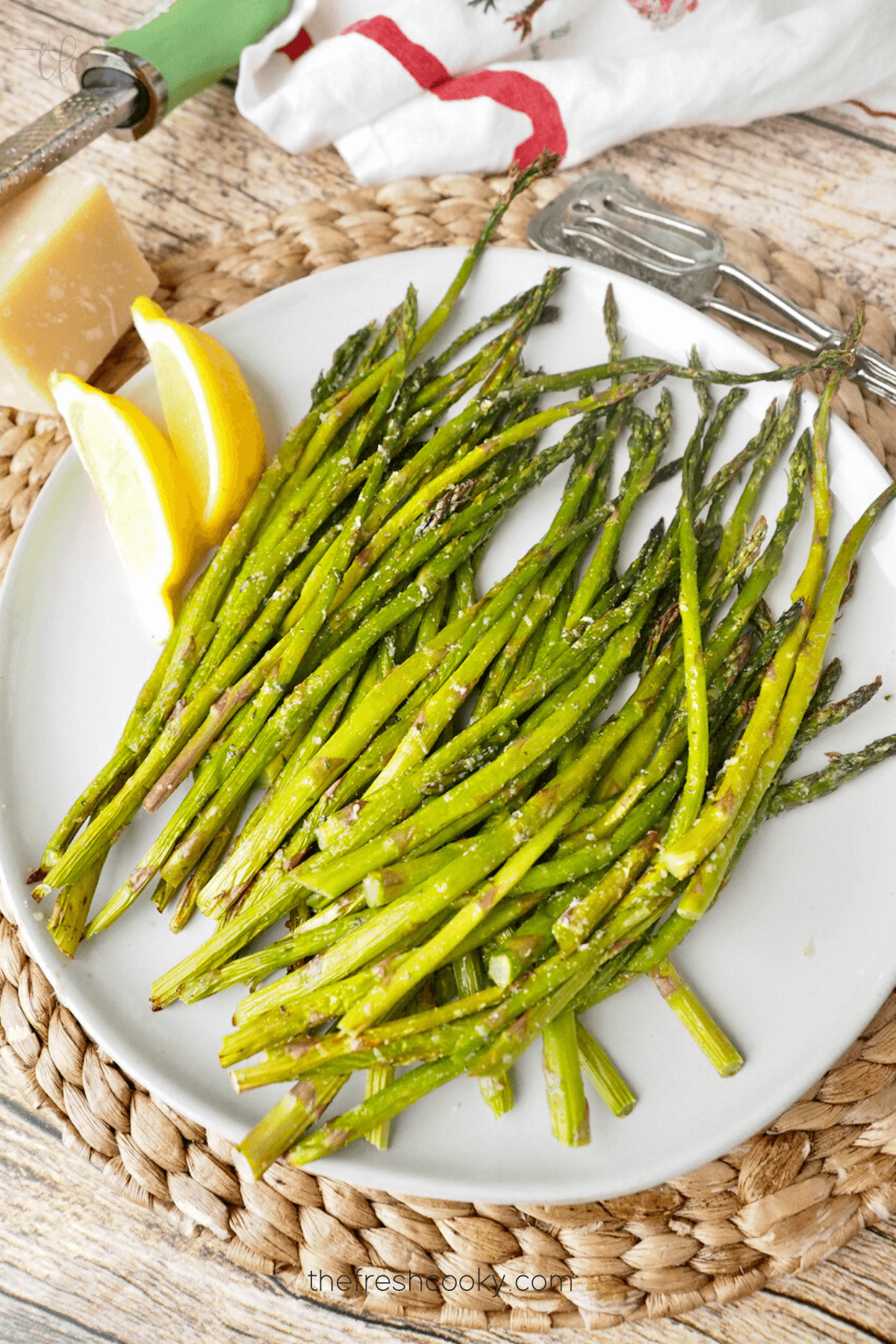 Recommended Equipment
Air Fryer | I have the Instant Pot Air Fryer lid, which is great for small batches or recipes.
Plus I have the Breville Smart Oven Pro, can I tell you how much I love this little oven! This countertop oven is so great for air frying, with its large basket you can air fry all sorts of recipes! Plus, it's a convection oven, regular oven, toaster, proof, dehydrater and so much more. Check it out!
Variations
Use Fresh garlic | 1-2 cloves of pressed or minced garlic would be delicious in place of the garlic powder.
Balsamic Asparagus Recipe | Drizzle the air fryer asparagus with parmesan with a little balsamic vinegar or even better, balsamic glaze or reduction, try my friend Chellie's recipe here!
Try different cheeses | In place of or in addition to use Pecorino Romano cheese, Gruyere or any hard strong cheese would be a good substitute.
Kick it Up | Sprinkle asparagus with red pepper flakes!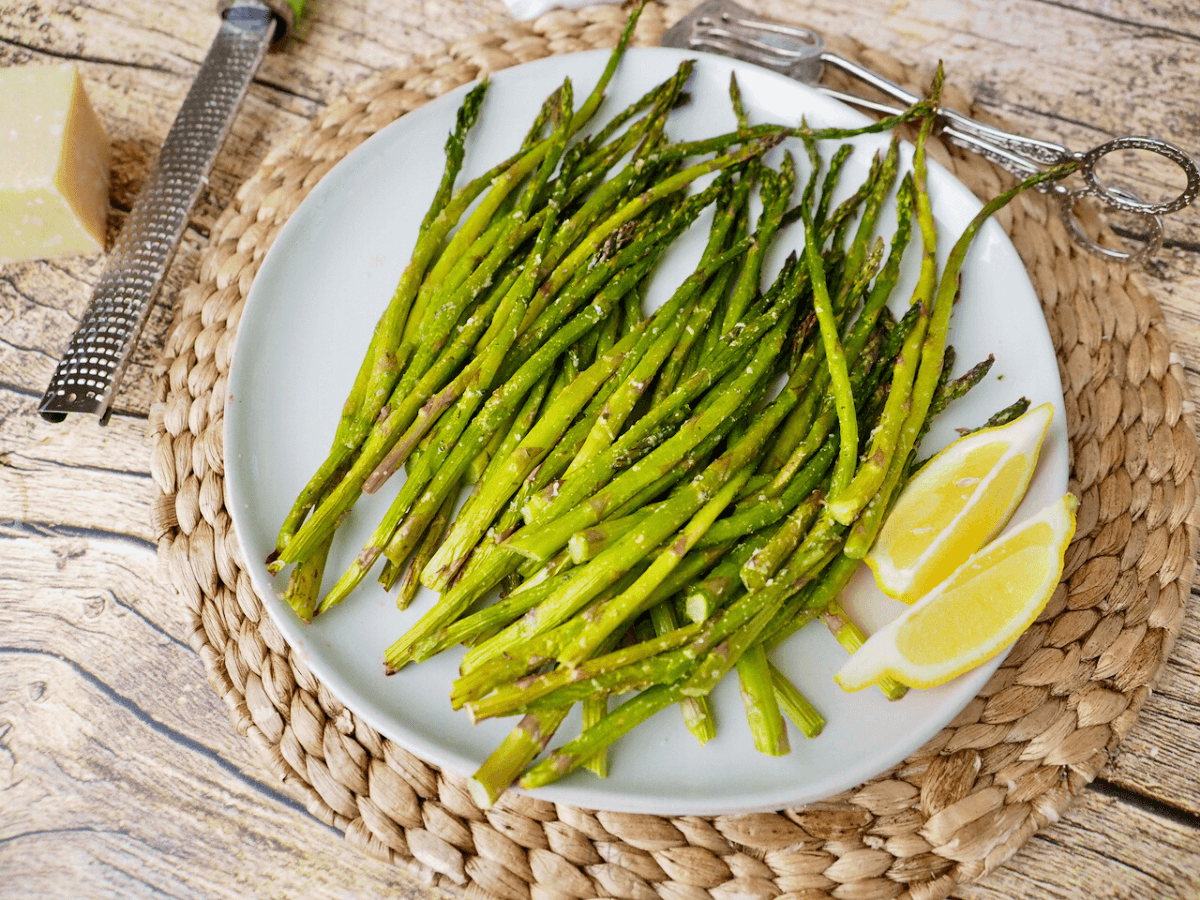 Fresh Tips
When purchasing asparagus, make sure it is firm and plump, not limp; the tips should be tightly closed.
Trim the white portion of the asparagus ends off, between 1-2 inches, this part of the asparagus is typically tough and woody.
After rinsing asparagus be sure to pat it dry, so that the oil mixture will stick.
Frequently Asked Questions
How long does asparagus last?
Fresh asparagus will last from 3-5 days in the crisper drawer. To extend the life of fresh asparagus, place unwashed asparagus bunch in a jar with a little water, ends down. Your asparagus should last up to 10 days refrigerated.
How to Freeze fresh asparagus?
Bring a large pot of water to a boil, and trim the asparagus as stated above. Once boiling, pop trimmed asparagus stalks in the boiling water for 2-4 minutes (depending on the thickness of the stalk). This is called blanching, which will preserve the bright green color and texture when freezing.

Using a slotted spoon remove asparagus from the boiling water and place in bowl of ice water to stop the cooking process. Let it sit in the ice water for 2-4 minutes, then remove to a paper towel lined tray and pat dry, then allow to dry completely.

Once dried and cooled, place in a single layer on a tray and freeze for one hour until firm, then transfer frozen asparagus stalks to a labeled airtight baggie, squeezing out any extra air. Freeze up to one year.
How to cook frozen asparagus?
No need to defrost frozen asparagus, simple use in recipes as planned. Frozen asparagus is great in casseroles, stir fry, stews and pasta dishes.

If making as a side dish, pop in a hot pan with a little oil and pan fry until cooked through.
Questions about Asparagus you are afraid to ask
We all know there are questions that we sometimes have about a particular food, but might be afraid to ask, so I thought I'd just answer the two most common questions straight on!
Does Asparagus cause gas?
With its high fiber content, asparagus can cause gas (flatulence) and stomach upset in some people. But before you omit it from your diet, give it a try, it's so good for you!

High in Vitamin C and Vitamin K an essential nutrient involved in blood clotting and bone health, as well as high in folate, an essential nutrient for healthy pregnancies.

Asparagus also possesses small amounts of other micronutrients, including iron, zinc and riboflavin.
Does asparagus make your pee smell?
When asparagus is digested, asparagusic acid gets broken down into sulfur containing byproducts. Sulfur, in general, is not very pleasant to smell. When you pee, the sulfur byproducts evaporate almost immediately, causing you to smell that unpleasant scent. (Source)

I always have to remind myself of this fact after I enjoy roasted asparagus, it amazes me how quickly it can pass through your system to your urine. 🙂 But each time I eat it, I am reminded by how healthy asparagus is for you!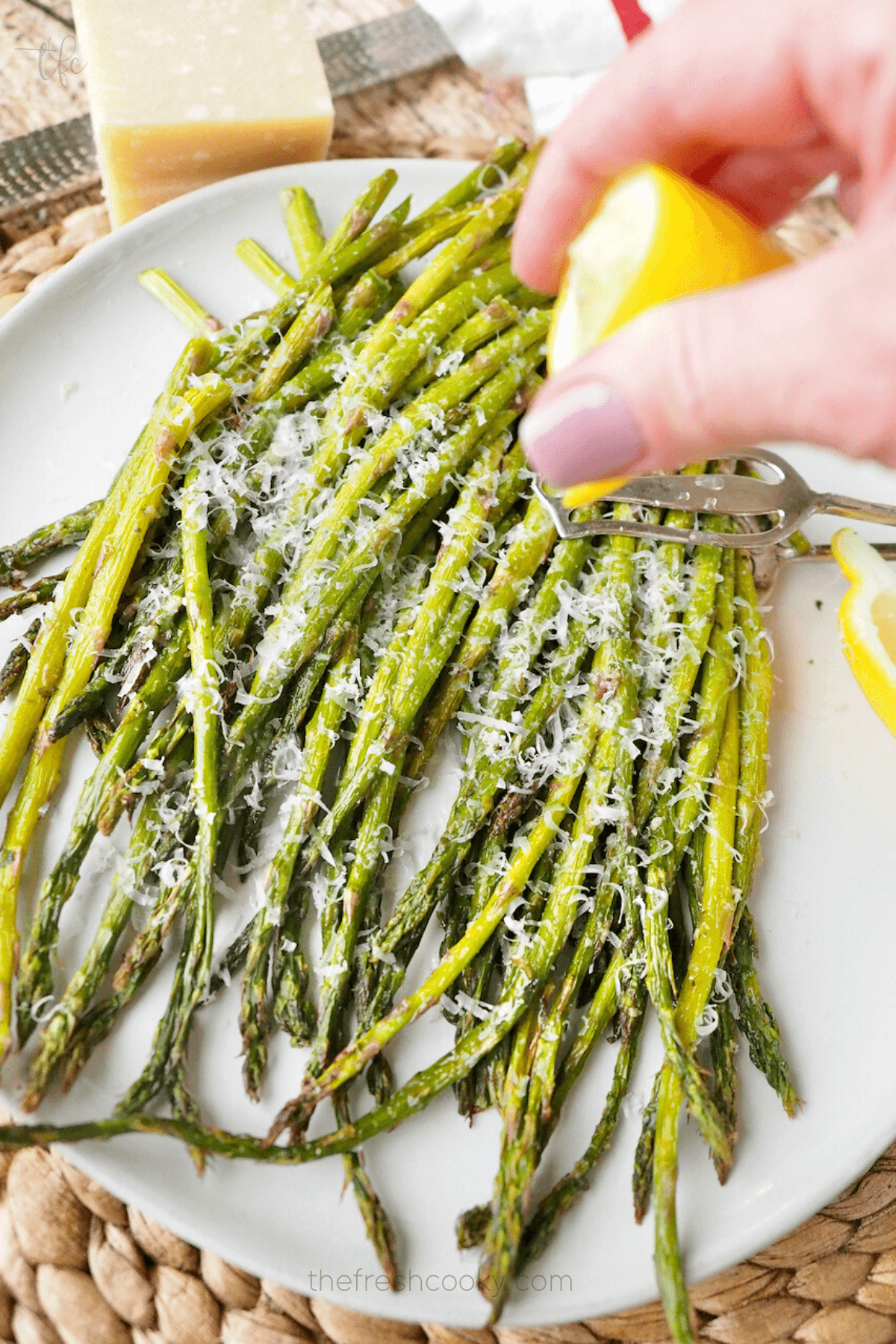 Air Fryer Frozen Asparagus
Cannot get your hands on fresh asparagus? Then use frozen!
Since frozen asparagus has already been trimmed and blanched, it shouldn't take as long.
Do not thaw ahead of time, simply toss the frozen asparagus in the seasoned oil mixture, sprinkle with cheese and air fry at 400 degrees for 5-7 minutes.
Storage
Store any leftovers from this air fryer asparagus recipe in an airtight container in the refrigerator for up to 5 days. Or may be frozen, cool completely, then place in baggie and freeze.
How to Reheat Asparagus
Air Fryer | To reheat in the air fryer, place air fried asparagus on the basket in a single layer and reheat at 400 degrees for about 3 minutes.
Oven | To reheat asparagus in the oven, preheat oven to 350 and place the asparagus in a single layer on a baking sheet.
For steamed asparagus; place a piece of foil over the top of the asparagus and bake 3-5 minutes.
For roasted asparagus; do not cover and roast for 3-5 minutes until desired doneness.
Ways to serve Air Fryer Asparagus
More Great Air Fryer Recipes
I am just getting rolling with my air fryer, enjoy these recipes and come back soon for more!
Other Great Vegetable Side Dishes
Love it? Pin it!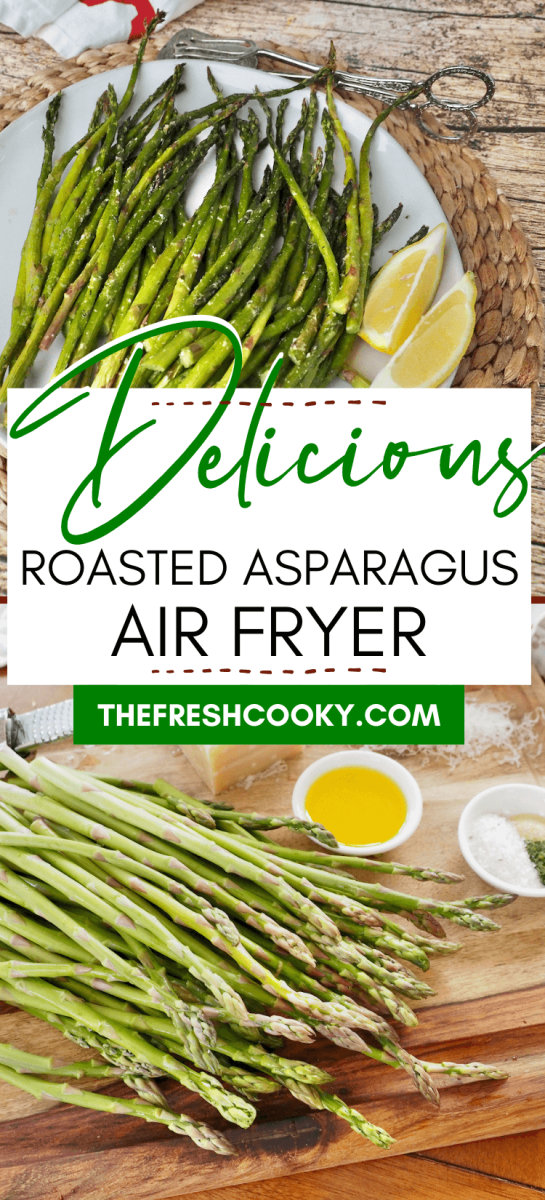 Like this recipe?
Don't forget to give it a ⭐️⭐️⭐️⭐️⭐️ star rating and comment below the recipe!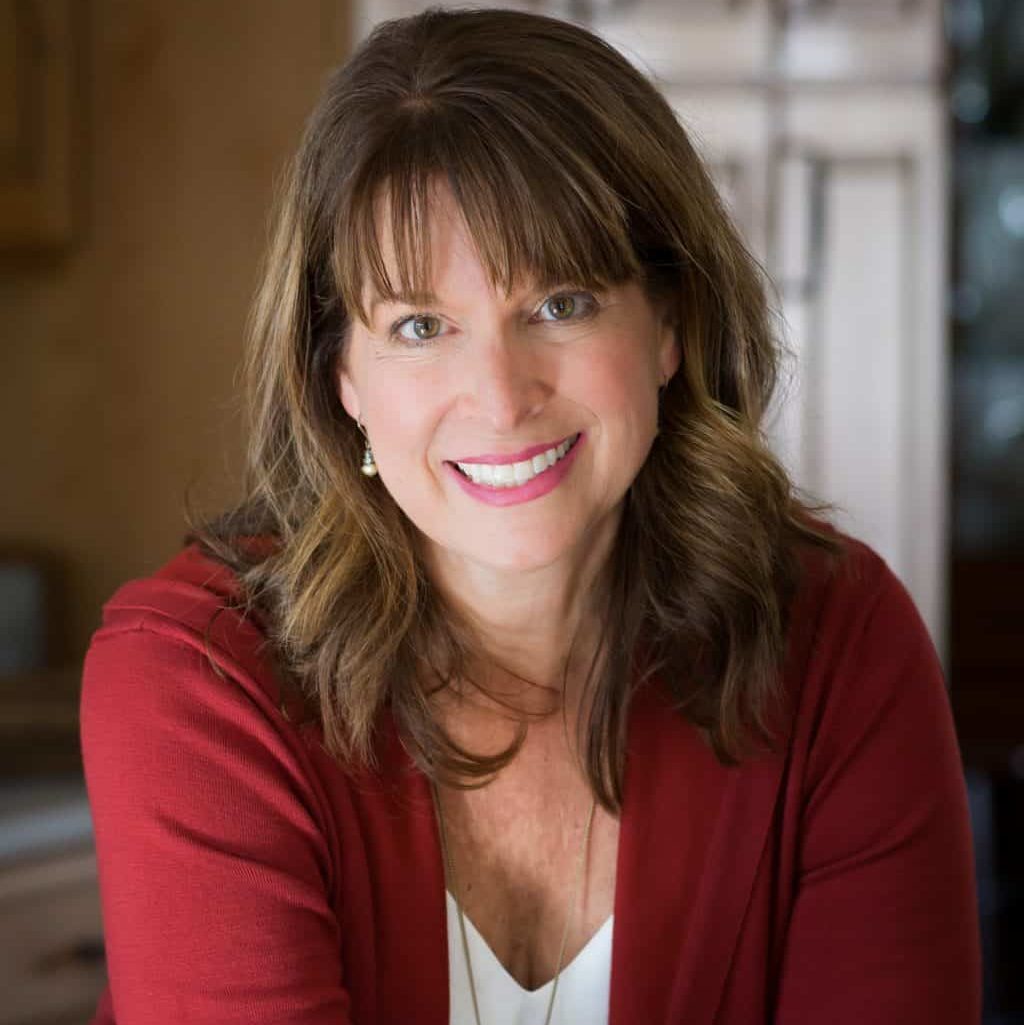 About Kathleen Pope
Recipe Innovator | Food Photographer | Food Writer
Hi, I'm Kathleen Pope. Here at The Fresh Cooky you will find easy, mostly from-scratch, trusted recipes for all occasions. From speedy dinners to tasty desserts, with easy step-by-step instructions. I am here to help teach you how to make mouthwatering recipes without spending hours in the kitchen. Read more about Kathleen here.