Orange Scones (Panera Copycat)
As an Amazon Associate, I earn from qualifying purchases. Please read my disclosure policy.
Light, tender, moist and flaky Orange Scones are better than Panera! Cream scones made with fresh orange juice and zest, bursting with bright citrus flavor while not overwhelming the scone. Glazed with fresh orange vanilla butter icing, bound to bring a smile to anyone!
Our youngest has had a long-standing obsession with orange scones from Panera and I thought it was high time I made a copycat version we can enjoy at home.
We think you might love these other scone recipes too: Glazed Berry Scones and Cinnamon Crunch Scones, be sure to read to the end for a lot more great scone recipes.
My favorite Scone Recipe
Have you ever just bit into something and knew immediately you were 100% in love?
This Panera Orange Scone recipe is so easy, made with fresh orange juice, orange zest, the citrus is literally bursting forth! You will fall in love too!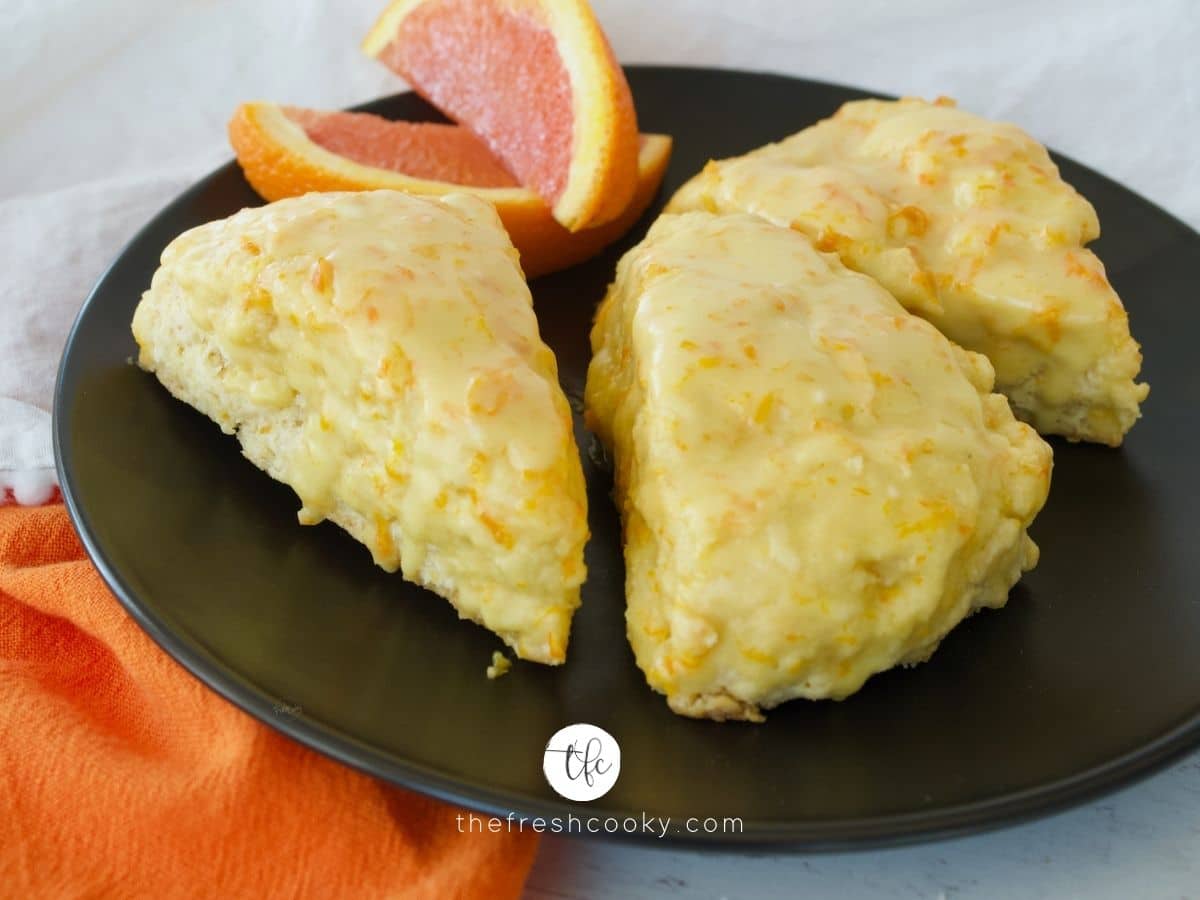 What's to love about this recipe?
We love cream scones and this orange scone recipe is a delicious cross between a muffin, a biscuit and quick bread.
Scones are in a league all their own, less sweet than a muffin, more biscuit than quick bread! Be sure to browse to the bottom for many more fabulous scone recipes!
Ingredients
The full ingredient list is in the recipe card at the bottom of the post, but these are made with pretty basic pantry ingredients.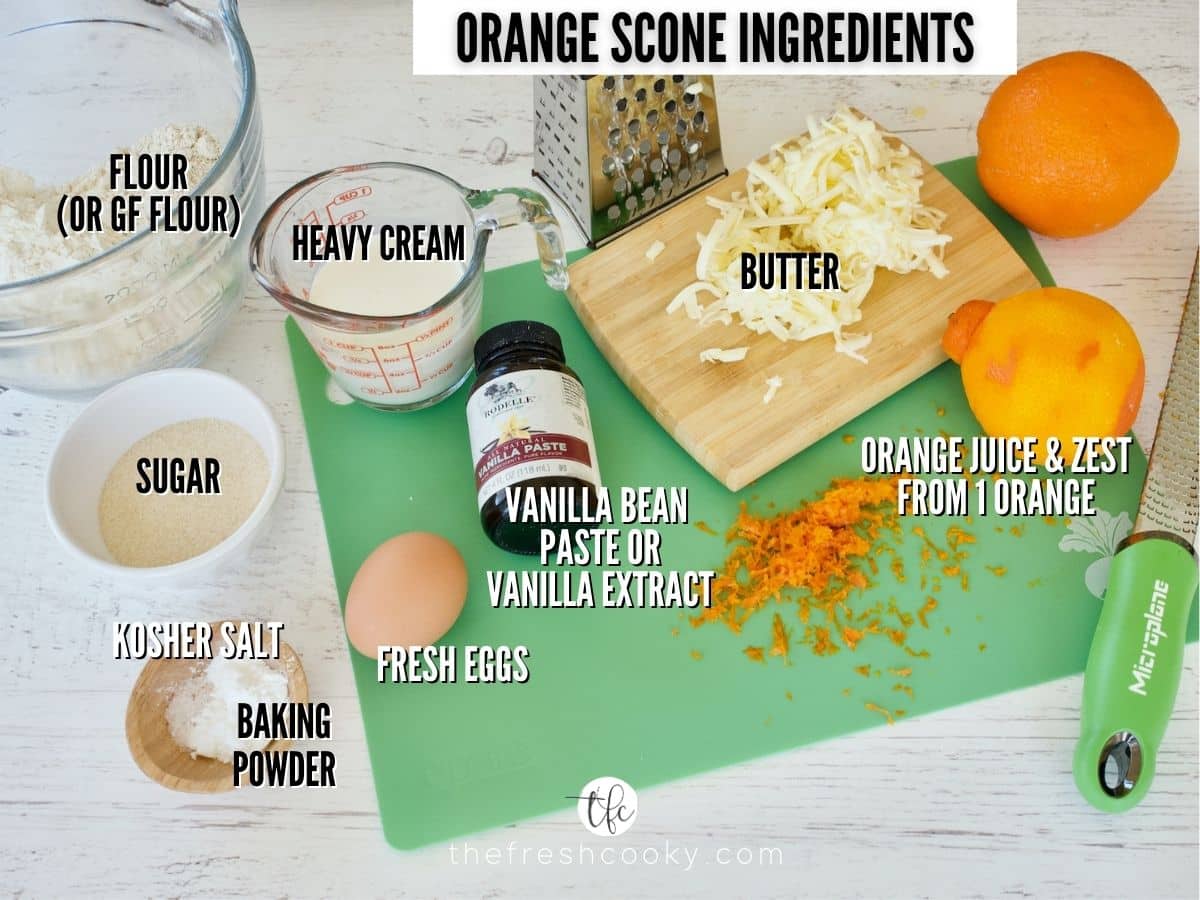 ALL-PURPOSE FLOUR | I used organic all-purpose flour, or use Gluten Free All-purpose flour along with a small amount of oat flour.
SUGAR | Not a lot, just enough to sweeten it up a bit, I use all natural cane sugar.
BUTTER | If you have been with me any amount of time, you know that I believe in real, cream butter — if it's soft coming out of the fridge, it's not real butter, but a blend. For scones, splurge, you don't make them every day!
HEAVY CREAM | Use the real stuff, this is in part what allows the scone to to rise, fluffy and tender.
EGG | I use large eggs in all my baking, the egg works together with the butter and the cream to make all the magic happen.
VANILLA BEAN PASTE | Adds beautiful flecks of vanilla

bean, aromatic and subtle, enhancing other flavors. You may substitute vanilla extract.

ZEST & JUICE | This is the essence of the orange scone, fresh zested and a splash of juice.
ZESTING ADVICE | Ever grated a knuckle while trying to zest citrus? I have the tool for you! This Microplane zester is one of my most used and favorite kitchen tools! And makes short work to a lot of zest!
How to Make Moist Scones
I like a biscotti or even these Greek cookies; delicious when dipped into a cup of rich coffee or tea. But these Panera Orange Scones are amazingly moist with the freshest ingredients.
Line a baking sheet with parchment paper. In a large mixing bowl, whisk flour, granulated sugar, baking powder and salt together.
Toss frozen, grated butter into flour mixture and using a pastry cutter or your hands quickly mix until it resembles coarse crumbs.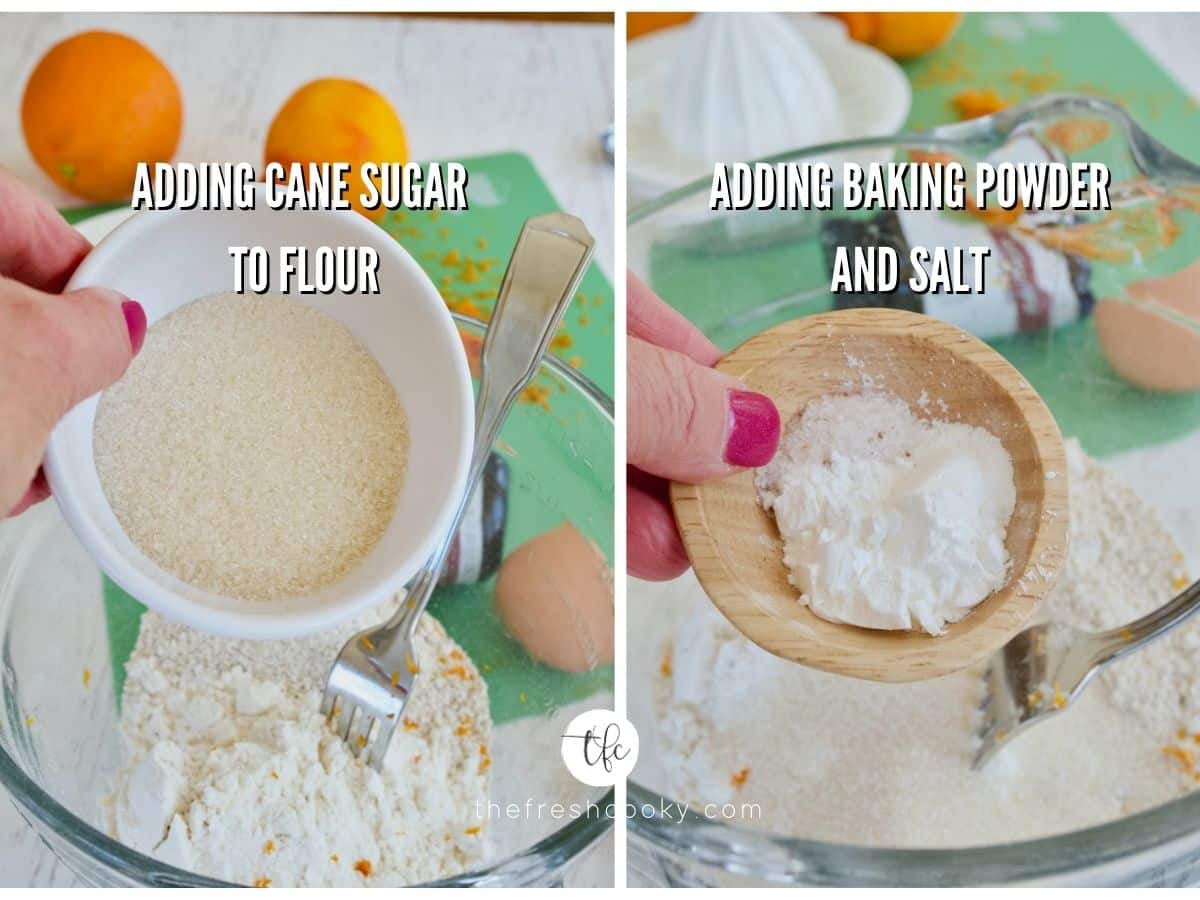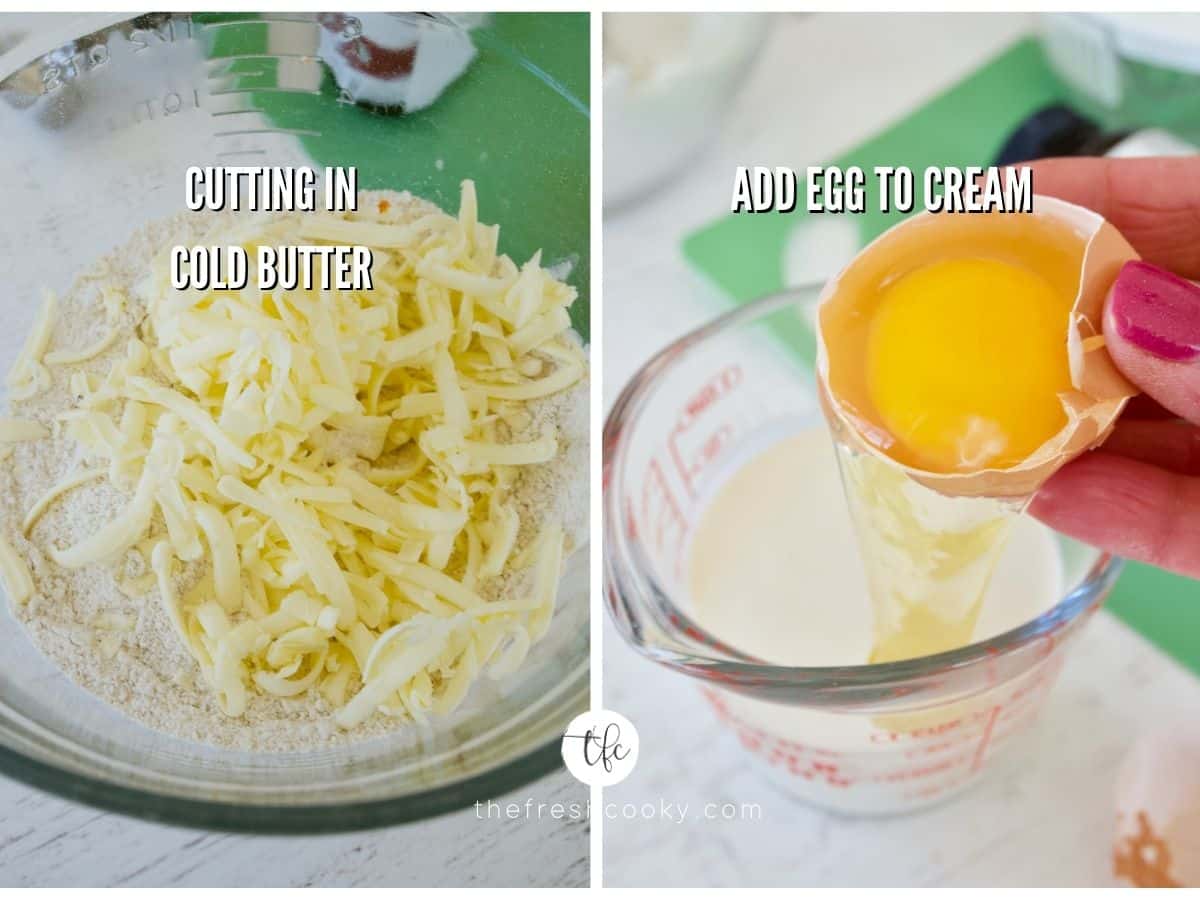 In a small bowl or measuring cup, whisk together the heavy cream, vanilla bean paste, egg, orange zest and a splash of orange juice.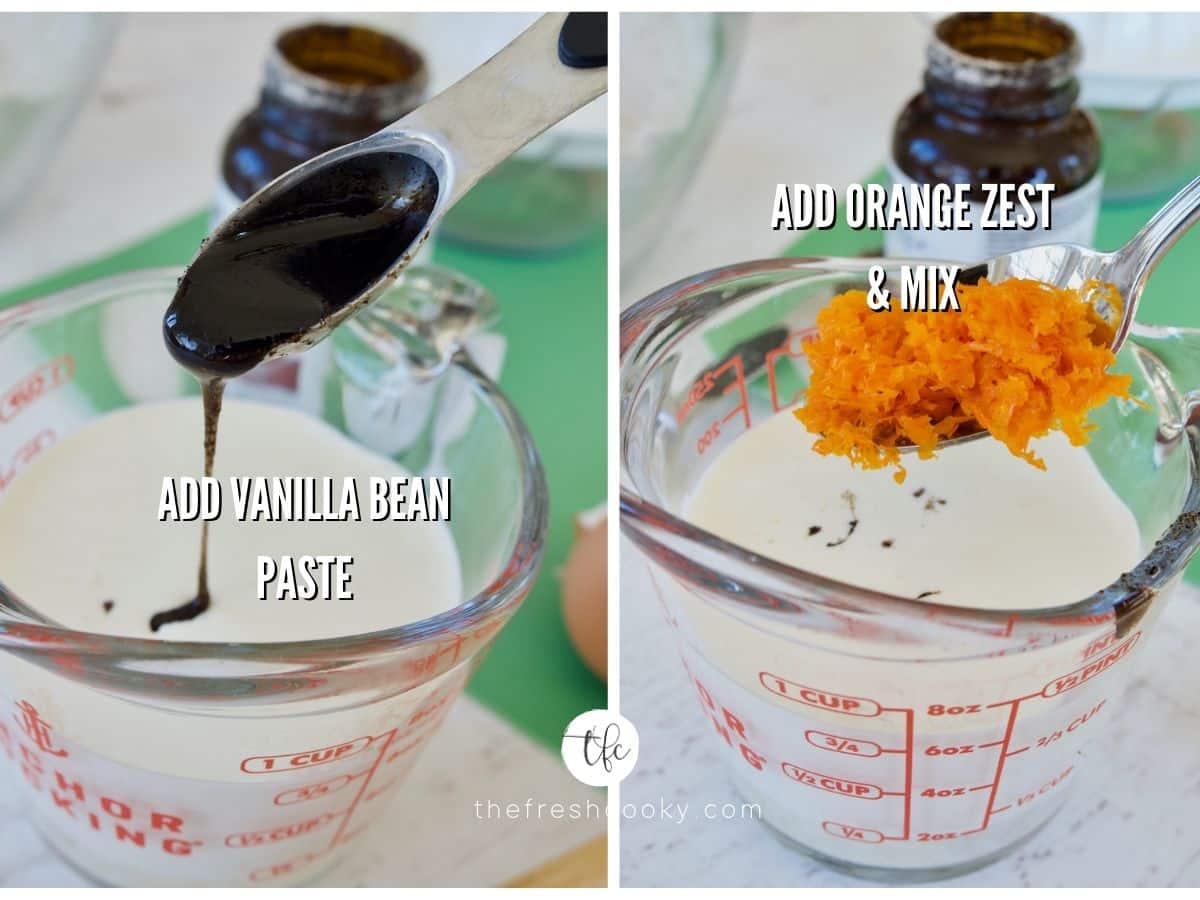 Make a small well in the center of the dry ingredients and then pour in egg mixture.
Gently mix with a fork until the dough just comes together, forming a shaggy dough.
Turn out dough onto a parchment lined cookie sheet, using the parchment paper to shape and bring the dough together into a disc, about 1/2 – 3/4 inch thick.

If the dough is really dry, add a little splash of orange juice or heavy cream (just a few dribbles and work it in quickly). See TIPS below.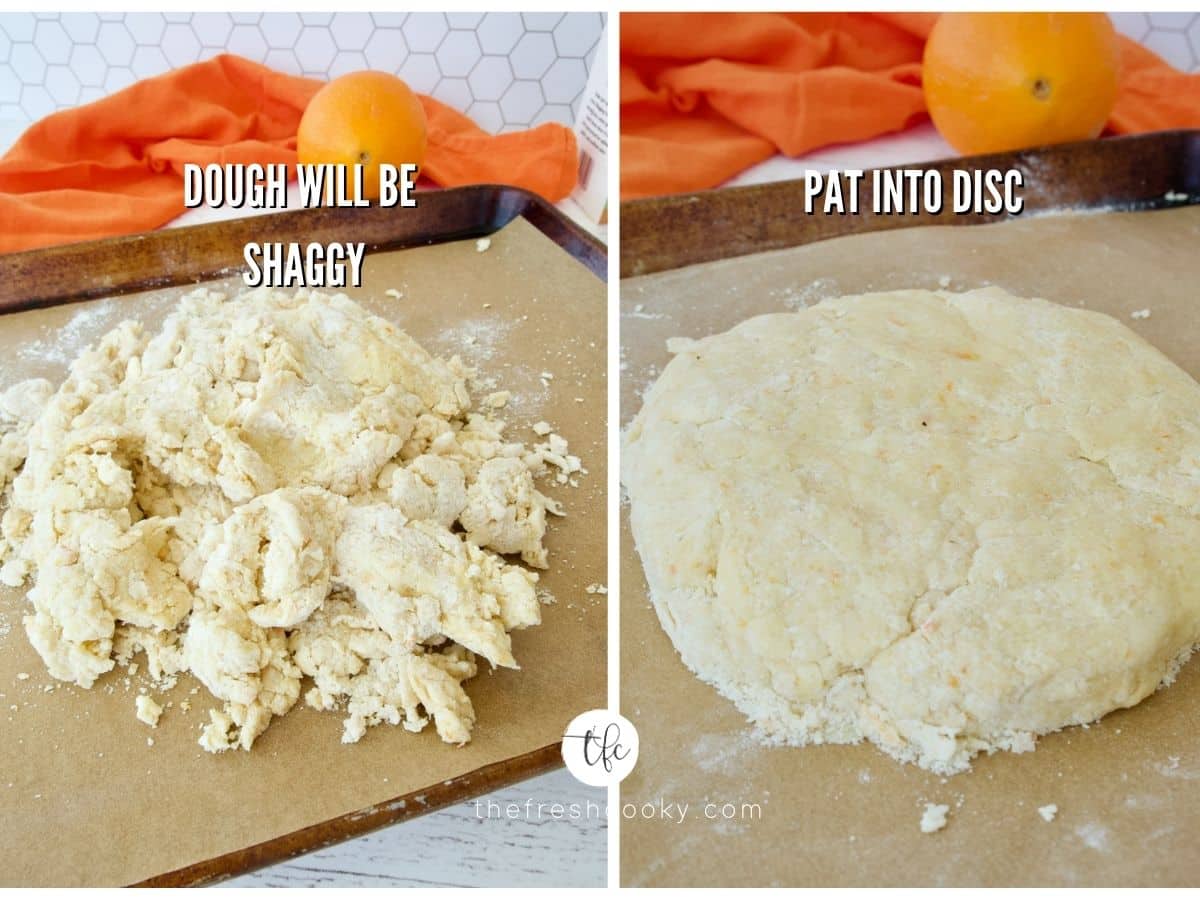 Using a bench scraper or large knife cut the disc in half, then quarters, then again cutting the quarters in half; making 8 large scones (see below for mini scones).
Separate scones barely away from the other. Keep them closer to one another will yield a more even raised scone. Further apart they will appear more rustic, which was what I was going for in these orange scones.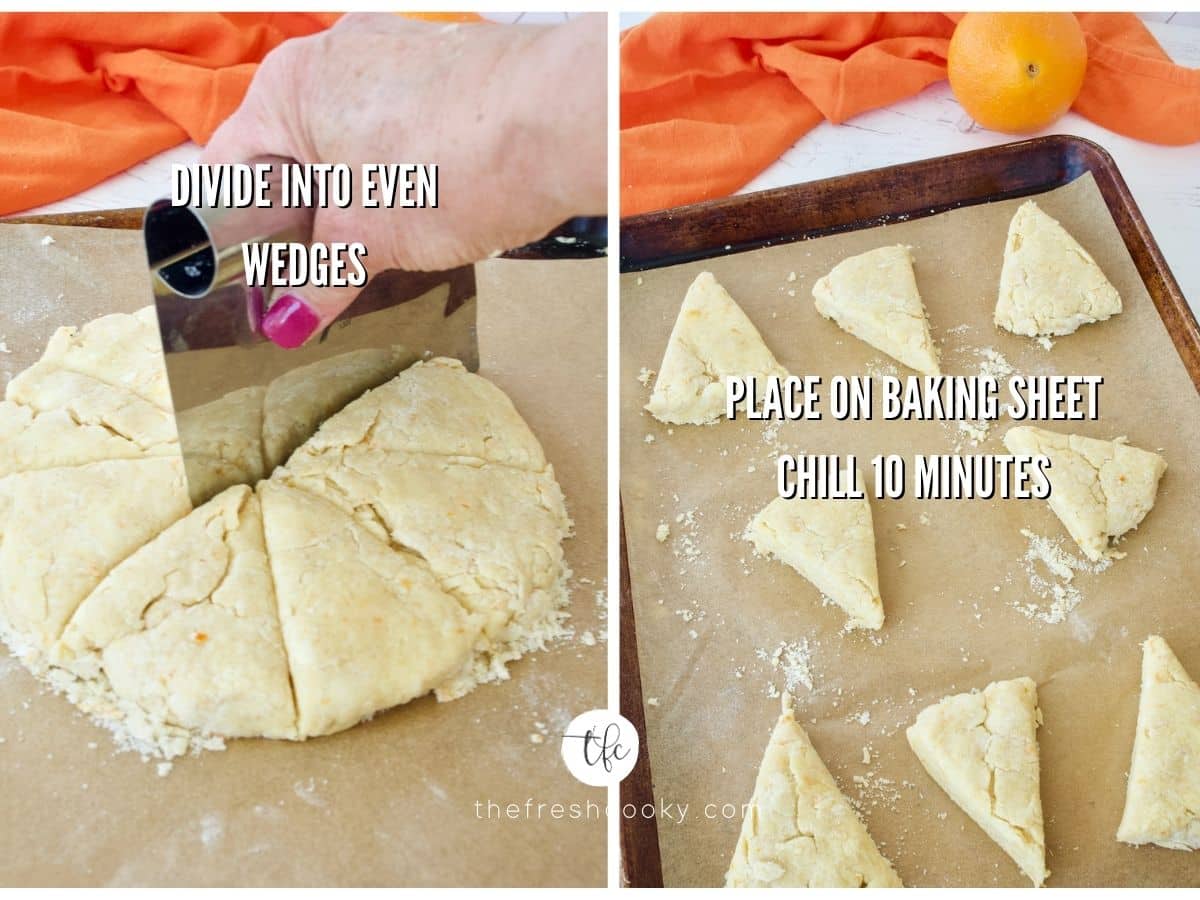 Freeze or refrigerate scones to firm the butter back up for about 10 minutes, now is a great time to preheat the oven to 400 degrees F.
Bake scones until lightly golden brown on the bottom, about 13-15 minutes, 13 will be softer, 15 more firm. Remove to a rack to cool completely.
How to Make Orange Butter Vanilla Glaze
The orange glaze is optional (but amazing), gather the following ingredients:
In a wide bowl mix together the powdered sugar, orange zest, melted butter, vanilla bean paste and the orange juice; whisk until smooth.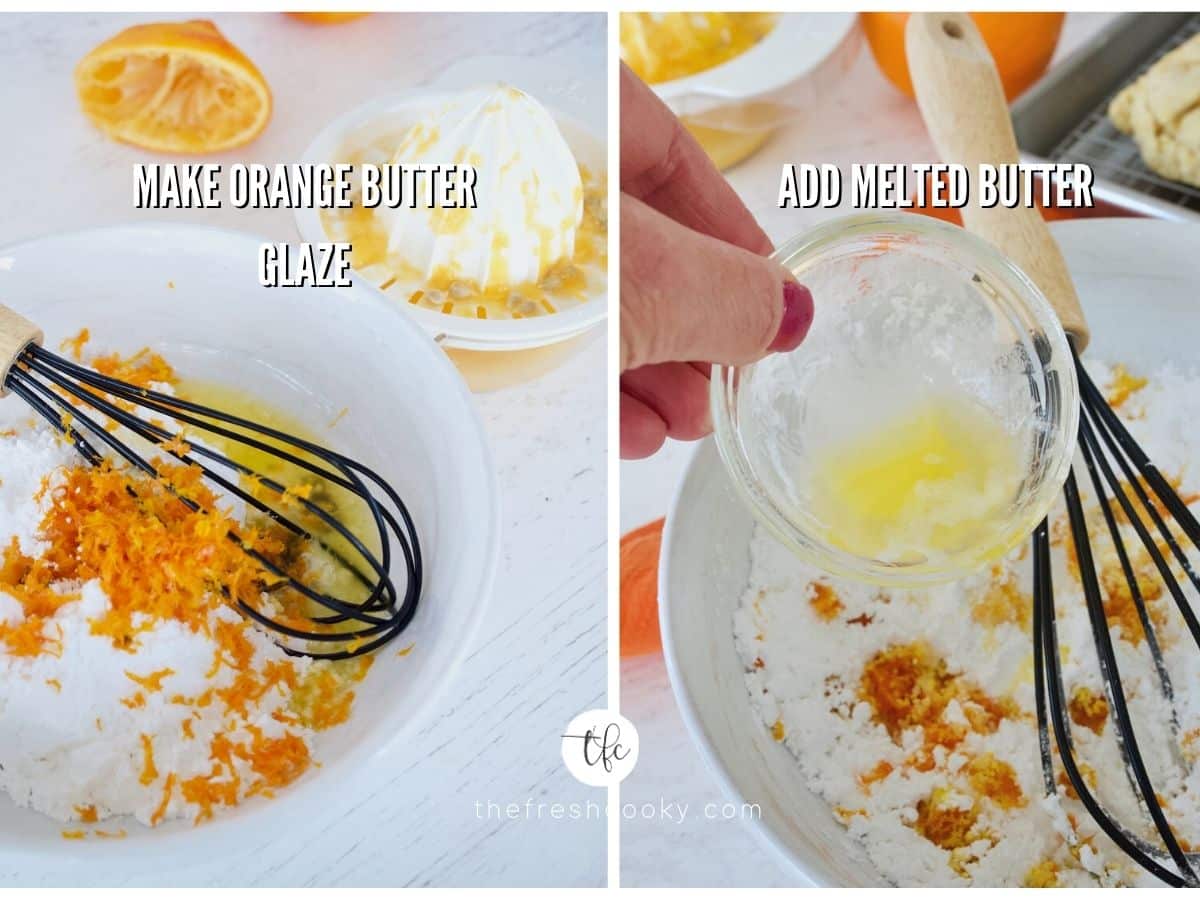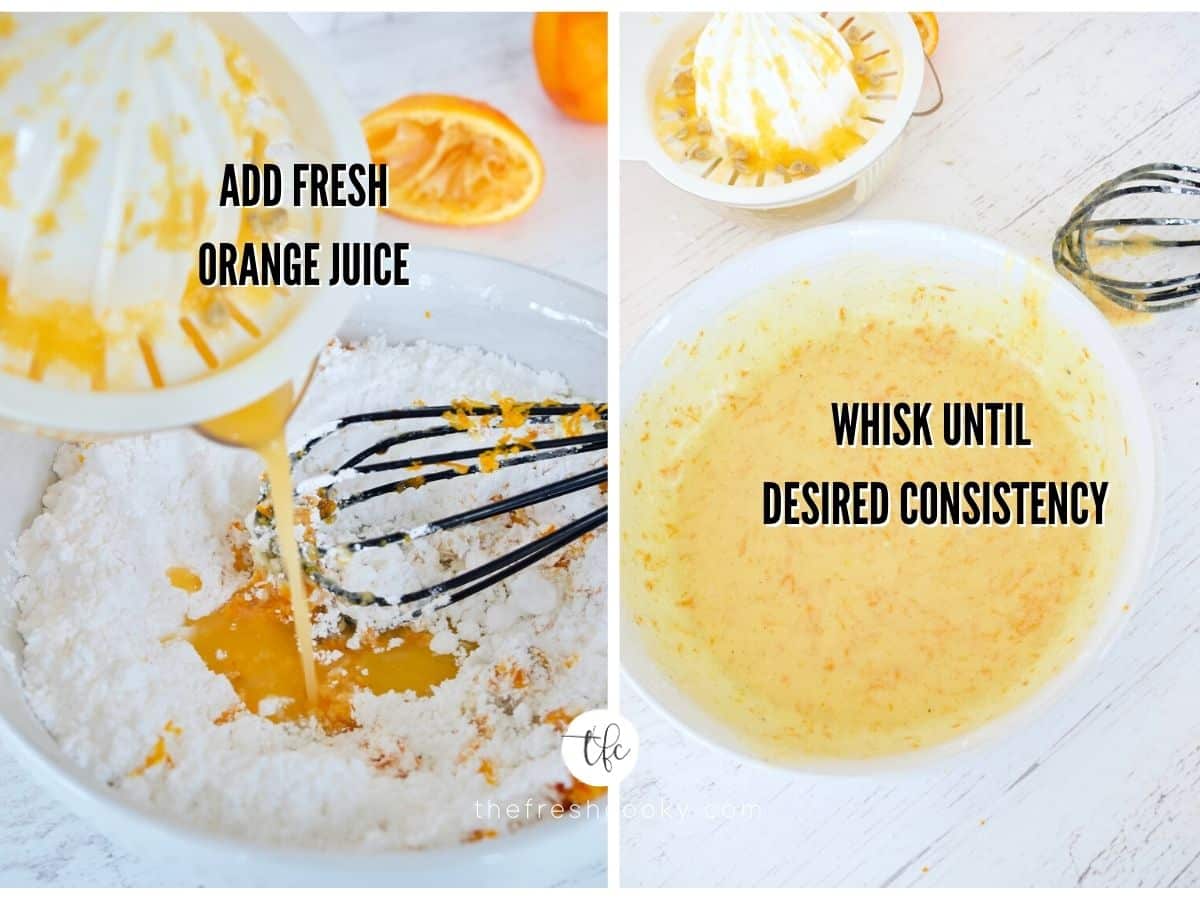 Once scones are cool, one at a time, carefully pick up and dip scone top into the orange glaze to coat, then return to the rack to set the glaze.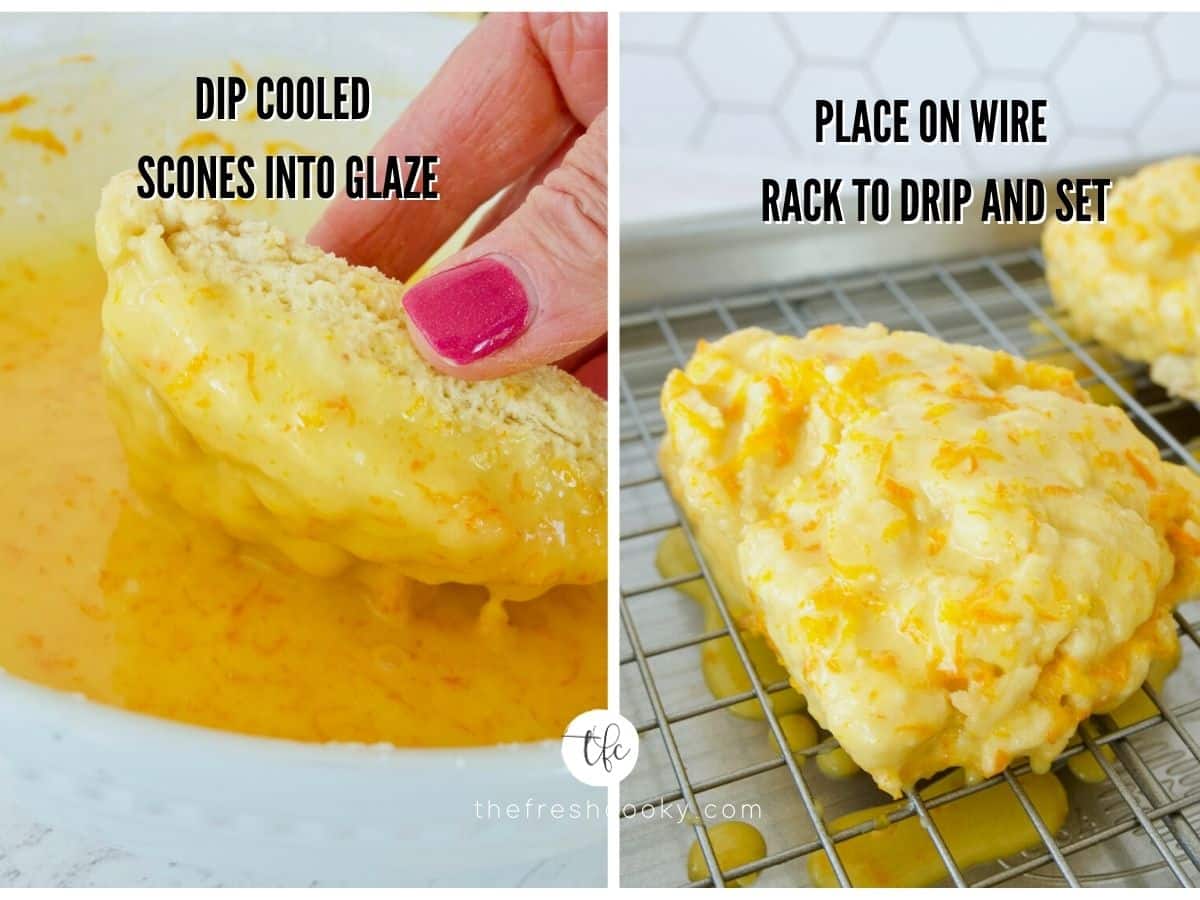 Tips
Some tips learned from working with glazes and scones:
Liquid | Whisk in a few tablespoons of juice at a time until the consistency is thick, yet pourable.
Wire Rack | Using your same baking pan, and parchment, set a wire rack over the top then use it to place scones on to set the glaze.
Glaze falls off | Your scones are not cooled and/or you thinned out the glaze too much. Simply add a bit more powdered sugar a tablespoon at a time until the glaze is the right consistency.
Leftover glaze | Using a spoon or spatula, add a little extra drizzle to each scone!
Storing Scones
Store scones on counter in airtight container up to 5 days, or pretend you are a bakery and wrap individually and place in a pretty covered cake stand. Scones may also be frozen 3-4 months wrapped well.
Frequently Asked Questions
How do I get my scones to rise and be fluffy?
Make sure baking powder is fresh, most baking powder and baking soda are fresh for about 6 months from opening.

To check place 1 teaspoon baking powder in a cup and add 1/3 cup hot tap water. If it starts to bubble, it's good to go. If not, by some new!
Can I use baking soda instead of baking powder in scones?
Your baking powder has lost it's oomph, can you substitute with baking soda or bicarbonate of soda (same thing)?
The short answer is yes!
However; baking soda is three times more potent than baking powder, so in this recipe, reduce to about 3/4 teaspoon of baking soda. It also relies on an acid to activate the soda, using orange juice you should be fine.
What can I use besides milk/cream in my scones?
Other replacements might not produce as fluffy and high rise in scones, but are usable: buttermilk (would be good if you are using baking soda), evaporated or dry (reconstituted) milk, canned coconut milk or other plant based milk will work, or you could even try yogurt or even plain water

Can I make scones ahead and freeze them?
Scones are fabulous make ahead treats! You can make the scones up to the point of baking, wrap well and freeze up to 4 months. Bake as directed, possibly adding a little time at the end.

You may also freeze already baked scones, the same way, wrapped well in an airtight container up to 4 months. I recommend that you freeze un-glazed, but if that is your only choice, they will be fine.
Why do my scones spread?
A couple of things to try, make sure your oven is not too hot and not too cool, many ovens do not accurately. Purchase a cheap oven thermometer to be sure.
You might have also overworked the dough, be sure to bring dough together until just combined.
Instead of separating the scones completely, cut through them and use the bench scraper to just barely pull the scone away from the other one, this will give structure and rise to the scone.
Tips
What is the secret to making great scones?
8 Baking Tips for Making Better Scones
COLD BUTTER | I grate my butter using a standard box grater and then place it in the freezer while assembling the rest of my ingredients.
REAL BUTTER | I cannot harp on this fact enough, it doesn't matter if you use salted or unsalted butter, but make sure that it is real, pure cream butter, no blends! If it is soft coming out of the fridge it is not real butter.
COLD CREAM OR MILK | unlike other baking recipes (chocolate loaf cake) that like room temperature ingredients, scones do not! Keep the cream in the fridge until ready to use.
DO NOT OVERWORK | Think of scones as the dainty, delicate cousin to yeast bread, whereas yeast breads thrive on kneading to activate the ingredients, scones will become tough and will not rise as well if the dough is overworked.
USE A PASTRY CUTTER | To cut in the butter, using a pastry cutter keeps warm hands out, the beauty of grating the butter and freezing it allows you to quickly mix with your hands without warming the dough too much. And my hands are always cold anyway!
LIQUID | Only add enough liquid to bring the dough together, having some extra flour is okay, the dough will look shaggy (see above picture)
SHAPING | To quickly, easily shape your scone disc, use the parchment paper (or wax paper would work too) and fold it up on the ingredients, using the paper to press together and smooth the dough into the disc. This not only contains the floury-mess, but helps your hands not warm the butter too much.
CHILL AGAIN | Once your scones are formed, place the entire pan in the freezer or fridge for 10 minutes. This gives the scone time to firm the butter back up, chilling it so the magic happens when it hits the hot oven.
High Altitude Orange Scone Recipe
For Panera orange scones, I simply decreased my baking powder to 1 1/2 teaspoons, you might need a bit more flour or a bit more liquid depending on the type of flour you use, but remember they should just barely hold together.
How to make Petite Scones
When forming the dough discs, split the dough into two even portions on their own parchment sheets.
Proceed with shaping into a smaller disc and cutting the same way, yielding 8 smaller petite scones per disc.
Baking time and temp will be the same, but check them on the earlier side at about 12 minutes.
More great scone and baked goods recipes:
When to make this recipe?
Try making these Better than Panera orange scones for Easter, Mother's day, a luncheon, tea party or anytime a bright, flavorful, low-sugar scone craving hits!
If you tried this orange scone recipe, please take a minute and post a comment and 5 star rating in the recipe below.
Like this recipe?
Don't forget to give it a ⭐️⭐️⭐️⭐️⭐️ star rating and comment below the recipe!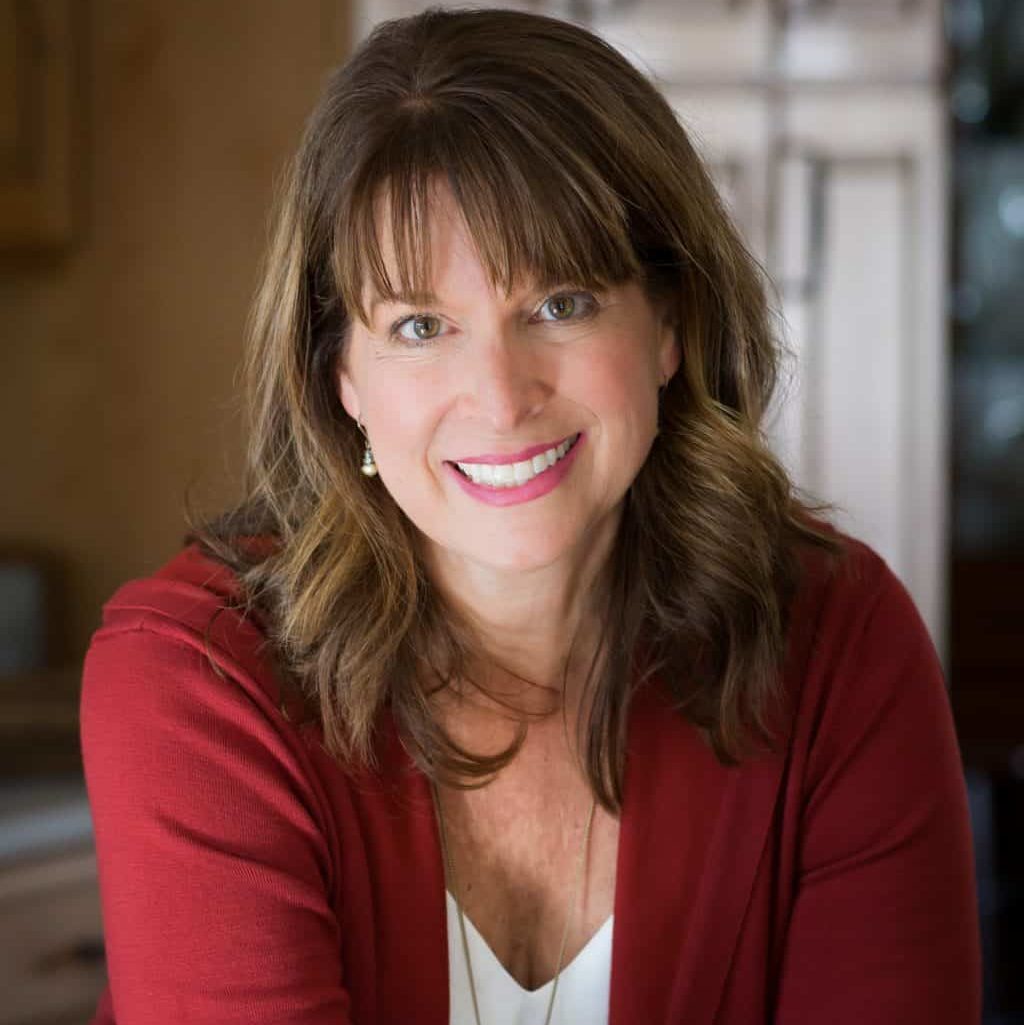 About Kathleen Pope
Recipe Innovator | Food Photographer | Food Writer
Hi, I'm Kathleen Pope. Here at The Fresh Cooky you will find easy, mostly from-scratch, trusted recipes for all occasions. From speedy dinners to tasty desserts, with easy step-by-step instructions. I am here to help teach you how to make mouthwatering recipes without spending hours in the kitchen. Read more about Kathleen here.