Creamy Roasted Garlic Mashed Potatoes
As an Amazon Associate, I earn from qualifying purchases. Please read my disclosure policy.
Dreamy, creamy roasted garlic mashed potatoes; subtly enhanced with the flavorful elegance of roasted garlic, these will become your go-to mashed potatoes.
WHAT kid doesn't like mashed potatoes!?? Ours…sniffle!
Until our youngest had Miss Patty's mashed potatoes! Patty, had our family over for dinner and Gabe fell in love with her mashed potatoes, now he will only eat her recipe. Asks each time I make them, "are these Miss Patty's?" like I'd try and sneak another mashed potato recipe in on him (he knows me too well).
MASHED UP POTATOES
But because I can't seem to leave any recipe alone, I did a mash-up (get it?) of two recipes; Miss Patty's and Ree Drummond's…nuttin' but creamy goodness here! Psst, Gabe still eats these!
They are spectacular all by themselves or with your holiday dinner, dripping in silky gravy.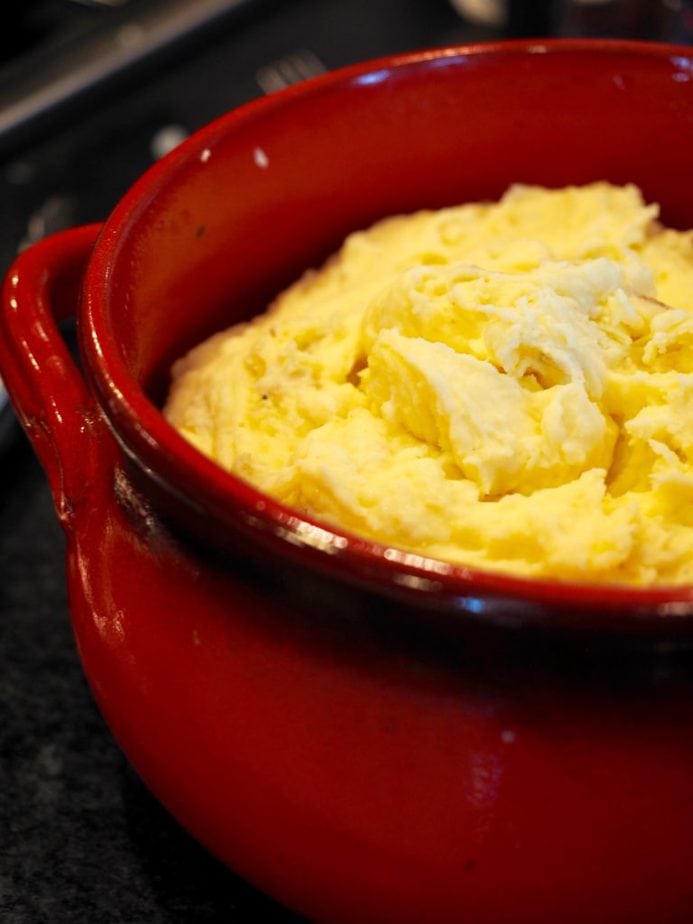 I really love Yukon Gold potatoes, they are already so very creamy and have a lovely yellow flesh. Wash them well, then mostly peel them, leaving on a little skin is okay, unless you don't like the rustic look, but why wouldn't you!? I've also used a combination of russet and red, Yukon and red, russet and gold!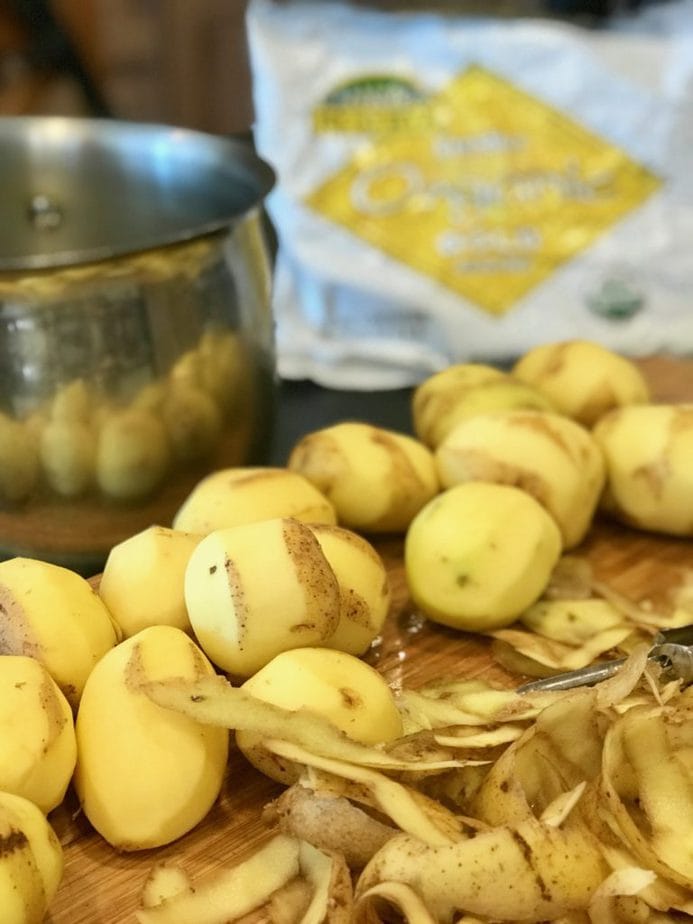 Fill a large stock pot full of cold water, about ⅔ of the way full. Cut the potatoes into similar sized pieces, roughly into thirds and then again in quarters. Toss them in the water.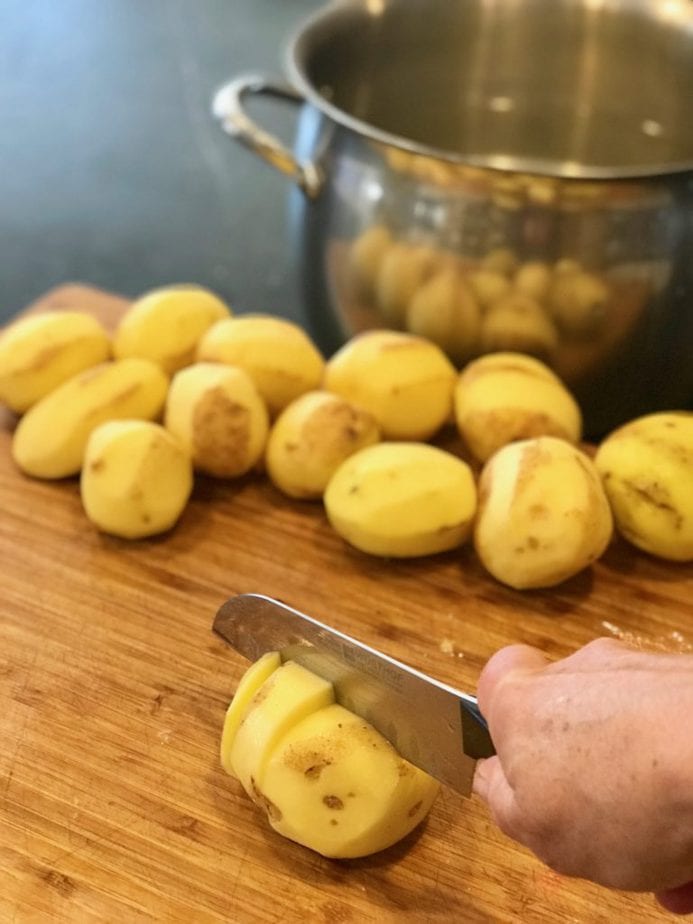 Slice ½ an onion and toss in the water along with the potatoes.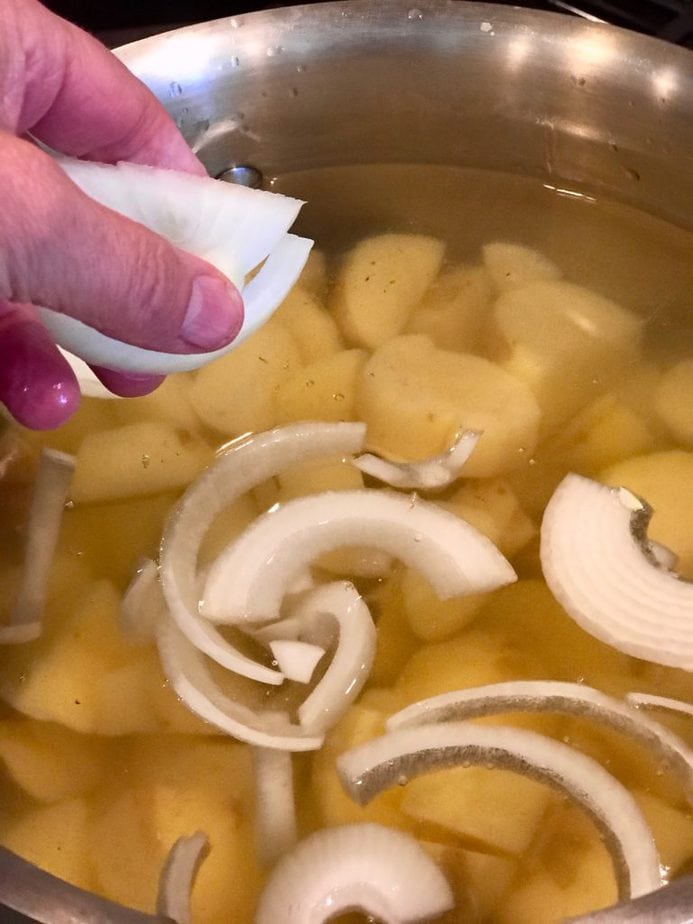 Smush your garlic, peel it and toss it into the pot with the potatoes and onions.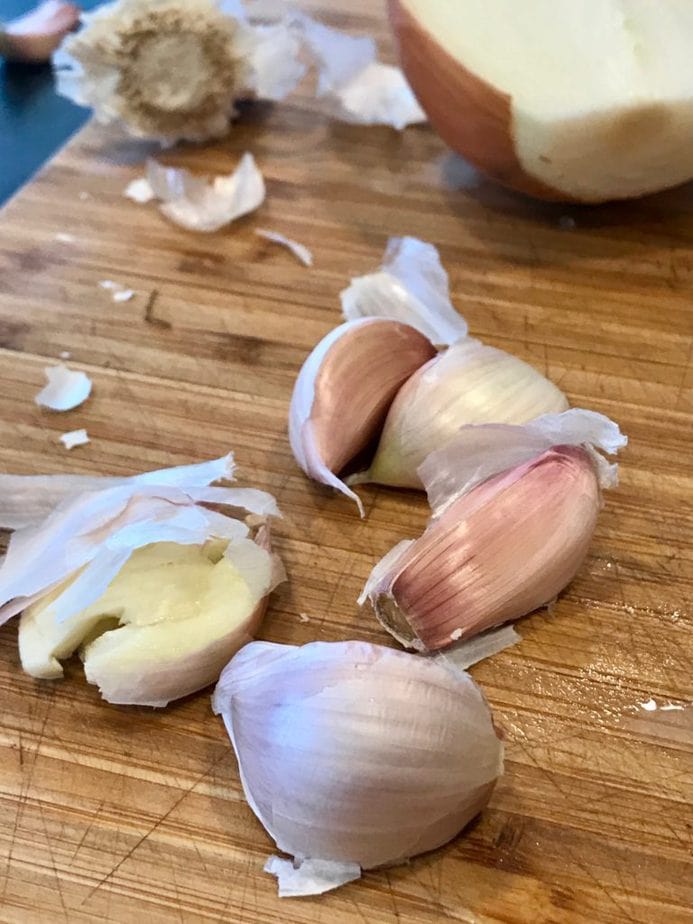 Now, add your bay leaf.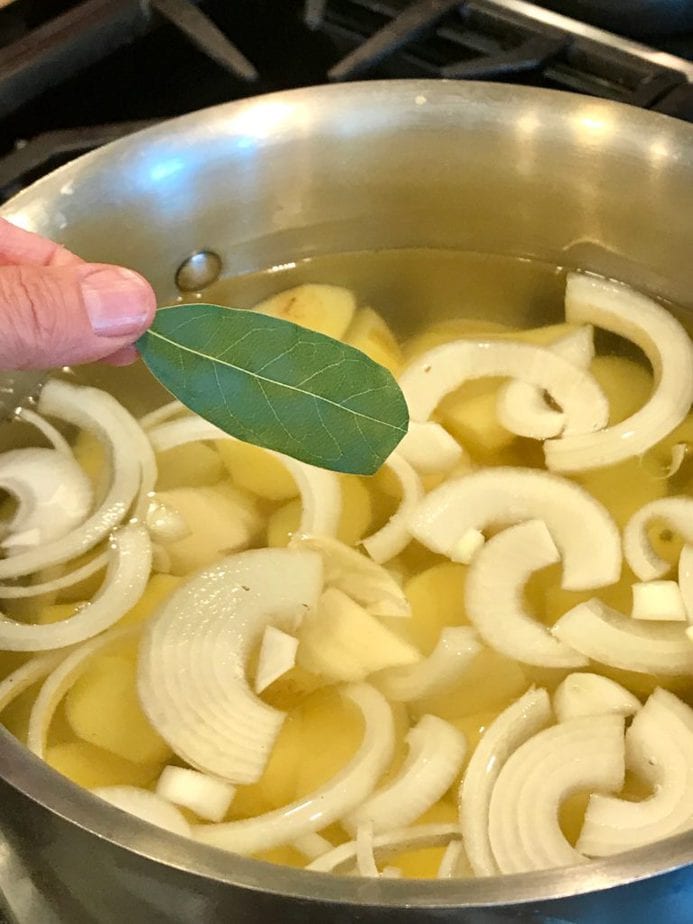 Dump in your sea salt…Redmond Real Kosher salt is my favorite, chock full of minerals!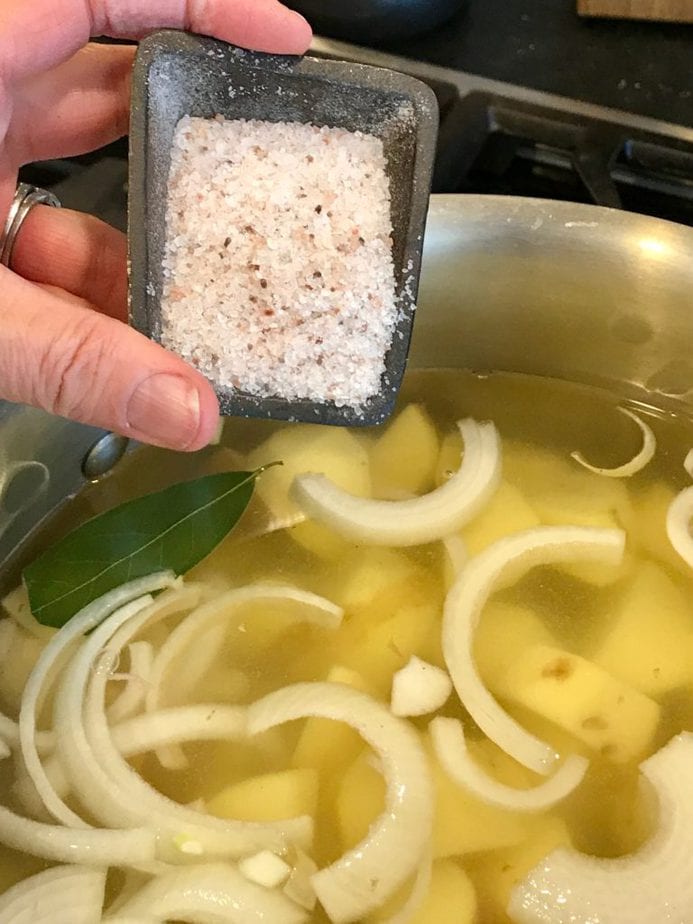 How to Roast Garlic!
Please, oh please do this step! Roasted garlic is beyond amazing! It mellows and deepens in flavor as it roasts, resulting in a creamy, healthy, smushy, oh-so-tasty clove of garlic. It enhances many dishes like my Slow Roasted Veggie Pasta or my Grandpa Frank's Secret Spaghetti Sauce.
Simply cut a little off the top to expose the cloves, drizzle a little olive oil over and sprinkle with a little sea salt. Pop in a 350° oven wrapped in foil or parchment paper. Bake for about 30-40 minutes until soft and golden.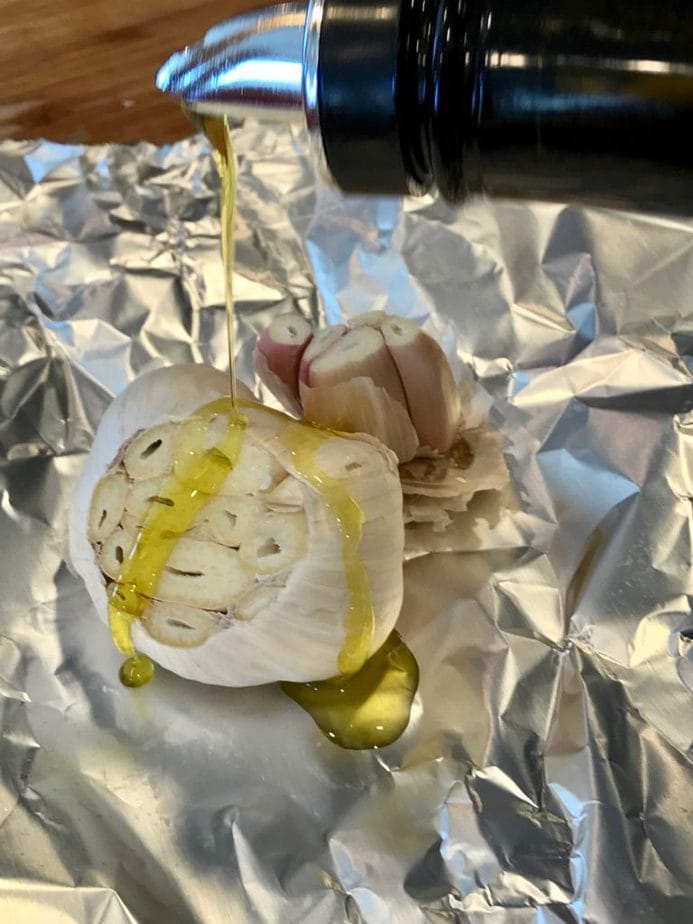 Finishing your Mashed Potatoes
Boil potatoes, herbs and onions until they are soft, like falling apart soft, about 30-40 minutes. Stick 'em with a fork or knife every now and then to check on them.
Drain using a colander, straining out the water.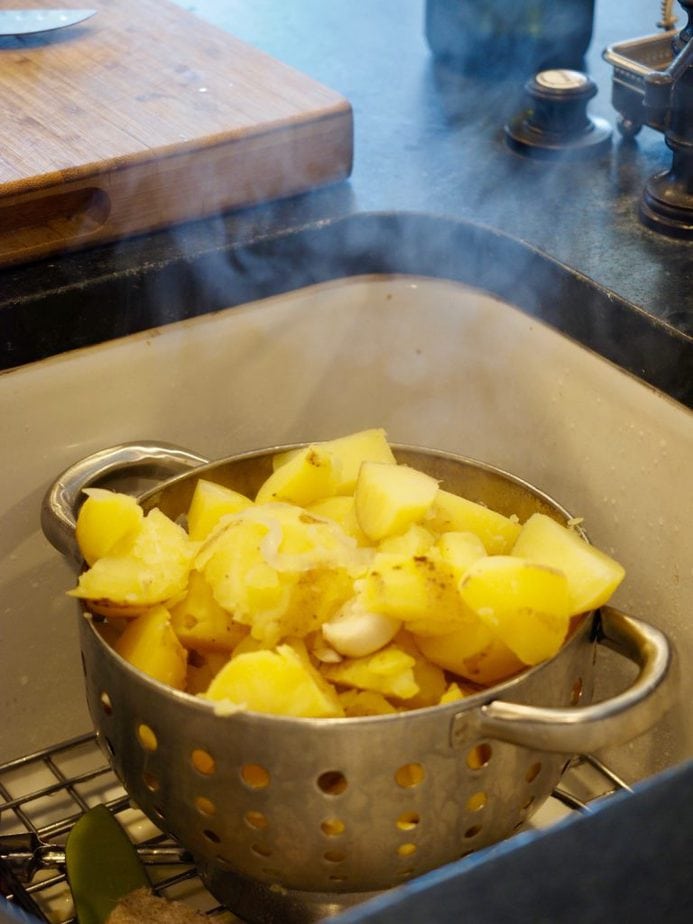 Discard the bay leaf, you don't want that mushed up in your mashers. The bay leaf has worked hard, let it rest — in the trash or compost.
Return the drained potatoes, onions and garlic to the pot, over very low heat, get out your favorite masher, and mash, mash, mash away!! Mash until the steaming reduces, then remove from heat.
Once they are nice and mashed, toss in your softened butter and cream cheese (I used Neufchatel cream cheese, a little lighter but no difference in taste). I've also used sour cream, greek yogurt and…drool alert, creme fraiche! Or you can leave out…see notes for lighter mashed potatoes below.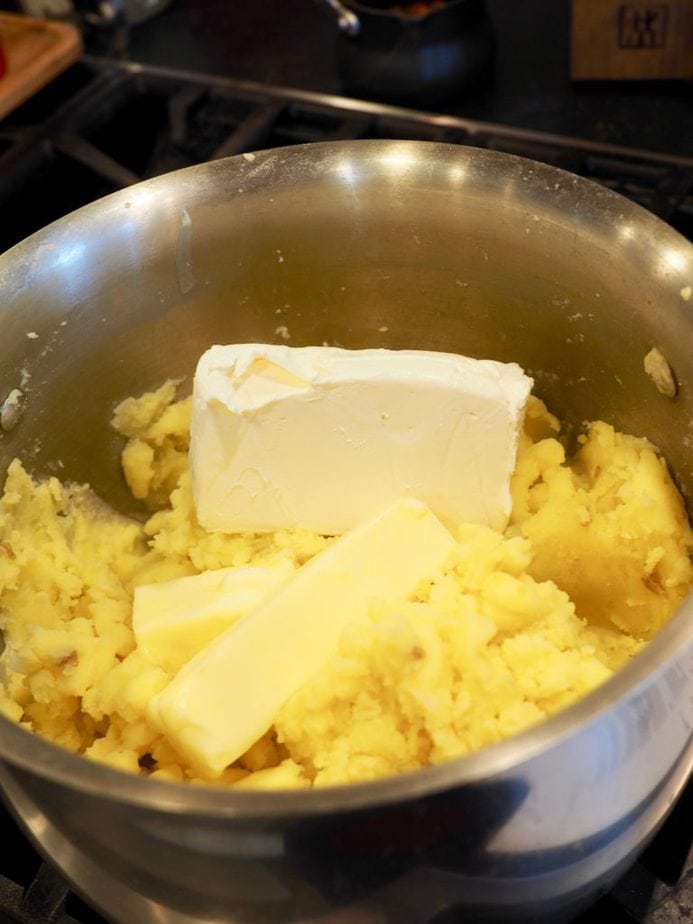 Pour in your half-and-half (quit counting the fat and calories, I know you are, it's a special occasion, make these babies taste out of this world). But in case you can't stop counting, here are some tips…
Making Mashed Potatoes Lighter
Reduce butter to 2/3 – 1/2 cup (1 stick) or omit and increase Greek yogurt and milk
Omit cream cheese, or use Neufchatel cheese
Use Greek yogurt in place of cream cheese
Replace 1/2 & 1/2 with whole milk or low-fat milk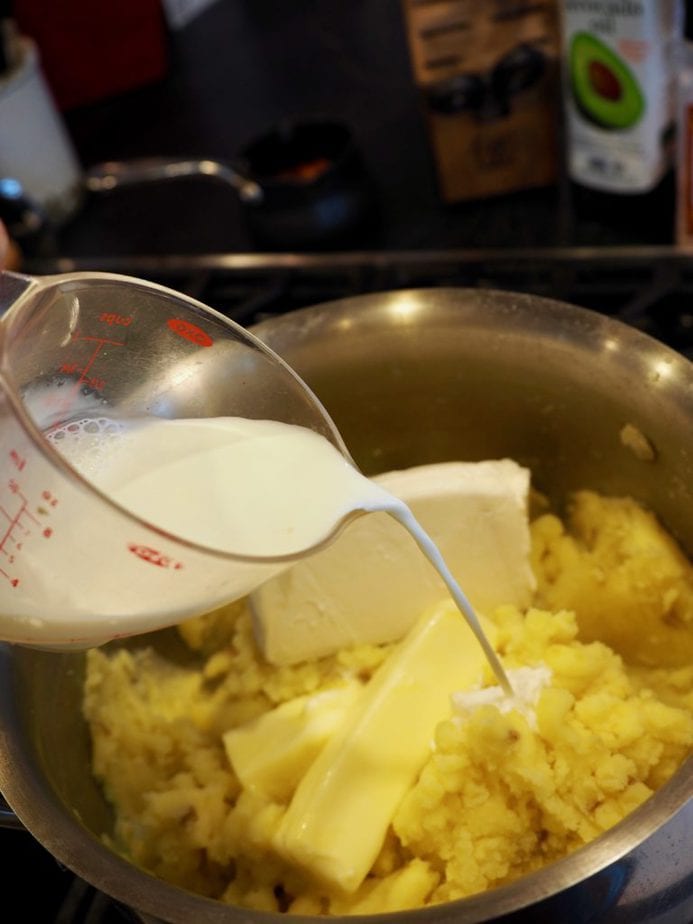 Mash, mash, mash it all up! My mom gave me this masher years ago, still tried and true.
Add your seasoning salt, make sure it doesn't have MSG or any additives in it!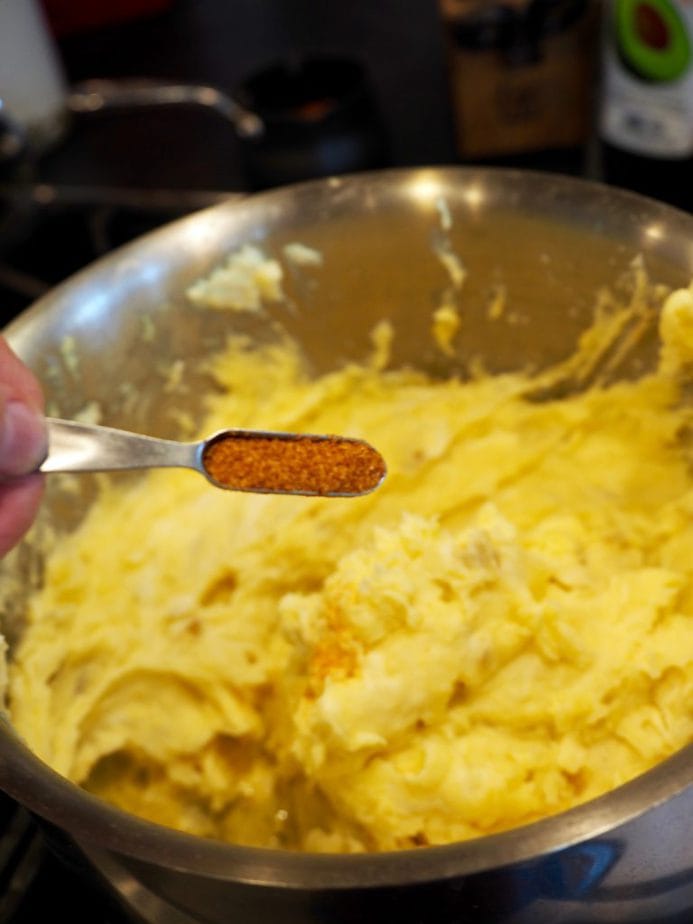 Finally, add your black pepper (yes, I know shocking, I actually added some this time!) And your roasted garlic!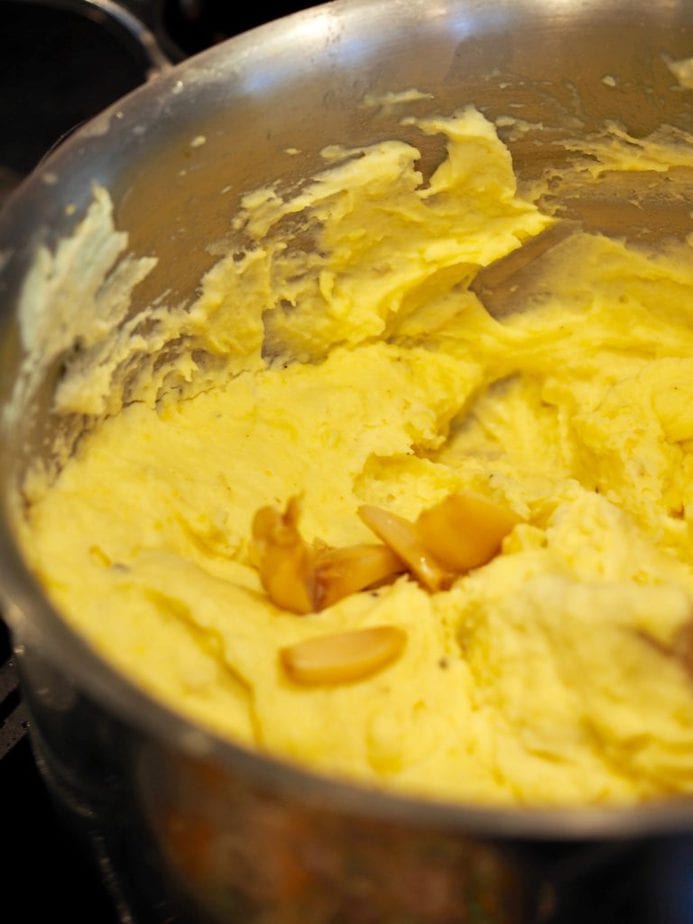 Gently mash one more time, adjust seasonings, if needed.
Spoon into a buttered or sprayed medium baking dish or bowl. If serving right away, top with a few pats of butter and sprinkle with a little regular or smoked paprika, pop back in a 350° oven, covered until butter is melted and they are warmed back through.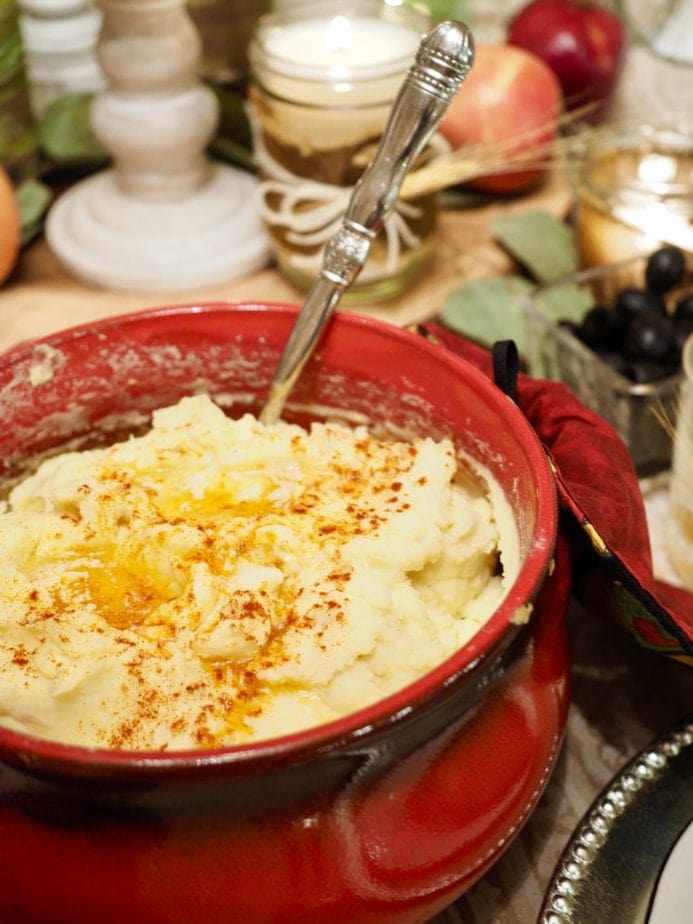 Serve smothered with the BEST Giblet Turkey Gravy and my Simple Tender, Tasty Turkey!
These Mashed Potatoes Go Great with: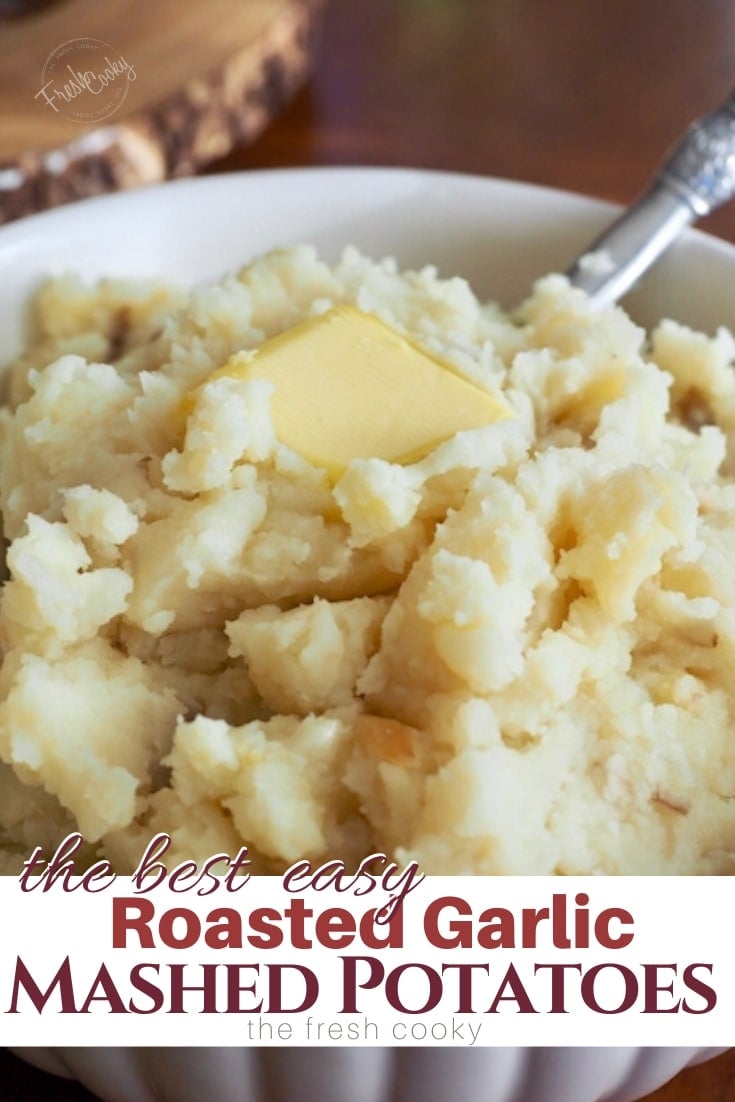 More Fabulous Dishes involving Potatoes
Like this recipe?
Don't forget to give it a ⭐️⭐️⭐️⭐️⭐️ star rating and comment below the recipe!
GET FREE RECIPES FROM THE FRESH COOKY DELIVERED RIGHT TO YOUR INBOX!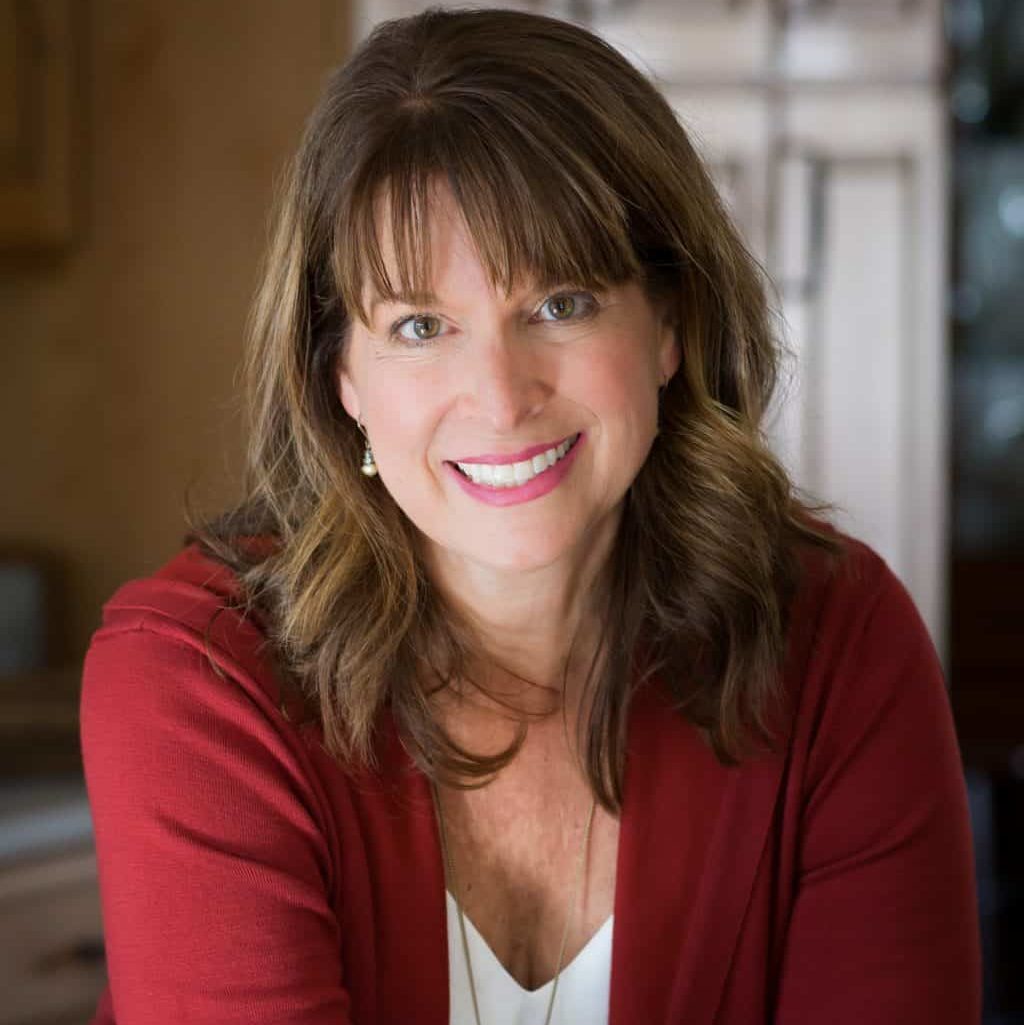 About Kathleen Pope
Recipe Innovator | Food Photographer | Food Writer
Hi, I'm Kathleen Pope. Here at The Fresh Cooky you will find easy, mostly from-scratch, trusted recipes for all occasions. From speedy dinners to tasty desserts, with easy step-by-step instructions. I am here to help teach you how to make mouthwatering recipes without spending hours in the kitchen. Read more about Kathleen here.