With a thick streusel crumb topping a fluffy, buttery cake, this Starbucks Copycat Coffee Cake will get them out of bed in the morning! It's a delicious, easy classic crumb coffee cake recipe.
STARBUCKS COPYCAT COFFEE CAKE
JOIN THE FRESH COOKY ON PINTEREST
Occasionally I will surprise my family with a sweet treat on a school morning. However, my high schooler is up and at 'em by 5:30 a.m. and while I am the ever devoted mother, let's face facts friends (ooh, an alliteration), I am not getting up before dawn to make a coffee cake!!!
Which is why I love this recipe, it's inspired by Picky Palate's Copycat Starbucks Cake recipe, with my usual tweaks and tips.
TIPS FOR THE PERFECT TENDER CRUMB COFFEE CAKE
Make it the afternoon or evening beforehand.
Split the recipe into two 8×8 pans, unless you have a larger family or planning for a brunch; our family of four cannot consume a 9×13 coffee cake, at least we shouldn't!
Slightly (very slightly) under-bake it, then if you can get it in the oven for 10-15 minutes before your kids wake up to warm it, it will "finish" the baking and not dry it out.
Freeze the second one after cooling, wrap tightly in foil. Now you can be a hero another early morning, or a lazy Saturday or give to a friend who needs a little pick-me-up.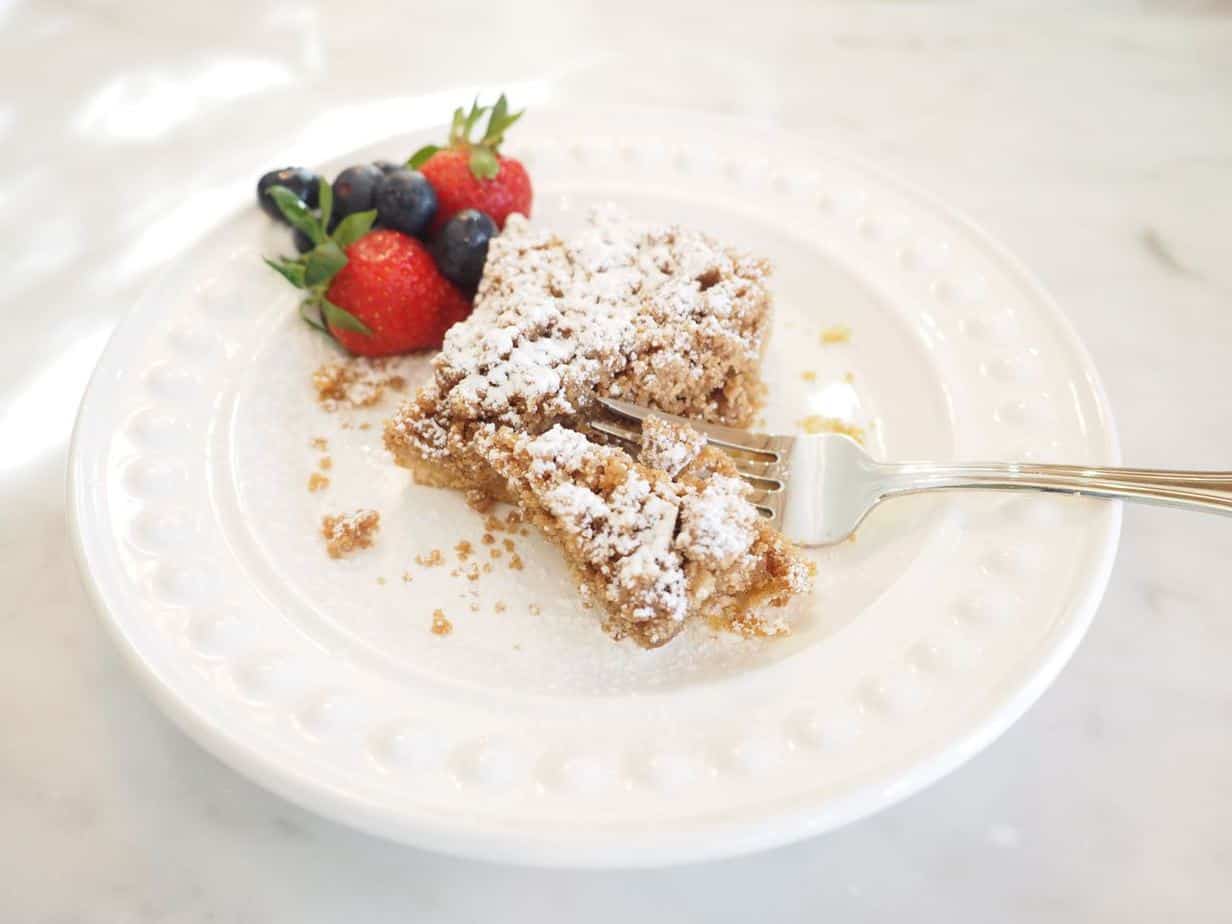 Here are my ingredients, you may certainly use any regular yellow or vanilla cake mix, I like this natural one from Trader Joe's, plus I swap out the oil for melted butter!
GET FREE RECIPES FROM THE FRESH COOKY DELIVERED RIGHT TO YOUR INBOX!
TIP | Did you know you can do that with any boxed cake and brownie recipe, cup-for-cup, just melt your butter and let it cool, so you don't accidentally "cook" your eggs when mixing in the butter.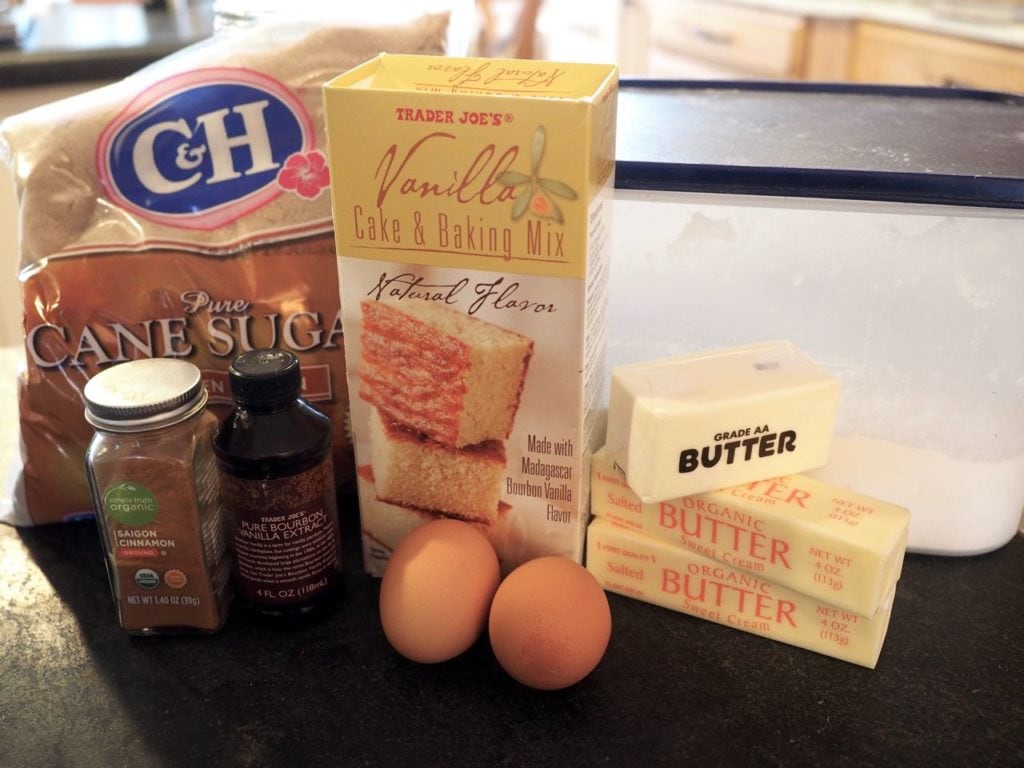 How to Bake a Tender Coffee Cake
Preheat your oven to 350º. Crack eggs into a 2 qt mixing bowl (or stand mixer) and add milk (or water) and give them a whirl to mix. Remember that all ovens are not equal, if you know your oven runs hotter, turn the temp down to 325°. I keep a trusty old fashioned thermometer in my oven just to be sure.
TIP | Did you know you can also swap out your water for milk in your cake mixes? Milk will make it moister and less crumbly. Slowly add in your cooled butter while mixing.
Add cake mix and blend for the recommended amount of time on the box, generally about 2 minutes at medium-high speed. Look at those beautiful little flecks of vanilla bean!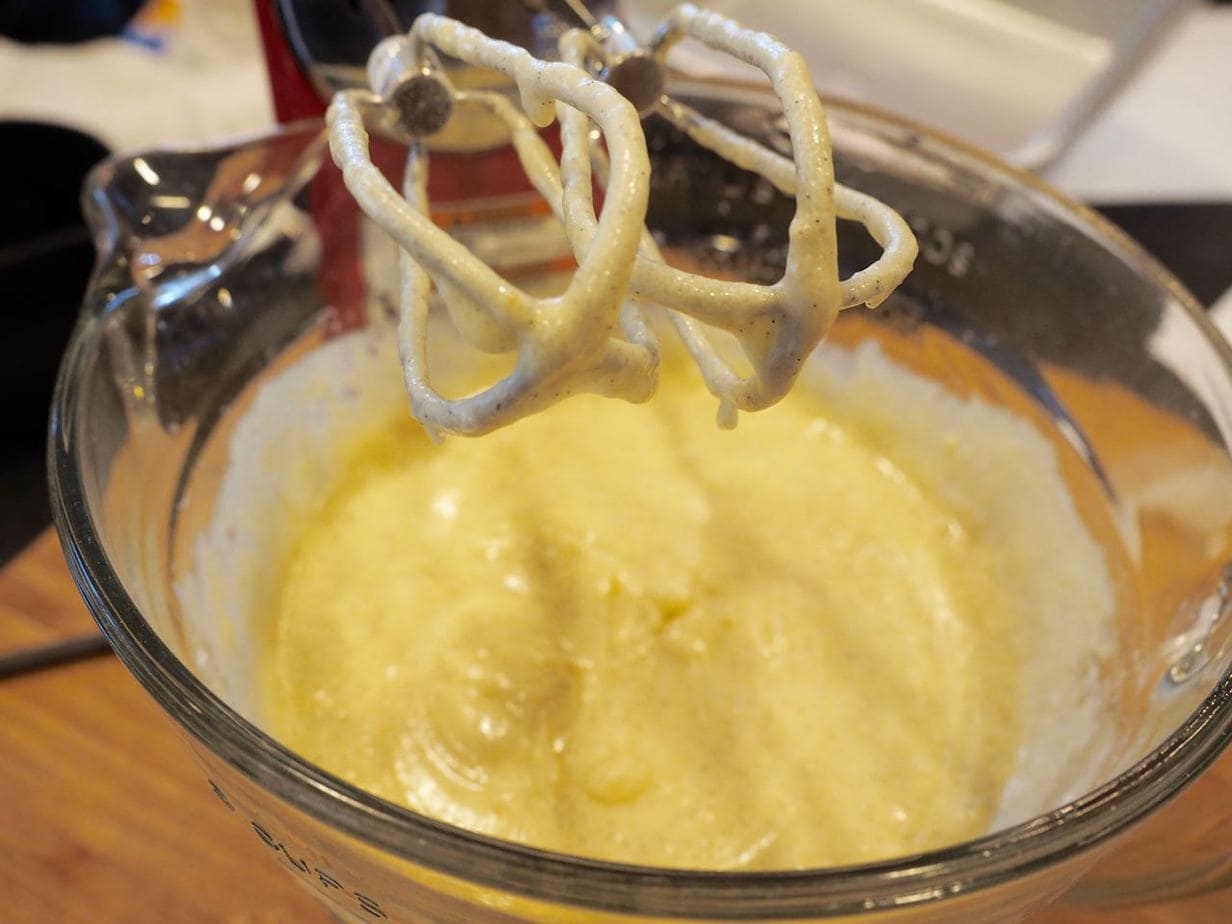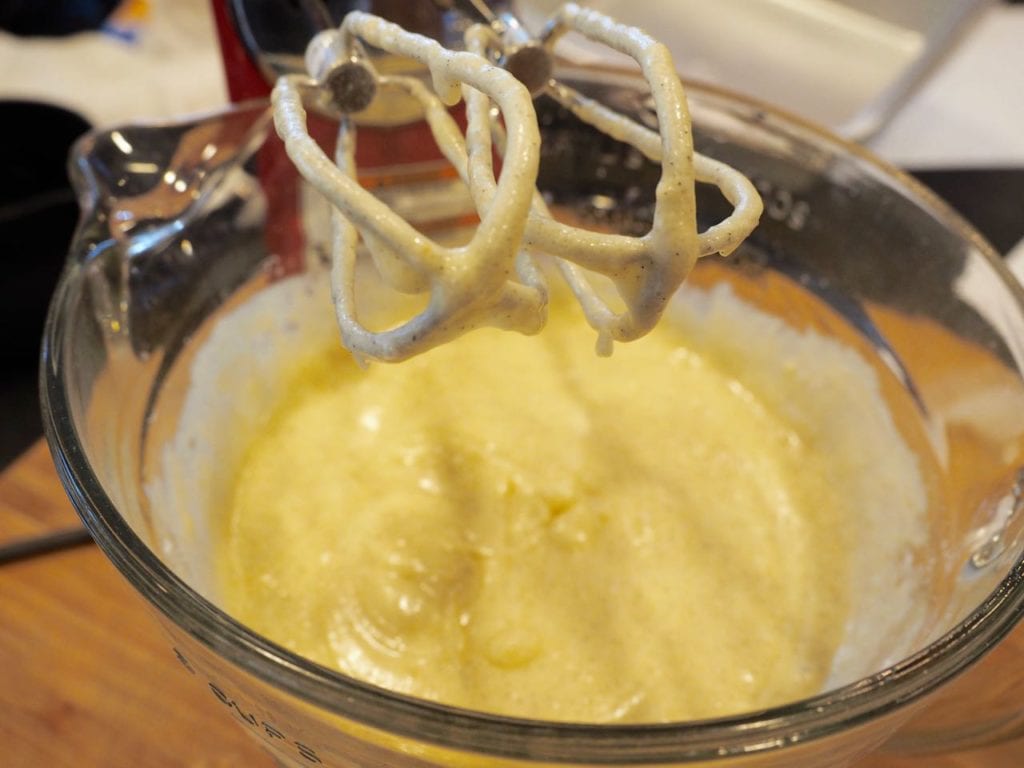 Pour half of the batter into each of your greased 8×8* pans. To make it easier I thought I'd be sassy and break out my hand-held mixer (I really was just being lazy, avoiding hauling out "Big Bertha"), so I could use my large measuring mixing bowl; that way I could see the volume and easily split the batter in half. See I had a reason…but I digress…
It measured about 4 cups of batter, pour 2 cups into each pan. Eyeballing works just fine too.
*Note: You may also make this using a 9×13 pan, coating the pan with non-stick spray. Prepare as directed.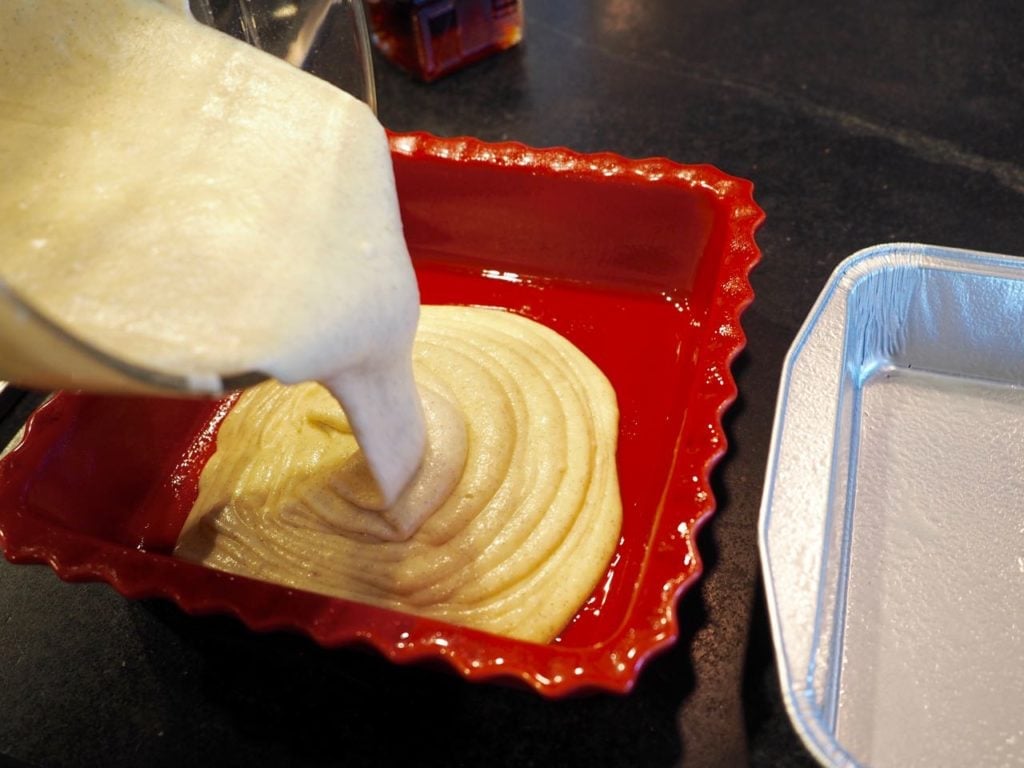 Bake at 350° for 12-18 minutes or until the center is wiggly, semi-set, but not soupy, you don't want the cake completely baked as you'll put it back in the oven. A few minutes longer if you opted for the 9×13 pan. Keep in mind you may need to check it sooner or keep it in longer, I bake at mile high altitude and sometimes you need to adjust your times up or down.
Making the Mile High Crumb Topping
Cut the cold butter into cubes (I slice the cube lengthwise down the middle then chop the cube into tablespoon sized chunks).
PRO TIP | You can also grate your cold butter using a box grater, then pop in freezer until ready to use.
Add your all-purpose flour, packed brown sugar, cinnamon and vanilla into a large bowl.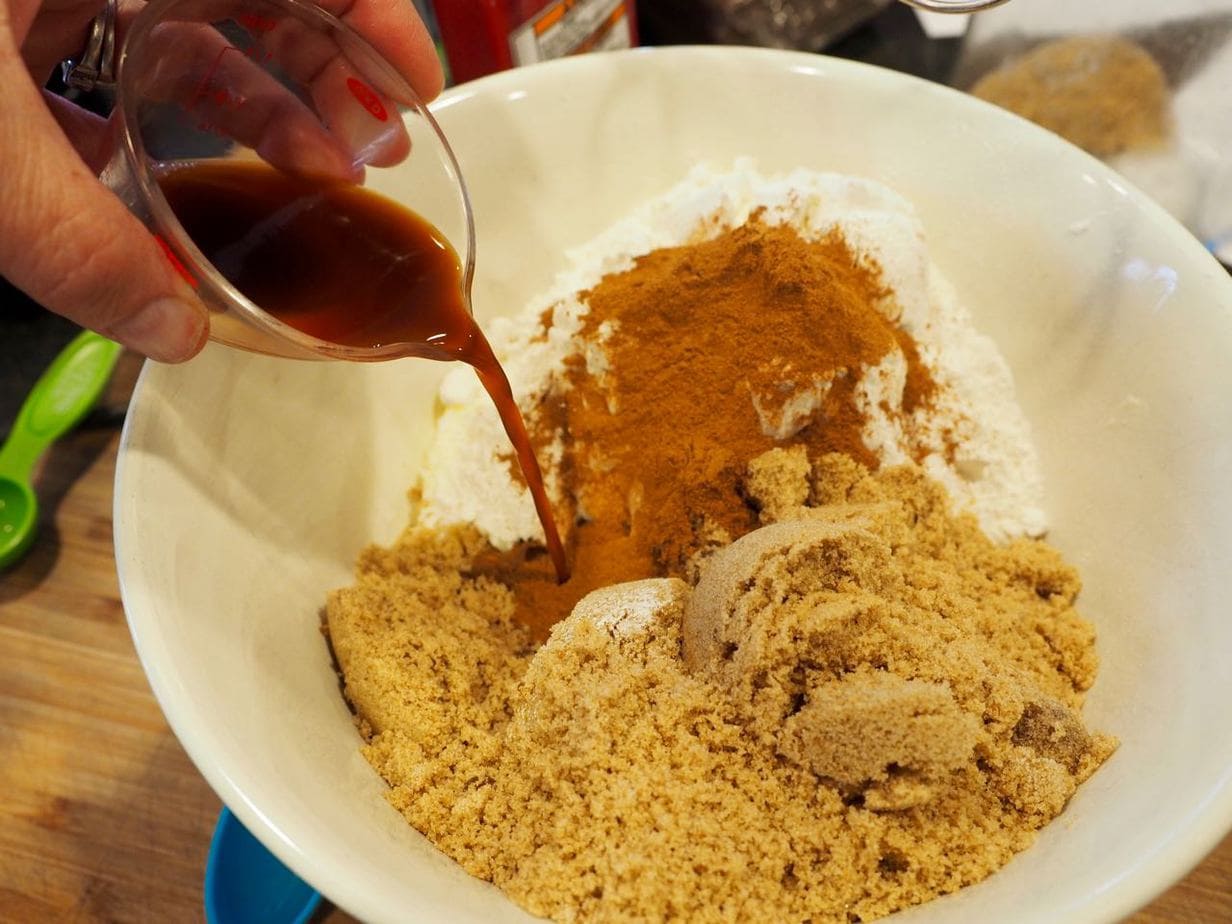 I wouldn't recommend using a handheld for this part (like I did), my mixer sassiness got me into trouble as it was not able to get the crumb ingredients to the desired consistency. Plus I was making a HUGE mess, spewing flour, sugar and buttery crumbs all over me and my counter, believe me this topping is so good you want it on the cake, not the counter!
JOIN THE FRESH COOKY ON PINTEREST
Break out your "Big Bertha" and use it, you'll be happy you did, plus it must count as exercise right? Lift it up and down elbows tight against your sides, 10 reps should do it. I tried. Don't forget a nice little pinch of sea salt.
Mix it up well, the below picture is after my first super messy attempt with my hand-held mixer, the mixture is a dry crumbly mess with big lumps of butter. Not what I was going for. Keep reading, I save the day…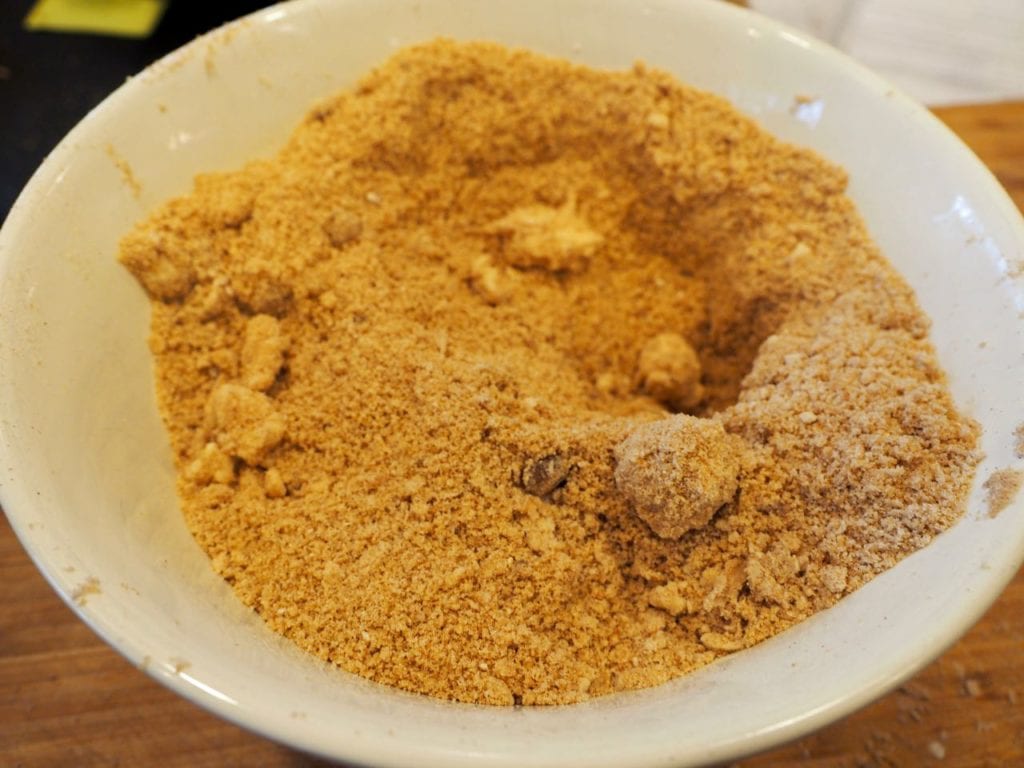 …so much better after my KitchenAid did all the work for me while I cleaned up my crumby counters. Not that my counters are crumby in the yucky sense, but had crumbs, oh you know what I'm talking about.
You want it to stick together when you grab a handful, like this! Much better and less mess too!
As soon as your cakes are partially done, remove them from the oven and grabbing handfuls of the crumb topping, gently break apart and spread evenly onto the hot cakes. The crumbs will "sink" into the cake slightly.
Return to the oven immediately and bake an additional 10-15 minutes, under-baking them slightly (around 10-12 minutes) if you want to reheat them in the oven when ready to serve.
Let cool fully on a cooling rack, then cover with foil for easy reheating the next day and freeze the second one for later.
Dust with powdered sugar just prior to serving. Yummy!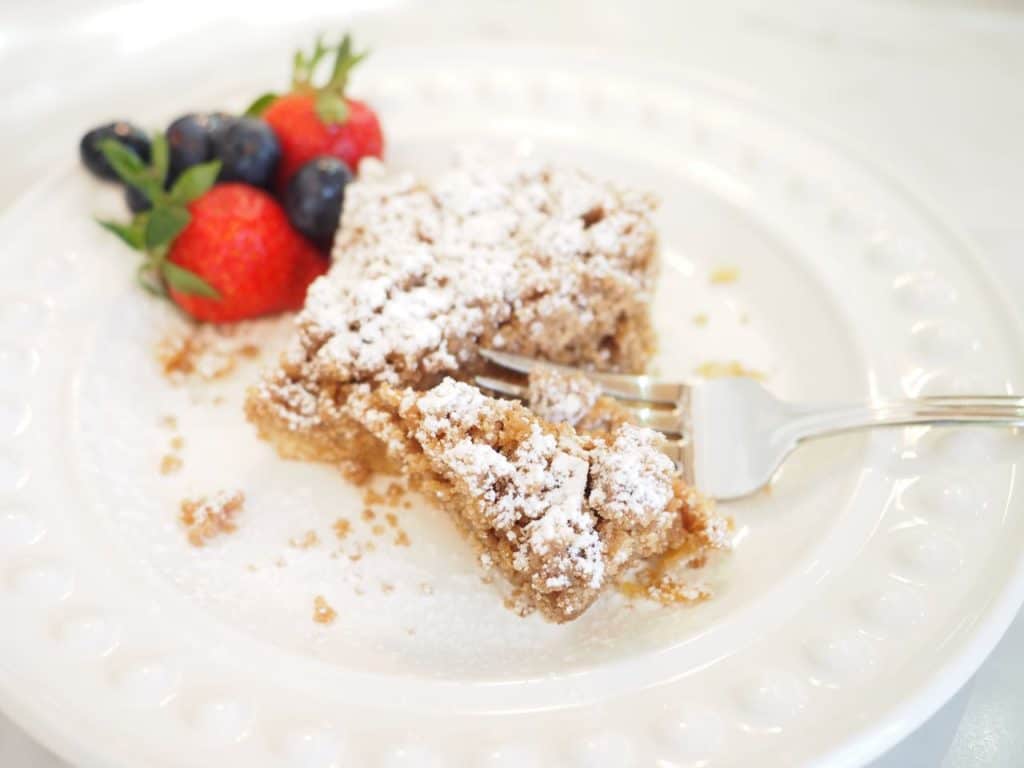 Try these other similar breakfast and brunch recipes:
Sharing on my favorite link parties this week Full Plate Thursday | Weekend Potluck | Meal Plan Monday
Enjoy this recipe Starbucks Copycat Coffee Cake? Please leave a comment and rate the recipe in the recipe card.
Hashtag any recipes you make from The Fresh Cooky #thefreshcooky or tag me @thefreshcooky on Instagram to be featured on our stories!
Starbucks Copycat Coffee Cake
A delightfully simple, moist, make-ahead coffee cake bursting with flavor and loads of crumb! Inspired by Starbucks Coffee Cake
Ingredients
BASE
1 box Yellow or Vanilla cake mix
(plus ingredients for cake mix; eggs, butter/oil and water/milk)
CRUMB TOPPING
2 sticks cold, salted butter, cut into cubes
2 ¼ cups all purpose flour (I use organic)
1 ½ Tablespoons cinnamon
1 ¾ cups brown sugar, packed
1 ½ Tablespoons vanilla
Pinch of salt
Powdered sugar (optional, for dusting)
Instructions
Preheat oven to 350° and spray two 8x8 pans with non-stick spray or one 9x13 pan.
Prepare cake mix in a large mixing bowl according to box instructions. It's helpful if the bowl has measurements if you plan on splitting the batter. If you are using butter in place of oil, make sure you have cooled the butter slightly to avoid "cooking" your eggs.
Mix 2 minutes on medium-high, scraping down sides of bowl once. Pour batter into prepared pan(s). Bake at 350 for 12-18 minutes, until center is wiggly, barely set, not soupy.
Crumb Topping
In a large bowl of a mixer with a paddle attachment, combine butter, flour, brown sugar, vanilla and salt and mix until butter incorporated and mixture is uniform without large chunks of butter.
Once cakes are finished with initial baking, remove and immediately crumble the topping over the hot cake(s), spreading evenly.
Return to the oven and continue baking an additional 10-15 minutes. If you will be freezing or serving later, pull out on the earlier side (about 10 minutes) and reheat at 300 for 10-15 minutes when ready to serve.
Cut into squares and dust with powdered sugar. Cool completely and wrap well if freezing. To reheat, cover with foil and place in 275° oven for 20-30 minutes. Removing foil for last 5-10 minutes.
Recommended Products
As an Amazon Associate and member of other affiliate programs, I earn from qualifying purchases.
Nutrition Information:
Yield:

18
Serving Size:

1
Amount Per Serving:
Calories:

354
Total Fat:

11g
Saturated Fat:

7g
Trans Fat:

0g
Unsaturated Fat:

3g
Cholesterol:

27mg
Sodium:

306mg
Carbohydrates:

60g
Fiber:

1g
Sugar:

37g
Protein:

3g
The nutritional information is estimated and may not be entirely accurate.

LOVE WHOLESOME DELICIOUS RECIPES? COME FOLLOW ALONG!
Share a picture and tag it #TheFreshCooky so we can see it.
GET FREE RECIPES FROM THE FRESH COOKY DELIVERED RIGHT TO YOUR INBOX!