Easy Iced Peach Green Tea Lemonade Recipe (Starbucks Copycat)
As an Amazon Associate, I earn from qualifying purchases. Please read my disclosure policy.
There is nothing more refreshing on a hot summer day than a tall glass of iced peach green tea lemonade. This copycat Starbucks version is a bit lighter, using all natural flavor, no sugar, fresh peach juice, light lemonade and Jade Citrus Mint Tea, a flavorful green tea.
Starbucks ingredients for this peach tea lemonade recipe; has to be green tea, and it should have notes of lemon verbena, spearmint, lemongrass with a lovely splash of lemonade.
If you are a fan of copycat Starbucks recipes, then you need to try my Starbucks Coffee Cake, this Passion tea lemonade or my Maple Pumpkin Scones. All of these recipes are spot on!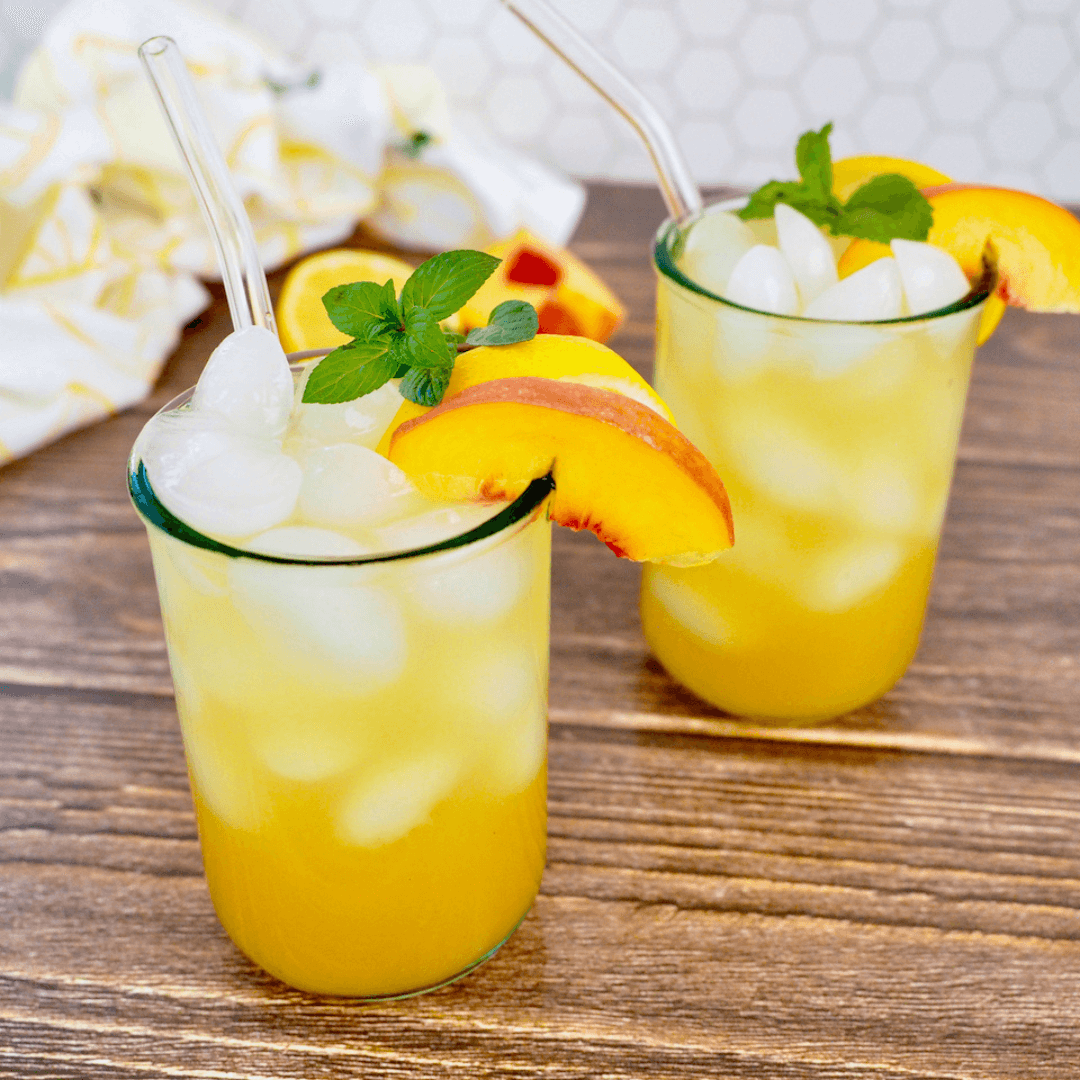 Why You Will Love this Recipe
Save $$ and Time | For about the price of one beverage at Starbucks you can purchase all of the ingredients to make gallons (okay, maybe not — but a lot) of this DIY Starbucks recipe.
Low Sugar | No added refined sugar and not much sugar from the peach juice.
EASY! Make up some of the green tea concentrate and you are ready to go!
If you use Teavana's Jade Citrus Mint tea you capture the essence of this tea in these green tea bags! I have it on good authority that this is the tea they use.
Key Ingredients
Ingredients, directions and nutritional information in the printable recipe card at the end of the post.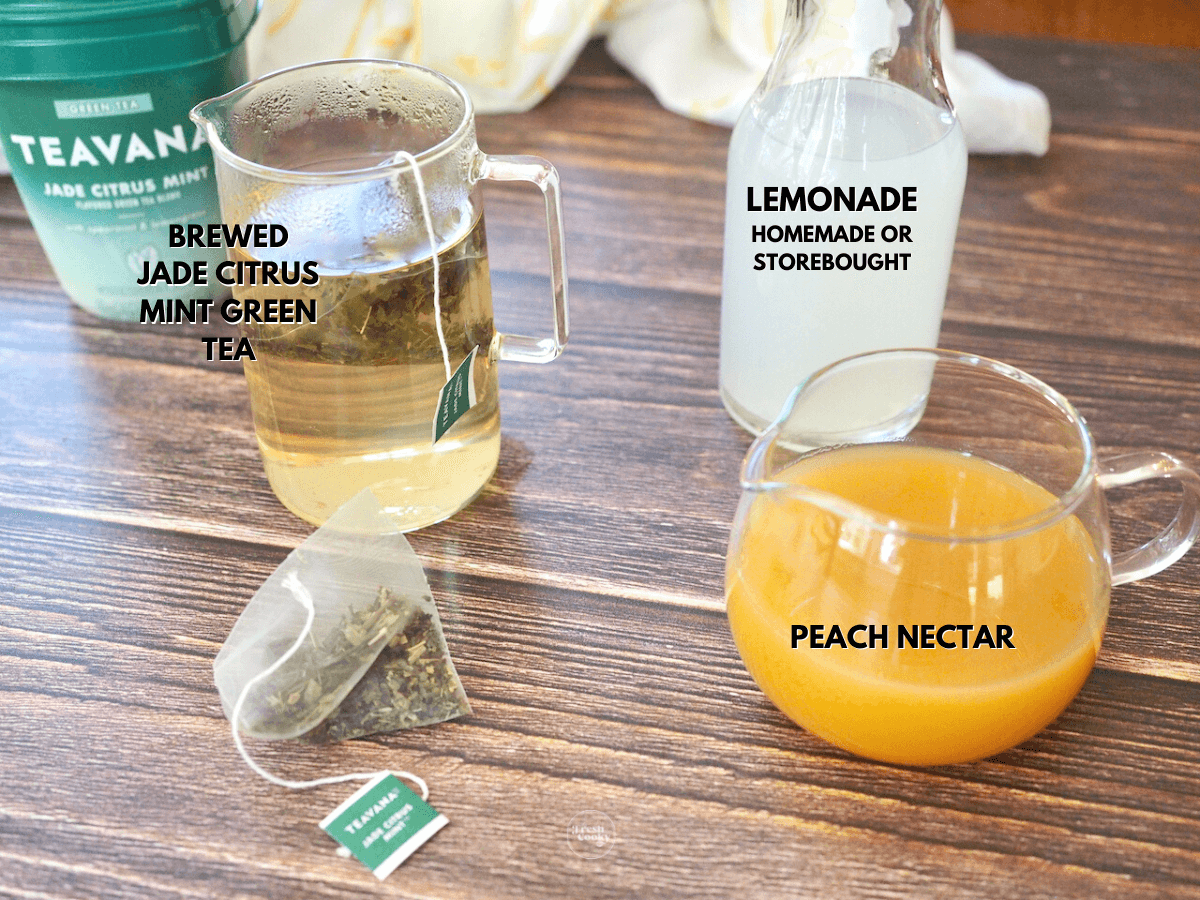 Teavana Jade Citrus Mint Tea | I'm not a huge fan of green tea, mainly because it quickly gets bitter. They key to brewing great green tea, is to just brew it a couple of minutes. Green tea does not have much caffeine, but it does have a little. Be sure to cool the hot tea before making this copycat recipe.
Real Peach Juice | I used all-natural peach nectar, no sugar added. Many recipes use peach syrup, or you can use fresh peaches, smashing them in the bottom of the glass. For the best peach flavor I suggest fresh peaches or peach juice.
Lemonade | I used Simply Lite Lemonade, made with Stevia so this becomes a skinnier low calorie drink too!
Ice Cubes | It wouldn't be an iced green tea recipe without ice cubes! About a cup of ice should do it.
Garnish | Garnish with a fresh slice of peach and a sprig of mint.
How to Make Starbucks Peach Green Tea
First you need to brew your tea. Start with 1/2 – 1 cup of water (I love using filtered water, I believe it does make a difference) and bring to a gentle simmer. Pour hot water over the tea bag and allow to steep 2-3 minutes, no longer. Remove tea bags, then place in fridge to cool.
Fresh Tips
Make up a bunch of the green tea concentrate ahead of time and keep in your fridge. That way you can make this popular drink likkity split!
Add a sprig or two of mint to your hot water while steeping the tea, for an even mintier tea.
In a large glass filled with ice, pour the green tea over ice, then the pour the lemonade and the peach juice.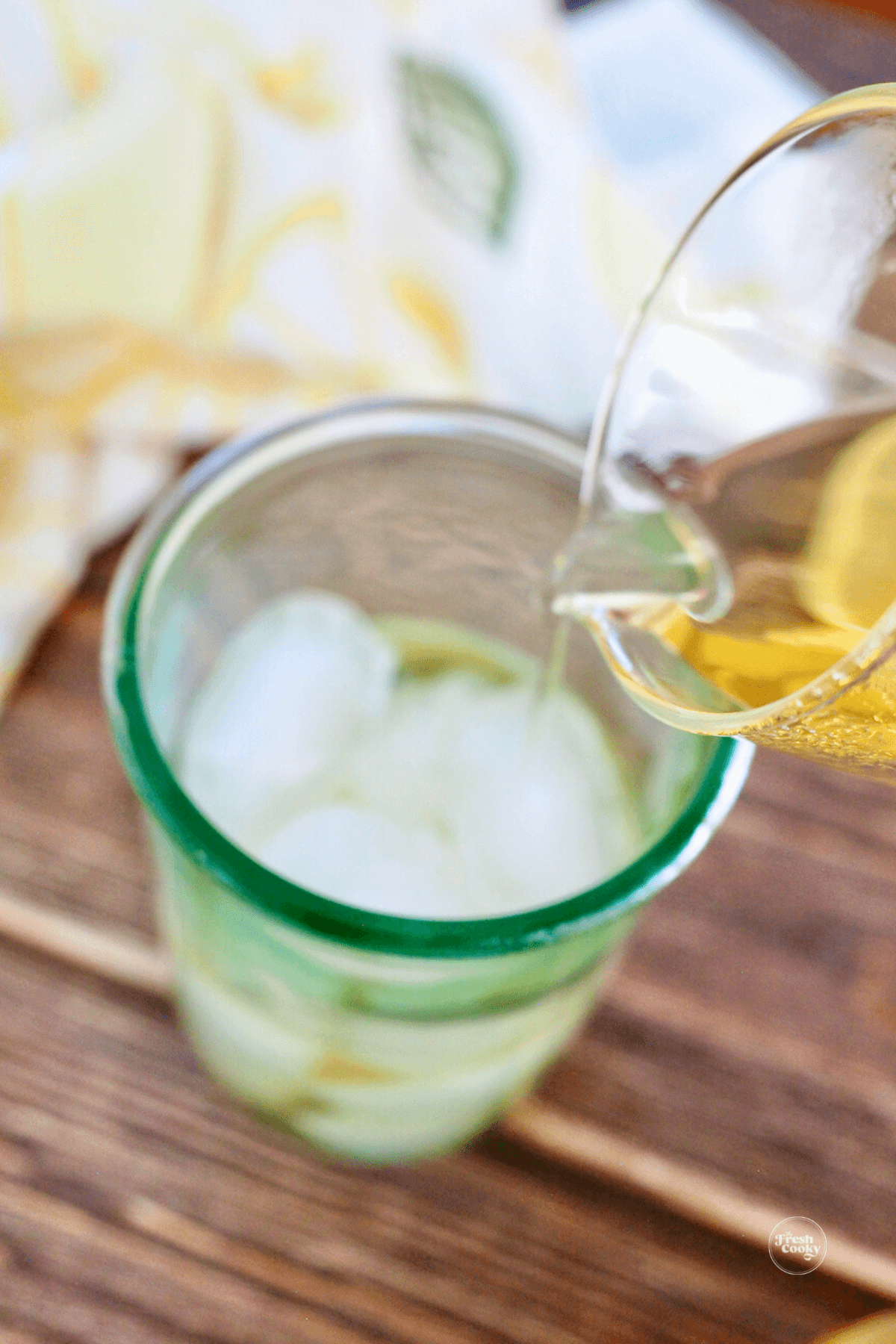 Give it all a stir and take a sip, adjust with a splash of peach juice or lemonade.
Serve with fresh peach and lemon slices, and a sprig of mint for a truly beautiful iced tea drink!
Variations & Substitutions
Real Peaches? Can't get your hands on peach juice, make your own! In the bottom of a glass, muddle or mash 2-3 sliced and peeled fresh peaches.
Use any green tea of your choosing! Just don't brew too long, look at the instructions on the package for how long to steep your green tea.
Out of Lemonade? Squeeze fresh lemon juice (about half a lemon) into the glass and either add a tablespoon of sugar and stir until dissolved. Or add a touch of simple syrup, try my homemade liquid cane sugar or you can even use maple syrup.
Shaken, not Stirred | If you prefer a bit frothier drink, then pour all of the ingredients in a large mason jar, cover and give it a few good shakes. You can do the same in a cocktail shaker, but the mason jar is less fussy and I am all about less fussy!
Make it Stronger | Instead of one tea bag add two when brewing.
Frequently Asked Questions
Did Starbucks discontinue iced peach green tea lemonade?
Starbucks did discontinue their peach and mango syrups, but have no fear, you can make this delicious drink with this easy homemade recipe
How much sugar is in Starbucks iced green tea peach?
According to the Starbucks website there is 75 calories in the Starbucks peach green tea lemonade recipe and 17.3 grams of sugar. My version has a lower sugar content by using a lighter lemonade – at 73 calories and 16 grams of sugar and is all natural.
Does Teavana Jade citrus mint tea have caffeine?
Yes! In a 16 ounce serving there is 40 mg of caffeine, when compared to a cup of coffee which has 150 mg. So it's lighter than most caffeinated drinks.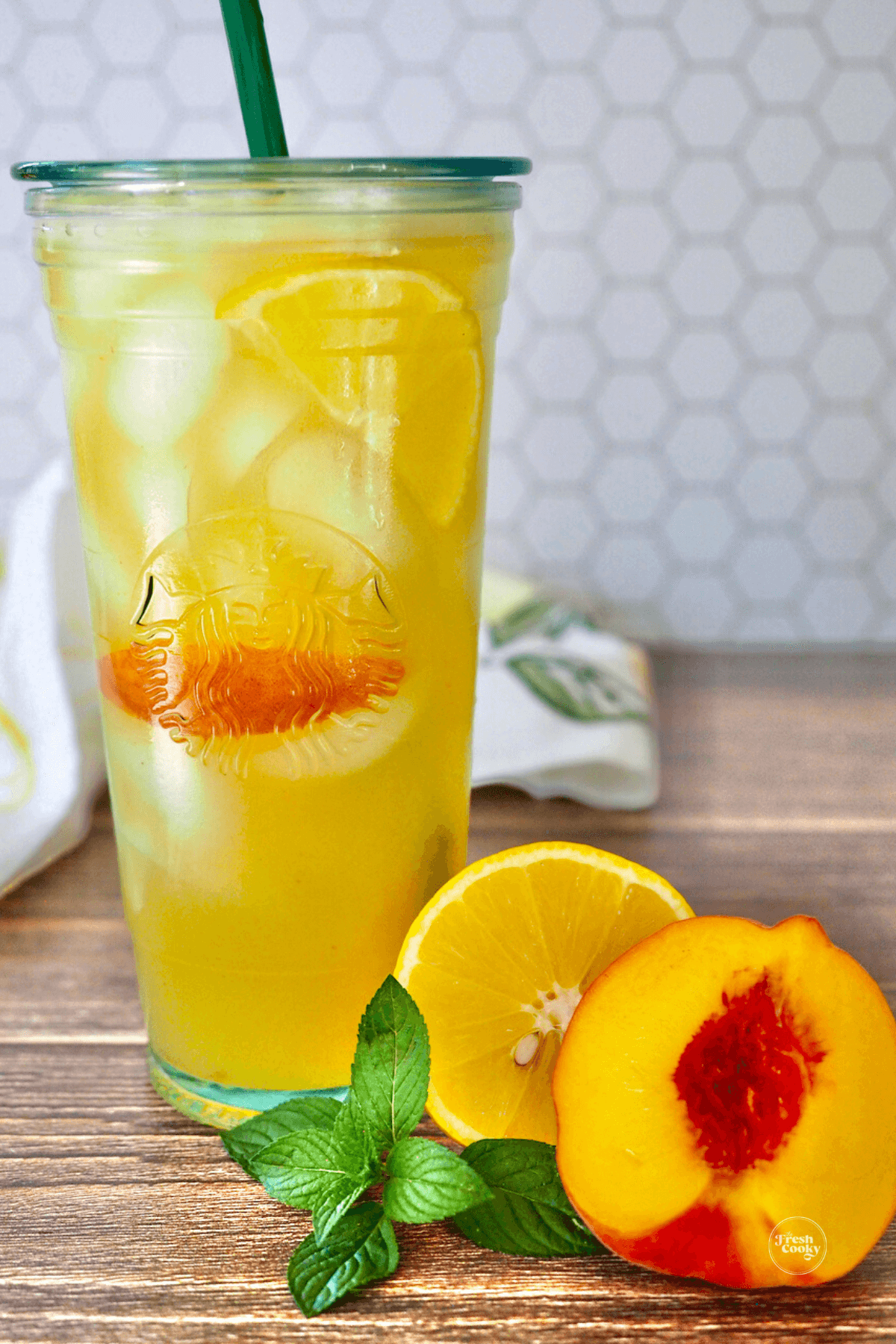 Recommended Equipment
Teavana Jade Citrus Mint Tea | Not really equipment is it, but it's kind of a must to make this delicious Starbucks drink.
Glasses | Use your favorite tall glasses and build the iced tea right in the glass! Or use a large mason jar, shake and pour. Love these recycled glasses.
Fun Straws | I love using straws with a pretty drink, I discovered these glass straws from World Market (only $5 for a set of 6).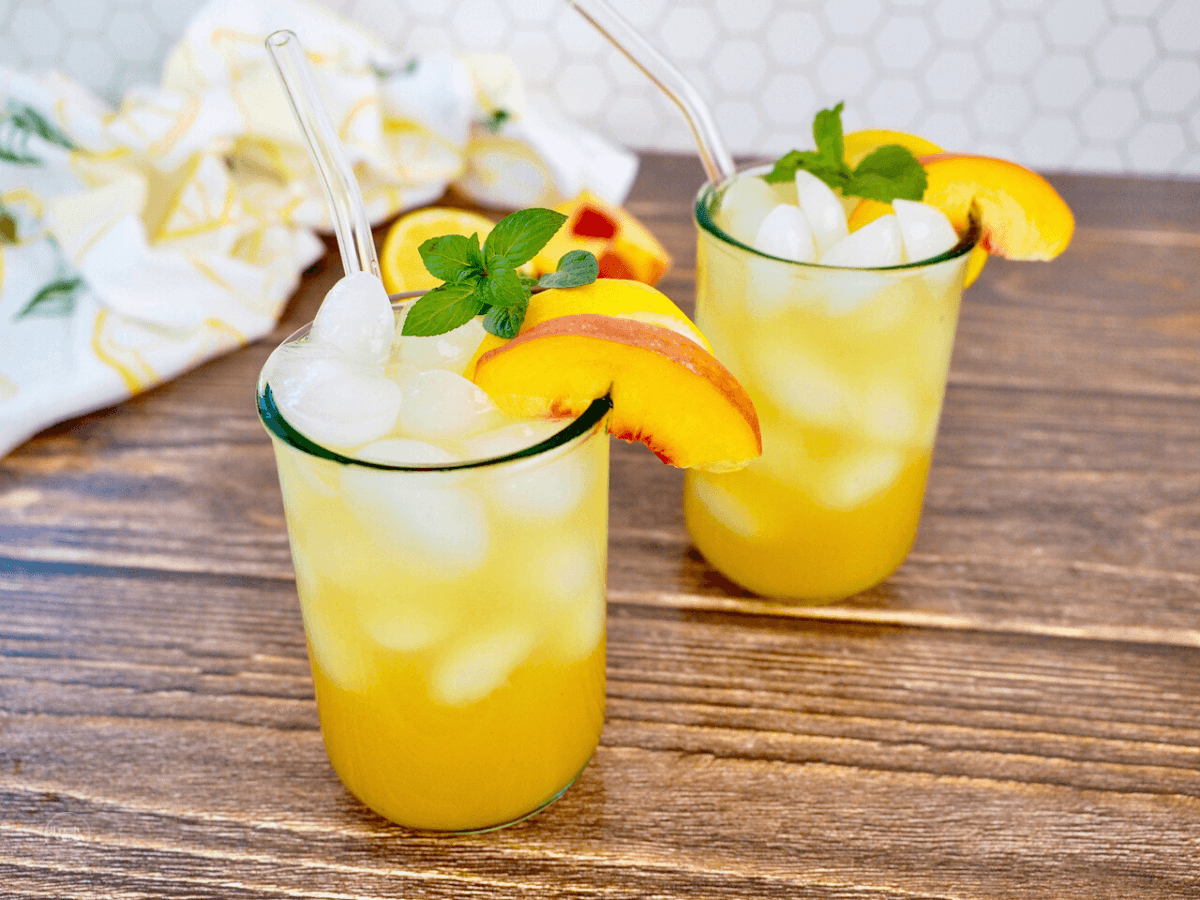 Do not steep your tea bag longer than 2-3 minutes in hot water. This will yield optimal green tea flavor without bitterness.
Iced Green Peach Tea by the Pitcher
Brew and chill 32-48 ounces of Jade Citrus Mint Tea (using 8-10 tea bags)
To a pitcher add, chilled green tea, 32 ounces of peach nectar, 32 ounces of lemonade
Stir well, pour over ice so as not to dilute. Garnish with fresh sliced peaches, mint and lemon slices.
I hope the next time you want a refreshing peach lemonade, that you will consider this iced tea lemonade to be a good idea. This easy recipe is great for tea lovers and Starbucks lemonade lovers alike.
More favorite summer drinks
My favorite summer desserts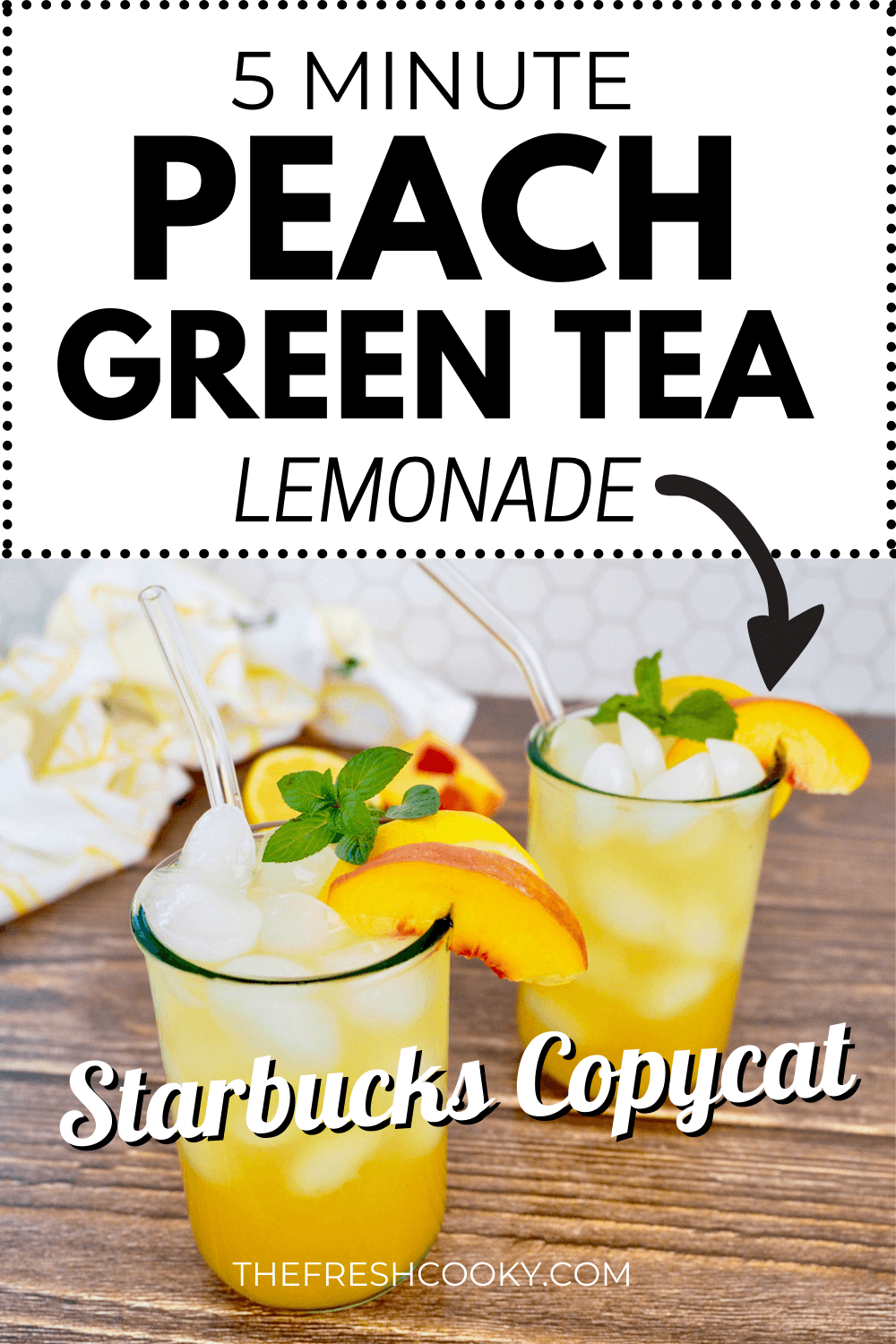 Well that is how to make Starbucks Peach Green Tea — I hope you love it, if you did, would you share your creation on Instagram, Facebook and Pinterest? And be sure to comment below!
Like this recipe?
Don't forget to give it a ⭐️⭐️⭐️⭐️⭐️ star rating and comment below the recipe!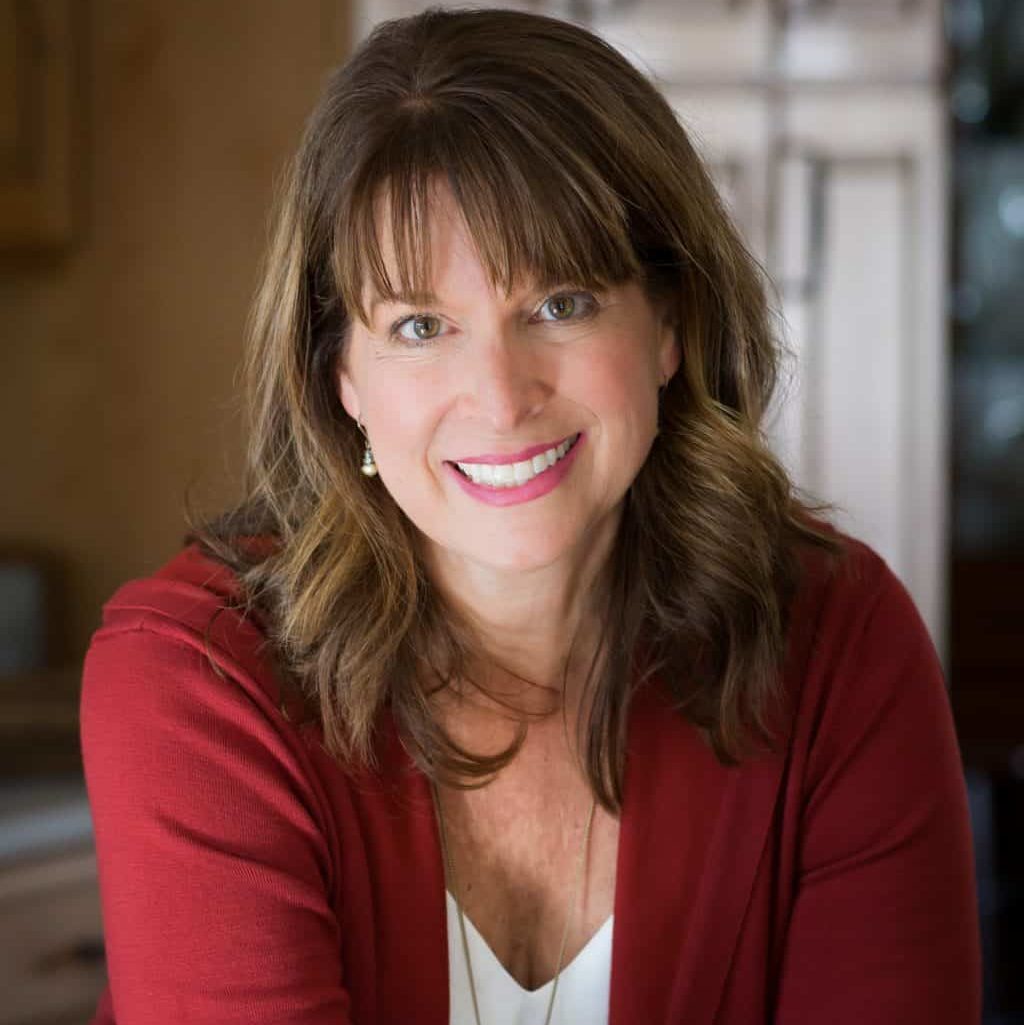 About Kathleen Pope
Recipe Innovator | Food Photographer | Food Writer
Hi, I'm Kathleen Pope. Here at The Fresh Cooky you will find easy, mostly from-scratch, trusted recipes for all occasions. From speedy dinners to tasty desserts, with easy step-by-step instructions. I am here to help teach you how to make mouthwatering recipes without spending hours in the kitchen. Read more about Kathleen here.