As an Amazon Associate, I earn from qualifying purchases. Please read my disclosure policy.
Filled with tangy lemon curd, fluffy cake mix, and yummy cream cheese, my lemon dump cake recipe is the ultimate! This is one of those easy dessert recipes that comes together with just 15-minutes of prep time! Also called lemon cream cheese dump cake.
Don't be fooled by the funny name — lemon dump cake is a delicious dessert! It's bright, fresh, and filled with citrus flavors.
Who loves lemon desserts? Between my no bake lemon ice box pie, lemon cranberry bars, and my old-fashioned lemon squares, there's plenty to choose from for my fellow citrus fruit lovers.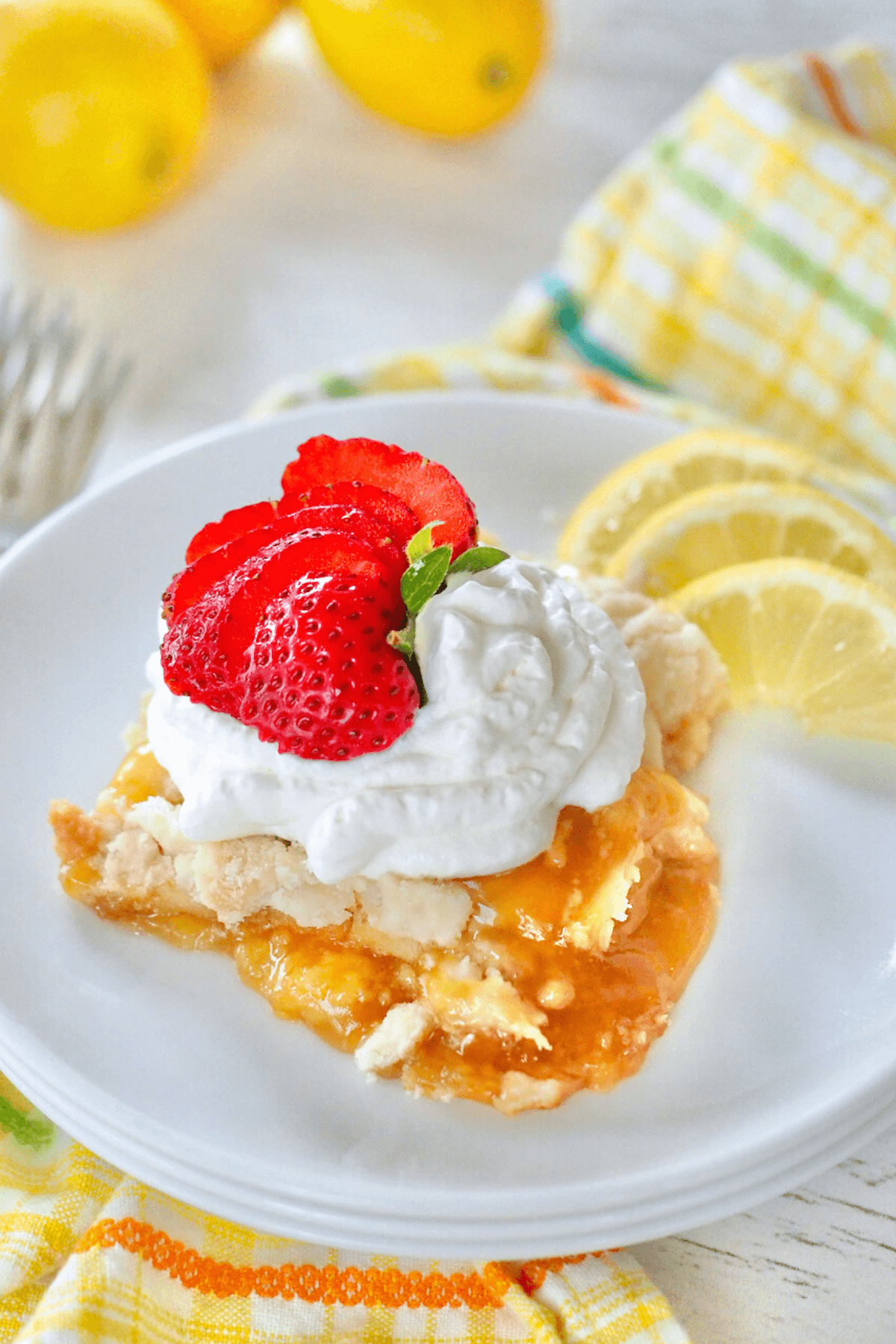 Welcome to #LemonWeek 2022 hosted by Lynn from
Fresh April Flours
and Rebecca from
Devour Dinner.
This week is sponsored by Rodelle and
La Tourangelle
. I may have received product samples from these sponsors to help in the creation of my recipes. All opinions are my own. Come join me and my fellow Lemon Week bloggers as we bring you recipes from appetizers to drinks to entrées and desserts!
Be sure to try all of my delicious and new lemon week recipes: Lemonade Bundt Cake, Pink Vodka Lemonade Cocktail, One Pot Lemon Garlic Pasta, and Italian Lemon Ricotta Cake.
This lemon cream cheese dump cake comes together with minimal ingredients and you can prepare it in a flash. It's simple, easy to prepare, and even easier to gobble up!
Why You Will Love This Lemon Dump Cake Recipe
You only need 7 ingredients: You likely already have most of the ingredients for this recipe on hand! The only thing you may not recognize is lemon curd. It's a dessert topping or spread that is oh-so-delicious. You can find it at the grocery store, or you can try your hand at homemade — recipe below.
It's light: I know that the last thing you want to do in the warmer months is eat something heavy. While you do need to bake this dish, once it's finished baking, it's light and fresh, thanks to the citrus flavors.
It's easy to make: This recipe is so easy to put together. The prep time is about 15 minutes, and then all that's left to do is to let it bake!
Simple Ingredients
For the full recipe and ingredients in the printable recipe card at the bottom of the post.
Lemon Curd | Choose a lemon curd that uses real ingredients, no high fructose corn syrup, my favorites are Trader Joe's, Bonne Mamon, and Tip Tree lemon curd.
Cream Cheese | Room temperature, nice and soft; I used full fat, but you can use Neufchatel or low-fat cream cheese as well.
Egg | Best at room temp, this provides lift and creaminess in the cream cheese layer
Lemon Zest | This simple ingredient adds pop, tang and zest! Use a microplane to easily zest.
Lemon juice | It wouldn't be lemon desserts week without lemon juice! Check out my favorite citrus juicer!
Vanilla Extract | Rodelle is sponsoring this post, but I would use it regardless, because it's superior!
Cake Mix | I used vanilla, but you can use white, yellow or even lemon cake mix
Butter | I used salted butter, if you use unsalted, add ⅛ teaspoon of salt to the cream cheese mixture. Make sure it's cold butter!
Butter Tip
Slice COLD BUTTER using a sharp knife, into about 26 thin slices, then fan them out slightly and place in fridge or freezer until ready to use.
How to Make Lemon Dump Cake
Step 1 | Prep pan, add curd
Before you begin, preheat your oven to 350 degrees F. Then, lightly spray a 9×13-inch baking pan with non stick cooking spray so that your cake doesn't stick. I love using La Tourangelle Baking spray, all natural and it's gluten-free!
After you've stirred the lemon curd a bit (it will spread easier if you stir it), spread the lemon filling evenly on the bottom of the cake pan.
Step 2 | Make Cream Cheese Mixture
Add your cream cheese, egg, lemon zest, vanilla extract and lemon juice into a medium bowl. Beat the ingredients with a hand mixer until combined. You want the mixture to be smooth!
Place dollops of the lemon and cream cheese mixture over the lemon curd that you spread in the baking dish. Spread out as evenly as possible using an off-set spatula.
Step 3 | Finish the cake
Take the cake mix and sprinkle it over the lemon and cream cheese. Be careful to make it as even as possible! I gave mine a couple shakes back and forth and used a clean off-set spatula to smooth.
Pro Tip
Slice your butter while it's cold, then place in the freezer until you are ready to place on the cake. Slice into ⅛ inch slices, that way you will have enough to spread over the top of the cake.
Layer thin pats of butter over the top of the cake mix. Cover the entire top of the dry cake mix — again, as evenly as possible. I have found this method is preferable to drizzling the top with melted butter which many recipes call for, so do what you prefer.
You might have some powdery spots of cake mix after baking, but don't worry it will bake up beautifully on this simple cake.
Bake your cake for about 35-45 minutes, or until the topping turns a light golden brown. The lemon mixture should be bubbly.
Once it's done baking, let the cake cool for 10-15 minutes before serving. Garnish with your topping of choice — I love whipped cream (like this homemade cool whip), a scoop of vanilla ice cream, or my homemade lemon gelato — and enjoy!
High Altitude Variations
No modifications are required in this lemon dump cake with cream cheese recipe! Bake as directed at sea level or high altitude.
Variations
Feel free to add more fruit to the top of your lemon cream cheese dump cake for serving! Blueberries, strawberries, and raspberries pair wonderfully with the lemon flavor.
Change the Boxed Cake Mix | Use white, vanilla cake mix, lemon, or yellow cake mix for your recipes. Get creative!
Change it up! Make a lemon blueberry dump cake or cherry dump cake. Simply replace the lemon curd with pie filling and follow my recipe above. Lemon goes great with berries. You could even add frozen or fresh blueberries (try 1 cup) and sprinkle on top of the cream cheese mixture, then spread the cake mix on top.
Can't find Lemon Curd? You may also use lemon pie filling, but buy a quality filling, some canned fillings have an off-taste.
Fresh Tips
Don't underestimate the power of making homemade lemon curd! It comes together easily and features all-natural ingredients.
To store in the fridge, place any leftovers in an airtight container or wrap tightly with plastic wrap. It will keep for 5 days. To reheat, place it in your oven and heat at 350 degrees F for 10-15 minutes, or simply enjoy it at room temperature!
You can also freeze this dessert for up to 3 months, then store the lemon cream cheese dump cake in a freezer-safe airtight container. Also, be aware that freezing may change the texture a bit, but won't affect the taste. Let it thaw in the fridge overnight before following the reheating instructions above.
I've read in some recipes that you should not use cake mix with pudding mix in it, so keep that in mind.
Frequently Asked Questions
Why is a dump cake called a dump cake?
I told you not to let the funny name fool you! Lemon dump cake gets its name due to the fact that you basically "dump" all the ingredients together into your baking dish without really mixing. My version features cream cheese, which means that there is a bit of mixing involved, but you get the idea. It's still an easy dump cake recipe.
Can I make lemon dump cake ahead of time?
Absolutely! This dish will keep in the fridge for up to 5 days. If you want to get ahead of schedule (especially if you're serving this dessert for an upcoming party), then you can make it a few days in advance. For optimal freshness, I recommend you do so 1-2 days before you plan to eat it.
Can I cut this lemon dump cake with cream cheese in half?
Yes! Cut all ingredients in half, except the egg, that's a tough one to cut in half and the egg will help make the cheesecake style layer. Layer into a square baking dish.
This lemon dump cake with cream cheese is the answer for lemon lovers who want a delectable and quick dessert.
More Dump Cake Recipes
Be sure to also try my Award Winning Key Lime Pie, it's a showstopper!
Don't forget to give this recipe a 5 star rating and comment below the recipe!
Love It? Pin It!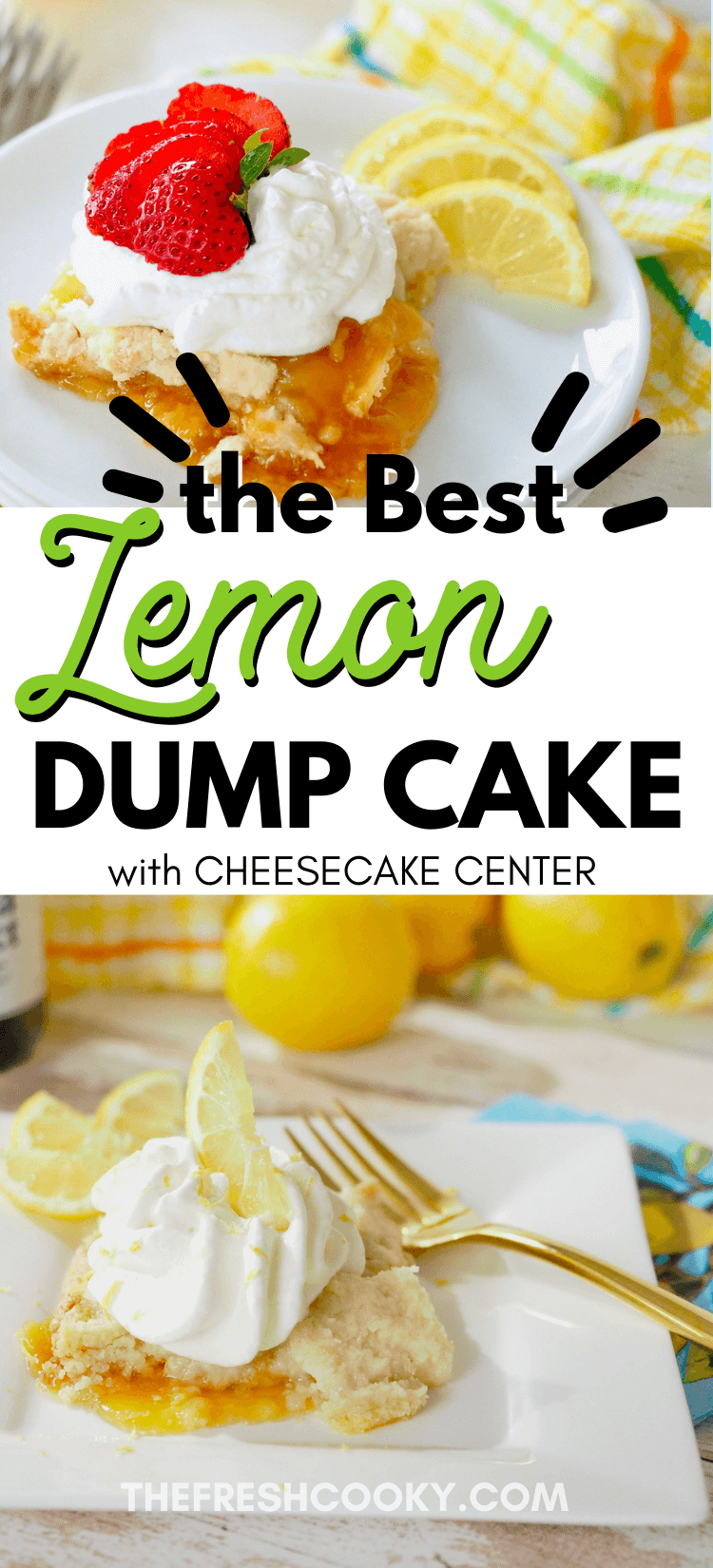 Thursday #LemonWeek Recipes
Like this recipe?
Don't forget to give it a ⭐️⭐️⭐️⭐️⭐️ star rating and comment below the recipe!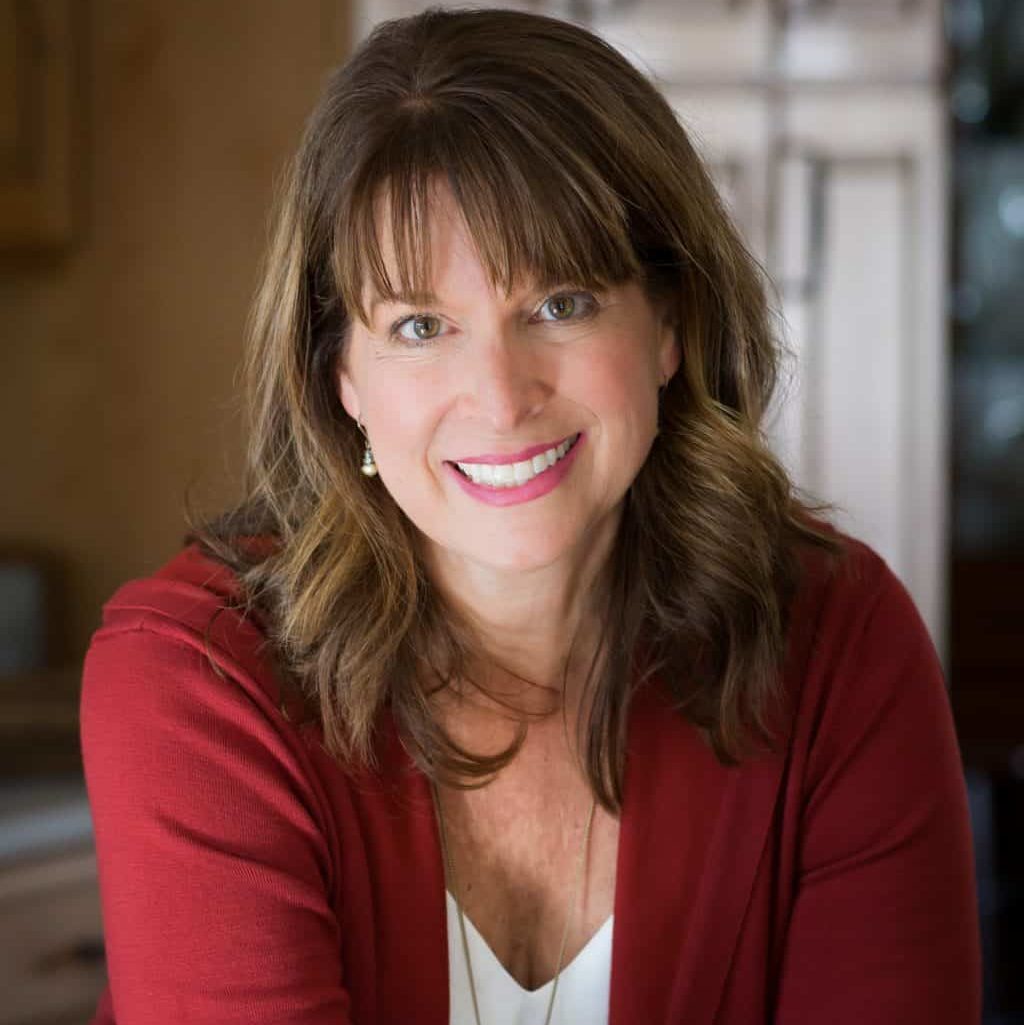 About Kathleen Pope
Recipe Innovator | Food Photographer | Food Writer
Hi, I'm Kathleen Pope. Here at The Fresh Cooky you will find easy, mostly from-scratch, trusted recipes for all occasions. From speedy dinners to tasty desserts, with easy step-by-step instructions. I am here to help teach you how to make mouthwatering recipes without spending hours in the kitchen. Read more about Kathleen here.