Best Chicken Salad with Tarragon
As an Amazon Associate, I earn from qualifying purchases. Please read my disclosure policy.
This Chicken Salad with Tarragon will become one of your favorite go-to chicken salad recipes. Loaded with must-have crunchies like crisp sweet-tart apples, buttery pecans, shallots, and celery; then lightly dressed in a bright lemon, tarragon mayonnaise dressing.
I have been making this recipe for years, an irresistible recipe perfect for bridal and baby showers, or simply for meal prep during the week, but read on for many more ways to use chicken salad.
In my opinion you cannot have too many chicken salad recipes, this Sherried Chicken salad with grapes and this Blackberry Grilled Chicken Salad while more of a traditional salad, is still the bomb!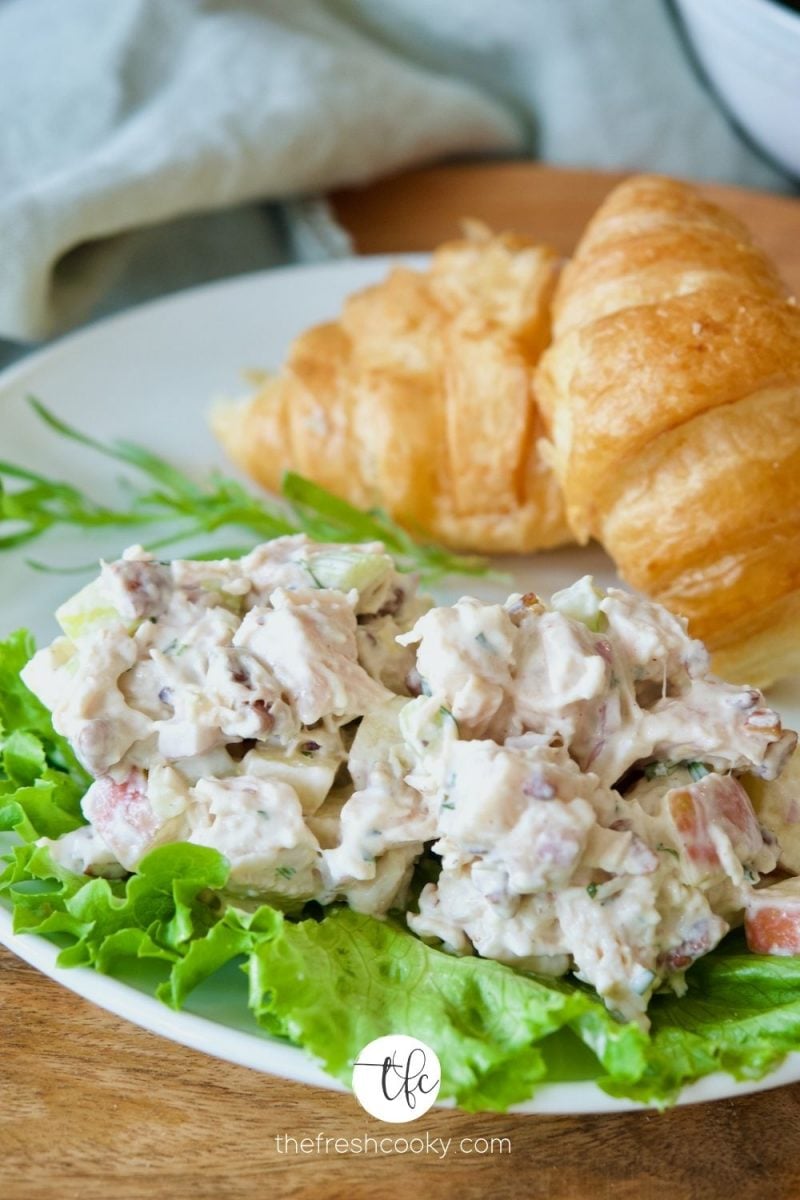 Why you'll love this chicken salad recipe
FRESH | This Chicken Tarragon Salad is beyond fresh, incorporating veggies and fruit available year round, and the fresh tarragon takes it over the top!
EASY | Simple recipes are my favorite, with just a few ingredients and about 15 minutes, you will have tarragon chicken salad at your fingertips.
MEAL PREP | I adore recipes you can prep once but enjoy all week, line individual containers with a piece of lettuce (I love butter lettuce) and a scoop of chicken salad with tarragon; lunch ready when you are!
I started making this recipe for chicken salad with tarragon about 20 years ago, I think it might have been from a Silver Palate cookbook, these are awesome cookbooks!
Then Whole Foods started making Tarragon Chicken Salad, it's a match made in heaven! Save a lot of money and make your own homemade chicken tarragon salad.
Ingredients & Substitutions
At The Fresh Cooky we are about "making it yours" which is why I love to provide you with ingredients I used, but also suggested alternates or substitutions.
>>Full list of ingredients located in the recipe card at the end of post. <<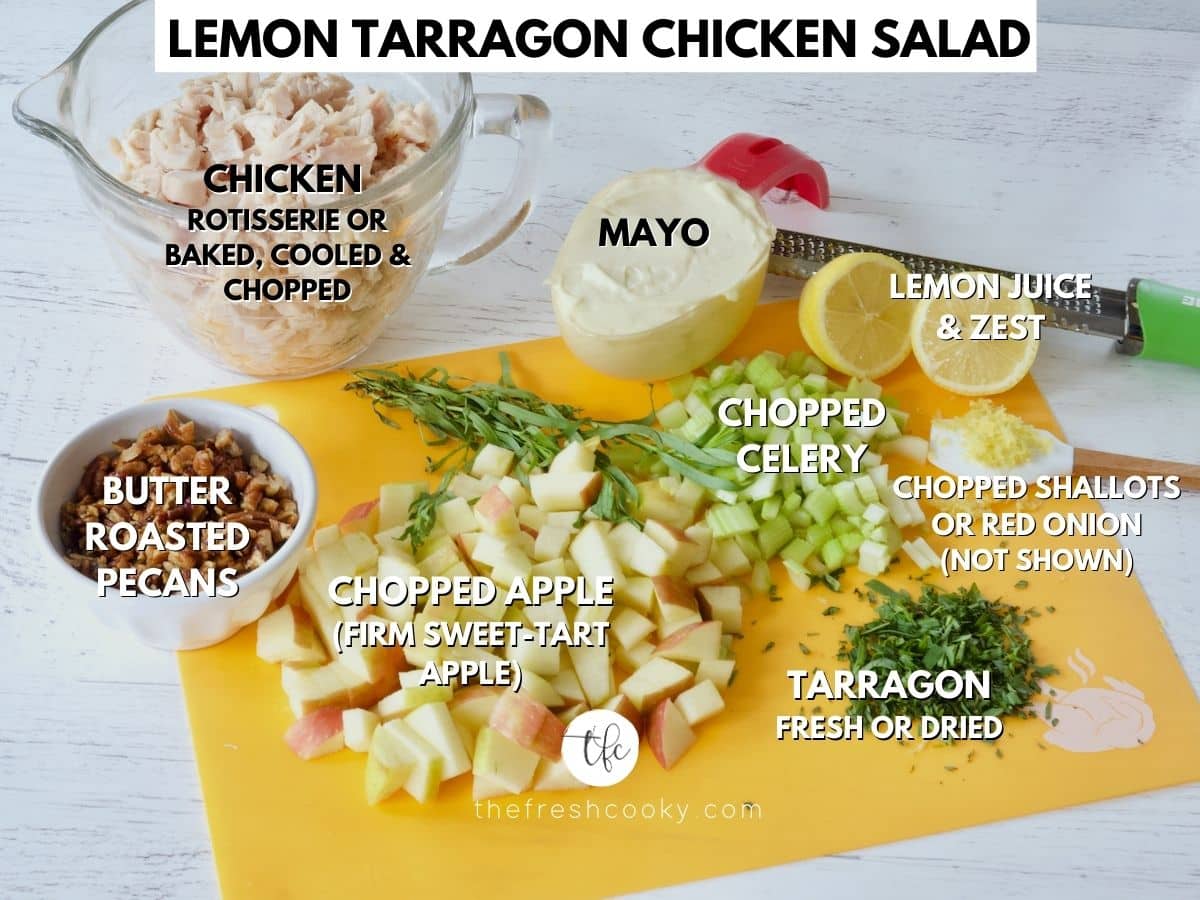 COOKED CHICKEN BREAST | I used rotisserie chicken, makes it so much quicker and easier! But, also try this Instant Pot Chicken Breasts (fresh or frozen) from my friend Nikki.
CHOPPED PECANS | In this salad in particular I love pecans, but you might also try slivered almonds, cashews, pistachios and even sunflower seeds.
APPLE | I used Honeycrisp apples here; but also try Pink Lady (aka Cripps Pink), Gala, Fuji and Granny Smith, all will hold up beautifully in a chicken salad.
CELERY | I am not a huge celery fan, but when chopped nice and small it provides a delicious crunch.
SHALLOT | Also try red onion, chopped or minced tiny! Both are excellent flavor additions.
MAYO | Use a good quality mayonnaise here, because the flavor shines through. I love Chosen Foods Avocado Oil Mayo – heart healthy, gluten free and dairy free mayo and delicious!
LEMON | You will use the zest and the juice from the lemon, adds a citrus note which brightens the salad tremendously! Only have bottled lemon juice? It won't be quite as bright and fresh, but will still work.
FRESH TARRAGON | Fresh is amazing, but I have also used dried tarragon and it works great too! Remember though, the 3:1 rule when substituting dried for fresh herbs.
Step 1 | Toasting Pecans
Start by melting butter in a medium skillet over medium heat. Add chopped pecans and stir around until toasted and fragrant, don't walk away they can burn fast. Will take 4-5 minutes.
Set aside and allow to cool while assembling the rest of the chicken salad with tarragon.
Step 2 | Making Mayo Dressing
In a large mixing bowl, whisk together mayonnaise, lemon zest, lemon juice, tarragon until smooth.
Toss in chopped apples and chopped celery.
Step 3 | Assemble Chicken Salad
Add chopped or shredded chicken (if just baked, cool for 10-15 minutes until just warm to touch), and 1/2 cup of the pecans (reserving the balance for serving).
Stir in shallots with chicken mixing all ingredients until combined.
Cover and chill a few hours before serving — though I have certainly rushed this and eaten it straight out of the bowl! The flavors have time to marry when you let it chill together.
Storage
Chicken Tarragon Salad is a great meal prep recipe, as it stores and lasts well in the fridge.
Keep in a large sealed container, or split into portion sized containers. Lasts up to 5-7 days refrigerated. Chicken salad does not freeze well.
Frequently Asked Questions
How do you prepare fresh tarragon
Tarragon while more of a tender leaf than rosemary has a tough stem that you don't want. Using your fingers, pull backwards on the leaves from the stem, stripping them off. Simply chop with a sharp knife into small pieces.
What does tarragon taste like?
Tarragon is a distinctive aromatic herb, along the lines of fennel and anise, though I do not believe quite as strong.
Is Chicken Tarragon Salad Gluten Free?
Indeed it is! Just make sure your mayo and if using rotisserie chicken is also gluten free!
Is Lemon Tarragon Chicken Salad Keto and Low Carb?
With only 8 carbs, 31 grams of protein and 3 grams of fiber, this fits well into a low carb diet.
Can I make chicken salad dairy free?
As long as your mayo is dairy free and you omit the butter, or use a dairy free alternative in the pecans, this recipe is fully dairy free.
9 Unique Ways to Serve Chicken Salad
Chicken salad can be eaten in many ways, most traditional alone or as part of a sandwich. Read on for 9 unique ways to serve chicken salad! Whether you are serving as an appetizer or a meal, gluten free, dairy free, low-carb and Keto; there is an option for you below.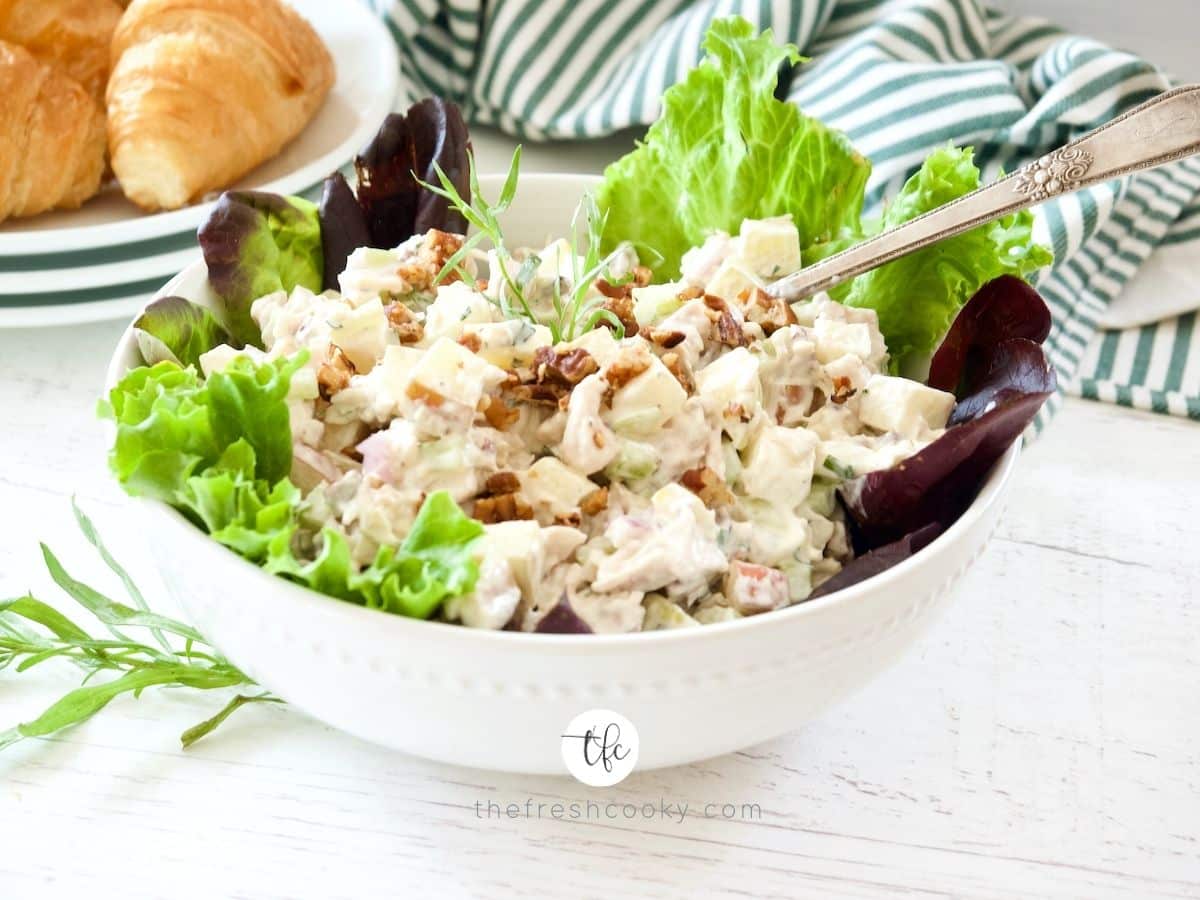 LUNCHEON CHICKEN SALAD | Using a slice of green or red leaf lettuce, or butter lettuce, wash and pat dry, then scoop a few cookie sized scoops onto the lettuce. Serve with crackers, croissants, potato chips, grapes, veggies, you decide.
BRIOCHE TARRAGON CHICKEN SALAD SANDWICH | I made this lovely loaf of brioche bread a few weeks back and it was perfect for these chicken salad sandwiches! Layer a slice of washed lettuce, scoop and slice in half. Brioche is a soft, delicious, rich egg bread amazing for sandwiches!
CROISSANT CHICKEN SALAD SANDWICH | Slice mini or regular sized croissants, layer a slice of butter or green leaf lettuce and scoop on desired amount of tarragon chicken salad.
PITA STUFFED | Stuff into a pita pocket for an easy on the go sandwich.
CHICKEN MELTS | You have heard of tuna melts, try tucking chicken salad onto a pre-toasted English muffin half, cover with cheese or keep plain. Place in middle of oven on broil for 2-3 minutes until warmed slightly.
APPETIZERS | Using pre-baked phyllo shells, crostini, crackers, or baked wontons (like these Artichoke Wontons). Place spoonfuls of cold chicken salad, sprinkle with a few extra pecans and chopped chives or additional chopped tarragon, maybe a half slice of grape tomato, if desired.
LETTUCE WRAPS | Using a sturdy piece of lettuce (rinsed and patted dry), I like using iceberg, romaine or green or red leaf lettuce, place scoop of salad o, roll and eat! Great for low-carb and gluten free!
CUCUMBER OR ZUCCHINI BOATS | Either slice rounds of cucumbers or zucchini and place small spoonful of chicken salad on top, or scoop out seeds of half cucumber or zucchini and fill with chicken salad.
TEA SANDWICHES | Using a 2-3 inch round biscuit or cookie cutter, slice soft bread and then layer with a little lettuce and top with chicken salad and second slice of bread, or use mini croissants. Or keep open faced.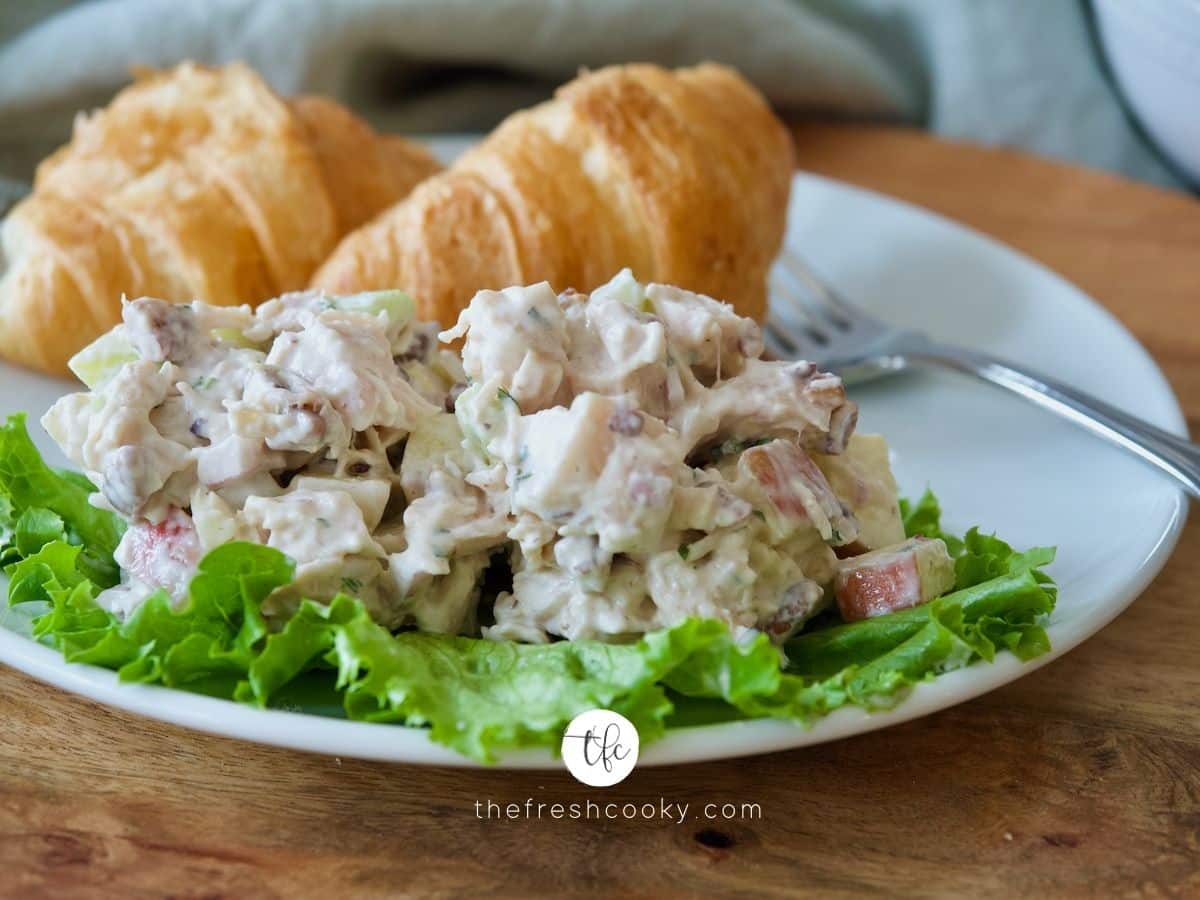 More great recipes like this:
Like this recipe?
Don't forget to give it a ⭐️⭐️⭐️⭐️⭐️ star rating and comment below the recipe!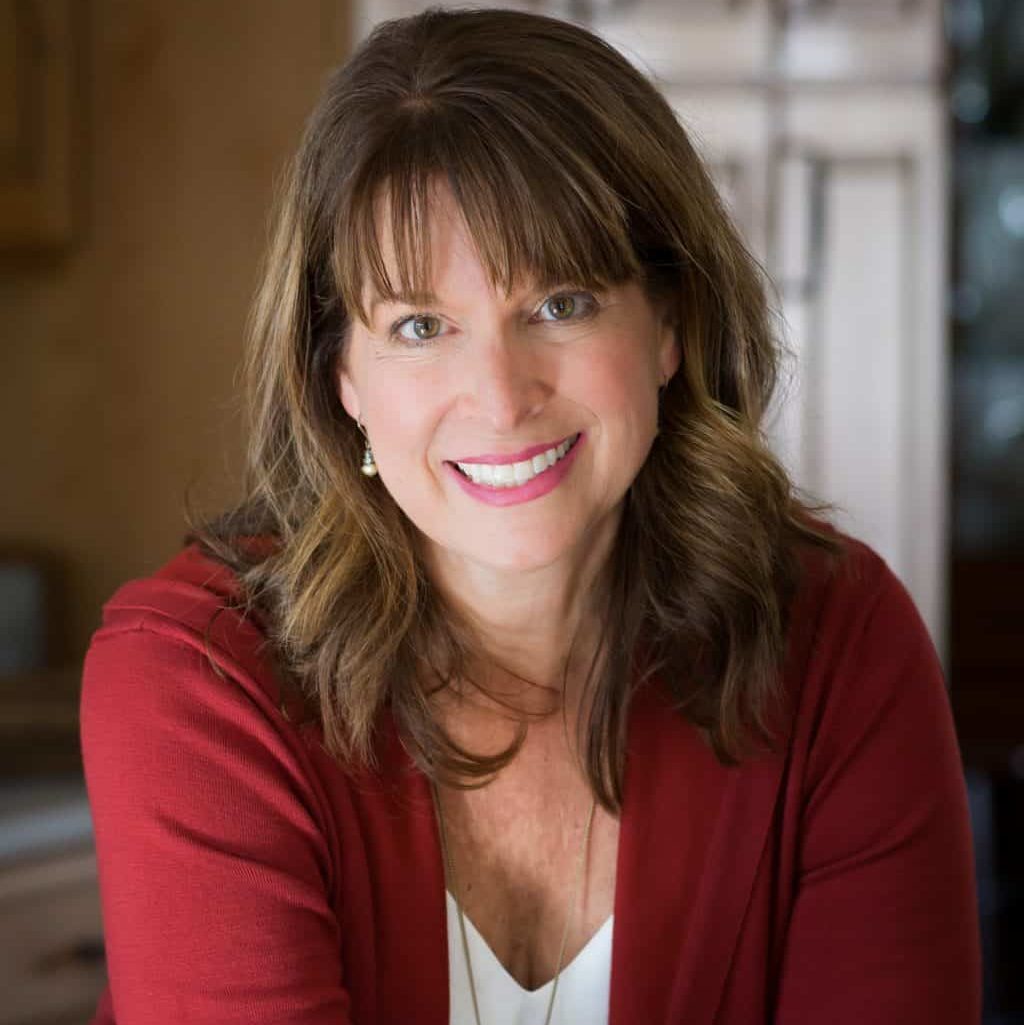 About Kathleen Pope
Recipe Innovator | Food Photographer | Food Writer
Hi, I'm Kathleen Pope. Here at The Fresh Cooky you will find easy, mostly from-scratch, trusted recipes for all occasions. From speedy dinners to tasty desserts, with easy step-by-step instructions. I am here to help teach you how to make mouthwatering recipes without spending hours in the kitchen. Read more about Kathleen here.