Cheesy Hashbrown Casserole Recipe with Corn Flakes
As an Amazon Associate, I earn from qualifying purchases. Please read my disclosure policy.
Easy Hashbrown Casserole recipe with Corn Flakes is creamy and cheesy. Hash brown potatoes mixed with shredded cheese, all natural cream mixture and topped with buttery corn flakes and no canned soup! AKA Party potatoes, or funeral potatoes – the ultimate comfort food!
Easy make ahead freezer directions and gluten-free option, this hashbrown casserole recipe with corn flakes is the perfect side dish for a potluck, weekend breakfast, dinner or any holiday gathering.
Going to a holiday party, potluck or barbecue? You might enjoy these other make-ahead, feed-a-crowd dishes: Cowboy Baked Beans, Best Potato Gratin, my delicious Corn Casserole or these Easy Yeast Rolls.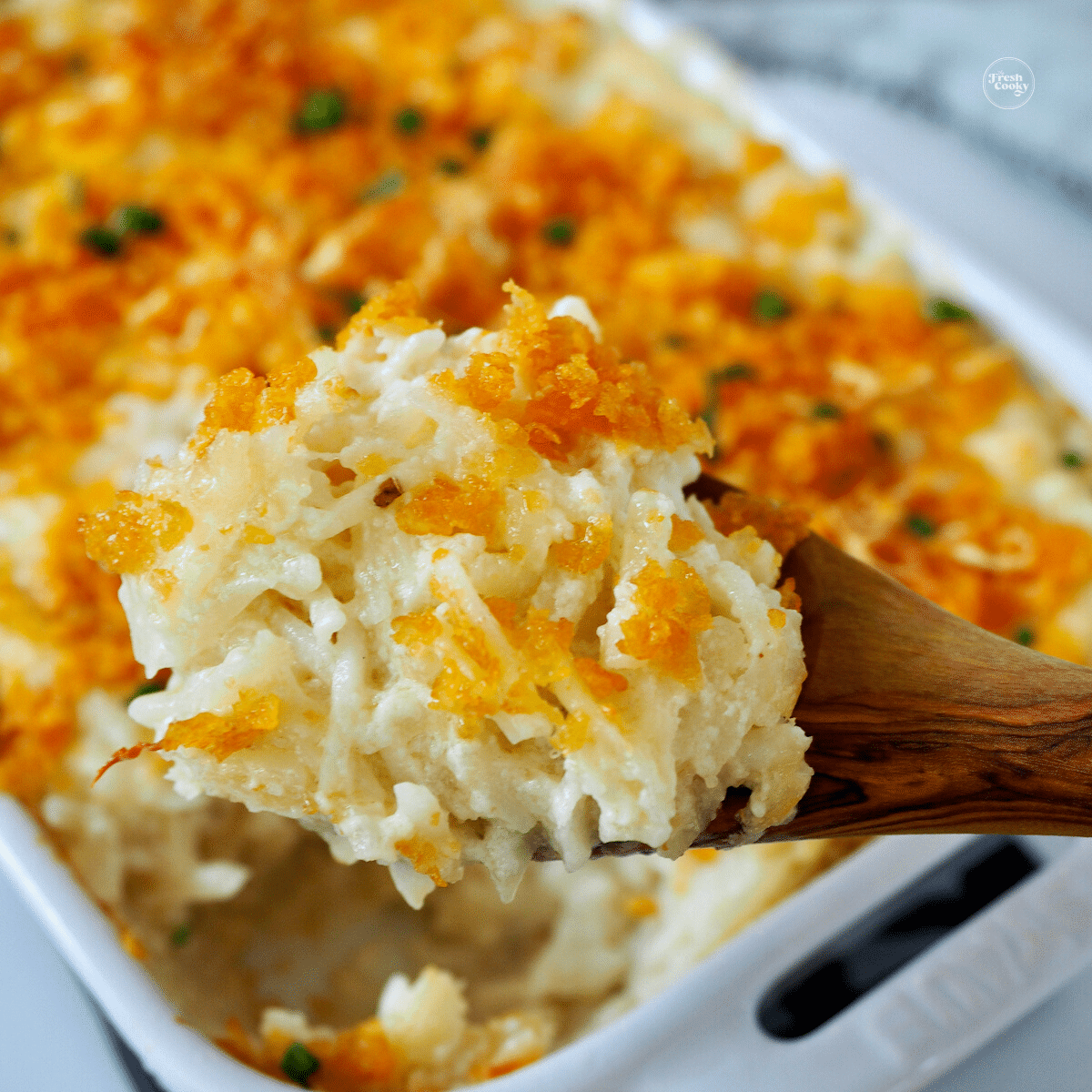 The best part about this cheesy hashbrown casserole recipe is that it doesn't use cream of chicken soup or cream of mushroom soup. This is the perfect side dish for those church potlucks or any special occasions.
Why Do They Call Them Funeral Potatoes?
What in the world are Cheesy Funeral Potatoes? Only one of my favorite things on the planet! One of those must have, great recipes, that is an easy side dish.
Depending on the part of the US you are in, they are called "funeral potatoes" or plain ol' "cheesy potato casserole" or "cheesy potatoes".
You can guess that they got their "funeral" moniker from folks bringing this large-batch, potato casserole to post-funeral lunches or gatherings.
This is what I have always heard them referred as, nothing "sad" about these potatoes and they are comfort food at its very finest.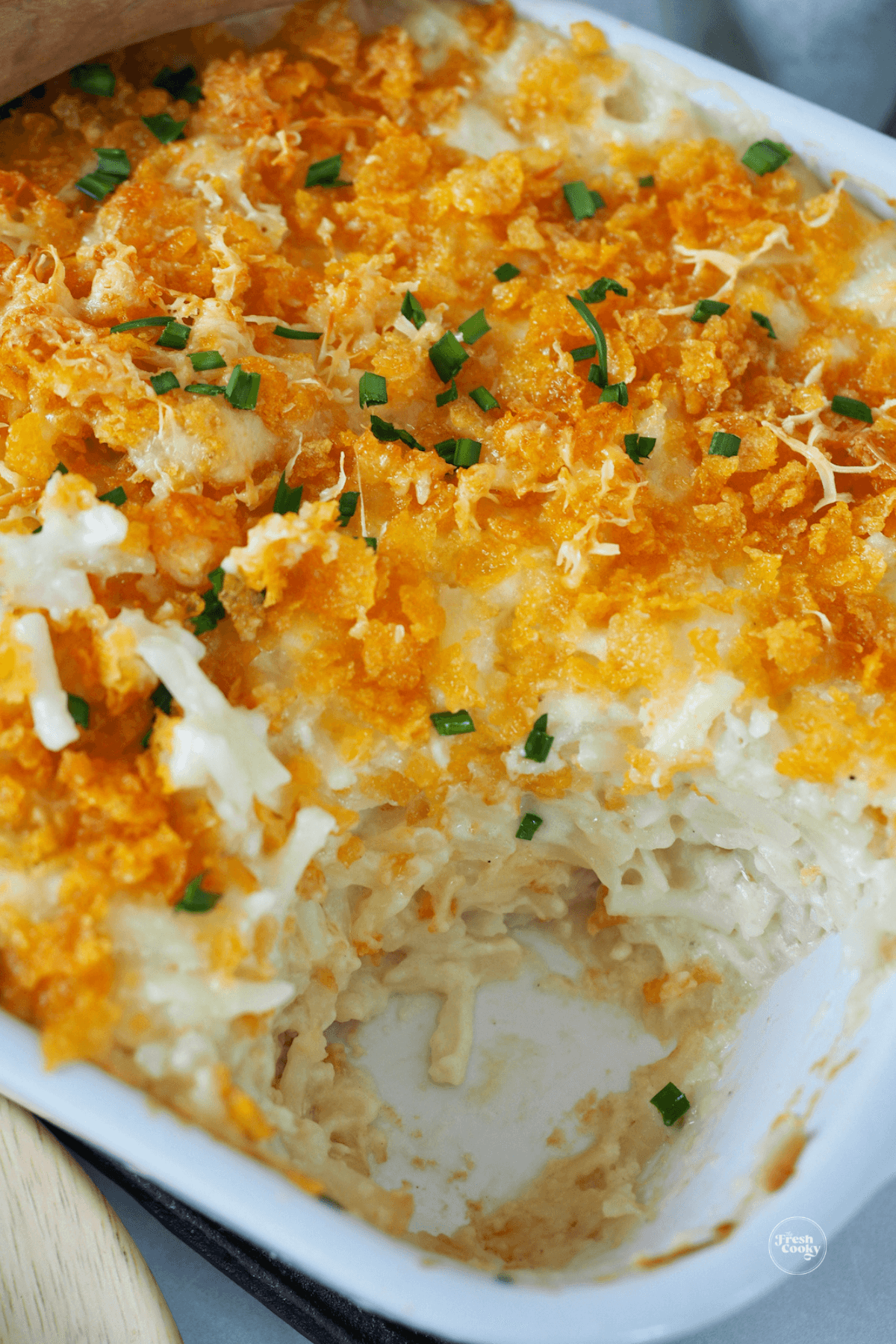 Simple Ingredients for Hashbrown Casserole Recipe with Corn Flakes
Ingredients, directions and nutritional information in the printable recipe card at the end of the post.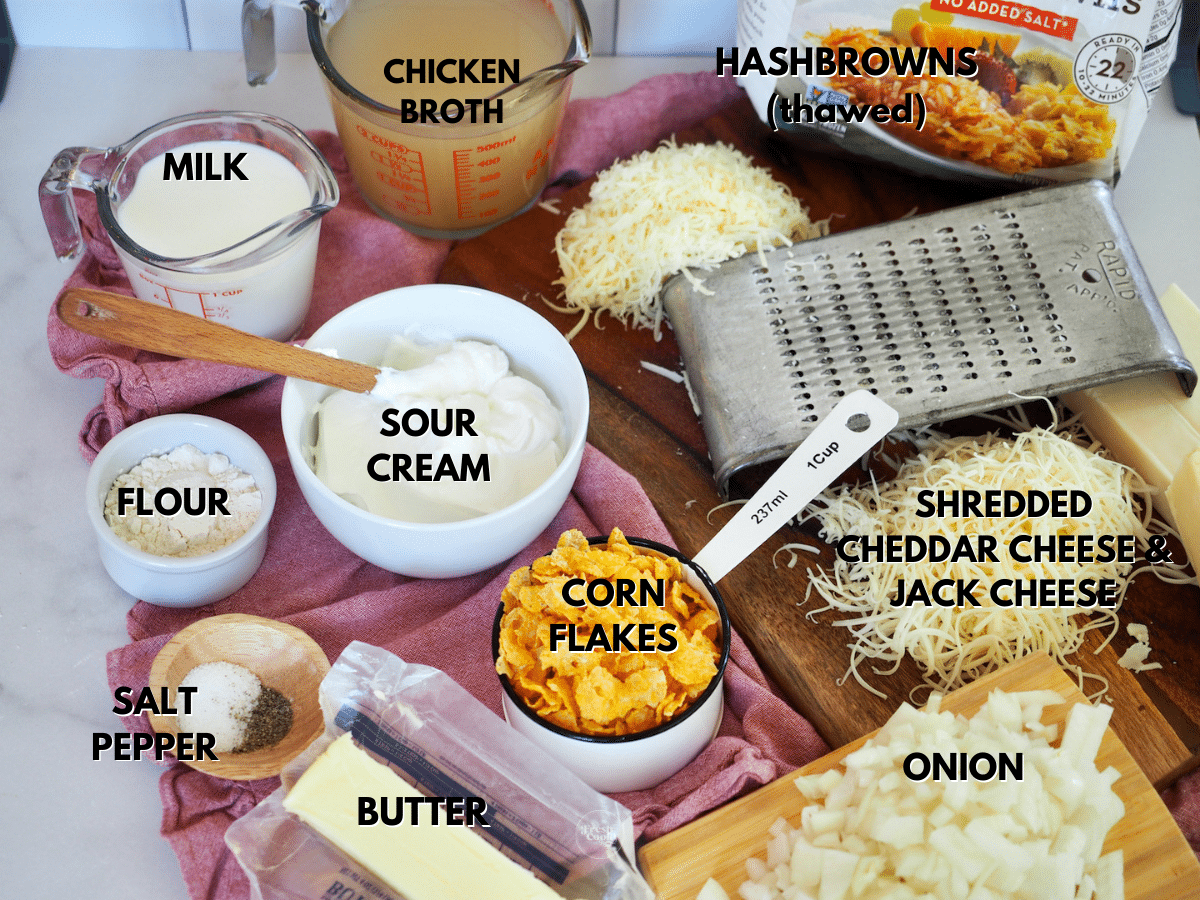 Hashbrowns | But thawed! Place frozen bag of hashbrowns in fridge overnight for easiest thawing, or see my notes if you forgot to thaw them.
Onion | A yellow or sweet onion work great here, mince it fine.
Flour, Butter & Milk | You'll make a quick roux, if you are gluten-free use GF flour.
Chicken Stock | This adds amazing flavor without adding canned cream of soup to your casserole.
Cheese | Use your favorites here, Colby Jack, Monterey Jack, Sharp Cheddar Cheese, Gruyere, Swiss,etc.
Sour Cream | this is what gives the dish a little tang and super creaminess, light sour cream may also be used.
Corn Flake Mixture | If you choose to do a topping, corn flakes are most common, but see my variations below for all types of topping ideas. Or keep it naked like my Cracker Barrel Hashbrown Casserole (crockpot or oven).
How To Make Cheesy Funeral Potatoes
Should you thaw frozen hash browns?
Yes, part of the reason I am putting this recipe on the blog is that every time I dig out my old, tired recipe, I miss my handwritten note to thaw or defrost the hash browns ahead of time. So before you get started, defrost your hash browns!
The best way is to toss the bags in the fridge the night before.
If you forget to thaw your potatoes — line a large half sheet (or two) baking pan with foil or parchment paper and spread frozen hash browns evenly on the pan while you get your other ingredients ready, make the sauce, shred cheese, they thaw pretty quickly.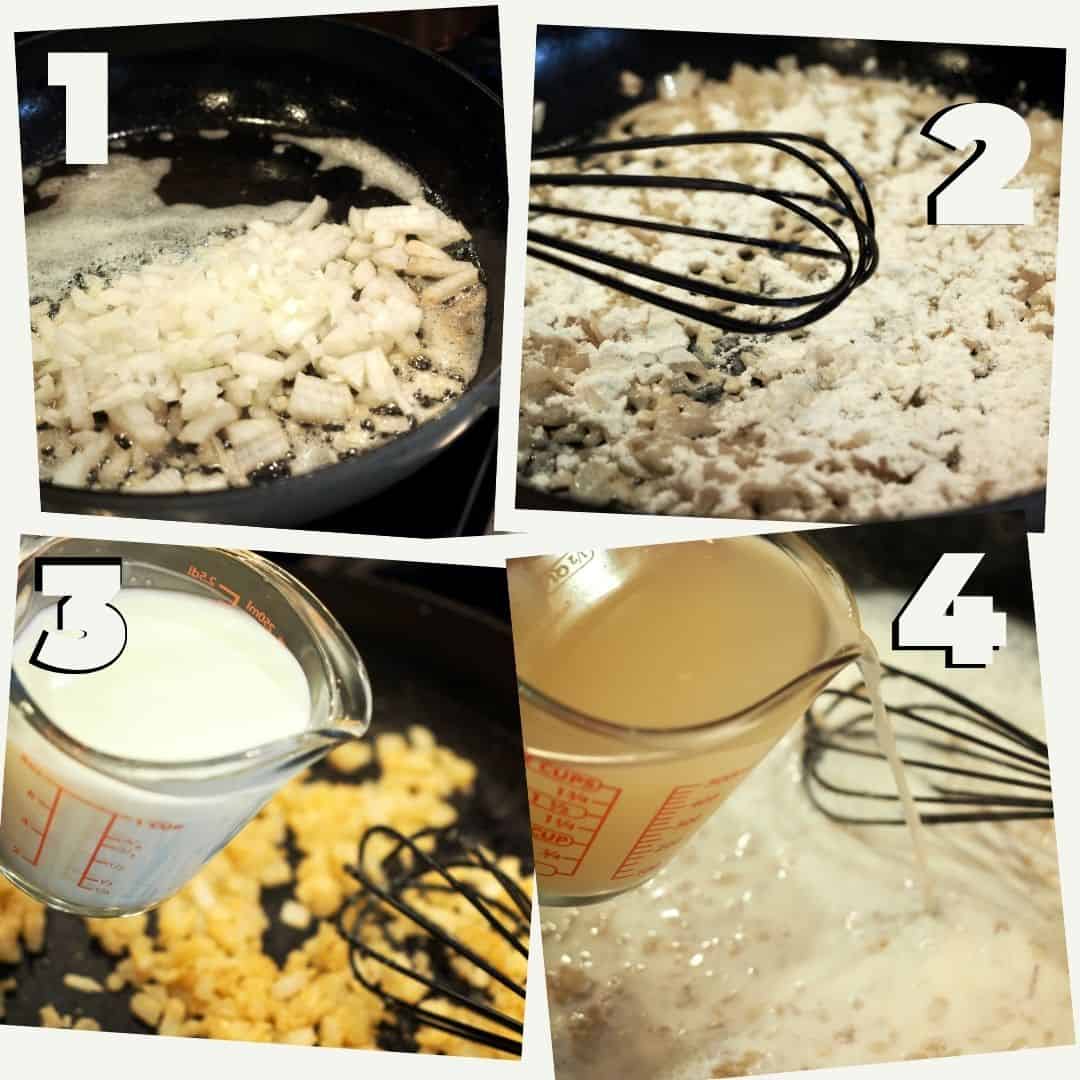 In a large skillet (my favorite pan, ever!) over medium heat melt butter, saute the onion and sprinkle with flour cooking for one minute. Slowly whisk in milk and chicken stock bringing the mixture to a low boil, allowing it to simmer until thickened. Season with kosher salt and black pepper. Remove from heat and stir in cheeses.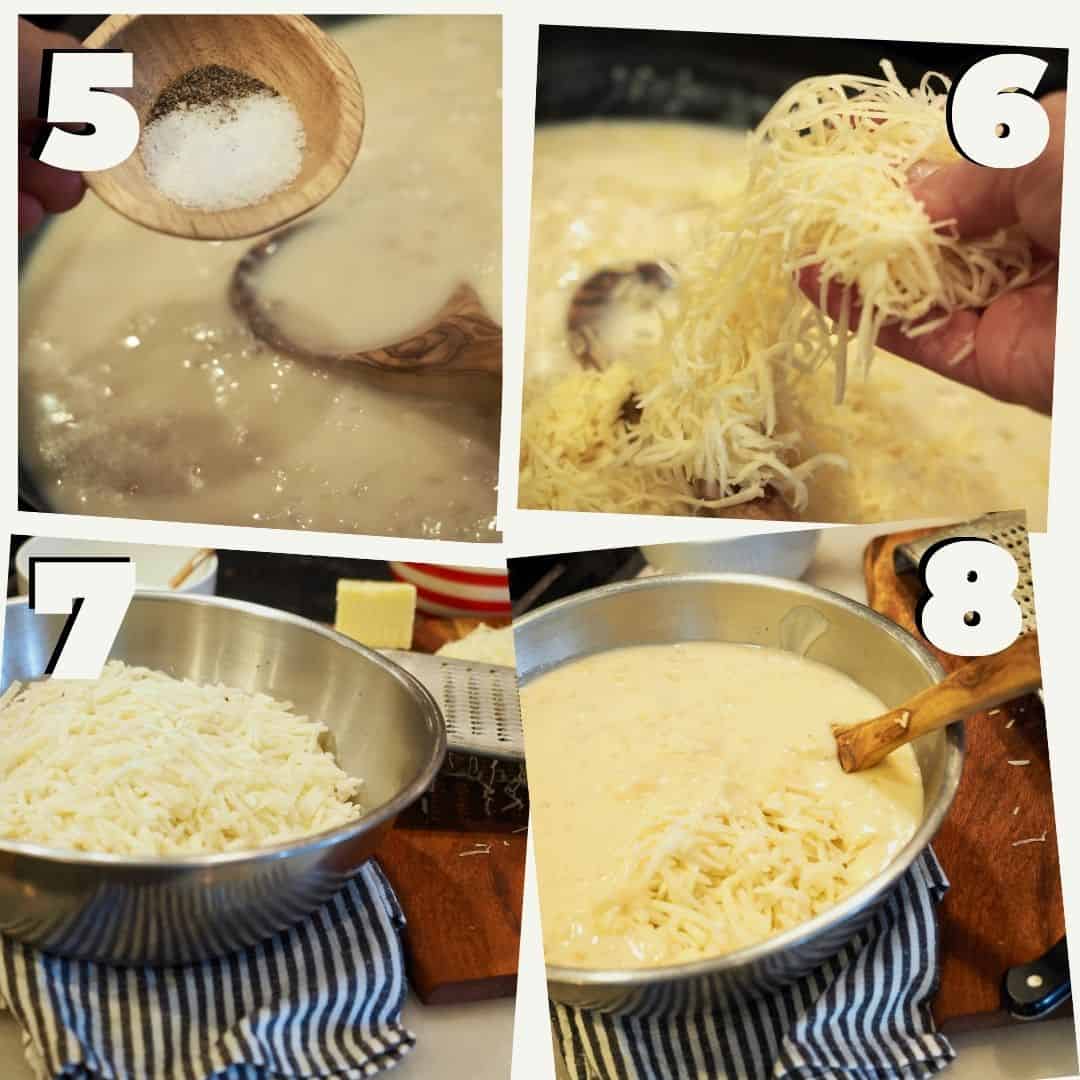 In a large bowl combine hash browns with creamy sauce and sour cream, adjust seasonings if needed and transfer to 9×13 casserole baking dish (well sprayed or buttered).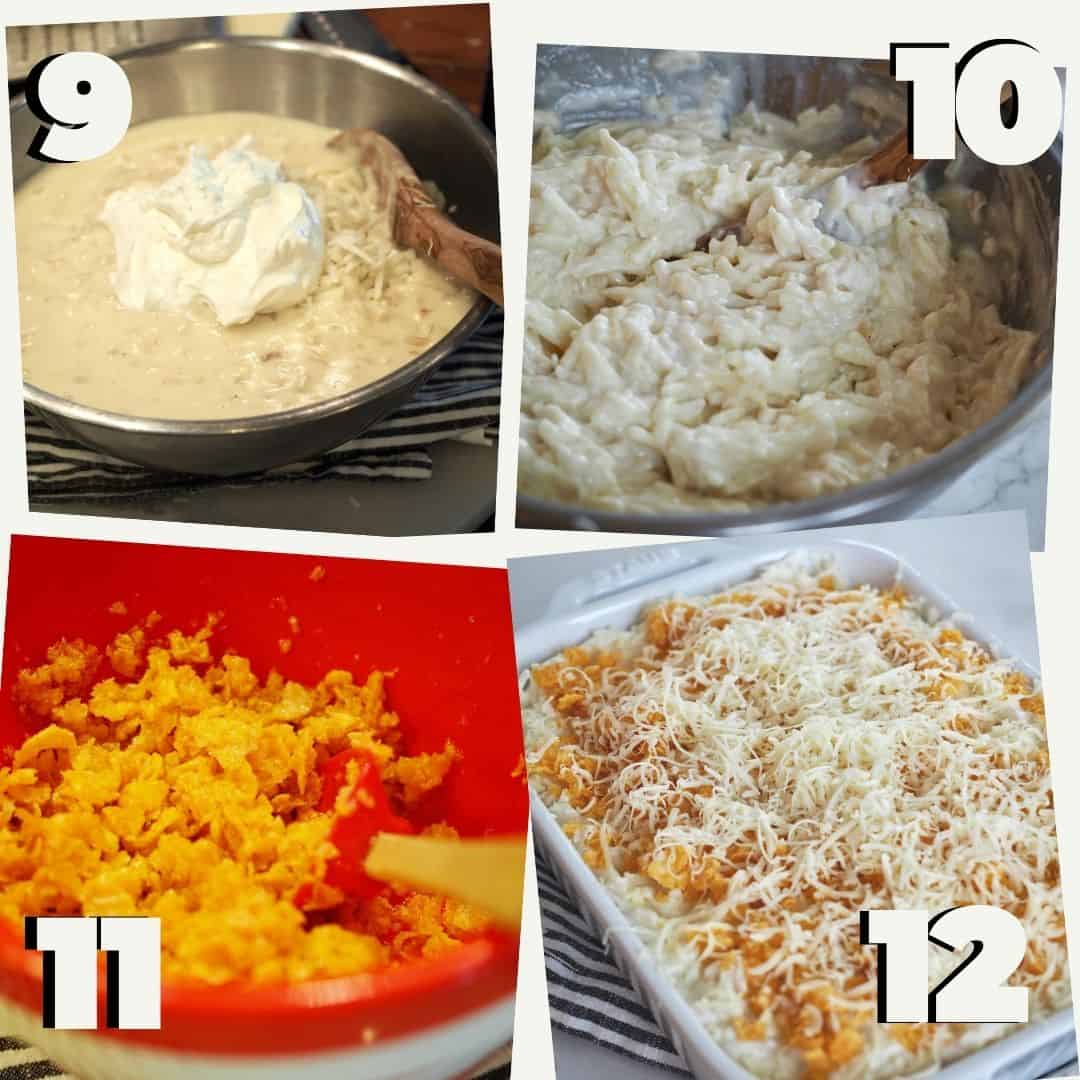 Mix melted butter with corn flakes for the topping and spread evenly on top of the casserole. Bake until golden, bubbly and melty. You may drool now!
Can I Make Funeral Potatoes Ahead of Time?
To make Cheesy Potatoes ahead of time, assemble the potatoes (DO NOT add the corn flake topping), cover tightly with sprayed foil or plastic wrap in fridge for 1-2 days.
To bake, set on counter for 30 minutes before baking, add buttered corn flake topping, cover and bake as directed. If needed, bake an additional 10-15 minutes until bubbly. Remove foil last 15 minutes, but keep covered with foil if browning too quickly.
How to Freeze Cheesy Party Potatoes
When it comes to busy holiday cooking schedules I love recipes I can make ahead and then pop in the oven when I am ready; even better if I can make a few weeks ahead of the party and tuck away in my freezer.
Follow the make ahead instructions — DO NOT ADD CORN FLAKE TOPPING — sealing tightly with foil, maybe even two layers or with a layer of plastic wrap and then a layer of foil, be sure to put a reminder you have plastic so you don't accidentally bake with it on! Freeze up to 2-3 months.
PRO FREEZER TIP | Freeze in disposable aluminum pan, or if you aren't fond of tying up your casserole dish, then line your baking dish with aluminum foil; spoon hash brown casserole inside, freeze overnight until firm, remove from casserole dish, wrap in several layers of foil and plastic wrap to keep away freezer burn. When ready to bake return to original baking pan removing any plastic.
How to Bake After Freezing
Preferred method | Place in fridge overnight. When ready to bake, set on counter for 30 minutes to allow to come to room temp, add buttery corn flake topping and bake as directed. Depending on how cool it is, you might have to bake an additional 10 minutes.
If baking straight from the freezer, remove foil and add buttered corn flake topping, return foil to top and bake as directed, adding 15-20 minutes, remove the foil about 20 minutes before finished.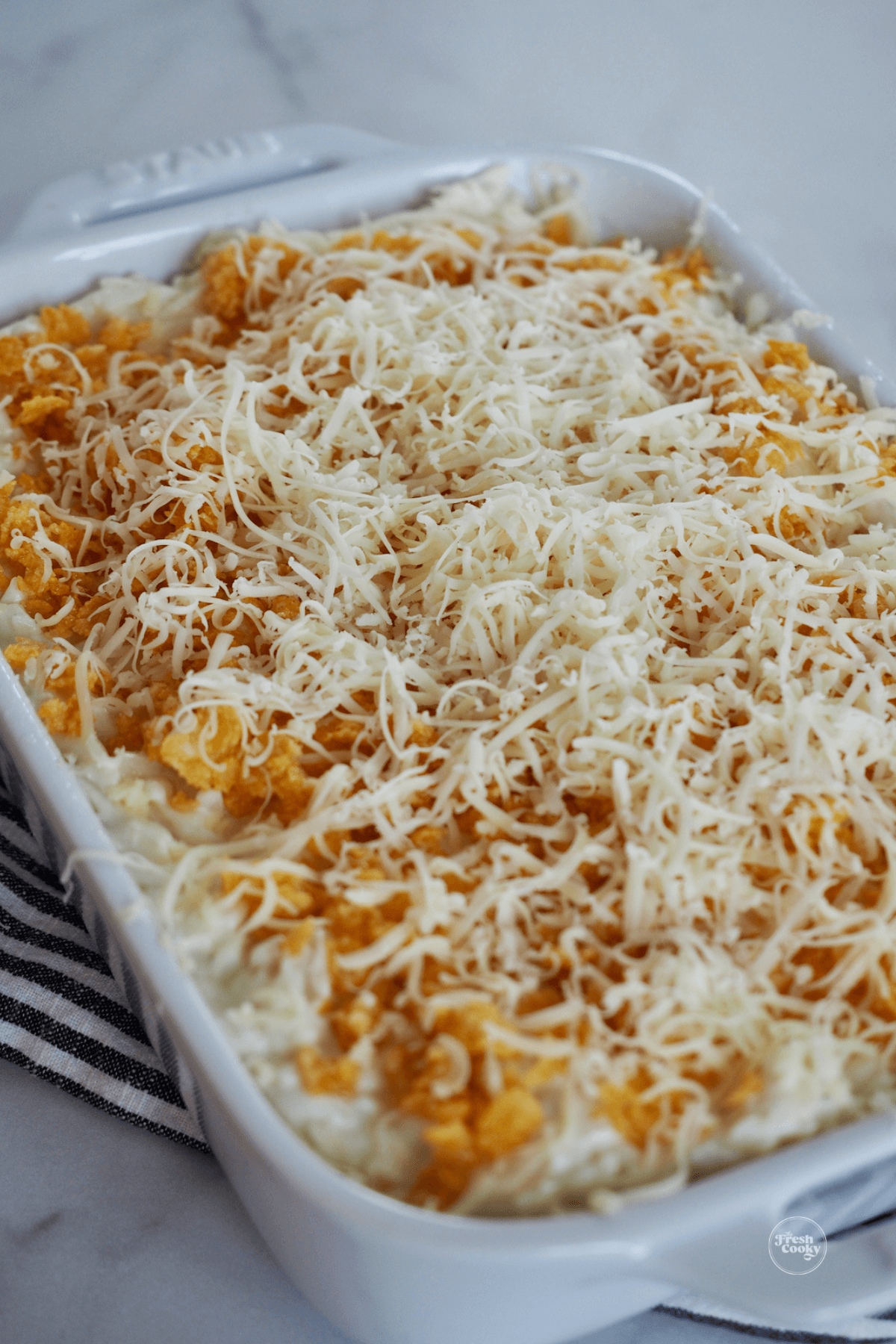 Leftover Party Potatoes
Store leftover casserole in an airtight container in the fridge up to 5 days. Or wrap well and freeze up to 3 months.
REHEATING | If reheating individual servings, 30-40 second bursts in the microwave should work, if reheating the entire dish or large portion, place uncovered in 350°F oven for about 30 minutes, if needed cover with foil at end if getting too brown.
From frozen, thaw overnight in fridge, or reduce oven temperature to 300 degrees F and heat for about an hour, covered, removing the foil during the last 15 minutes.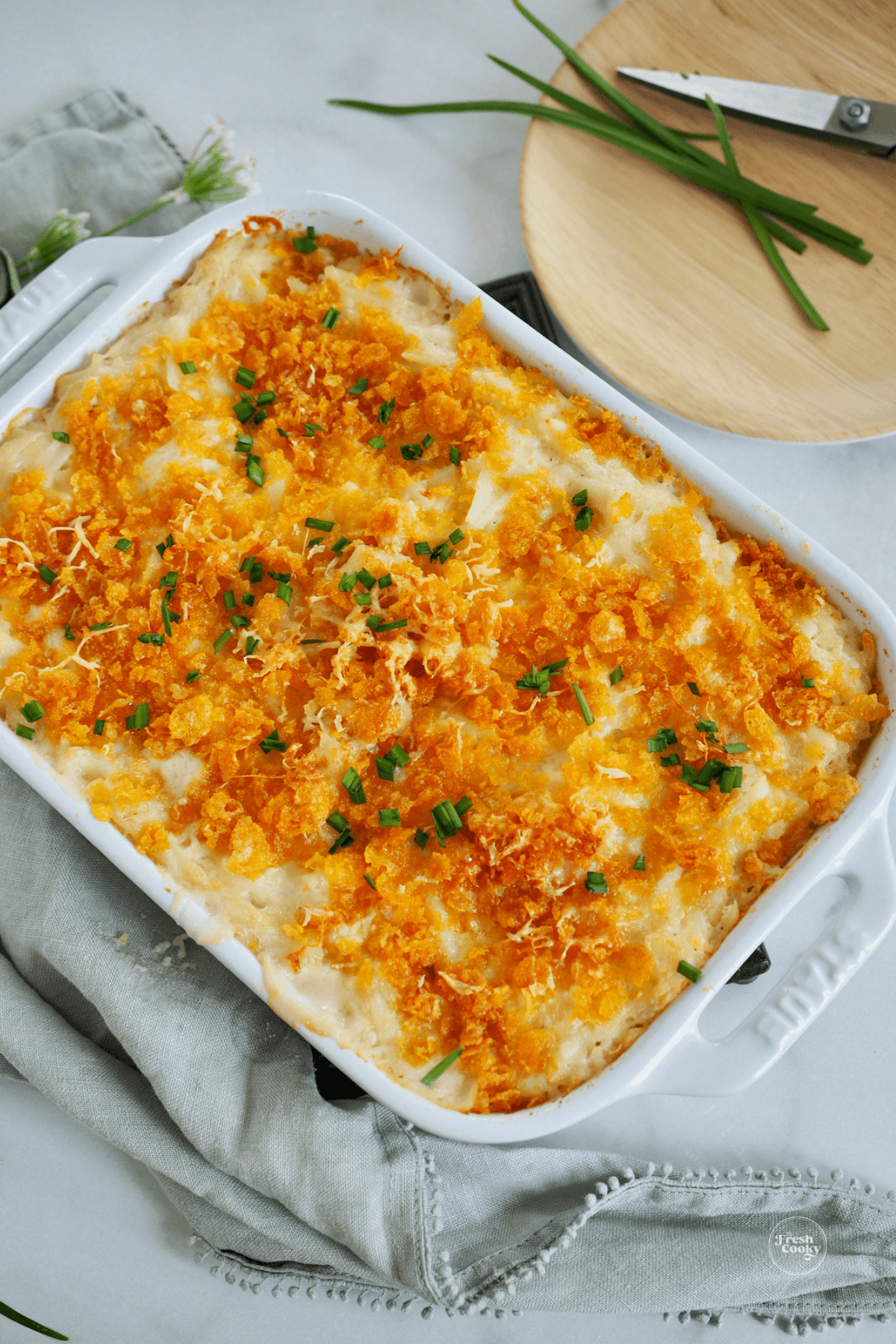 Making Gluten-Free Party Potatoes
With family members and friends who are gluten-free I have learned to adapt most of my recipes to be GF!
Jenny Levine Finke of Good for You Gluten Free is a fabulous resource; as one with Celiac herself and certified holistic nutrition and wellness coach she's done her research, if you are searching for GF tips, products, etc. this resource is an excellent place to start. Plus she's just a fabulous woman!
Pro Tips for the Best Gluten-Free Potato Casserole
Swap all purpose flour for equal amounts of a good Gluten-Free All-Purpose Flour (my favorite).
Use half as much cornstarch as you would flour. For example, if the recipe calls for 2 tablespoons of flour, use 1 tablespoon of cornstarch. The same is true for other starches, such as arrowroot starch, potato starch, and tapioca.
If using pre-shredded cheeses, make sure these are gluten free, many use fillers or anti-caking agents that have gluten in them; best to just use a block of cheese and shred yourself, it's better anyway!
Same goes for the hash browns, read those ingredients; I used Whole Foods Organic frozen hash browns, while they do not have gluten, they are produced in a facility that processes wheat.
And finally your corn flakes! Mine were gluten free.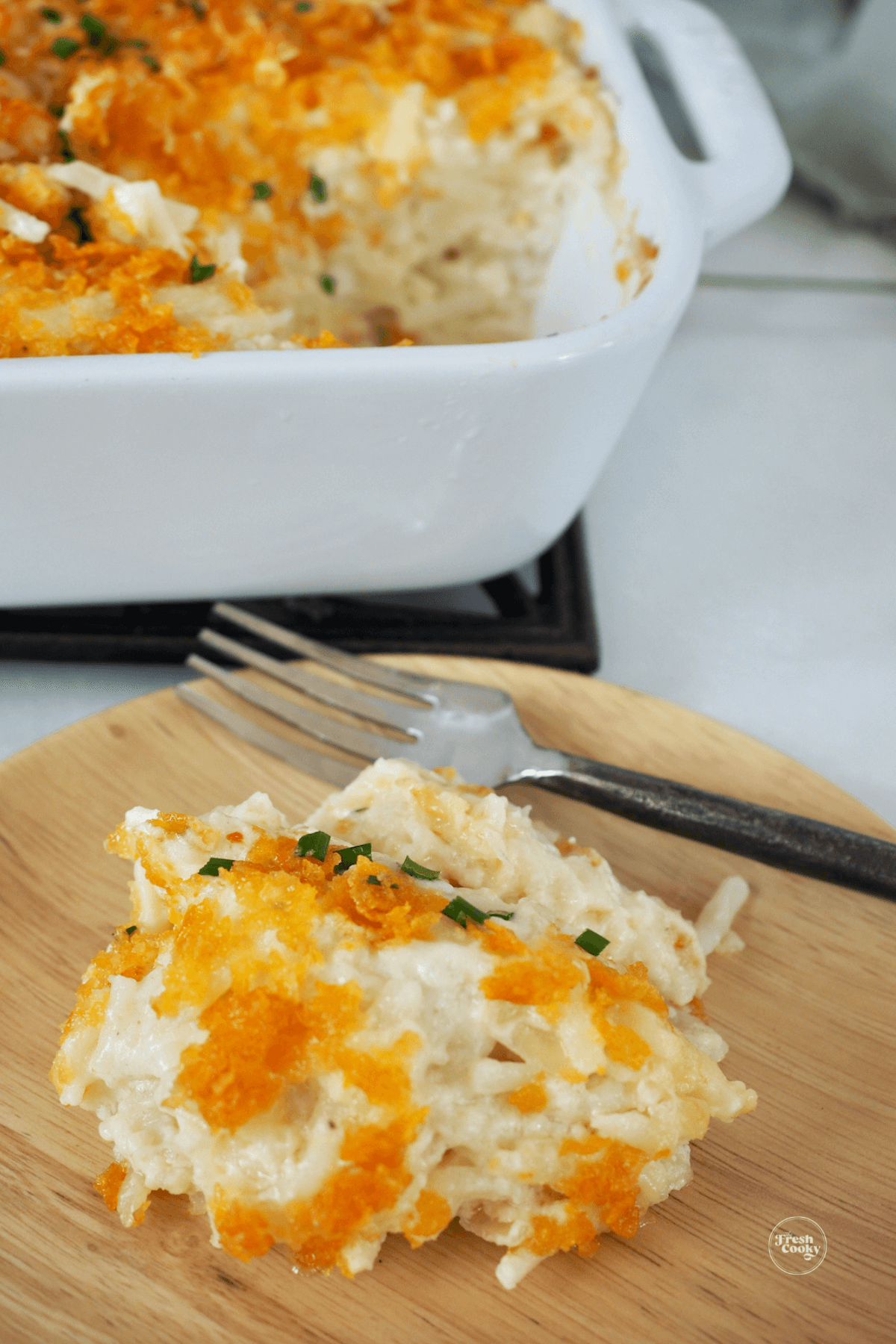 Toppings & Variations for Hashbrown Casserole Recipe with Corn Flakes
The Pioneer Woman uses kettle-cooked potato chips (my hubby would love that!), or use crushed butter crackers, such as Ritz, tossed in melted butter
Keep with holiday tradition and top with French Fried Crispy Onions, you could omit the butter.
Sprinkle on some diced green onions for a pop of color, or even some chopped chives.
Sprinkle some smoked paprika into the white sauce or on top after baking.
Use diced hash browns vs. shredded hash browns (but don't forget to thaw them), or you might even try a sweet potato casserole version.
For extra flavor, add up to a teaspoon of garlic powder, onion powder to the cheese mixture.
Make it a complete meal, adding up to 1 pound cooked (drained) sausage, breakfast sausage, or ground beef.
What to serve with Cheesy Funeral Potatoes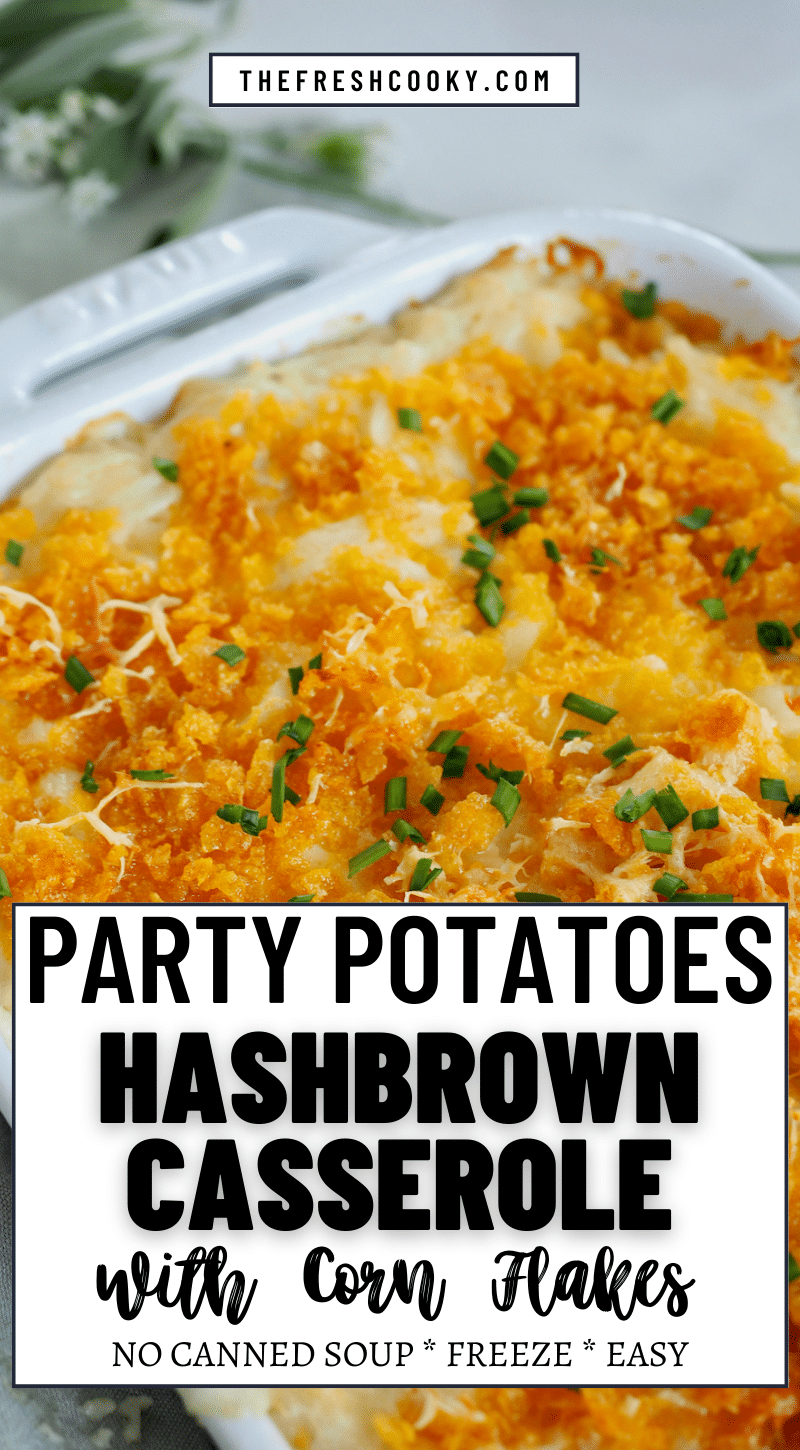 I hope you loved this hashbrown casserole recipe with corn flakes — if you did, would you share your creation on Instagram, Facebook & Pinterest? And be sure to comment below!
Like this recipe?
Don't forget to give it a ⭐️⭐️⭐️⭐️⭐️ star rating and comment below the recipe!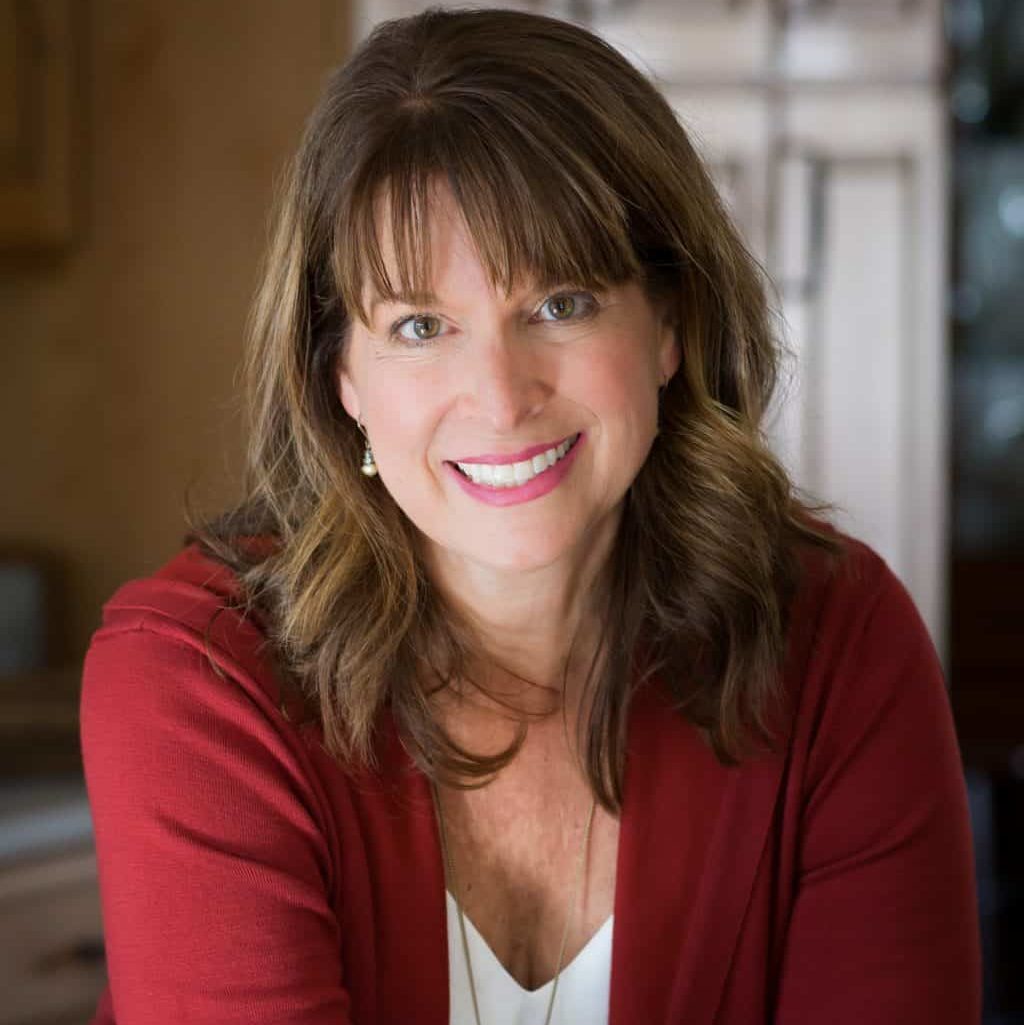 About Kathleen Pope
Recipe Innovator | Food Photographer | Food Writer
Hi, I'm Kathleen Pope. Here at The Fresh Cooky you will find easy, mostly from-scratch, trusted recipes for all occasions. From speedy dinners to tasty desserts, with easy step-by-step instructions. I am here to help teach you how to make mouthwatering recipes without spending hours in the kitchen. Read more about Kathleen here.