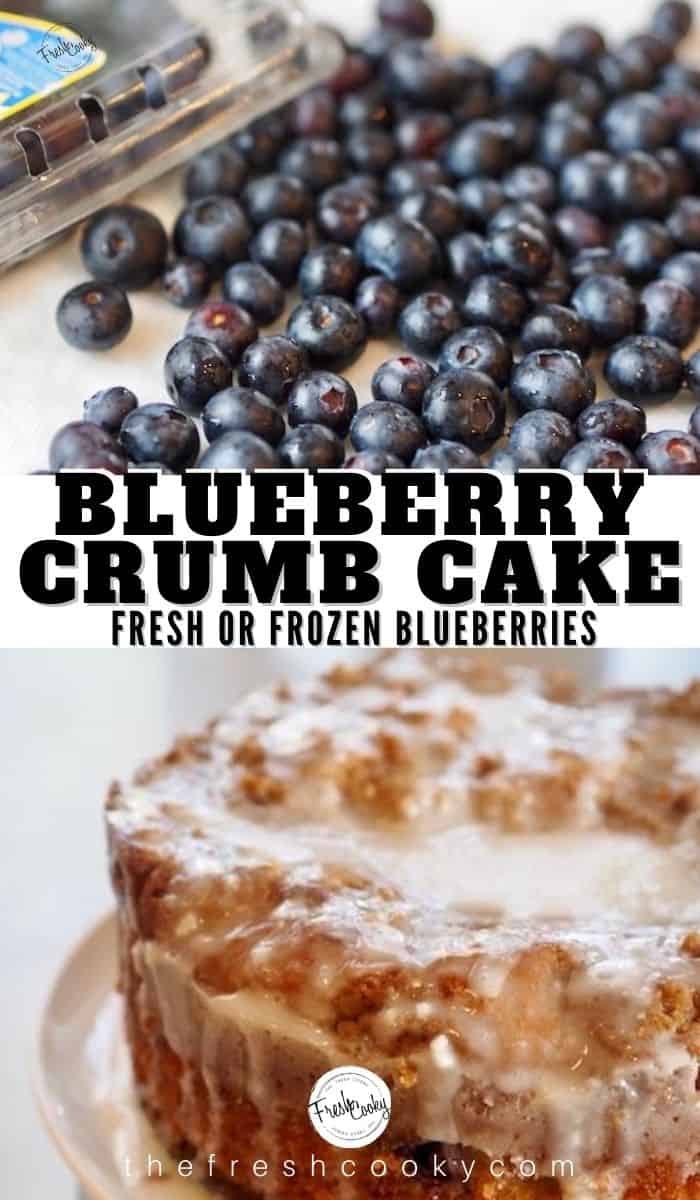 This Blueberry Crumble Cake recipe is like a warm hug from a dear friend, well maybe not a hug, because I know that crumb cakes are not able to hug, but I bet you might just receive a human hug when they taste this incredible coffee cake!
Blueberry crumb cake is perfect for a lazy weekend, holiday breakfast, Mother's Day, Easter, tea party or any special brunch. Using fresh or frozen blueberries, this cake recipe is moist, delicious, the ideal coffee cake!
We love coffee cakes here! Try our Apple Double Crumb Cake, or our "You Can't Mess It Up Coffee Cake" or this amazing Cinnamon Bundt Cake.
BEST BLUEBERRY COFFEE CAKE
⭐️ FREE, DELICIOUS RECIPES? YES, PLEASE! ⭐️
This deliciously moist coffee cake is studded with fresh (or formerly frozen) blueberries, topped with a crunchy brown sugar crumble, then drizzled with a creamy vanilla glaze that hardens as it cools giving the cake the perfect crunchy/crisp to chewy/moist ratio. Dreamy!!
I was reminded of this coffee cake when I was out in California with a group of girlfriends this past weekend, our hostess served us a similar coffee cake for breakfast on Saturday and it was sublime. While her's didn't have blueberries in it, the "hug" was the same.
I've been friends with these women since we've been girls! When women get together with their longtime friends, they turn back into those same gangly, awkward little girls (I'm speaking for myself here). Oh my goodness, we laughed, shared, cried, giggled, listened, reminisced, dreamt, prayed with and encouraged one another. The security of being with friends who really know YOU, your history, and your family is truly priceless.
JOIN THE FRESH COOKY ON PINTEREST
Don't get me wrong, I love my husband and my boys, with every fiber of my being — however; in my humble opinion we were all made for relationship and sometimes we need the understanding, empathy and support of another woman. I would shrivel up without my family and girlfriends.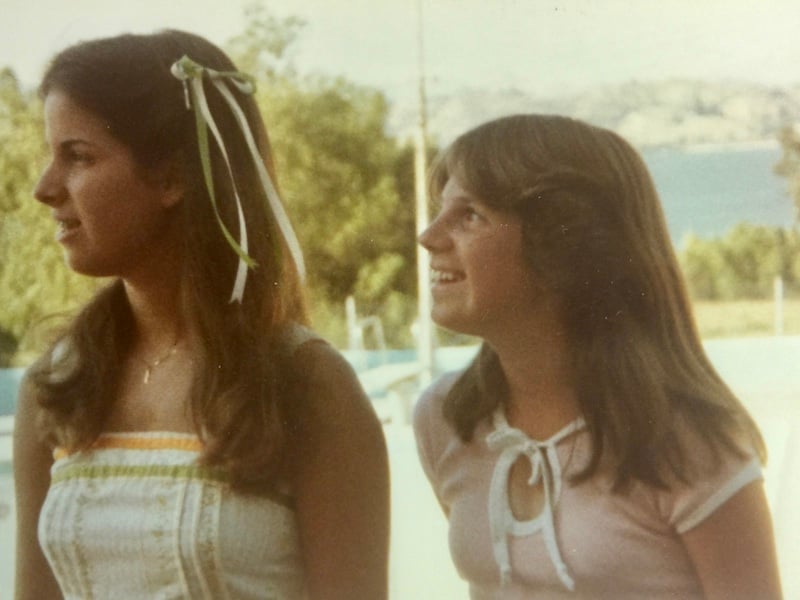 I was privileged to have grown up in the late 70's and early 80's with these girls in a unique situation that threw us together; all living on the same property with our families.
It was the best thing that could have happened to us during those tough adolescent years, we truly became sisters! I won't go into detail, because in all honesty unless you lived it I'm not sure you would understand, not even our spouses fully understand it. In just a few short years, our time together created a bond that wasn't easily broken, we might have moved away, made new friends, raised our own families and yet this experience has drawn us back together. And I'm so glad it did.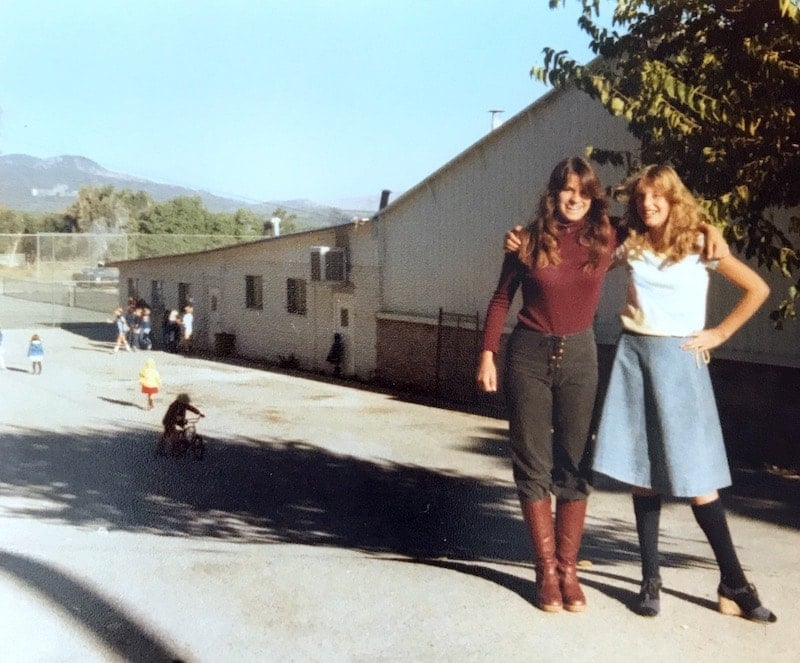 THE IMPORTANCE OF FRIENDSHIP
It's been 40 years since we first met as young girls, while we've seen each other at weddings and such, we haven't all been together in 31 years, BUT you'd have thought we saw each other a month ago.
We picked up right where we left off! This time together brought us back to the core of our friendship and I am so very grateful for these women; I have a feeling that we won't go nearly as long as we did before seeing each other again.
To be have a friend, one must BE a friend; give of yourself, even when you don't have much to give.
Extend, risk and humble yourself to the beauty of authentic, real friendship.
Where truth can be told, in love; where you can see the good, the beauty, and even help heal deep wounds.
Through our vulnerability with one another we can encourage, hold up, and most especially pray for and with one another.
⭐️ FREE, DELICIOUS RECIPES? YES, PLEASE! ⭐️
The older I get the more I realize the importance of these times with girlfriends who really know and love you, just as you are. Friends who see through the extra pounds and wrinkles, to the sweet, kind, caring and vulnerable heart of that young girl that still lies somewhere beneath layers of now crepe-y skin; reminding you of the treasure you are to this world.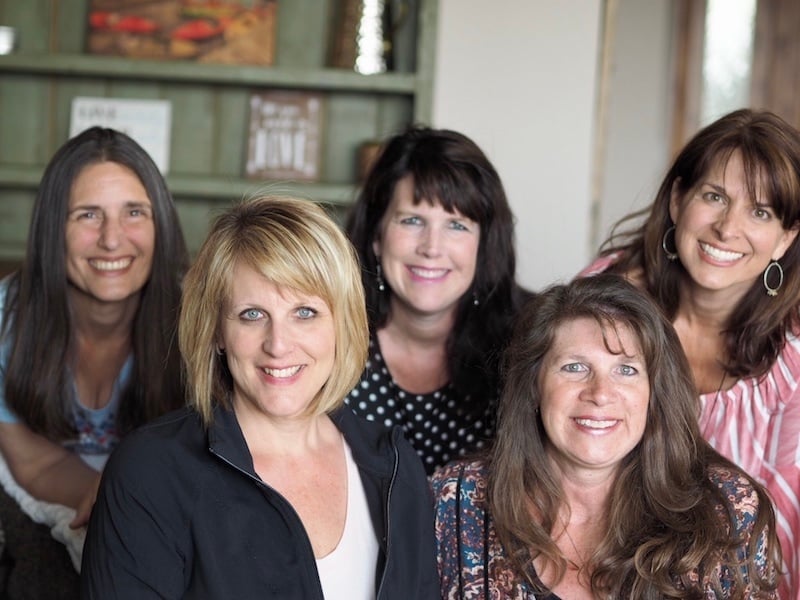 This is a tribute to my dear, life-long, forever friends; my sisters-in-Christ — Dawn, Julie, Lisa and Shawn; what we have, let's not let go of, it's too precious to put off for long; let's use the God-given gift of friendship to stay in one another's lives, encouraging one another, creating more memories together.
And so I encourage YOU my dear reader, to reach out to others; whether it's re-kindling a friendship from long ago, making a new friend, or simply risking going deeper in a current friendship; don't hesitate, jump in with your whole heart! You won't regret it! I'm getting all emotional just writing this, so on to our Blueberry Cake Recipe!
"As iron sharpens iron, so one (wo)man sharpens another" Proverbs 27:17
⭐️ FREE, DELICIOUS RECIPES? YES, PLEASE! ⭐️
First things first, wash your blueberries and let sit on paper towels to dry, if fresh and if frozen, remove from freezer and allow to thaw, if you totally spaced thawing, have no fear, you may just need to bake a little longer, but be sure to coat them in flour, see below.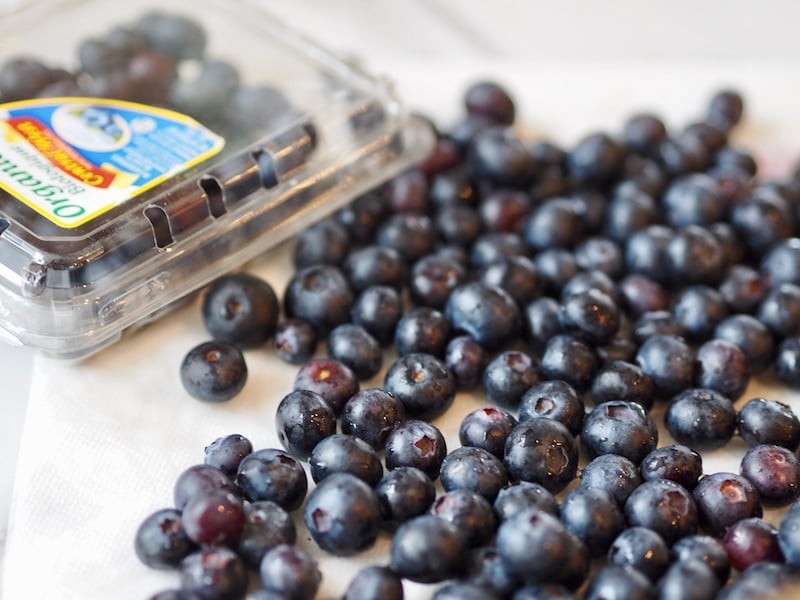 Easy Crumb or Streusel Topping
In a medium-large mixing bowl, combine your brown sugar, all natural cane sugar, all-purpose flour and cinnamon using a fork or mixer.
Add softened butter* and mix well, using your fingers if necessary, until the mixture starts to stick together into large clumps/crumbs. It should hold together when pressed. I like to use my mixer, it takes a bit longer, but I feel like the butter is better distributed in the long run. But you can always just use a pastry cutter or your fingers to mix.
WHY USE REAL BUTTER?
No substitutes, truly there is no substitute for real, cream butter. If it's soft right from the fridge, it's not real butter, and most likely has a higher water and/or oil content which can affect how the cake and especially the crumb topping bakes. If you forgot to take your butter out, have no fear, just quick soften your butter if needed by microwaving for 6-12 seconds.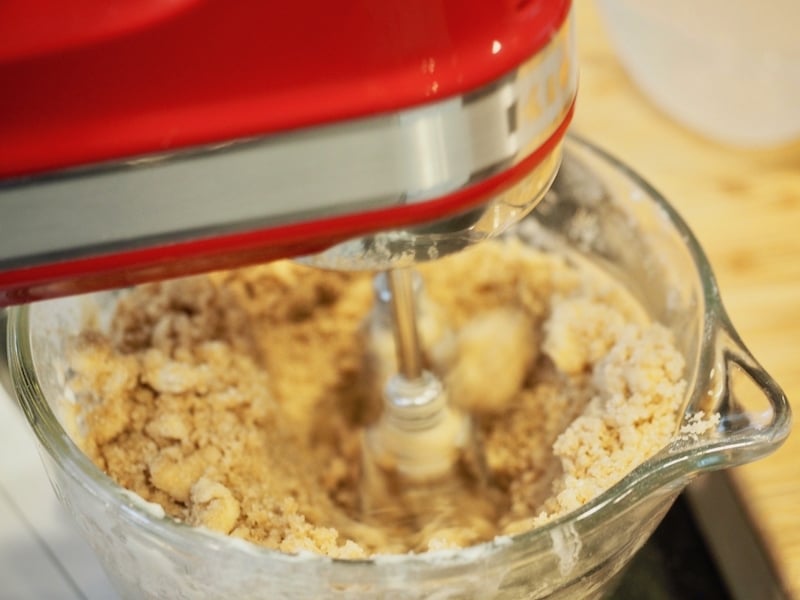 Look at those bodacious, beautiful, buttery crumbs!
BAKERS TIP | Place crumb topping in fridge or freezer while making the cake batter, this will chill the butter once again, so your crumb topping doesn't melt into your cake while baking.
How to Make a Blueberry Coffee Cake
In a large batter bowl or the bowl of a stand mixer, add all-purpose flour, all natural sugar, eggs, milk, butter, baking powder and salt. I've made it both ways, with putting all of your dry ingredients first, then your butter, then your liquids and the end batter was the same, so whatever works best for you.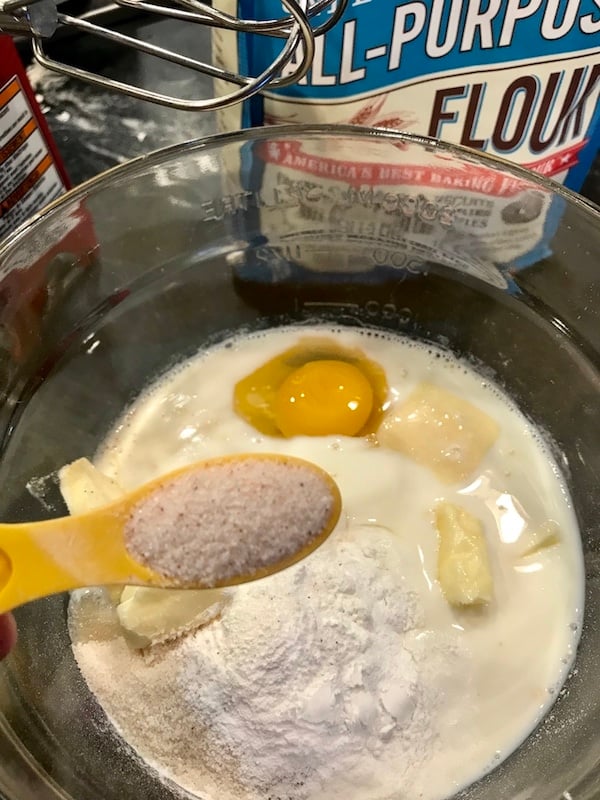 Mix on low, until combined, careful not to over mix, there might even be a few lumps and it'll be fairly thick, don't worry.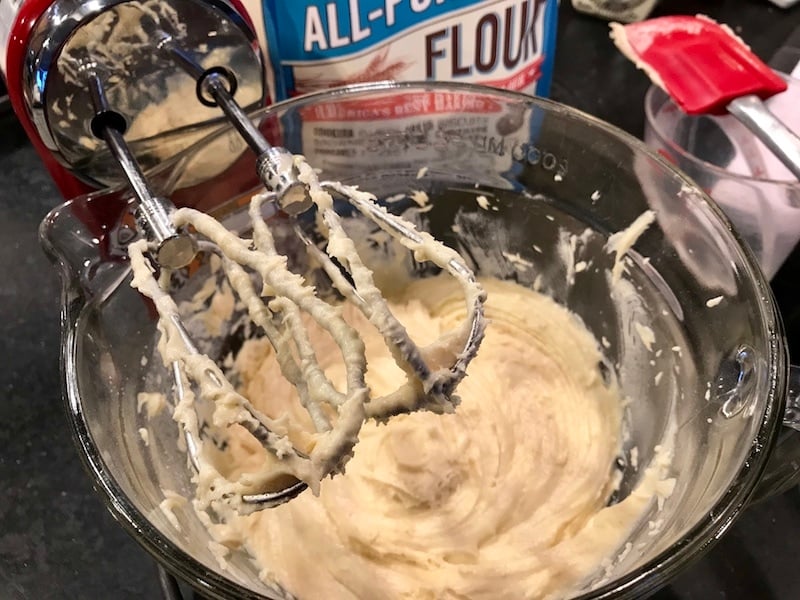 Gently fold the blueberries into the batter, no need to coat them in flour if you are using fresh blueberries, see below for frozen.
Why Do My Blueberries Bleed or Turn the Batter Purple
When frozen blueberries thaw, it brings out all of the pigment that holds the color for these beautiful berries. In order to keep that color from "bleeding" into your dough, before folding in frozen blueberries, gently toss blueberries in a couple tablespoons of flour in a large bow.
The f;pir will help absorb the color, but never fear, while it might make your cake purple, it'll still taste terrific!
Below are two pictures, one of frozen (flour coated) blueberries and the other of fresh.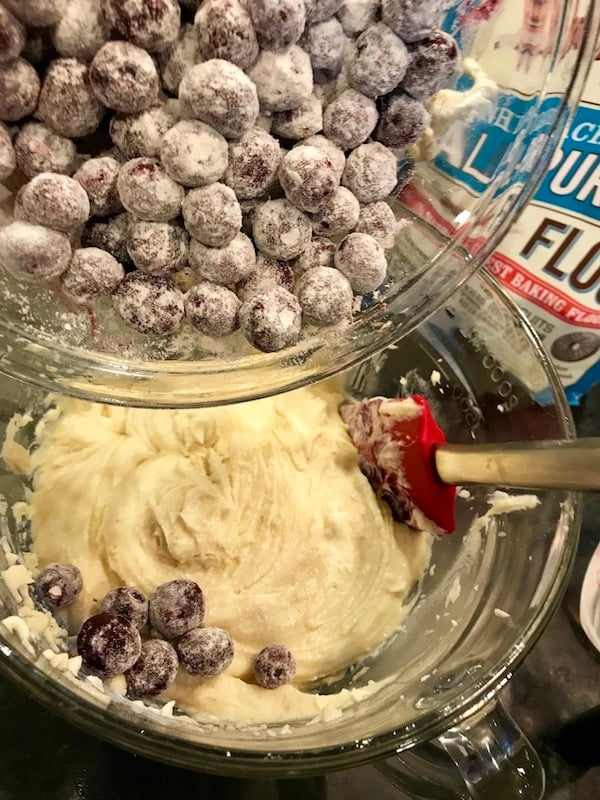 Fresh berries going into the batter…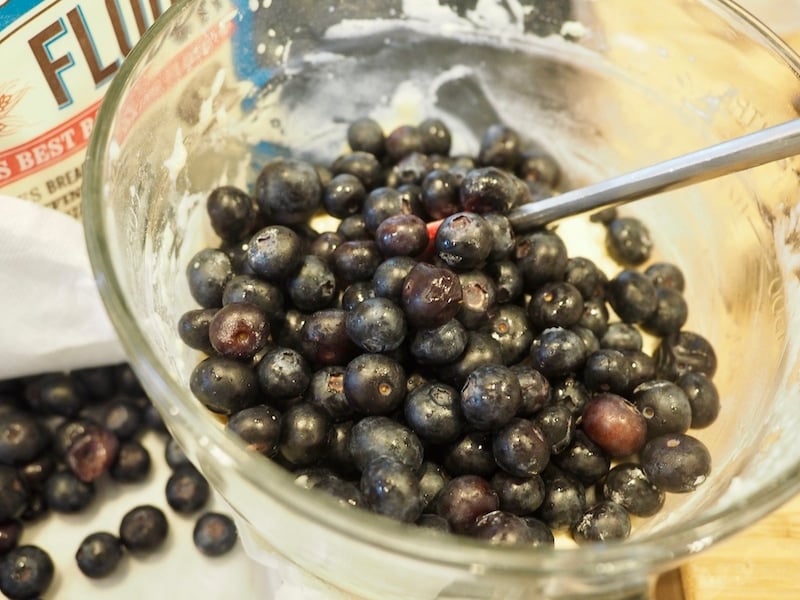 Lightly grease a 9″ springform pan or a 9″ deep square pan if you don't have a springform. If desired for easier removal from pan, cut out a 9″ round (or square) of parchment, lightly spray with oil and place in bottom of pan.
Try splitting the batter into two smaller 6″ springform pans in order to get two cakes from one prep! Freeze one or give one away.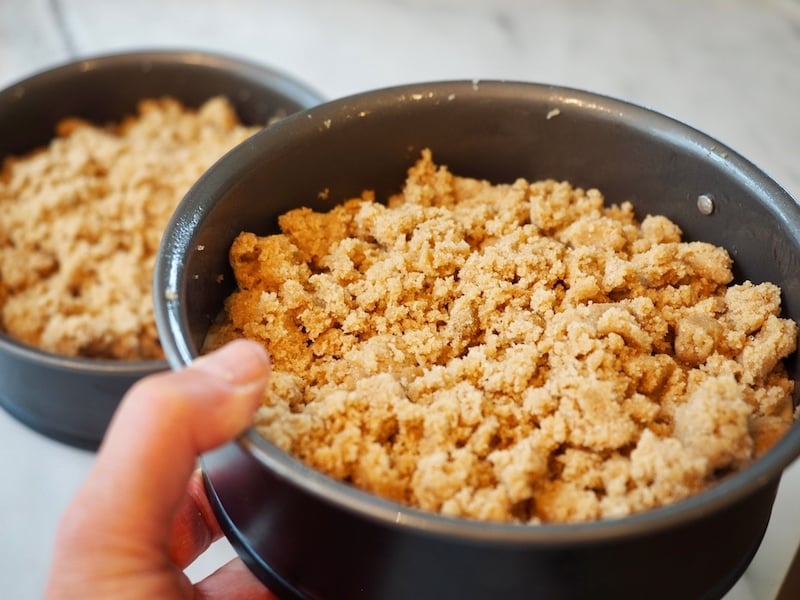 The first picture below is using frozen berries, and you can see I did have some "bleeding," the second picture is using fresh berries. Both cakes turned out delicious!! One was just more purple-y than the other.
BAKING PAN OPTIONS
Substitute a deep 9″ square or round pan, spray well with non-stick spray or line with parchment paper.
Or use an 8″ springform pan, increasing baking time by 10 minutes or more.
Or a 10″ springform (reduce bake time by 10 minutes or so).
Split batter between 2 smaller pans, such as 2 – 6″ springform pans. Bake 30-40 minutes, putting foil on top if gets too brown. Freeze one for later or give one away to a neighbor and make their day!
Crumble the crumb topping evenly over the top of the cake batter, leaving some larger chunks and some smaller so you have a traditional "crumble" topping.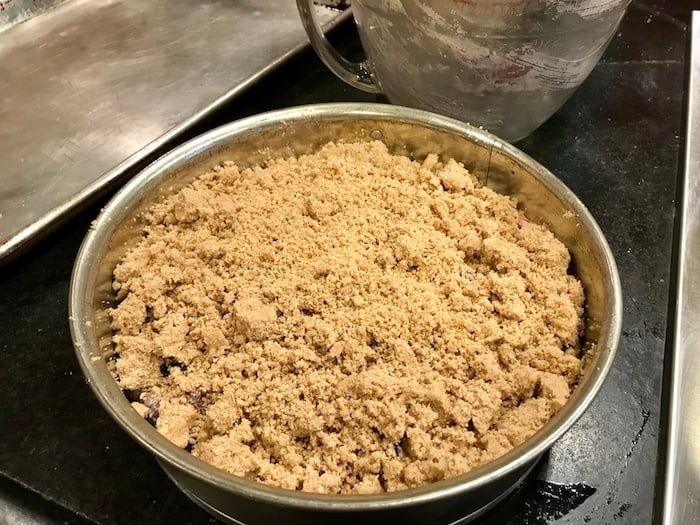 Pop it in your preheated 375º oven and bake it for 50-65 minutes until the top is golden and the center is cooked. If it starts getting too brown on top but isn't done, carefully lay a piece of foil over the top.
HOW TO TELL IF YOUR CRUMB CAKE IS DONE
For some reason I find it hard to tell when my blueberry crumb cakes are finished baking, even when I stick the toothpick in the center, it'll appear to be done, so if yours comes out a bit gooey in the middle, give yourself grace and enjoy the cake, because it's still delicious!
Remove from oven and allow to cool 10 minutes in pan before pouring the vanilla glaze (see recipe) over the top of the warm cake.
Gently run a butter knife around the edge of the pan, to loosen and open the cuff of the springform pan. Serve warm (my favorite) or cooled completely.
Store in fridge — good up to about a week, if it lasts that long. Warm in microwave for a few seconds before devouring.
BLUEBERRY SUBSTITUTIONS
Not a blueberry fan? Substitute the same amount of fresh or frozen berries or even rhubarb (but paired with a sweeter berry)! Or try this Overnight Cinnamon Crunch French Toast or The Best Ooey-Gooey Cinnamon Rolls
Strawberries (sliced)
Blackberries
Raspberries
Cherries
This recipe is adapted from Cookies & Cups.
Giddy to share this week on Meal Plan Monday and Weekend Potluck!
⭐️ FREE, DELICIOUS RECIPES? YES, PLEASE! ⭐️
Like this recipe?
Don't forget to give it a ⭐️⭐️⭐️⭐️⭐️star rating in the recipe below!
Blueberry Crumble Cake
Total Time:
1 hour
30 minutes
This deliciously moist coffee cake is studded with fresh (or formerly frozen) blueberries, topped with a brown sugar crumble, then drizzled with a creamy vanilla glaze that hardens as it cools giving the cake the perfect crunch/crisp to chewy/moist ratio. Dreamy!!
Ingredients
CRUMB TOPPING
1/2 cup light brown sugar, packed
1/4 cup granulated sugar (I use all natural cane sugar)
1/3 cup plus 3 tablespoons all-purpose flour (I use unbleached flour)
1/3 cup plus 2 tablespoons butter (no substitutions), room temp
CAKE
2 cups all-purpose flour (I like unbleached)
3/4 cup granulated sugar (I use natural, unbleached, cane sugar)
2 1/2 teaspoons baking powder
3/4 teaspoon salt
1/4 cup butter, room temp (I use salted. If using unsalted butter, increase salt to 1 teaspoon)
3/4 cup milk (I use whole milk)
1 egg (room temp if possible)
2 cups fresh* blueberries (washed and patted dry, any stems removed)
GLAZE
1 cup powdered sugar
1 1/2 - 2 teaspoons vanilla extract
2-3 Tablespoons milk or cream
*Frozen blueberries may be used, if possible thaw and drain, toss gently in a couple tablespoons of flour to coat, that will help the blueberries to not bleed as much.
Instructions
Preheat oven to 375° and spray 9" springform pan with nonstick spray and if desired, cut out a piece of parchment paper for easier transfer to serving dish.
CRUMB TOPPING
In medium bowl combine all crumb dry ingredients and stir. Cut butter into smaller chunks and mix with mixer until combined or using fingers or pastry cutter mix until butter is combined and you can squeeze together to form clumps. Place mixture in fridge until ready to use.
CAKE
In large mixing bowl, combine flour, sugar, baking powder and salt. Stir to combine. Add softened butter, in chunks, milk and egg.
Using a mixer, mix until mostly smooth and combined. Batter will be thick, if too thick, add additional 1/4 cup milk. Gently fold in washed/dried blueberries into the batter.
Pour into prepared 9" springform pan (see options in notes). Remove crumble from fridge and crumble on top of coffee cake batter, larger marble sized chunks. Bake 50-65 minutes until top is golden and center is firm, toothpick may or may not come out clean. Remove from oven and cool 10 minutes on a wire rack. Then glaze.
GLAZE
Prepare glaze while cake is cooling. In a small bowl, mix powdered sugar, vanilla and milk/cream until smooth and pourable consistency.
Pour over top of warm cake for glaze that hardens and melts into cake, or if preferred, wait until cake is cooled completely then pour glaze over.*Glaze is pretty, but can definitely be left off the cake.
To serve, using a butter knife, gently run around the edge of the cuff of the springform. Open springform and gently lift off. If you used a piece of parchment, slide a flat spatula or large knife under and carefully slide off springform bottom onto plate or serving dish. Serve cooled or warm, may favorite!
Notes
Always use real butter for baking, no spreads or blends. I use salted and unsalted butters interchangeably, just decrease salt slightly in your recipe if using salted.
Substitute any other berries; strawberries (sliced), blackberries, raspberries are all delicious. Substitute equal amounts of fresh or frozen.
BAKING OPTIONS
Substitute a deep 9" square or round pan.
Or use an 8"springform pan, increasing baking time by 10 minutes or more.
Or a 10" springform (reduce bake time by 10 minutes or so).
Split batter between 2 smaller pans, such as 2 - 6" springform pans. Bake 30-40 minutes, putting foil on top if gets too brown. Freeze one for later.
© 2018 | This recipe for Blueberry Crumble Cake was featured first on The Fresh Cooky.
This recipe was adapted from Cookies & Cups Blueberry Muffin Cake
Recommended Products
As an Amazon Associate and member of other affiliate programs, I earn from qualifying purchases.
Nutrition Information:
Yield:

12
Serving Size:

1
Amount Per Serving:
Calories:

319
Total Fat:

8g
Saturated Fat:

5g
Trans Fat:

0g
Unsaturated Fat:

3g
Cholesterol:

35mg
Sodium:

300mg
Carbohydrates:

59g
Fiber:

2g
Sugar:

37g
Protein:

4g
The nutritional information is estimated and may not be entirely accurate.
Breakfast Pastries and Coffee Cakes
GET FREE RECIPES DELIVERED RIGHT TO YOUR INBOX!
Love Wholesome & Delicious Recipes?
Follow along on Pinterest ★ Instagram ★ Facebook ★