Instant Pot Scalloped Potatoes with Ham
As an Amazon Associate, I earn from qualifying purchases. Please read my disclosure policy.
Instant Pot Scalloped Potatoes with Ham is a cheesy, creamy, hearty version of a traditional scalloped potato dish. And they are made in a fraction of the time, thanks to the instant pot! Scalloped potatoes are an easy weeknight meal all-in-one, or an amazing side dish to accompany your holiday meal. Your choice!
I simply adore Instant Pot recipes like Easy Instant Pot Ground Beef Stroganoff and Instant Pot Potato Leek Soup, they save oven space too!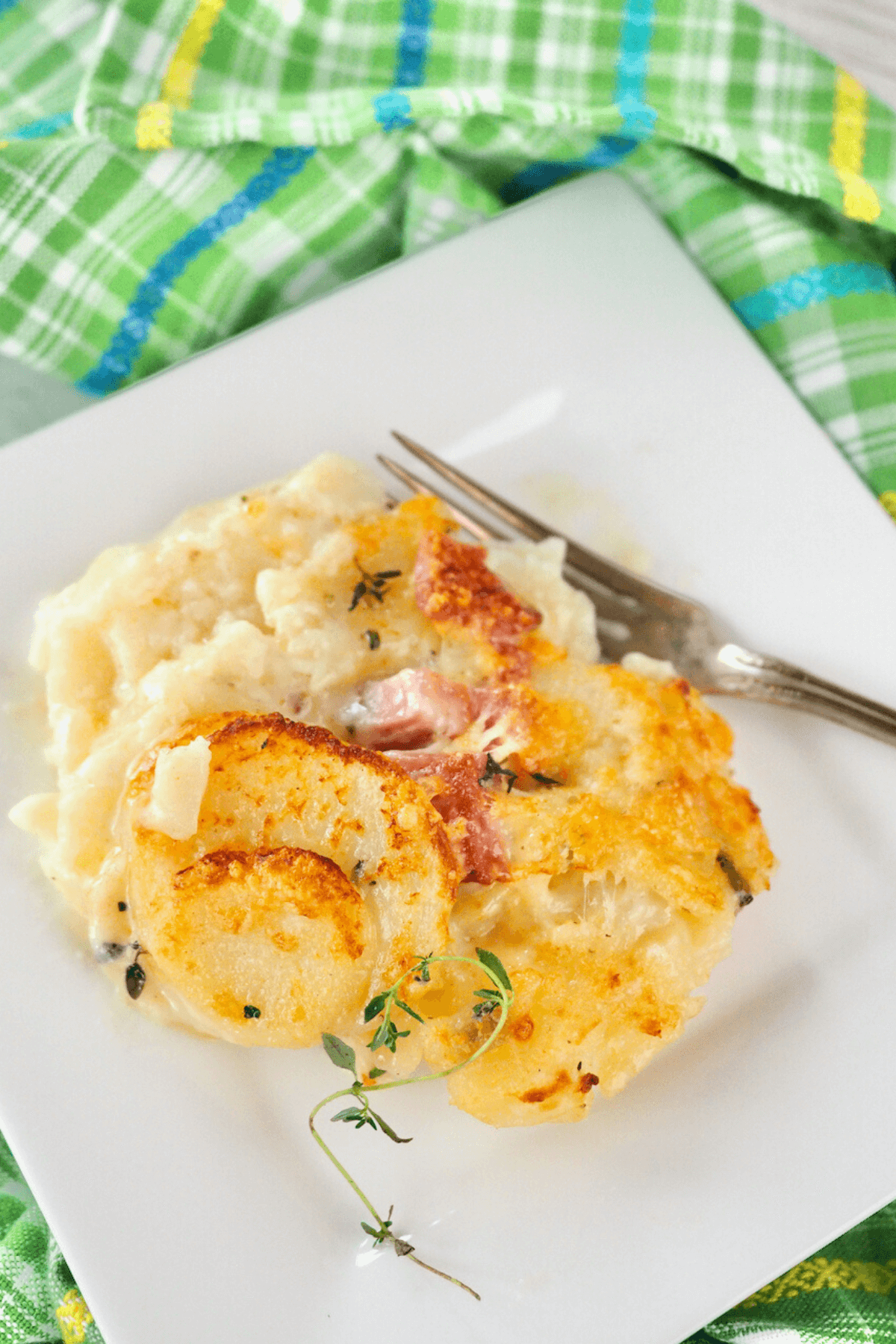 Need another perfect side dish for your Christmas or Easter table? Try my delicious Glazed Tarragon Carrots, this wildly popular Corn Pudding without Jiffy and maybe the Best Instant Pot Turkey Breast for the uncle that does not like ham! (I think every family has one!)
If you are looking for a more traditional oven baked Potatoes Au Gratin, this recipe goes nuts every holiday season!
Why You Will Love this Instant Pot Scalloped Potatoes Recipe
It's a quick and easy scalloped potatoes with ham recipe with super tender potatoes
A naturally gluten-free scalloped potato dish
Easy adjustments to make it vegetarian.
This is a FANTASTIC dish using leftover ham!
Recommended Equipment
Electric Pressure Cooker | This is my favorite Instant Pot!
Mandoline | I love this simple hand held version from Oxo
Box Grater | Since you are shredding your own cheese!
Ingredients
For the full recipe and measurements print the recipe card at the end of the post
Potatoes | Use a starchier potato like Russets or Yukon Golds
Smoked Cooked Ham | I used uncured ham without nitrates and nitrites for a healthier choice
Seasonings | Kosher salt, black pepper, onion powder, fresh thyme and rosemary
Broth | Use vegetable broth for vegetarian, chicken broth otherwise
Cheese | I used Gruyere cheese a rich, nutty cheese traditionally used in scalloped potatoes, but feel free to use cheddar cheese or Monterey Jack or other favorite cheese, you can even use Parmesan cheese which would have a little sharper bite.
Heavy Cream | You may also use half and half, but since this is for a holiday dinner, let's go!
Nutmeg | this is optional, but really brings out the flavor in the cheese mixture, I highly recommend it.
Garnish with chopped fresh thyme or rosemary!
Healthy Twist
No fake cheese in this cheese sauce! Just pure deliciousness!
Organic ingredients used; making it cleaner, healthier
Use uncured ham (without nitrates or nitrites) available in most grocery stores.
How to Make Instant Pot Scalloped Potatoes with Ham
Start by buttering an 8×8 baking dish or 10×7" casserole dish or spray with cooking spray or non-stick oil. Then get ready to prepare the ingredients.
Step 1 | Prep the Potatoes and Ham
Peel and slice the potatoes with a sharp knife or a mandoline to ¼ inch thick. Then add the sliced potatoes into the high-pressure cooker pot in layers,
Sprinkle the diced ham on top of the layers of potatoes and top with salt, pepper, onion powder, garlic powder, thyme, and rosemary.
Then add the broth and place the lid on the instant pot, you will not be using the steamer basket.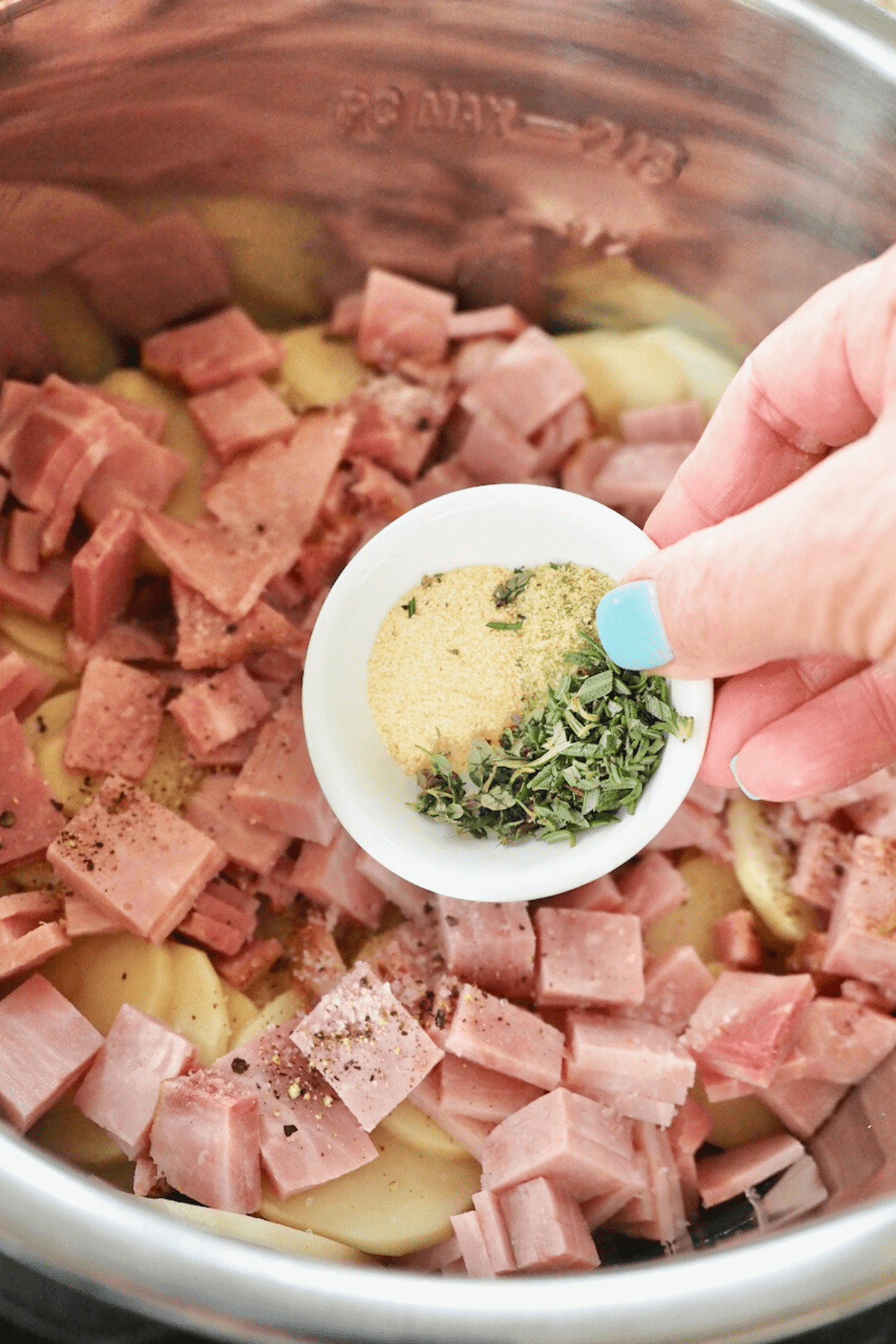 Step 2 | Working with the Instant Pot
Place the lid on the pot, seal the vent, and press the Pressure Cook/Manual button, be sure it's on high pressure. Set the cook time for 1 minute (2 minutes for high altitude). Yes, for one or two minutes. It will take about 12 minutes to come to pressure and they will be cooking during that time.
Then, perform a quick release of the steam once the cooking has ended. When the pressure pin pops down, open the lid.
Step 3 | Transfer the Potatoes
Using a cooking spider or slotted spoon, carefully remove the potatoes and ham to your prepared baking dish. Layer them as nicely as you are able, they won't be perfect.
Leave as much liquid behind in the pot as possible for the creamy sauce.
Step 4 | The Cheese Mixture
If not much broth is left after the potatoes are removed, add an additional ¼ – ½ cup of broth to the Instant Pot and turn on the Sauté function.
Add 1 ½ cups of cheese (reserving the rest of the shredded cheese for topping), heavy cream, and nutmeg to the liquid in the pot. Stir until melted and creamy, then turn off the Instant Pot, watch carefully it can burn quickly.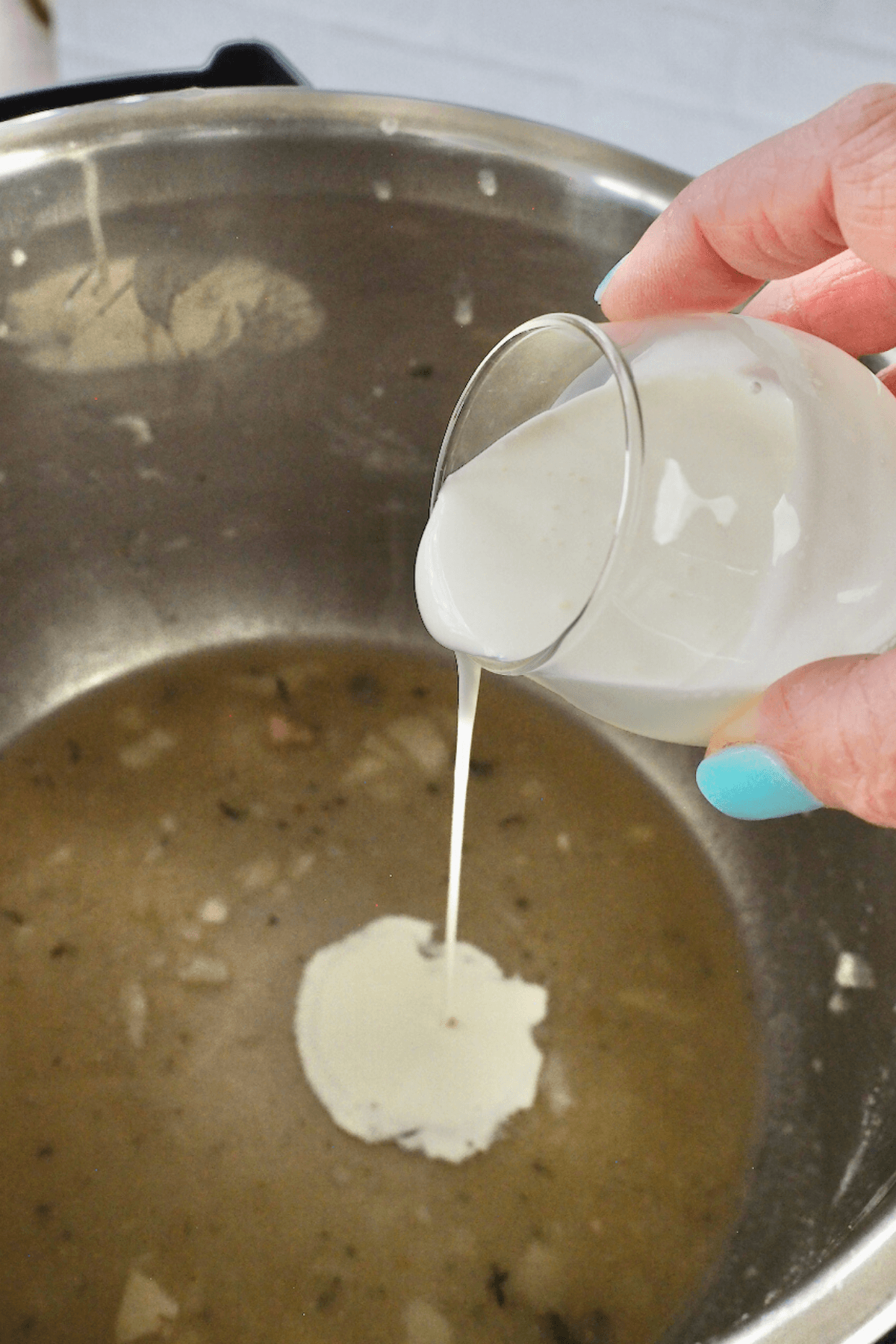 Step 5 | Quick and Easy Scalloped Potatoes with Ham
First, preheat the oven broiler to 500 degrees, with the oven rack about 8 inches from the top.
Using a spatula spread the cheesy mixture evenly over the layered potatoes and sprinkle with remaining cheese, and if desired, add 1-2 tablespoons of cheese pats distributed over the potatoes.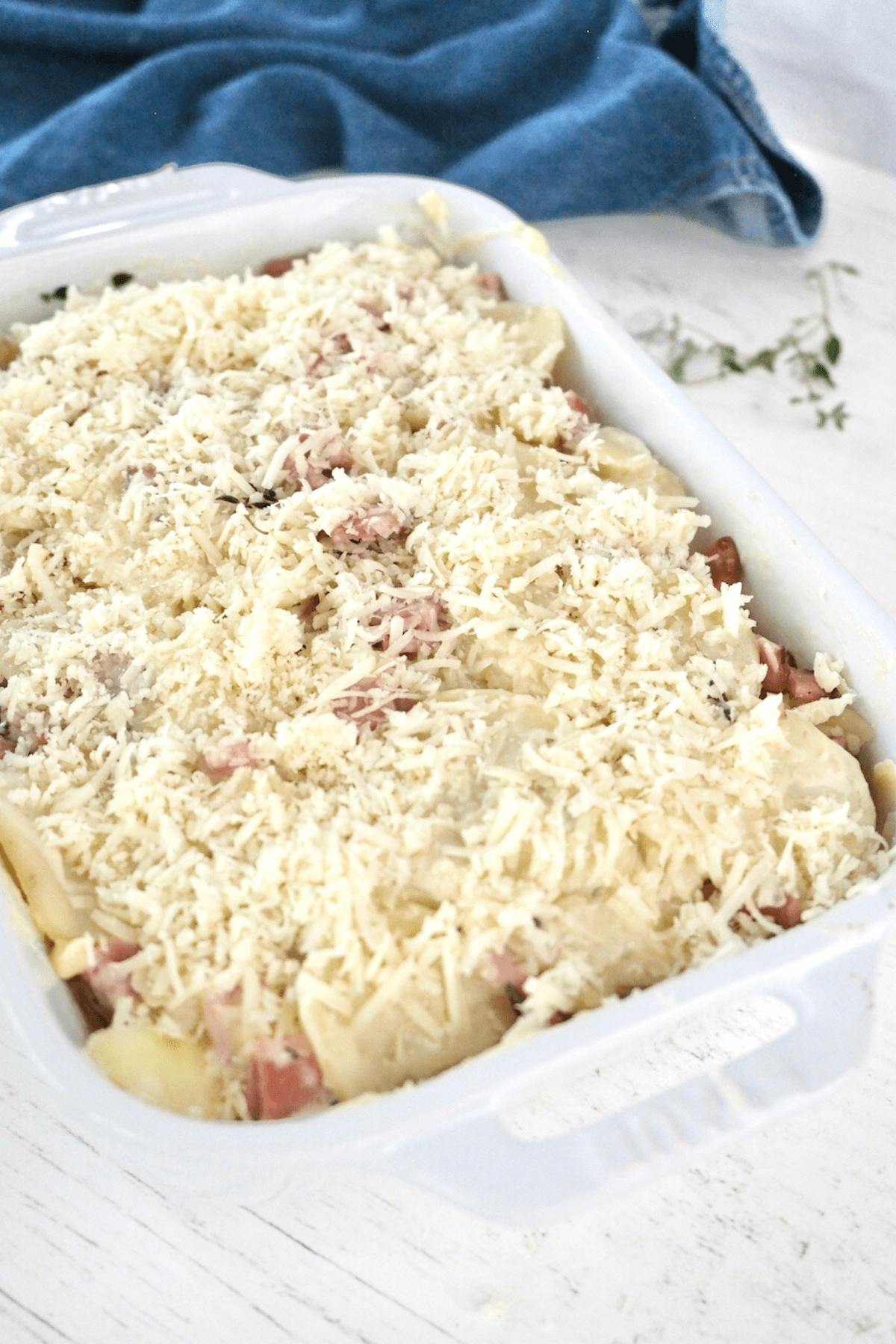 Set the baking dish in the preheated oven under the broiler for 5-10 minutes or until the cheese is browned and golden. *Watch carefully, it can go from golden brown to burn quickly.
Allow the instant pot scalloped potatoes with ham to sit for 10 minutes before serving, then garnish if desired with chopped fresh thyme or rosemary.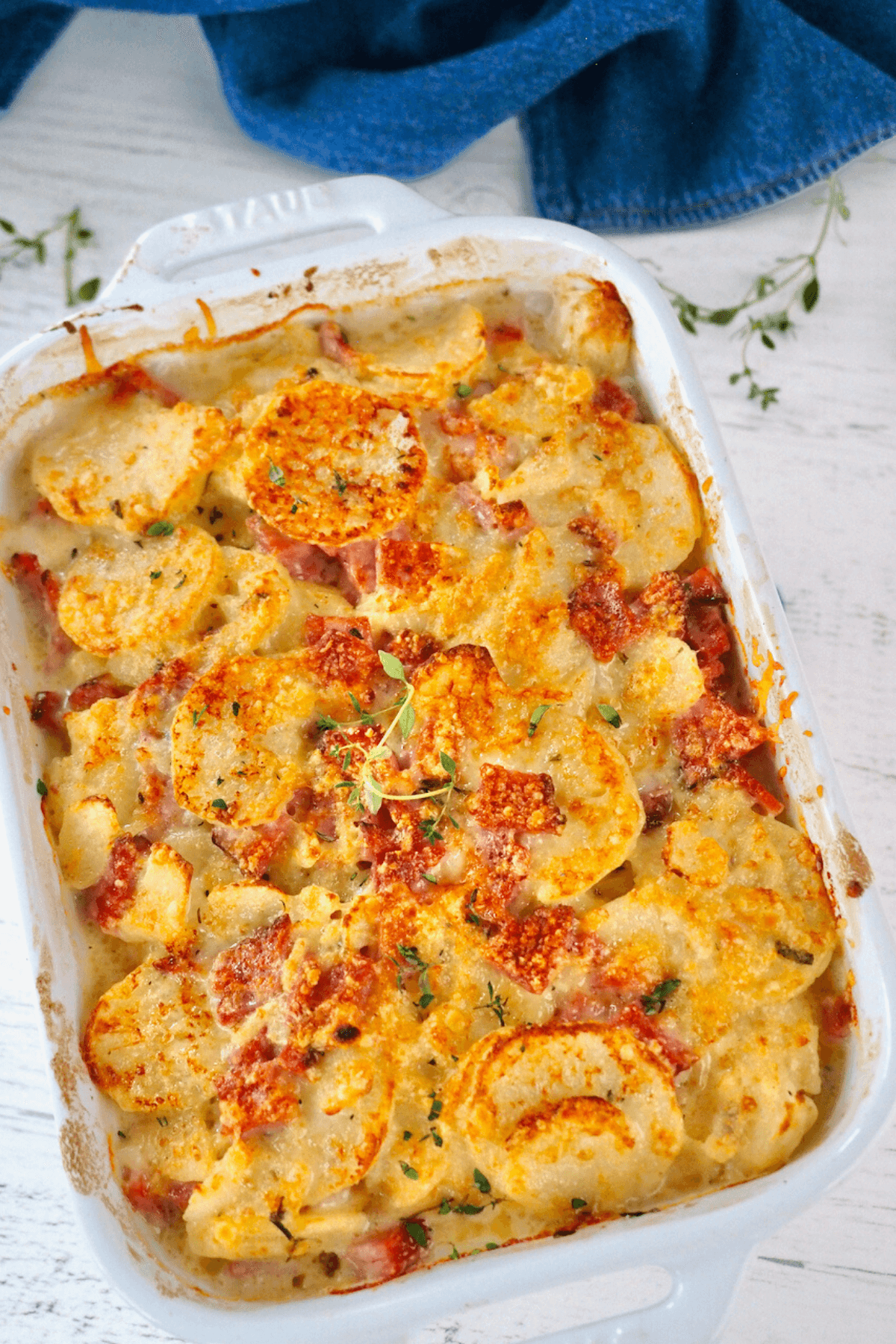 Top Tips
Slice the potatoes about ¼ to 1/3 inch using a mandoline slicer. If you slice them too thin, they will not keep their shape and will turn to mush.
Always allow the dish to rest after baking. Like a homemade lasagna, the cooked potatoes, and cheesy creamy sauce are allowed to mingle and will serve better.
Use quality ingredients, this is a main dish potato recipe and worth every calorie!
Peel and slice potatoes ahead of time, fill a bowl with cold water and submerge potato slices in water. When ready to use, drain and pat dry.
Variations & Substitutions
Vegetarian Scalloped Potatoes | Simply use vegetable broth and leave out the ham, and put it on the side for others.
Gluten-Free Scalloped Potatoes | Easy – check the ham, powdered spices, and chicken broth carton or cans to be sure they are labeled certified GF. There are readily available gluten-free versions of all these in your local grocery store. And be sure to grate your own cheese!
Not a fan of ham? Try shredding a rotisserie chicken for the protein in this dish.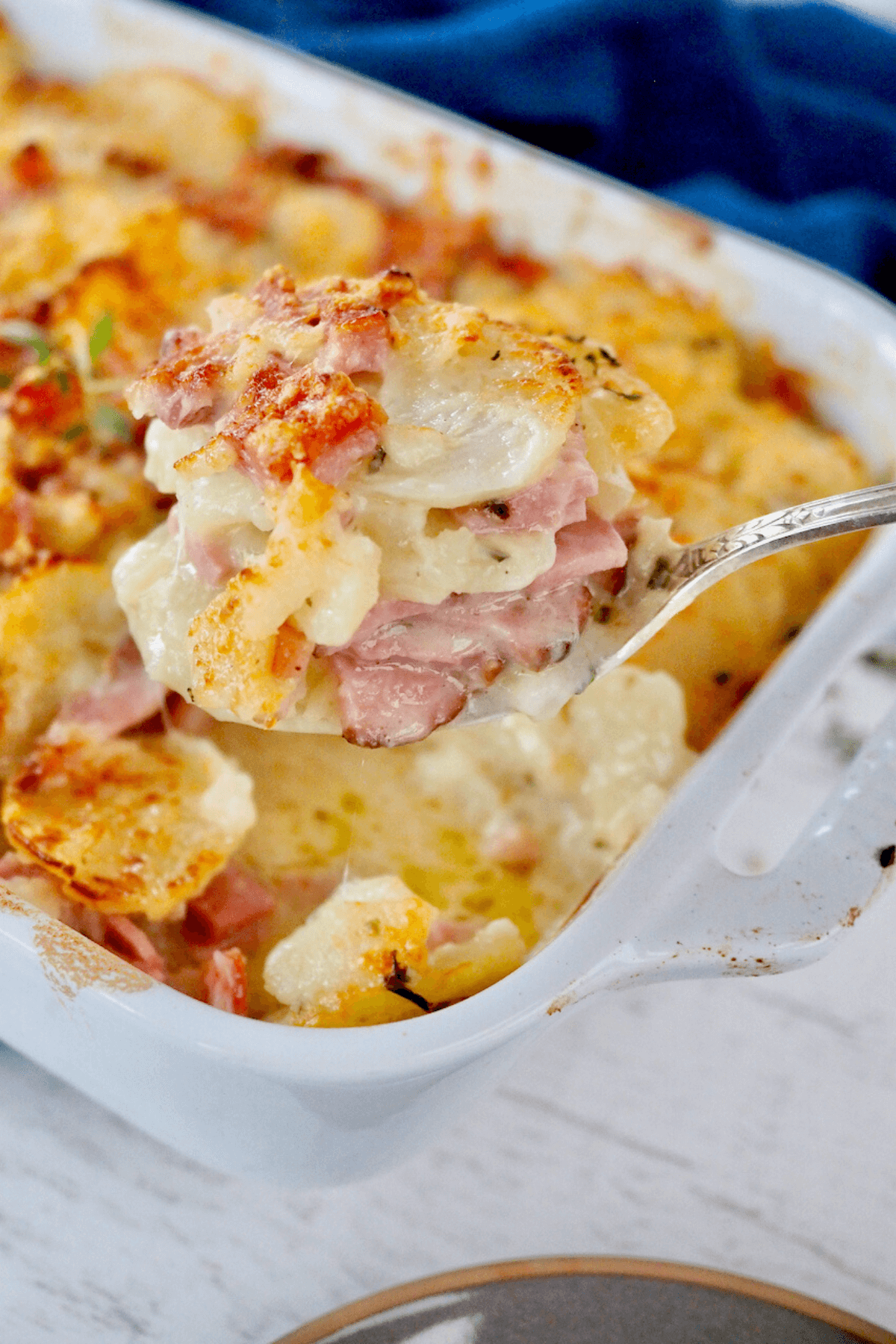 Storage Tips
Leftovers | For leftovers of the potatoes recipe, cool completely then place in an airtight container and store in the refrigerator for up to 5 days.
Freezing | If desired, the entire baking dish may be frozen for up to 3 months if well sealed. I suggest wrapping the dish in plastic wrap first, then in aluminum foil.
Reheat | Remove the cooked potatoes from the fridge or freezer and allow them to come to room temperature before placing them in the oven.
Then warm for about 30-60 minutes at 375 degrees. Remove the foil for the last 10 minutes to brown the top of the easy scalloped potatoes. The cheesy potatoes should be bubbly around the edges and warmed in the center.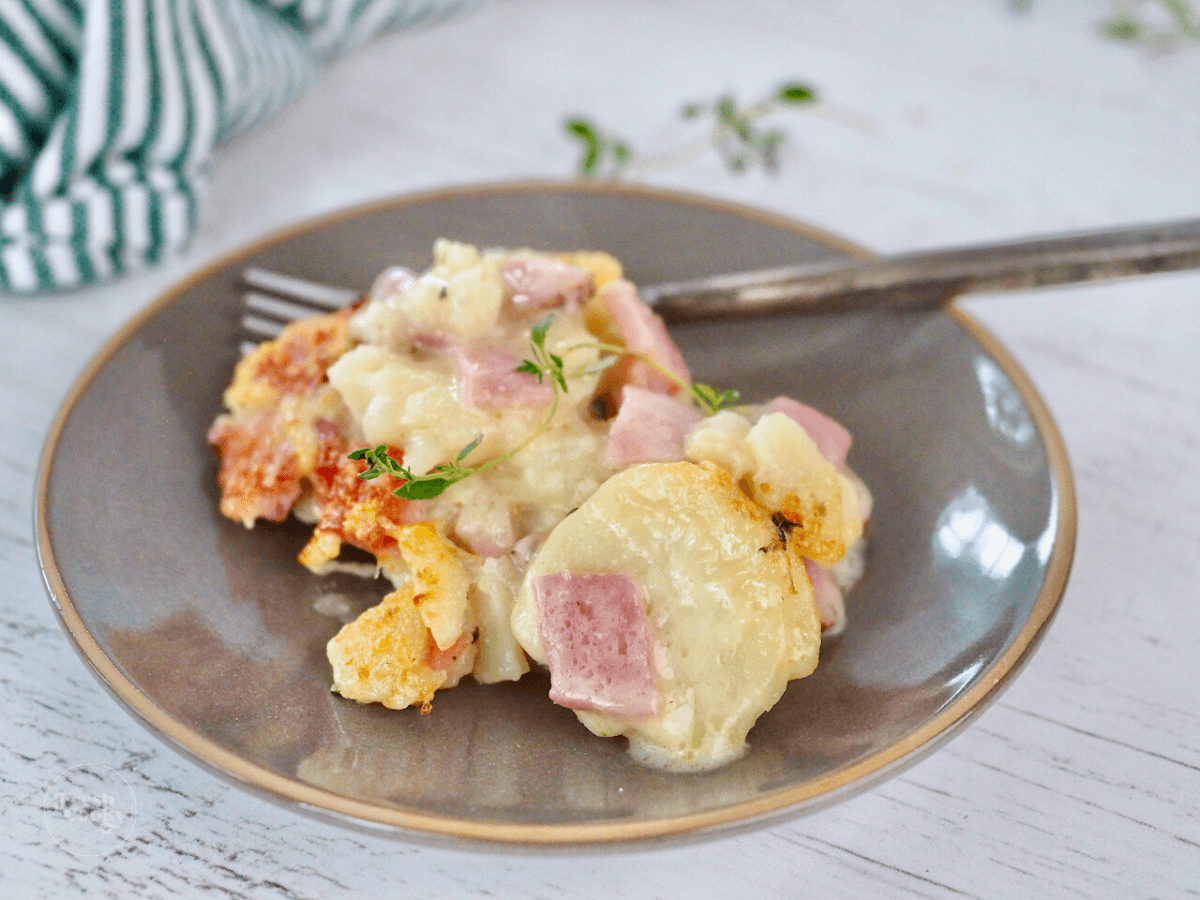 Are they done? To see if they are finished warming, place a butter knife in the middle of the au gratin potatoes and hold for 30 seconds. When removed, if the knife is hot, they are ready. But if the knife is cold, they need more time.
Frequently Asked Questions
What type of potato is best?
I like the starchier potatoes for this recipe. It comes out so creamy and delish when you use Russet Potatoes or Yukon Golds.
Is this a make-ahead recipe?
Sure is. You can prepare this entire recipe all up to the point of placing the dish in the oven. At that point, cool completely, cover well and store in the fridge or freezer until you are ready to place in the oven and serve!
Can I double the recipe?
You can! Just double the ingredients, the cooking time will stay the same! However; I would recommend using an 8 quart Instant Pot for best results.
Are fresh and dried herbs the same?
When using dried herbs, you will use ⅓ of the amount of fresh in the recipe.

For instance: Instead of a tablespoon of fresh rosemary, you would add 1 teaspoon of dried rosemary & thyme, etc.
Check out my free Cooking and Baking Substitution Chart!
Other Amazing Casserole Dishes
More Potato Recipes
Love It? Pin It!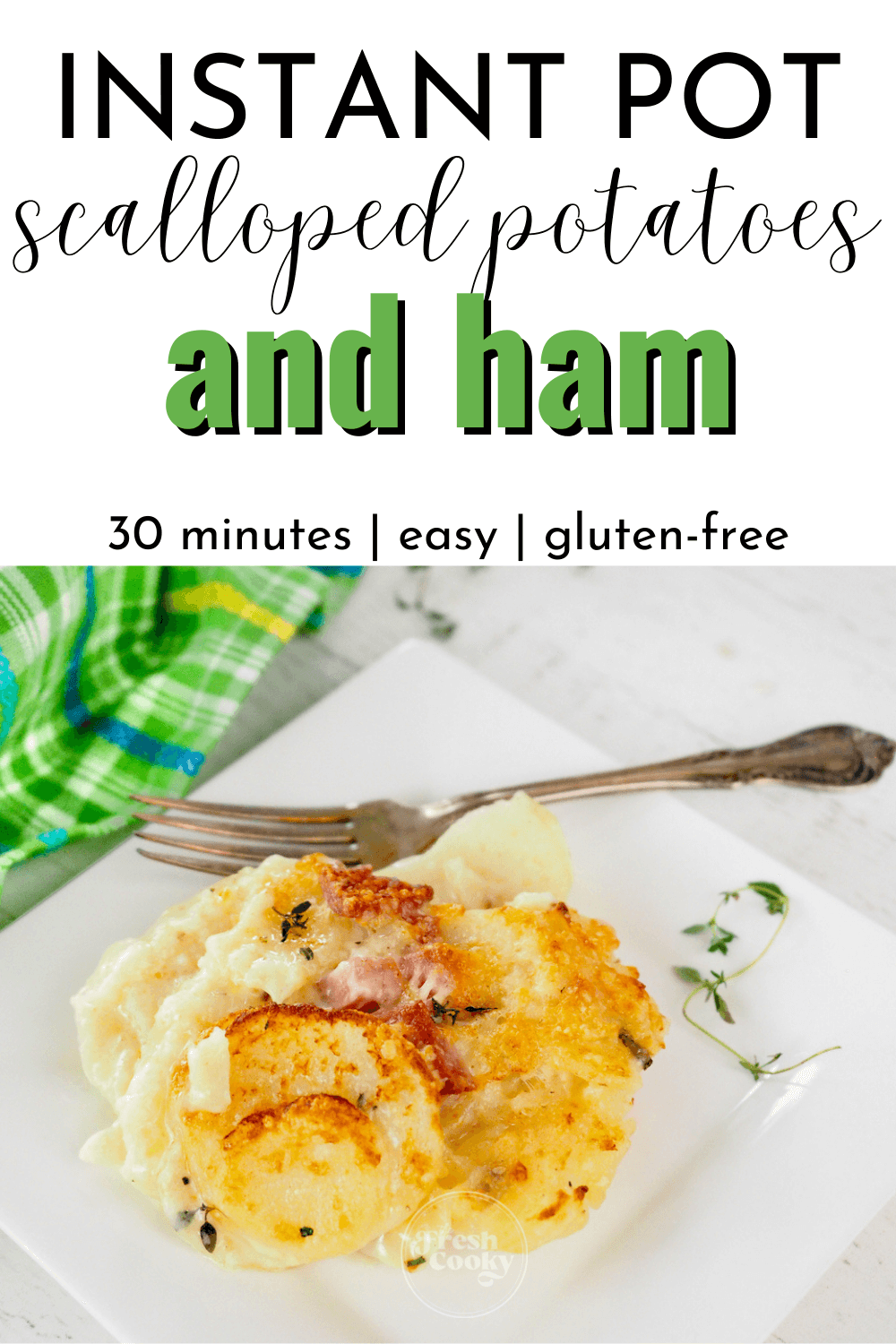 I hope you loved these Instant Pot Scalloped Potatoes with ham, a delicious dish of homemade scalloped potatoes. Be sure to leave a 5 star rating below and a comment!
Like this recipe?
Don't forget to give it a ⭐️⭐️⭐️⭐️⭐️ star rating and comment below the recipe!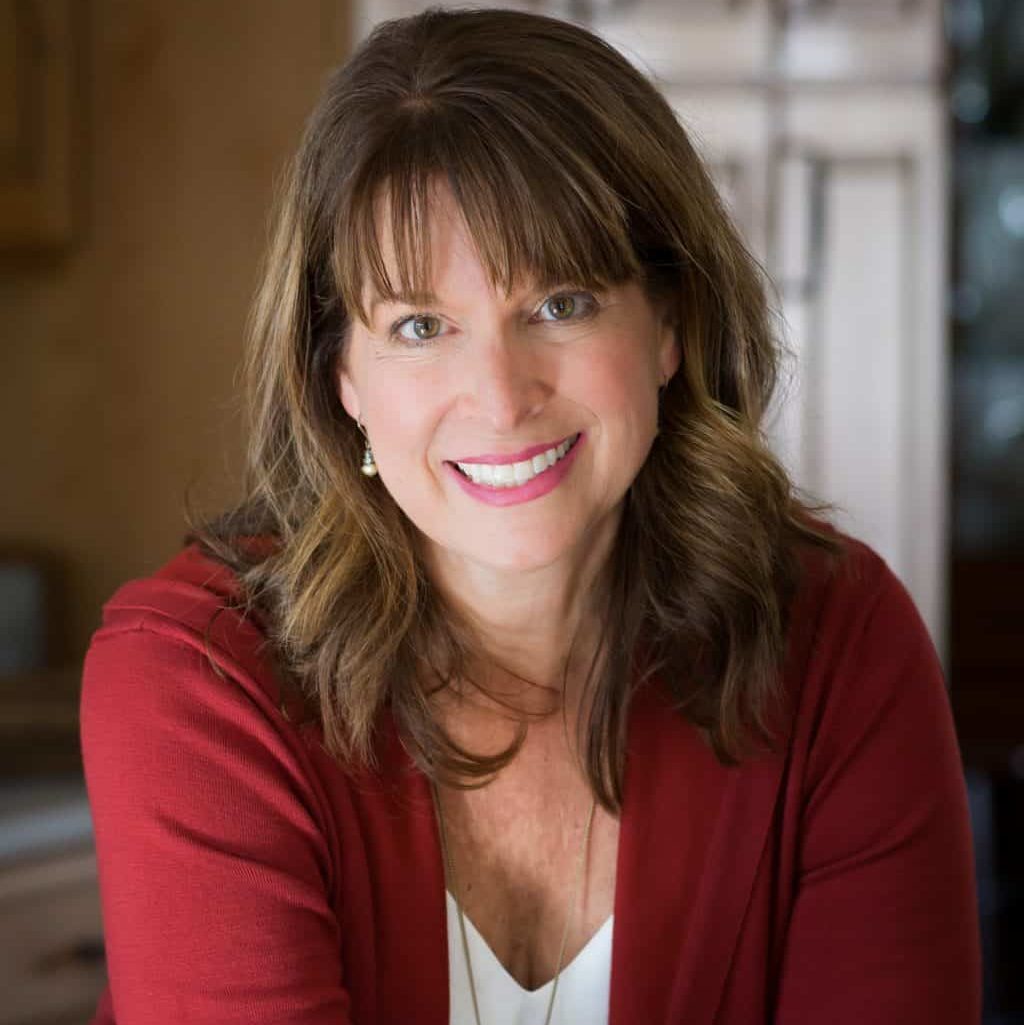 About Kathleen Pope
Recipe Innovator | Food Photographer | Food Writer
Hi, I'm Kathleen Pope. Here at The Fresh Cooky you will find easy, mostly from-scratch, trusted recipes for all occasions. From speedy dinners to tasty desserts, with easy step-by-step instructions. I am here to help teach you how to make mouthwatering recipes without spending hours in the kitchen. Read more about Kathleen here.