Easy Elderflower French 75 Cocktail with St Germain
As an Amazon Associate, I earn from qualifying purchases. Please read my disclosure policy.
This Elderflower French 75 recipe is a beautiful and easy cocktail, with a twist on the classic. By subbing sweet St. Germain Elderflower liqueur for the simple syrup, we add flavorful floral notes to this stunning cocktail.
I love mixing pretty and delicious cocktails for a special occasion, like this Blueberry Gin Cocktail with gorgeous color or this Cranberry Lemon Drop Martini. Serve along with this Charcuterie bouquet for any celebration.
The French 75 Cocktail is a classic cocktail – bright, citrusy with floral flavors thanks to St. Germain. Serve this French 77 cocktail as a Sunday brunch cocktail this Easter, to ring in New Year's Eve, or for any celebration.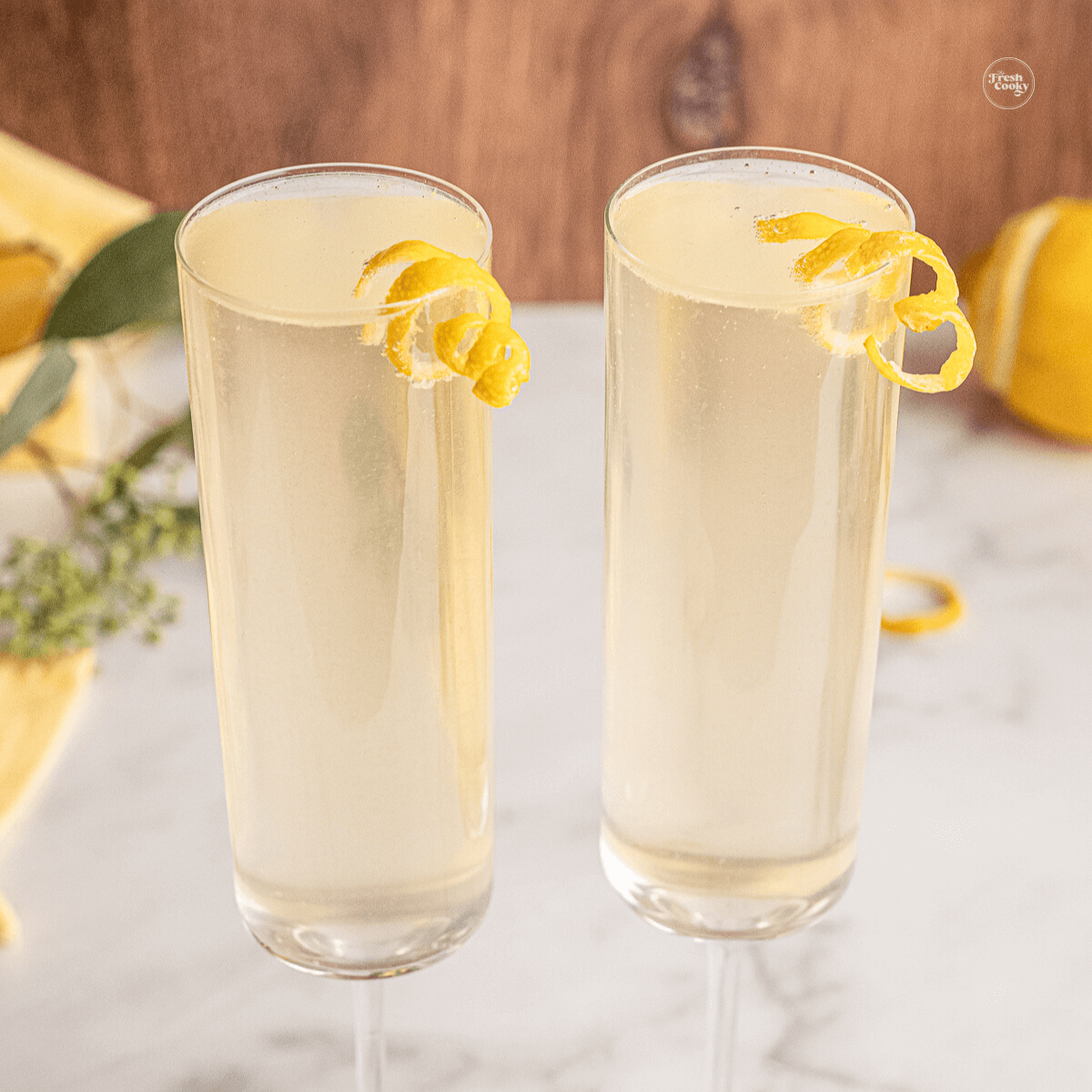 What is Freaky Friday?
Our Freaky Friday Blog Hop creator is Michaela from An Affair from the Heart, where she secretly assigns participating bloggers to another blog to remake a recipe of their choice. We make their recipe, photograph it as if it were our own, write a post about it in our own words then all share our posts on the selected Friday.

Meet Susannah
I knew I was going to choose a cocktail recipe when I was assigned Susannah's blog because, she is the cocktail queen! Plus, she is an all-around kind, generous and amazing woman. You'll love her!
Hailing from Charlotte, North Carolina, Susannah is a cocktail blogger bringing easy-to-replicate cocktail recipes for the home bar. Whether you like a strong drink or a refreshingly delicate flavor, her great drinks are easy enough for the novice cocktail crafter and delicious enough for the seasoned bartender.
I hope you take the time to get to know Susannah and her blog at Feast & West.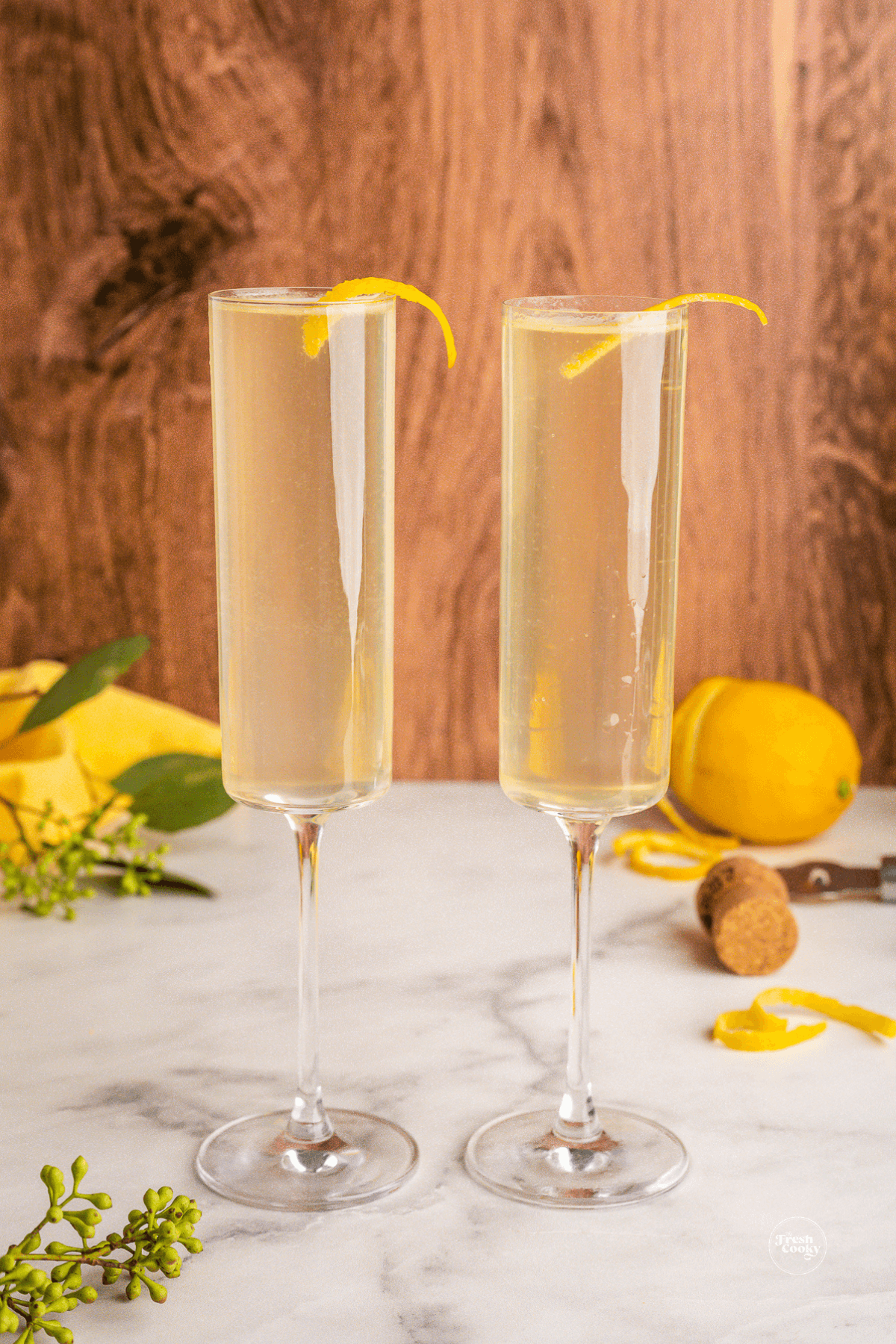 French 75 St. Germain
While choosing a recipe from her blog, I found this Honey Lemon Whisky Sour and her Two Ingredient Beermosas too enticing not to try. But my choice for this Freaky Friday Blog Hop is this Elderflower French 75 Cocktail – I am hosting Easter this year and thought it would be the perfect cocktail!
Check out my previous Freaky Friday recipes: Easy King Cake Recipe Crescent Rolls, White Chocolate Peppermint Cookies, Toasted Ravioli, Old Fashioned Lemon Squares, Creamy Bow Tie Pasta Recipe, Cranberry Bourbon Sour, Mint Fudge Brownies, and Oatmeal Rolled Sugar Cookies.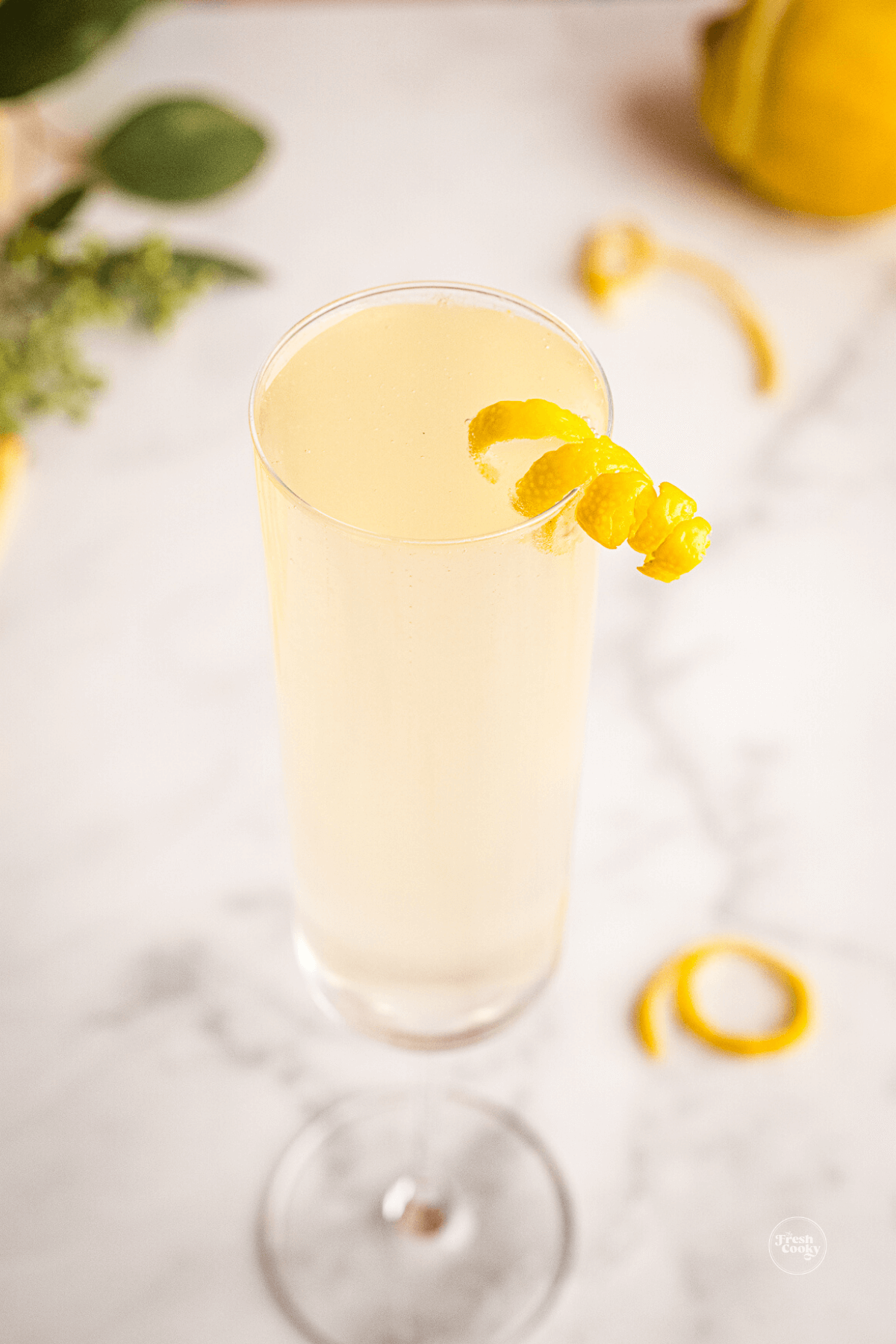 Why You Will Love this 5-Minute French 75 Cocktail
Fast & Easy: This recipe only uses four ingredients, making it a quick shaker-to-glass concoction.
Refreshing: Any cocktail made with champagne or sparkling wine is refreshing!
Fancy Drinks: Served in a beautiful Champagne flute, this recipe is perfect for toasting any occasion! In fact, if you want to be truly traditional, purchase these straight edge champagne glasses, they resemble the shape of the shell from the cannons. Très élégant, non?
A Bit of French 75 Cocktail History
The Classic French 75 Cocktail name is said to originate from the French 75 mm field gun or cannon used in World War I. Chris Hannah of Arnaud's French 75 Bar in New Orleans claims, "The Lafayette Escadrille were an allied fighter pilot outfit made up of American soldiers and French military who would drink cognac and Champagne after successful air raids and toast to the French 75 cannon for their safety."
According to Difford's Guide, a bartender named Henry Tépé of Henry's Bar in Paris may have named the cocktail "Soixante Quinze" (seventy-five in French) phrases with inferences that both the cannon and the cocktail will "both knock you flat."
The cocktail was originally made with cognac, and simple syrup, but today the popular beverage is made with gin. But who is to say which is better? Should you want to try it with cognac, I recommend Pierre Ferrand.
This classic champagne cocktail is similar to the famous Tom Collins, which is made with gin, lemon juice, sugar, and club soda.
The French 75 Cocktail takes the Tom Collins original recipe up a notch with champagne and St. Germain rather than simple syrup.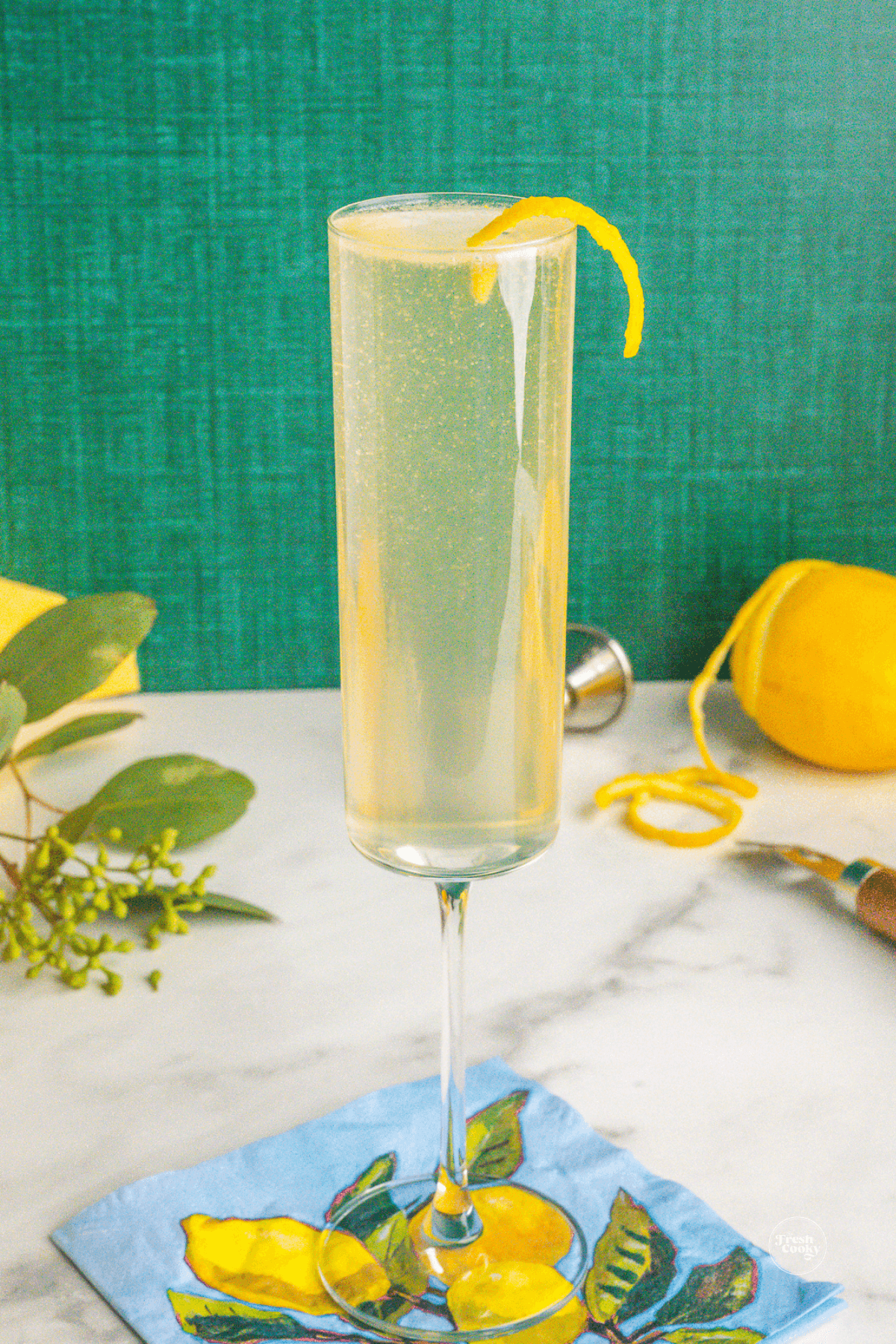 Simple Ingredients
Ingredients, directions and nutritional information in the printable recipe card at the end of the post.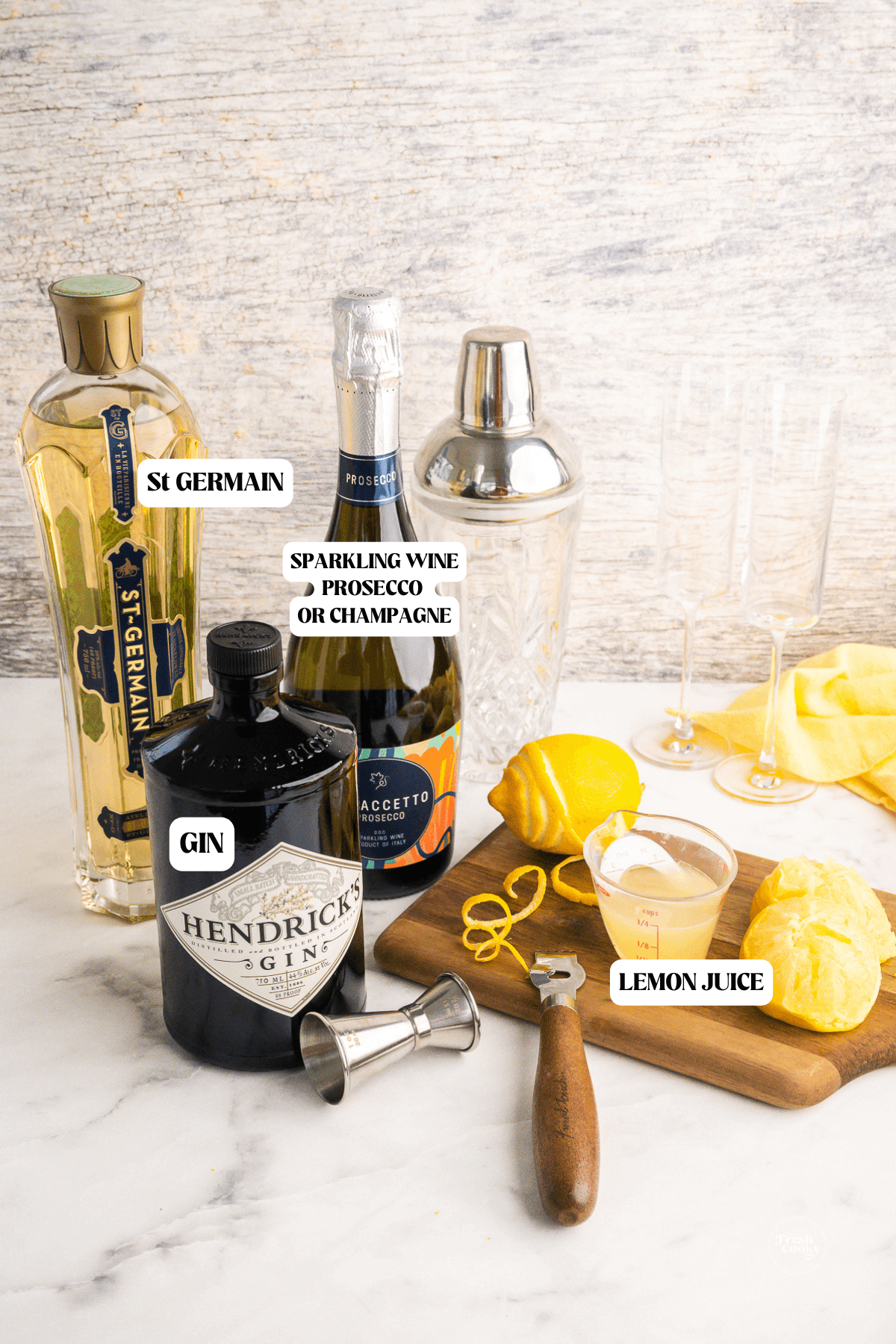 Gin – I like a botanical gin, like Hendricks and have also made it with Empress 1908 gin, which is purple and provides a gorgeous color.
St. Germain – The elderflower liqueur, St. Germain, is the essence of this beverage, a subtle floral twist.
Lemon – You'll use freshly squeezed lemon juice in the cocktail and add a lemon peel twist for the garnish.
Bubbly – Use chilled dry champagne (called brut), sparkling wine, or Prosecco to add effervescence. Save expensive champagne for another celebration, instead I opted for a light and crisp Prosecco.
How to make a Lemon Twist
Using a channel knife, holding a washed and dried lemon, start at the bottom and rotate the lemon, keeping the channel knife in place until you have the desired length for your twist.
Wrap lemon peel around a small straw, or skewer – tightly.
Press the twist using the warmth of your hands onto the stick, slide off and garnish.
Alternatively, cut the ends off of a lemon, slip a paring knife between the lemon peel and the flesh and remove the peel, slice into thin strips.
Watch quick video below to see how it's done!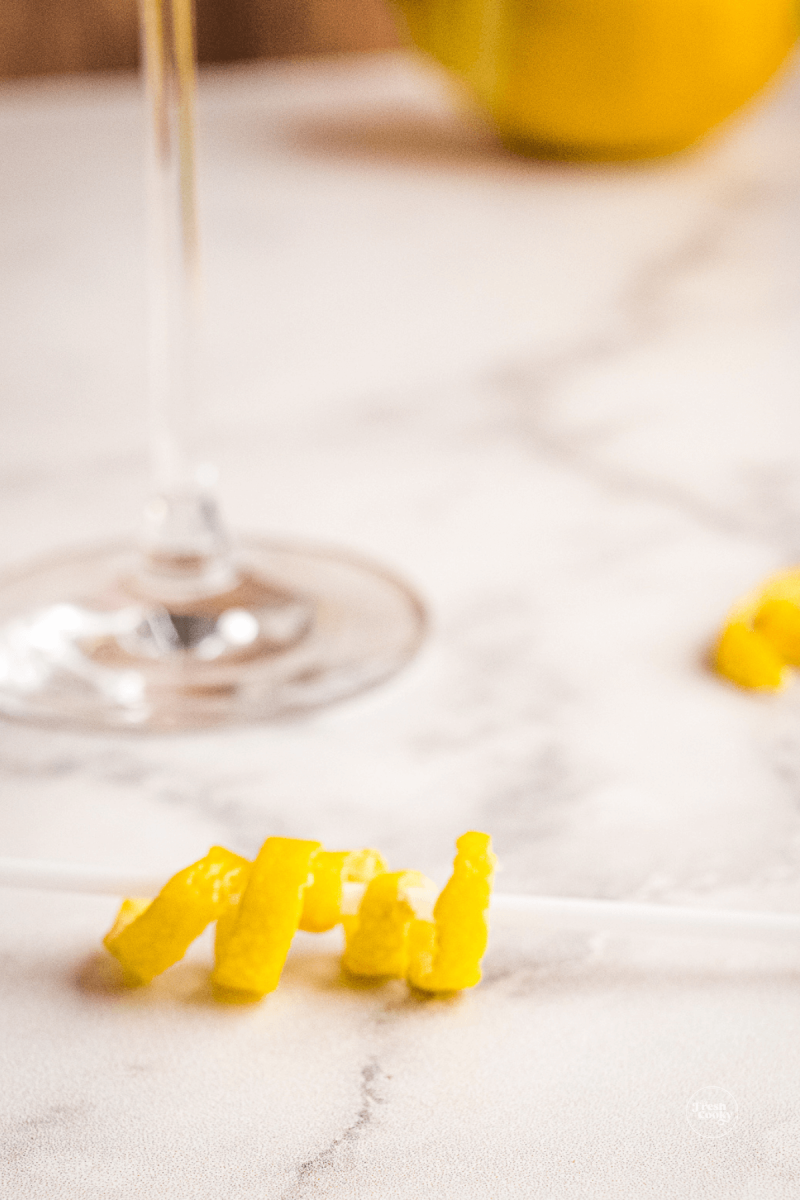 How to Make an Elderflower French 75
Step 1 | Prep the Bar
Gather the gin, St. Germain, Champagne, and a lemon. You will also need a jigger to measure the liquor.
Juice the lemon, remove the seeds, and make a lemon twist; set the fresh lemon juice and twist aside. Fill your shaker with ice and get ready to make the cocktail.
Step 2 | Fill the Shaker
Measure your gin, elderflower liqueur, and lemon juice into the ice-filled shaker.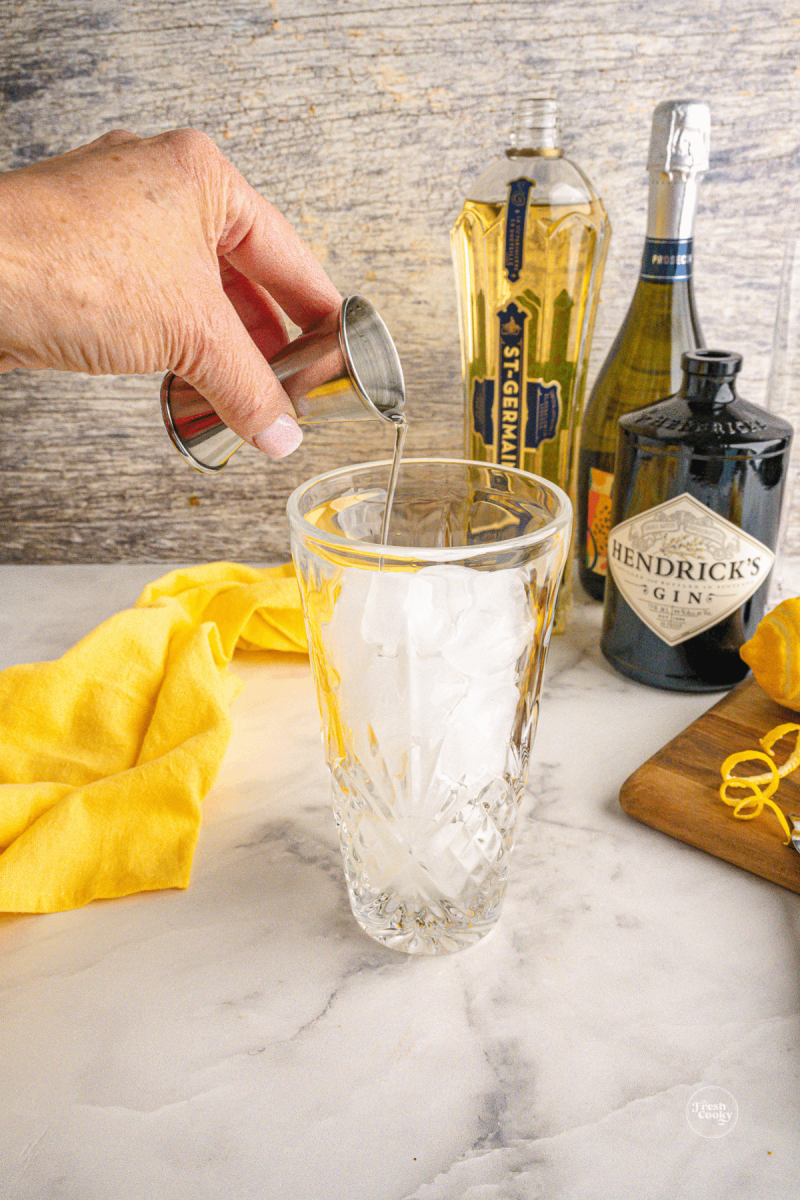 Step 3 | Shake and Finish
Shake vigorously to chill the beverage. 15-20 shakes should do it, then pour into a gorgeous champagne glass.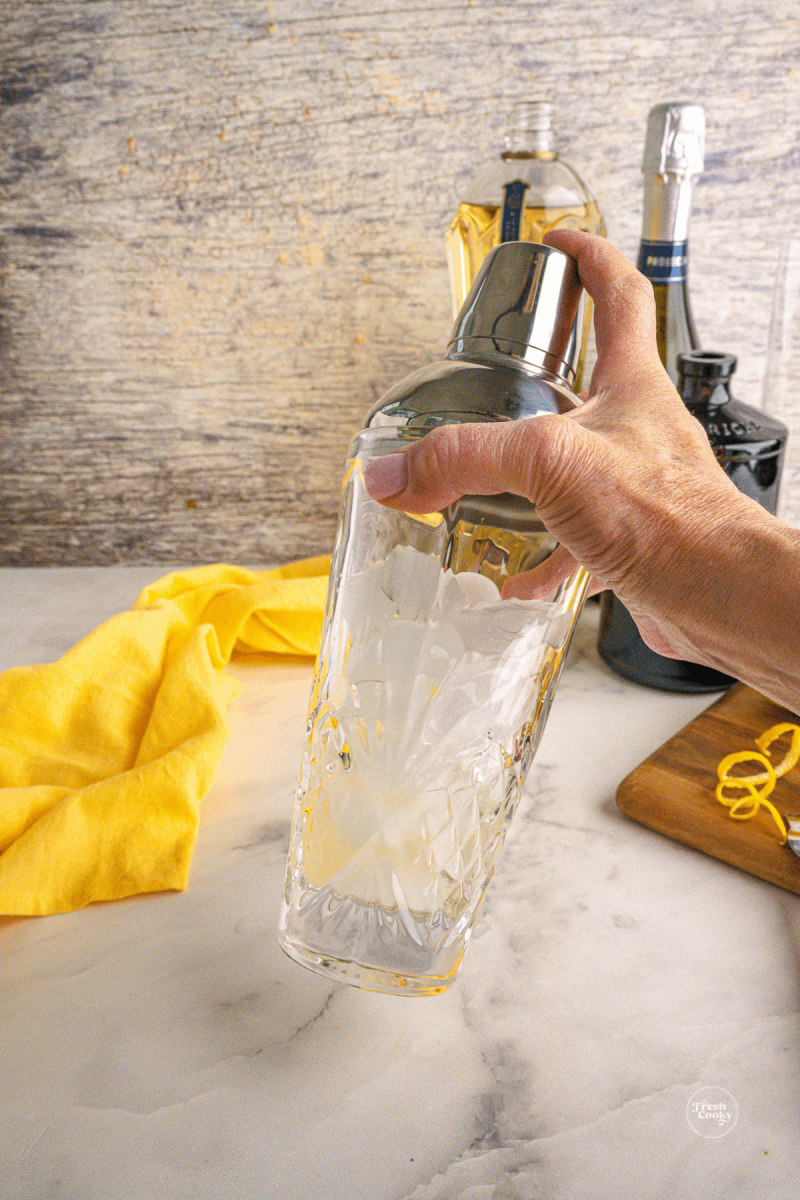 Top with sparkling wine or champagne and garnish with a fragrant lemon twist.
Most importantly, share this yummy cocktail with a friend or two! The more, the merrier, right?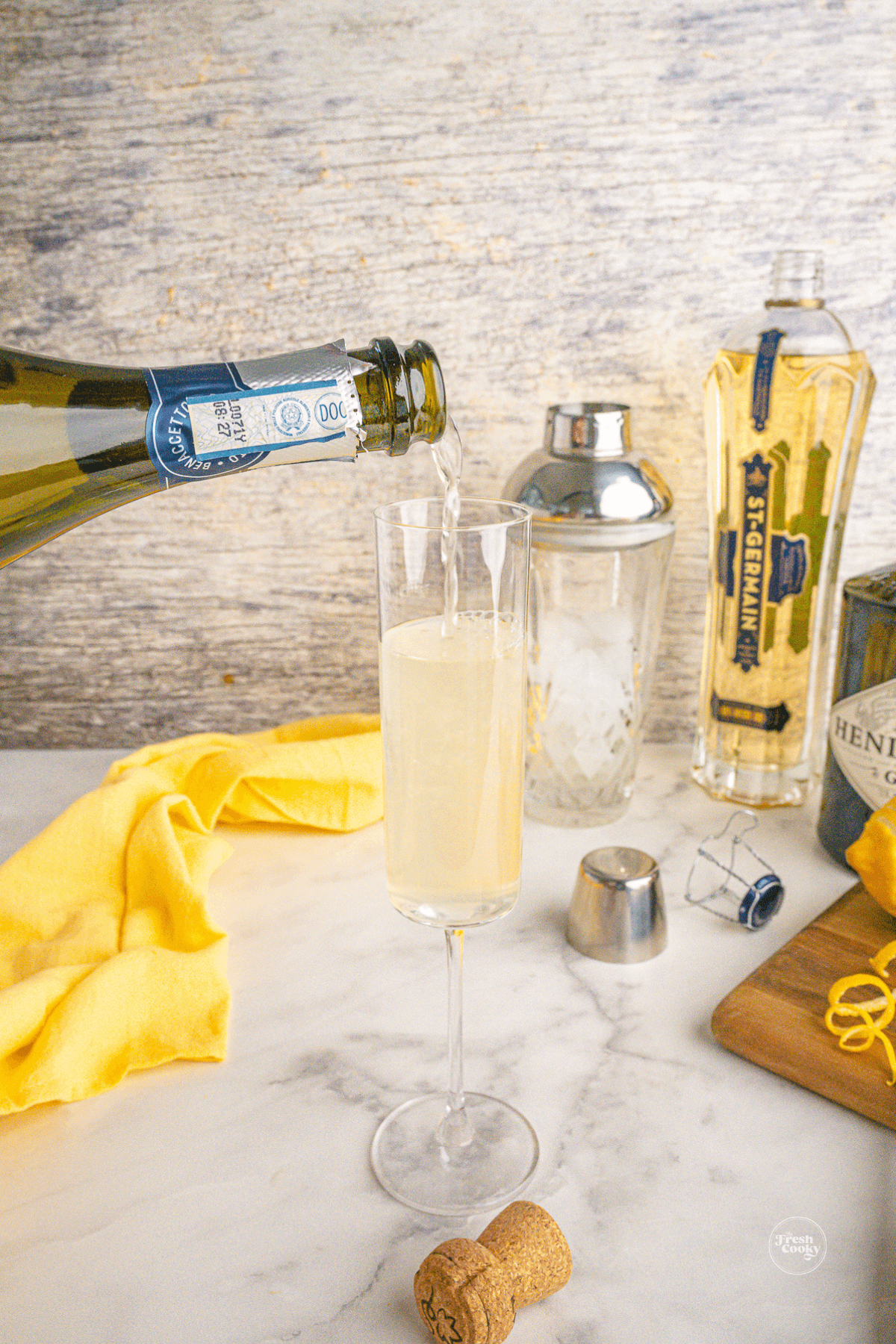 Variations
Gin: Try using other gins. Empress Gin would be gorgeous.
No Gin: Not into gin? Try Vodka.
Cognac: Go classic and use cognac instead of gin or your favorite whiskey.
Fruity Cocktail: Add some fresh fruit, such as sliced strawberries, blueberries, raspberries, and blackberries,
Holiday Cocktail: Add a splash of pomegranate juice or grenadine during the holidays and garnish with pomegranate arils and a sprig of rosemary- delightful!
Bubble Free: Not a fan of the bubbles? Use a nice white wine instead, or even real lemonade.
How to Lighten Up a French 75
Admittedly, this is a strong cocktail, other than an oz of lemon juice – it is all alcohol, so drink responsibly and enjoy these options for a lightened up French 75.
Instead of using champagne or sparkling wine, replace with tonic water, sparkling water or try Elderflower Tonic Water.
Serve in a wine glass, with crushed ice and it will water it down as it sits.
In addition to replacing the champagne, use an alcohol-free gin, like Seedlip, it's delicious and would also be fabulous in my Tangerine & Thyme Gin & Tonic.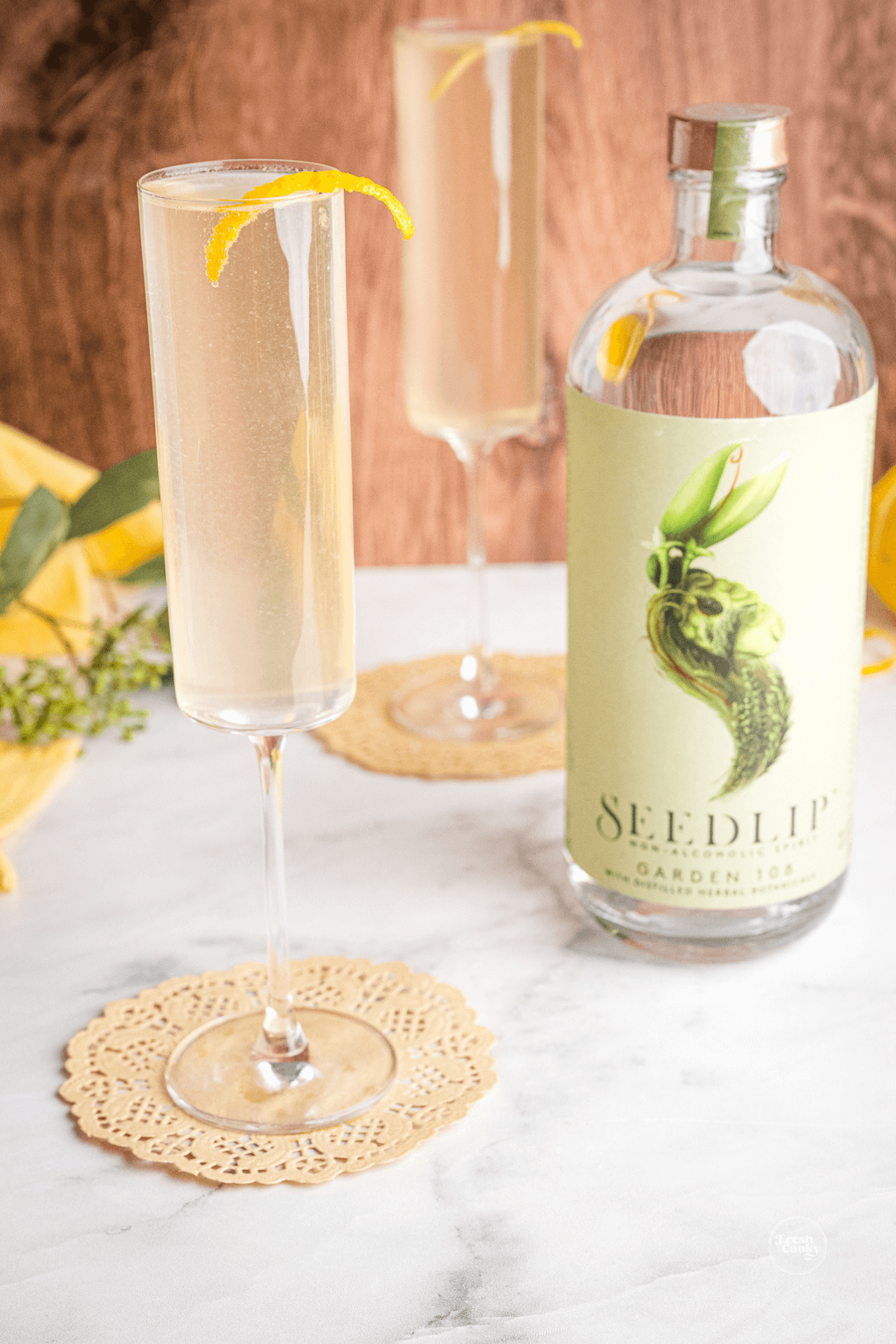 Can I make a French 75 Mocktail?
Well friends, a cocktail that is made up entirely of spirits and liqueur is by nature difficult to make into a mocktail. However; here are my suggestions to make a non-alcoholic French 75.
For adults, use Seedlip gin or other non-alcoholic gin, double the lemon juice and add 1-2 ounces of simple syrup to taste, then top with Elderflower tonic water. For kids, try adding equal parts lemon juice and simple syrup (about 2 ounces of each) and equal parts soda water and Sanpellegrino Limonata.
Never add the carbonated beverage into the shaker before shaking. You will have a French 75 explosion, although not as big of a blast as the cannons; it will make quite a mess!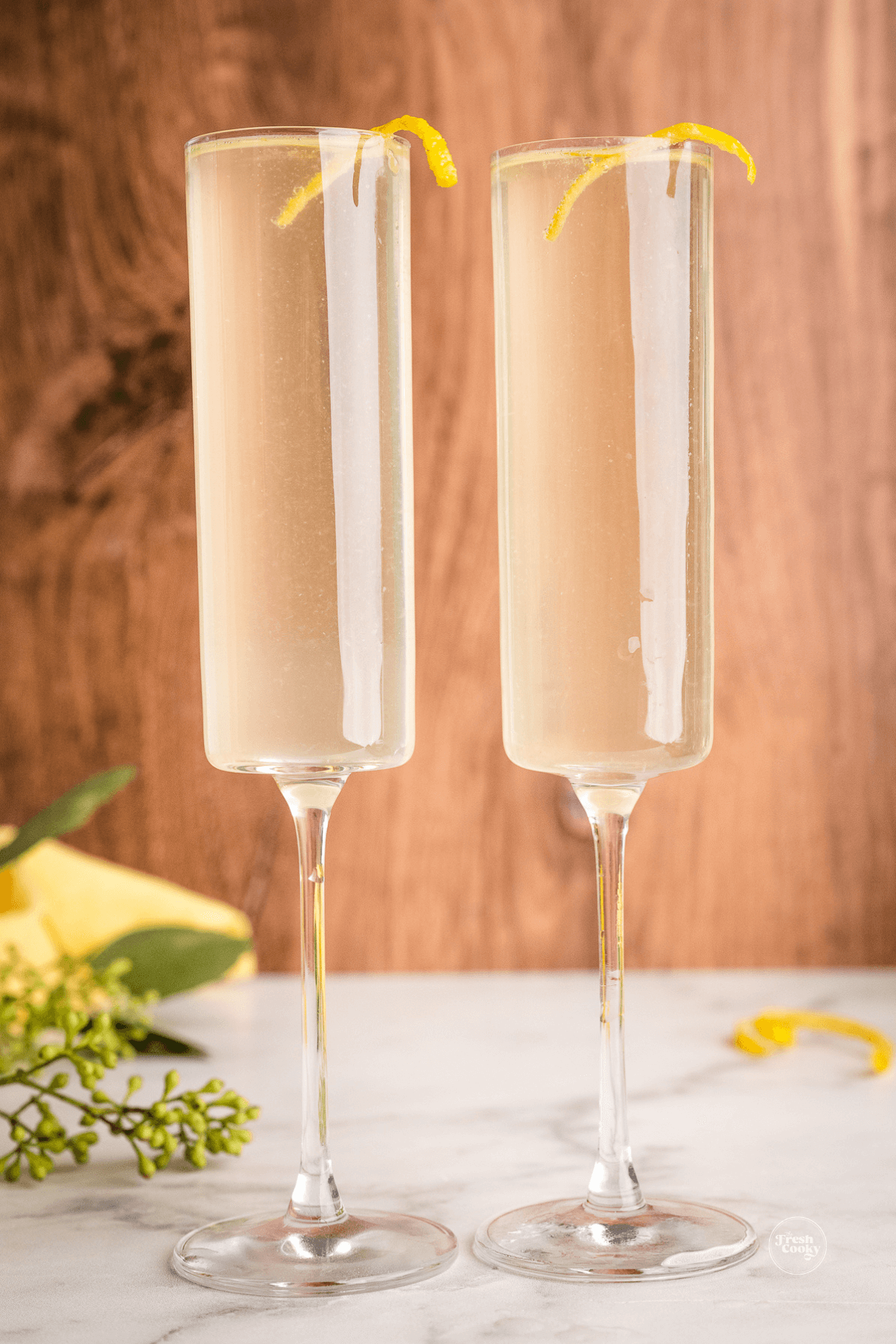 What is a French 75?
A Classic French 75 is made with gin or cognac, champagne, lemon juice, and sugar, although several variations have been created over the years, like the French 77 with elderflower.
What is Elderflower Liqueur?
Elderflower liqueur is made from the white flowers that bloom on the elderflower bush. The flowers are then hand-picked in the late spring, resulting in a beautifully balanced sweet and floral concentrated syrup.
French 75 Variations
As with many drinks, when you change the main alcohol you change the flavor and hence the name. Try all of these variations and be sure to check out Susannah's French 75 Variations, she is a wealth of information.
Replace gin with vodka, making it a French 76.
When you add sweet Elderflower liqueur like we've done here, it becomes a French 77.
Add bourbon and it's a French 95 and with brandy it's called a French 45.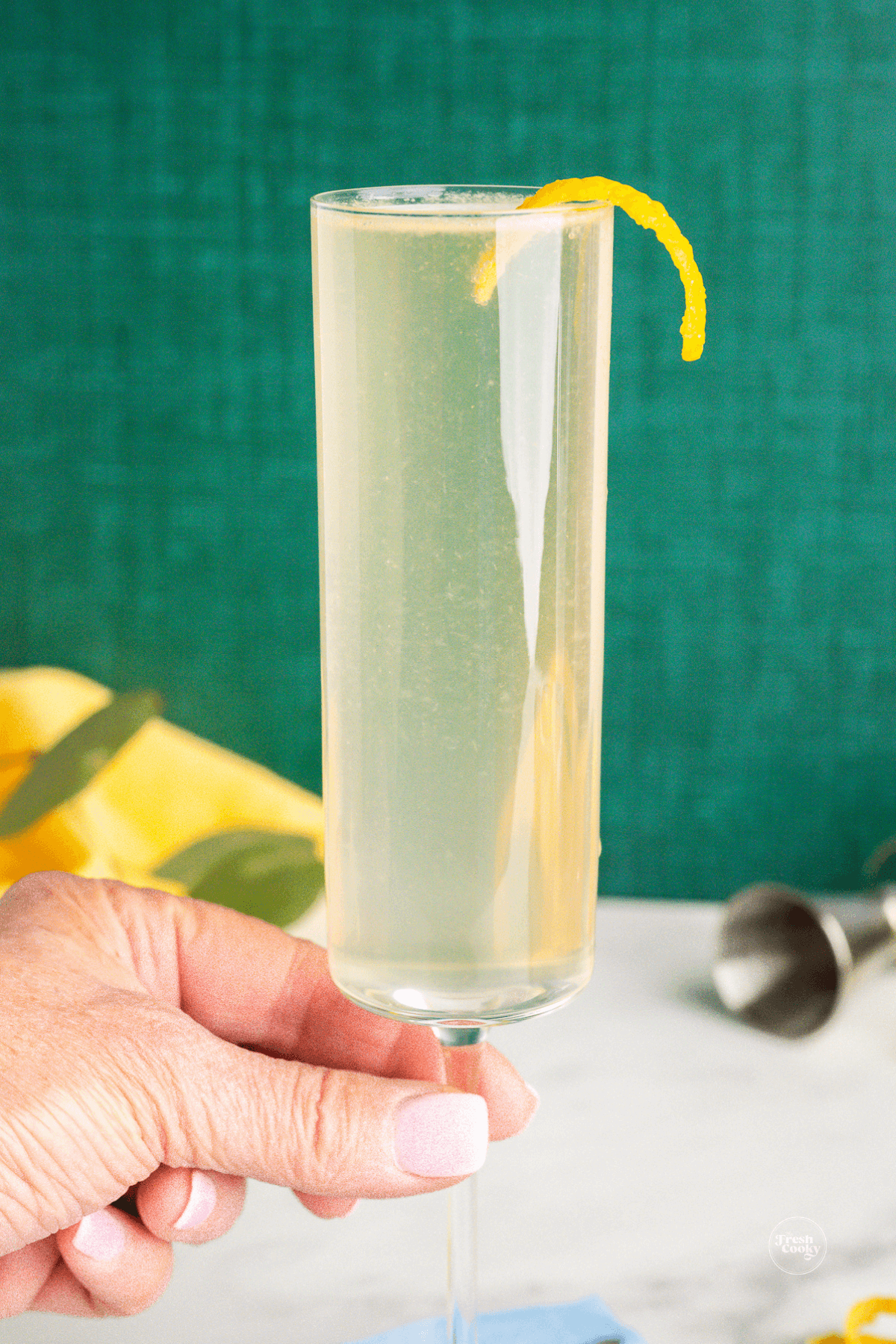 What to serve with a French 75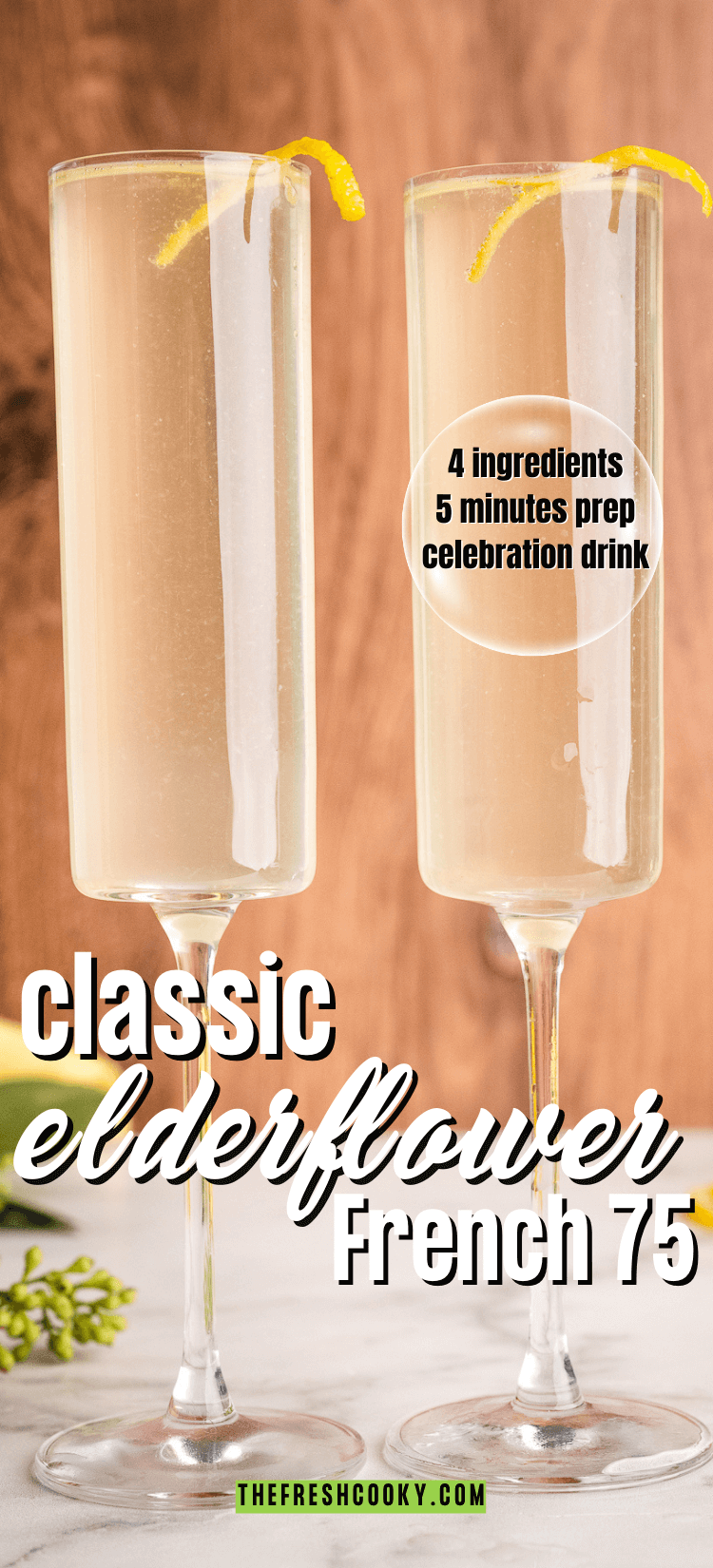 See all of our 2023 Freaky Friday Winter Recipes
I hope you loved this French 75 Recipe St Germain — if you did, would you share your creation on Instagram, Facebook and Pinterest? And be sure to comment below!
Like this recipe?
Don't forget to give it a ⭐️⭐️⭐️⭐️⭐️ star rating and comment below the recipe!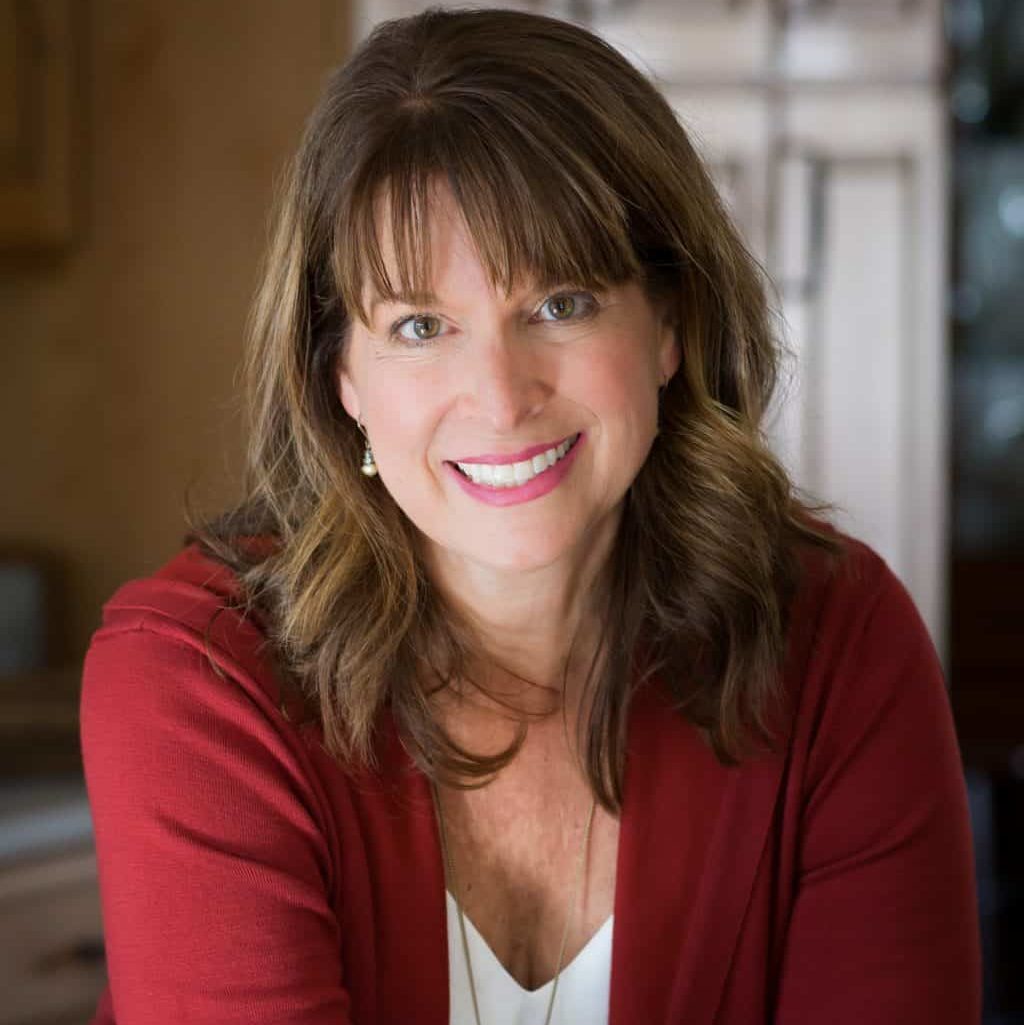 About Kathleen Pope
Recipe Innovator | Food Photographer | Food Writer
Hi, I'm Kathleen Pope. Here at The Fresh Cooky you will find easy, mostly from-scratch, trusted recipes for all occasions. From speedy dinners to tasty desserts, with easy step-by-step instructions. I am here to help teach you how to make mouthwatering recipes without spending hours in the kitchen. Read more about Kathleen here.