Crockpot Cracker Barrel Hashbrown Casserole Recipe
As an Amazon Associate, I earn from qualifying purchases. Please read my disclosure policy.
Crockpot Cracker Barrel Hashbrown Casserole is rich, cheesy, and the ultimate comfort food! It's almost effortless, made with frozen hashbrowns, butter, and sour cream all tossed into the slow cooker, for the easiest side dish ever!
I don't go often, but Cracker Barrel is one of my favorite restaurants, save money and experience a delicious restaurant-quality dish in the comfort of your home, the whole family will love it.
I love making healthier Copycat recipes; Cracker Barrel Chicken and Rice Recipe is perfect for a weeknight dinner. Or try these fan favorites; Olive Garden Steak Alfredo, Panera Orange Scones (so yummy!) and Honeybaked Ham Recipe, too!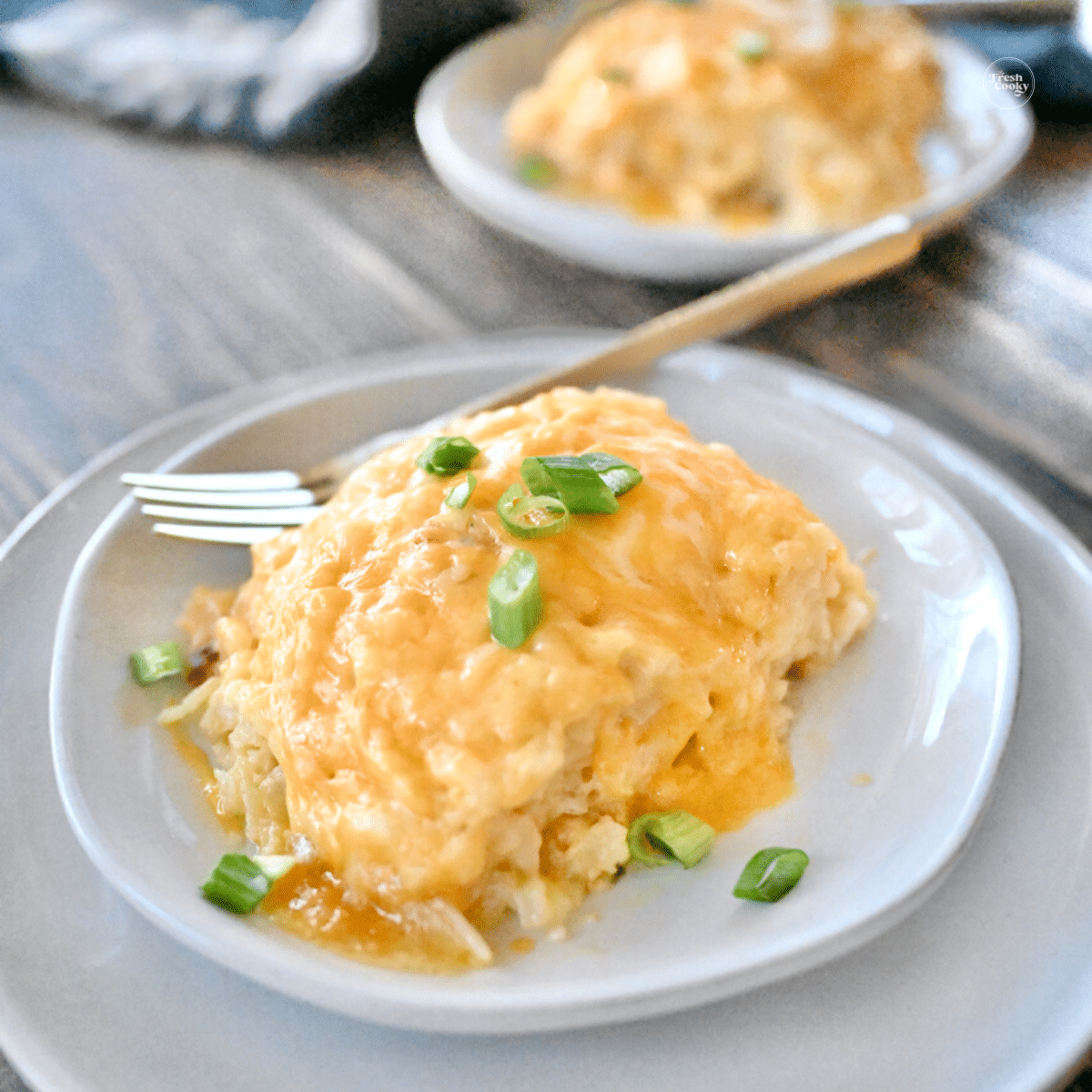 My Cracker Barrel Copycat recipe differs slightly from others. Most Hashbrown Casseroles have canned cream of mushroom or cream of chicken, cream of celery or even cream of cheddar soup. But I'm not a big fan of canned condensed soups. So, like with my cheesy Funeral Potatoes, I make this tasty casserole without canned soup but with ALL.THE.FLAVOR!
I'm all about keeping the oven free during the holidays or not heating the house in the summertime, great times to pull out that crockpot and make your potato dishes.
January is National Slow Cooker Month and this week I've brought you three brand new recipes for your crockpot, plus a few from my amazing friends that you will love. Try this Slow Cooker Pork Roast, this easy and healthy Tuscan White Bean Soup, and I know you will love this Outback Potato Soup, and this easy 3 ingredient Chili Cheese Dip recipe.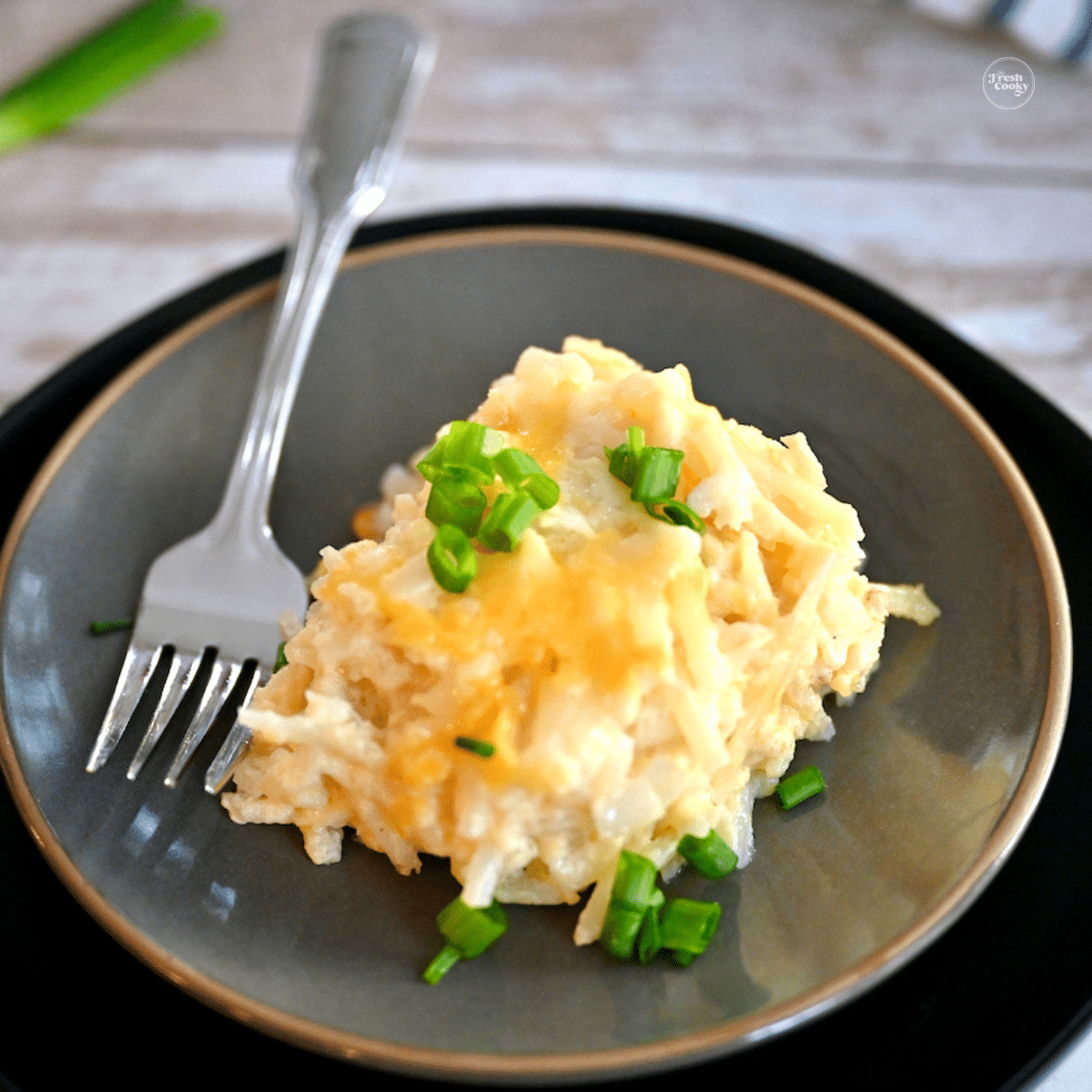 Why You Will Love Hash Brown Casserole Recipe
Two Easy Methods | For this recipe, I provide both the slow cooker casserole method and the oven-baked one. That way, you can choose to use whichever easy method works best for you.
Serves a Crowd | Cracker Barrel Hashbrown Casserole is excellent for office potlucks, brunches, and holiday parties and more!
Versatile | Make this easy recipe for breakfast, lunch, or dinner! In the morning, top it with a fried egg and serve it with crispy bacon. For lunch, add chopped ham and green beans. For dinner, it's the perfect side dish for pot roast, pork chops or juicy bison burgers.
Key Ingredients for Cracker Barrel Hashbrown Casserole
Ingredients, directions and nutritional information in the printable recipe card at the end of the post.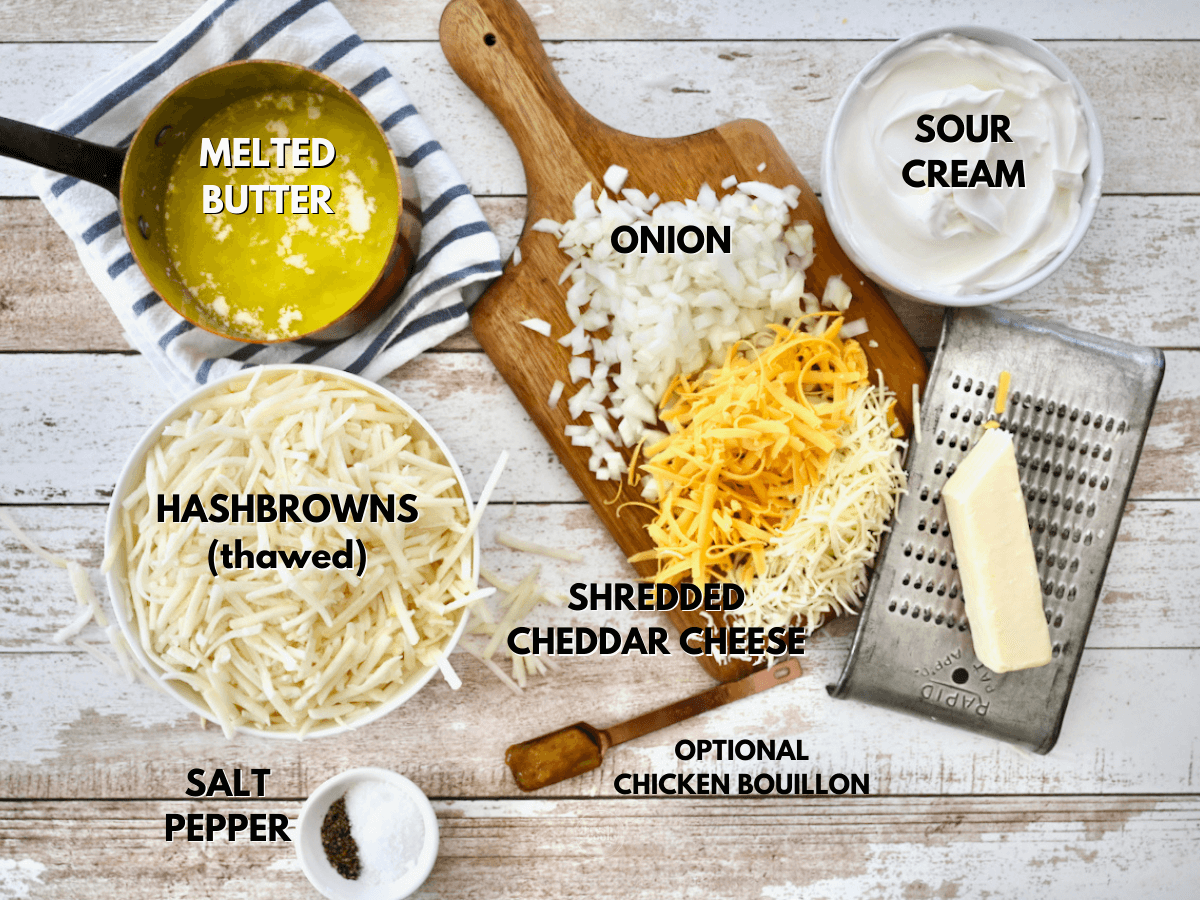 Frozen hashbrowns | Make the base of your casserole with thawed frozen hashbrowns. See the FAQ section for how to best thaw hashbrowns before adding them to the recipe.
Butter | I use salted, if using unsalted, add ¼ teaspoon additional salt.
Chicken bouillon | Using a little bouillon gives the casserole the kick it needs since I've omitted the cream of chicken or mushroom soup. Totally optional, but I like Chicken "Better Than Bouillon".
Onion | A finely chopped yellow or white onion helps to balance the cheesy potatoes.
Sour cream | Sour cream is the secret to making the rich, creamy layers of hash browns with that signature Cracker Barrel tang. You may use plain Greek yogurt as a healthier alternative.
Shredded cheese | I like combining Colby Jack and sharp cheddar cheese to make this breakfast casserole cheesy and delicious!
Salt and pepper | Kosher salt and a sprinkle of ground black a must for the best recipes.
This cheesy hashbrown casserole serves about 8-12 people. You may halve the ingredients and save the rest for another meal. Or you can make the entire recipe and freeze small portions of the casserole for a quick microwavable side dish.
How to Make Slow Cooker Hashbrown Casserole
Cracker Barrel Hashbrown Casserole Crockpot Version
This copycat Cracker Barrel hashbrown casserole recipe is so easy to make in the slow cooker, and it's an excellent cooking method if you need to free some oven space. Begin by spraying your crockpot with a bit of spray oil, or rub well with a little melted butter.
While it may sound like a good idea, do not use non-stick cooking spray, as it leaves a gummy residue in your crock. Remember to begin the hashbrowns thawing well before starting this recipe, see FAQ if you forget to thaw your hashbrowns.
Now, take out a large bowl and add the melted butter and bouillon, it won't mix completely, but at least distribute it in the butter. Next, finely chop the onion and sprinkle it into the bowl.
Add the freshly shredded cheese, sour cream, salt, and pepper and stir until all are thoroughly mixed and the texture is silky smooth. Reserve about ½-1 cup shredded cheese to add to the top of the casserole later.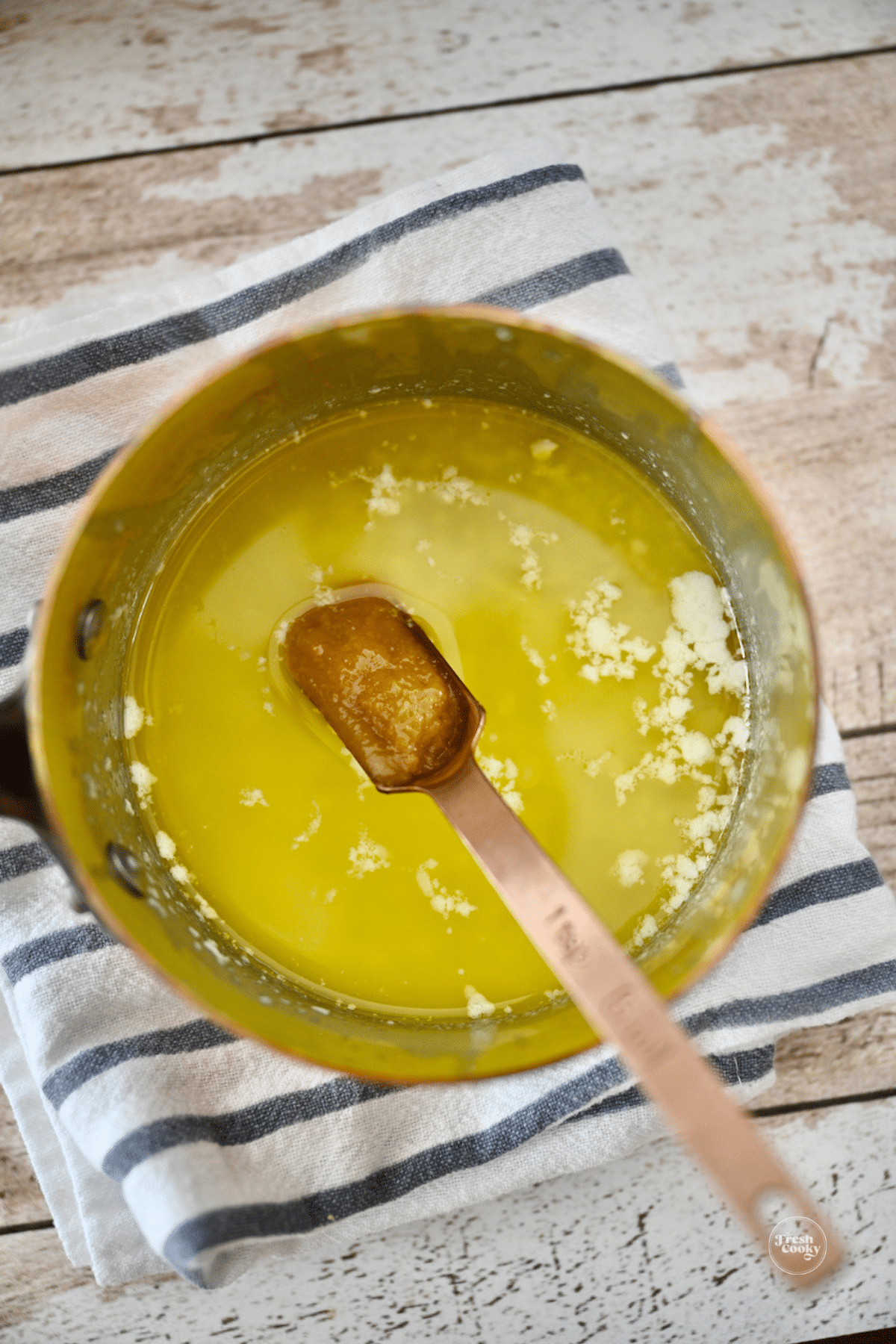 If the thawed hashbrowns are moist and watery, gently pat them dry with paper towels. Then, add the hashbrowns to the cheesy mixture, stirring to combine.
Smooth the mixture into the slow cooker and ensure it covers the bottom of the pot evenly. Cover with the lid and cook the crockpot hashbrown casserole on LOW for about 4-5 hours.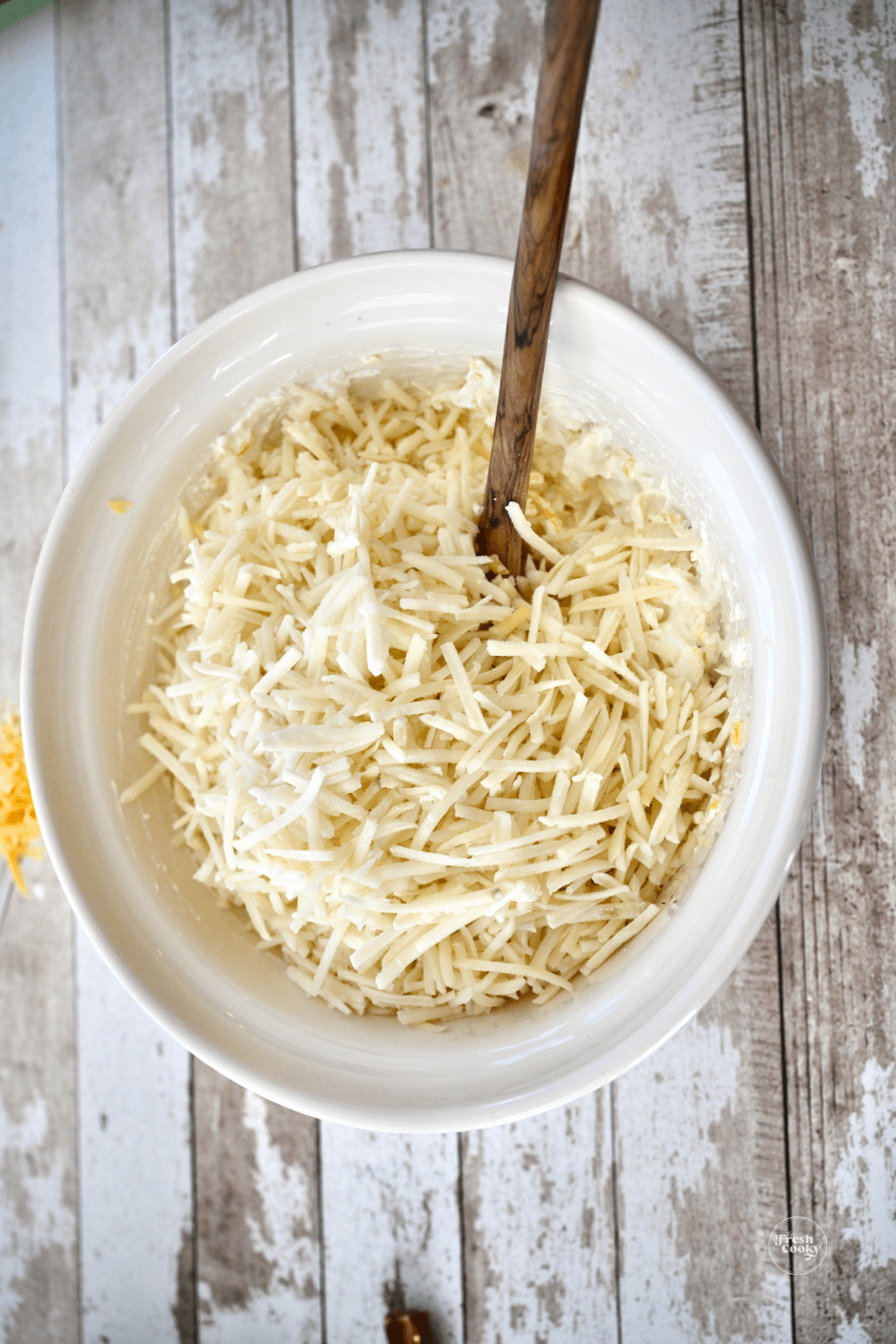 Half way through cooking, stir the cheesy hashbrown mixture if desired. You will start getting some crispy spots and since all slow cookers heat different, it's wise to give it a stir. You may also cook on HIGH 2 or 3 hours, but stick around and watch carefully.
During last 30 minutes of cooking, add reserved shredded cheddar to the top of the casserole, cover and continue cooking until melted.
Fresh Pro Tip
Gently pat with paper towels to absorb excess moisture on the thawed hashbrowns.
Stir half way through, you will start to get some crispy spots and since all slow cookers heat different, it's wise to give it a stir.
When you lift the lid off, lift straight up, there will be condensation that forms, dump that in the sink, not in the casserole!
Allow it to sit for 10 minutes, then, it's time to dig into this cheesy goodness!
Oven-Baked Cracker Barrel Hashbrown Casserole
You may also make the hashbrown casserole in the oven.
First, spray or smear butter in a 9×13 inch baking dish and preheat the oven to 350 degrees F. Next, mix the ingredients as directed above and spread the cheesy mixture into the casserole dish. Top the recipe with grated cheese, then bake for about 40-55 minutes or until the surface is hot and bubbly.
Finally, allow the hashbrown casserole to sit for about 10 minutes after removing it from the oven. This helps the ingredients to meld together and the flavors to develop fully. However, it's also wise because your casserole will be piping hot right out of the oven!
Allow the hashbrowns to thaw so you do not end up with a mushy casserole dish.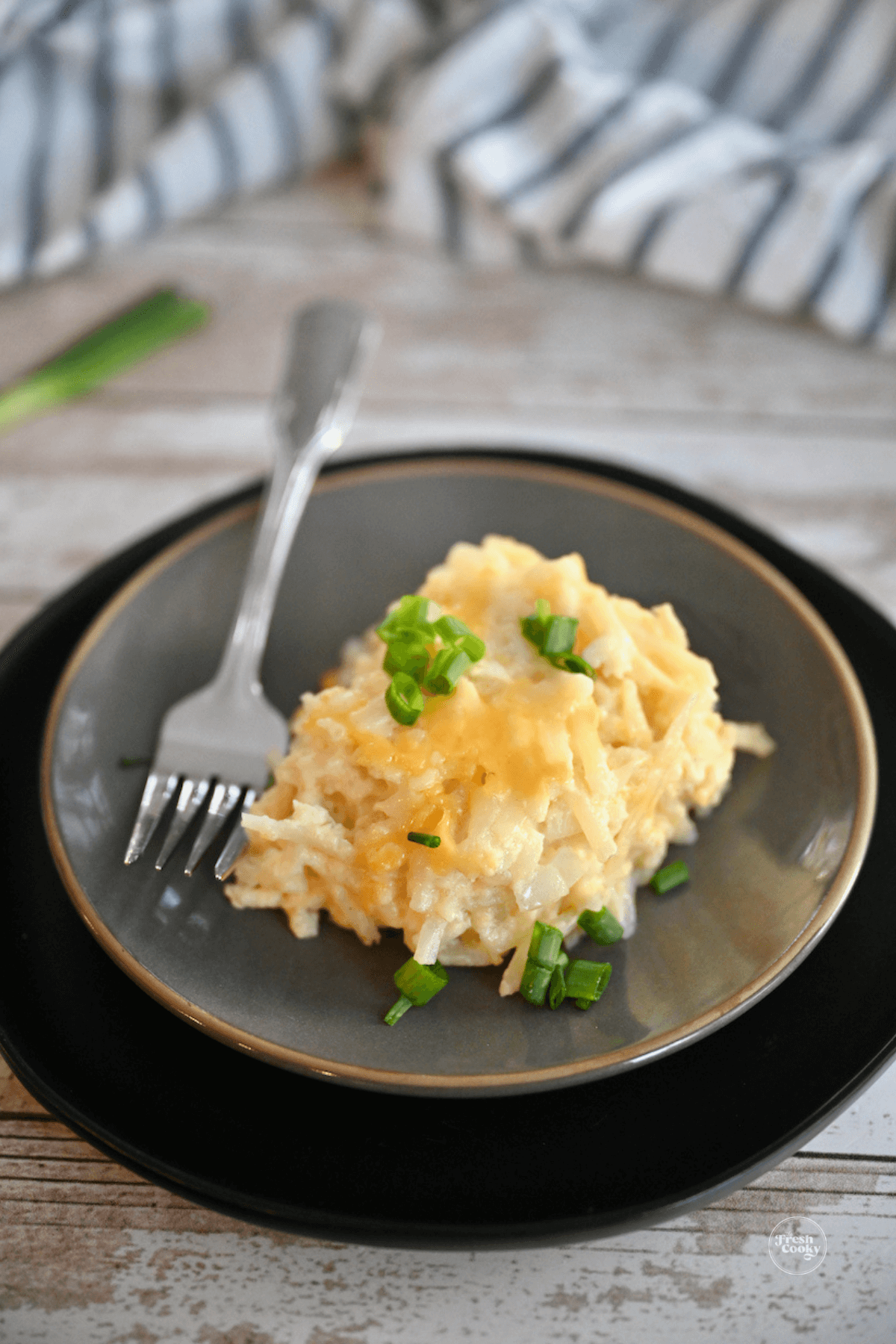 Variations & Substitutions
Vegetarian Cracker Barrel Hashbrown Casserole | Omit the chicken bouillon to make this casserole vegetarian. You may also substitute it with Garlic, Vegetable, or Mushroom Better than Bouillon to add a savory flavor without the meat content. If you're in a pinch, use garlic powder to deepen the flavor.
Gluten-Free Hashbrown Casserole | My Cracker Barrel hashbrown casserole crockpot recipe is gluten-free! Make sure your frozen potatoes and bouillon are marked with the gluten-free label. Shred your own cheese or check the ingredients of shredded cheese.
Add Meat | Cook and drain up to 1 lb breakfast sausage or cut-up sausage links to add to this delicious casserole. Add up to 1 ½ cups of diced ham or up to 1 lb of browned and drained ground beef or turkey. Not to mention, Kielbasa would be great too!
Loaded Hashbrown Casserole | To put this recipe over the top, dress it with crispy bacon bits, extra melted cheese, chopped green onions, and more sour cream—think of it as a loaded baked potato!
Can I Use Fresh Potatoes? This is a great recipe if you have leftover baked potatoes, I do not recommend using raw shredded potatoes. If you have leftover baked potatoes, chill them well, then shred using a box grater.
Crunchy Topping |The Authentic Cracker Barrel hashbrown casserole recipe doesn't have a crunchy topping, but you might enjoy tossing 1 cup corn flakes with 3-5 tablespoons of melted butter, adding them to the top of the casserole at the end, baking them for 10-15 minutes in a 350 degree oven until crispy and crunchy.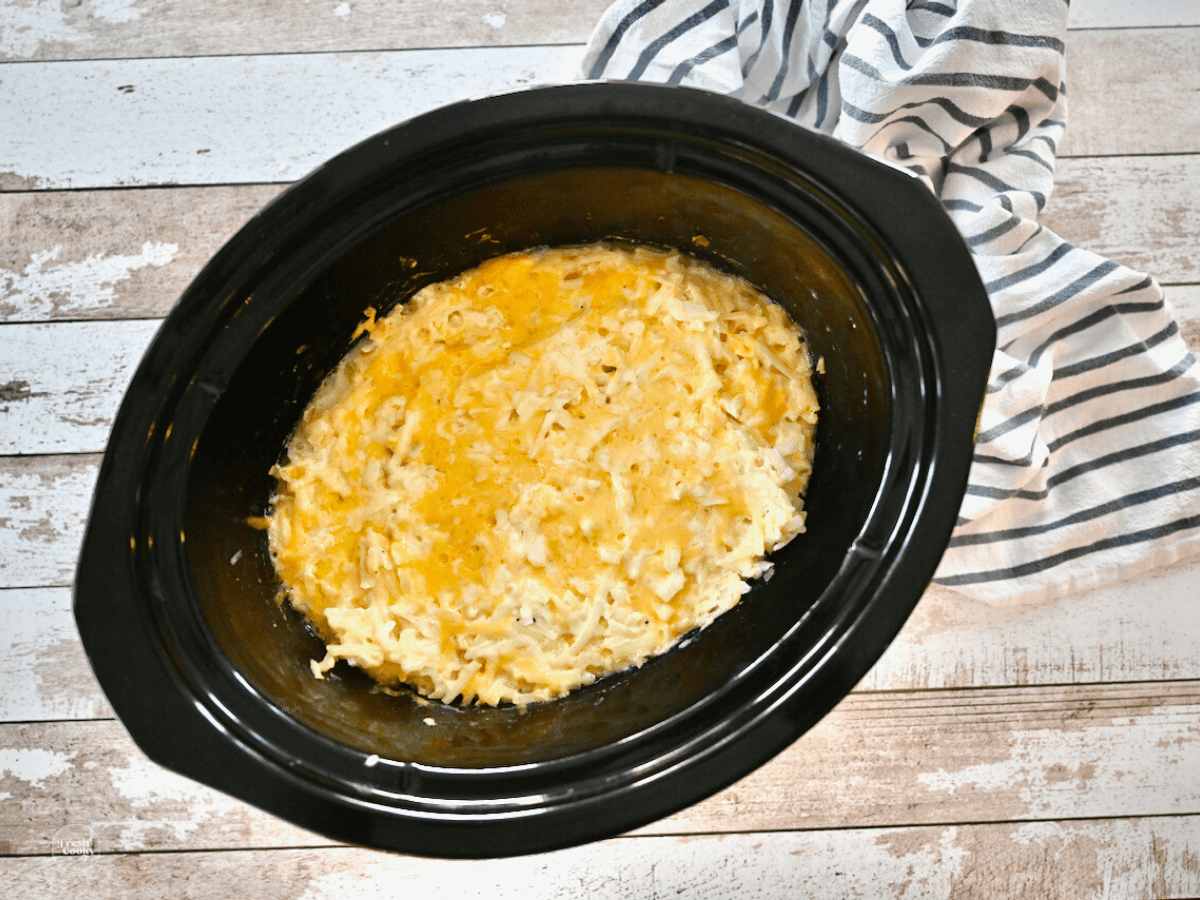 Storage Tips Cracker Barrel Hashbrown Casserole Crockpot
Make Ahead | Prep as planned, cover with sprayed plastic wrap and refrigerate 1-2 days. When ready to bake it, remove from fridge, allowing to come to room temperature for 30-45 minutes and then cooking as directed. You may need to add a few minutes of cooking time to make up for the chilled ingredients.
Can you freeze hashbrown Casserole?
Yes! Freezing the unbaked hashbrown casserole works too. Prepare the recipe up to adding it to the oven or crockpot. Next, wrap the container twice in plastic wrap, then again in foil. Freeze the dish for up to 2-3 months.
Note: Sometimes sour cream will appear curdled when frozen, then baked, it won't harm you at all, just looks a little funny.
Expert tip—line the crockpot with aluminum foil, place hashbrown casserole inside, and freeze for 1-2 hours until firm. Then, remove the casserole from the crockpot and cover it with plastic wrap, and or place it in an airtight container, returning the dish to the freezer.
Thaw the recipe overnight in the fridge, then cook it in the slow cooker or oven.
To freeze leftover hashbrown casserole | Wrap well in plastic wrap or aluminum foil, store in an airtight container or baggie and freeze up to three months.
Leftovers | First, let the casserole completely cool. Transfer it to an airtight container and store it in the refrigerator for up to four days.
Reheating Leftover Hashbrown Casserole | If reheating several portions, place in oven save dish in a 325 degree oven, cover with aluminum foil and heat for 30 minutes until hot and bubbly. From frozen, add and addition 15-30 minutes to that time.
Individual servings are easily reheated by placing in microwave and heating for 30-60 seconds, stick a butter knife in the middle and carefully touch, if the butter knife is warm/hot, it's ready.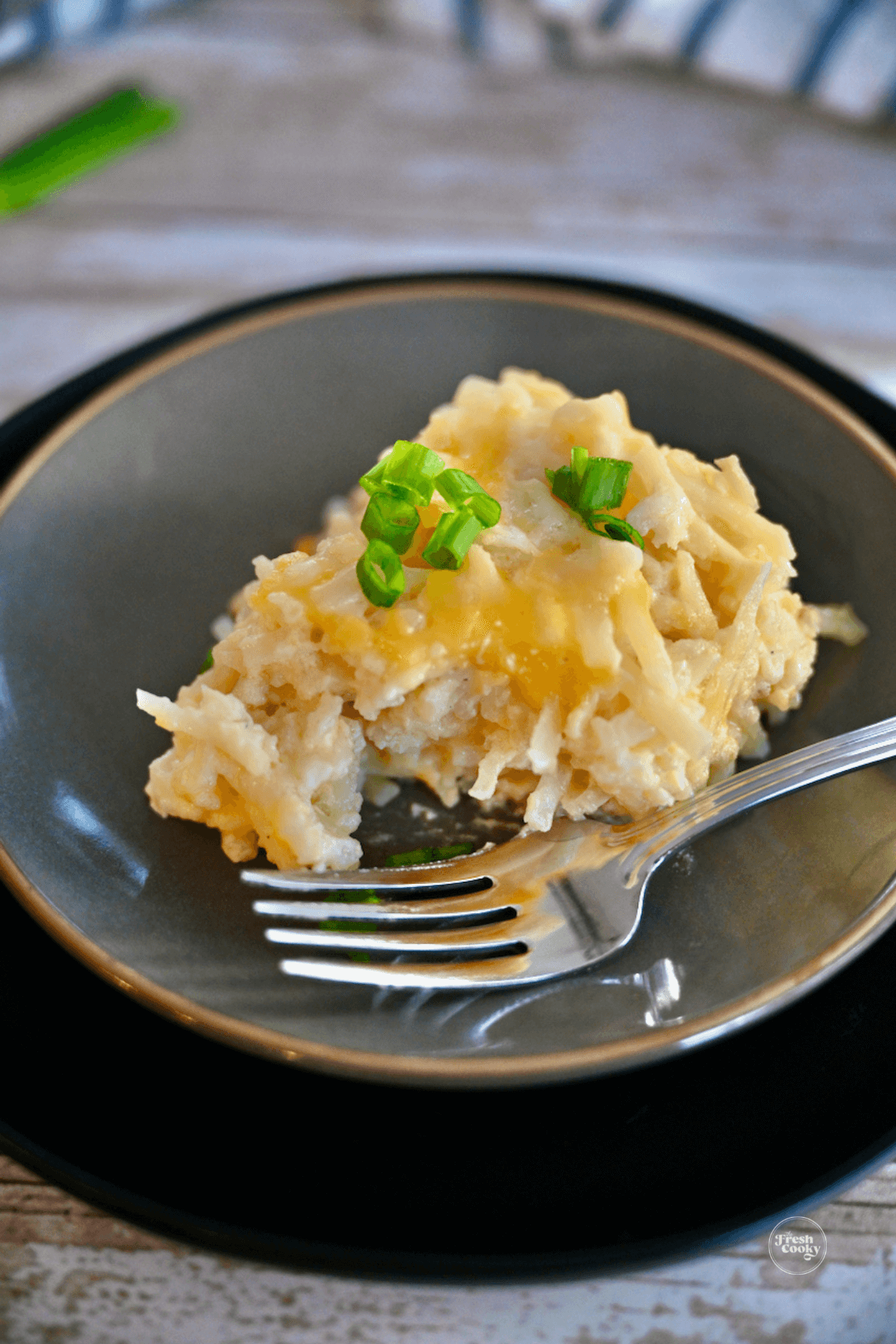 Frequently Asked Questions
Do I have to thaw frozen hashbrowns for casserole?
I suggest thawing the hashbrowns before adding them to the casserole. I have not tried this recipe with potatoes that are still frozen. However, I have seen quite a few recipes that do. The only danger I can think of is that there could be too much liquid that seeps out during the cooking process. To avoid a gloppy mess, I recommend stirring the mixture in the crockpot halfway through and possibly a couple more times as it cooks.
How do you thaw frozen hashbrowns for hashbrown casserole?
The easiest way to thaw the hashbrowns is to place them in the fridge the night before you make this recipe. But if you forgot this essential step, try one of these two ways:

1. Spread frozen hashbrowns out on a parchment lined baking sheet, so they are in a single layer. Toss them around occasionally, this method takes anywhere from 20-30 minutes depending on the temp of your kitchen.

2. Or place frozen hashbrowns in a microwave safe bowl and microwave for 30 seconds, give it a stir, then continue to microwave in 15-20 second bursts.
For both methods, be sure to pat dry with paper towels to absorb any water, so you don't end up mushy hashbrown casserole.
Can cubed hashbrowns be used instead of shredded?
Sure! If you'd rather use cubed breakfast potatoes instead of shredded hashbrowns, go for it! Make sure they are thawed first though.
Expect the cooking time to be a little longer. Otherwise, the only difference is a slightly varied taste and texture.
Did Cracker Barrel discontinue Hashbrown Casserole?
When I went onto our local Cracker Barrel menu and tried to put together an order for breakfast, the hashbrown casserole wasn't an option.

While the images still show the hashbrown casserole with the breakfast plates, the hashbrown casserole has been discontinued. Why would they discontinue such a sought after menu item? Probably to draw attention other menu items, but now you can make an entire casserole for the price of this delicious side; cheesy hashbrown casserole slow cooker style!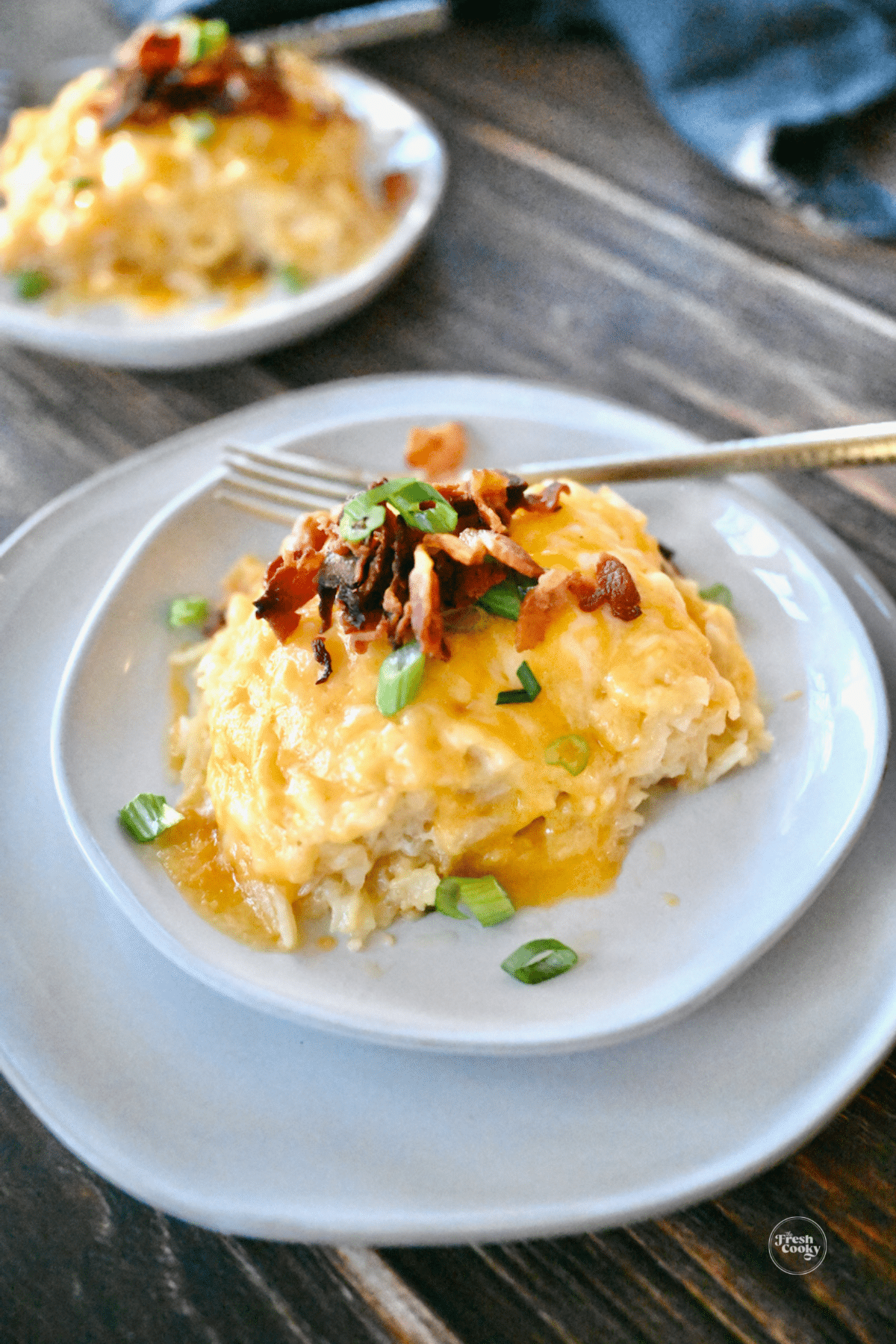 More Easy and Delicious Casseroles
What do you eat with hashbrown casserole?
As mentioned, this Cracker Barrel hashbrown casserole is extremely versatile. It works great for breakfast, brunch, lunch, and dinner! For breakfast, pair your homemade Cracker Barrel dish with bacon, sausage, or ham and a delicious fried egg. I have served them with these Breakfast Sliders as well as this Chile Relleno Casserole.
For lunch or brunch, consider adding the casserole to a yummy pulled pork sandwich. And for dinner, serve your cheesy hashbrowns as the side dish to grilled steak, oven baked BBQ Brisket or how about this Asian Marinated Pork Tenderloin?
More Super Crock Pot Recipes
Just like ovens, all crockpots and slow cookers heat a little differently, some hotter, some cooler. Know your crockpot and start checking about half way through cooking. You could even take a clean fork and grab a bite, if it still has crunch, it needs to cook longer.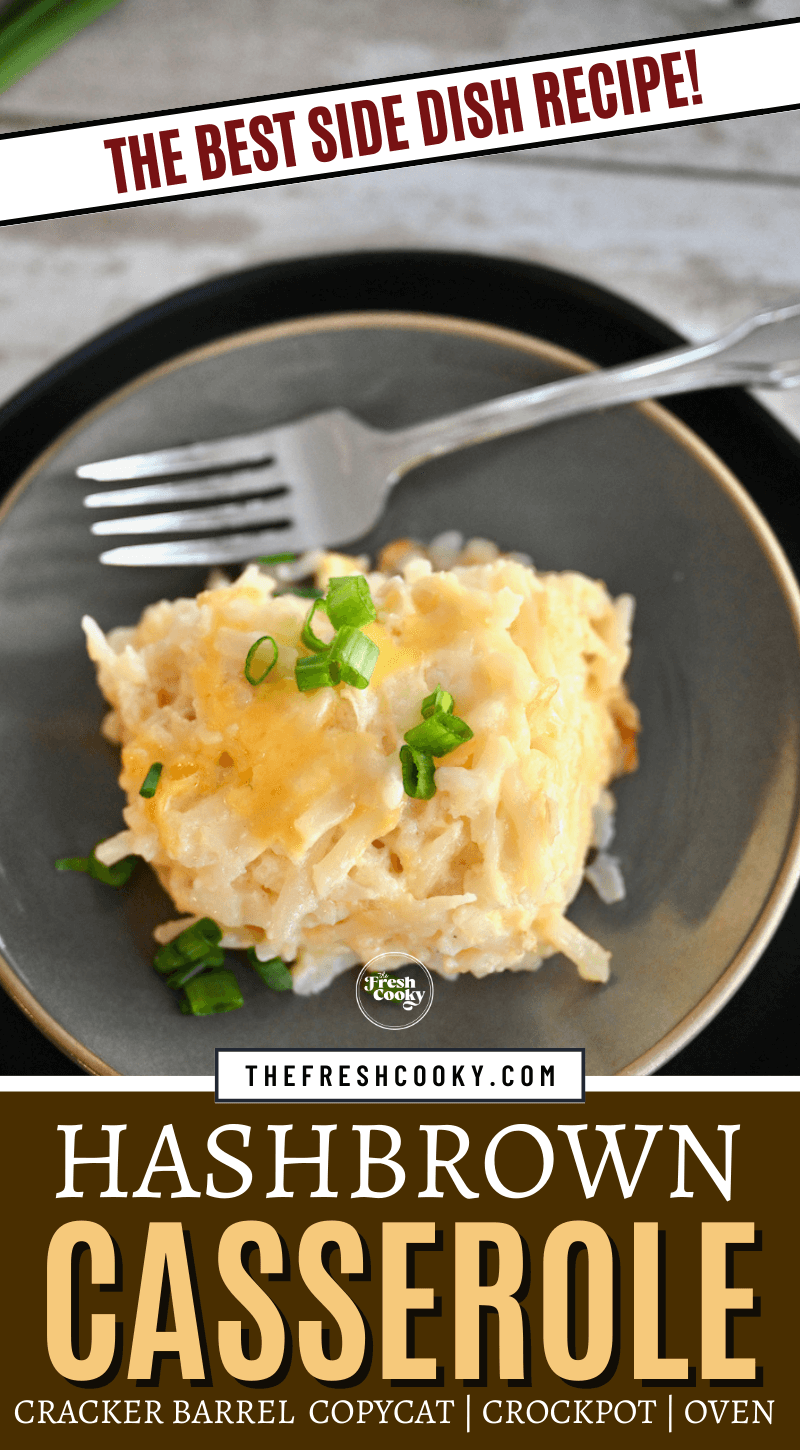 I hope you loved this Cracker Barrel Hashbrown Recipe Crockpot — if you did, would you share your creation on Instagram, Facebook and Pinterest? And be sure to comment below!
Like this recipe?
Don't forget to give it a ⭐️⭐️⭐️⭐️⭐️ star rating and comment below the recipe!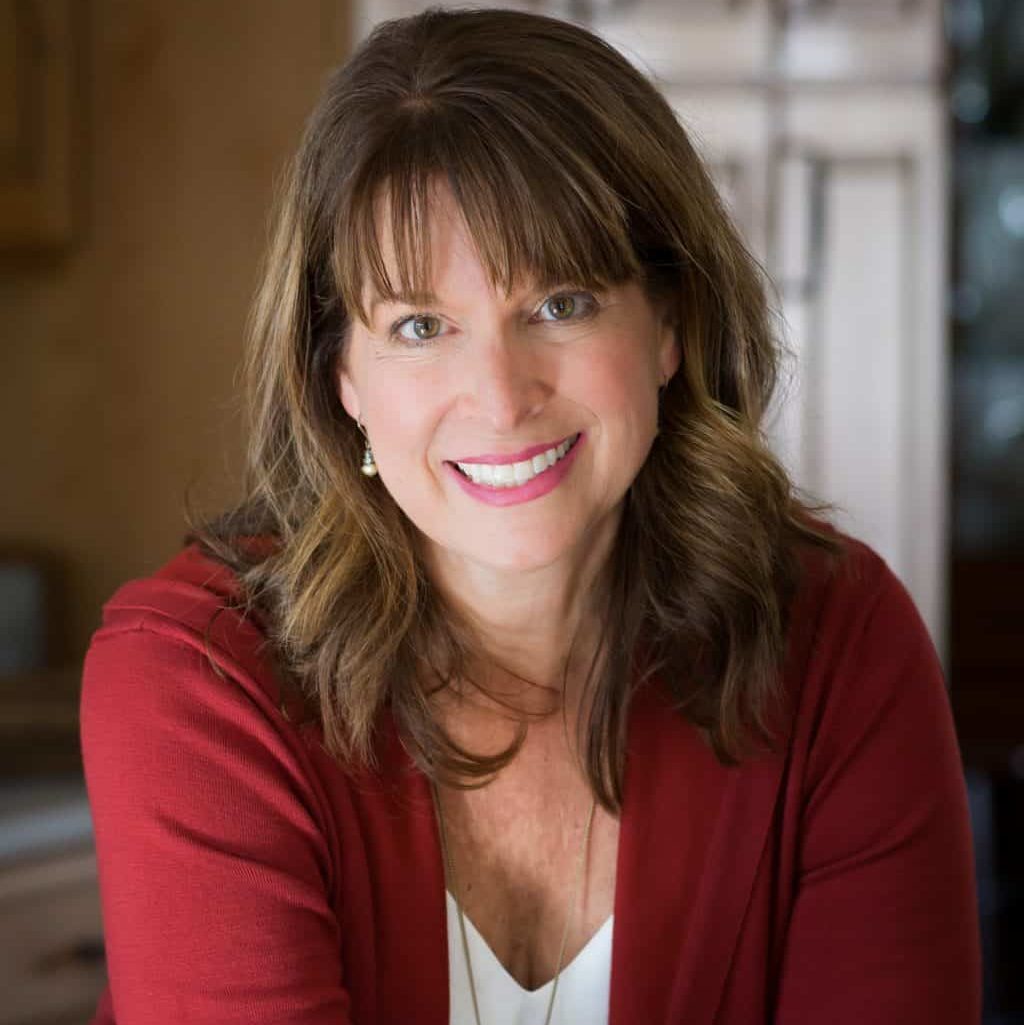 About Kathleen Pope
Recipe Innovator | Food Photographer | Food Writer
Hi, I'm Kathleen Pope. Here at The Fresh Cooky you will find easy, mostly from-scratch, trusted recipes for all occasions. From speedy dinners to tasty desserts, with easy step-by-step instructions. I am here to help teach you how to make mouthwatering recipes without spending hours in the kitchen. Read more about Kathleen here.