Best Mud Pie Recipe (Ice Cream Cake)
As an Amazon Associate, I earn from qualifying purchases. Please read my disclosure policy.
Outrageously delicious, this Mud Pie recipe is the best! Mile High Mud Pie is a dynamite ice cream cake with layers of rich and creamy coffee, chocolate and vanilla ice-creams, ribbons of fudge sauce, cookie crumbles and an amazing chocolate cookie crust! A dessert to remember, even non-dessert lovers, love this cake! It's the perfect dessert.
Ice cream cake is not just for summertime, oh no, it's a year 'round dessert in our house! One of my most requested recipes, this Mile High Mud Pie will become one of yours too!
No bake desserts are a favorite at our house and for our readers too! Try these favorites: Fried Ice Cream Cake, Magnolia Banana Pudding, Patriotic No Churn Ice Cream! If you are looking for more of an Oreo mud pie dessert with a cream cheese layer and chocolate pudding, try my Oreo Pudding Dessert with layers of chocolate.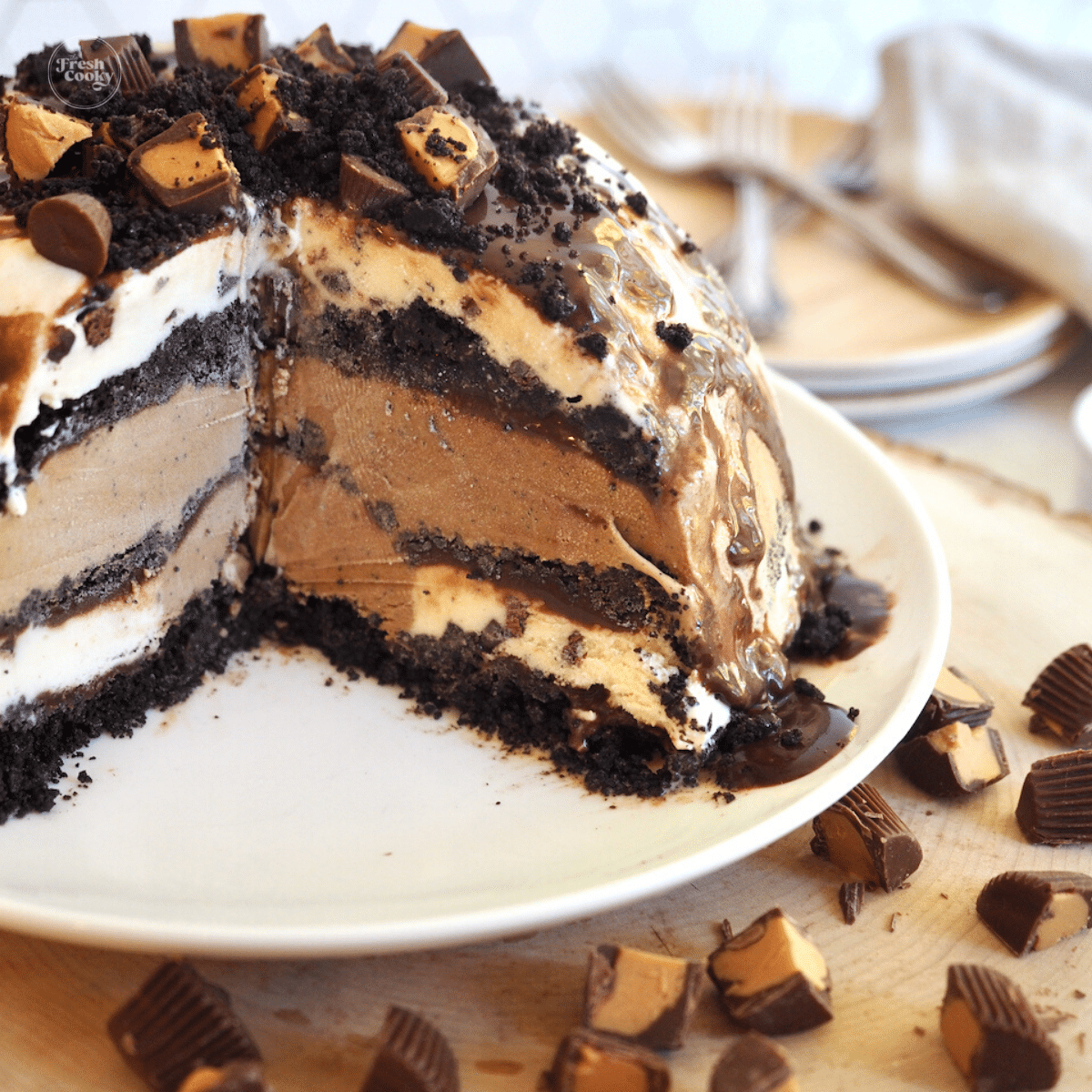 This post was originally posted in November 2018, however; I've updated the process and pictures for a better user experience, but the recipe remains the same.
Why You Will Love this Mud Pie Recipe
No Fuss! Simply soften your ice cream, layer and freeze!
Unlike Dairy Queen Ice Cream Cake or the Chart House Mud Pie, this one is simple, easy and assembles in minutes for a dramatic dessert every time. Way cheaper too!
Customizable! Don't like chocolate cookies, use Golden Oreos or other cookies, love mocha almond fudge ice cream, use that! You can totally make this your own!
This Mud Pie recipe is not like a Mississippi mud pie recipe, using cool whip, but instead, this is more like what you would find at a fancy restaurant, the most famous I suppose would be the Chart House, they serve you a big ol' slab of Mud pie ice cream cake! Yes please!
Making an ice cream cake or mud pie is more art than recipe, it's simply taking your favorite ice creams, toppings, cookies and fillings and making it your own! I have some combinations for you to try at the end of this post.
Simple Ingredients for Mud Pie Cake
Recipe with measurements and instructions in the printable recipe card at the end of the post.
Oreo Cookies | Use regular or gluten-free, change up the flavors, or use Organic chocolate sandwich cookies
Butter | this binds the cookie crumbs together making it an amazing layered frozen dessert
Ice Cream | Use your favorite ice cream here, my suggestions for the ice cream layers are vanilla bean ice cream, chocolate ice cream, coffee ice cream (classic in mud pie), use at least 2 types for prettier layers.
Hot Fudge Sauce | Use this between layers, make your own or buy a quality brand, chocolate sauce would work as well.
Top Pro Tips
The beauty of an ice cream cake, is you get to choose the flavors!
Add any mix-ins you might want, try different sauces and cookie crusts.
I have lots of ideas at the end of this post.
Optional Mix-Ins and Layers
Peanut Butter Cups
Additional cookie crumbs
Chocolate Ganache (recipe below)
How to make the best Mud Pie Recipe
Speaking of ice cream, I love Alden's Organic Ice Cream, their coffee chip is delicious and different. Additionally we adore Trader Joe's Coffee Ice Cream along with their vanilla ice cream!
Step 1 | Make Oreo crust
Place the entire sleeve (box/package) of cookies (family size, about 40 cookies, regular or double stuff) in a food processor (or a handful at a time if you have a smaller food processor) and pulse until the cookies resemble coarse to fine crumbs. Check out my Oreo Cookie Crust post.
Add melted butter to cookie crumbs, mixing to combine, set aside.
Step 2 | Building Ice Cream Layers
Using an ice cream spade (a spatula will work just fine too) scoop about 1-2 inch layers of ice cream and place in the bottom of the bowl. Press using the back of the spade or a large spoon to smooth out completely, or use some parchment or plastic wrap and press down until smooth.
Spoon a layer of fudge topping over the ice cream. If you need to warm the fudge to pour or spread easier, just warm slightly so you don't melt your ice cream.
Step 3 | Freezing between layers
Spoon on some of the cookie crumb crust (be sure to leave plenty for the final crust) and press into the nooks and crannies filling in any holes and cracks.
Scoop and press on your next layer of ice cream and repeat with fudge topping (or ganache, below) layer; return to freezer for 1 hour.
I use 2-3 different ice creams in my ice cream cakes, at least one of the varieties typically appeals to everyone.
Add another layer of fudge topping if not making ganache layer (below).
Step 4 | Make Chocolate Ganache Layer (optional)
If making ganache now is a great time to make it and add to your creation. See my post on how to make chocolate ganache.
It might be overkill to do both a layer of cookie crumbs AND ganache, but who am I to tell you what to do! You could also pour it over the top of the cake for an amazing thick layer!
Finally, add your last layer of ice cream after your cookie crust and/or ganache layers are firm to the touch.
Step 4 | Final layer
Be sure to finish with your Oreo crumb crust, while it ends on top, when you un-mold it and it becomes the bottom layer.
Pack on your cookie crumb crust and smooth down firmly using parchment paper or plastic wrap. Keep covered and freeze overnight, or at least 4-6 hours.
No time to freeze layers – Pro Tip
I have been known to "RUSH" my layering process. The cake isn't as pretty if you don't freeze between layering. However; it still tastes amazing.
So if you are pressed for time, then do all of your layering without freezing between, work fast and get that baby in the freezer to freeze at least 6-8 hours; preferably overnight.
Step 5 | Unmolding the Mud Pie Ice Cream Cake
Grab a plate or platter that will fit your Mud Pie recipe creation! Set aside. Using a small knife or butter knife, slide around the edge of the cookie crust, just to release it.
Fill sink or much larger bowl with hot tap water. Carefully lower the bowl into the water, dip until just before the rim (careful, you don't want to water log your cookie crust). Hold for about a minute*.
*If holding the frozen glass bowl is too chilly or the water is to hot, put on some dishwashing gloves; extra points for cute gloves!
Place plate or platter on top of bowl; flip over while holding both the bowl and the plate until bowl is sitting on the plate.
Pulling the bowl up slightly angled, insert a knife on one edge, gently encouraging the cake to come forth! If it's being stubborn hold in the hot water for another 30 seconds and try again.
Once plated, return to freezer for 30 minutes. then if desired before serving, spoon on more fudge sauce, sprinkle with tablespoon of reserved cookie crumbs and/or drizzle with Magic Shell.
Remove ice cream cake from freezer 10 minutes prior to serving.
Frequently Asked Questions
What is the best bowl for Mud Pie?
Instead of my traditional ice cream cake, made in a springform pan, to make this a MILE HIGH Mud Pie grab a sturdy glass bowl, I like a traditional Pyrex style bowl best, so you can see the layering.
The size is completely up to you, I made two of these ice cream cakes for my son's birthday, one in a large bowl (maybe 2-2.5 liter) for the day of celebration and another in a medium bowl (1.5 liter) for his party. You will just use more or less of your ice cream, either way you make these, big or small you will probably have a little leftover ice cream, not all bad?
Can I make Gluten-Free Mud-Pie?
YES! Replace your sandwich cookies with a Gluten Free Cookie of choice and make sure of course that your toppings and ice creams are also GF. Now that there are Gluten-Free Oreo's they are perfect!
How to make Cookie Crust without a food processor?
No food processor? No problem, working in several batches, place your cookies in a heavy duty plastic ziplock baggie. Using a rolling pin or heavy bottomed bottle, smash your cookies until they resemble coarse crumbs, rolling if needed, then pour into mixing bowl and add melted butter and stir to combine.
How to slice ice cream cake
For each individual slice, run a long knife under hot tap water or set in a glass of water, then wipe clean. This will give you a cleaner cut when slicing. Serve IMMEDIATELY. Return balance of uneaten cake to freezer.
If desired, slice the entire chocolate lovers cake and using the backside of a knife, push wax or parchment between slices for easier serving.
Serving Mud Pie
Once sliced, drizzle a little additional chocolate syrup on top of the pie and don't forget a dollop of homemade whipped cream.
Variations
Drizzle a little more hot fudge sauce or topping of choice over top, including magic shell.
Toss on crushed cookies chunks, chopped Reese's Peanut Butter cups, M&Ms, etc
Pipe a dollop of homemade whipped cream
Add jimmies! Jimmies always make it festive!
Want it more like a frozen dirt cake? Add gummy worms, they would be so fun peeking out of the chocolate crust.
Using a chocolate bar and a vegetable peeler, peeling away from you on the bar, make chocolate shavings.
PHEW! It sounds so much harder than it is, it's seriously one of the easiest, no fuss desserts I make and it's consistently a requested recipe! It's so worth the time in between layers for this work of art!
Customization & Substitutions
Birthday Cake Ice Cream Cake | Birthday Cake, Vanilla & Chocolate ice creams – Fudge and/or Caramel toppings, rainbow jimmies layer with blonde or chocolate sandwich cookie crust.
Mint Chip Ice Cream Cake | Mint Chocolate Chip, Chocolate, Vanilla Ice Creams – Mint Chocolate Sandwich Cookie Crust – Fudge and use extra cookies in middle (whole, un-crushed) layers.
Mountain Man Ice Cream Cake | Moose Tracks, Chocolate, Vanilla Ice Creams – Chocolate Cookie Crust, Fudge AND Caramel toppings and Reese's Peanut Butter Cups
HOLIDAY ICE CREAM CAKE IDEAS
Halloween Ice Cream Cake | Salted Caramel Ice Cream, Vanilla Ice Cream, and Dark (Black) Chocolate Ice Cream; Halloween colored sprinkles and jimmies, Chocolate Cookie Crust + Middle Layer of Chocolate Ganache. If desired, tint the Vanilla ice cream orange!
Thanksgiving Ice Cream Cake | Pumpkin – Vanilla – Pumpkin Ice Creams – Golden Oreo Cookie Crust or Spice Cookie Crust – Caramel toppings
Eggnog Ice Cream Cake | Eggnog ice cream & Vanilla Ice Cream – Chocolate OR Golden or blonde Sandwich Cookie Crust – Caramel or Fudge Toppings and layering, perfect for the holidays when Egg Nog abounds!
Chocolate-Peppermint Ice Cream Cake | Peppermint, Vanilla and White Chocolate Ice Creams- Layered with Crushed peppermints (candy canes) and white chocolate chips with chocolate crushed cookies layer and chocolate cookie crust. Perfect for Christmas and New Year.
TOP TIP
For easier serving, allow mud pie cake to sit on counter for 10-15 minutes before slicing.
I would love to hear how you layered your classic mud pie! This is a personal favorite of ours! Be sure to give it a 5 star rating and comment below the recipe.
You might like these other no bake, easy ice cream recipes!
Like this recipe?
Don't forget to give it a ⭐️⭐️⭐️⭐️⭐️ star rating and comment below the recipe!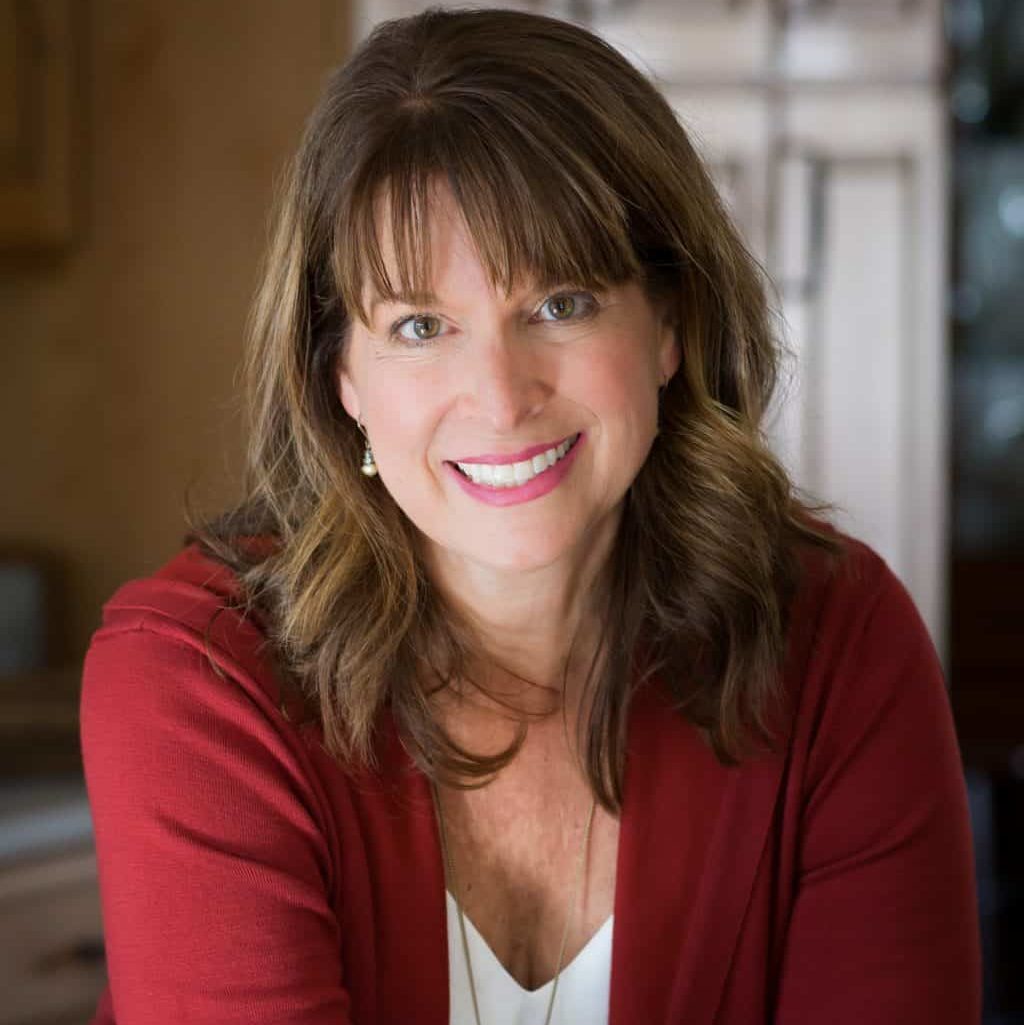 About Kathleen Pope
Recipe Innovator | Food Photographer | Food Writer
Hi, I'm Kathleen Pope. Here at The Fresh Cooky you will find easy, mostly from-scratch, trusted recipes for all occasions. From speedy dinners to tasty desserts, with easy step-by-step instructions. I am here to help teach you how to make mouthwatering recipes without spending hours in the kitchen. Read more about Kathleen here.