Roasted Brussels Sprouts with Honey Balsamic Glaze
As an Amazon Associate, I earn from qualifying purchases. Please read my disclosure policy.
This recipe for Roasted Brussels Sprouts with Honey Balsamic Glaze has a secret to the perfect crispy, roasted leaves. They taste even better, when drizzled with a warm honey balsamic glaze, spiced with red pepper flakes. Better than restaurant style brussels sprouts.
I love brussels sprouts, do you love brussels? Did you know it's brussels (with an s) sprouts? I actually had to look that up, I assumed the singular was brussel sprout, but actually the proper spelling is, brussels sprouts.

Great veggie side dishes are a must for ever cook and this is one of our favorites! Easy enough for a weeknight dinner, fancy enough for a holiday side dish, try my Tarragon Carrots, or this Cheesy Asparagus Bake for another, taste bud awakening side dish.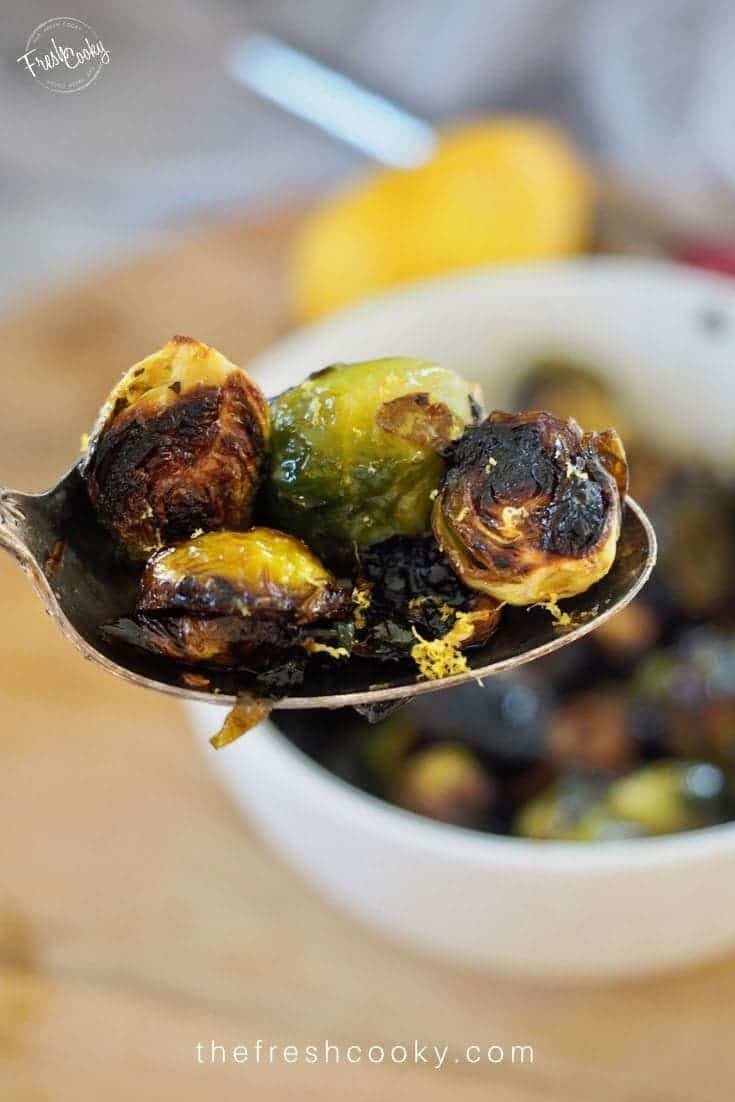 The original recipe from Bon Appetit caught my attention after talking about how to achieve the same super, crispy brussels you get from expensive restaurants. I tweaked it a bit as I did not have any red wine vinegar.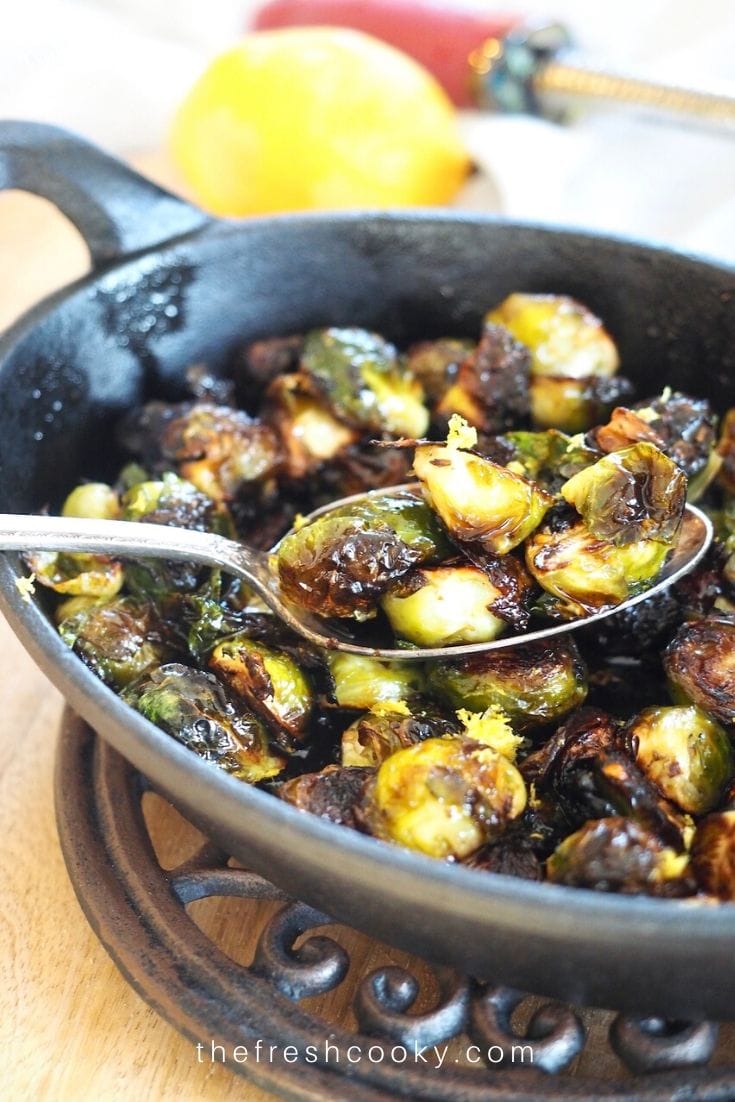 How Do I Get Crispy Roasted Brussels Sprouts?
Want to know the secret? Well keep reading!
Just kidding, I will tell you! The secret to extra crispy roasted brussels sprouts is preheating the sheet pan in a hot oven, the cold brussels hit that hot pan and immediately get a crisp and char going.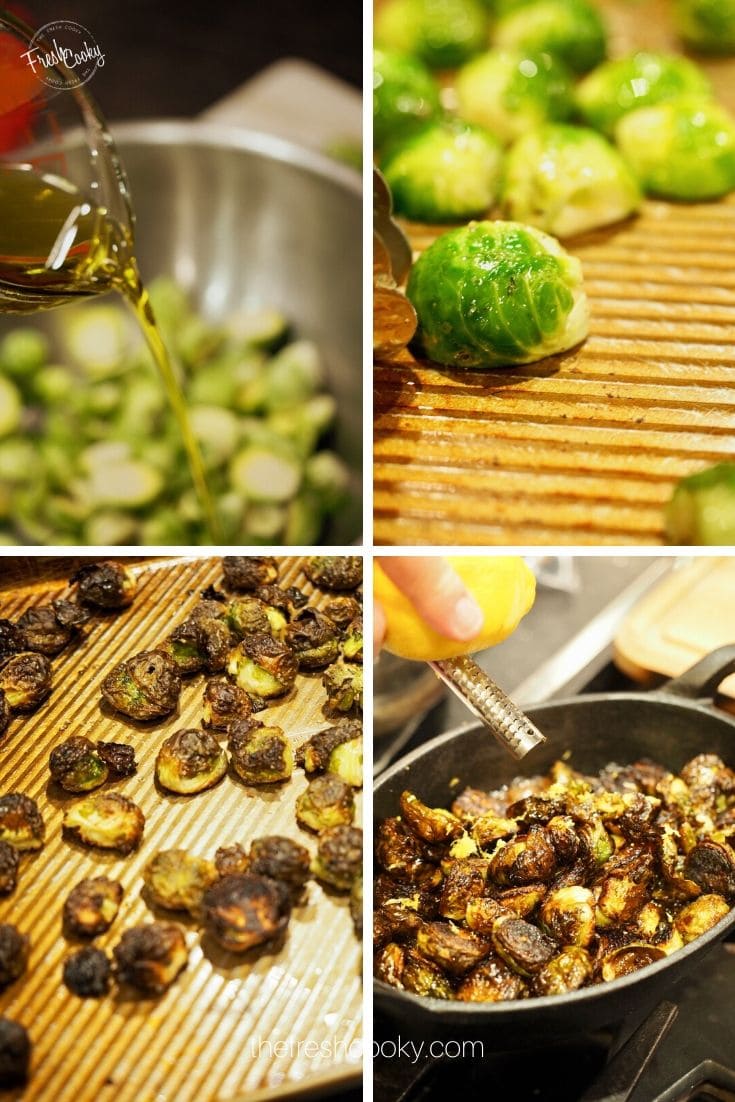 Simple Ingredients for Roasted Brussels Sprouts
Brussels sprouts, washed, trimmed, halved
Extra virgin olive oil
kosher salt & fresh ground pepper
fresh ground pepper
Honey, try a local raw honey
Balsamic vinegar
Crushed red pepper flakes
Unsalted butter | If using salted butter, reduce salt slightly
Lemon zest
How Do you Cut Brussels Sprouts
What does it mean to "trim" brussels sprouts?
Remove a slice of the woody end and any yellow or brown leaves.
Once trimmed, halve the Brussels sprouts from top to bottom, leaving the stem in place helps hold the leaves together. Toss into a bowl.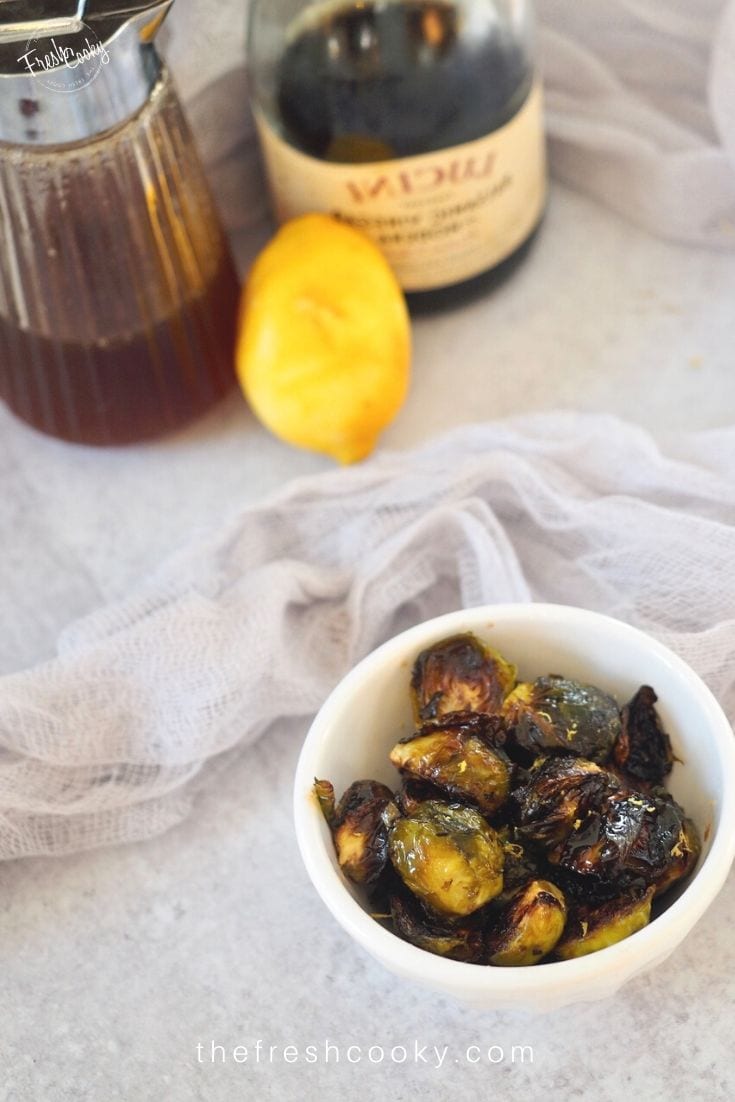 How to Roast the Perfect Crispy Brussels Sprouts
Place oven rack on lowest rack in oven, preheat oven to 450° F.
Place a half sheet baking pan on the bottom rack to heat up while you prep the brussels.
Rinse, trim and halve brussels placing in large bowl.
Drizzle with olive oil, tossing to coat, sprinkle with sea salt and fresh pepper.
Carefully remove hot pan from oven and place brussels on pan, cut side down. Meanwhile make Honey Balsamic Glaze.
Roast until deeply browned, for smaller brussels about 15 minutes, for larger brussels as long as 20-25 minutes, until some are charred and fork tender.
Making the Warm Honey Balsamic Glaze
Bring honey to simmer in a small saucepan, over medium heat. Once simmering, reduce heat to medium-low and cook, stirring frequently until a deep amber color, careful it will burn quickly. It will take about 3-4 minutes, it will foam up, that's okay.
Remove from heat, adding red pepper flakes (if desired) and vinegar. Whisk until sauce is smooth. Return to heat, medium to medium-high, adding butter and 1/2 teaspoon salt, whisking constantly, about 3-4 minutes until glaze is glossy and thickened slightly. Set aside until ready to use.
Once brussels are roasted, transfer to large bowl, pour glaze over brussels and toss to a combine, transfer to a platter or heat a cast iron pan or serving dish in oven along with brussels.
Top with fresh lemon zest and serve immediately.
Try other vinegars in place of balsamic, red wine vinegar, white balsamic or white wine vinegar, if you try using apple cider vinegar start with a little bit at first.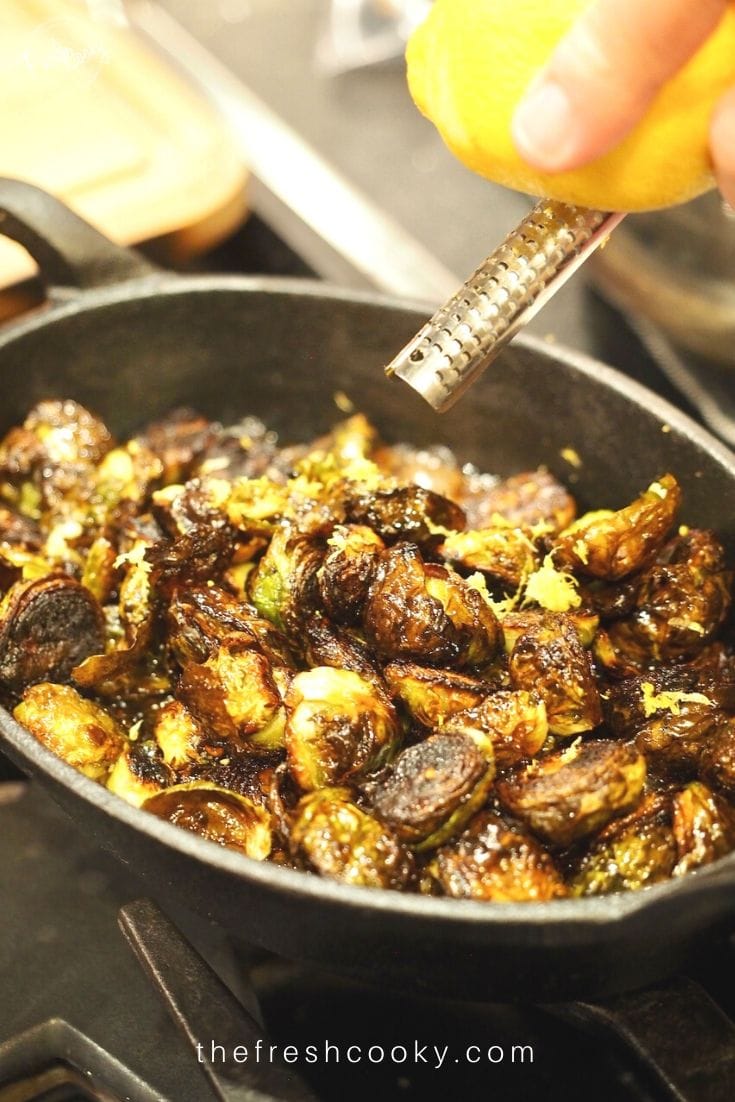 Can you Reheat Brussels Sprouts?
The short answer, yes, you can reheat brussels sprouts, but they are best freshly roasted. If you need to make ahead of time, undercook slightly by a few minutes, then place back on hot sheet pan in 450° F oven for a couple of minutes.
If already glazed, place on sheet pan in a 350° F oven for 3-5 minutes until warmed through.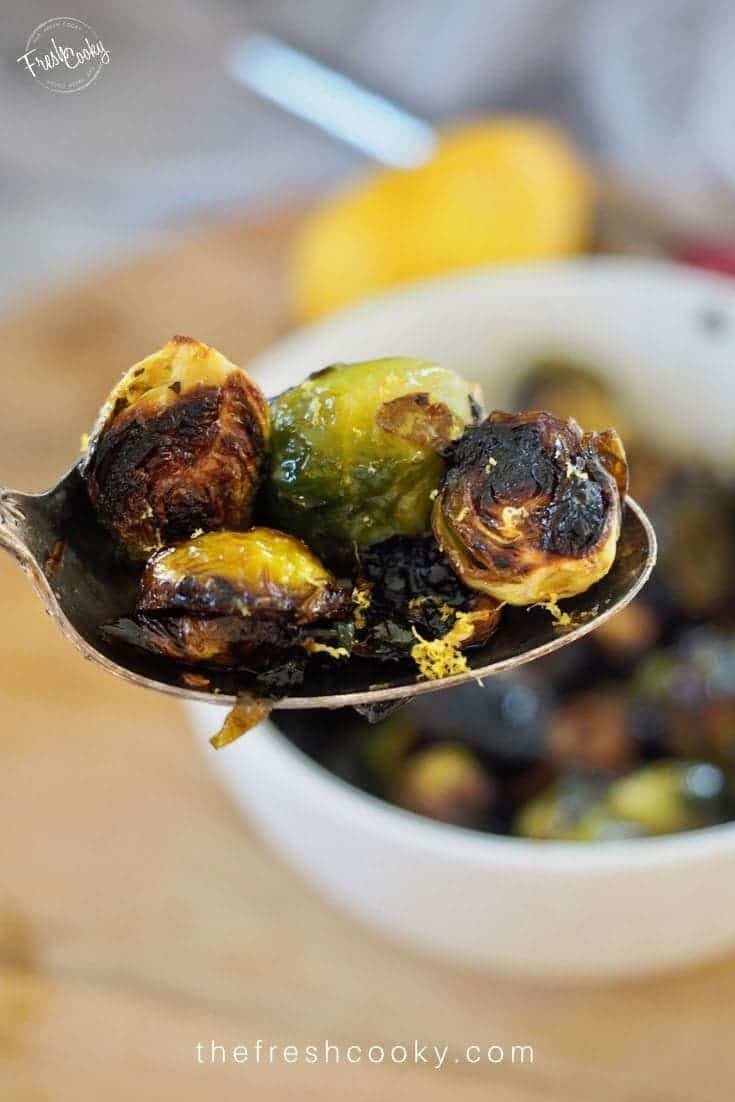 Can you Freeze Brussels Sprouts?
I don't recommend freezing as brussels will become soggy.
Last, but not least, brussels sprouts shrink much more than you would expect, plan for much more than anticipated. Worth ever trim and slice.
For more great veggie dishes see below the recipe card!
Try roasted brussels sprouts with these flavor packed main dishes!
Like this recipe?
Don't forget to give it a ⭐️⭐️⭐️⭐️⭐️ star rating and comment below the recipe!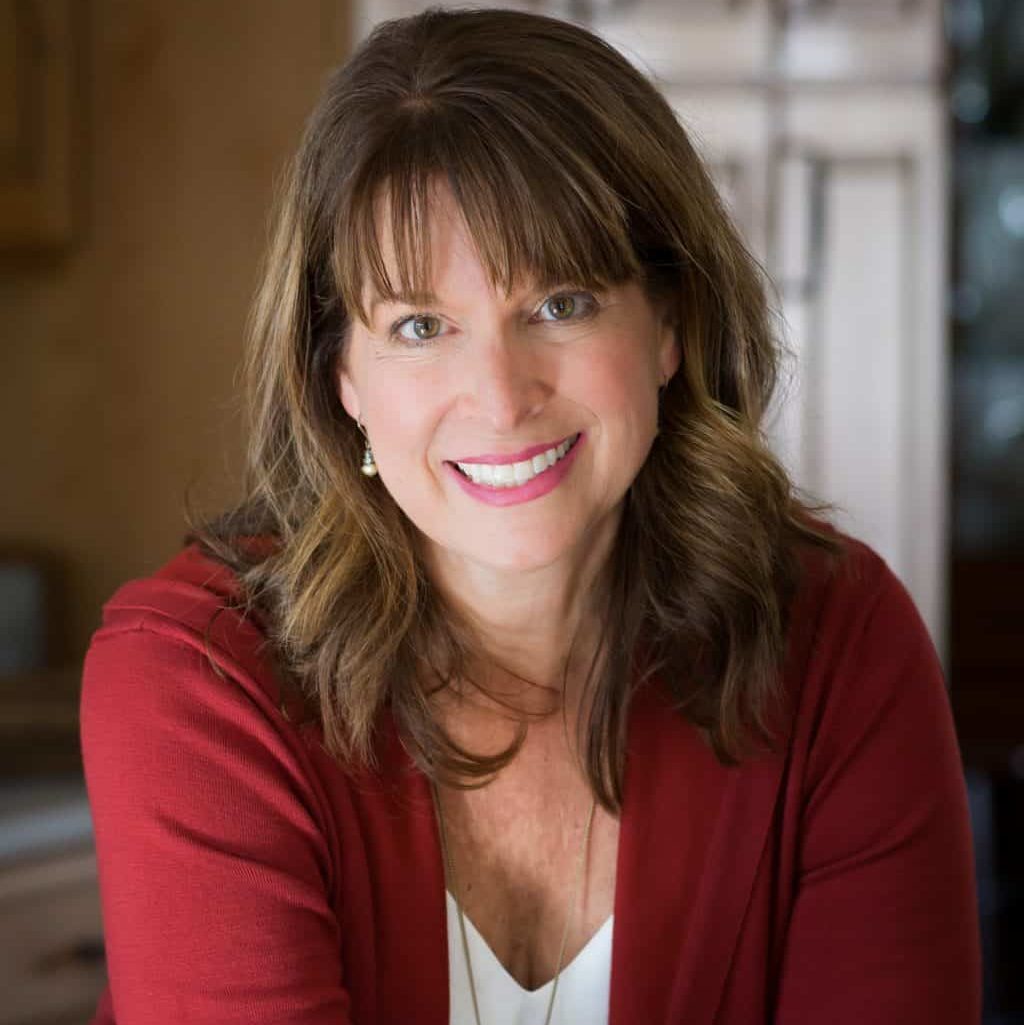 About Kathleen Pope
Recipe Innovator | Food Photographer | Food Writer
Hi, I'm Kathleen Pope. Here at The Fresh Cooky you will find easy, mostly from-scratch, trusted recipes for all occasions. From speedy dinners to tasty desserts, with easy step-by-step instructions. I am here to help teach you how to make mouthwatering recipes without spending hours in the kitchen. Read more about Kathleen here.