These glazed raspberry blueberry scones with a delicious butter lemon glaze are incredibly moist, packed with flavor, perfect for brunch, garden parties, bridal and baby showers, Mother's Day, Sunday brunch, and so much more!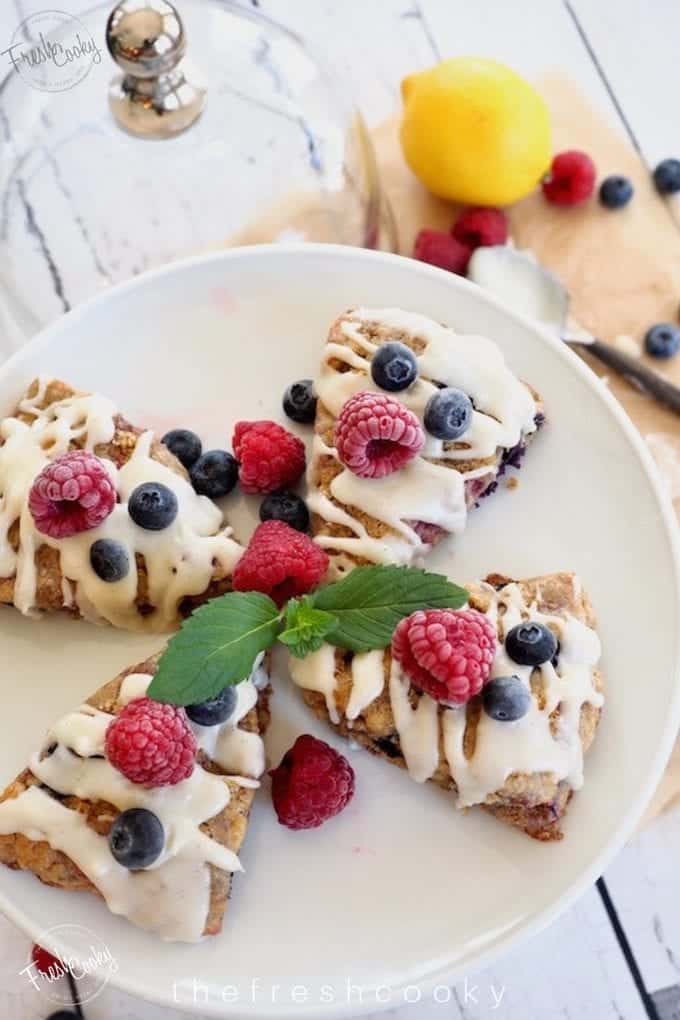 What are Scones?
A traditional English scone is lighter, more biscuit like; typically slathered with butter, jam, curd and clotted cream (dreamy, by the way!). An American scone is usually a bit heavier, more buttery and a bit sweeter. Normally eaten during tea time, but honestly they are delicious any time of the day.
I'm kind of a scone fanatic and have been making them for years; but not the dry and crumbly, boring kind. Oh no, I'm all about scones that are packed with flavor, wholegrains, fresh fruit, citrus zest, and not overly sweet. Typically I like to add a bright glaze to my scones, because after all it's a breakfast pastry, right?
HOW TO MAKE GLAZED RASPBERRY BLUEBERRY SCONES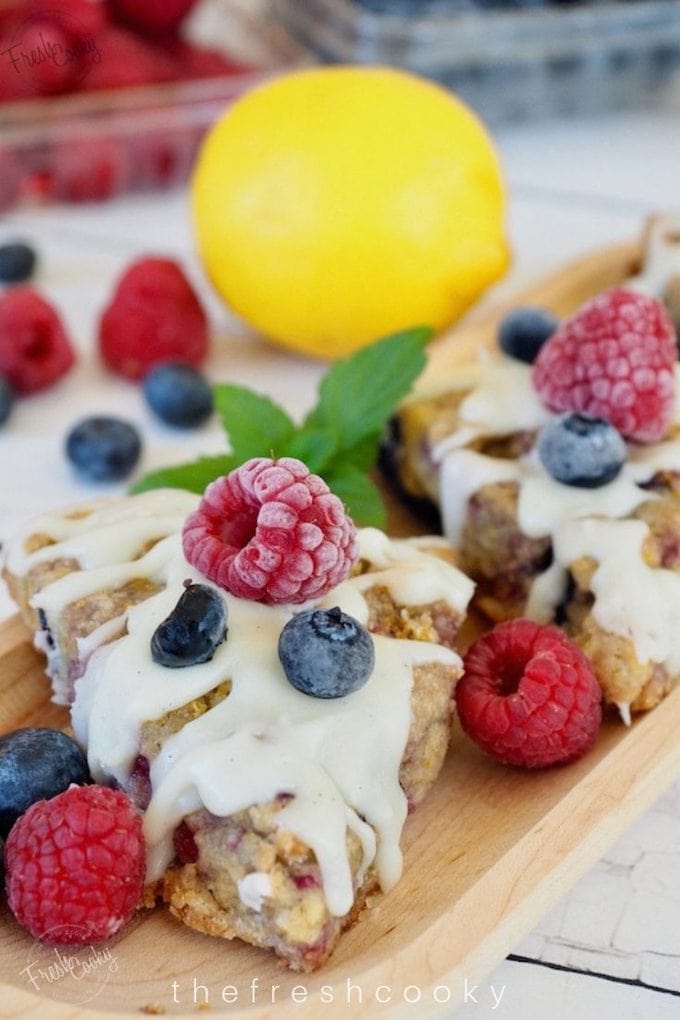 Scones are really very easy, using the same basic recipe, they are really very forgiving and you can trade out fruit for unique scone flavors. You can also swap out heavy cream for buttermilk like in my Strawberry Buttermilk Scones.
Tips for the best texture and flavor:
Always use butter; real butter and by real butter, I mean the ingredients should read: sweet cream or cream and salt (unsalted is fine too). Nothing that has the word "Light, Low Fat, or Blend" in the title.
Your butter (the real stuff) should be really cold chopped into small chunks or grated using a box grater and place it in the freezer until ready to use.
Your liquid (heavy cream, buttermilk, milk) should be very cold as well, do not leave it sitting out the counter
Work quickly.
Refreeze the scones for 20-30 minutes before baking
Place all of your dry ingredients in a mixing bowl and mix using a fork or a whisk. Add chopped (or grated) butter and using a pastry cutter or a couple of knives, though I prefer my hands, mix until it forms a crumby mixture.
Work the butter into the flour mixture until it resembles small peas, it'll still be really flour-y and crumbly. And it will be crumbly, if it begins to stick together, you've softened the butter too much. Try placing the mixture back in the freezer for 10 minutes or so.
Gently stir in your fresh berries, coating them with the flour mixture. If desired, zest the rind of one lemon and toss into dough.
Make a small well in the center of the flour mixture and pour in your cold cream.
Using a fork, stir in the liquids until most of the flour mixture is moist and it starts to clump together, don't over stir, you will form the dough with your hands.
Pour the shaggy dough onto a parchment lined cookie sheet. It will seem like a big pile of crumbs, but have no fear, it will all come together. See that beautiful, crumbly mess!! Trust me, it will all come together.
Using your hands, gently, mold and pat the crumbs together, quickly molding and shaping it into roughly an 8″ disc, slightly mounded at the top.
Using a knife, cut the disc in half, then half again, until you have either 4 large or 8 smaller scones. I prefer 8, because then you can eat two, but really you've only eaten one! Are you with me?
Why Freezing Scones is Important
When you freeze the scones for a short time, this hardens up your butter so that it doesn't melt too quickly while baking, adhering to the flour, it steams and lifts the dough creating a light, moist and lovely scone. Simply place the scones in your freezer for 20-30 minutes; I typically use this time to take a quick shower.
MAKING LEMON INFUSED SUGAR
In a small bowl, combine zest from one medium lemon with 1 tablespoon demerara (or coarse) sugar, rubbing zest into sugar until fragrant. Sprinkle lemon sugar on top of scones after brushing with cream, prior to baking.
When ready to bake brush the top of the scones with a little extra cream to add a bit of gloss. Bake at 400° for 13-15 minutes until toothpick inserted comes out clean and they are golden brown.
NOTE | If crisper edges are desired, before baking, using a spatula, pull the wedges away from each other and position on the pan. For an even softer scone, bake as a whole disc, in the last 5 minutes of baking; recut wedges and using a spatula pull the mostly cooked scones away from each other, return to oven and bake another 5 minutes.
Scones should be raised and be slightly golden.
Remove from oven, allowing to cool on the pan for 5 minutes, then move to a cooling rack to finish cooling completely.
HOW TO MAKE LEMON BUTTER GLAZE
To make the glaze, melt your butter and allow to cool while you prep the rest of your ingredients.
In a small bowl add powdered sugar, lemon juice and stir, then add your melted butter and vanilla bean paste, whisking until smooth. If glaze is too thick add a teaspoon of cream or milk to thin or a touch more lemon juice.
Using a spoon drizzle glaze over cooled scones. Or if you prefer a smooth glaze that coats into the scone, cool the scones 5 or so minutes then spoon the glaze evenly over the top. You will have an all over smooth glaze vs. the drizzled look.
I keep the scones on the cooling rack and place parchment paper (use the parchment you baked them on) under rack, for easy clean-up.
Serve just like they are or my preference with lemon curd, maybe a little clotted cream or crème fraiche, or yikes, even butter. Enjoy with a nice cup of tea or coffee.
Give these other breakfast treats a try:

Like this recipe?
Don't forget to give it a ⭐️⭐️⭐️⭐️⭐️star rating in the recipe below!
Yield:

8 scones
Glazed Raspberry Blueberry Scones
Freezing Time :
30 minutes
These glazed raspberry blueberry scones with a delicious butter lemon glaze are incredibly moist, packed with flavor, perfect for brunch, garden parties, bridal and baby showers, Mother's Day, Sunday brunch, and so much more!
Ingredients
Scones
¼ teaspoon salt
¼ teaspoon baking soda
6 TABLESPOONS real butter, cold, chopped or grated
1/3 cup + 3 tablespoons heavy cream plus extra for brushing
1/3 heaping cup fresh raspberries
1/3 heaping cup fresh blueberries
1 lemon (medium), zested
Lemon Butter Glaze
½-1 cup powdered sugar
1 ½ – 2 tablespoons Lemon juice
2 tablespoons melted butter
If needed, use a little cream or milk a teaspoon at at time until the right consistency.
Instructions
Preheat oven to 400°F. Dice (or grate) the butter into small cubes, placing in freezer until needed. In a medium bowl, whisk together the flour, sugar, salt, and baking soda.
Quickly, work the butter into the mixture using a pastry cutter, two knives or your hands, until it's evenly distributed and crumbs are slightly smaller than peas. Gently stir in berries to coat with flour.
Make a small well in the center of dry mixture, pouring your cream into well, mix gently with a fork until a shaggy dough forms. Don't over mix. Pour the dough/crumbs onto a parchment lined cookie sheet and gently mold the dough into a disc, with the center slightly higher than the edges. Press out into approximately 8" in diameter. The warmth of your hands will help shape the dough, holding it together.
Using a knife, slice the dough into 4 large or 8 smaller scones (like cutting a pie). Place scone disc in freezer for 20-30 minutes. At this time, scone disc, may be wrapped in plastic wrap or parchment, sealed in an airtight freezer baggie for later baking. You may separate the scones on the pan for crisper scone edges, or bake it as a whole, re-cutting and separating the scones once baked. If desired, add the zest of one lemon to 1 tablespoon coarse sugar, using your fingers, work it into the sugar until fragrant.
Brush the tops of the scones with a little extra cream for a glaze, then top with lemon infused sugar. Bake 13-15 minutes until golden and toothpick inserted comes out clean, don't over bake.
While scones bake, whisk together the glaze ingredients, adding a little milk or cream to thin as needed. For a light all over glaze, pour glaze on scones while still warm from the oven. For a drizzled look, cool the scones completely on a wire rack, then place a sheet of wax or parchment paper underneath rack (for easy clean up) and using a spoon slowly drizzle glaze over the scones.
Serve with Lemon Curd, Butter, Clotted Cream or alone. Store in airtight container overnight, or up to one week in the fridge. To garnish as shown in picture. Freeze whole raspberries and blueberries for an hour or more, once scones have cooled, just after glazing, top scones with frozen berries and serve immediately. If storing scones, remove fresh berries or do not add.
Notes
BAKING FROM FROZEN | If baking scones from frozen, place directly into hot oven frozen, adding a few minutes of bake time if needed, bake and glaze as directed.
Recommended Products
Disclosure: I am a participant in the Amazon Services LLC Associates Program, an affiliate advertising program designed to provide a means for us to earn fees by linking to Amazon.com and affiliated sites, this post contains links. At no cost to you!
Nutrition Information:
Yield:
8 scones
Serving Size:
1 scone
Amount Per Serving:
Calories:

468
Total Fat:

18g
Saturated Fat:

11g
Trans Fat:

1g
Unsaturated Fat:

6g
Cholesterol:

49mg
Sodium:

254mg
Carbohydrates:

68g
Fiber:

6g
Sugar:

18g
Protein:

10g
The nutritional information is estimated and may not be entirely accurate.
ABOUT KATHLEEN
I enjoy sharing easy recipes that are wholesome and delicious. I am fed by my faith, family, friends & food! Welcome to my kitchen! Read more...