The Best Mixed Berry Scones
As an Amazon Associate, I earn from qualifying purchases. Please read my disclosure policy.
Easy mixed berry scones with a delicious butter lemon glaze are incredibly moist, packed with flavor, perfect for brunch, garden parties, bridal and baby showers, Mother's Day, Sunday brunch, and so much more! I used blueberries and raspberries, but use what you have!
I wanted to make this scone recipe without eggs, I think you will find these just as tender and delicious as my other scones, even without an egg.
If you love scones as much as I do, you have to try my Copycat Panera Orange Scones, these always popular Cinnamon Crunch Scones and my Eggnog Scones!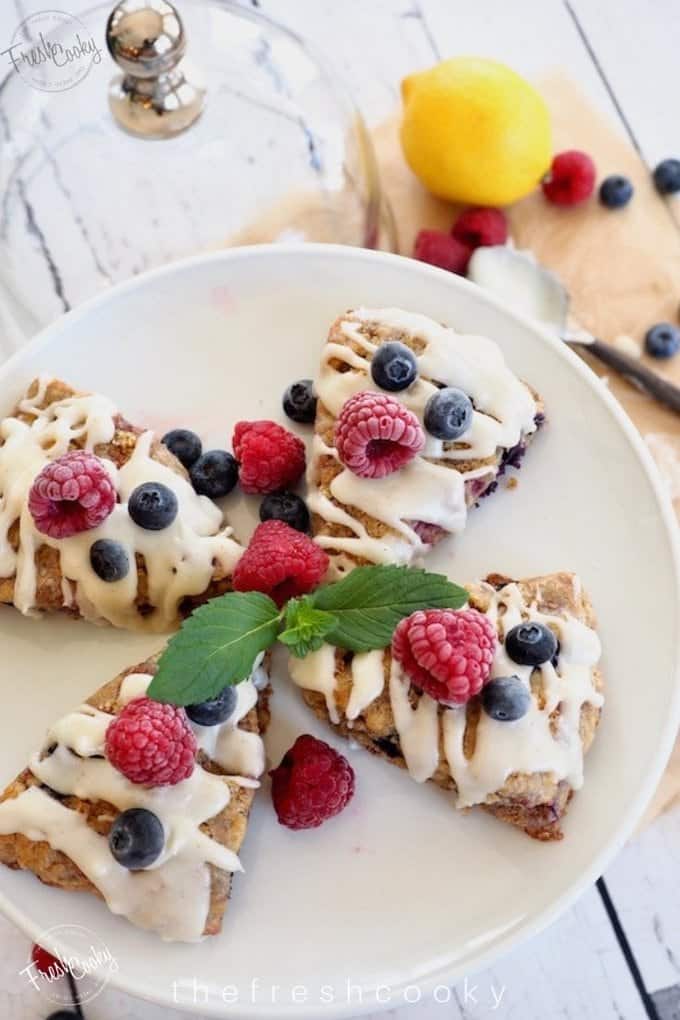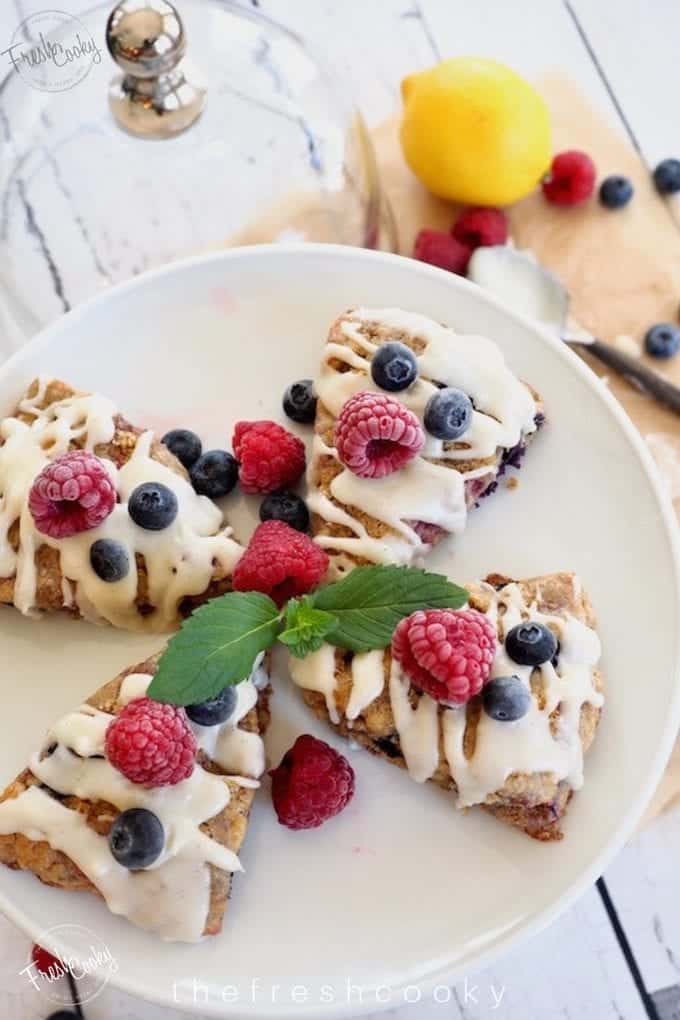 What are Scones?
A traditional English scone is lighter, more biscuit like; typically slathered with butter, jam, curd and clotted cream (dreamy, by the way!). An American scone is usually a bit heavier, more buttery and a bit sweeter. Normally eaten during tea time, but honestly they are delicious any time of the day.
I'm kind of a scone fanatic and have been making them for years; but not the dry and crumbly, boring kind. Oh no, I'm all about scones that are packed with flavor, wholegrains, fresh fruit, citrus zest, and not overly sweet. Typically I like to add a bright glaze to my scones, because after all it's a breakfast pastry, right?
Simple Ingredients for Mixed Berry Scones
Full ingredient and measurements in the printable recipe card at the bottom of this post.
Whole Wheat Pastry Flour | or substitute with all-purpose unbleached flour
Sugar | I use all natural cane sugar, regular white sugar will work
Butter | the real deal, cold, chopped or grated
Heavy cream | this is what helps make cream scones so flavorful!
Berries | I used fresh blueberries and raspberries, may also use blackberries, strawberries, your favorite berries! Fresh or frozen (do not thaw)
Demerara sugar | optional
Glaze Ingredients | Lemon juice, lemon zest, powdered sugar and water, cream or milk.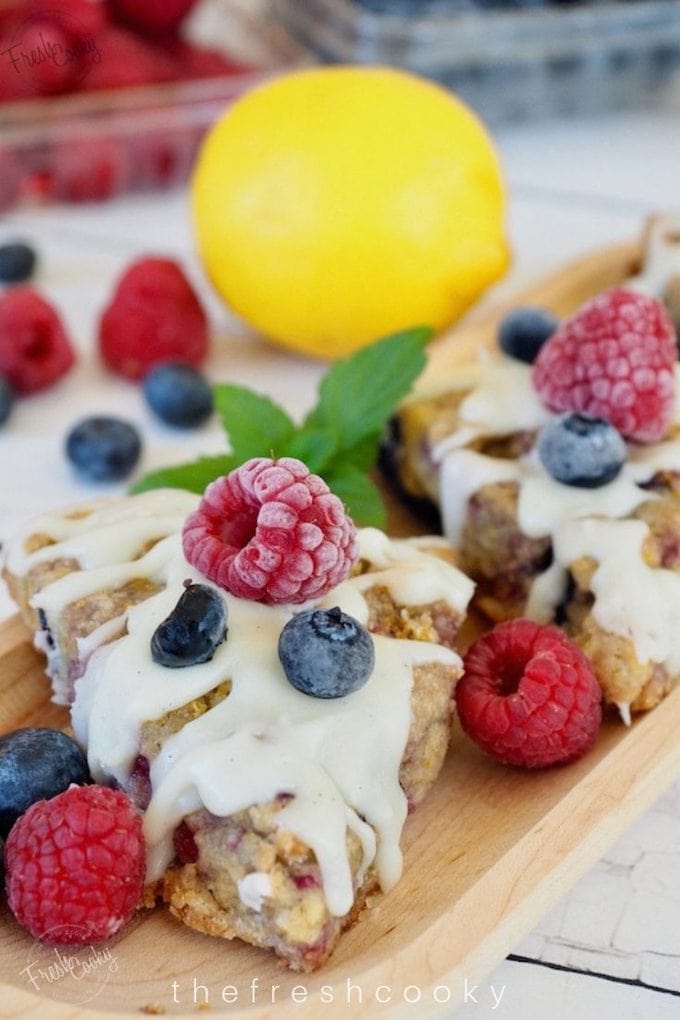 Scones are really very easy, using the same basic recipe, they are really very forgiving and you can trade out fruit for unique scone flavors. You can also swap out heavy cream for buttermilk like in my Strawberry Buttermilk Scones.
Fresh Tips
Always use butter; real butter. If it's soft coming out of the fridge, it's a blend.
Your butter (the real stuff) should be really cold chopped into small chunks or grated using a

box grater

and place it in the freezer until ready to use.
Your liquid (heavy cream, buttermilk, milk) should be very cold as well, do not leave it sitting out the counter
Work quickly | Making scones is about less handling time, more enjoying time.
Refreeze the scones for 20-30 minutes before baking
How to make Mixed Berry Scones
Place all of your dry ingredients in a mixing bowl and mix using a fork or a whisk. Add chopped (or grated) butter and using a pastry cutter or a couple of knives, though I prefer my hands, mix until it forms a crumby mixture.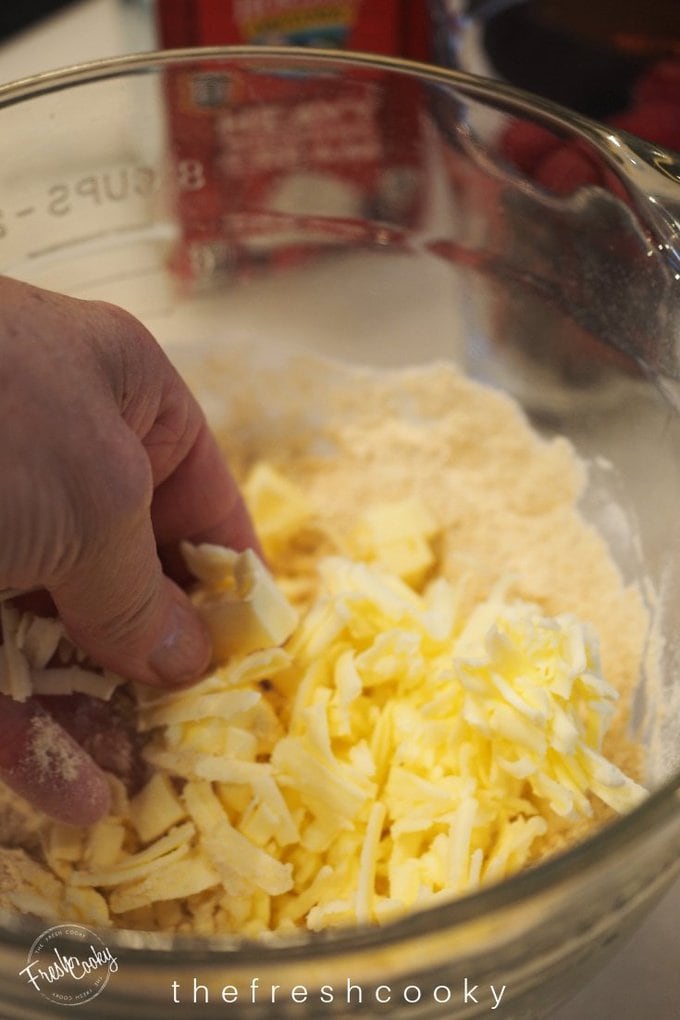 Work the butter into the flour mixture until it resembles small peas, it'll still be really flour-y and crumbly. And it will be crumbly, if it begins to stick together, you've softened the butter too much. Try placing the mixture back in the freezer for 10 minutes or so.
Gently stir in your fresh berries, coating them with the flour mixture. If desired, zest the rind of one lemon and toss into dough.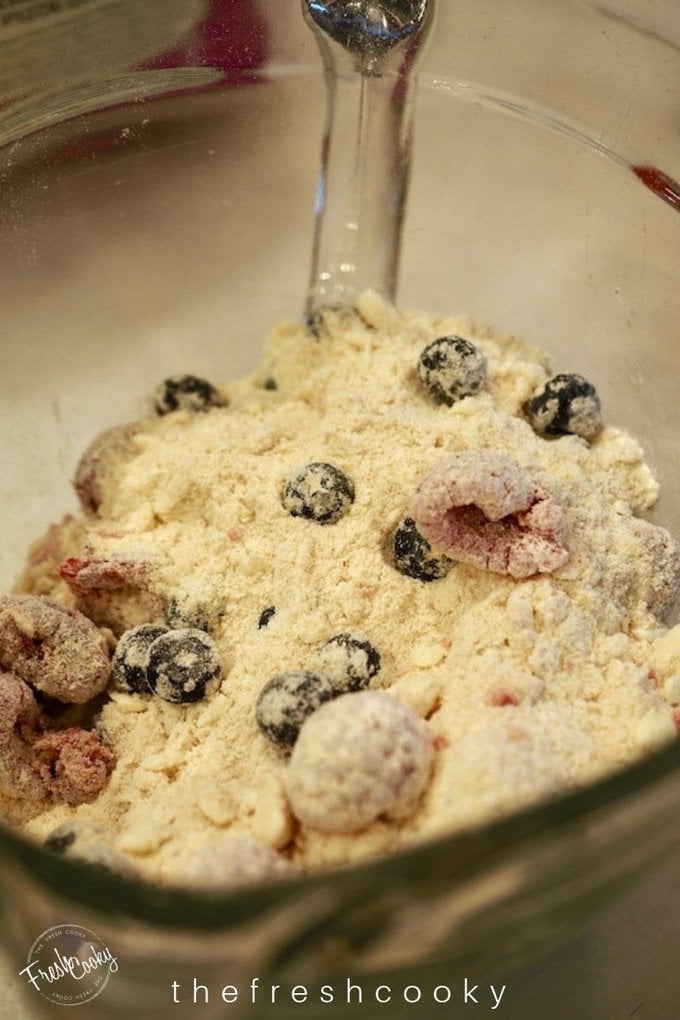 Make a small well in the center of the flour mixture and pour in your cold cream.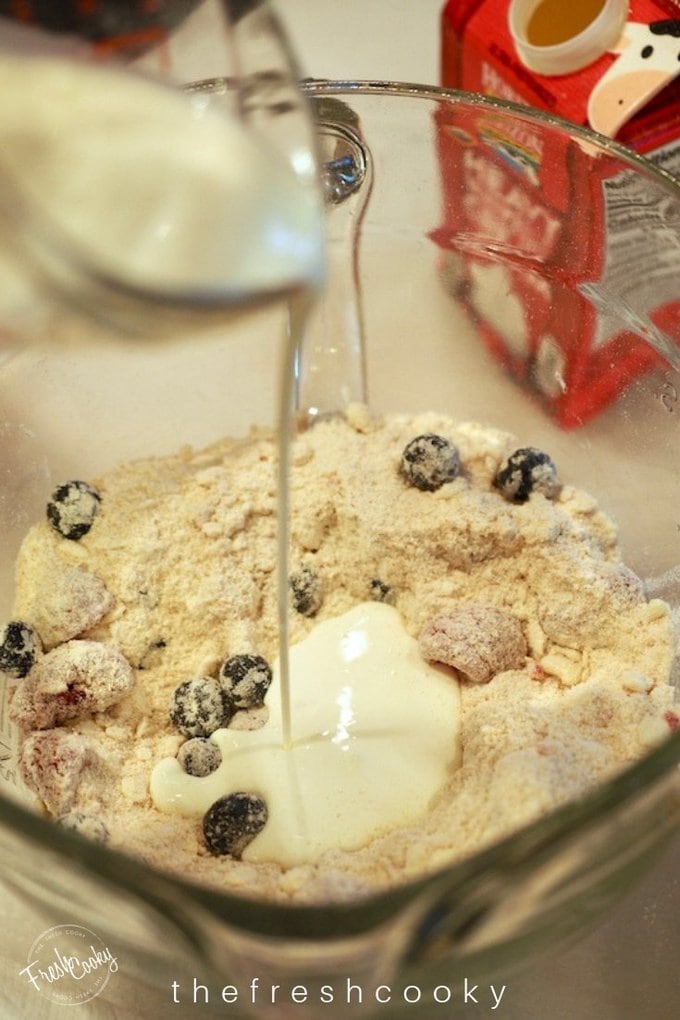 Using a fork, stir in the liquids until most of the flour mixture is moist and it starts to clump together, don't over stir, you will form the dough with your hands.
Pour the shaggy dough onto a parchment lined cookie sheet. It will seem like a big pile of crumbs, but have no fear, it will all come together. See that beautiful, crumbly mess!! Trust me, it will all come together.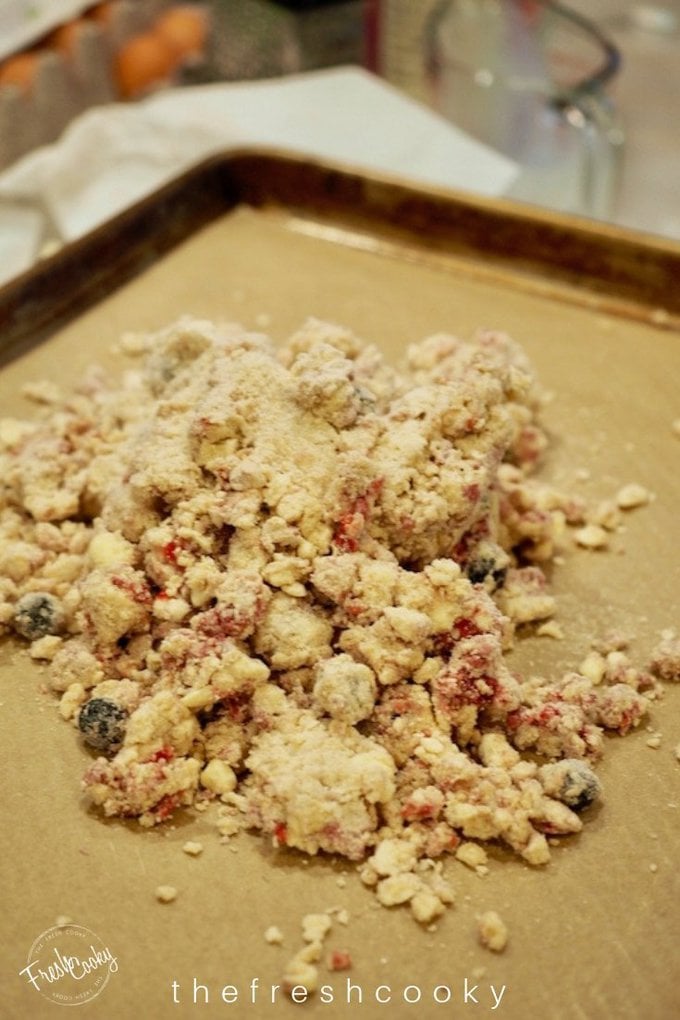 Using your hands, gently, mold and pat the crumbs together, quickly molding and shaping it into roughly an 8″ disc, slightly mounded at the top.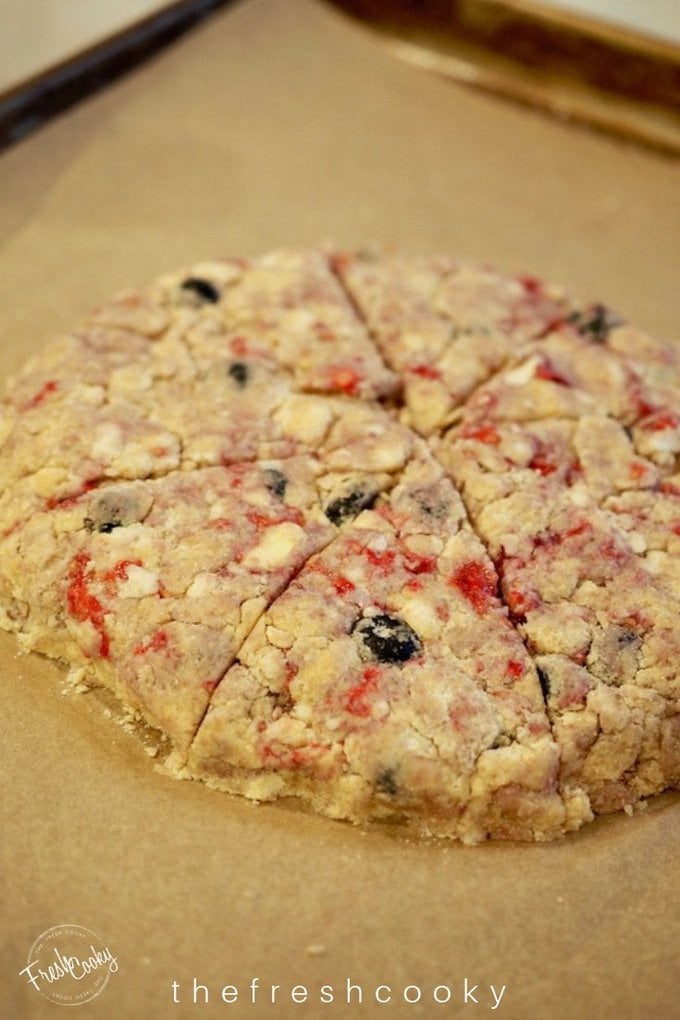 Using a knife, cut the disc in half, then half again, until you have either 4 large or 8 smaller scones. I prefer 8, because then you can eat two, but really you've only eaten one! Are you with me?
Frequently Asked Questions
Can you freeze scones?
Yes, in fact that makes them even better. I recommend freezing the disc for 20-30 minutes before baking. Or freeze well wrapped in an airtight baggie for up to 3 months. Nothing special to do when you bake them, other than add a few minutes to your baking time.
Can you make scones ahead of time?
Again, the answer is yes. Scones might seem fussy, but they really are quite easy and adaptable. Make them ahead of time, place in freezer or fridge before baking. Then just remove and bake as directed. Or bake, allow to cool and refrigerate or freeze until ready to eat, then drizzle with glaze just before serving.
Does this scone recipe have an egg?
No these mixed berry scones recipe do not contain an egg, most of my scones recipes use eggs, but I changed it up in this instance and left the egg out.
How to make Lemon Infused Sugar for Scones
In a small bowl, combine zest from one medium lemon with 1 tablespoon demerara (or coarse) sugar, rubbing zest into sugar until fragrant. Sprinkle lemon sugar on top of scones after brushing with cream, prior to baking.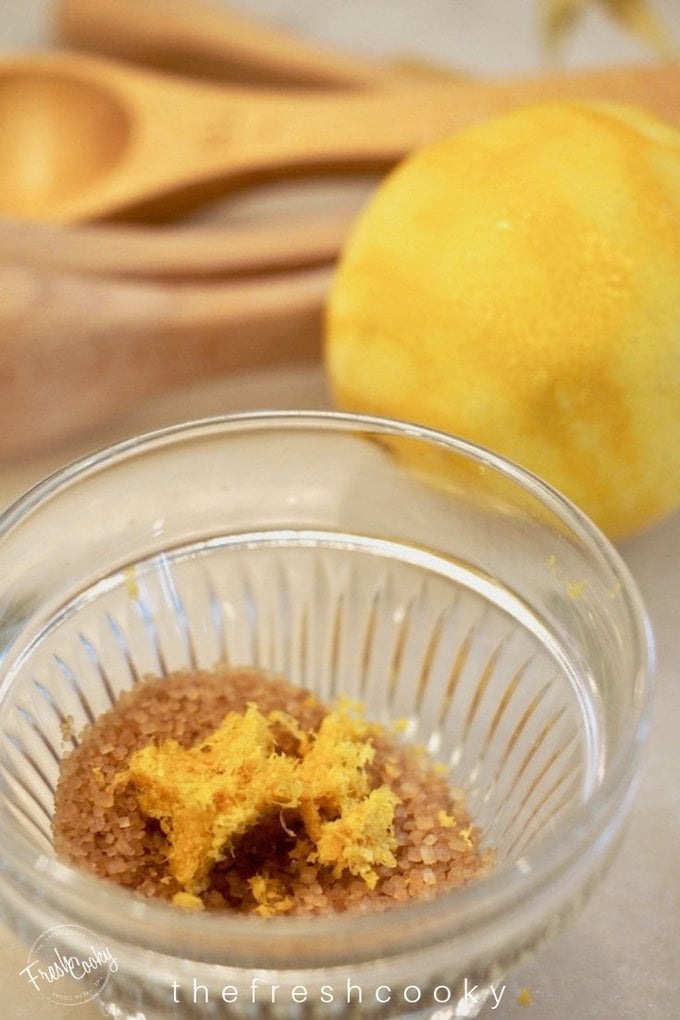 When ready to bake brush the top of the scones with a little extra cream to add a bit of gloss. Bake at 400° for 13-15 minutes until toothpick inserted comes out clean and they are golden brown.
Pro Tip
Example text for iIf crisper edges are desired, before baking, using a spatula, pull the wedges away from each other and position on the pan. For an even softer scone, bake as a whole disc, in the last 5 minutes of baking; recut wedges and using a spatula pull the mostly cooked scones away from each other, return to oven and bake another 5 minutes.
Scones should be raised and be slightly golden.
Remove from oven, allowing to cool on the pan for 5 minutes, then move to a cooling rack to finish cooling completely.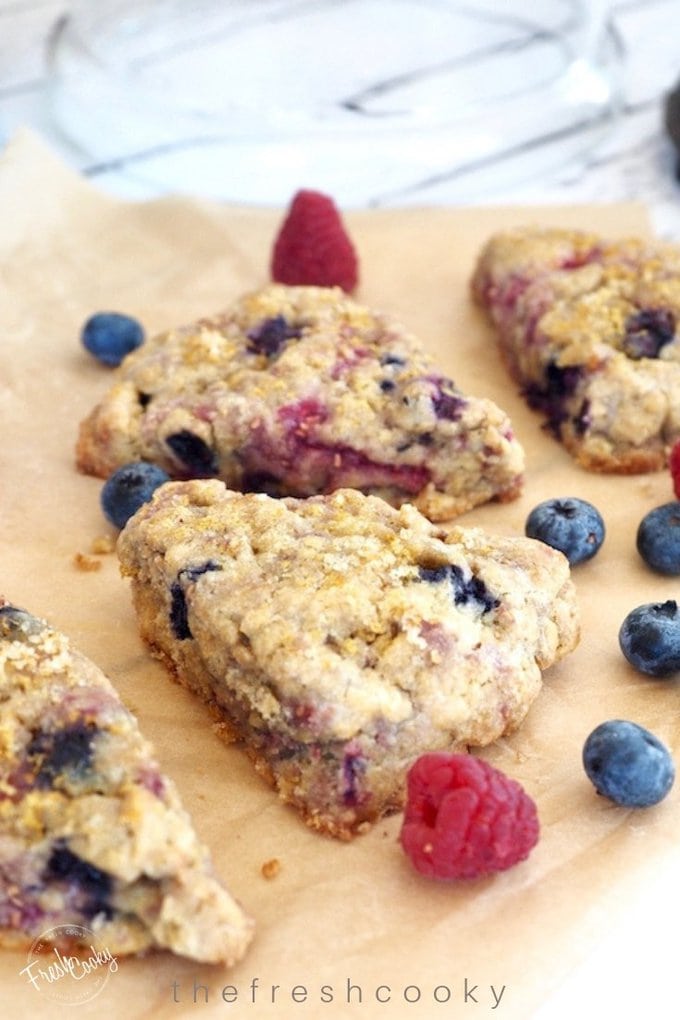 How to Make Lemon Glaze for Scones
To make the glaze, melt the butter and allow to cool while you prep the rest of your ingredients.
In a small bowl add powdered sugar, lemon juice and stir, then add your melted butter and vanilla bean paste, whisking until smooth. If glaze is too thick add a teaspoon of cream or milk to thin or a touch more lemon juice.
Using a spoon drizzle glaze over cooled scones. Or if you prefer a smooth glaze that coats into the scone, cool the scones 5 or so minutes then spoon the glaze evenly over the top. You will have an all over smooth glaze vs. the drizzled look.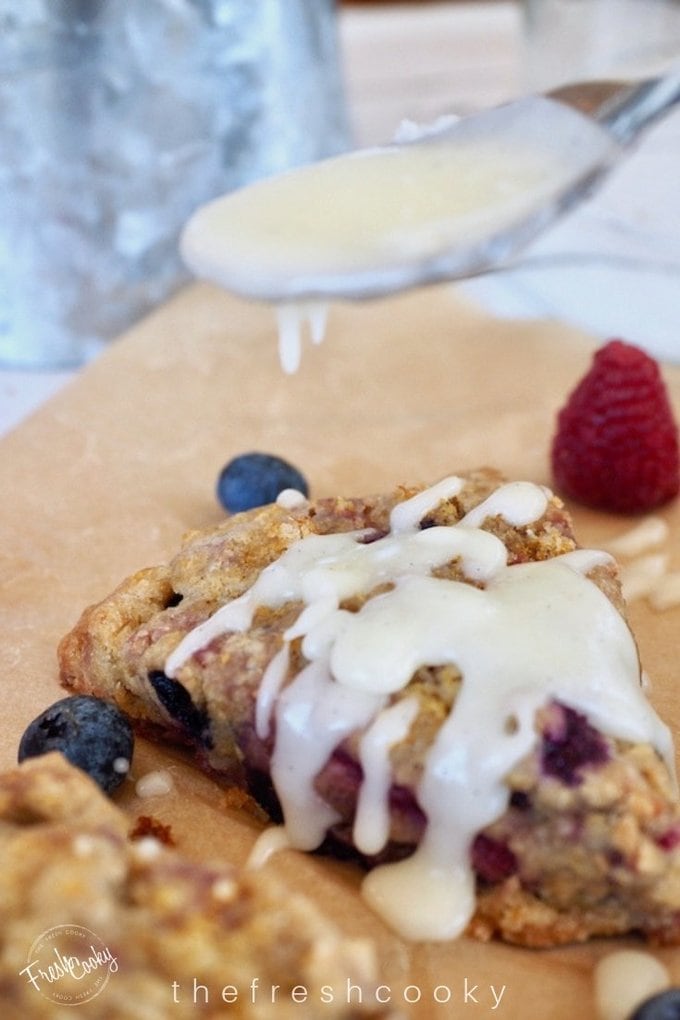 I keep the scones on the cooling rack and place parchment paper (use the parchment you baked them on) under rack, for easy clean-up.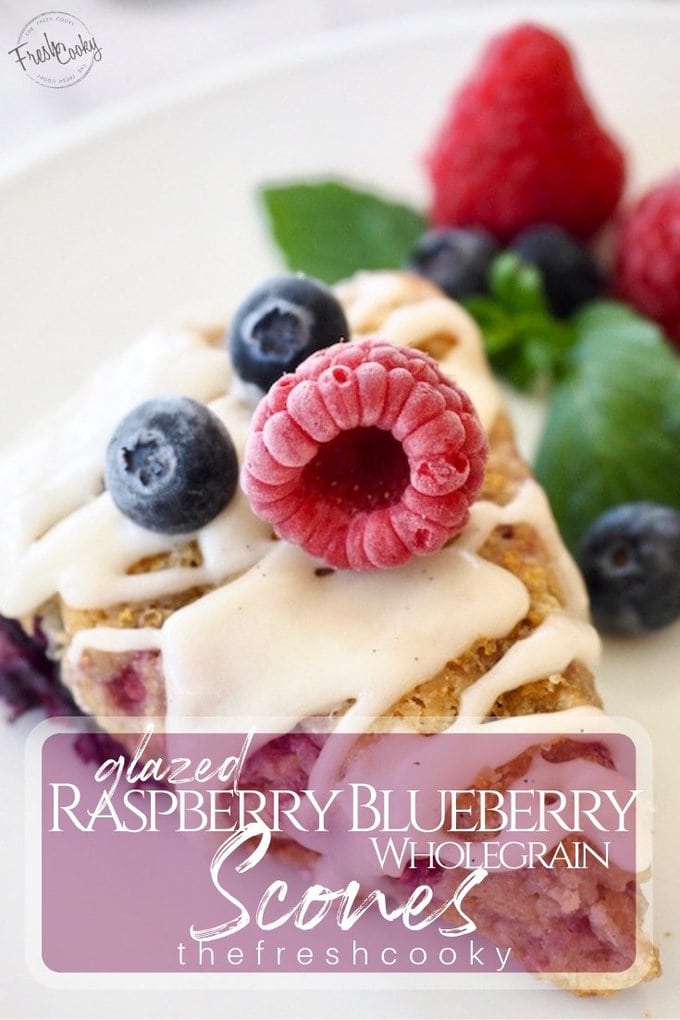 Serve just like they are or my preference with lemon curd, maybe a little clotted cream, Devonshire cream or crème fraiche, or yikes, even butter. Enjoy with a nice cup of tea or coffee.
Variations & Substitutions
I used whole wheat pastry flour in this recipe, but they will be delicious with unbleached all-purpose flour too.
Use any combination or single berry you choose.
Gluten-Free Scones | I have not tried with this particular recipe, but I have with others, and replacing the flour with a combination of Gluten-Free All purpose flour and either almond flour or oat flour works great.
Use buttermilk or plant based milk in place of the heavy cream, if desired to make these vegan, use coconut oil or plant-based butter as well.
More breakfast treats you will love:
I hope you loved these mixed berry scones, if you make them, be sure to share via a comment below!
Like this recipe?
Don't forget to give it a ⭐️⭐️⭐️⭐️⭐️ star rating and comment below the recipe!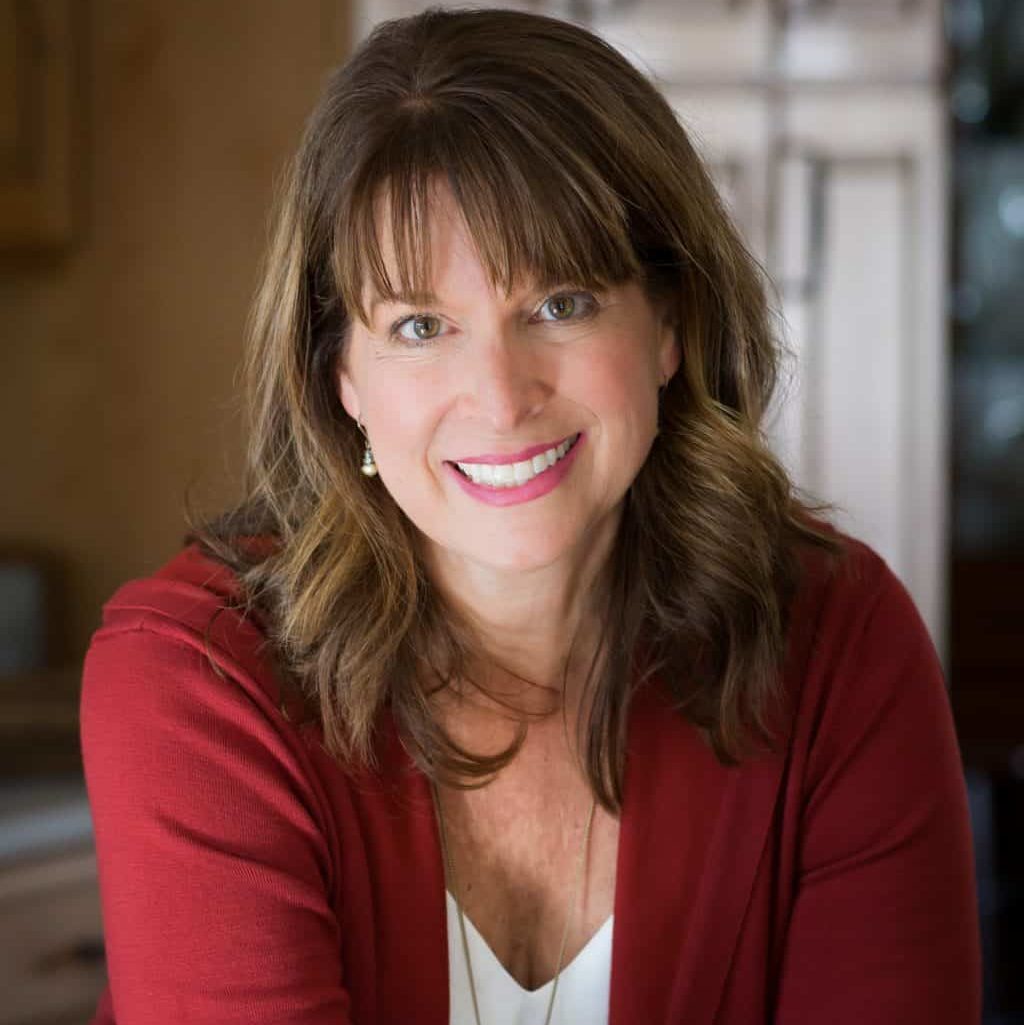 About Kathleen Pope
Recipe Innovator | Food Photographer | Food Writer
Hi, I'm Kathleen Pope. Here at The Fresh Cooky you will find easy, mostly from-scratch, trusted recipes for all occasions. From speedy dinners to tasty desserts, with easy step-by-step instructions. I am here to help teach you how to make mouthwatering recipes without spending hours in the kitchen. Read more about Kathleen here.