As an Amazon Associate, I earn from qualifying purchases. Please read my disclosure policy.
It's pie season! I have the easiest, most scrumptious no bake chocolate pie recipe for you with options for personalization. My mouth waters just thinking about the silky smooth texture and rich flavor in this dessert!
If you have family and friends who expect dessert for any occasion, this homemade jello chocolate pudding pie is the ticket to their hearts. You can make it with a variety of crusts and serve it with whipped cream. Each bite simply melts in your mouth!
I have all the details for my newest easy pie recipe using an Oreo cookie crust and scrumptious Graham Cracker crust. My family gobbled it up and is already asking when I can make it again.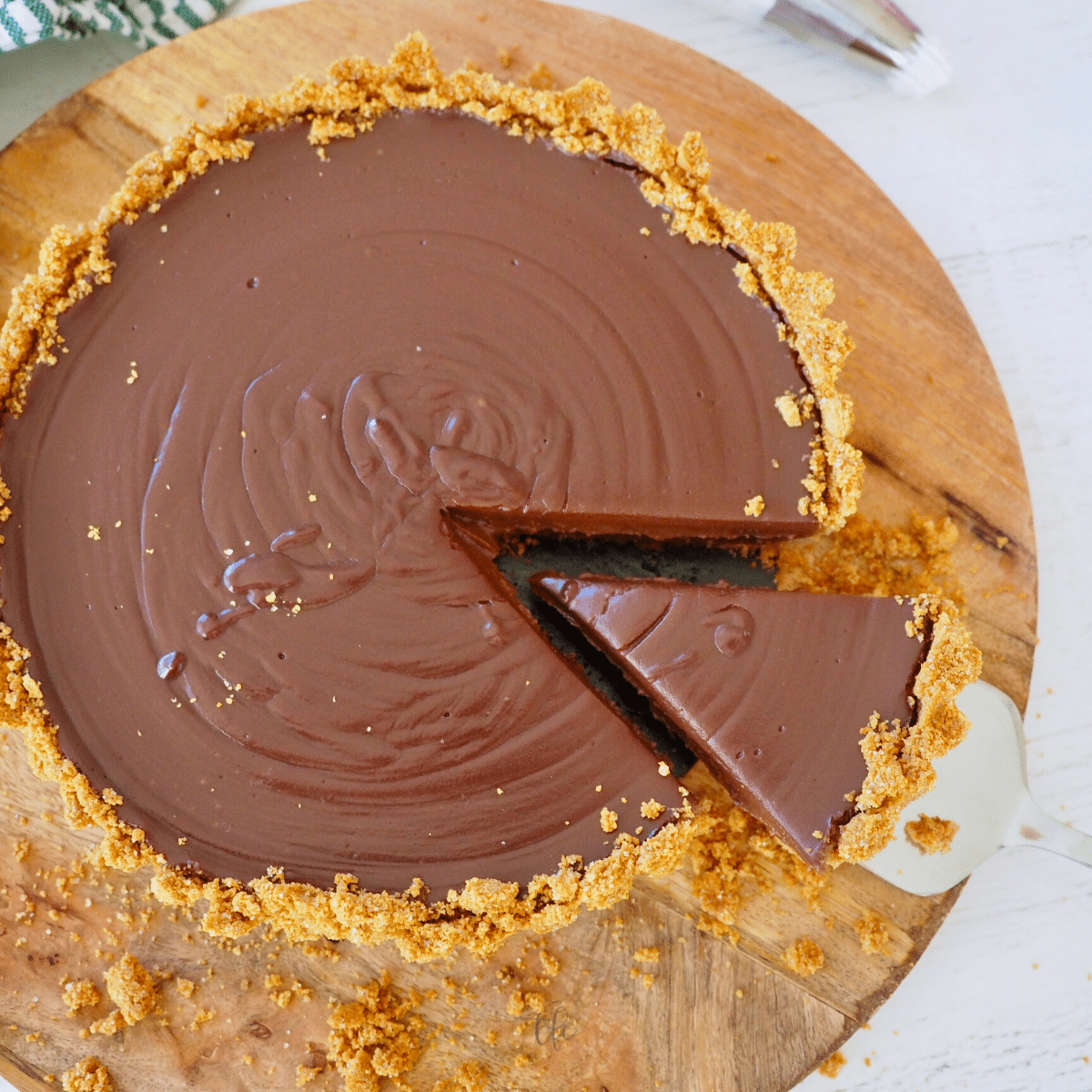 For all my fellow chocolate lovers, try these decadent Mini French Silk Pies with a salted toffee graham cracker crust. Or check out this Easy Lemon Pie or this always popular Key Lime Pie for two easy as can be pies!
Want a true showstopper? My Amazing Mile High Mud Pie has layer upon layer of coffee and chocolate ice cream, with tantalizing ribbons of fudge sauce all wrapped up with an Oreo cookie crust. Or if decadence and no bake is what you want, then my Oreo Dessert Pudding or this Butterscotch Cinnamon Pie is for you!
I was inspired last year when we hosted Thanksgiving with our longtime and close friends – I asked what kind of pies they liked and she said one of their favorites is the Pioneer Woman's Chocolate Pie. And with five boys they know their chocolate pudding pie! That was all my chocoholic family needed to hear!
Primary Ingredients for Dark Chocolate Pie
The full list of ingredients and measurements are in the recipe card at the end of this post.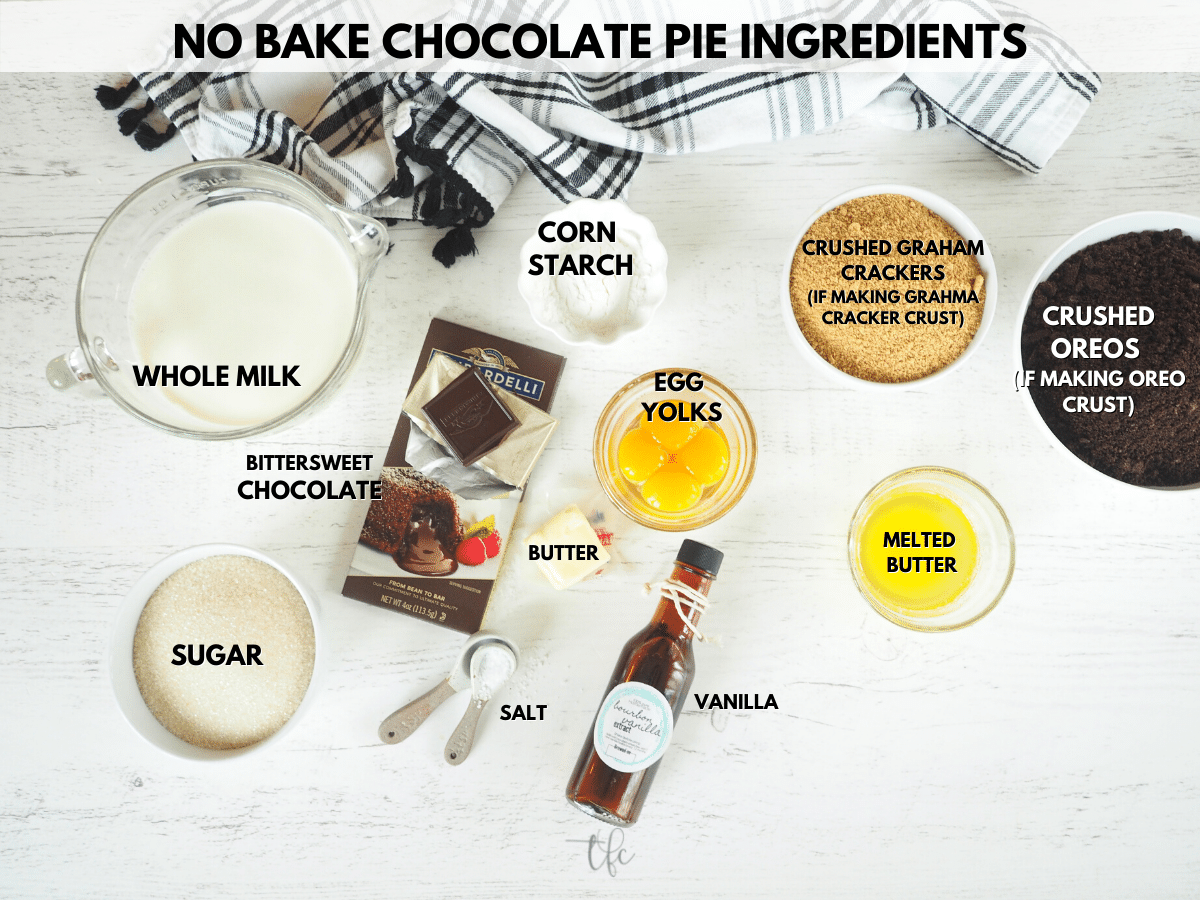 Crust | This delicious no bake chocolate pie works with a Graham Cracker, Oreo cookie crust, or a traditional dough crust – you can even use frozen or store bought — see my notes below.
Sugar | My favorite is all-natural cane sugar — I use it in all of my baking!
Cornstarch | This thickens the filling. You can use tapioca starch as an alternative. But I always try and use non-GMO cornstarch.
Milk | Using whole milk instead of low-fat or skim varieties will make your filling richer and help it set up better.
Eggs | Only using the yolks will give your treat a silky texture!
Bittersweet or semi-sweet chocolate | A higher percentage of cacao will deepen the flavor. Make sure your bar includes cocoa butter to help it melt.
Vanilla Extract | Try my Bourbon Vanilla or use regular extract, not imitation.
Whipped Cream | No jello chocolate pudding pie would be complete without a dollop of this! Easy instructions in the printable recipe card — try chocolate whipped cream too!
TFC PRO TIP | If using a pie shell that requires baking — make sure to cool completely before pouring hot chocolate pudding mixture into the crust.
How to make jello Chocolate Pudding Pie
Start by making your desired pie crust! For this recipe, I made it using a Graham cracker crust and an Oreo Cookie crust.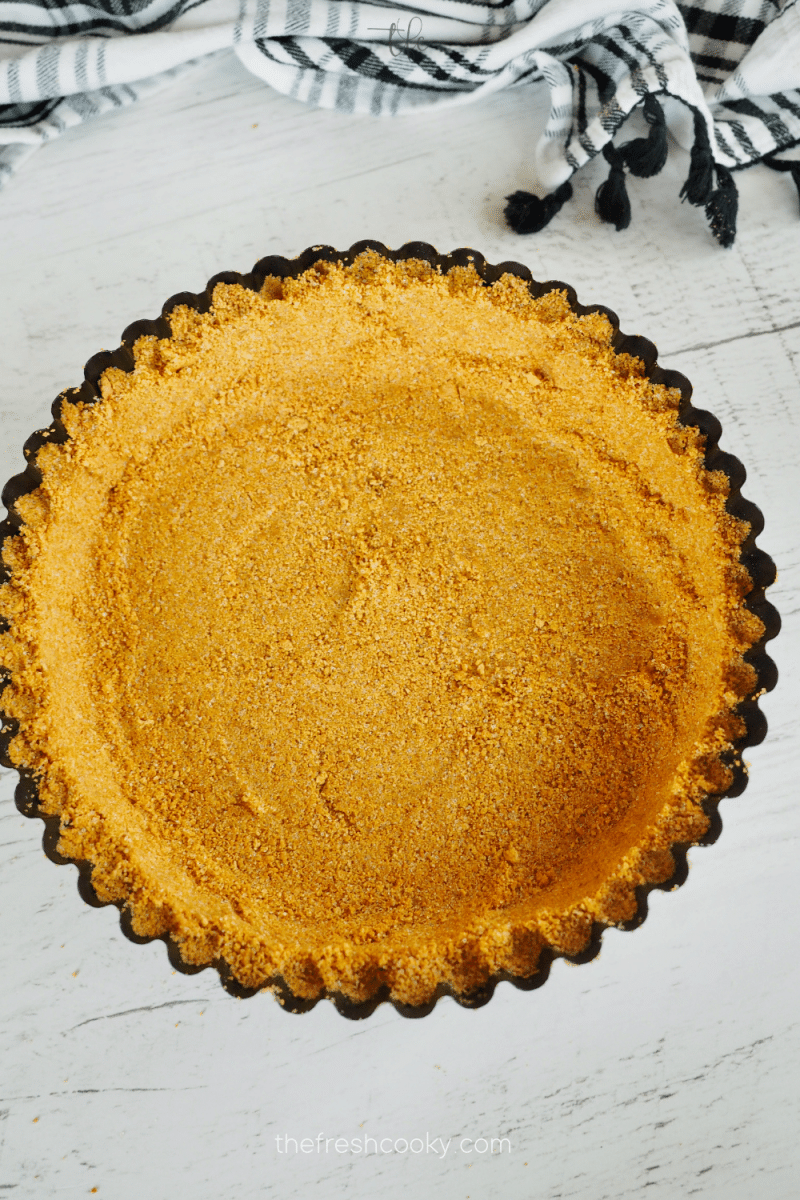 Stir the sugar, cornstarch, and salt together in a medium saucepan. Then, whisk in the milk and egg yolks, whisking well.
Over medium heat, continue whisking until the mixture comes to a light simmer and starts to thicken, about 8 minutes. If you are doubling this recipe, this step can take twice as long.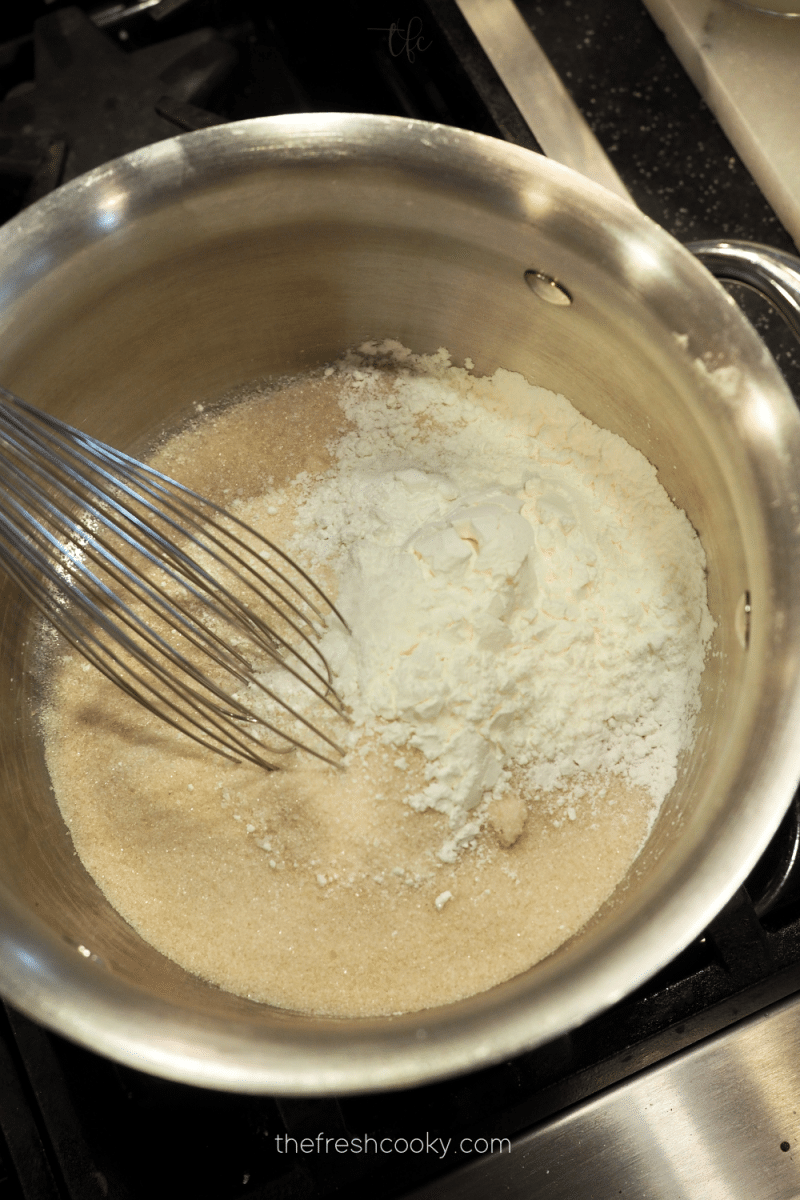 When the consistency is similar to pudding, remove the pan from the heat. Stir in the chocolate, butter, and vanilla until smooth. Allow mixture to cool for 10 minutes, stirring occasionally so a skin doesn't form.
Fresh Tip
The pudding will look like vanilla pudding until you stir the chocolate into the mixture, this is real chocolate pudding! Using chopped chocolate and not cocoa powder.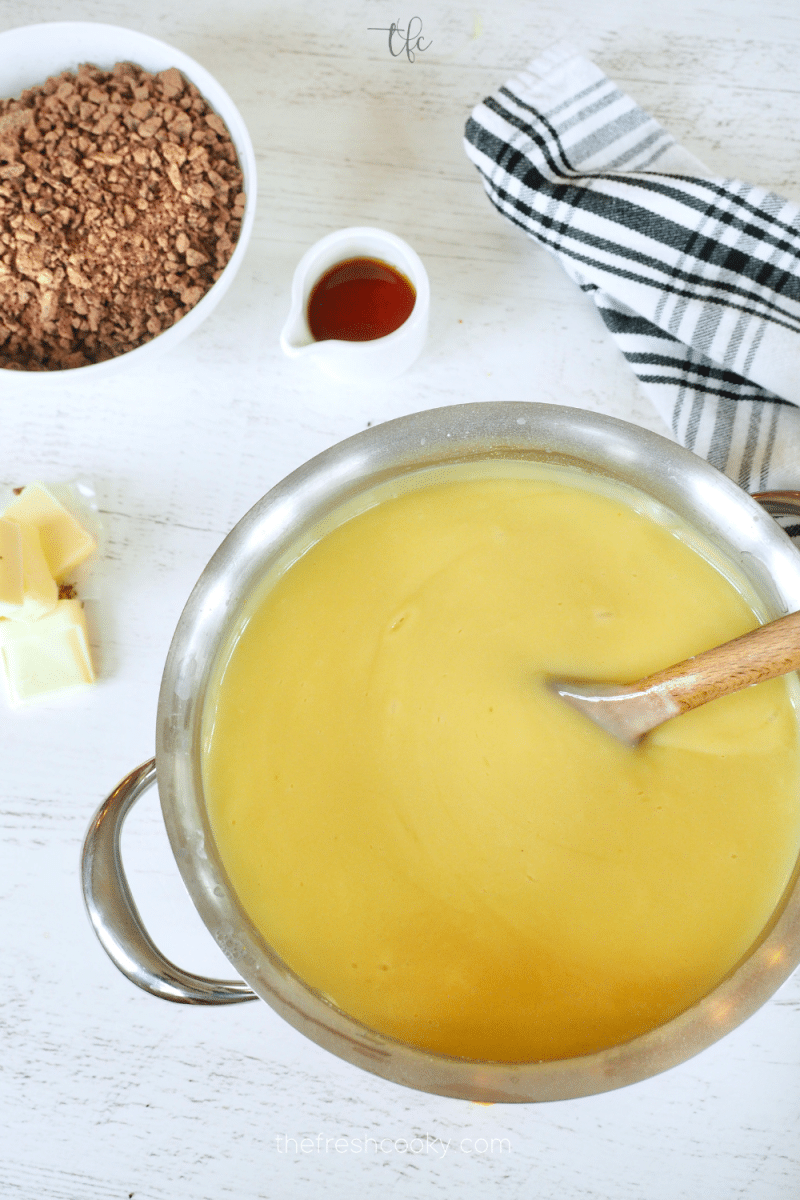 Pour the mixture into your crust and chill until set, at least 4 hours, preferably overnight. Be sure to leave it uncovered! Otherwise, steam will get trapped and prevent it from setting up properly or cause the crust to become soggy.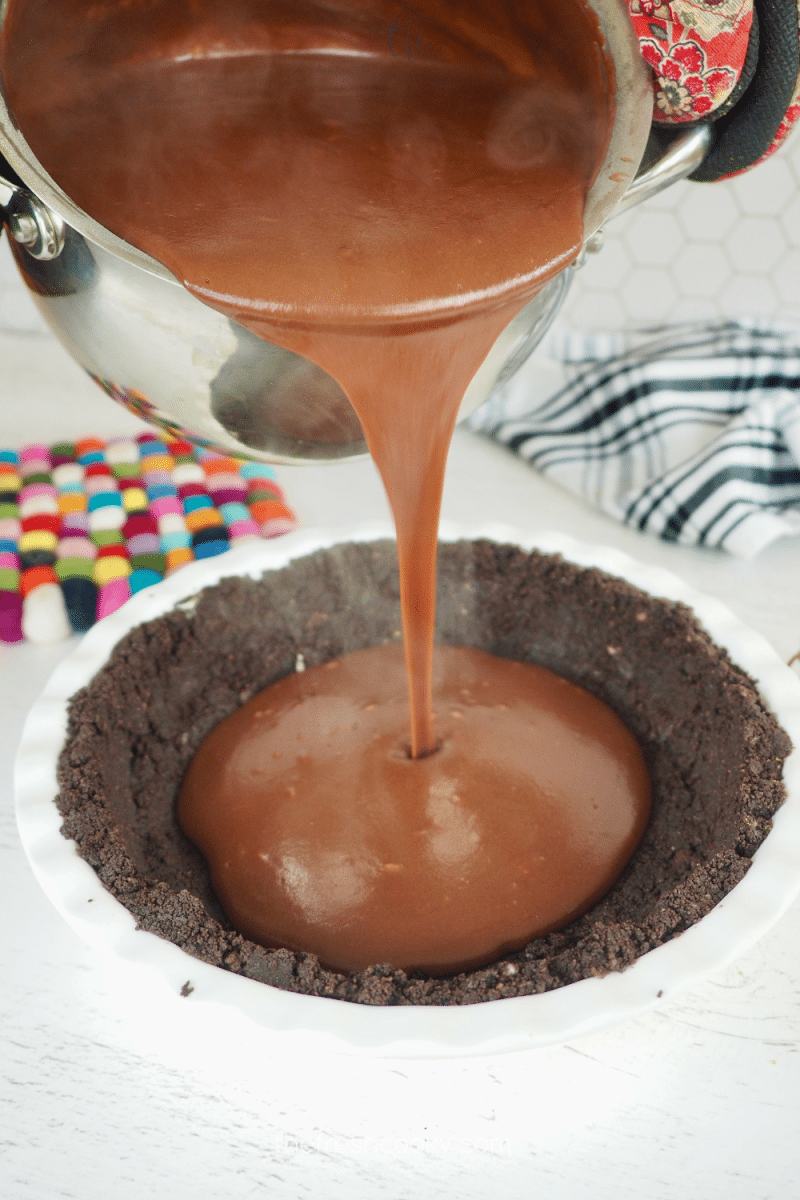 Serving Tips
As mentioned earlier, for this recipe shoot, I actually doubled the recipe, pouring the chocolate pudding mixture into two deep dish pie shells. The chocolate pudding pie with graham cracker crust chilled and firmed up beautifully (same pudding mixture remember!), but the Oreo crust mixture did not set up as well. I give tips for how to resolve them in the FAQ below.
Be sure your pie has set well, chilling at least 4 hours – preferably overnight.
Using a sharp knife, run under hot water, slice the pie into desired wedges and remove with pie server.
You may want to make the first wedge smaller as you might "butcher" it getting it out of the pie plate, the rest should be easier to get from there.
Serve with a pretty swirl of sweetened whipped cream.
Dust tops with a little cocoa powder.
Shave some chocolate over the top, white or dark chocolate would be great here.
Drizzle a little hot fudge or chocolate ganache over the top of the pie.
Make chocolate whipped cream (see recipe card)
If desired, spoon sweetened whipped cream or topping over the entire pie and decorate with shaved chocolate. This is how the Pioneer Woman's husband Lad loves this pie! Can't argue with that!
Recommended Equipment
Pans | Make sure you are using a 9" deep dish pie plate or tart pan, I actually loved making this in a 9" tart pan, made for a bit easier slicing of the graham cracker crust.
Food Processor | A food processor makes short work of crushing your Oreos or Graham crackers, literally just seconds and you will be ready to press your pie crust into the dish.
Sturdy Whisk, strong wooden spoon and a great knife for chopping the chocolate (or if desired; break chocolate into smaller pieces and process it for a few seconds in a food processor.
Variations & Suggestions
If you use a store bought crust, you will probably have leftover pudding. Fill the pie shell as full as you dare, then spoon the leftover into small dishes for your gluten-free guests!
Tapioca is a great replacement for cornstarch when thickening your no bake chocolate pie. Most recipes call for double the tapioca, but I've found that 1.5 times the amount of cornstarch to be better.
This recipe is easy to double! Just be sure to split the filling between two deep dish crusts.
Add 1 teaspoon of espresso powder when stirring the chocolate into the pudding for a more mocha chocolate flavor.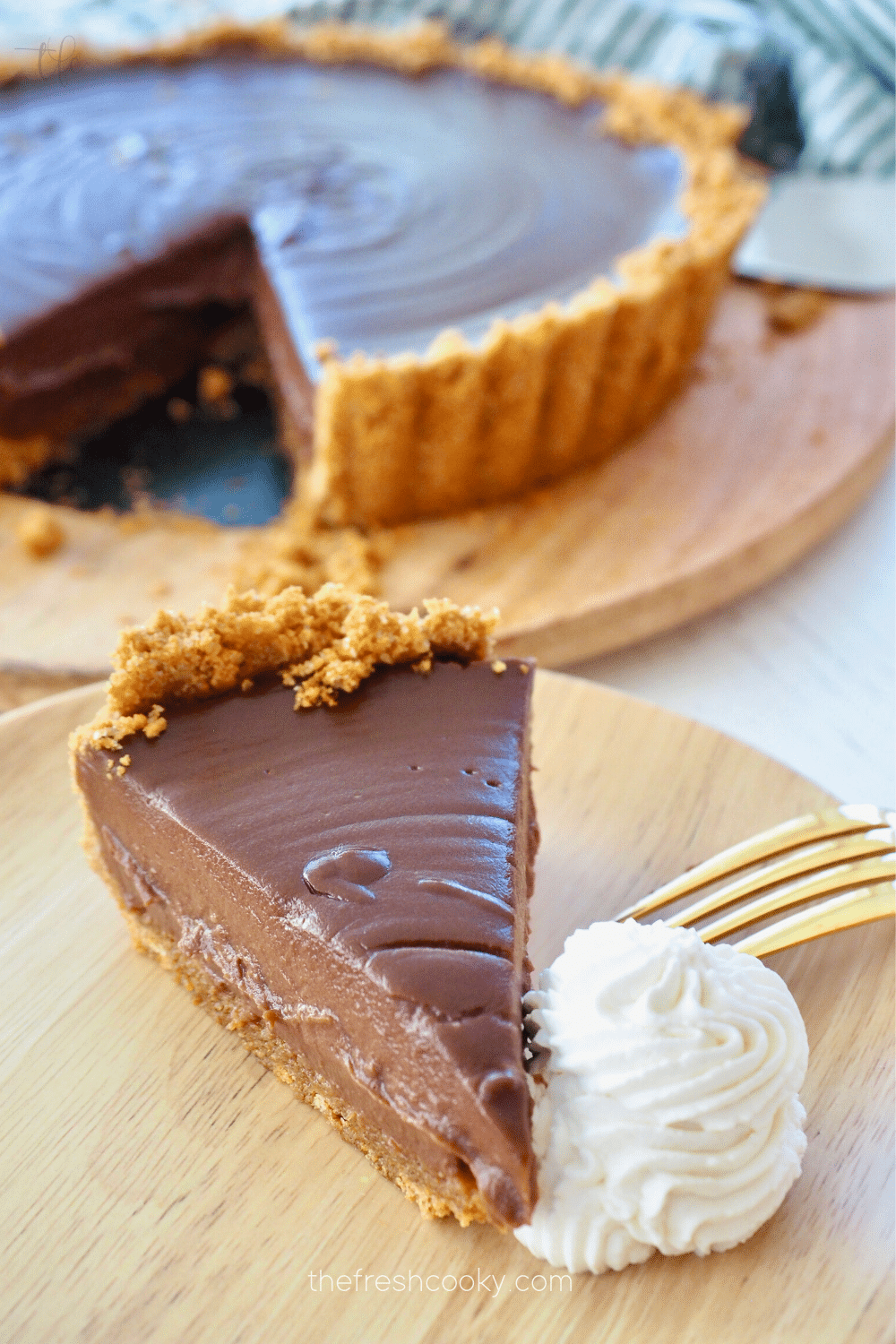 Pro Tips
Be sure to cool regular pie crust or graham cracker crusts completely before adding the filling. I typically cool mine on the counter for 10 minutes, then finish them in the fridge or freezer.
If you fold whipped cream into your cooled filling, it will become light and airy like mousse!
You can use any type of chocolate bar to grate over your no bake chocolate pie, but one with a higher percentage of cacao will be firmer and easier to shave.
Frequently Asked Questions
Why is my no bake chocolate pie runny?
First, check the temperature on the fridge to make sure it's cooling properly. Chill the dessert for at least four hours, but longer is usually better.
Can I use half-and-half instead of milk?
Yes! The higher fat content gives even more structure to your filling. While you can use 2% or lower milk, your pie may not set up.
Why is my Oreo crust falling apart?
When I made mine, it never quite set up all the way — nobody complained about it though!
To fix this, I recommend freezing the crust for one hour to get it nice and firm. Cool the pudding mixture for 15 minutes before pouring it into the crust. Stir it occasionally to help release the heat and prevent a film from forming on top.
Then, pour the filling into the Oreo crust and chill for at least 6 hours.
Can I freeze chocolate pudding pie with graham cracker crust?
Technically, yes, you can freeze chocolate pudding pie. However; that being said, homemade pudding can separate and become grainy when defrosting, so freezing isn't recommended. If you decide to freeze your Pioneer Woman Chocolate pie, I would thaw for 15 minutes, slice and serve mostly frozen. Somehow, I don't think anyone will complain!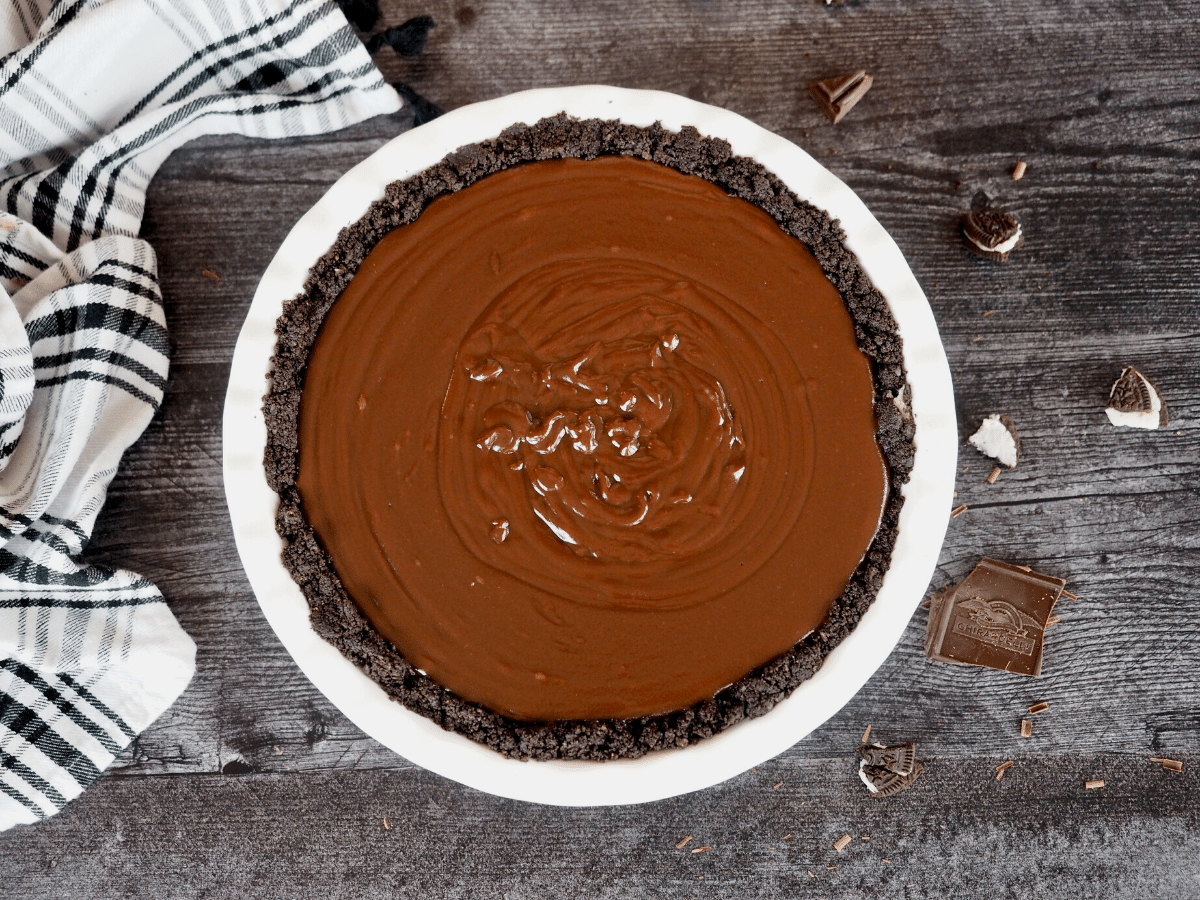 Gluten-Free Chocolate Pie
The chocolate pudding pie filling is naturally gluten-free, just make sure you use Gluten-Free graham crackers or Gluten-Free Oreo Cookies! Divine, you won't taste any difference!
It is absolutely delicious anyway you eat it – regular pie dough crust, Oreo cookie crust or our families preference graham cracker crust.
This recipe adapted from the Pioneer Woman Chocolate Pie.
Storage
This dark chocolate pie is best when served well chilled and be sure store any leftovers back in the fridge. The crust may get a bit soggy after 2-3 days – but the contents are still safe to eat up to 7 days.
More Show-Stopping Desserts
LOVE IT? PIN IT!
I sure hope you try this recipe and love it as much as our family does! This is a fantastic Thanksgiving or Christmas dessert, but would certainly be welcome at our table during any holiday or party! Be sure to rate the recipe and comment below.
Like this recipe?
Don't forget to give it a ⭐️⭐️⭐️⭐️⭐️ star rating and comment below the recipe!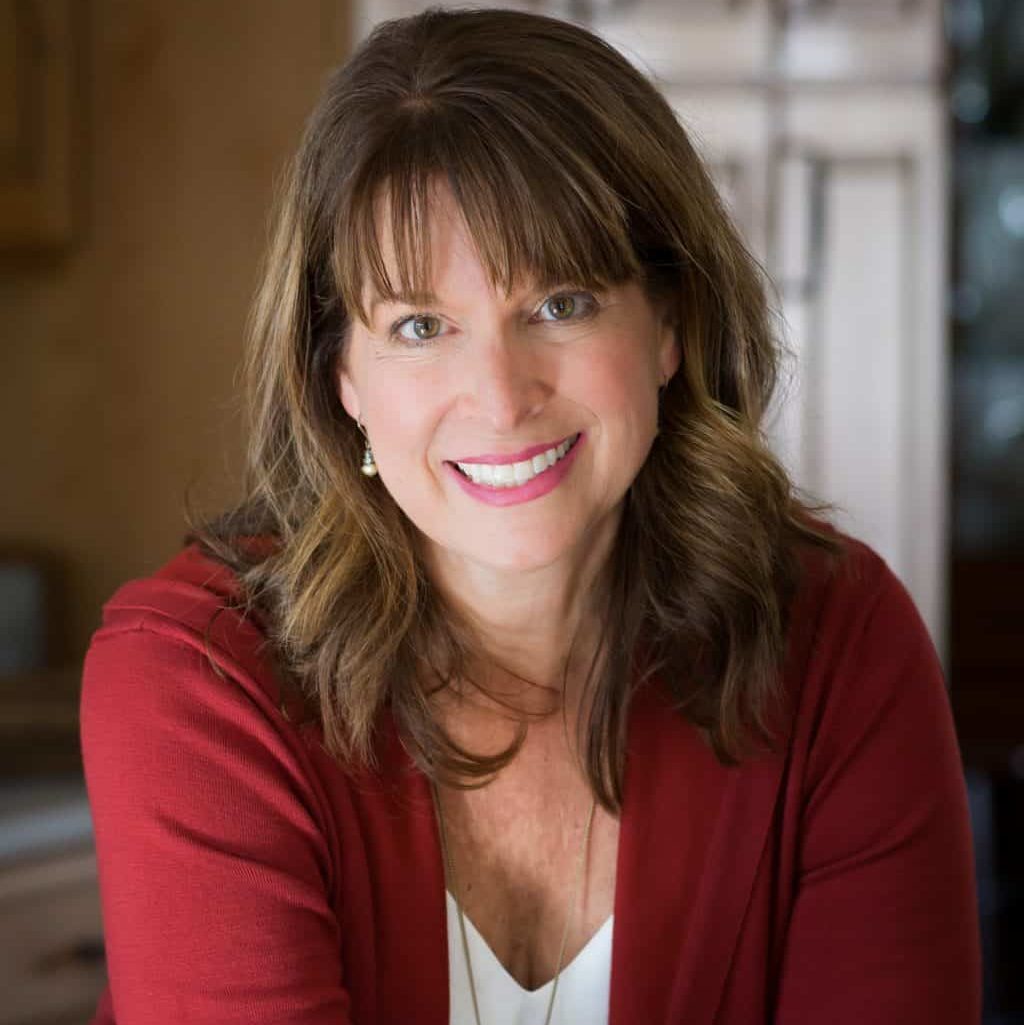 About Kathleen Pope
Recipe Innovator | Food Photographer | Food Writer
Hi, I'm Kathleen Pope. Here at The Fresh Cooky you will find easy, mostly from-scratch, trusted recipes for all occasions. From speedy dinners to tasty desserts, with easy step-by-step instructions. I am here to help teach you how to make mouthwatering recipes without spending hours in the kitchen. Read more about Kathleen here.